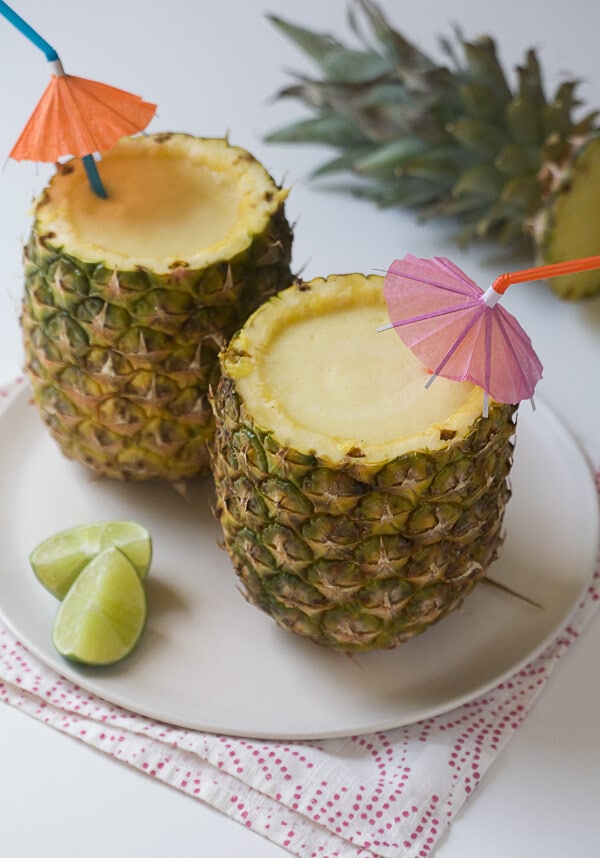 This drink is dedicated to all the peeps out there who wish they were on a beach in their bathing suit, sipping on a drink with an umbrella in it.
Doesn't it seem like everyone and their mom is on vacation right now? I'm definitely not on vacation but that's ok because I'm already planning next summer's vacay. I found this little teeny apartment on the Amalfi coast where I plan on living out my obsession with The Talented Mr. Ripley. I plan on wearing little white sneakers with my bathing suits and drinking nothing but rose and eating grilled branzini all day–it's going to be magical.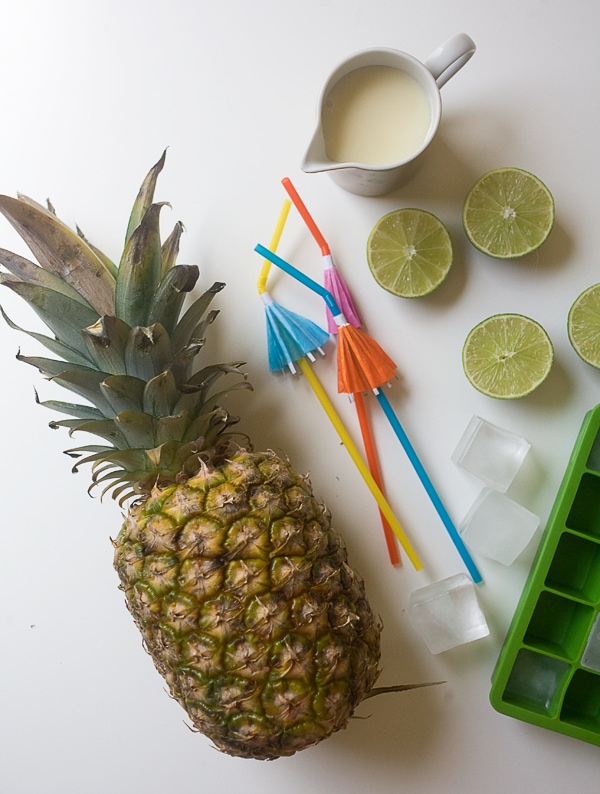 If you, too, want to dream about vacation, making this fancy-ass pineapple frozen daiquiri will help. It will aide you in this dream-making of a situation.
This pineapple daiquiri is mainly fancy because it doesn't use shitty ingredients. There are no mixes. Really that's all that makes it fancy. I looove a daiquiri but good gracious I can't deal with the sight of a mix. It seems like I can always taste the flavor of chemicals that I can't pronounce.
This is super simple, the pineapple is scooped out and the pulp is used, along with rum or cachaca (I used the latter), some lime juice and a can of cream of coconut. It's delicious and sweet and refreshing. And drinking a drank out of a big ol' pineapple is fun and super cute.
You'll look adorable while doing so.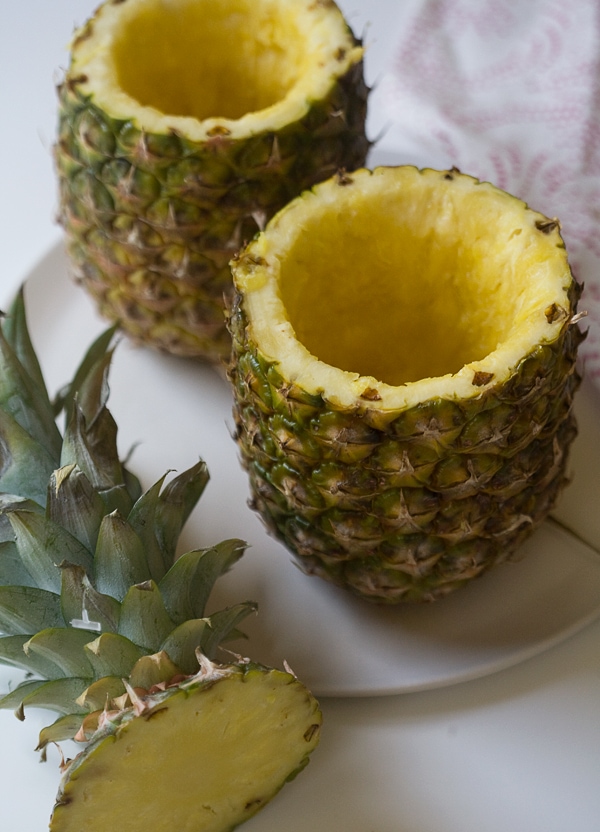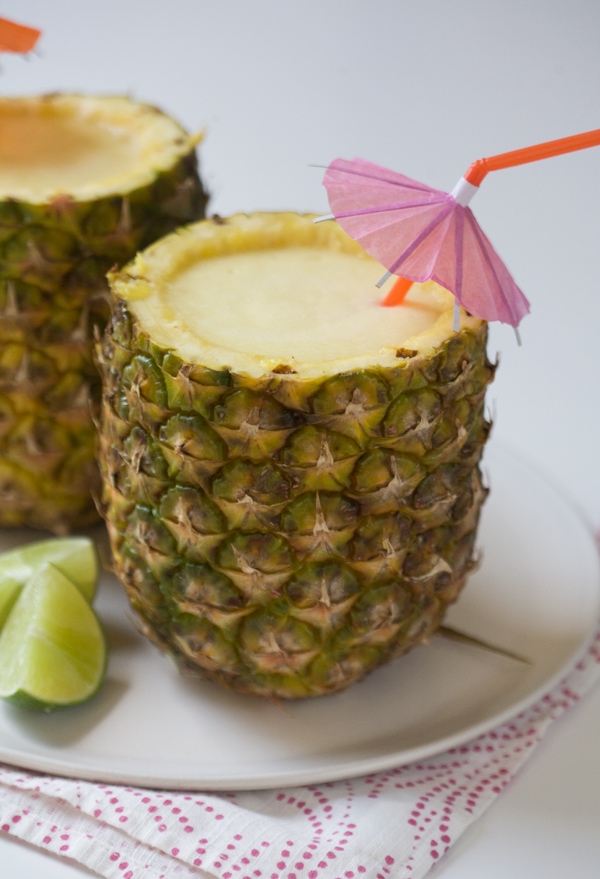 Can we talk about how incredible this view is from this VERY CHEAP apartment on the Amalfi coast? The comments talk about a weird smell and the wi-fi is shoddy, which could be a deal breaker for me, but that view tho!
This is on next summer's to-do list.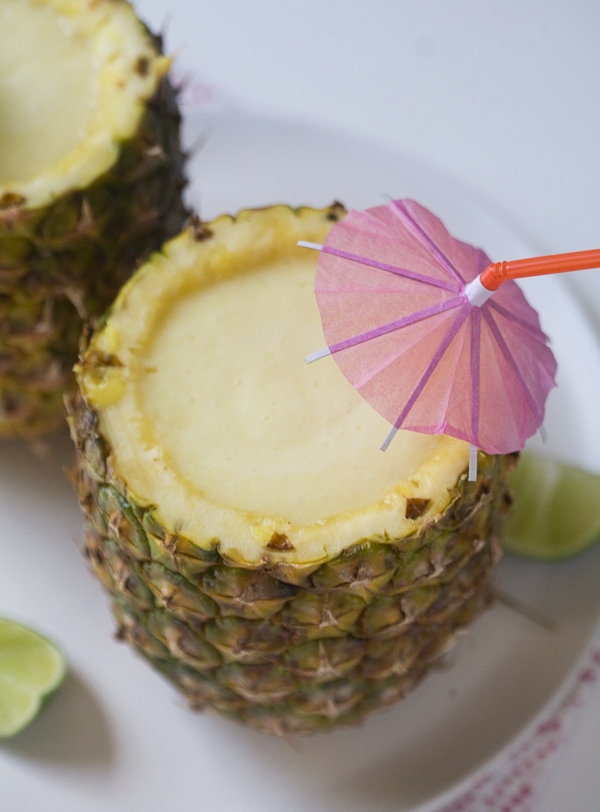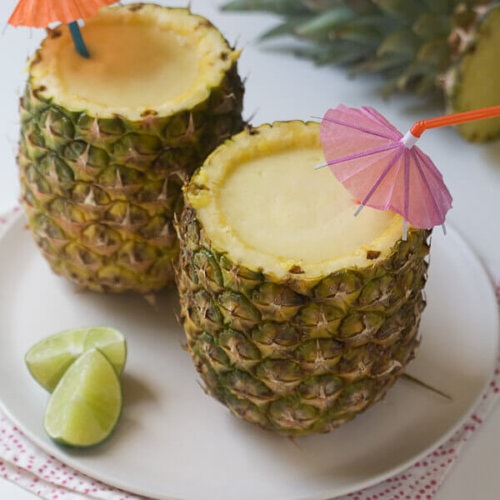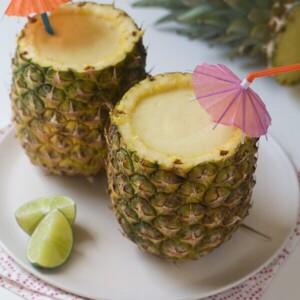 Ingredients
1/4

cup

pure cane sugar

1/4

cup

water

2

pineapples

,

pulp scooped out (about 2 cups)

6 to 7

ice cubes

3

ounces

white rum or cachaca

Juice from 2 limes

1/4

cup

cream of coconut
Directions
To make simple syrup, add 1/4 cup of sugar and 1/4 cup of water to a small saucepan placed over medium heat. Stir until the sugar is dissolved and set aside.

Scooping and cutting the pulp out of the pineapple is a lil' challenging---it takes some jiggering. Slice off the tops of the pineapple and set them aside (you might want them to top the drinks or for garnish). Run a paring knife in a circle, around the inside of the pineapple. Make a few slices across the middle and wiggle the first piece out. After that you can do a combo of slicing and scooping--it gets easier. Transfer the flesh of the pineapple to a blender, along with the simple syrup you just made, ice cubes, rum and juice from 2 limes. Pulse until smooth and frothy, about 1 minute. Next, pour in the cream of coconut and add a bit more ice if needed.

Give it a taste and adjust the sugar or ice situation accordingly. Pour the frozen daiquiris back into the pineapples and serve with a few lemon wedges and some straws. Don't forget the straws!
Nutrition Facts
Fancy-Ass Frozen Pineapple Daquiris
Amount Per Serving (2 g)
Calories 0
* Percent Daily Values are based on a 2000 calorie diet.