These Grilled Portobello Mushroom Burgers are marinated in a pollo a la brasa-like marinade. They're layered with lettuce, tomato, aji verde and red onion on a delicious St Pierre Brioche Burger Bun. They are my favorite vegetarian-friendly grilled burger!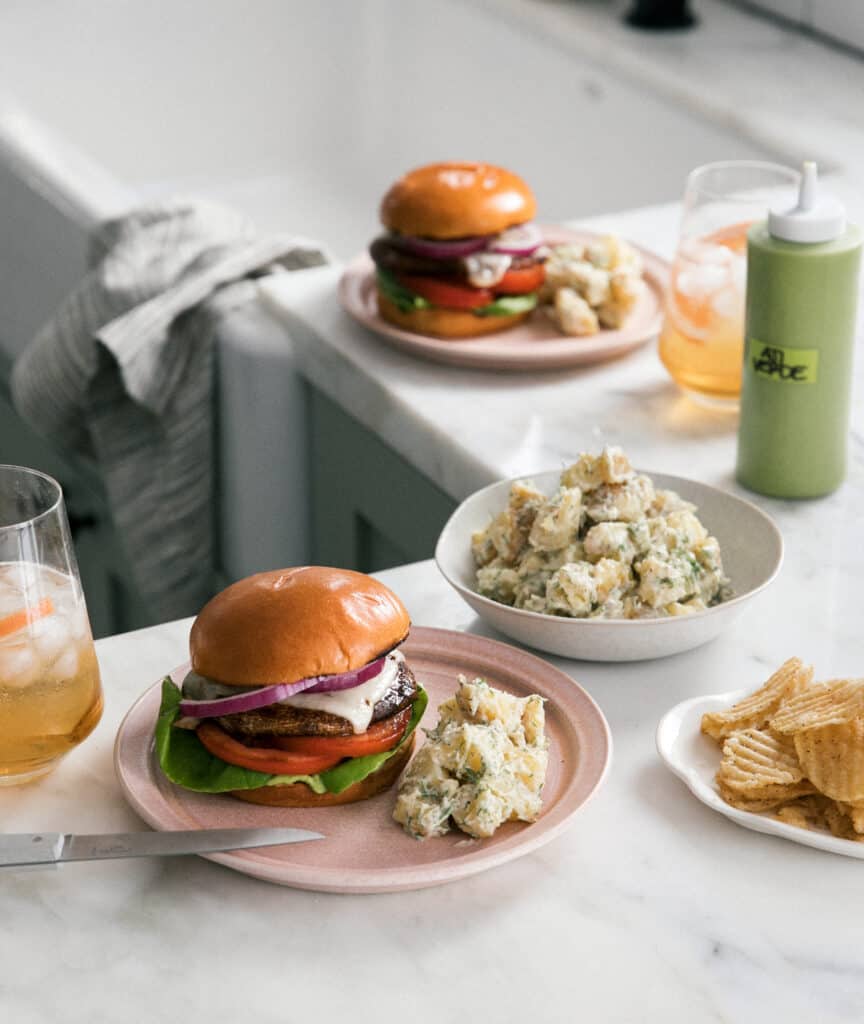 Grilled Portobello Mushroom Burgers are an unsung hero. Truly. I'm not gonna lie, I was a bit skeptical about them. I thought they would be a nice veggie version for some of my veggie-loving friends but wasn't sure if I was going to be into them. But boy was I wrong! 
These portobellos are marinated in a pollo a la brasa-type marinade. Think soy sauce, garlic, an aji amarillor or jalepeño and a bit of red wine vinegar. It's made in a blender for pure ease! And then it only marinates for 5 minutes. This is a super quick recipe too.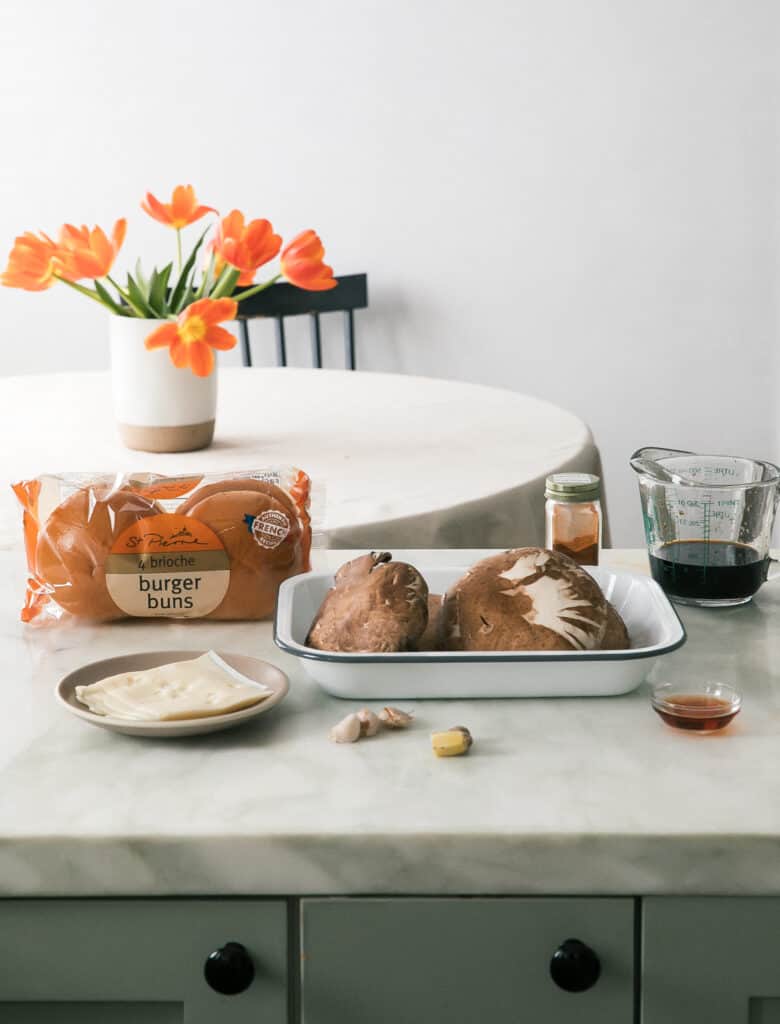 Brioche Burger Buns
These brioche buns from St Pierre have been my go-tos all summer long! They're so soft, perfectly buttery and hold up to everything from meat patties, fried chicken or, in this case, grilled portobello mushrooms.  If you're looking for a stellar grilling experience, reach for these!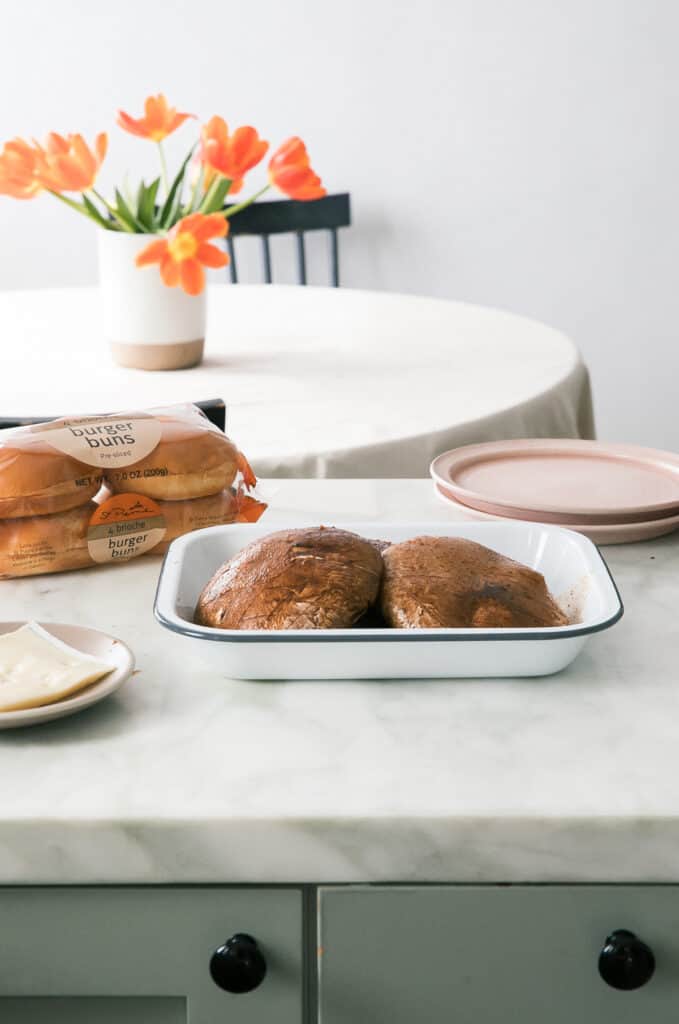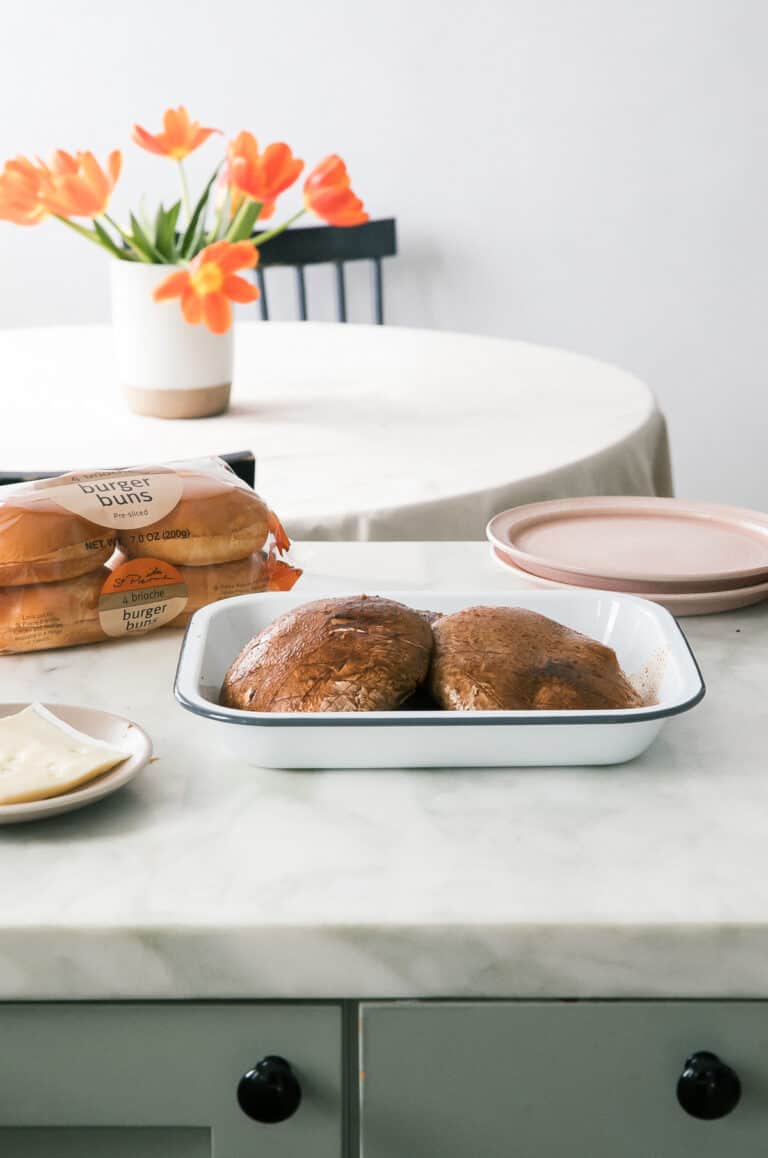 In case you're unfamiliar, brioche bread is an enriched dough, made with butter and eggs which results in a delicious and soft texture. These buns are super flavorful, buttery and delicious, all the while being super sturdy.
They toast up like total dreams! Definitely look for them the next time you're at the market—you won't regret it! They also have slider buns and hot dog buns that I love to use for hot dogs and lobster rolls. *CHEF'S KISS*
Use their store locator to find these brioche buns near you!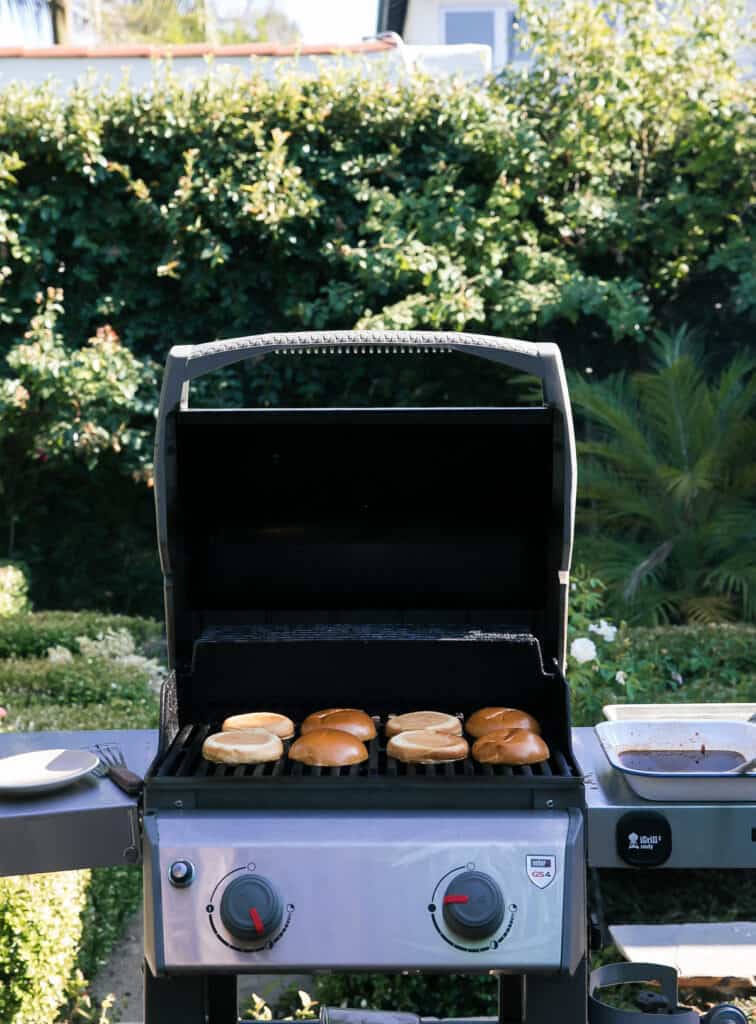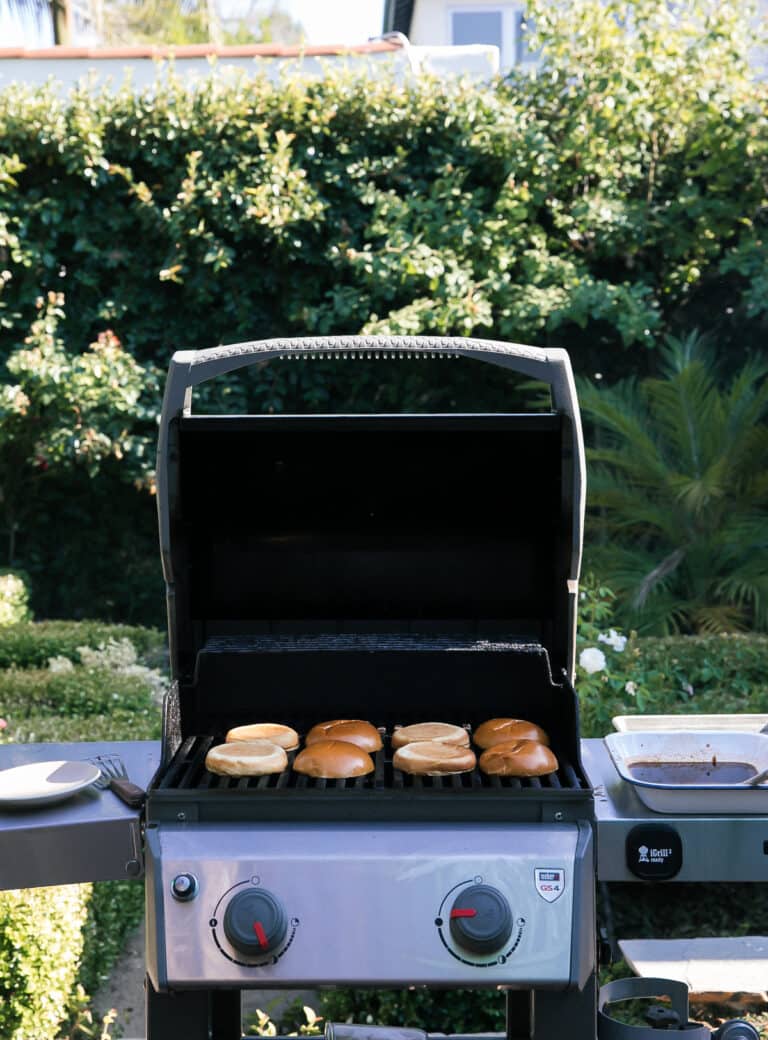 How to Make Portobello Mushroom Burgers
Let's start with the super easy marinade. In a blender, add the soy sauce, ginger, garlic cloves, red wine vinegar, pepper of choice and paprika. 
Preheat your grill to medium-high heat. Grease your grill grates to ensure zero sticking! 
Add the portobello mushrooms to a shallow baking dish. And pour the marinade over the mushrooms. Allow them to marinate for about 5 minutes. This may seem like an unusually short time but we don't want them to be soggy. 
While it's marinating, toast the St Pierre Brioche Burger Buns, cut side down, until they're toasted, about a minute or two. Remove them from the grill
And then add the portobellos to the grill and cook for 5 minutes. Top each mushroom with a slice of Swiss cheese and close the lid of the grill for about 1 minute. We're just trying to get the cheese to melt. Remove them from the grill. 
Assemble the burgers! I like to put Aji Verde on each side of the brioche buns. If you don't want to make another recipe, feel free to just put mayonnaise or another aioli of your choice. 
Add lettuce, tomato, the grilled portobello, red onion and BOOM! DONE. Assemble the rest of the burgers.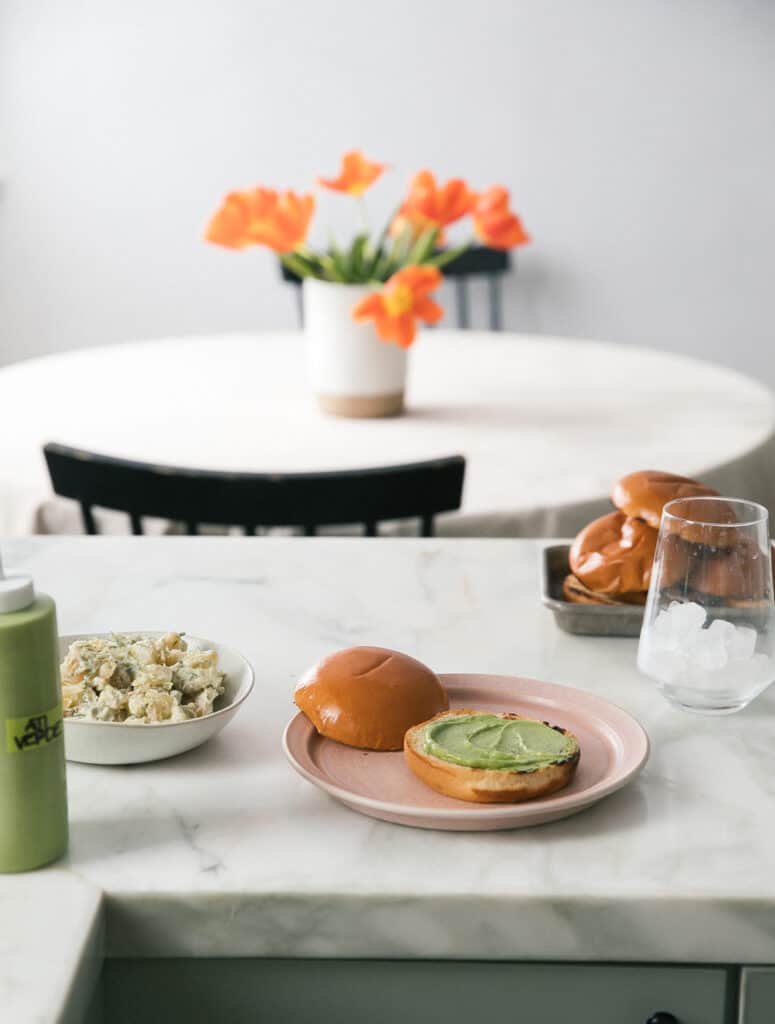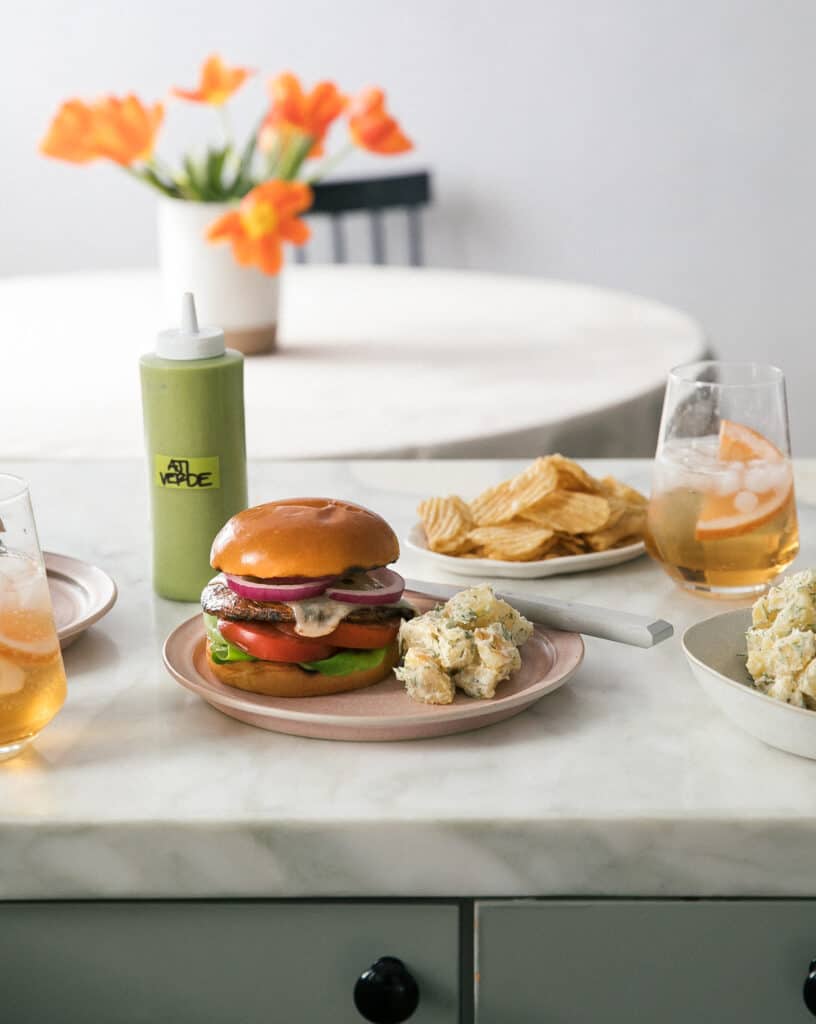 Tips and Tricks 
You're welcome to make the marinade up to 3 days ahead. You can store it in the fridge in an airtight container. Just be sure to give it a mix before using. 
Swiss cheese, I find works wonders with mushrooms, but feel free to use another cheese of choice. I think any melty cheese would be great. Medium sharp cheddar, mozzarella, pepper jack or fontina. 
I paired this recipe with my Aji Verde sauce which is always served with Pollo a la Brasa. Obviously that's very optional. You can use other aiolis or a plain mayonnaise too! 
You can keep the St Pierre Brioche Burger Buns warm in a 200 degree F oven after you toast them if you're moving a bit slow or starting and stopping the recipe