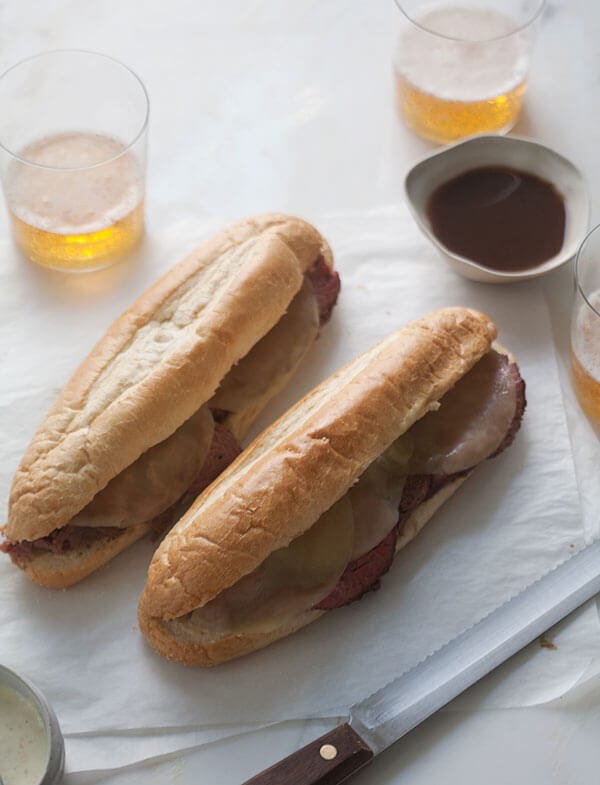 My first introduction to the glory of French Dip sandwiches was after school at the fast-food chain, Arby's, recently made re-famous by Pharrell's hat that looked like its logo.
Remember his hat? It paved the way for unfortunate copy-cats. Don't wear that hat, people, BUT please make this sandwich because it's legit and tasty and this homemade version is a million times better and less scary than the drive-thru version.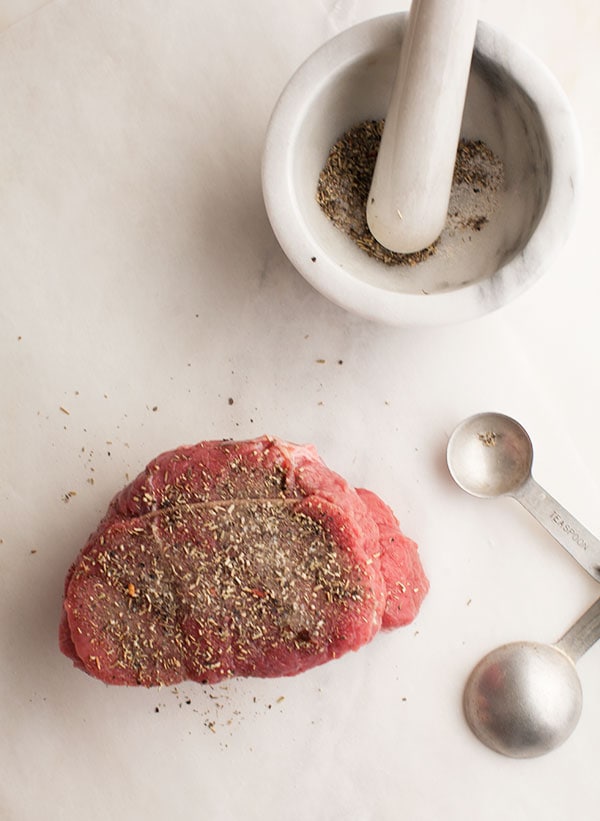 I've been craving a French Dip sandwich…or maybe it's just the bread I want. I found these hoagie rolls called Amoroso's (all you Philly peeps might know of them) at a local sandwich shop and they were AMAZING. The perfect combo of crusty and soft; ideal for dipping!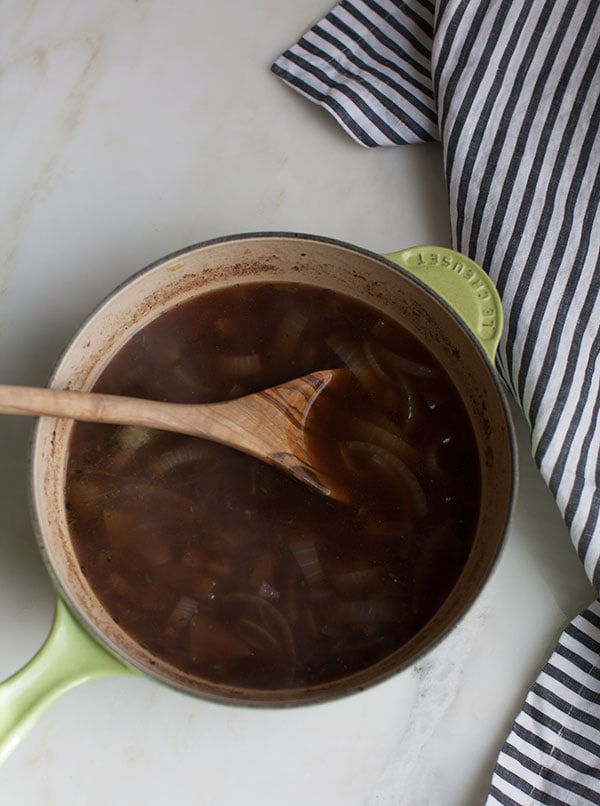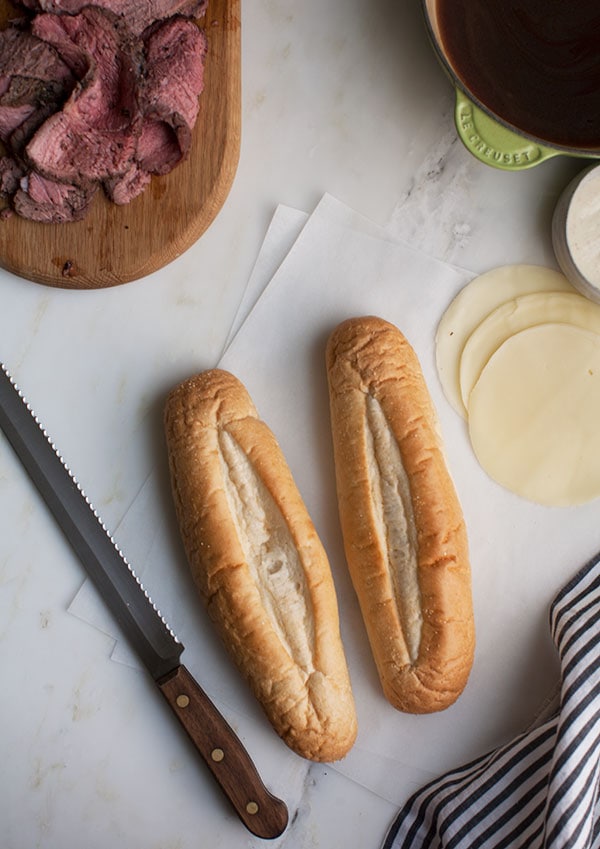 These sammiches start with roasting a beef round. I know sometimes cooking meats can be a lil' intimidating but I can assure you this was the easiest thing in the world.
Meat rubbed with spices, put in the oven and roasted for about 20 to 25 minutes.
I do recommend a digital thermometer, which is one of my favorite kitchen gadgets.
While the beef is roasting, the au jus is made. It's a combination of sweet onions, garlic, spices, worestershire, dry sherry and beef broth.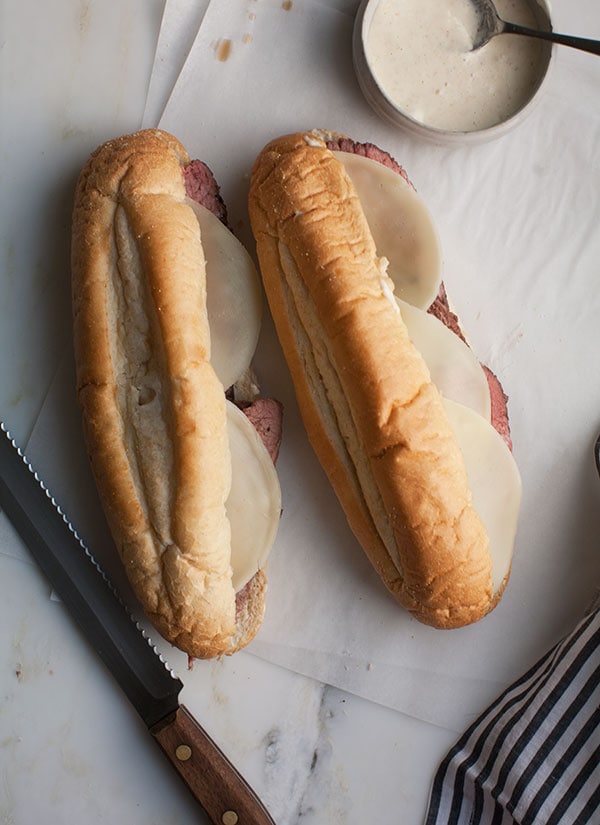 It's simmered and reduced until it's super flavorful. The horseradish mayo is totally optional but I loved the kick of heat that it provided.
What's not optional is the slices of provolone. It makes the entire sandwich sing.
Let's all make some sandwiches!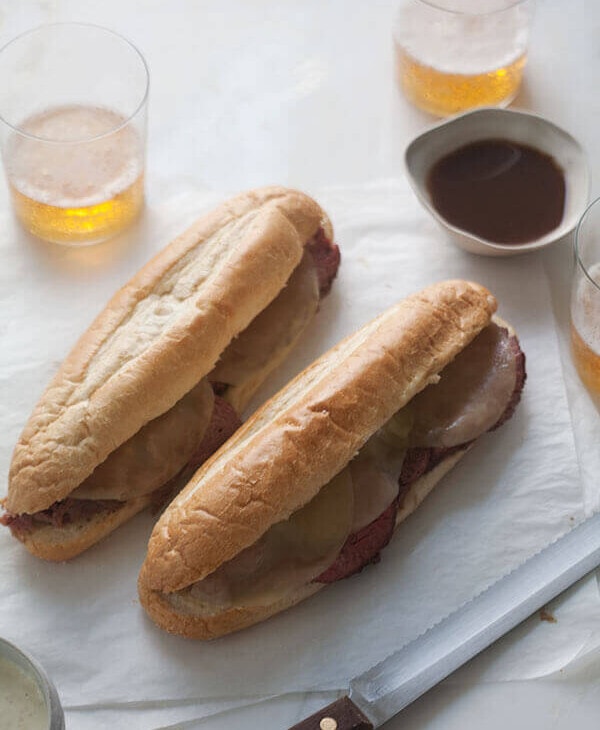 Print Recipe
French Dip Sandwiches
Ingredients
Roast Beef:
1

teaspoon

salt

1

teaspoon

ground pepper

1/2

teaspoon

oregano

1/2

teaspoon

thyme

Pinch

crushed red pepper

1

pound

beef round

1

teaspoon

of olive oil
Au Jus:
1

teaspoon

of olive oil

1

sweet onion

peeled and roughly chopped

1

garlic clove

peeled and sliced

1/2

teaspoon

dried ground thyme

1/2

teaspoon

freshly ground pepper

2

teaspoons

worcestershire

1

teaspoon

dry sherry

3

cups

low-sodium beef broth
Horseradish Mayo:
2 to 3

teaspoons

prepared horseradish

1/4

cup

mayonnaise
Sandwich Assembly:
4

hoagie rolls

4

slices

of provolone
Instructions
Preheat oven to 400 degrees F. In a mortar and pestle or a small bowl, mix together the salt, pepper, dried oregano and thyme and red pepper flakes. Rub the mixture all over the beef round. Pour a teaspoon of olive oil in the bottom of a cast iron skillet or roasting pan and place the beef round inside. Transfer to the oven to roast for 20 to 25 minutes, until the internal temperature reads 125 degrees F for medium-rare. Transfer to a wire rack and allow to rest for about 10 minutes before slicing. Just a note: if you'd like it medium, cook it in the oven until the internal temp reads 140 degrees F, about 35 minutes.

To make the au jus (you can do this while the beef is in the oven), add a teaspoon of olive oil to a medium pot that's set over medium heat. When the oil is hot, add the onions and pinch of salt; cook until fragrant and slightly softened, about 2 to 3 minutes. Mix in the garlic clove, dried thyme, pepper, worcestershire, dry sherry and beef broth; give it a good stir and bring the mixture to a simmer. Once it reaches a simmer, turn the heat down to medium-low and allow to continue simmering for about 20 minutes, until the au jus is reduced by about half. Cover the pot and keep the heat on very low until you're ready to assemble the sandwiches.

In a small bowl, mix together the prepared horseradish and mayonnaise until nearly smooth. Give it a taste and adjust the horseradish according to your liking.

To assemble the sandwiches, start by slicing up the beef round. Take a very sharp knife (I had luck with a serrated knife), slice the beef as thinly as possible. I found that scraggily slices were the best texture—don't worry if they're not perfect, beautiful slices! Swipe the inside of your hoagie bread with a bit of horseradish mayo; dip the slices of beef into the au jus and place them in the hoagie. Top with a few slices of provolone cheese. If you're feeling crazy, transfer the sandwiches to the oven so the provolone gets all melty. Serve sandwiches with a side of au jus.