Smash Burgers are my favorite of all burger varietals. A loosely packed, thin patty is "smashed" on a hot griddle, until its edges are crispy and delicious. This patty is made with 100% grass-fed New Zealand Wagyu beef from First Light. The patty is topped with American cheese and placed in between a soft potato bun, along with lettuce, tomato, mayonnaise and pickles.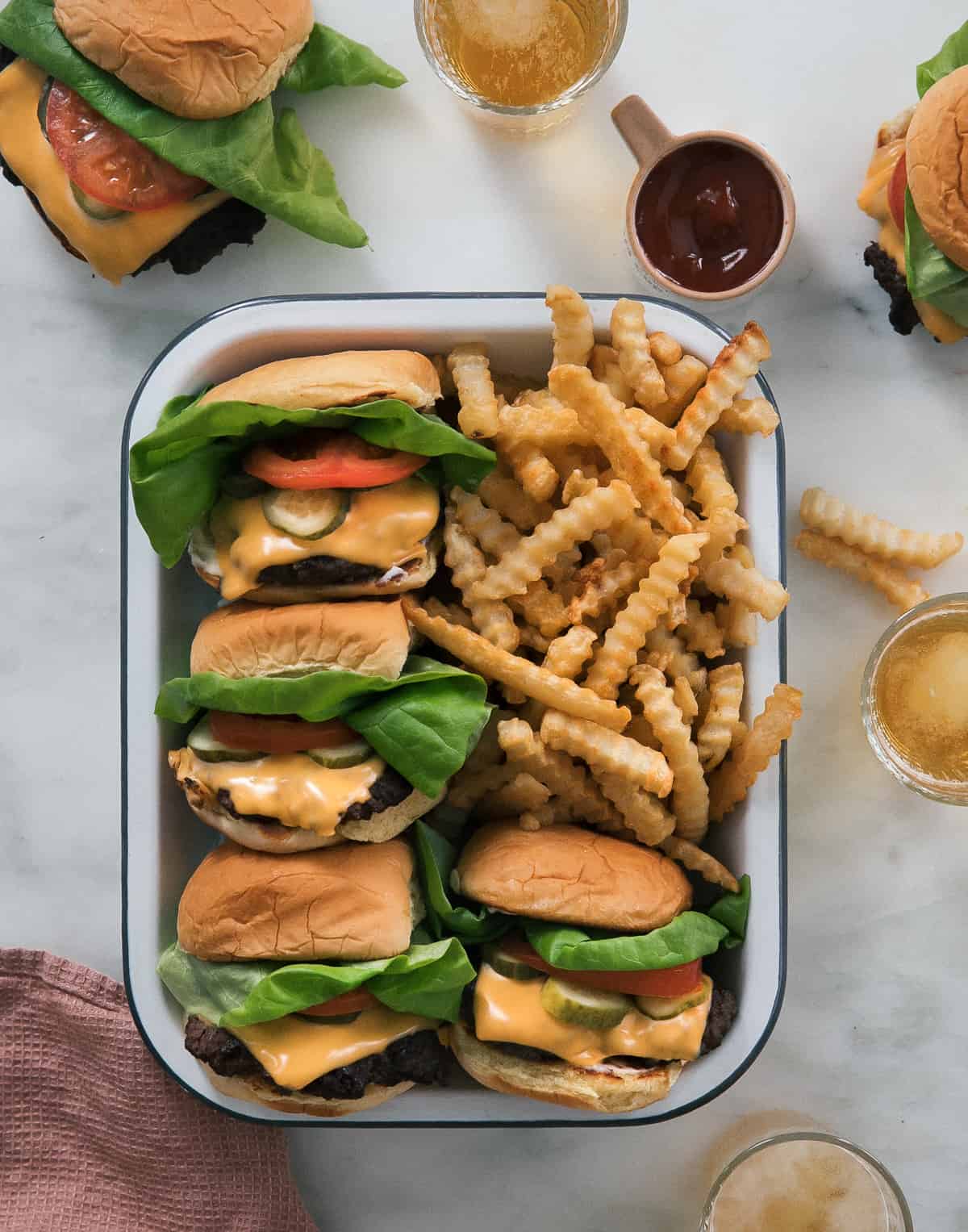 If you've never had a smash burger, you are in for a TREAT. I feel like in the past couple years, smash burgers have really had a moment. They've become insanely popular in restaurants. The best part about them is that they're super easy to make at home.
First Light Grass-Fed Wagyu Beef
A few months ago, I was lucky enough to visit New Zealand with Beef + Lamb New Zealand. New Zealand is one of the most beautiful places I've ever visited.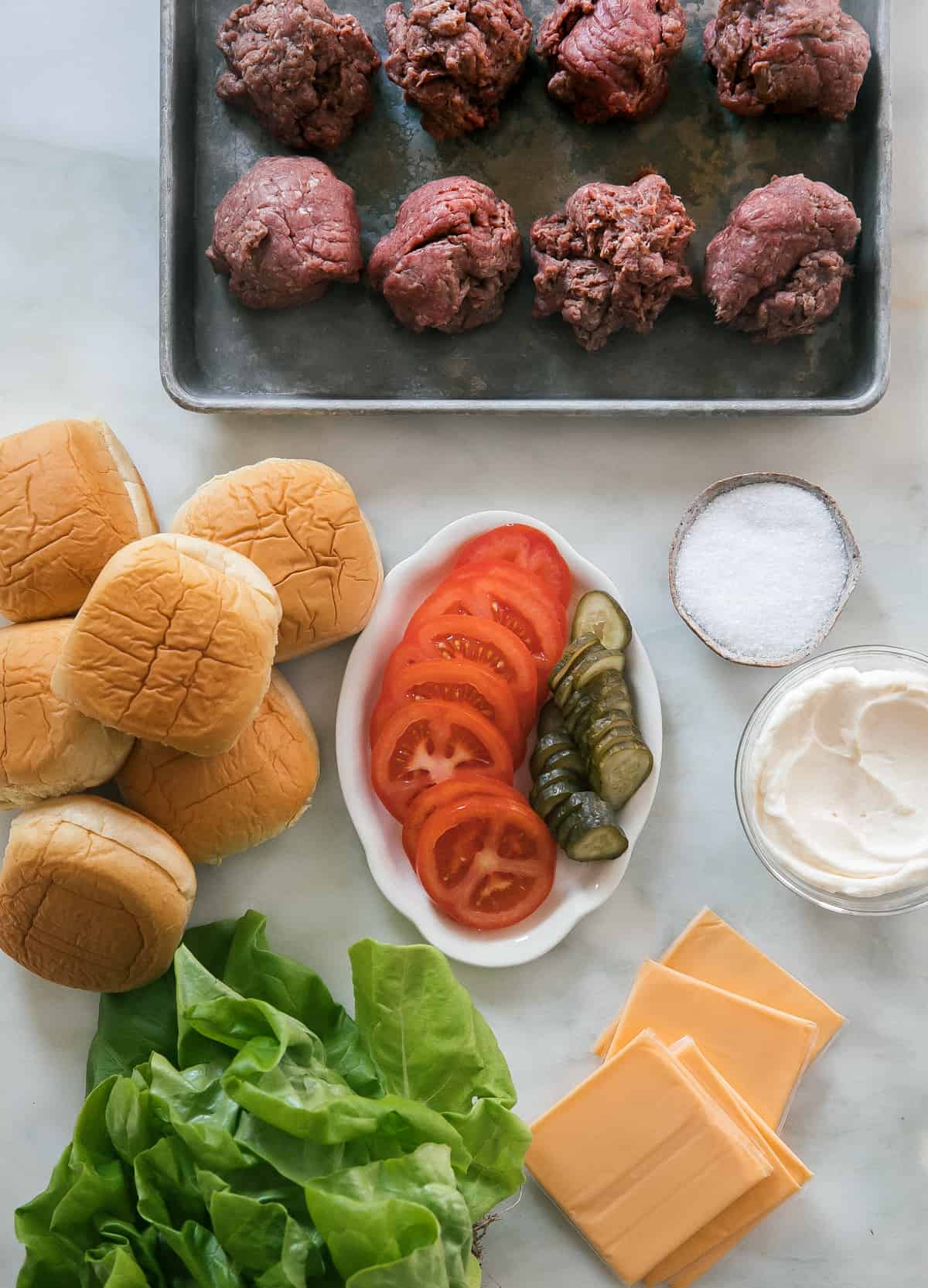 The first farm we visited was a First Light property. First Light raises Wagyu cattle that are pasture-raised and 100% grass-fed on beautiful rolling hills full of lush green grass. The results are delicious tasting beef that is beautifully marbled and yet still has a very clean and pure flavor.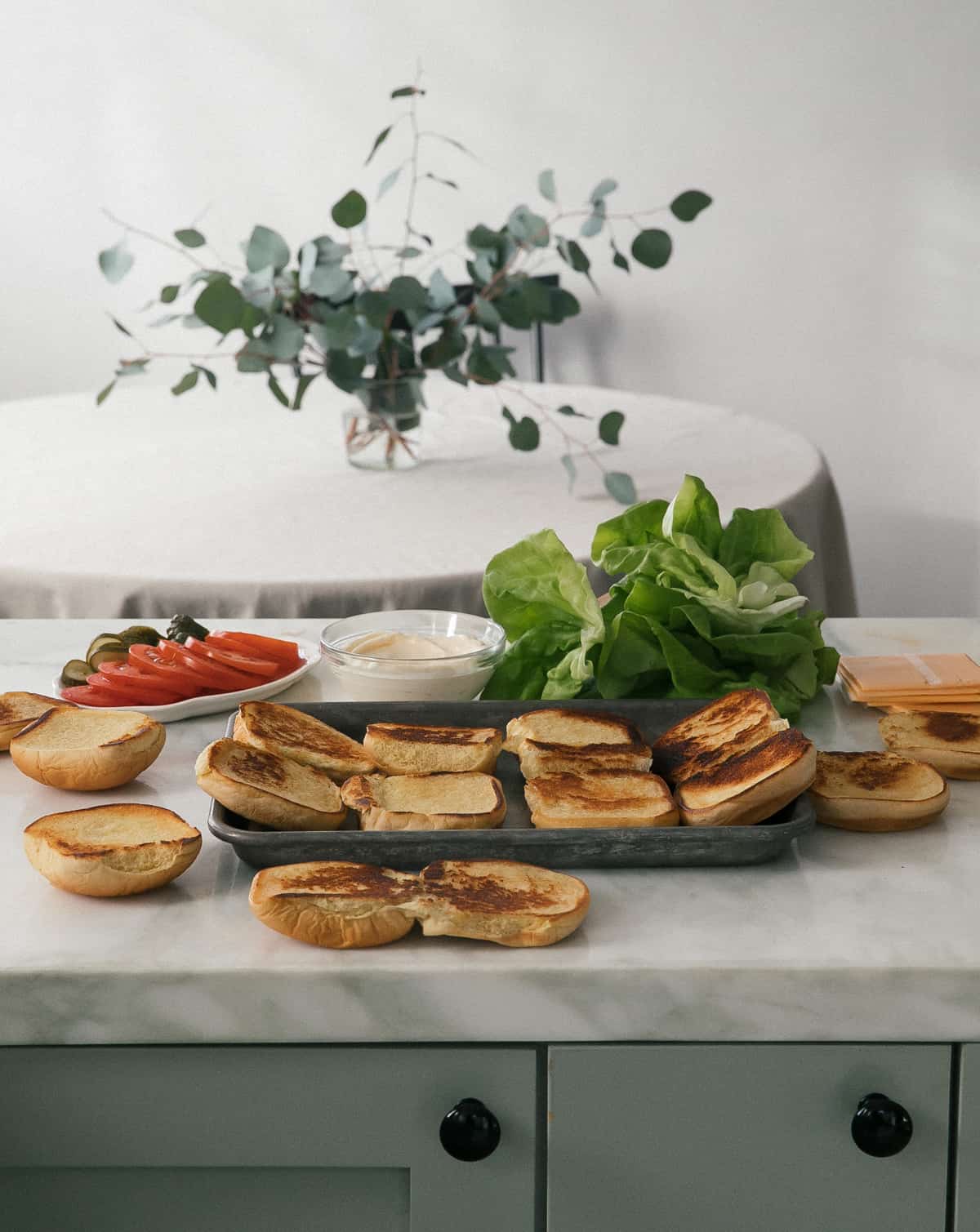 I was able to get this First Light Wagyu at my local grocery store (click here for their store locater!). And if you're in Los Angeles, you can head to Hi-Ho where their burgers are made with First Light 100% Grass-Fed Wagyu Beef from New Zealand. I haven't been yet but I hear their burgers are the best in LA.
Let's dive into smash burgers!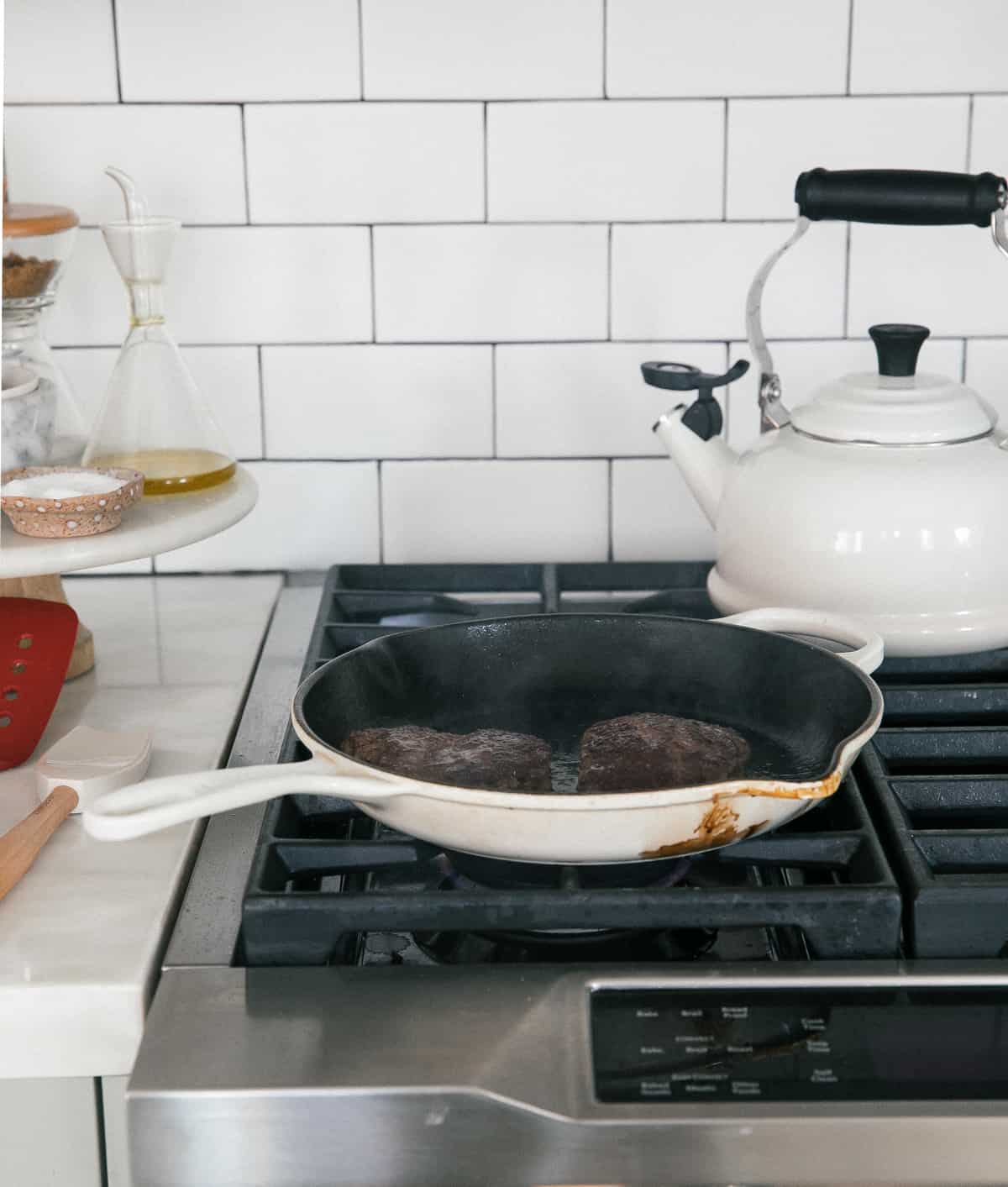 What Are Smash Burgers
Smash burgers are usually cooked on a flat top or griddle (in our case we're using a cast iron pan). The beef isn't formed into patties; instead they're sort of pucks or loosely gathered piles. When they hit the hot pan, they're smashed with a spatula until the patty is nice and thin (about 1/2-inch thick). The edges are craggy and crispy. There's NO spices, mix-ins, etc. They're fairly simple. Just salt and pepper.
You can truly use any cheese you like, but I stuck to the traditional American cheese. Butter lettuce, a thin slice of tomato, dill pickles and mayonnaise finish it off.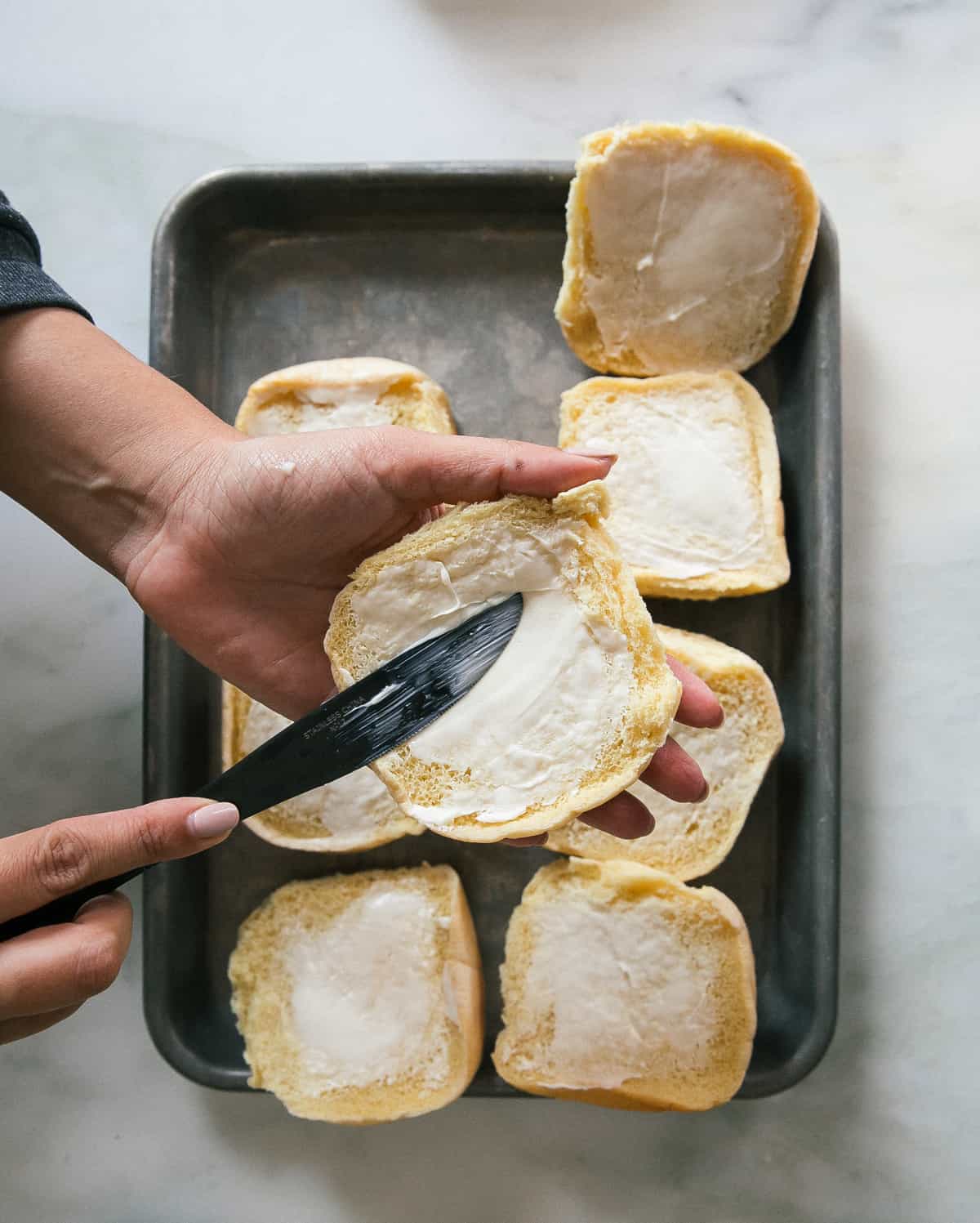 How to Make Smash Burgers
The first step to smash burgers is selecting your meat. I'm going with First Light 100% grass-fed Wagyu ground beef from New Zealand.
Next bit is to toast the buns. I like to add a bit of butter to a pan and toast them interior side down. Now this step is out of the way.
Divide the 2 pounds of beef into 4-ounce piles. If you like, you can even add two patties to each burger, but I felt like one was enough lol.
Sprinkle the tops of the piles of beef with a few pinches of kosher salt and freshly cracked pepper.
Heat some oil in a cast iron pan.
When the oil is hot, add the beef and immediately smash it with a heavy spatula until the patty is about 1/4-inch thick.
Then place a cooling rack atop a baking sheet and put it in a warm oven. Transfer the cooked patties on the baking sheet so they can stay warm while you make the remaining patties. In a restaurant you have a griddle top to work with but at home, the oven is essential!
Top the patties with the slices of American cheese and place them back in the oven until melty.
Meanwhile, this will give you time to slice up a tomato, gather the lettuce and slice up the pickles.
Assemble the burgers! I liked to add a swipe of mayonnaise to the buns, add the patty, along with some slices of dill pickles, tomato and lettuce.
Crinkly fries are a delicious addition!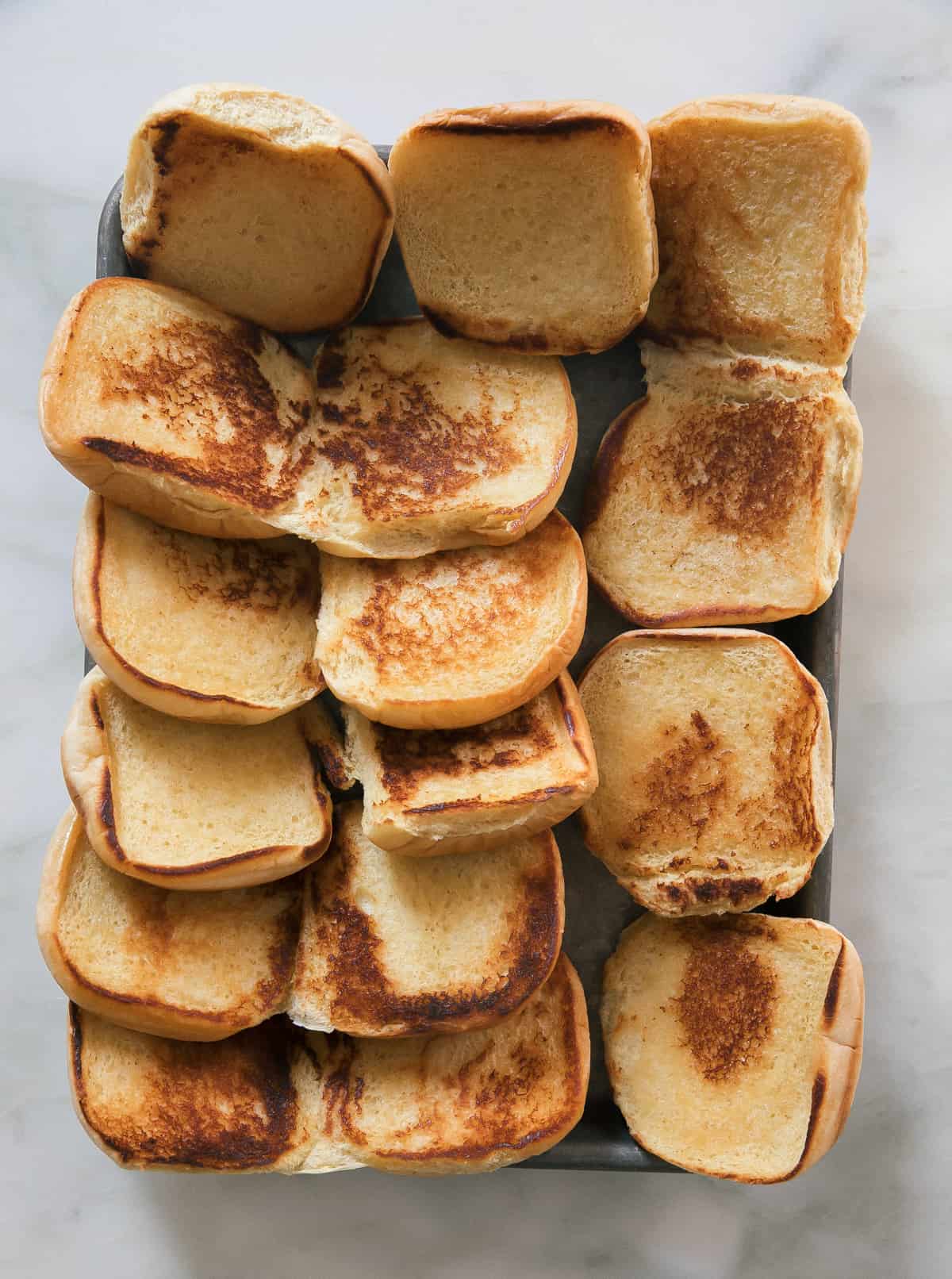 Tips and Tricks to Smash Burgers
Biggest tip is to NOT, I repeat NOT form them into patties. Not doing this actually makes it way easier.
If you don't have the perfect spatula for smash burgers (some restaurants have heavy smashers), don't worry. I used a plastic pancake spatula, and then pressed that spatula with the back of a wooden spoon! No fancy tools necessary.
Select your bun carefully. I think brioche buns are delicious. Regular burger buns work, too. But my favorite is a potato bun because of how soft and flavorful they are.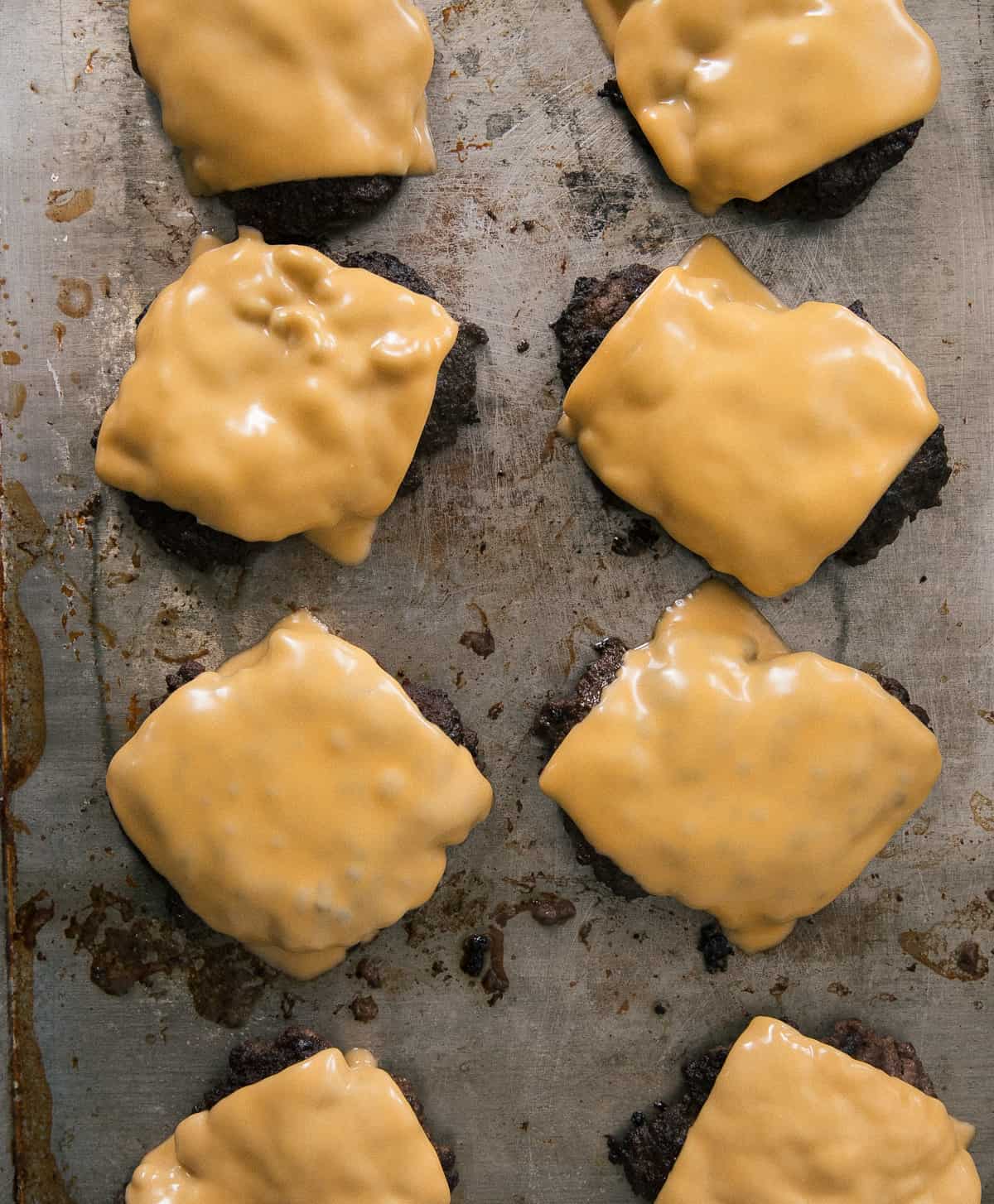 If you make these Smash Burgers, let me know on Instagram!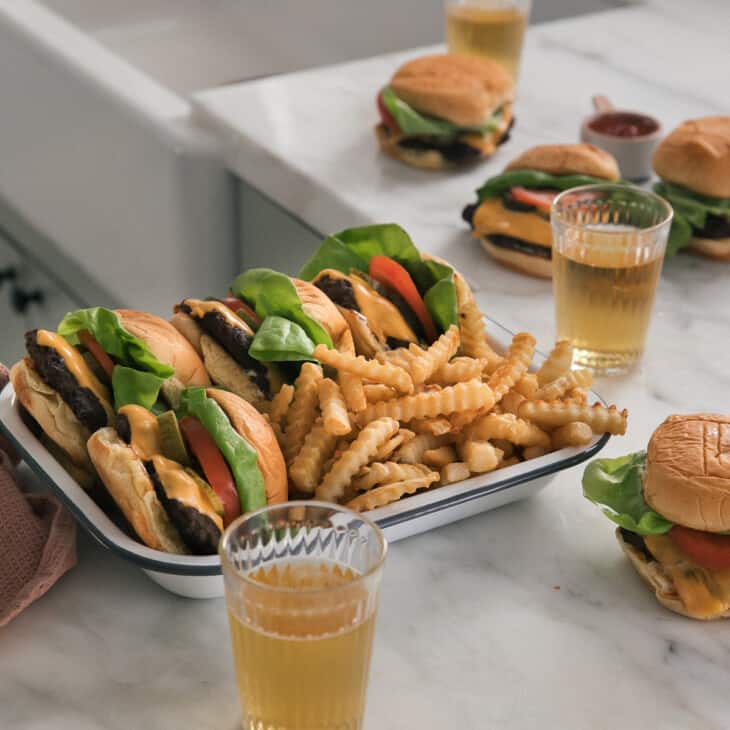 Print Recipe
Smash Burger Recipe
Ingredients
Burger Buns:
1

tablespoon

unsalted butter

6

potato buns

halved
Burger Patties:
2

pounds

First Light 100% grass-fed Wagyu ground beef

Kosher salt

(I used Diamond Crystal)

Freshly ground pepper

Neutral oil

(such as vegetable or avocado oil)
Burger Assembly:
American cheese

(or any other type of cheese you like!)

Mayonnaise

2

Roma or vine ripe tomatoes

1

head of butter lettuce

Kosher salt

2

dill pickles

sliced
Instructions
To Toast the Buns:
Place a pan over medium-low heat. You're going to have to do this in batches. Add the butter and when melted, add as many potato bun halves, interior side down, as you can, and cook until toasted and lightly golden brown, about 1 to 2 minutes. Remove from the pan and set aside. Repeat with the remaining potato buns until they've all been toasted. Add more butter to the pan, as needed.
To Make the Patties:
Portion out the 2 pounds of ground Wagyu beef into 4-ounce piles that are loosely packed (no need to form patties). I like to place them on a baking sheet since I needed to cook them in batches. Top each pile of beef with a few pinches of salt and a few rounds of freshly cracked pepper.

Place a cast iron over medium-high heat. Preheat the pan until hot and then add about a teaspoon or two of oil. Add two patties, spacing them about 4 inches apart, and then smash them flat with a spatula to form patties that are 4-inches in diameter. Cook until the edges are brown and craggy, about 2 minutes. Flip the patties, season with salt and pepper, and cook for an additional minute or two. Transfer to the baking sheet to a warm oven to keep warm. Repeat with cooking the patties until you've worked your way through all of the beef.

Remove the baking sheet with the patties from the oven and top each patty with a slice of American cheese. Transfer back to the oven until cheese is melted. American cheese melts pretty easily; you may need only 2 to 3 minutes in the oven.
To Assemble the Smash Burgers:
Add a swipe of mayonnaise to both halves of the bun. Add the patty, top with slices of pickles, tomato and lettuce. Serve immediately.
Nutrition
Calories:
112
kcal
(6%)
|
Carbohydrates:
18
g
(6%)
|
Protein:
6
g
(12%)
|
Fat:
3
g
(5%)
|
Saturated Fat:
1
g
(6%)
|
Cholesterol:
4
mg
(1%)
|
Sodium:
277
mg
(12%)
|
Potassium:
15
mg
|
Fiber:
1
g
(4%)
|
Sugar:
4
g
(4%)
|
Vitamin A:
73
IU
(1%)
|
Vitamin C:
1
mg
(1%)
|
Calcium:
119
mg
(12%)
|
Iron:
1
mg
(6%)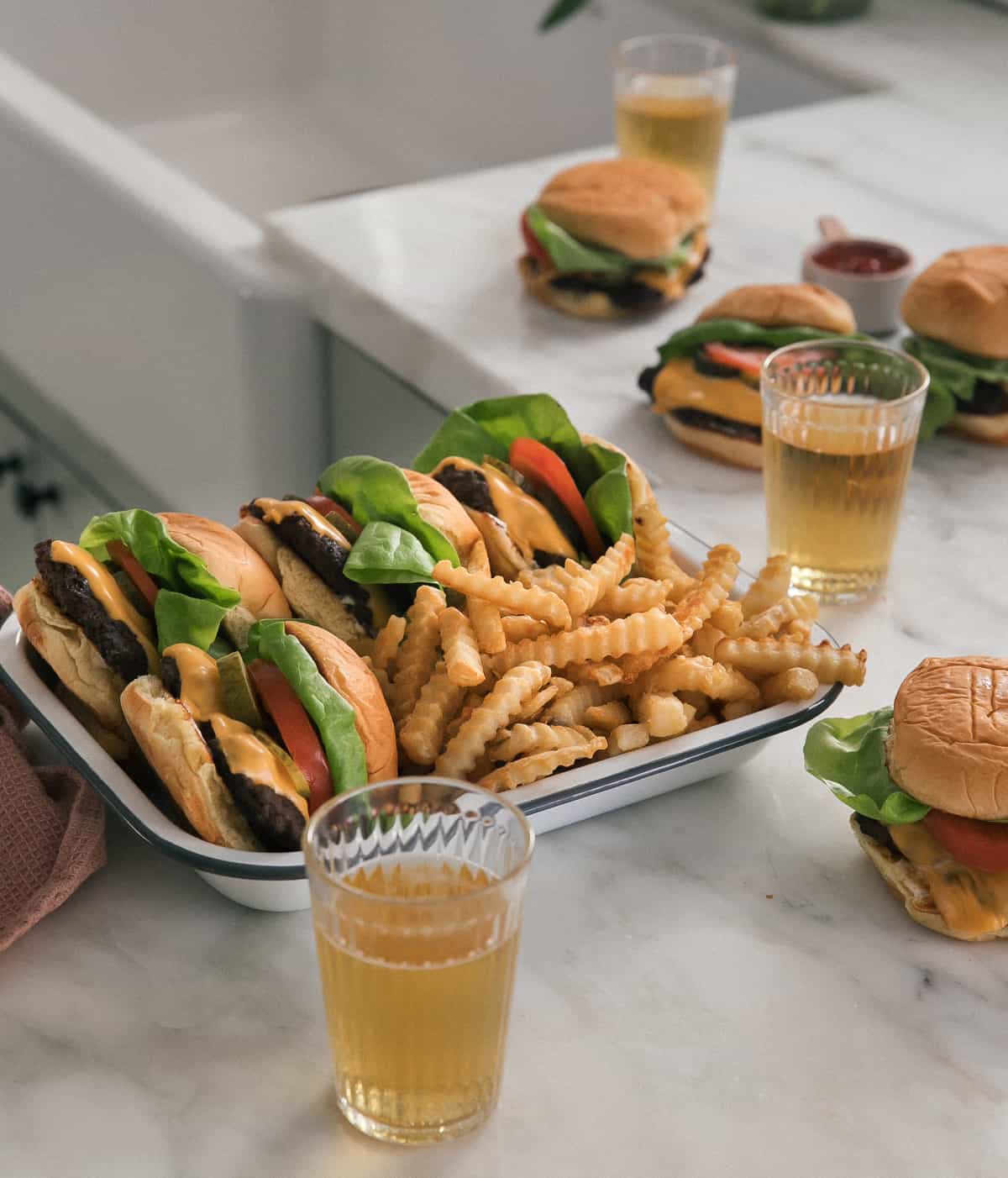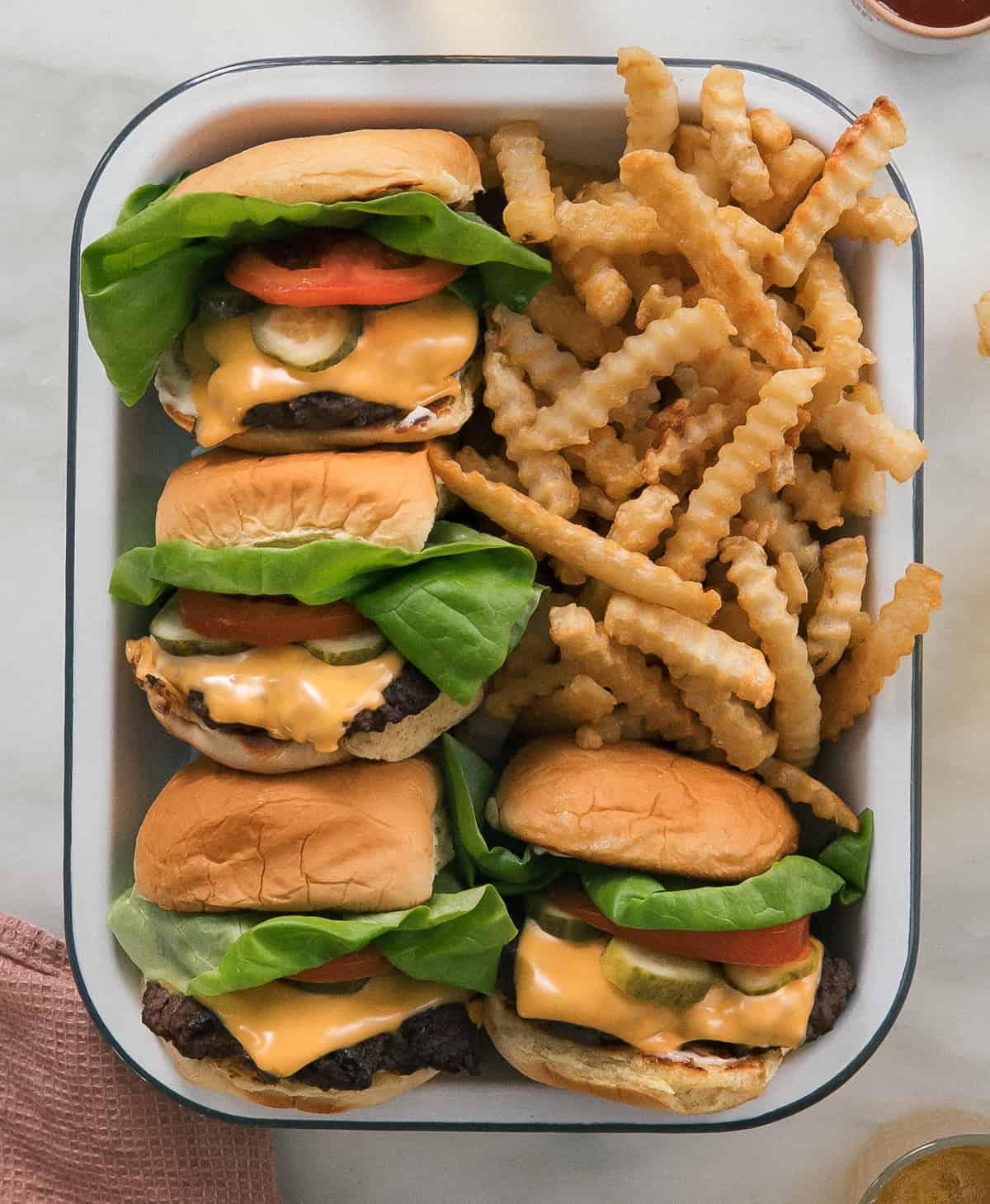 (This post is sponsored by Beef + Lamb New Zealand. Thanks for supporting the sponsors that keep A Cozy Kitchen cozy.)