These Copycat Shake Shack Burgers are exactly like the real thing. They're smash burgers, topped with special sauce, American cheese served on a potato bun.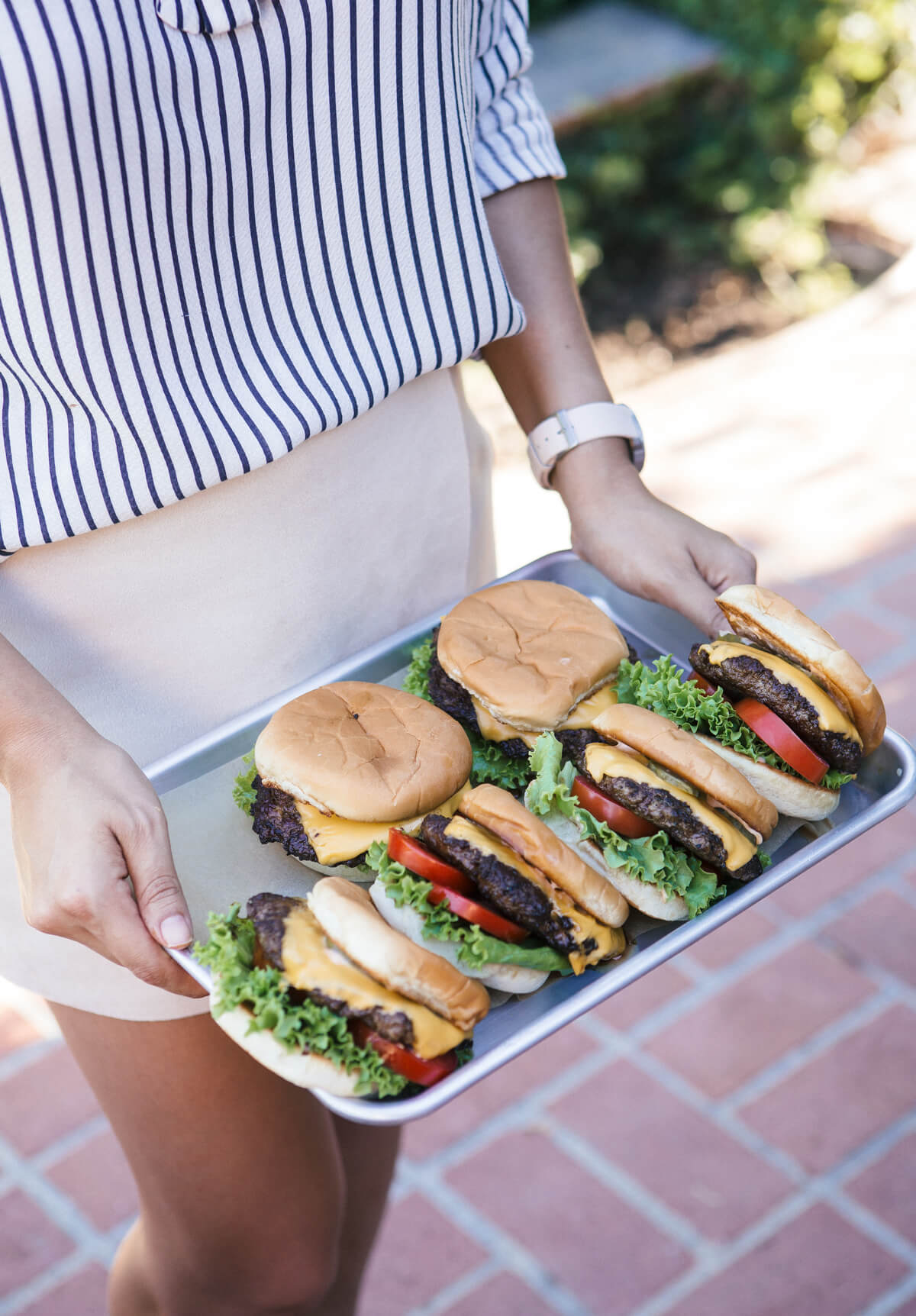 Before we dive into these Copycat Shake Shack Burgers…let's talk about something:
Shake Shack Vs. In-n-out?
If you're on the west coast, you've most likely been asked that dumb question that everyone loves to ask: "In-N-Out or Shake Shack?"
It's not really a fair question because the price point on a Shake Shack burger is WAY higher than an In-n-Out Burger AND most diehard LA people will never, ever say Shake Shack. They'd almost rather root for the Yankees.
And while I love LA, I will admit, I always choose Shake Shack. The meat at In-N-Out always makes me feel kinda ill. I once got the grilled cheese and I didn't feel sick at all so it's def the meat. So, for me, I'll always go with Shake Shack because the quality of ingredients sits with me a bit better. But In-N-Out will always be near and dear to my heart and remind me of young childhood and driving up the coast of California.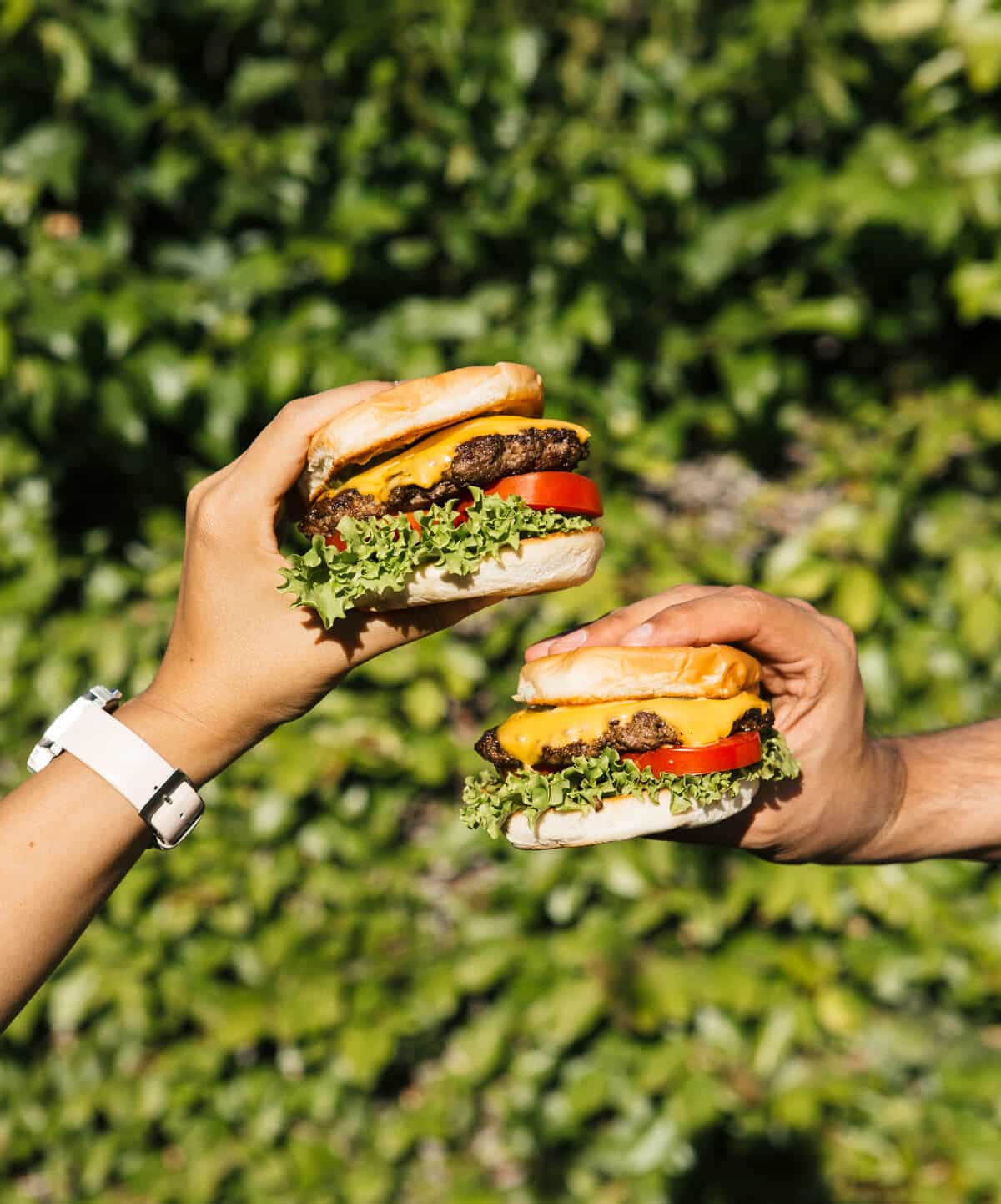 BUT, we're not making a copycat In-N-Out burger, we're making a Copycat Shake Shake burger. WHY?!
BECAUSE THEY ARE DOPE. There have been some good posts on this subject, notably here and here. But luckily, for me, and you, Shake Shack has come out with a book, giving us all a better idea of how things should be constructed and made. Most importantly: the special sauce.
Martin Potato Rolls Are Amazing:
The first step is to butter your Martin's Potato Rolls. If you're unfamiliar with Martin's potato rolls just know they are soft and luscious and so very delicious. You can buy them on the east coast at a whole lot of places and if you're psycho, or you order them online here.
I searched very far and wide for Martin Potato Rolls in LA and couldn't find them. It was really annoying. A big part of me even thought of being crazy and buying eight burgers at Shake Shack, hold the meat and sides, so I could get the buns for this post…but then the normal, frugal part of me kicked in and immediately told my-sometimes-irrational-self that she was psycho for even thinking of that.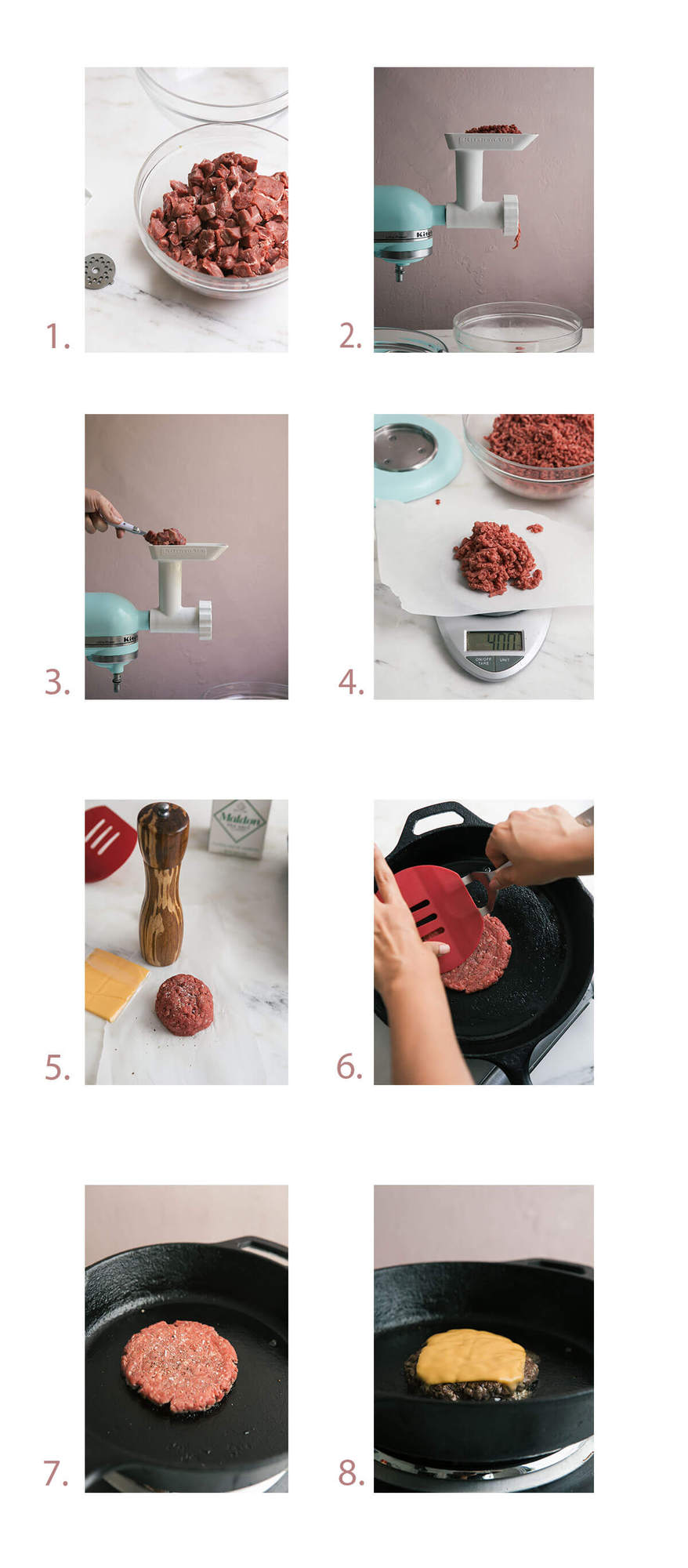 If you're lucky enough to live on the east coast, go get them. If you're a west coaster, you can order them online or just use white buns that are small. 🙁
Either way, you gotta butter them and then pan-fry them. This is what dreams are made of.
The Meat Blend for the Shake Shack Burgers
So we made our own blend, with the guidance of their book. BUT you don't need to. Just go to your grocery store (that has a meat counter) and ask for a blend. OR you can use ground chuck that is 85/15. It will still taste good.
But I did as follows:
I got one pound of sirloin and one pound of chuck.
I chopped them up into cubes and fed them through the meat grinder with the largest opening. And then I put them through again with the smaller opening.
And then we formed round pucks. Not patties. Pucks.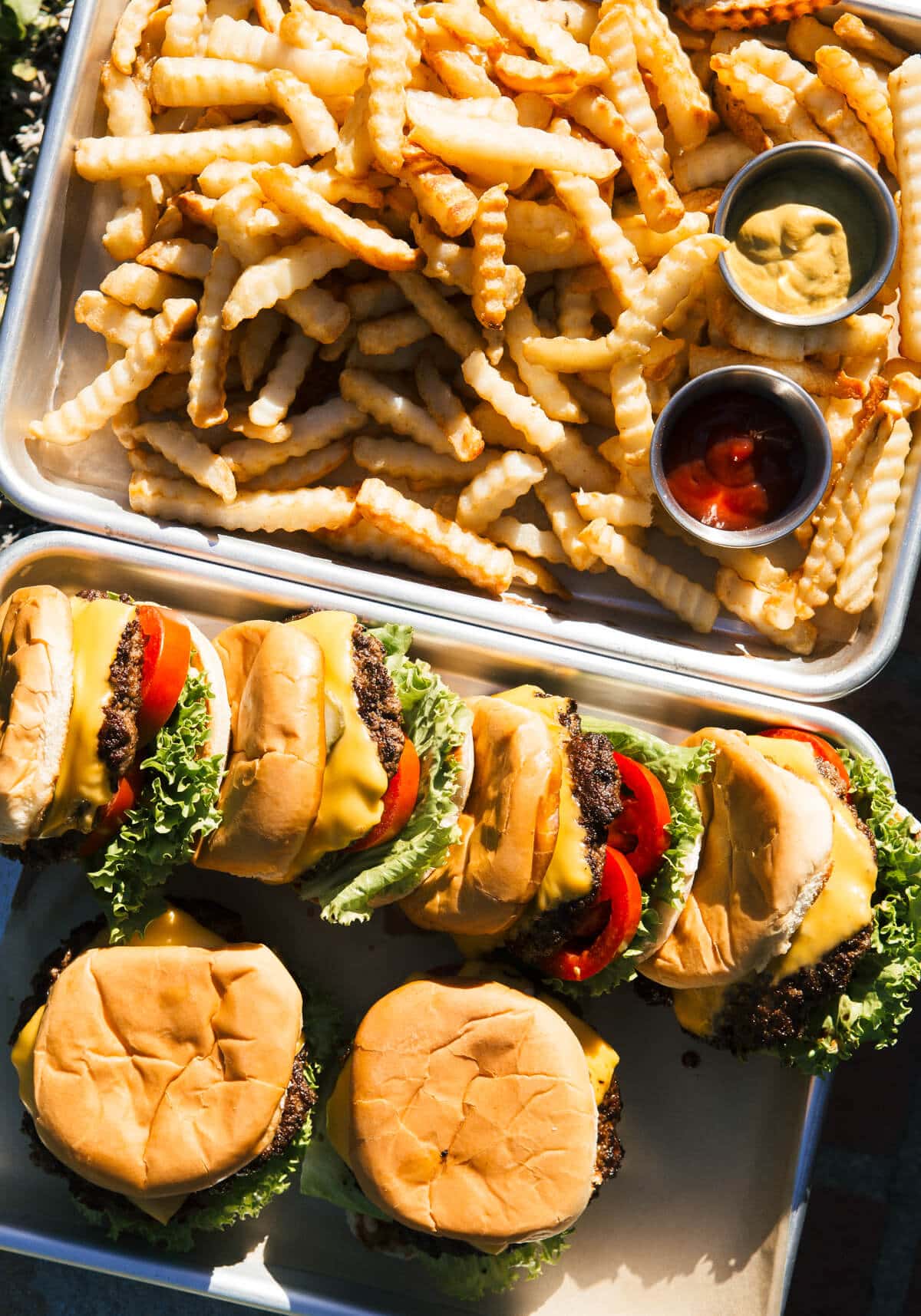 Why Should the Meat Be Cold for Shake Shack Burgers?
Another thing that I found interesting was that you want the meat COLD. When the fat hits the pan you need it to be cold so it makes a really nice crust.
We pan-fried them on a cast iron with a bit of oil. We also used ghee on one patty and it was a bit too rich for me. But I'm also a baby when it comes to foods with too much fat.
When you flip the patties over, you then flatten them. You will feel like a short order cook. And immediately feel like you should be wearing a hairnet and have a cigarette hanging from the side of your mouth, just like Paula Deen (minus the racism part).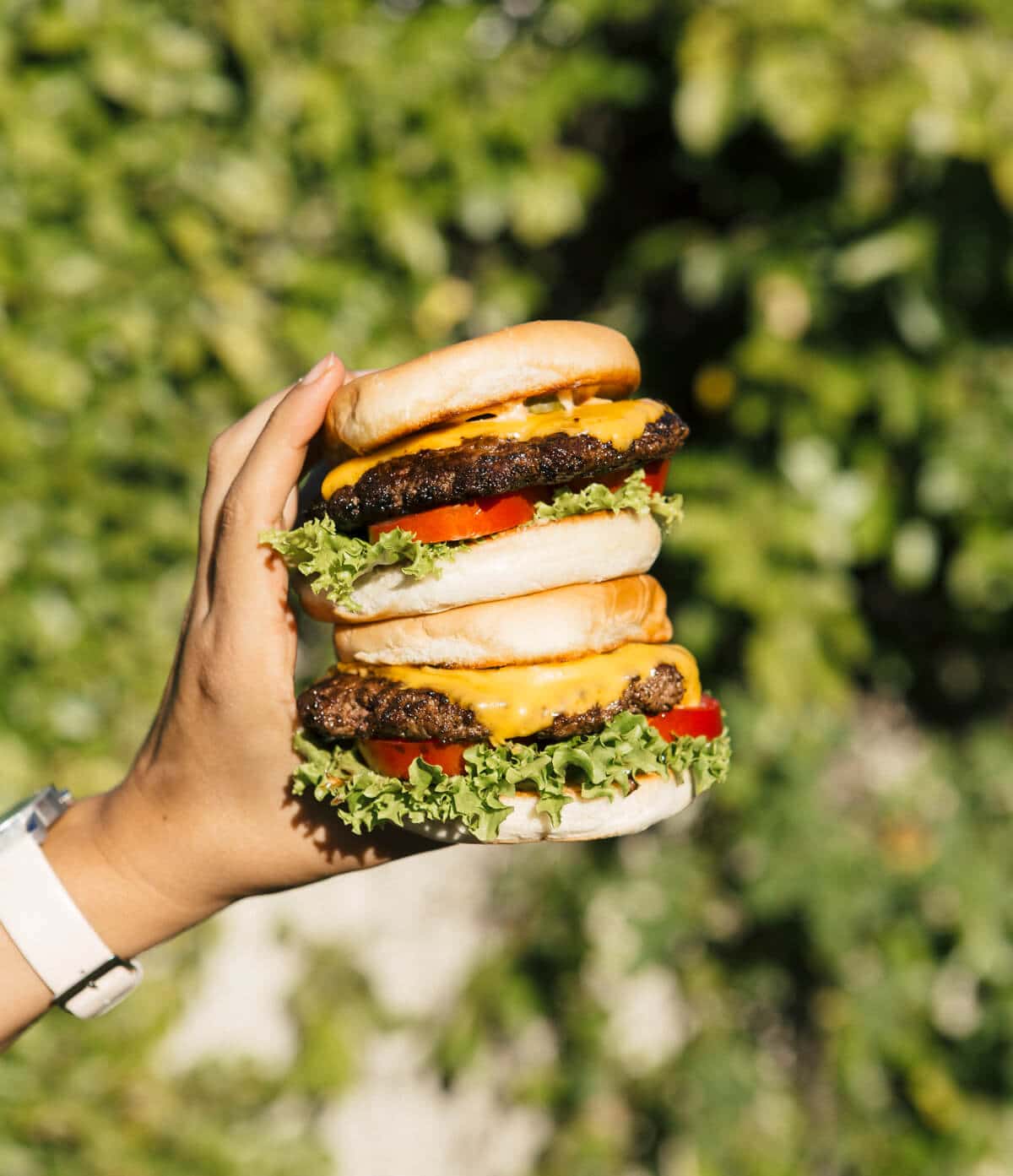 American Cheese Is the Move!
You then drape slices of American cheese over the burgers. And that American cheese will melt gloriously.
How to Assemble Copycat Shake Shack Burgers:
Special sauce on toasted, buttered bun.
Green leaf lettuce
Two slices of roma tomatoes, cut a lil' on the thicker side.
The patty with the cheese
Two slices of pickles
And there you have it, Copycat Shake Shack Burgers.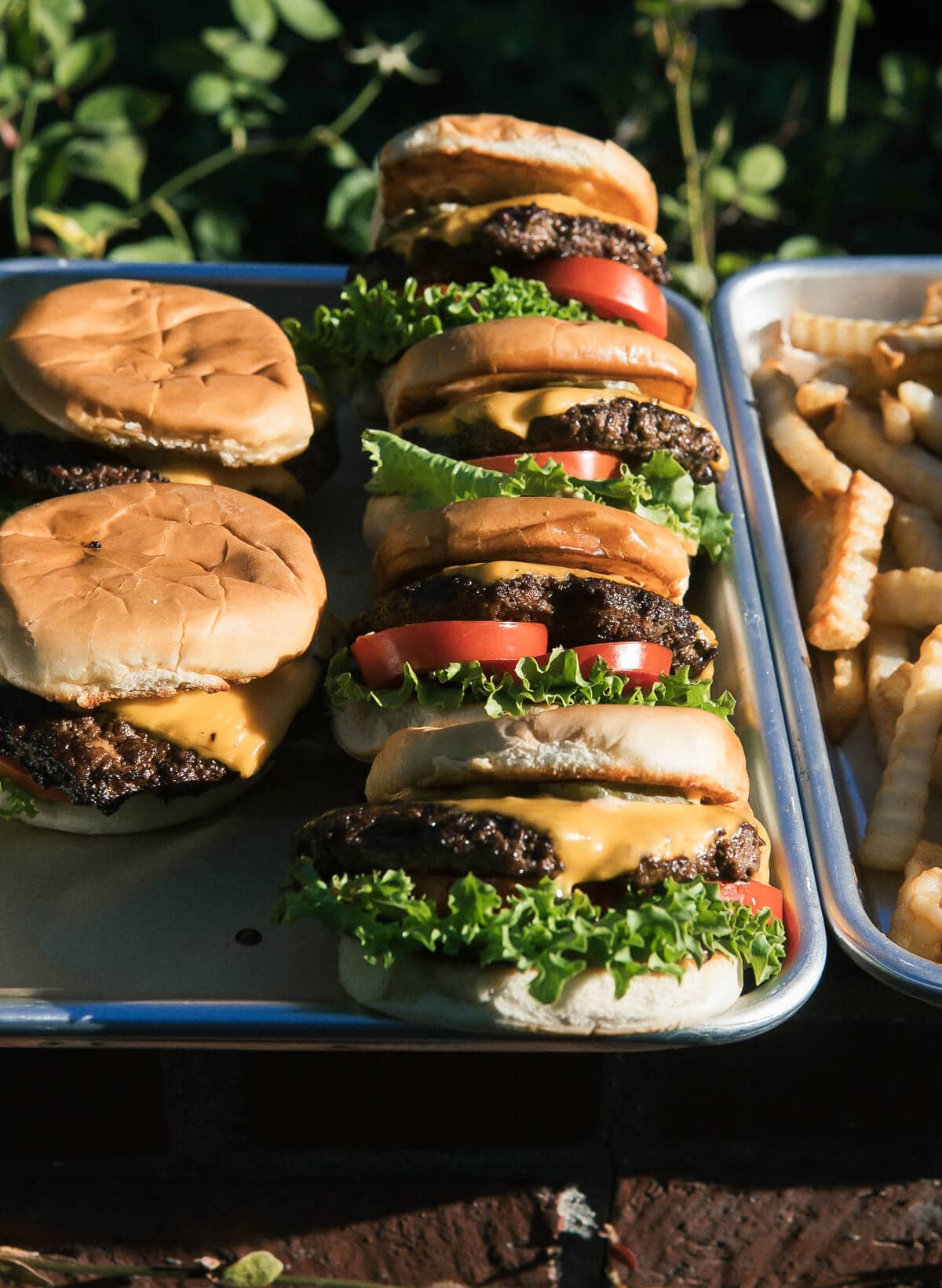 How to Make these Burgers Ahead:
I prepped the meat the day before and then we made them and kept them in the oven to stay a bit warm while we assembled everything.
Oh and crinkle fries! We bought a few bags of frozen crinkle fries and cooked them for about 45 minutes, salted them and served them on a baking sheet with lots of ketchup and mustard on the side.
This is a super easy idea for a dinner party because a lot of it can be prepped before. You can even have people assemble the burgers themselves if you want to.
And don't forget about milkshakes.
xo
Adrianna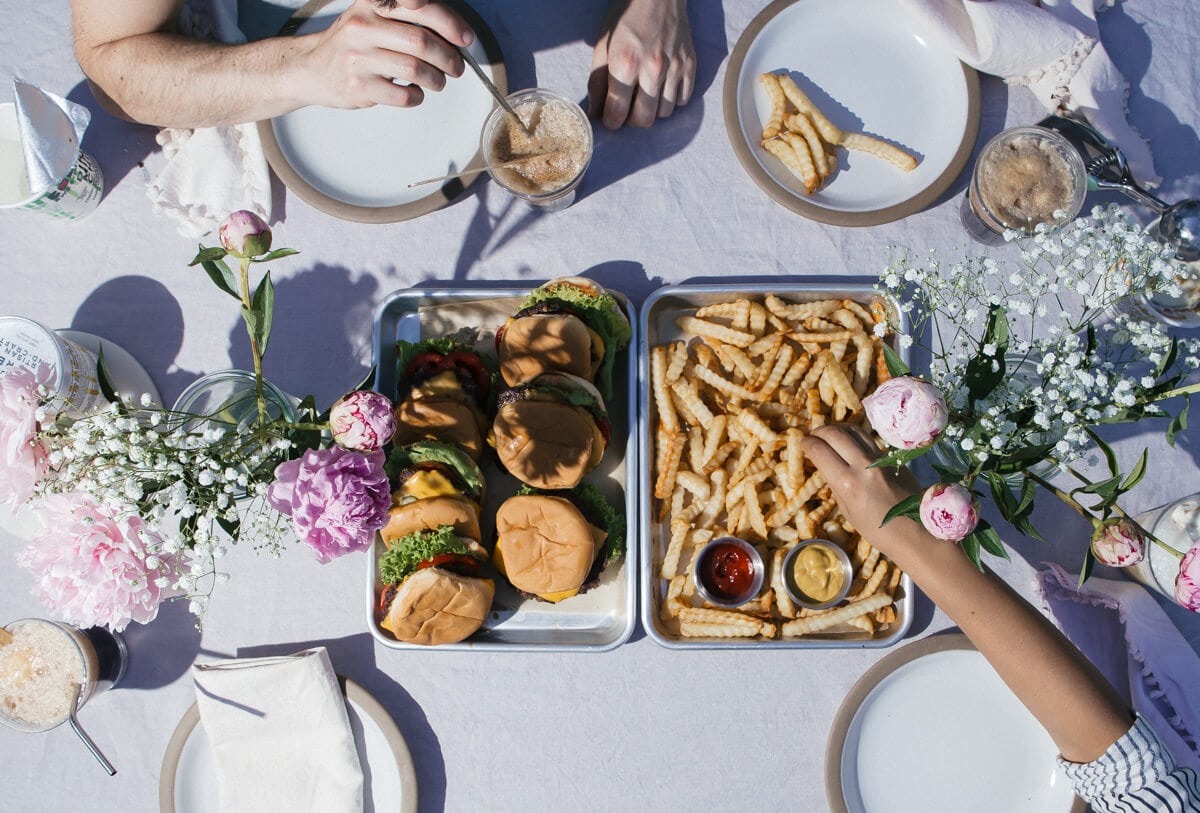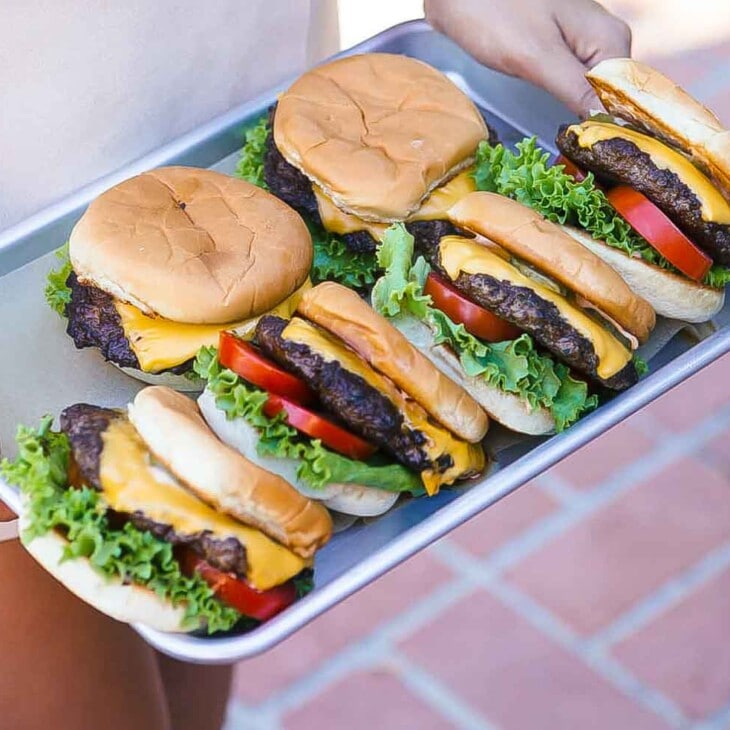 Print Recipe
Shake Shack Burger Recipe
These Copycat Shake Shack Burgers are exactly like the real thing. They're smash burgers, topped with special sauce, American cheese served on a potato bun.
Ingredients
Special Sauce:
1/2

cup

mayonnaise

Hellmann's if you wanna be legit

1

tablespoon

ketchup

1

teaspoon

pickle brine

1/4

teaspoon

ground cayenne

Pinch

paprika
Buns:
2

tablespoons

unsalted butter

melted

Martin's Potato Rolls or White Hamburger Buns
Meat Options:
1

pound

sirloin

cut into 1-inch pieces

1

pound

chuck

cut into 1-inch pieces

OR

2

pounds

ground beef

85/25

Sea salt

Freshly ground pepper
For Cooking, Assembly and Serving:
Vegetable oil

8

slices

of American cheese

Roma tomatoes

cut into 1/2-inch slices

Leafy Green Lettuce

Sliced pickles

Baked crinkle fries

Ketchup + Mustard
Instructions
Special Sauce:
Add the ingredients for the special sauce to a bowl and whisk until smooth. Transfer to a small bowl or squeeze bottle and set aside.
Toasting Buns:
Brush the buns (top and bottom) with butter. Warm a pan over medium heat. When warmed, add the buns, toasting them for about 1 to 2 minutes. Repeat until you've worked your way through all of the buns
Meat Options + To Grind and Form:
If you're grinding your own meat, add the cubed sirloin and chuck to a bowl and combine it. With the largest meat grinder attachment on your mixer or grinder, turn the speed to #4 and add the meat. Repeat until you've worked your way through all of the meat. Change the grinder attachment to the smaller attachment. Pass the meat through the grinder once more. Divide the meat into 4 ounce mounds. You should end up with 8 mounds of meat.

If you're using store-bought ground beef, no biggie. Divide the meat into 4 ounce mounds.

Form pucks that are about 2 inches tall and 2-inches wide. Sprinkle the tops with a few pinches of salt and pepper.
Cooking:
Place a cast iron skillet over moderately high heat. Add a few teaspoons of oil and when glistening and VERY hot, add the meat puck. Allow to cook for about 30 seconds and then smash it with a spatula until it's about 1/4-inch thick. Cook for about 1 minute and then add a few pinches of salt and pepper to the top. Then, flip. Add the slice of cheese and cook for an additional minute or so. Remove from the pan and repeat with the remaining pucks of meat.
Assembly:
Squeeze a bit of special sauce on both sides of the bun. Add a few pieces of leafy green lettuce, a few slices of tomatoes and then top with the burger patty. Add a few pickles and then add the other half of the bun on top. Repeat until you've made all of the hamburgers.

Serve with baked crinkle fries, ketchup and mustard on the side.
Nutrition
Serving:
6
g
|
Calories:
450
kcal
(23%)
|
Carbohydrates:
20
g
(7%)
|
Protein:
12
g
(24%)
|
Fat:
3
g
(5%)
|
Cholesterol:
10
mg
(3%)
|
Sodium:
15
mg
(1%)
|
Iron:
0.7
mg
(4%)
Photos by Billy Green