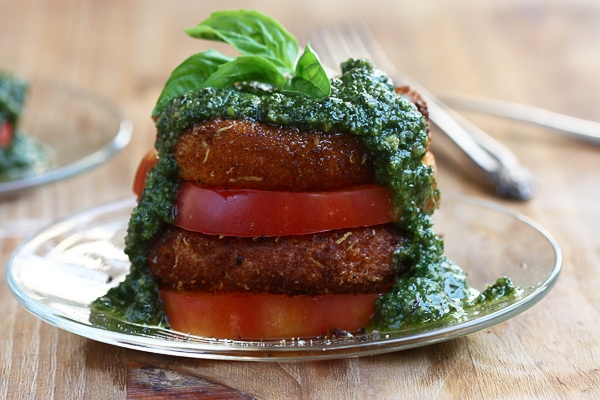 Hi!
I know a few days ago I was totally publicly flirting with Fall, talking about pumpkin this and cuddle that and apple cider whatever…and here I am posting this recipe with slices of heirloom tomatoes and fresh pesto.
I'm sort of all over the place, but that's what you get during this awkward period between seasons. My brain isn't sure what's appropriate. My heart knows to look for cheese for the answers…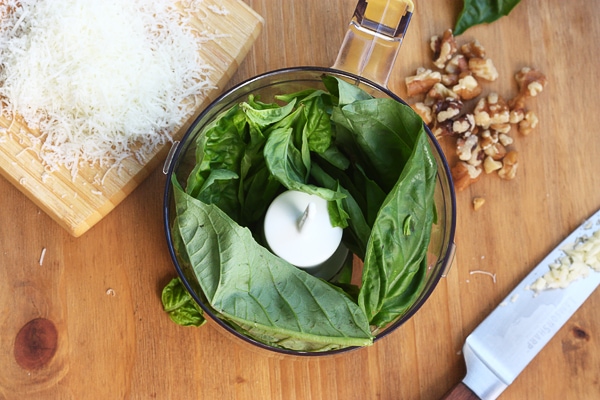 When I went to go categorize this post, I realized I don't really do salads on this blog very often. It isn't that I don't like vegetables; there's plenty of those around.
I think it's the whole lettuce thing.
Sure, arugula is cool as a topping on pizza, a Caesar salad is always good, and butter lettuce tastes amazing…when drenched in buttermilk ranch dressing or something.
But mainly lettuce, for me, acts as this vessel for something more awesome than itself. So why not skip it all together?!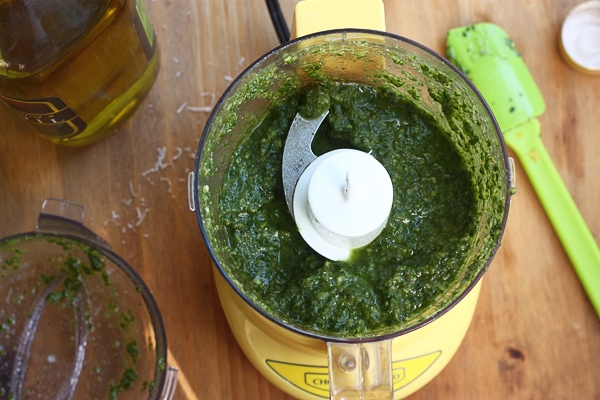 This salad does just that. Cheese…no, correction: fried cheese, tomatoes and pesto. There's no catalyst. No middleman!!
Can we just not live in a world where salads have ingredients that are middlemen?!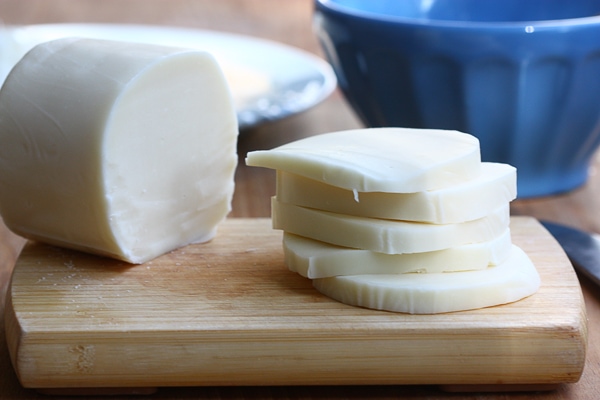 This salad is pretty straight-forward–no crazy tricks or pro-tips, really. Just some friend cheese.
Oh there is a little info on the cheese I wanted to explain. In order to get that thick crust around the cheese, I dipped the piece of mozzarella in the egg and batter two times. That's all. No biggie. Nothing major.
And yeah, I know frying stuff kinda sucks, but there's melty cheese on the other side of this recipe and it's so SO worth it.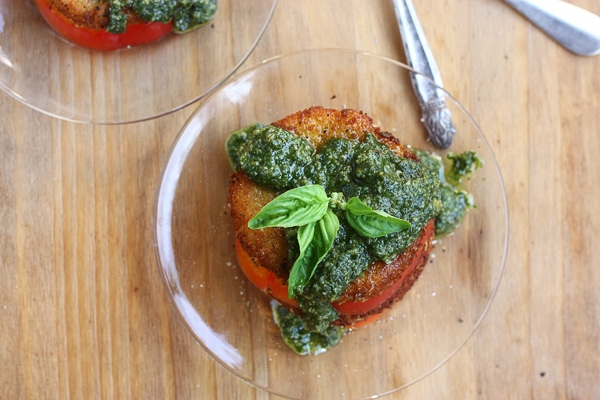 Fried Mozzarella Caprese Salad

Yields 2 servings
Pesto:
1 cup of basil
2 garlic cloves, minced
Handful of walnuts
1/4 cup of Parmesan-Reggiano
1/4 cup of olive oil
Salt and pepper to taste
Fried Mozzarella:
1 tomato
1 quart of canola oil
1 five ounce ball of mozzarella (low moisture, not water packed)
2 large egg, beaten
1 1/2 cup plain bread crumbs
1/2 teaspoon of crushed red pepper
1/2 teaspoon of oregano
Salt
1. In a food processor, add the basil, garlic, pine nuts (or walnuts), Parmesan, and pulse until chopped. With the processor on low, add the olive oil in a slow and steady stream until completely combined. Taste the pesto and adjust the salt and pepper to taste. Set aside.
2. Slice the tomato in 1/2 inch slices and place on paper towels. This will absorb some of the tomatoes' moisture.
3. Prep a plate with a few layers of paper towels. Fill a 10″ cast iron pan with 4 inches of oil, about 2 quarts, and heat oil to 350F.
4. While it's heating up, slice the mozzarella into 1/2 inch slices. Prep bowl with beaten egg. On a plate, combine bread crumbs, crushed red pepper, oregano and salt (if needed). Note: Try your mozzarella. If there's a lot of salt, chill on the salt. Don't add any. If the mozzarella has no salt, then add about 1/4 teaspoon to the bread crumb mixture.
5. Double-dip mozzarella by dipping in the beaten eggs, then bread crumbs and repeating the step. This will give you a thick delicious crust.
6. Gently drop the mozzarella into hot oil using a slotted spoon and fry, about 30 seconds, or until golden brown. Turn the mozzarella and allow to fry on the other side for another 30 seconds.
7. Transfer to the paper toweled plate to drain.
8. Grab a plate and stack tomatoes and mozzarella in whatever fashion you like. Top with pesto and a crack of black pepper.