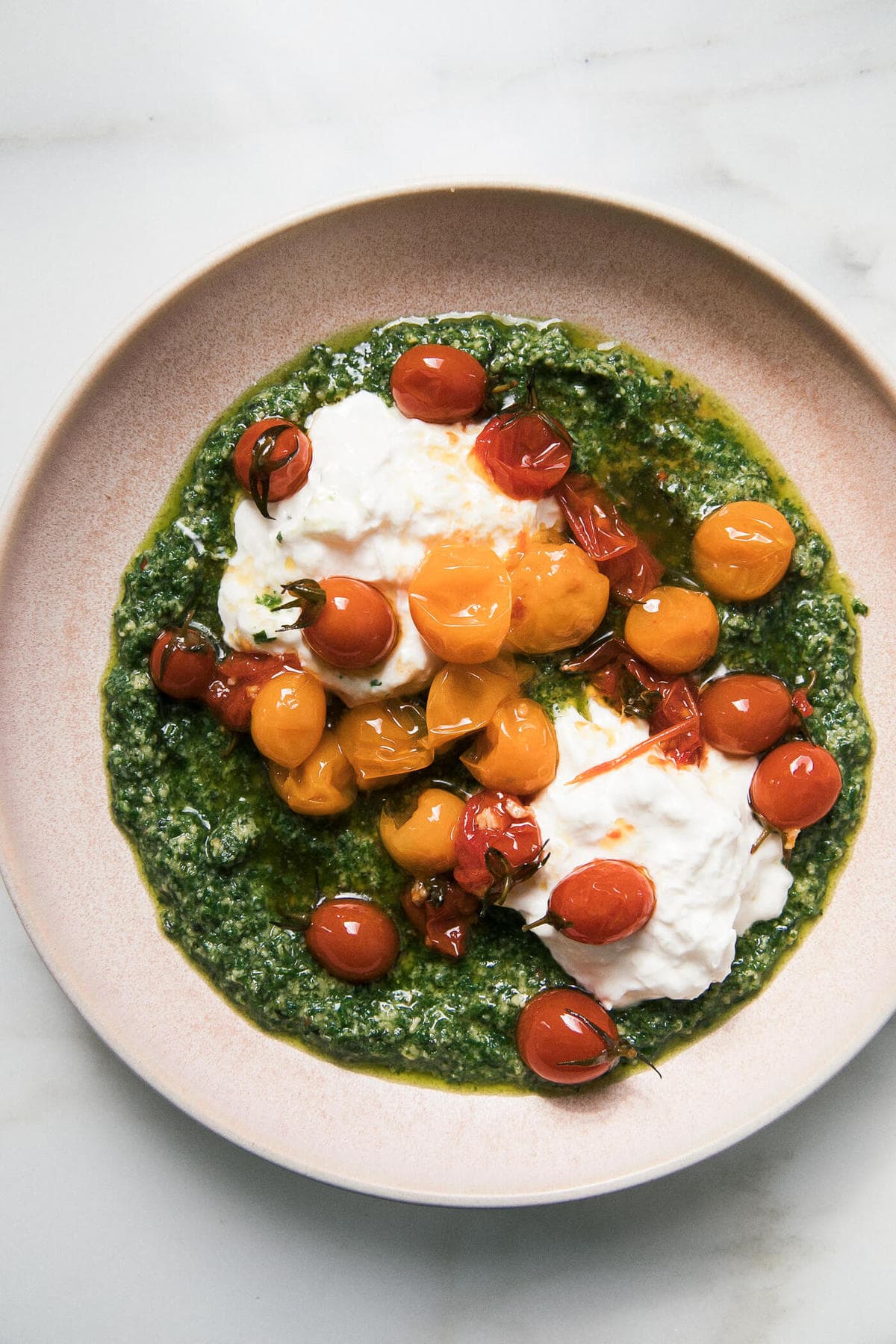 I miraculously have a basil plant that I haven't killed…yet. I gave her a name. And her pet name is Susan. She is strong and vibrant and I cannot tell you how shocked I am that she's alive and thriving under my supervision and guidance.
I've purchased basil plants in the past and every. single. time, I kill them. NOT THIS ONE! Here's what I have done to aide in prolonging its life:
1. She gets all the water she needs.
2. The sun is her friend.
3. I used this thing called Trash Can that Hilton recommended. It's compostable fertilizer and it has helped a lot.
4. And I trim her all the time, i.e, make pesto.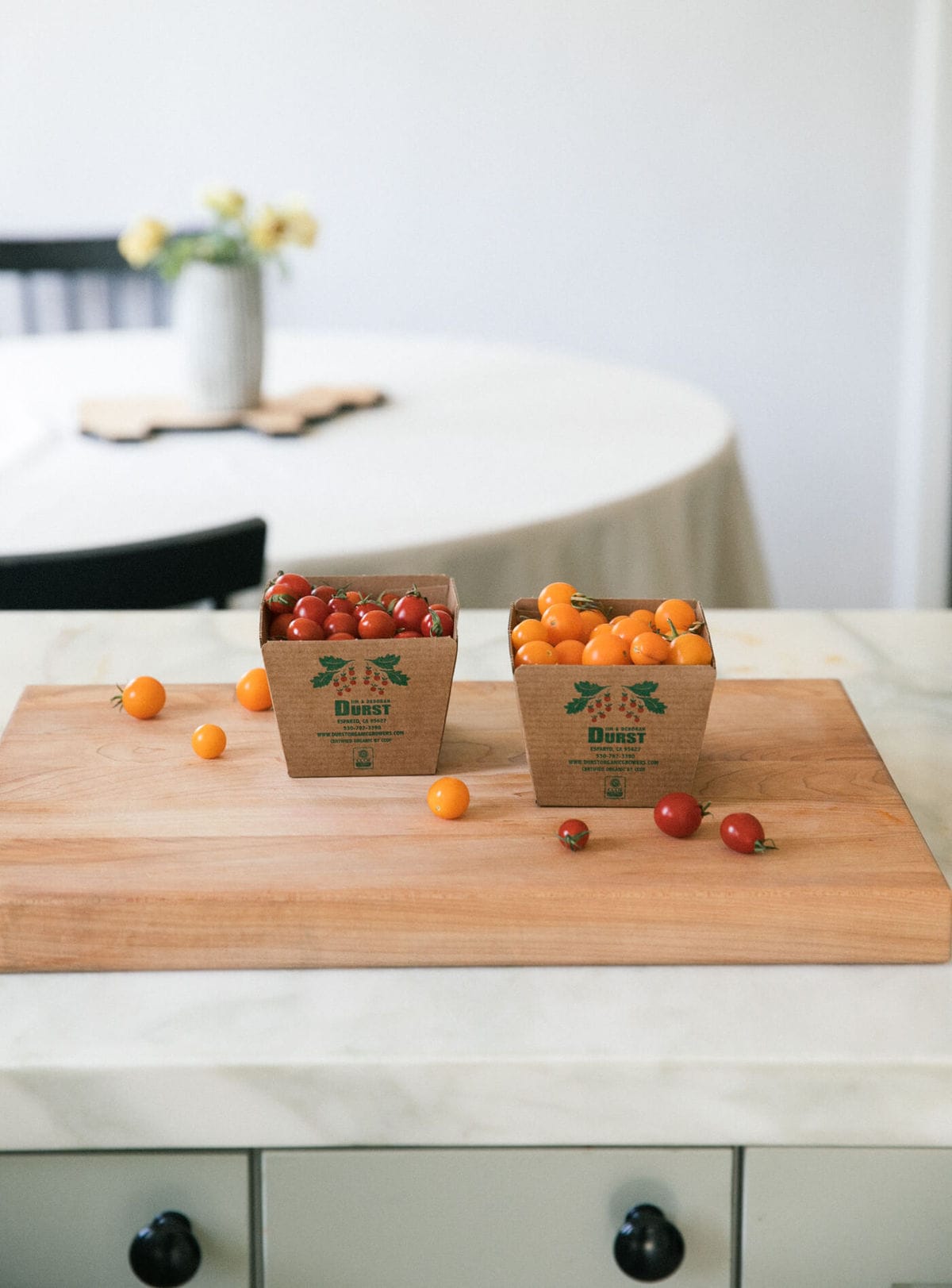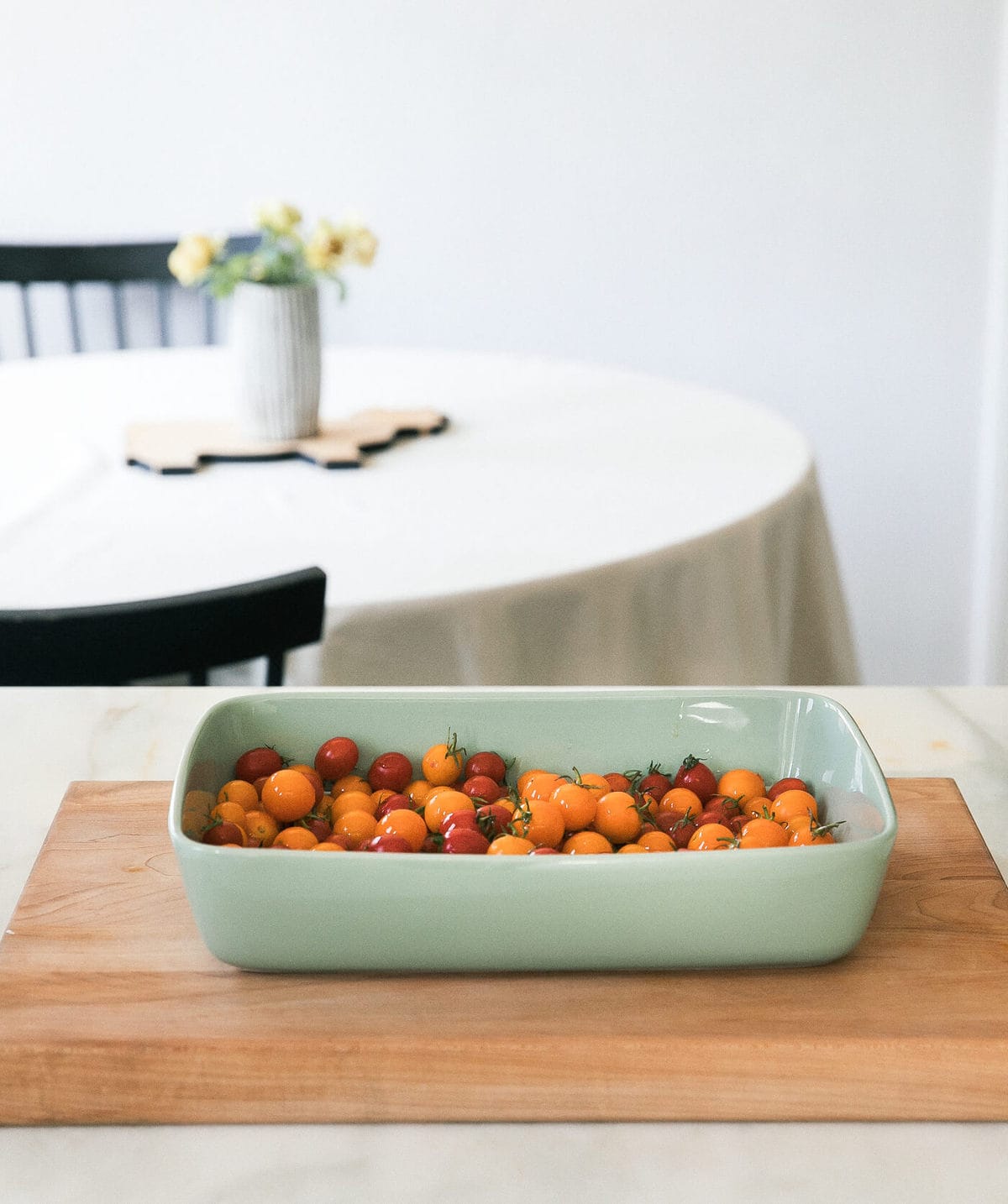 Every year Josh makes tomato confit and while I've always enjoyed the fruits of his labor, I've never taken it upon myself to make it…until now! This is an easy-fied version of his method. And it still tastes delicious.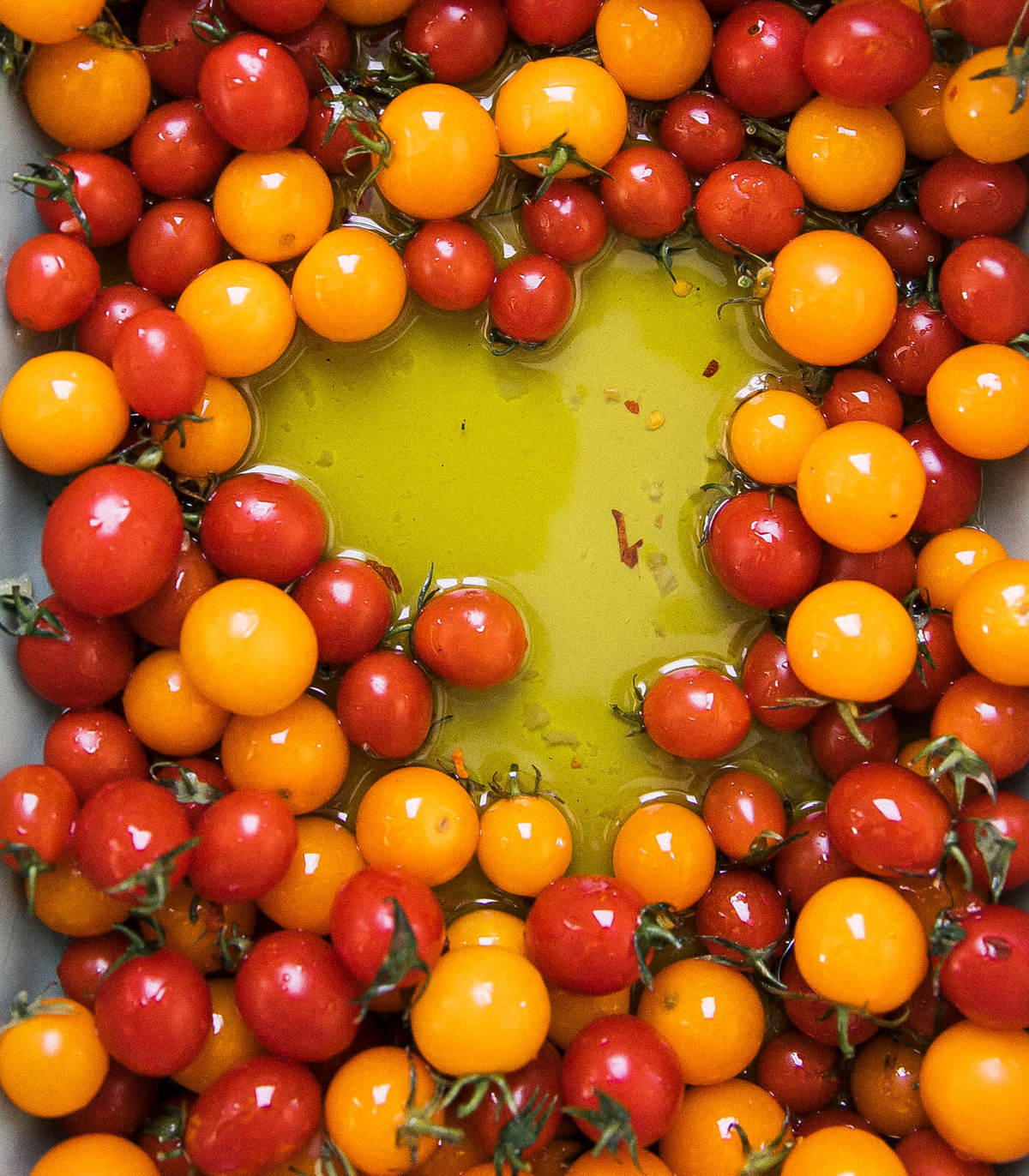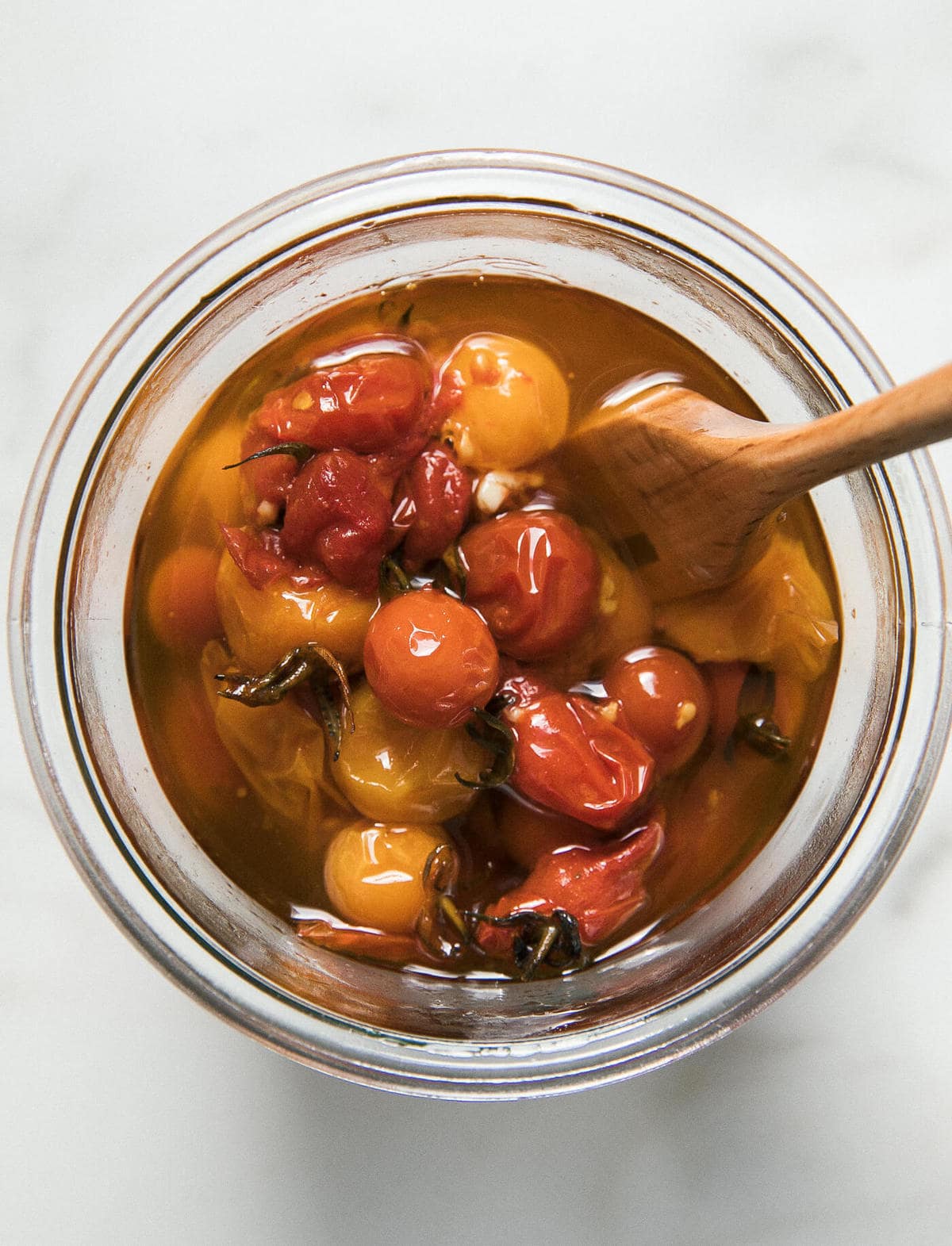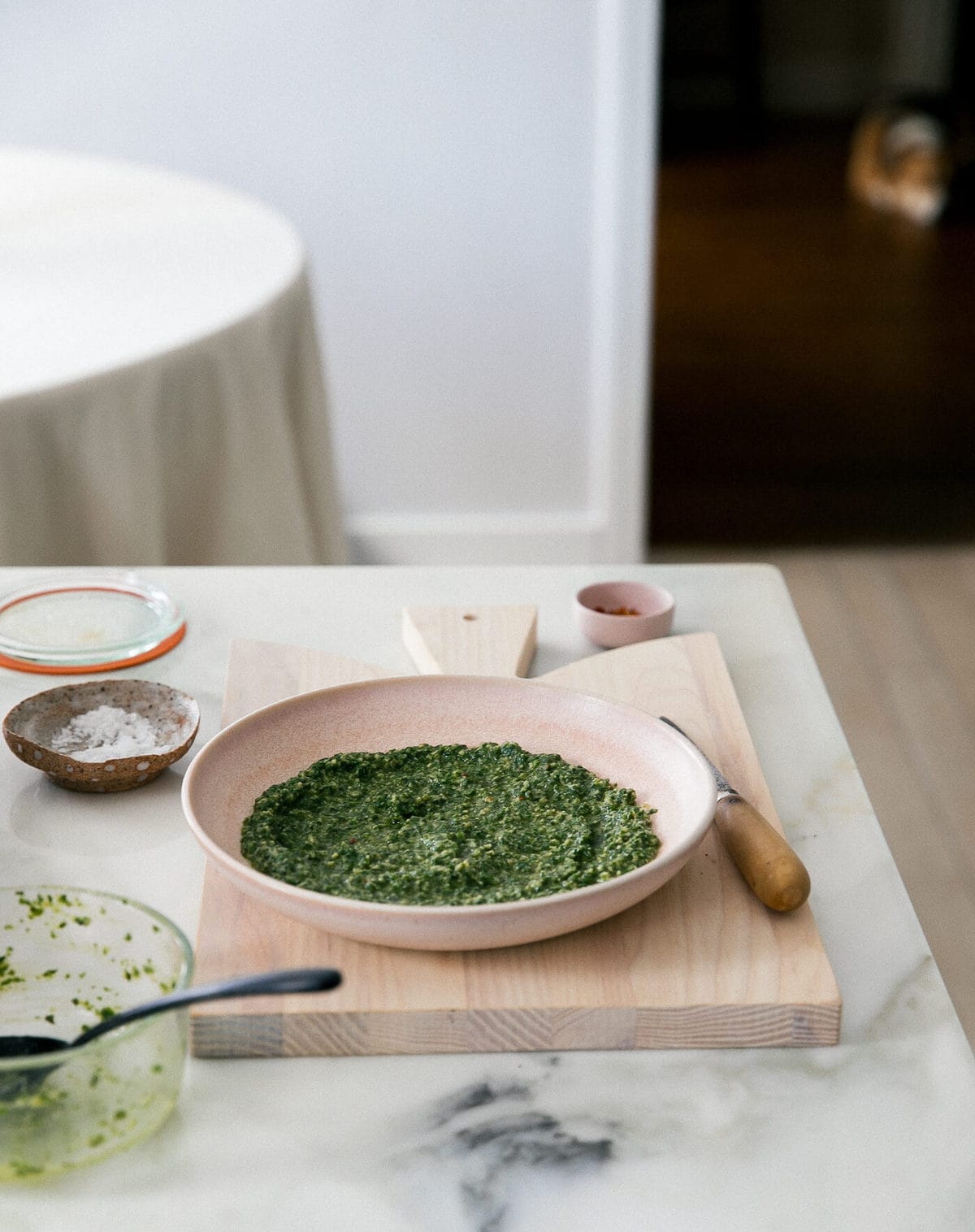 It's as simple as can be. You just add a few pints of cherry tomatoes to a baking dish, along with some garlic, salt and crushed red pepper and let it cook in the oven for a loooong time. When it's done, it's a delicious thing to put on toast, add to pasta and add to any protein like salmon or chicken or tofu. The possibilities are endless.
I decided to add a small batch of pesto to a bowl, top it with a ball of burrata and a few spoonfuls of tomato confit. It was delicious and summer at its best.
xo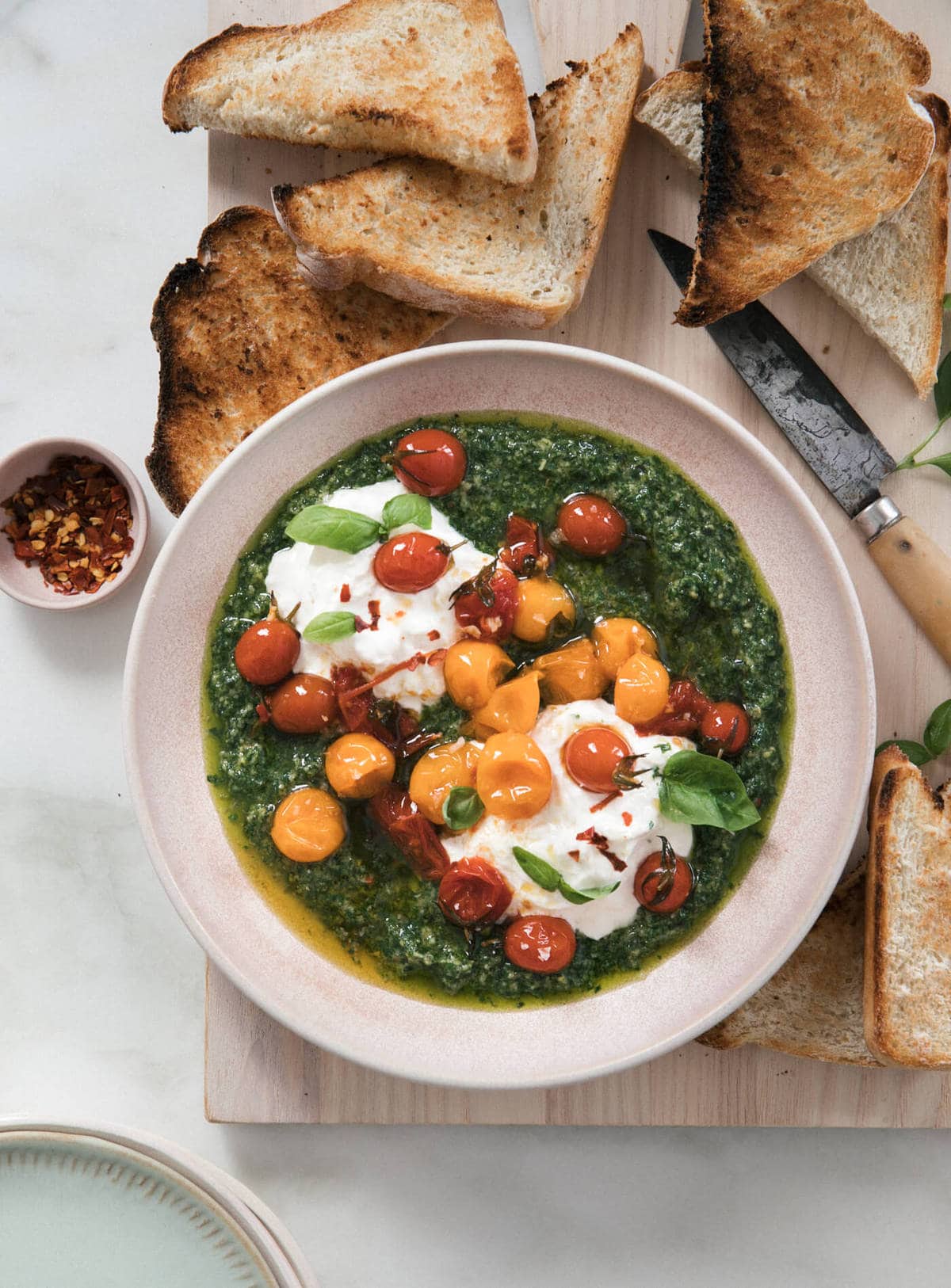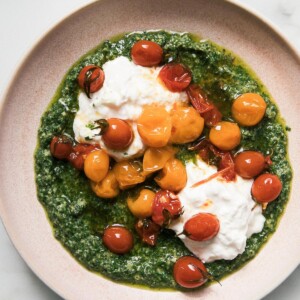 Tomato Confit with Burrata and Pesto from a Basil Plant I Haven't Killed…Yet
Ingredients
Tomato Confit
2

pints

of cherry tomatoes

,

stems removed

3

garlic cloves

,

minced

1

teaspoon

salt

1/2

teaspoon

crushed red pepper

3/4

cup

olive oil
Simple Pesto:
1/4

cup

pine nuts

2

garlic cloves

1/3

cup

finely grated Parmesan-Reggiano

4

cups

basil leaves

1/3

cup

olive oil

Pinch

of red crushed red pepper

1/2

teaspoon

salt
To Serve:
1

ball

,

about 3 ounces of burrata

Extra basil leaves

,

as garnish

Pinch

of crushed red pepper

Flaky sea salt

Toasted bread
Directions
To Make the Tomato Confit:
Preheat the oven to 300 degrees F. In a large baking dish, add the cherry tomatoes, garlic, salt, crushed red pepper and olive oil. Give it a good mix and transfer to the oven to bake for about 1 hour and 15 minutes, stirring the tomatoes every 15 to 20 minutes. Remove from the oven and set aside to cool slightly before transferring it to a glass container.
To Make the Simple Pesto:
To a small sauté pan, set over medium-low heat, add the pine nuts. Toast until lightly golden brown. Immediately transfer to a food processor and allow to cool slightly, about 5 minutes. Add the garlic and pulse for about 30 seconds. Add the Parmesan, basil leaves, olive oil, crushed red pepper and salt. Pulse for an additional minute or so. Give it a taste and adjust the salt to taste.
To Assemble:
Add the pesto to a large serving bowl and smear it in an even layer. Open the ball of burrata and pull it apart in two pieces and place it on top of the pesto. Spoon a few tablespoons of the confit tomatoes on top of the burrata. Garnish with fresh little basil leaves, crushed red pepper and a few pinches of sea salt. Serve with slices of toasted bread.
Notes
*I didn't remove the stems but I kinda regret doing it. If you don't remove them at the beginning, you'll have to remove them at some point!
*If you can't find burrata, feel free to buy a ball of fresh mozzarella and slice it up!
*The tomato confit lasts up to two weeks when stored in the fridge in an airtight container.
*The tomato confit will solidify in the fridge but as soon as it's added to pasta, a warm pan, etc, it completely liquifies very quickly.
Nutrition Facts
Tomato Confit with Burrata and Pesto from a Basil Plant I Haven't Killed…Yet
Amount Per Serving (2 g)
Calories 0
* Percent Daily Values are based on a 2000 calorie diet.