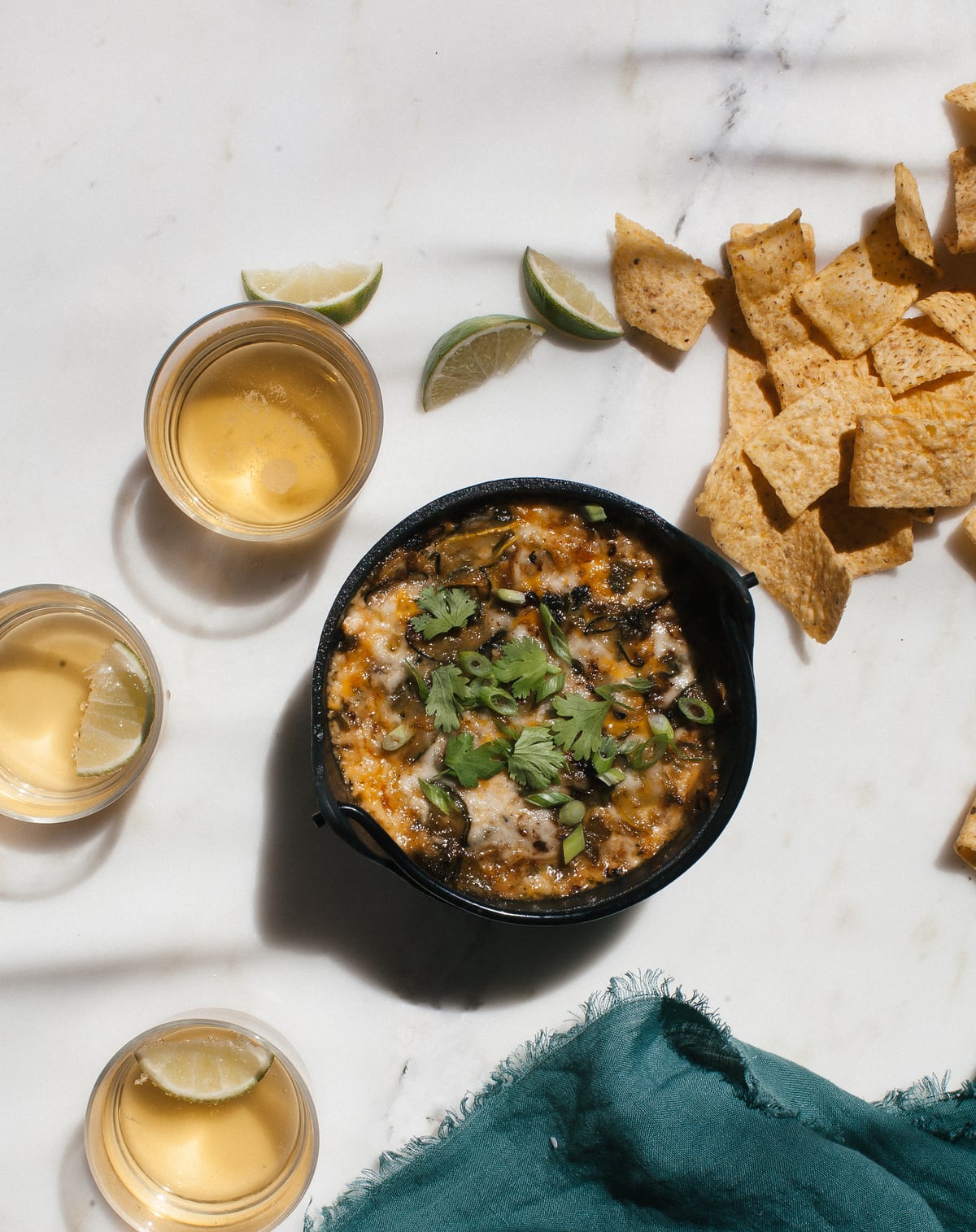 For the past few weeks I've been trying to eat on the healthier side because it's so easy to do in the summer time. Every morning I've been getting up, sautéing some cherry tomatoes over super high heat and throwing in green onions, zucchini, crushed red pepper flake and lots of garlic. I'll eat this with a couple of eggs and it's perfection! It makes me feel all powered for the day, especially when I have like two almond milk lattes.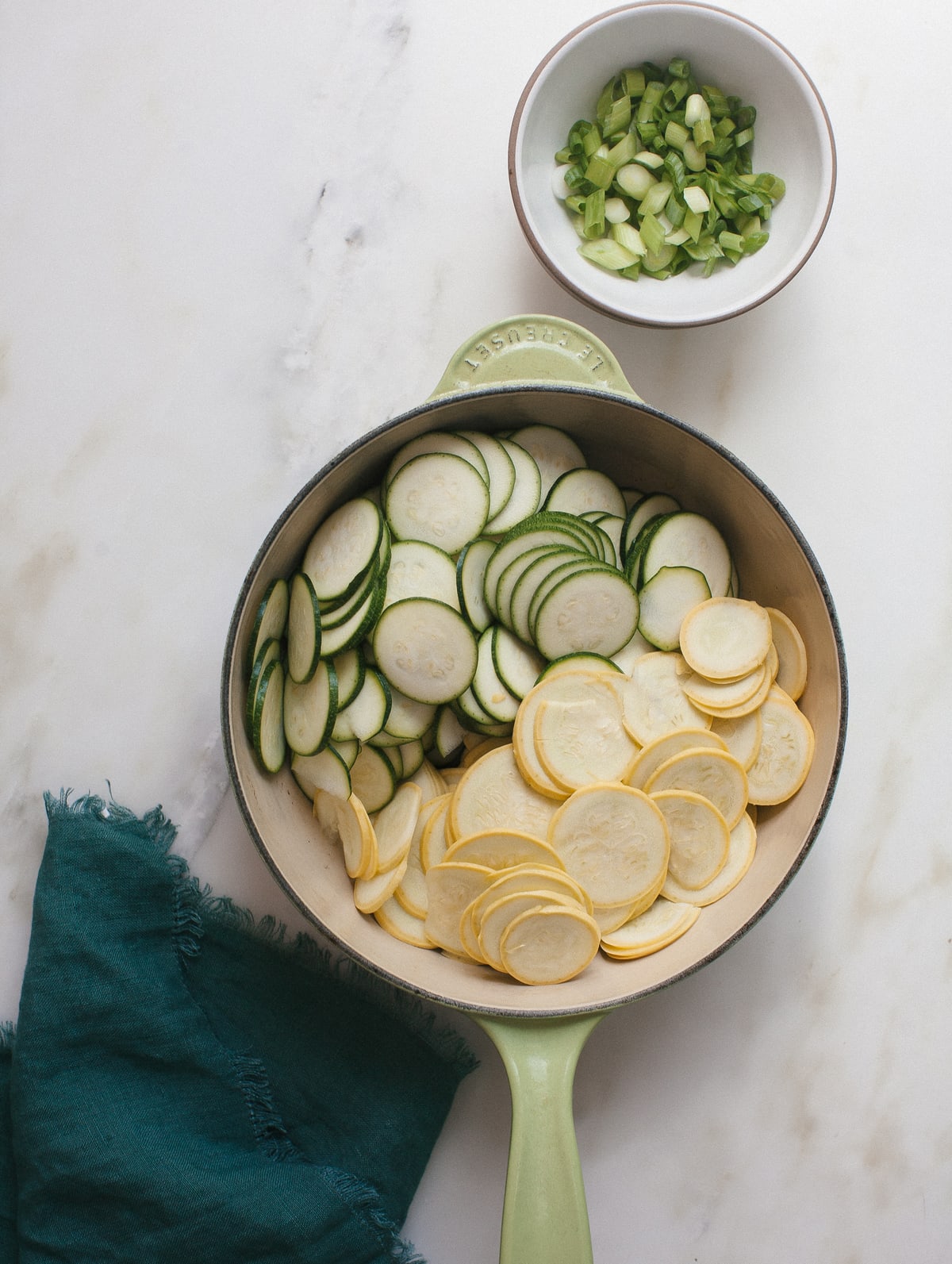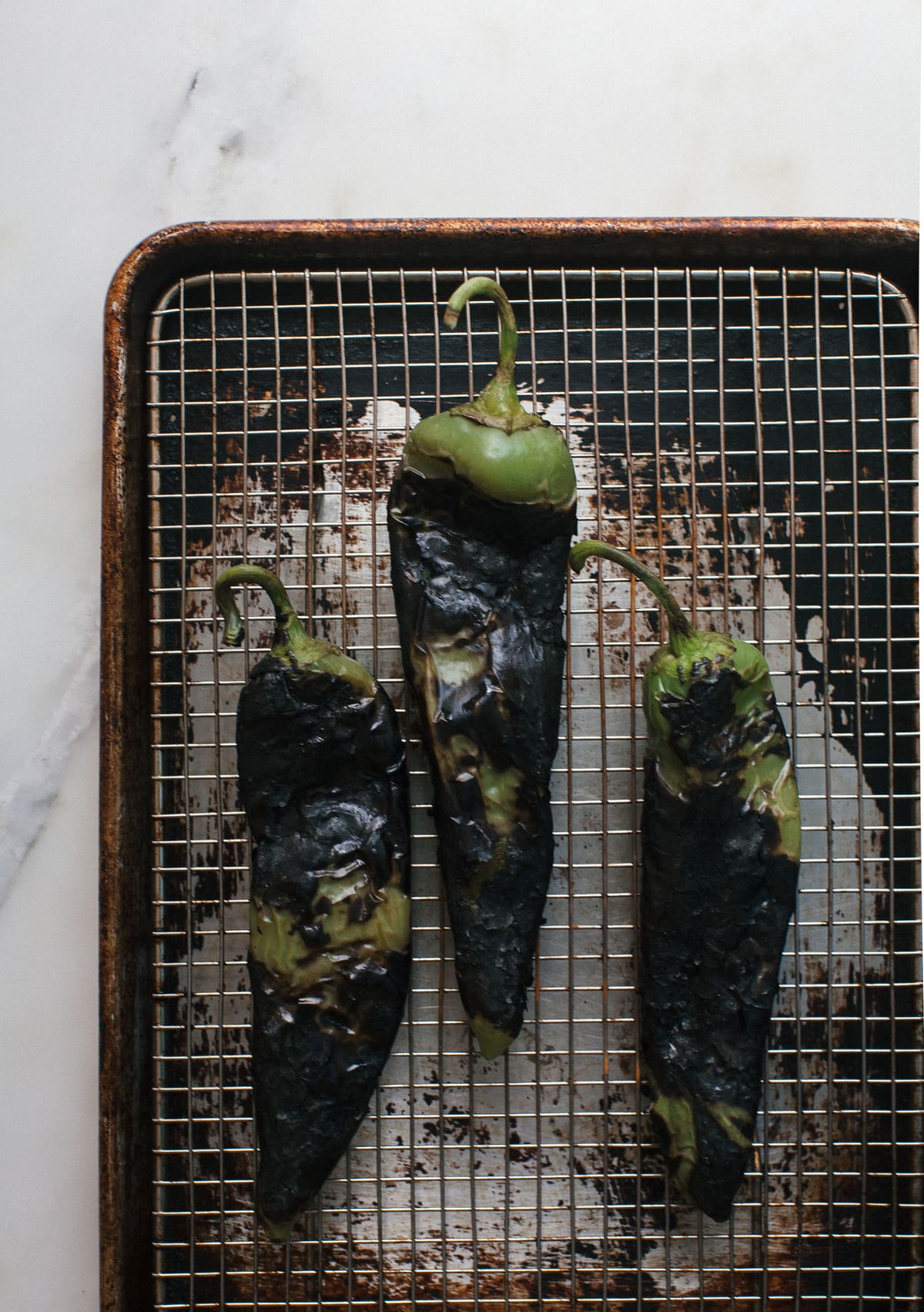 You start with cooking and caramelizing the zucchini. This may seem a little strange but don't worry. It taste so creamy with the cheese—it's delicious!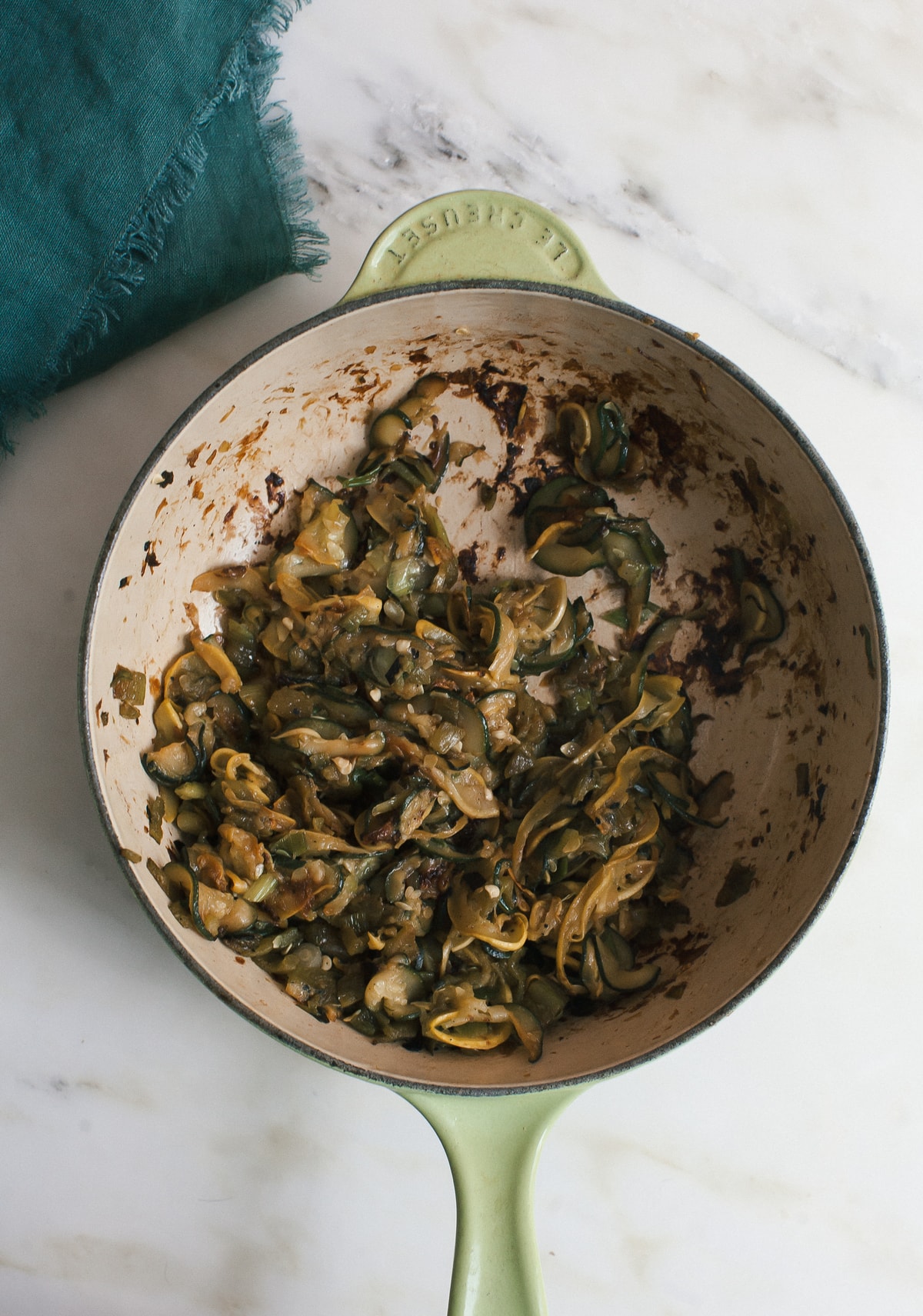 You basically have to sweat out the zucchini, much like you would do with onions. Salt and sauteing…so much water releasing!
The zucchini and squash are mixed with the cheese and then the entire thing is baked until it's super melty and makes your heart flutter. I ate this with chips and then played an ll cool j song to it for Insta Stories. I did this all in front of Billy and he didn't bat an eye because he's used to my weirdness. If anything, he encourages it.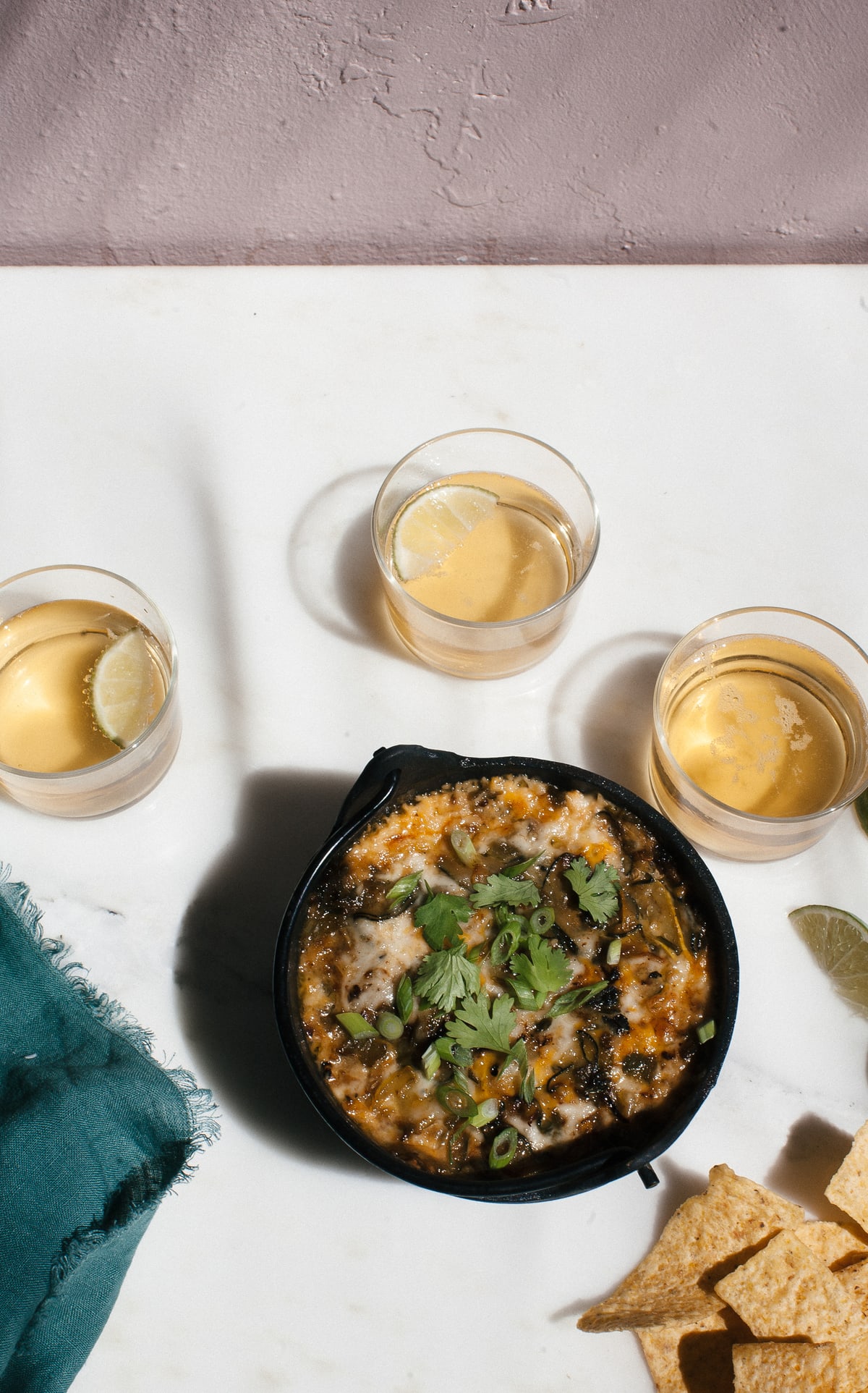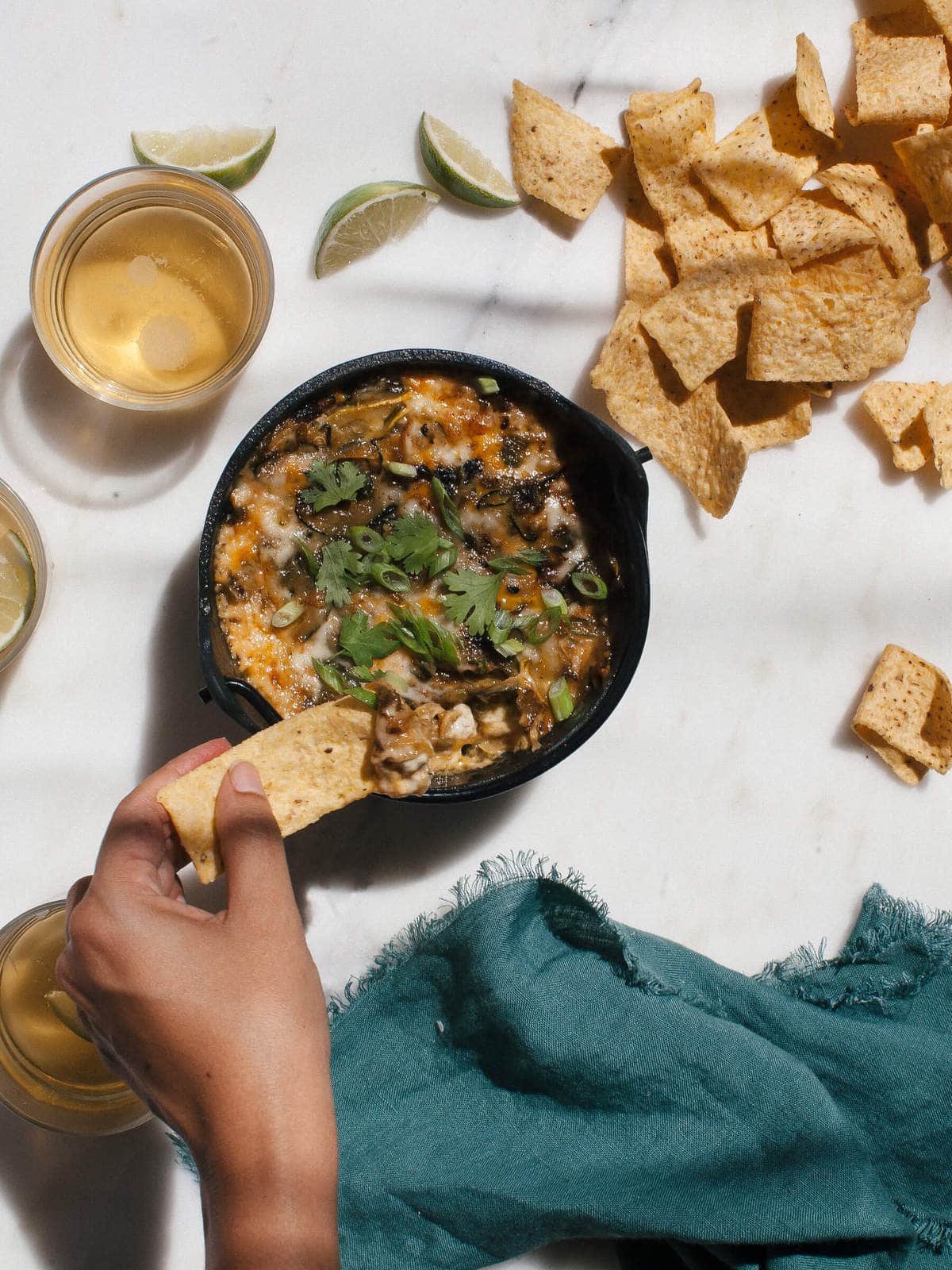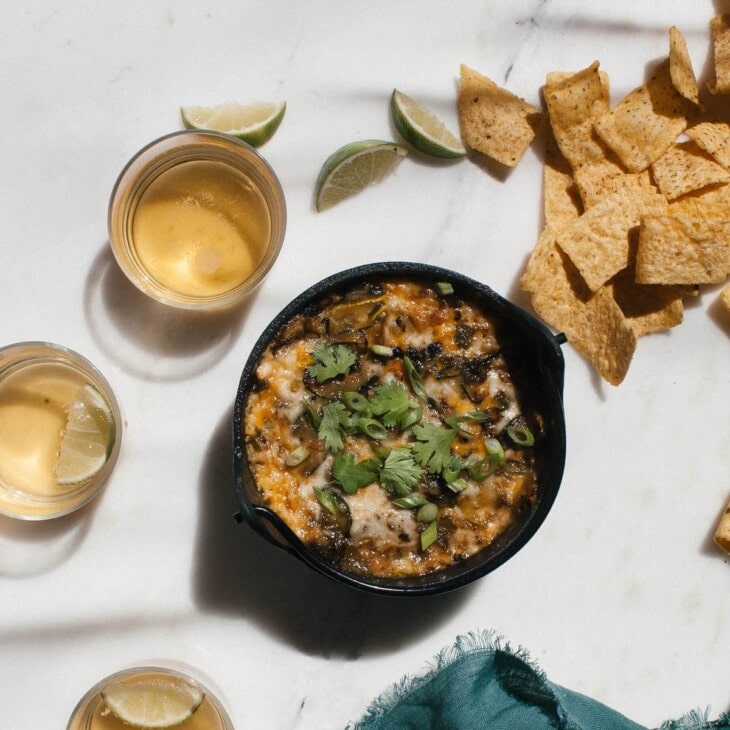 Print Recipe
Hatch Chile Summer Squash Queso Fundido
Ingredients
2 to 3

fresh hatch chile peppers or poblano peppers

2

medium-sized zucchini

2

bottle-neck yellow squash

3

green onions

thinly sliced (ends discarded but I use the rest of it!), plus more for garnish

1

garlic clove

minced

Kosher salt

1

cup

shredded Monterey Jack

1

cup

shredded mild cheddar cheese

Tortilla chips

for serving
Instructions
Place the chiles on the grates of your gas stove. Turn the flame to medium-high heat and rotate every 30 seconds or so, charring it evenly. Once it's charred, transfer it to a Zip-loc bag (or bowl with a lid) and seal it up. Allow it to steam for 5 minutes. Using the blade of a knife, scrape off the charred bits and discard. Chop up the chile and discard the seeds and stem. Mince up the chiles and set aside.

In a medium pot, add a teaspoon of olive oil. When hot, add the zucchini, yellow squash, green onions and a big pinch of salt. Cook for 10 to 15 minutes, stirring frequently, until the squash is browned, caramelized and soft. Turn off the heat and stir in the garlic. Give the squash a taste and salt it again. I ended up adding about 1/2 teaspoon of additional salt. Stir in reserved minced chiles and cheeses. If the zucchini has been cooking in a pot that's oven-proof, feel free to transfer it to the oven to bake. Or you can transfer it to an oven-proof ramekin.

Bake for 15 to 20 minutes, until the cheese is super melty and the top has browned a bit. Remove from the oven. If the cheese has released a lot of oil (this happens!), take a paper towel and lightly absorb some of the excess oil. Garnish with green onions and serve with tortilla chips. YASSS.