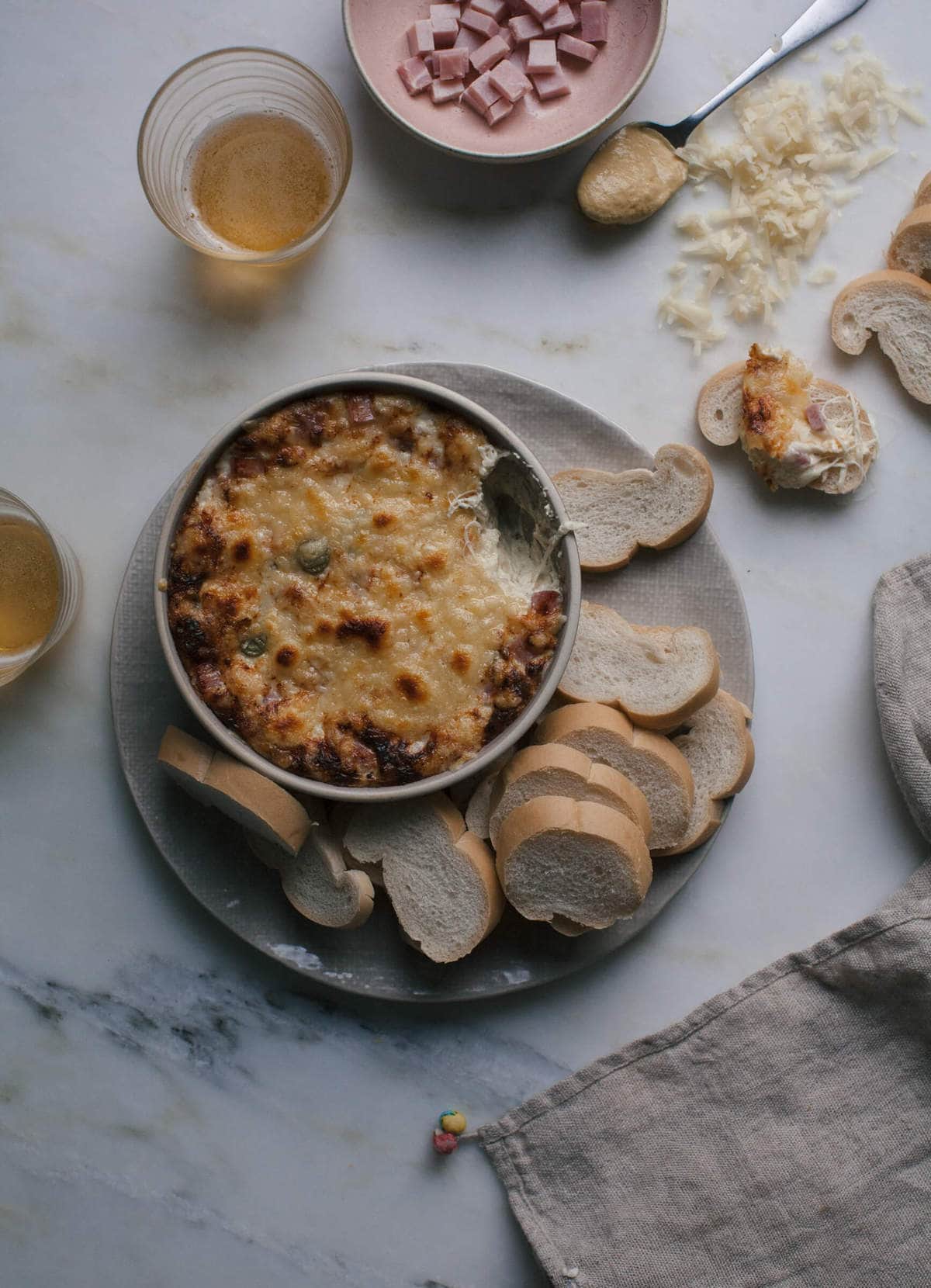 If you ever live in South Florida for a bit, you get well acquainted with Cuban sandwiches. As a kid, I liked them but actually used to take out the pickles because I thought warm pickles were gross-city. And I also hated mustard so that had to go, too. But now I think they're maybe the most perfect sandwich in existence.
Here's how a Cuban sandwich goes: bread with a crispy exterior and super soft interior, a swipe of mustard, pickles, pulled pork, thinly sliced ham and a few slices of melty swiss cheese. The entire thing cooked a la plancha (think a griddle kinda with a press on top). Eat that with a side of cafe con leche or my favorite pineapple soda in the entire world, and your head might explode it's so good.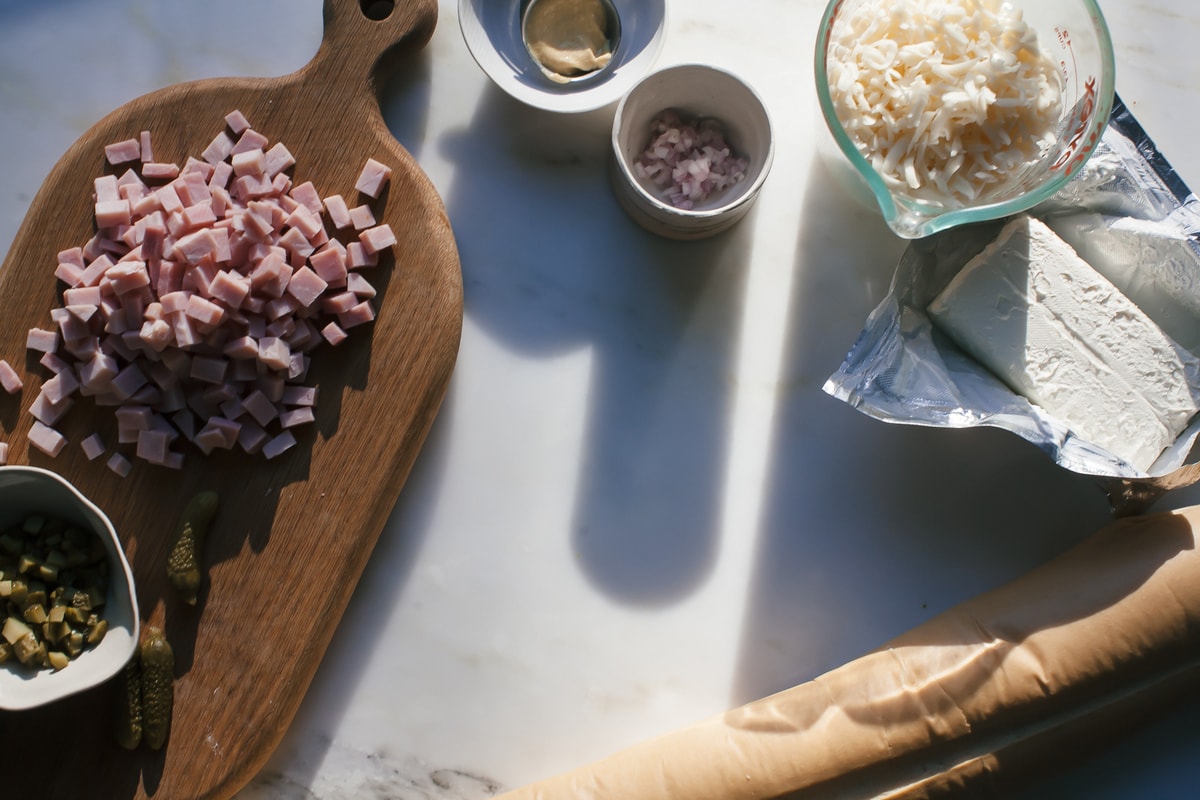 Since there's this whole football game situation coming up, I thought I'd be a perfect time to make that Cuban sandwich I just described into a dip! Yeah boi.
This dip is obviously a little different because in order to make it in dip form some cream cheese and creme fraiche (the tartness is necessary) have to be thrown into the mix but seriously it tastes similar in many ways.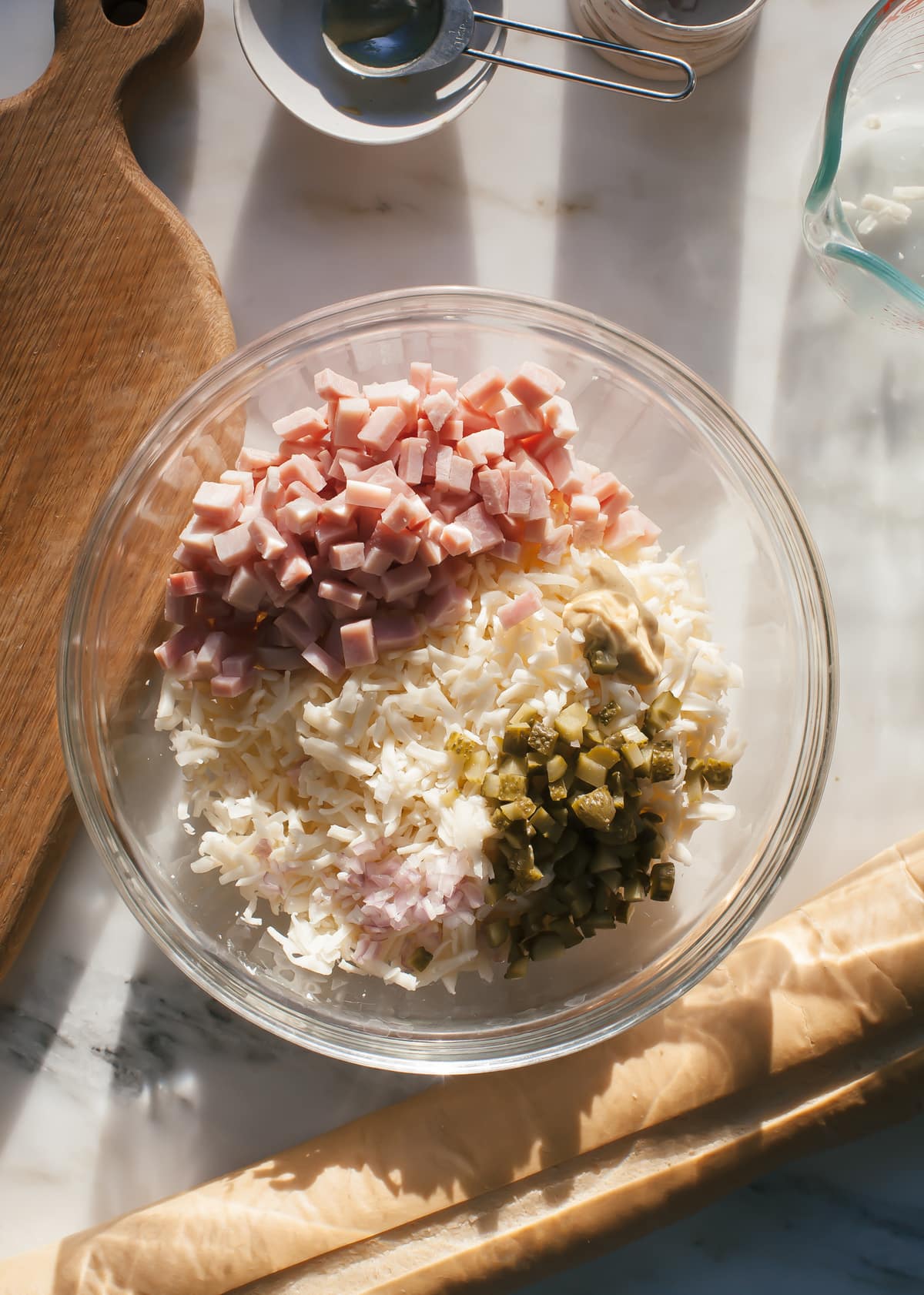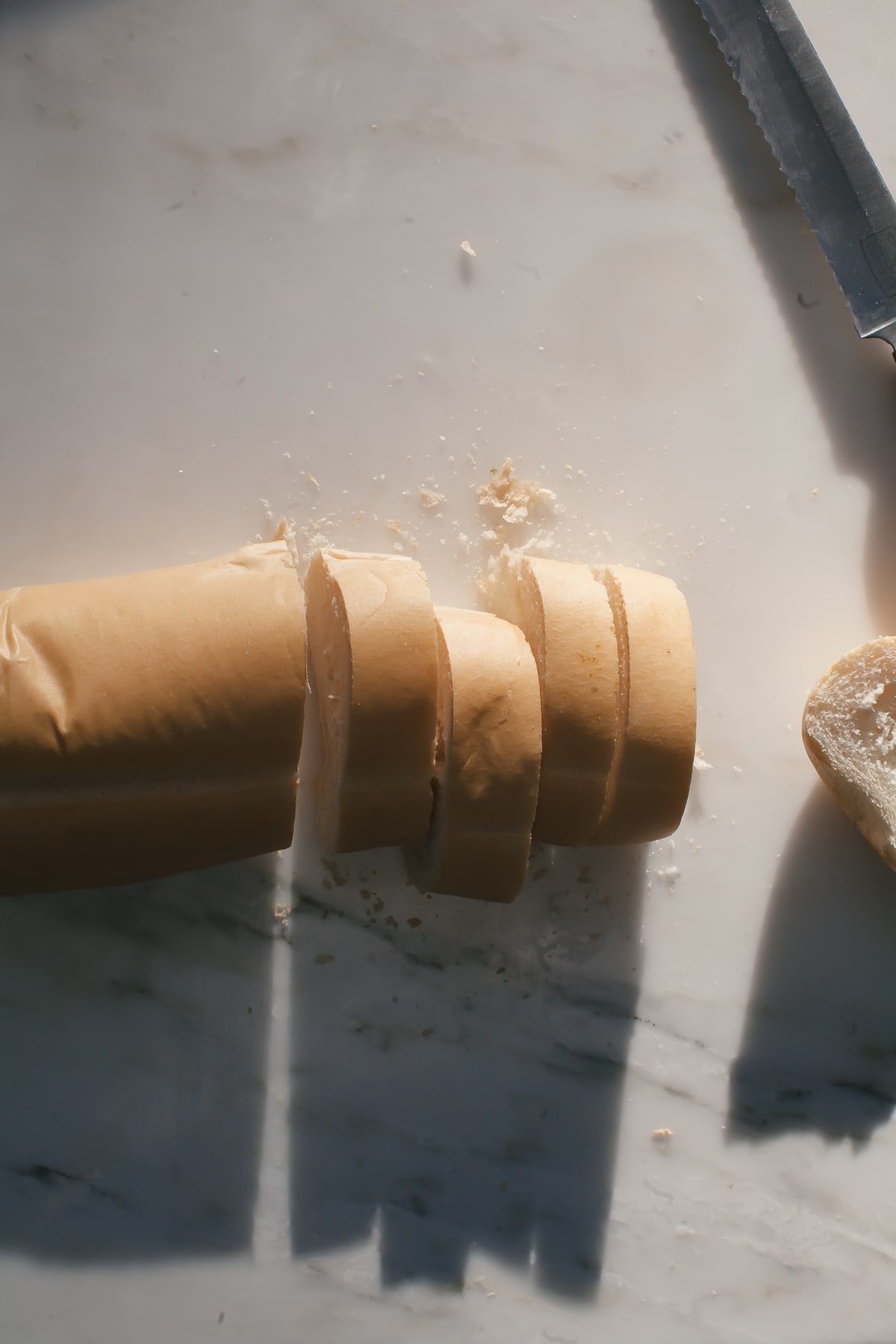 My first go at this dip was weak. It needed a good amount of diced cornichons or pickles. And the mustard amount has to be on point, too. I like the addition of whole grain and Dijon. While Cuban sandwiches don't have whole grain on them, I think it adds a nice touch to this dip. And, Cuban sandwiches always have pulled pork but the chances of you braising pork specifically for this dip is exactly zero, so I left it out completely. I didn't miss it at all. If you have some around, feel free to throw some in.
If you like cheese pulls…like the commercials…then this dip will be your thang, promise.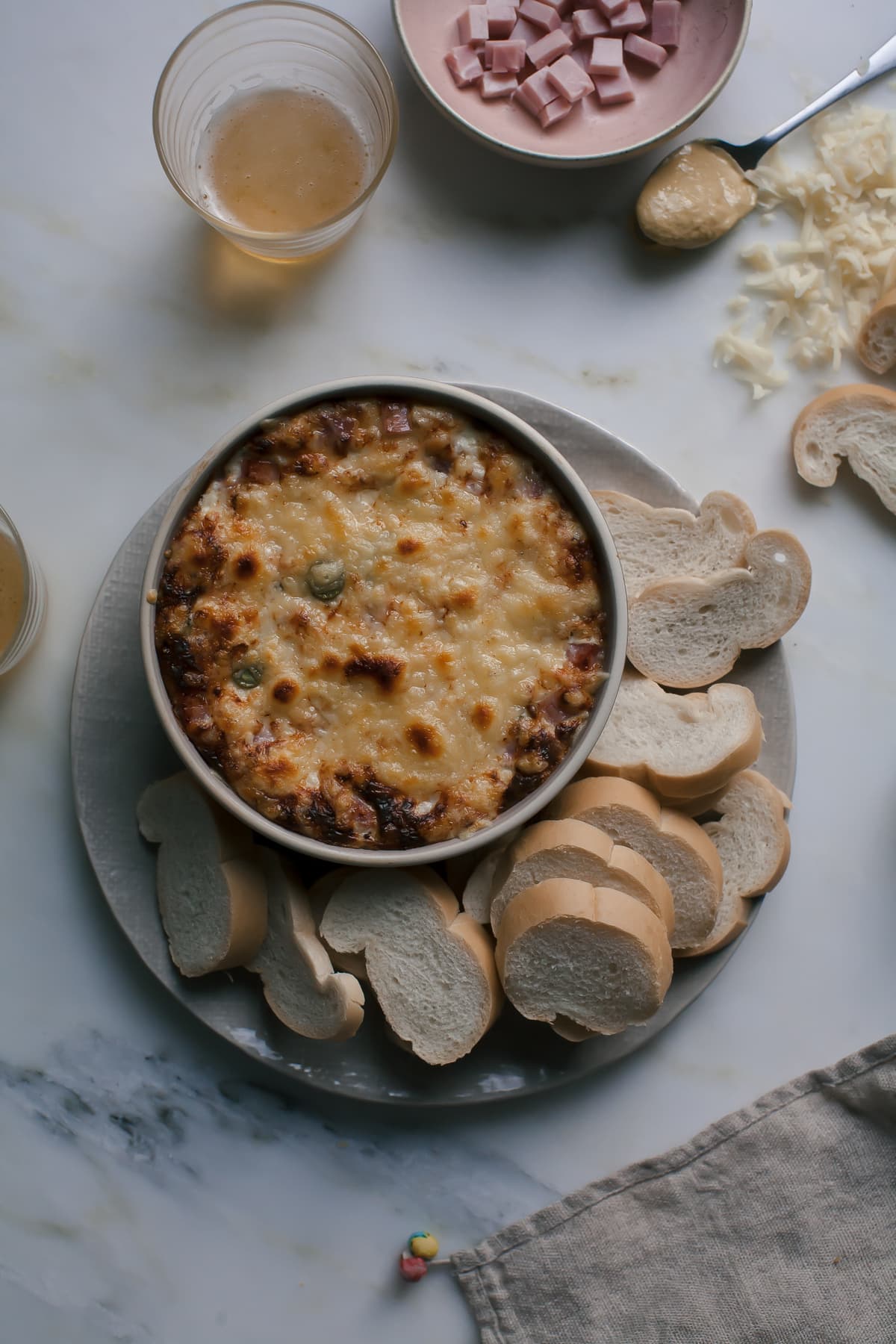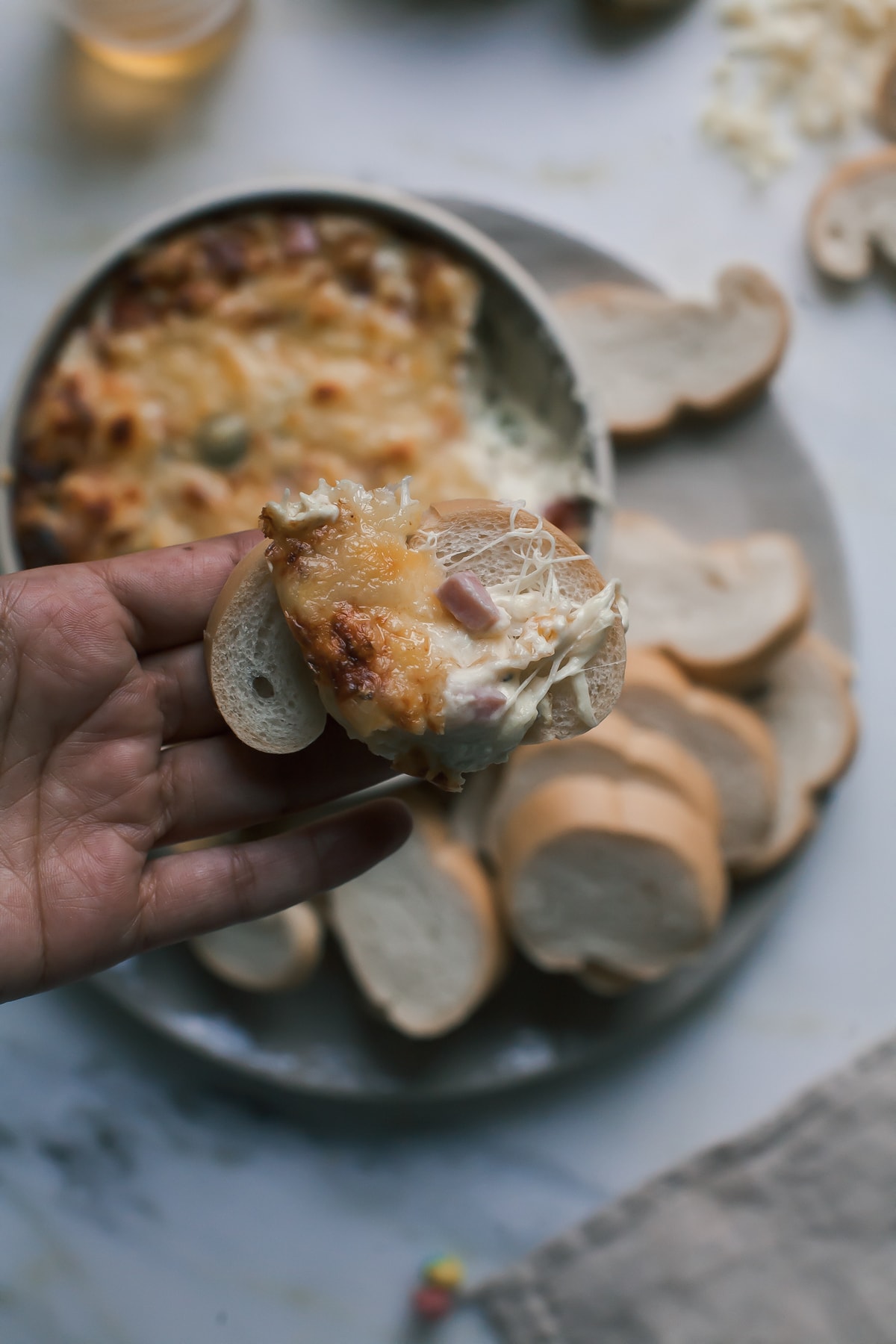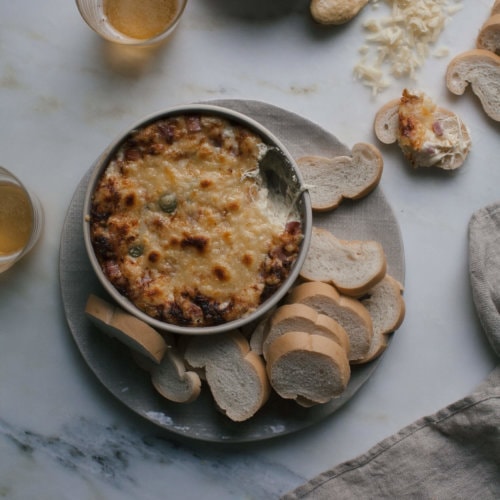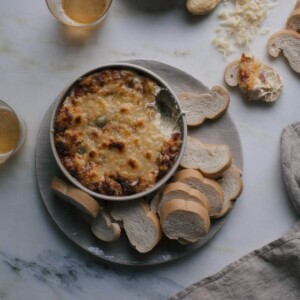 Serving Size:
4
TO 6 (AS AN APPETIZER)
Ingredients
8

ounces

cream cheese

,

room temperature

8

ounces

swiss cheese

,

shredded (about 2 1/2 cups), divided (some reserved to sprinkle on top)

10

cornichons or 3 small pickles

,

diced (about 1/3 cup)

1/2

pound

1/2-inch thick ham, cubed

2

tablespoons

Dijon mustard

1/2

teaspoon

whole grain mustard

1/4

cup

creme fraiche

,

or 3 tablespoons mayo

1

teaspoon

freshly ground pepper

Cuban bread or soft roll bread

,

sliced, for serving
Directions
Preheat the oven to 350 degrees F. In a large bowl (or stand-up mixer with the paddle attachment), add the cream cheese, swiss cheese, cornichons or pickles, diced ham, Dijon mustard, whole grain mustard, creme fruit and pepper. Give it a mix until all of the ingredients are thoroughly mixed. Transfer to an oven-proof dish (I used a round ceramic bowl that's about 6-inches around).

Bake for about 15 to 17 minutes, until warmed throughout and bubbling. It should be nice and evenly brown on top, if not feel free to transfer it to the broiler for about 2 minutes, until nice and browned on top. Serve hot with slices of Cuban bread or soft rolls.
Notes
I went to the deli and asked for plain ham. I asked them to kindly slice it 1/2-inch thick and then diced it up at home. Worked like a charm.
Nutrition Facts
Warm Cuban Sandwich Dip
Amount Per Serving (4 g)
Calories 0
* Percent Daily Values are based on a 2000 calorie diet.