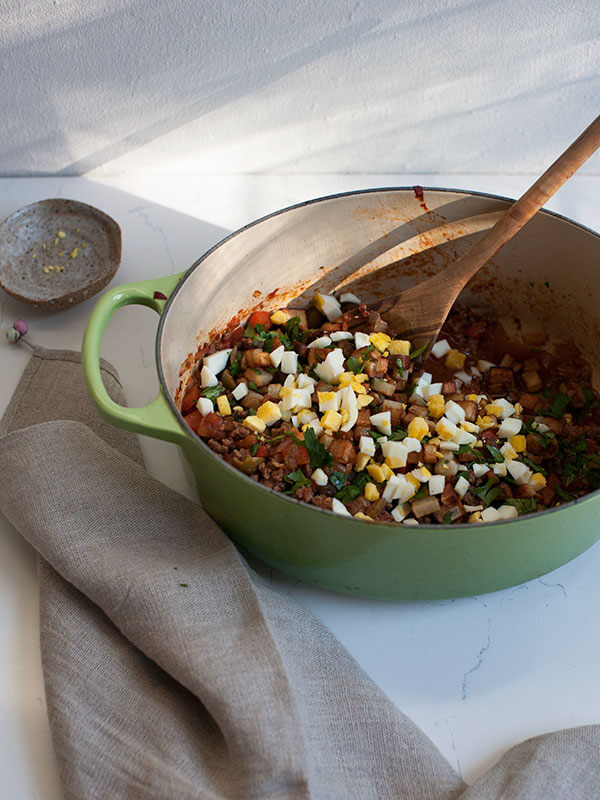 I grew up eating renditions of this recipe. Every couple of years, as I got older, the recipe's identity evolved from crazy plain to what you see now. I guess you could say I went from super picky, pain in the ass eater to normal human and this recipe was along for the ride during that entire journey.
When I was a teeny kid, my mother would make picadillo and it'd simply be fried diced potato with ground beef over rice. (I hated raisins, boiled eggs and olives…and tomatoes.)
During my preteen years, I warmed up to boiled eggs so that was added, along with the tomato base that is so well known in picadillo and honestly essential.
In my late teen years, I became ok with the addition of olives. But it wasn't until my twenties when I fully embraced the raisins, which now I think are crucial.
The version you see is what my adult self LOVES. And it's probably the closest to the authentic original that is so popular in Cuban restaurants.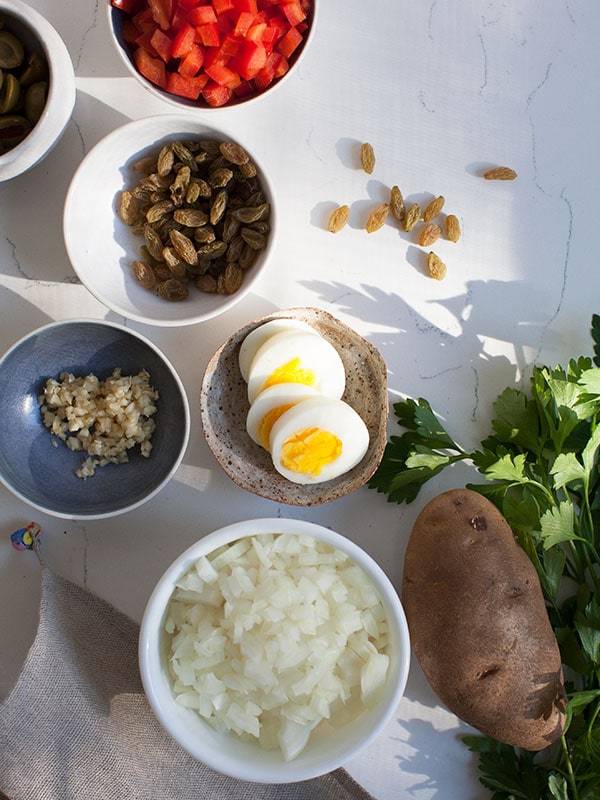 This recipe is ideal for that "weeknight dinner" category that is so very popular.
It's fast and easy and if you have picky children or you are a picky grown-up, it's flexible—simply add what you like, leave out what you hate.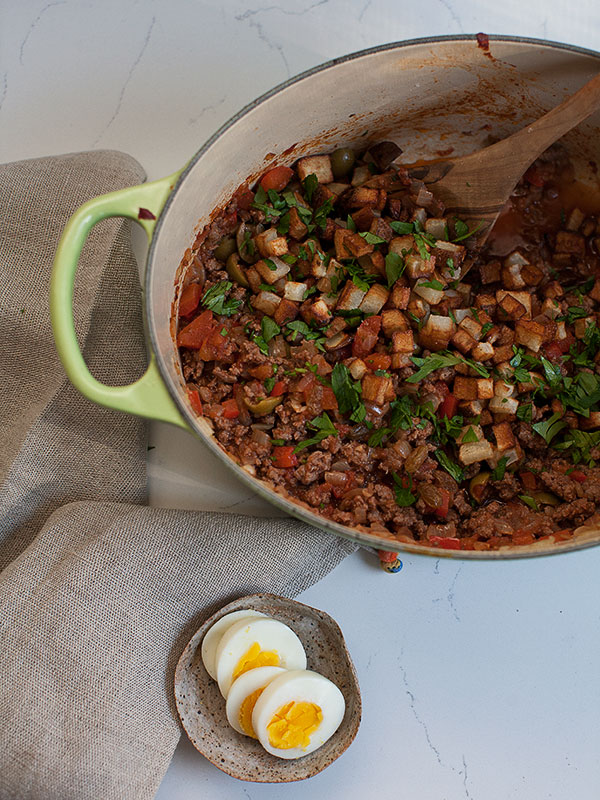 One thing that is mandatory with this dish is for it to be served on a bed of rice. It's comfort central and picadillo is probably the sole reason why my obsession with rice runs so deep.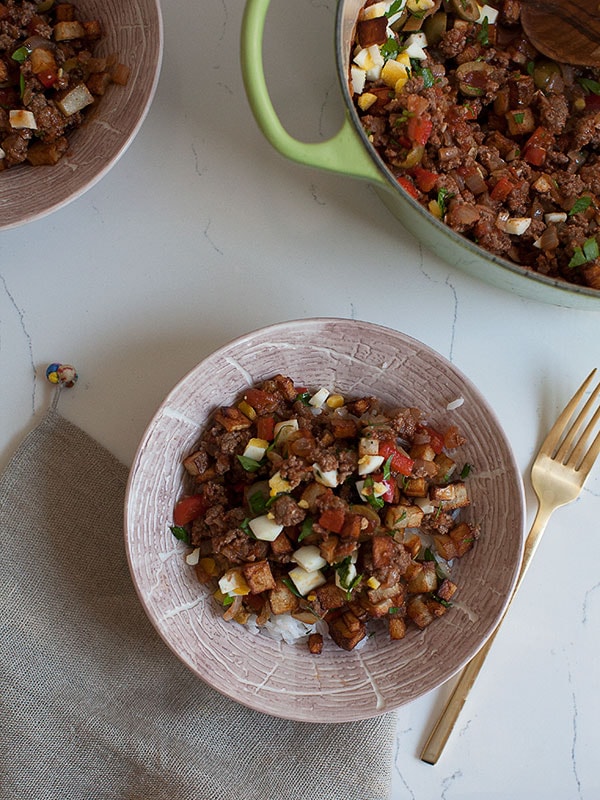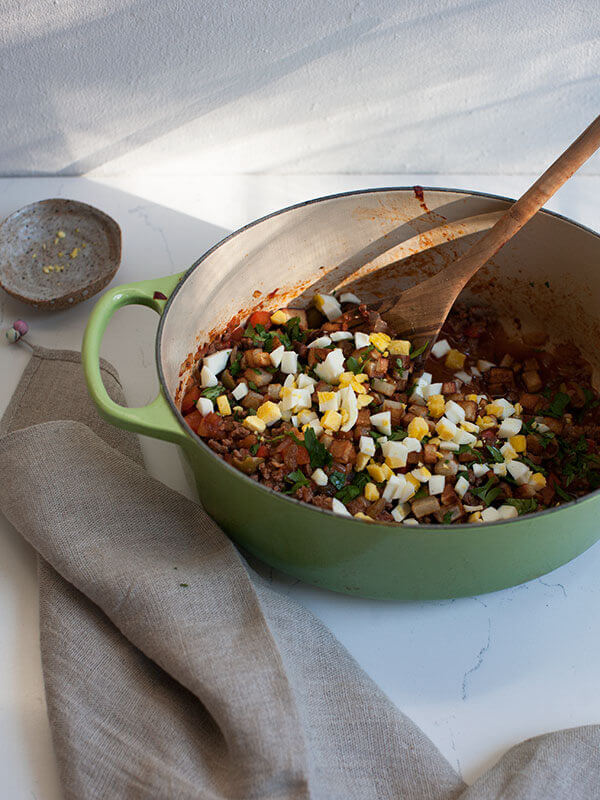 Ingredients
Canola oil

1

russett potato

,

diced

2

tablespoons

olive oil

1

medium yellow onion

,

diced

1

red bell pepper

,

stemmed, cored, seeded and diced

3

garlic cloves

,

peeled and minced

1/2

teaspoon

salt

1 1/2

teaspoons

ground cumin

1 1.2

teaspoons

ground oregano

Pinch

of crushed red pepper flakes

1/4

cup

tomato paste

1

pound

ground beef

,

I used 90% - I like it to be pretty lean

3/4

cup

canned crushed tomatoes

10

green olives

,

halved

1/4

cup

golden raisins

,

optional since I know so many people are raisin-haters

1

large egg

,

boiled and then diced

Italian parsley

,

chopped and for garnish

Cooked long-grain rice

,

to serve
Directions
In a skillet, heat a few tablespoons of canola oil over medium heat. You'll know the oil is hot when you tilt the pan a bit—it'll glide quickly. Add the diced potato, in batches, and pan-fry on each side for about 3 to 5 minutes, until the edges are crispy looking and golden brown. To flip the potatoes, I just sort of moved the skillet around and flipped a few of them with a fork. Transfer to a bed of paper towels to drain and sprinkle with salt. Repeat with the remaining batch (I had to do two batches, you may need to do more or less).

Add the olive oil to a dutch oven or large pot. Heat the oil over medium-low heat and then add the onion; cook until translucent and soft, about 3 to 5 minutes. Next, add the red bell pepper, minced garlic, salt, ground cumin, oregano, red pepper flakes and tomato paste. Mix until everything is coated and fragrant. Add the ground beef and break it up using a wooden spoon until the large mass of meat turns into crumbles. Be sure to mix the veggies and spices with the meat. Cook the meat for about 5 to 7 minutes, until it goes from pink to brown.

Add the crushed tomatoes, olives and golden raisins; cover the pot, turn the heat down to low and simmer the picadillo for about 15 minutes. You'll know it's done when the sauce has thickened, the raisins are plump and the whole thing smells amazing. If it's overly thickened (it should've have but you know sometimes things are unpredictable), add a splash or two of water and mix. Fold in the reserved fried diced potato, diced egg and chopped Italian parsley. Serve on top of a warm bowl of rice.