Let's discuss an incredibly huge breakfast topic: How to Make a Bagel Sandwich. Is there anything more delicious on a weekend morning? No. This cheesy bagel sandwich is chewy, fresh tasting, cheesy and utterly delicious. 

The first step to making a bagel sandwich at home is sourcing a really good bagel. For years this was really hard in LA but not anymore! My favorite bagels are from a truck (and newly-opened shop!), called Yeastie Boys.
They are so good. In fact last year a friend gifted 30 bagels, from Yeastie Boys, to Josh for his b-day and we had them in the freezer and every time we wanted a bagel, we'd warm it up in the oven and OMG best breakfast ever.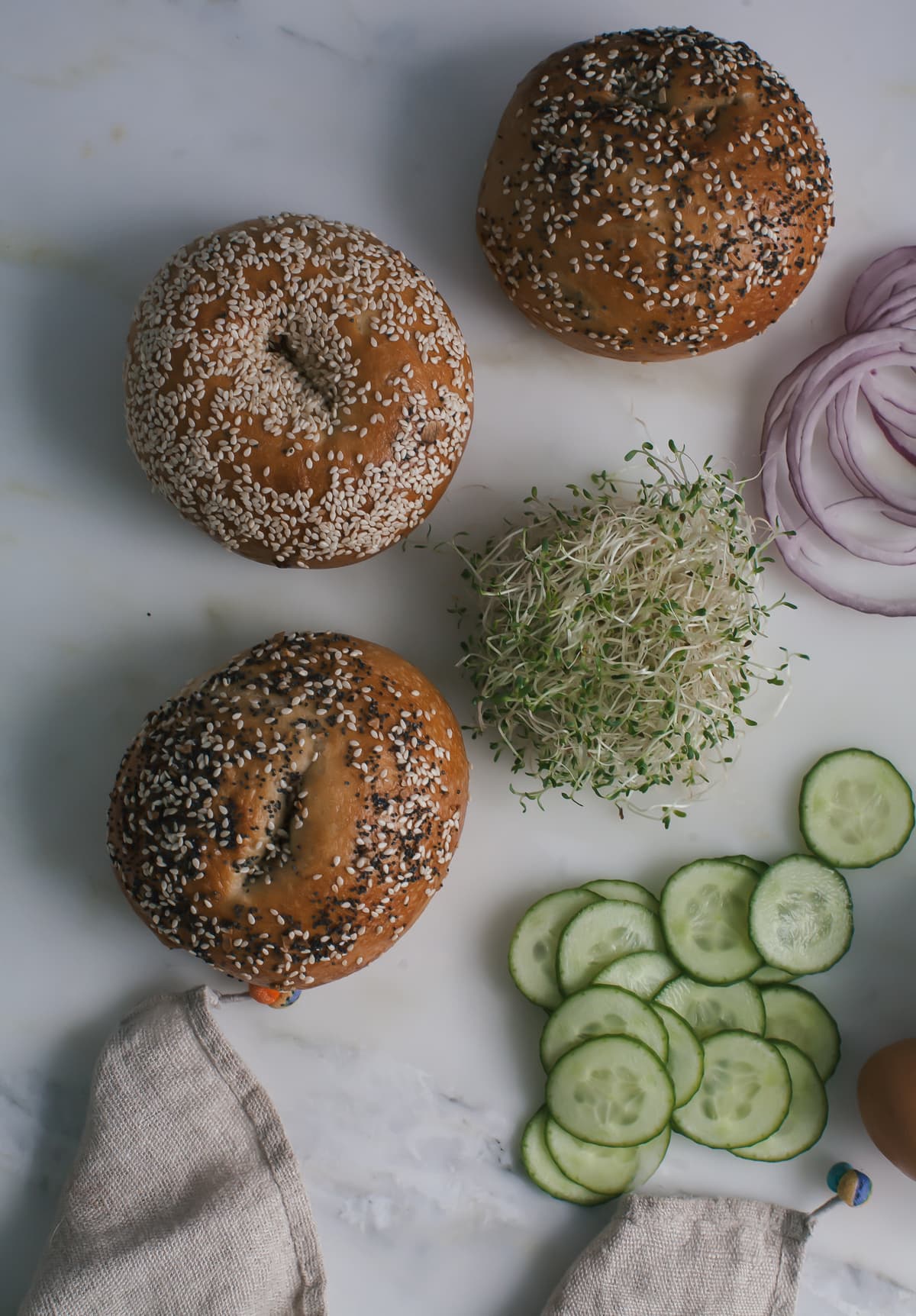 The second step is making your own cream cheese. Remember when I made homemade cream cheese?! Game changer. Of course this isn't required if you're strapped for time. You can always just spike store-bought cream cheese with minced dill and Italian parsley.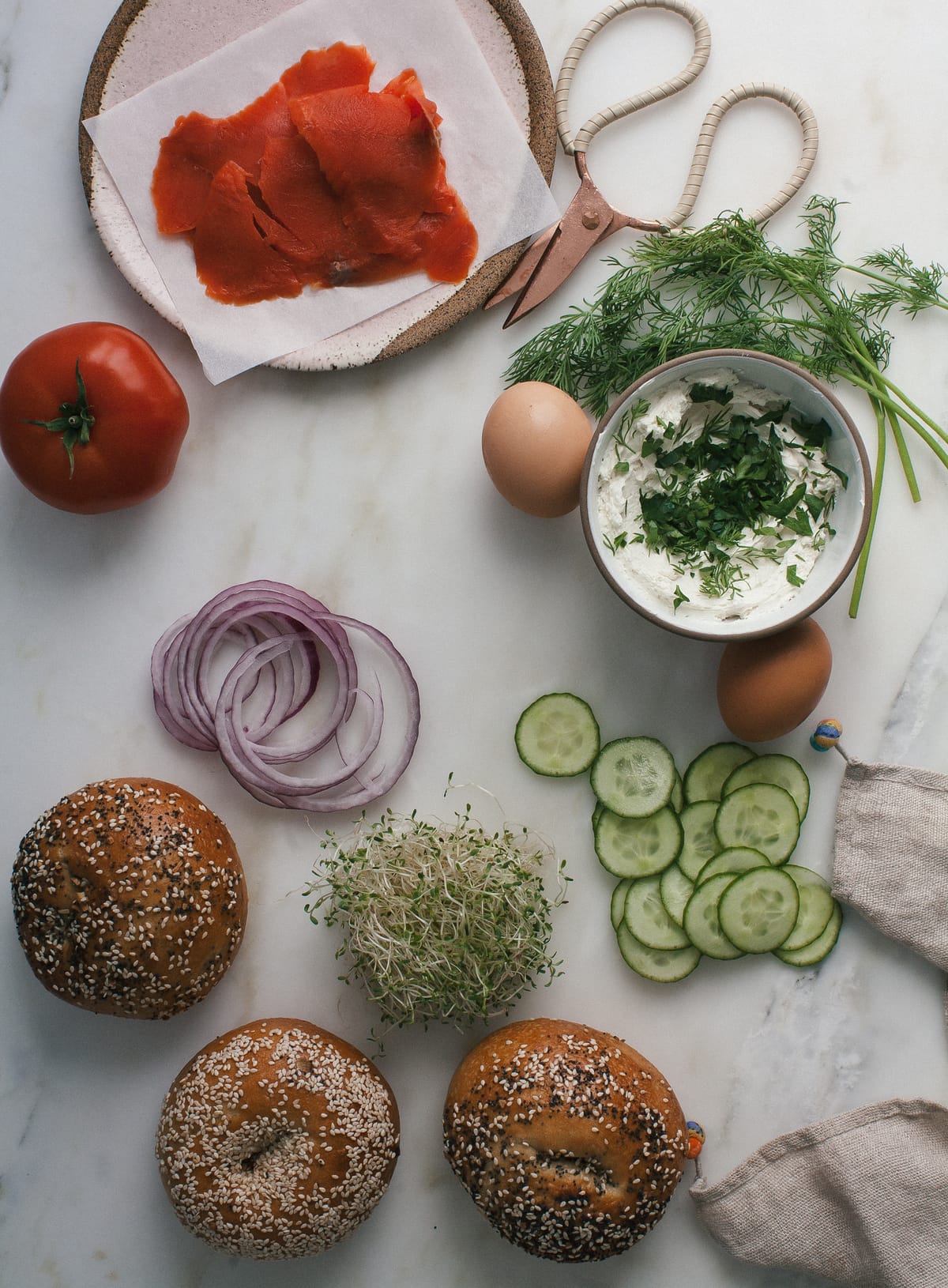 Perfect Square Scrambled Eggs
Next up, a perfectly square scrambled egg. Not gonna lie, I was going for that folded over egg situation that you find at McDonald's and Hardee's but the stupid rectangle cookie cutter I ordered off Amazon wasn't big enough.
Regardless of what kind of equipment you have, you can always just make gently scrambled eggs and pile it on.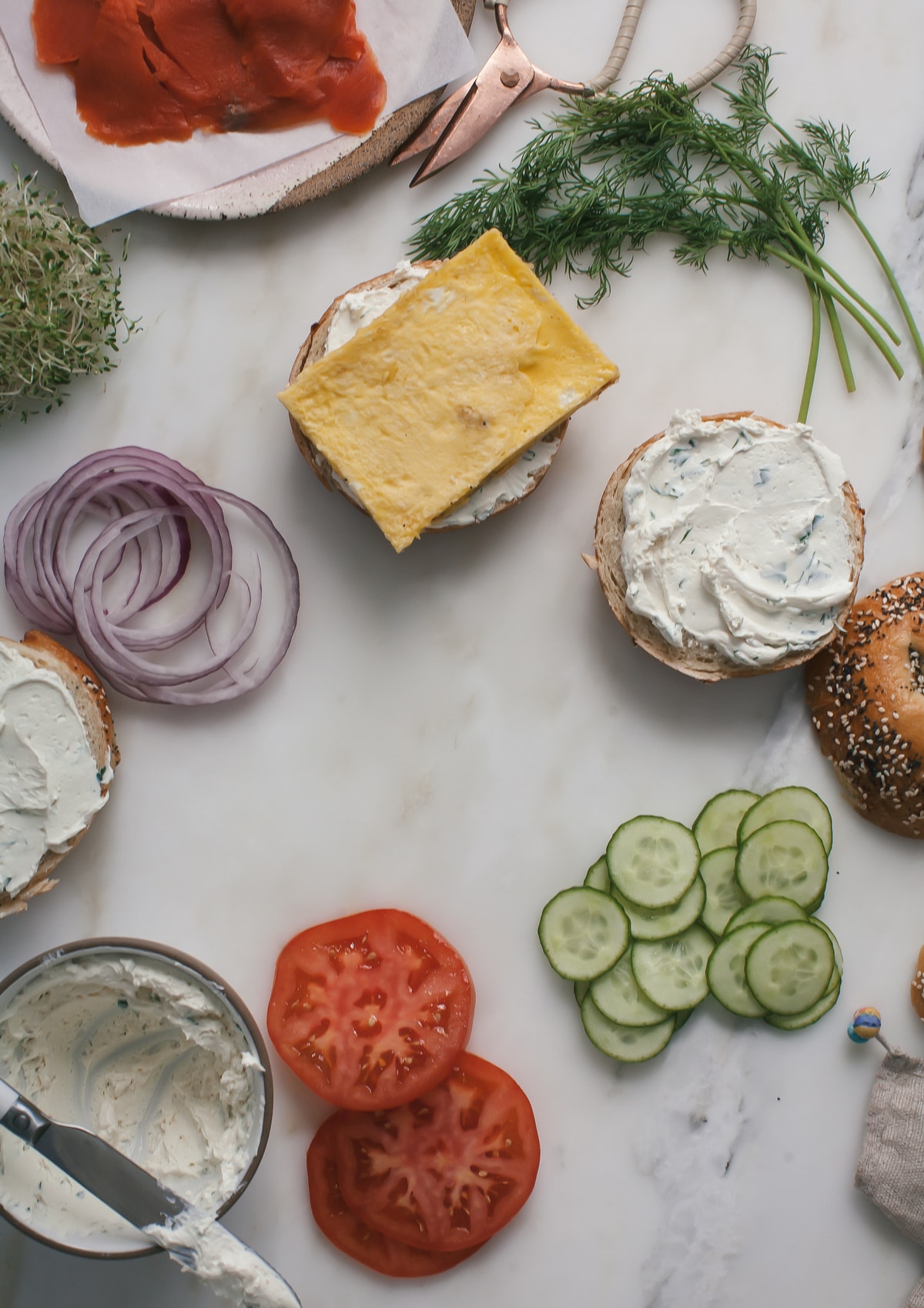 A bagel sandwich is not a bagel sandwich unless it has smoked salmon. If you want to get crazy fancy you could cure your own salmon. (I love the recipe in DA YEAR OF COZY!)
And toppings. Sliced cucumber, sliced red onion, tomato and tons and tons of sprouts.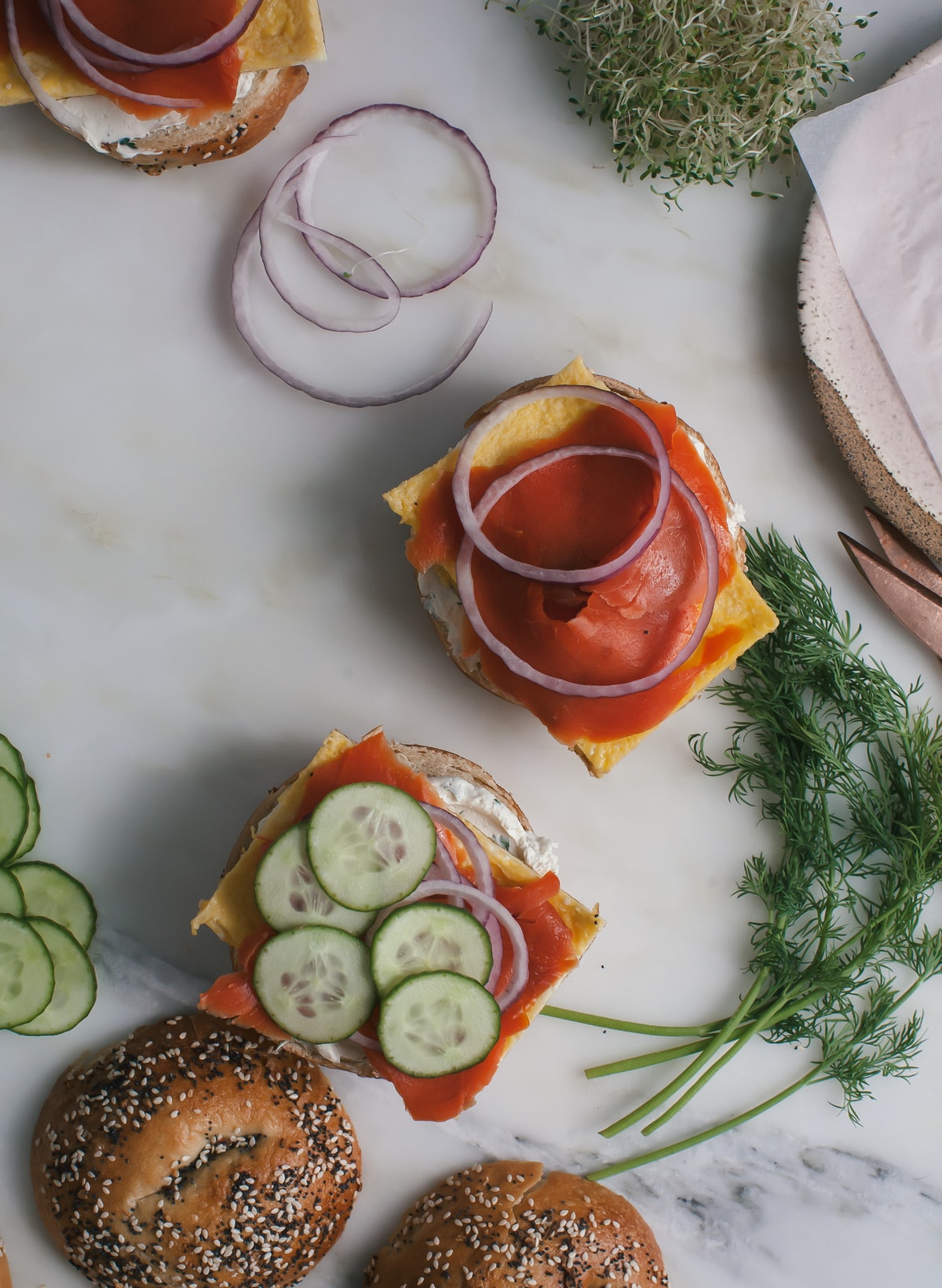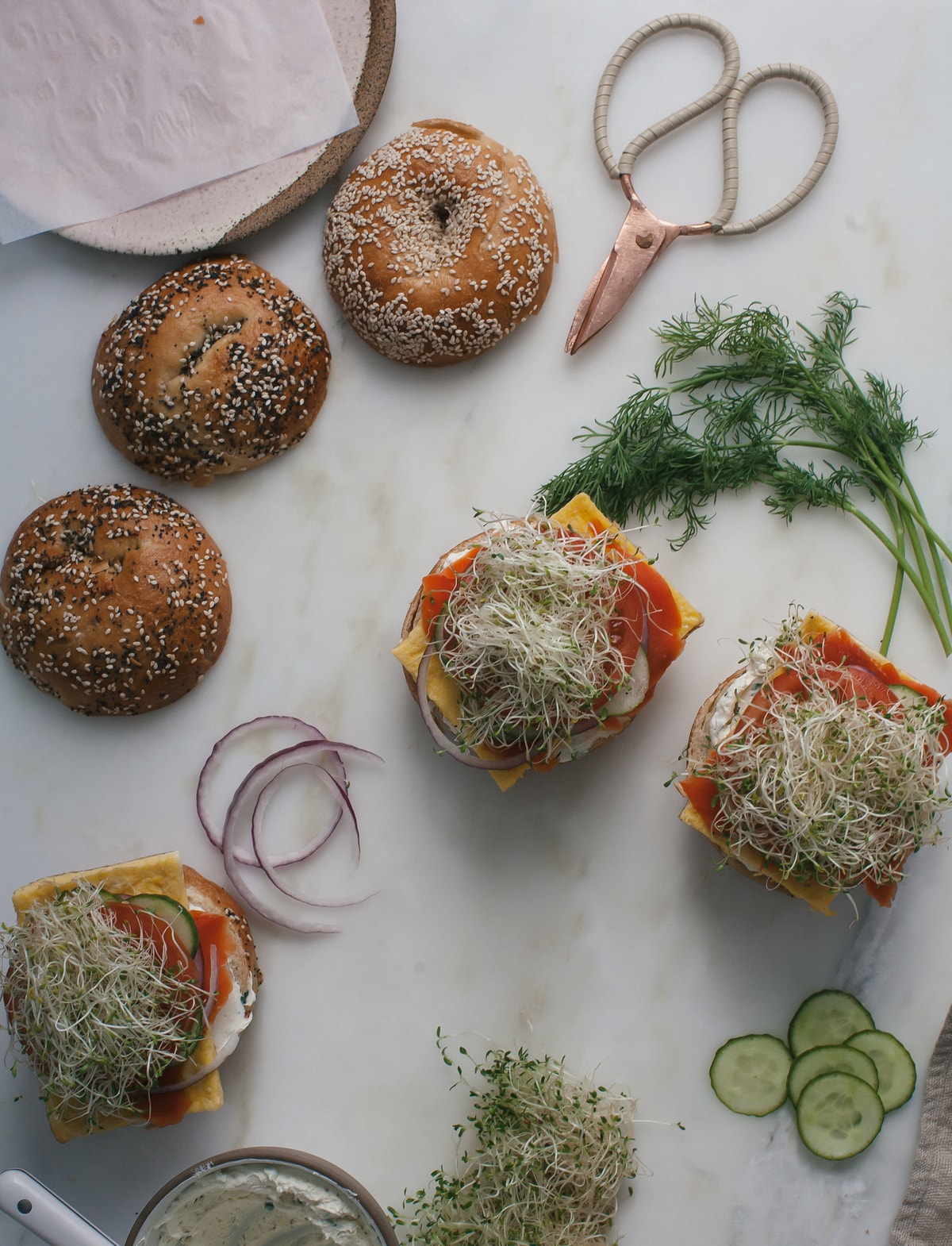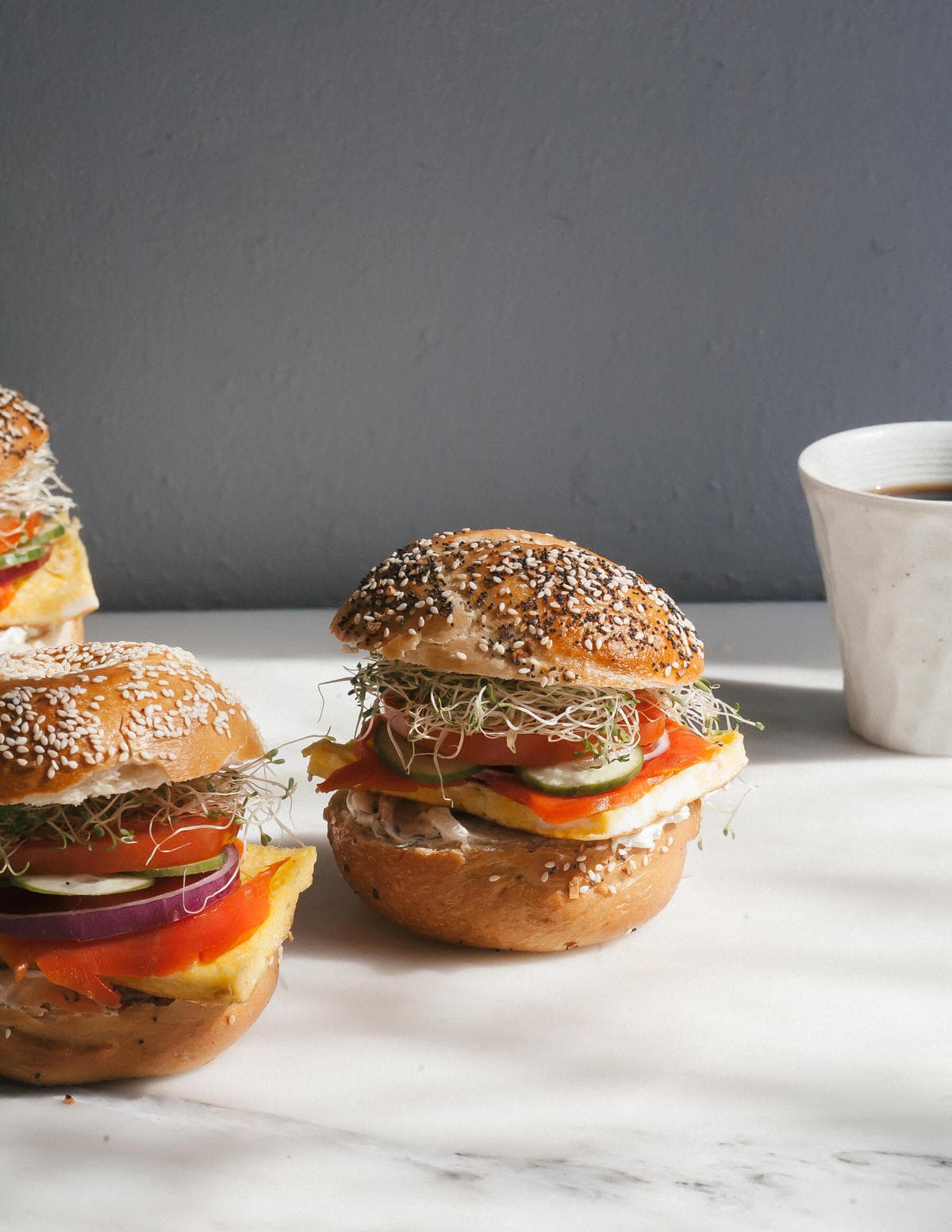 This is not rocket science and this is not really a recipe but it does result in one amazing sandwich that will make you very VERY happy.
Have a nice weekend!
xo
Adrianna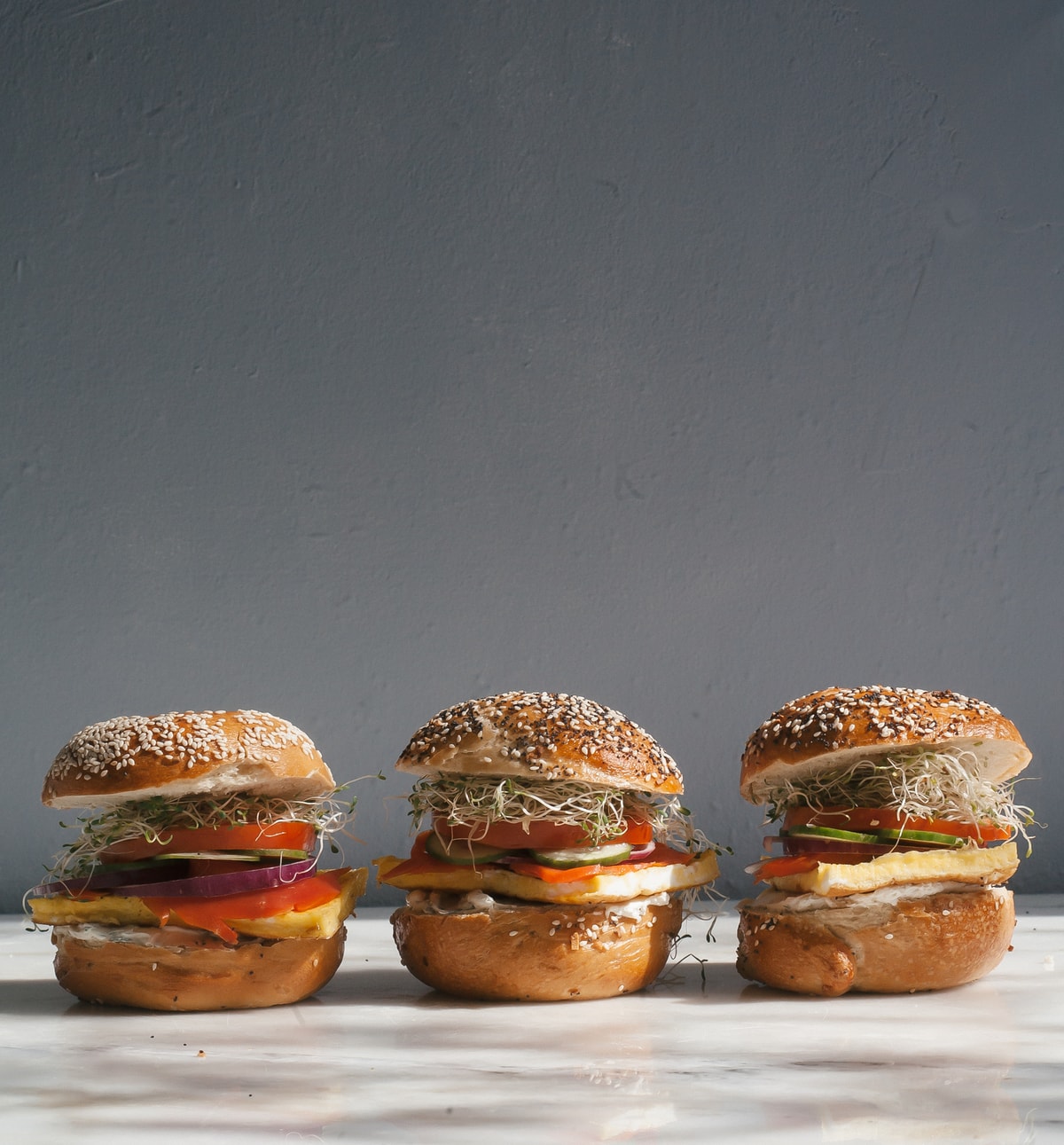 Thanks to Yeastie Boys for providing their amazing bagels. You can find their schedule on their website and their newly-opened shop is at Melrose Place. GO!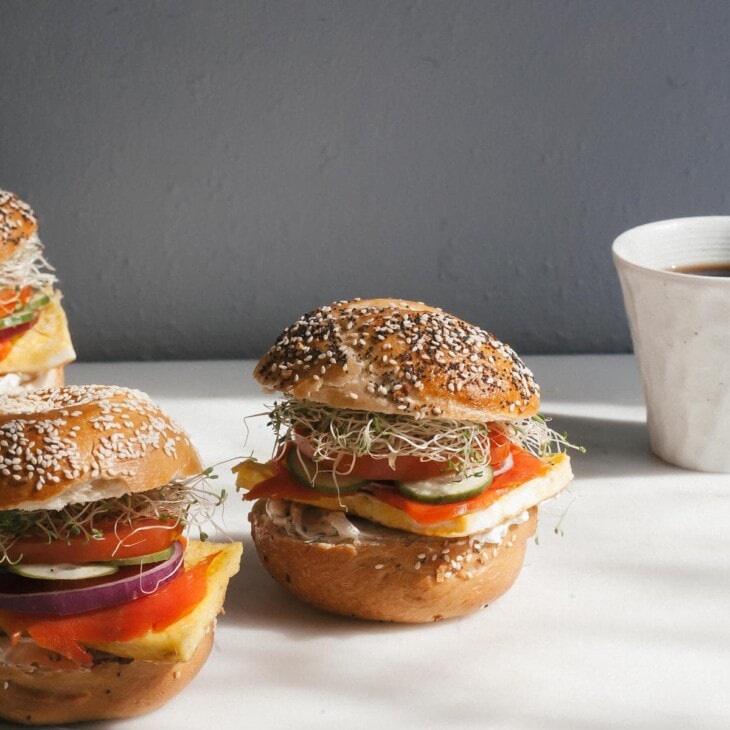 Print Recipe
How to Make a Bagel Sandwich Recipe
How to Make a Bagel Sandwich is a step-by-step guide on making your favorite deli bagel sandwich at home. A perfectly folded egg, topped with sprouts.
Ingredients
3/4

cup

cream cheese

(homemade or store-bought)

1

tablespoon

minced fresh Italian parsley

2

teaspoons

minced fresh dill

4

large eggs

beaten

4

bagels

toasted (if you like) and halved

6

ounces

smoked salmon

1

Persian cucumber

thinly sliced

1/2

red onion

thinly sliced

1

tomato

thinly sliced

1

bunch of alfafa sprouts

(or any other type of sprouts)
Instructions
This is hardly a recipe. But here it goes: mix the cream cheese with the fresh Italian parsley and dill. Set aside.

Cook the scrambled eggs in a medium non-stick skillet until soft and fluffy, about 5 minutes.

To assemble the bagels, smother the cream cheese on the bottom half of the bagels. Divide the scrambled eggs amongst the bagels. Top with a few slices of smoked salmon, cucumber, red onion, tomato and a handful of sprouts. Cut the sandwich in half and eat immediately.
Looking for more breakfast recipes? Here are some of my favorites: