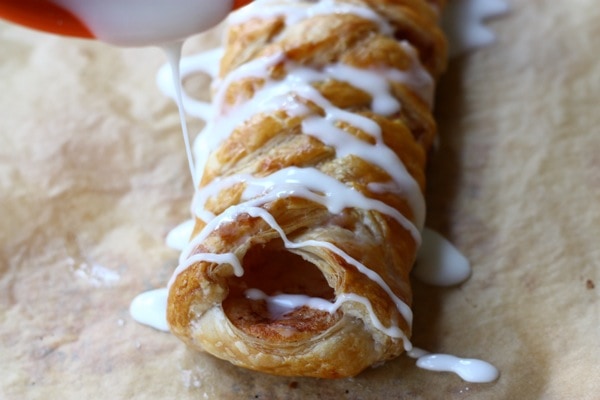 This may be a total shocker to some of you, but in third grade I was not the cool girl.
Definitely not the cool girl. But I also wasn't the weird girl, the girl that smelled nor the girl that was super jockey and athletic.
I was just way normal. Like really normal. Too normal for my own good. So I'm pretty sure I just kinda faded into the background…
The cool girls were the sprightly blond ones. Their hairs were always French braided. They wore a lot of pink. They were talkative and outgoing. The boys liked to punch them, in a good way (I think). And they had awesome packed lunches. (Read: Lunchables, Cheetos, Snack Packs.)
I was like, the antithesis of the situation you just read.
My dad thought it was a genius idea to buy me boys' tennis shoes because he thought they were "designed" better. So yeah…I have him to thank for that. I was shy and quiet and observant. And my hair was frizzy and always sort of a mess. My mom, nor I, could French braid despite how many times we tried.
And my lunch…ugh…my lunch was always kind of lame. Think like, hummus, crudites and…arroz con pollo. Tell me! …how is a child supposed to be cool with yellow rice in their lunchbox?!?!
But now…I'm a totally different person. I know how to use a blow-dryer. My clothes are better. That lunch would actually make me excited. And I know how to do regular braids, French braids and fishtails. Yeah…I totally graduated to braiding pro status.
Despite who you were in third grade, everyone can braid this cheese danish. Everyone.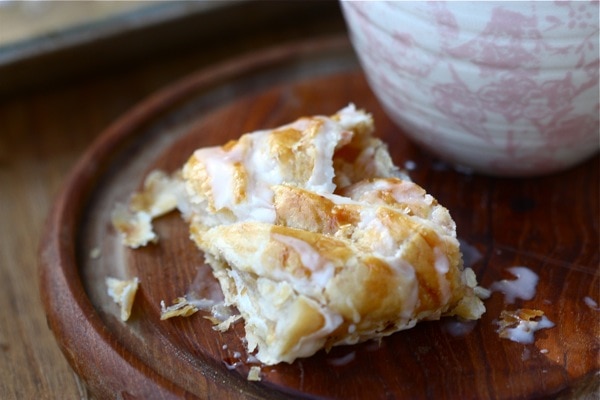 Let's talk frozen puff pastry. Sure…you can make your own, if you're up for that. But if you're not, try and buy the good stuff.
You'll be able to spot it because puff pastry should only have a few ingredients: flour, water, salt and BUTTER. A lot of the ones at the store have oils instead of butter.
I found my puff pastry at Whole Foods for $10 for two sheets. (I usually buy Dufour but this one was the brand Toque.)
A little pricey…but the quality was amazing. So so worth it.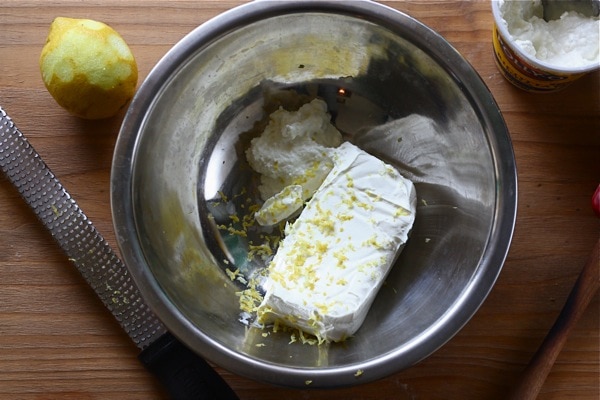 You're going to start by throwing all of the filing ingredients in a bowl and mixing them up. It'll smell tart. And delicious.
Next up you want to slice the apples and toss them with a little lemon juice, sugar and cinnamon.
Fall in a bowl. Fall in a bowl.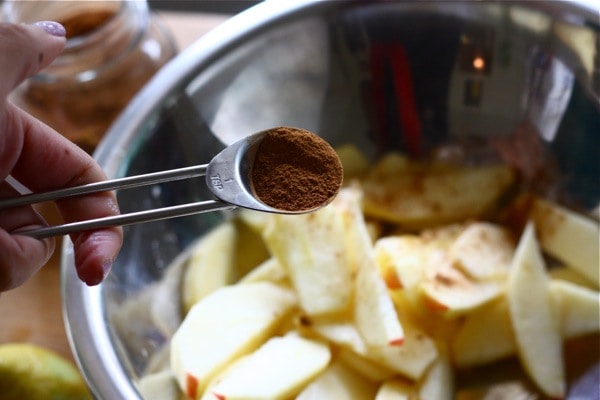 Take your defrosted puff pastry and roll it out. Mine was an annoying circle, so I had to cut it into a rectangle. No biggie!
Cut off the top corners. And make triangular notches in the bottom part of the rectangle.
Then make slits down both sides. Those are gonna be the pretty braids.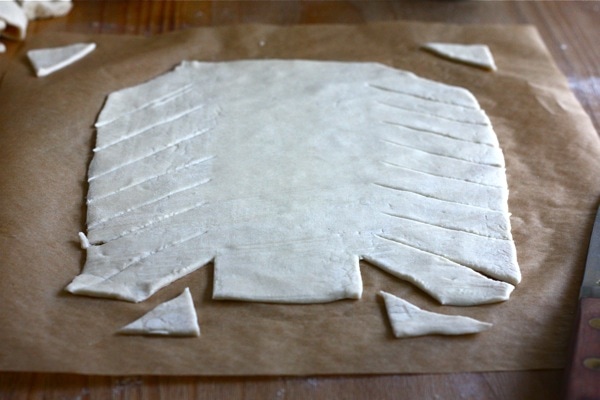 Fill the center with a few tablespoons of the cream cheese mixture and smooth it out.
Lay the apple slices down the center…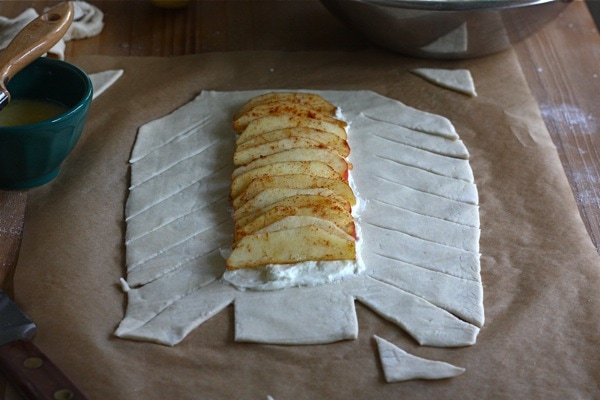 Fold in the bottom and top flaps…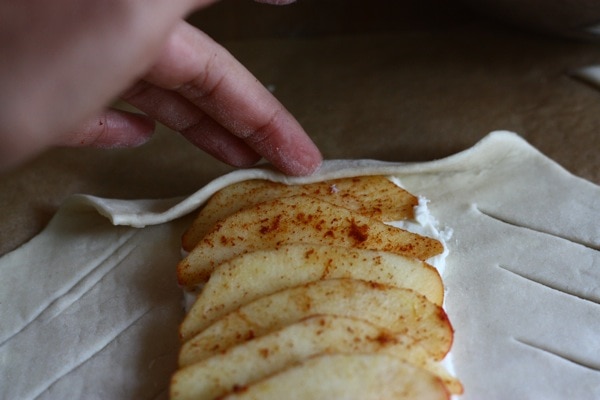 And then braid! Sorta. This is when it gets really easy.
Simply fold over the strips, alternating between sides.
P.S. If you need more visuals, this video really helps!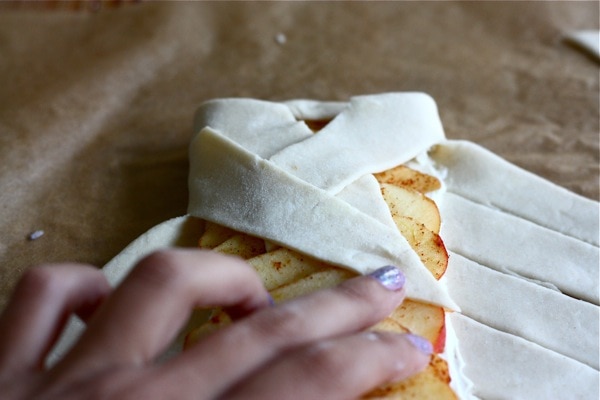 Trim away any leftover strips or dough.
And when you're done…it'll look like this!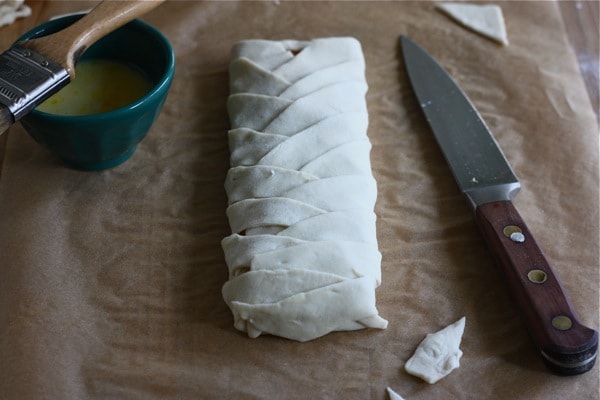 Brush it with a little egg wash action, stick in the oven and bake.
While it's doing its thing in the oven, mix up the icing. Just powdered sugar and a tiny bit of milk. I had to play with the consistency a bit. I wanted it to be thick.
And then…pour it all over the warm apple cheese danish..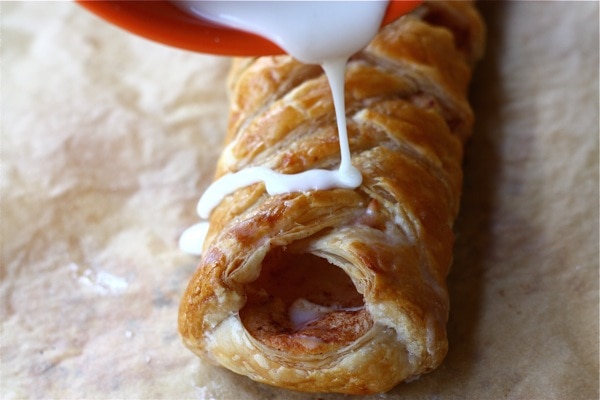 The filing in this cheese danish is just the perfect amount of tartness; it isn't overly sweet, which makes the icing welcome…perhaps even necessary?!
And the cinnamon and sugar speckled apples practically become one with the cheese…after the 20 minute baking time. This is all such a good thing.
When I took a bite, the first thing that came to mind was how perfect this danish would be for that certain holiday where people get presents in late December. I can't bring myself to mention it this early. I just can't…I'd totally end up hating myself…
But for real, this thing really would be perfect for it.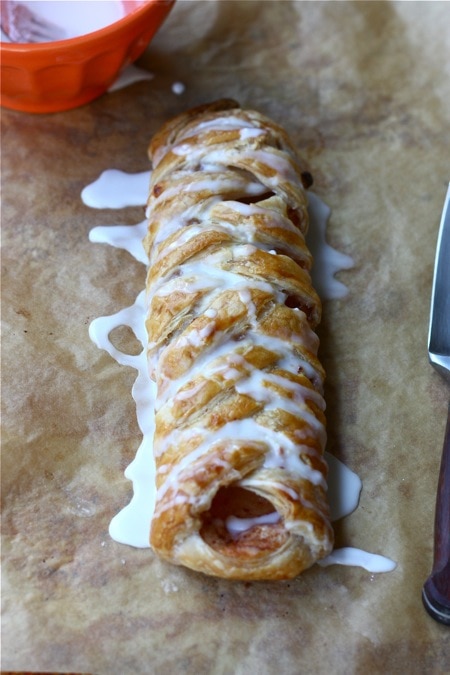 Apple Cheese Danish
Filling:
8 ounces cream cheese, room temperature
3 tablespoon ricotta
1 lemon, zest and juice used
1/2 teaspoon vanilla extract
1/8 teaspoon Kosher salt
5 tablespoons sugar, divided
2 Gala apples
1/2 teaspoon cinnamon
1 box of frozen puff pastry (mine contained two circular sheets of puff pastry), defrosted
Icing:
3/4 cup confectioner's sugar
1 tablespoon whole milk
Preheat the oven to 400 degrees F.
In a medium bowl, place the cream cheese, ricotta, lemon zest, vanilla, salt, 4 tablespoons of sugar and mix until smooth, using an electric mixer fitted with a paddle attachment. Set aside.
Peel and slice your apples into 1/4-inch slices. In a small bowl toss them with 1 tablespoon of sugar, cinnamon and juice from the one lemon.
Carefully unfold 1 sheet of puff pastry and roll slightly with a floured rolling pin until it's about 1/4-inch in thickness. Since mine was a circle, I cut it into an 11″ x 8″ rectangle. Transfer the sheet of puff pastry to a piece of parchment.
At an angle, slice off the top corners and cut two notches in the bottom. Slice 1-inch strips diagonally down both sides of the puff pastry, leaving the center uncut. Try to cut the same amount of strips on both sides. I had about 8 strips per side.
Add three tablespoons of cream cheese filling, spreading it evenly down the center of the puff pastry. Top with apple slices.
Fold in the bottom and top flaps. Braid the puff pastry, by folding the strips over the filing, alternating sides, until you've worked your way down the puff pastry. Using your knife, trim off any leftover strips or extra dough.
Transfer the danish (with parchment) to a baking sheet, and brush top with egg wash. Refrigerate for 15 minutes. Transfer baking sheet to oven and bake for about 20 minutes, or until puffed up and golden brown.
Repeat with the second sheet of puff pastry.
While baking, mix confectioner's sugar with milk and mix. When the danish comes out of the oven, drizzle top with icing and serve warm.
Yields 2 Medium Danishes