This Apple Cheese Danish is the combo of the classic cheese danish and warm slices of apple, like apple pie meets cheese danish!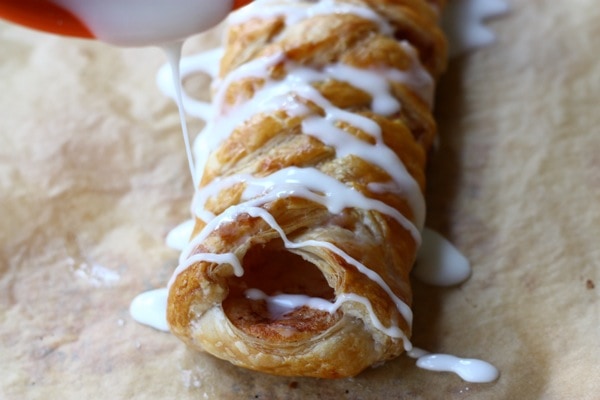 What is a Cheese Danish?
A classic cheese danish is a breakfast pastry that's usually made with some sort of laminated dough or puff pastry. It's filled with a sweetened ricotta or cream cheese mixture and baked then usually topped with some sort of glaze. It's an easy way to make an impressive breakfast, my favorite!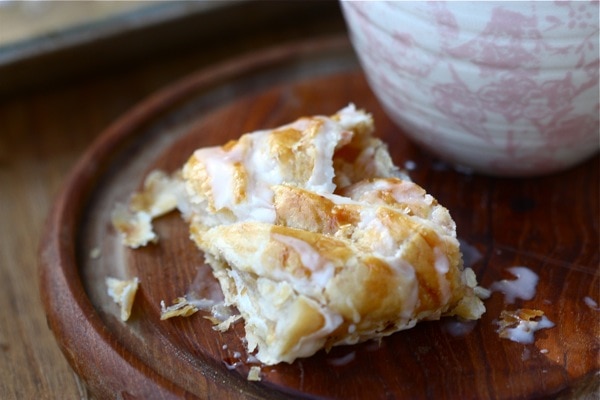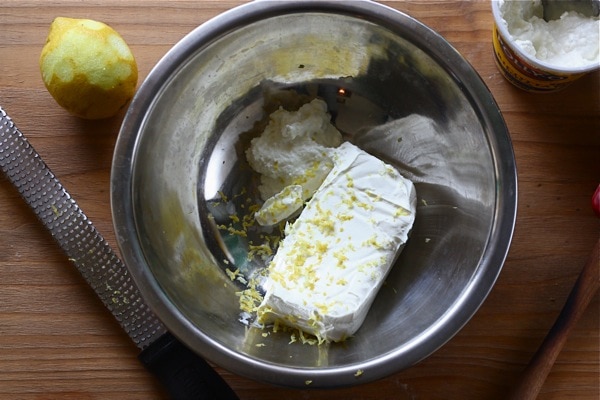 How to Make Apple Cheese Danish:
Mix the cheese filling. You're going to start by throwing all of the filing ingredients in a bowl and mixing them up. It'll smell tart. And delicious.
Prep the Apples. After that, you want to slice the apples and toss them with a little lemon juice, sugar and cinnamon.
Take your defrosted puff pastry and roll it out. Mine was an annoying circle, so I had to cut it into a rectangle. No biggie!
Trim the Puff Pastry. Cut off the top corners and make triangular notches in the bottom part of the rectangle. Then make slits down both sides. Those are gonna be the pretty braids.
Fill! Fill the center with a few tablespoons of the cream cheese mixture and smooth it out then lay the apple slices down the center…
Form the pastry. Fold in the bottom and top flaps and then braid! Sorta. This is when it gets really easy. Simply fold over the strips, alternating between sides.
Visuals! If you need more visuals, this video really helps!
Finish and Bake. Trim away any leftover strips or dough.Brush it with a little egg wash action, stick in the oven and bake.
Make the Icing. While it's doing its thing in the oven, mix up the icing. Just powdered sugar and a tiny bit of milk. I had to play with the consistency a bit. I wanted it to be thick.
Ice and Serve! Pour it all over the warm apple cheese danish and let it cool completely or just slightly and serve.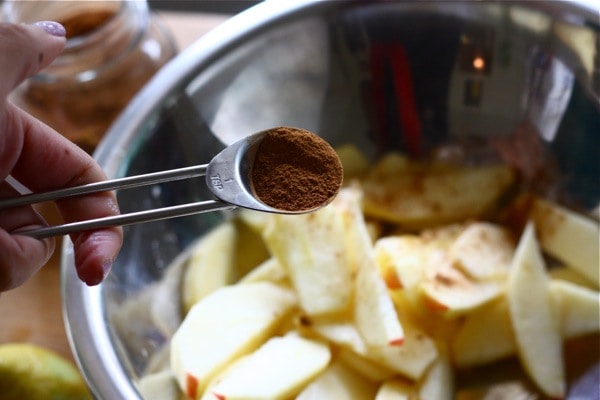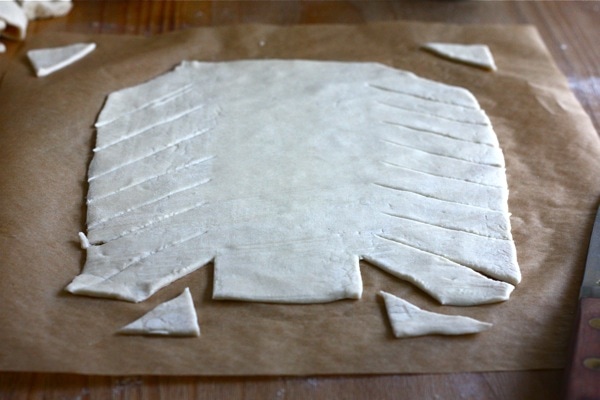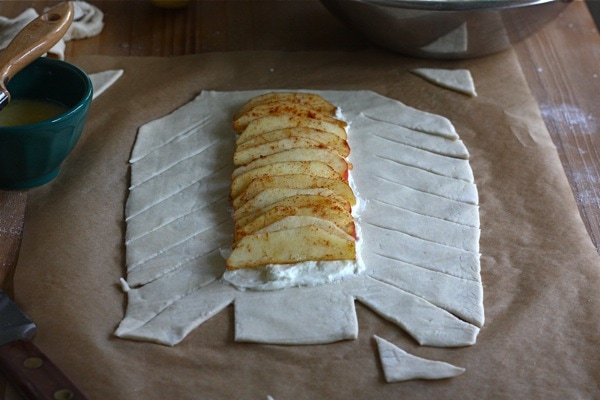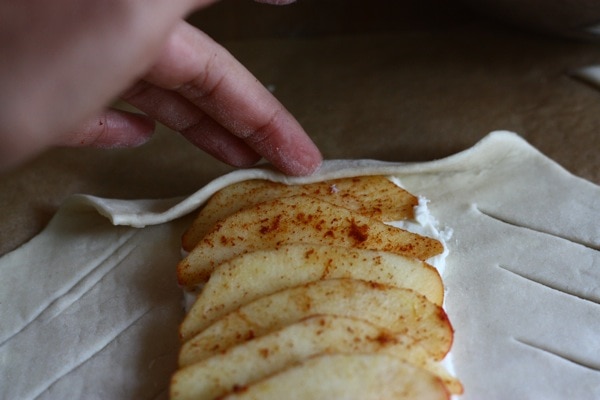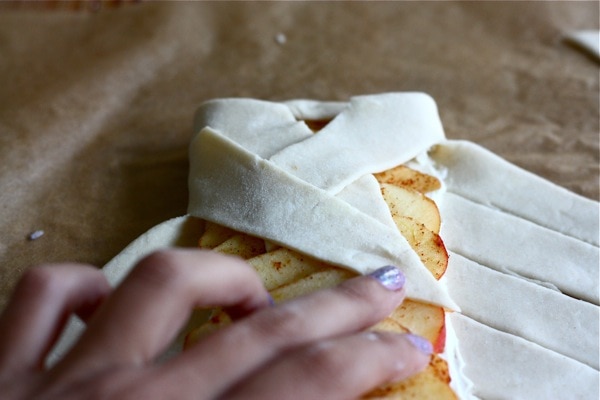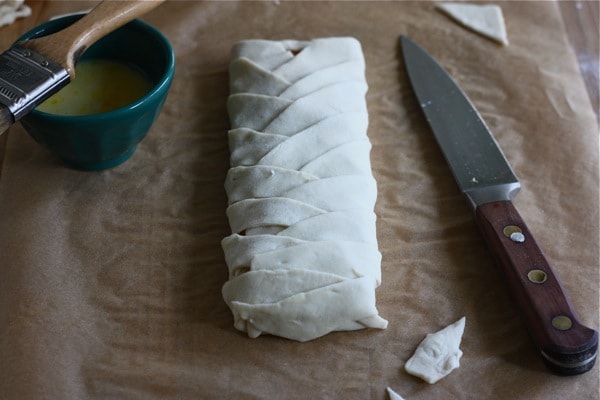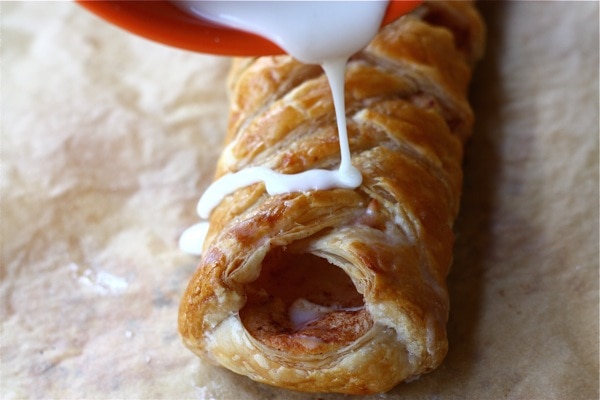 Tips and Tricks:
Switch up the apples. I used Gala apples in these, however any sort of baking apple would work in these, nothing too tart because you want it to compliment the cream cheese and lemon layer, not compete. For example, Braeburn or Honeycrisp would be perfect in here
Try other fruit. If apples aren't in season or you've got some other fresh fruit to use just substitute those instead of the apples, but not too many or you'll have a juicy problem. Just enough to cover the cheese filling.
Go the classic cheese danish route. If you don't want any fruit just make the cheese filling and skip the apples, as a result you'll get a good classic cheese danish!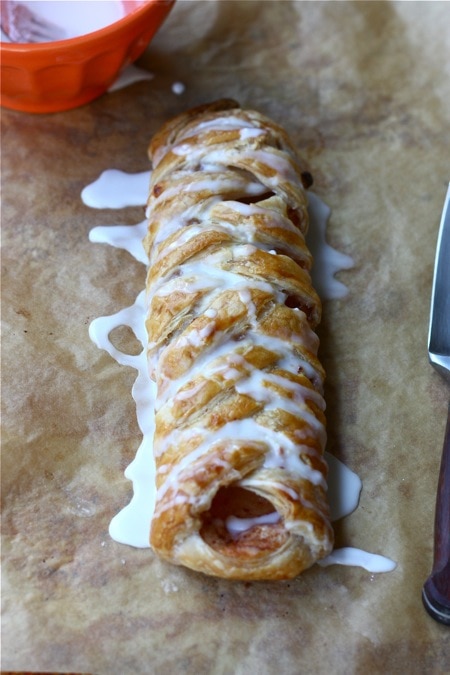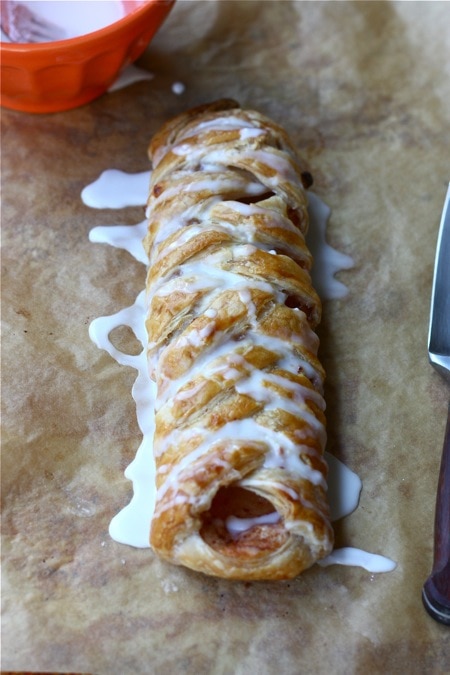 Print Recipe
Apple Cheese Danish Recipe
This apple cheese danish is the combo of the classic cheese danish and warm slices of apple, like apple pie meets cheese danish!
Serving Size:
Large Danishes
Ingredients
For the Danish
8

oz

cream cheese

room temperature

3

tablespoons

ricotta

zest and juice from one lemon

1/8

teaspoon

kosher salt

5

tablespoons

white granulated sugar

2

gala apples

1/2

teaspoon

cinnamon

1

box

puff pastry
For the Icing
3/4

cup

powdered sugar

sifted

1

tablespoon

whole milk
Instructions
Preheat the oven to 400 degrees F.

In a medium bowl, place the cream cheese, ricotta, lemon zest, vanilla, salt, 4 tablespoons of sugar and mix until smooth, using an electric mixer fitted with a paddle attachment. Set aside.

Peel and slice your apples into 1/4-inch slices. In a small bowl toss them with 1 tablespoon of sugar, cinnamon and juice from the one lemon.

Carefully unfold 1 sheet of puff pastry and roll slightly with a floured rolling pin until it's about 1/4-inch in thickness. Since mine was a circle, I cut it into an 11" x 8" rectangle. Transfer the sheet of puff pastry to a piece of parchment.

At an angle, slice off the top corners and cut two notches in the bottom. Slice 1-inch strips diagonally down both sides of the puff pastry, leaving the center uncut. Try to cut the same amount of strips on both sides. I had about 8 strips per side.

Add three tablespoons of cream cheese filling, spreading it evenly down the center of the puff pastry. Top with apple slices.

Fold in the bottom and top flaps. Braid the puff pastry, by folding the strips over the filing, alternating sides, until you've worked your way down the puff pastry. Using your knife, trim off any leftover strips or extra dough.

Transfer the danish (with parchment) to a baking sheet, and brush top with egg wash. Refrigerate for 15 minutes. Transfer baking sheet to oven and bake for about 20 minutes, or until puffed up and golden brown.

Repeat with the second sheet of puff pastry.

While baking, mix confectioner's sugar with milk and mix. When the danish comes out of the oven, drizzle top with icing and serve warm.
Nutrition
Calories:
2169
kcal
(108%)
|
Carbohydrates:
217
g
(72%)
|
Protein:
28
g
(56%)
|
Fat:
136
g
(209%)
|
Saturated Fat:
48
g
(300%)
|
Cholesterol:
137
mg
(46%)
|
Sodium:
1145
mg
(50%)
|
Potassium:
524
mg
(15%)
|
Fiber:
8
g
(33%)
|
Sugar:
99
g
(110%)
|
Vitamin A:
1721
IU
(34%)
|
Vitamin C:
8
mg
(10%)
|
Calcium:
202
mg
(20%)
|
Iron:
7
mg
(39%)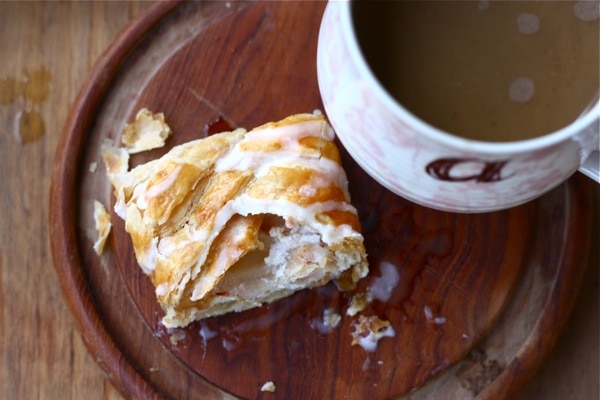 Did you make this recipe? Let me know on Instagram!
Looking for more apple recipes? Here are some of my favorite: