This Custard French Toast with Macerated Strawberries is the most delicious weekend breakfast. Making a custard–which can be made ahead–elevates this breakfast favorite into something magical! The custard is similar to the base of ice cream. Some people might nickname this type of French toast "Ice Cream French Toast."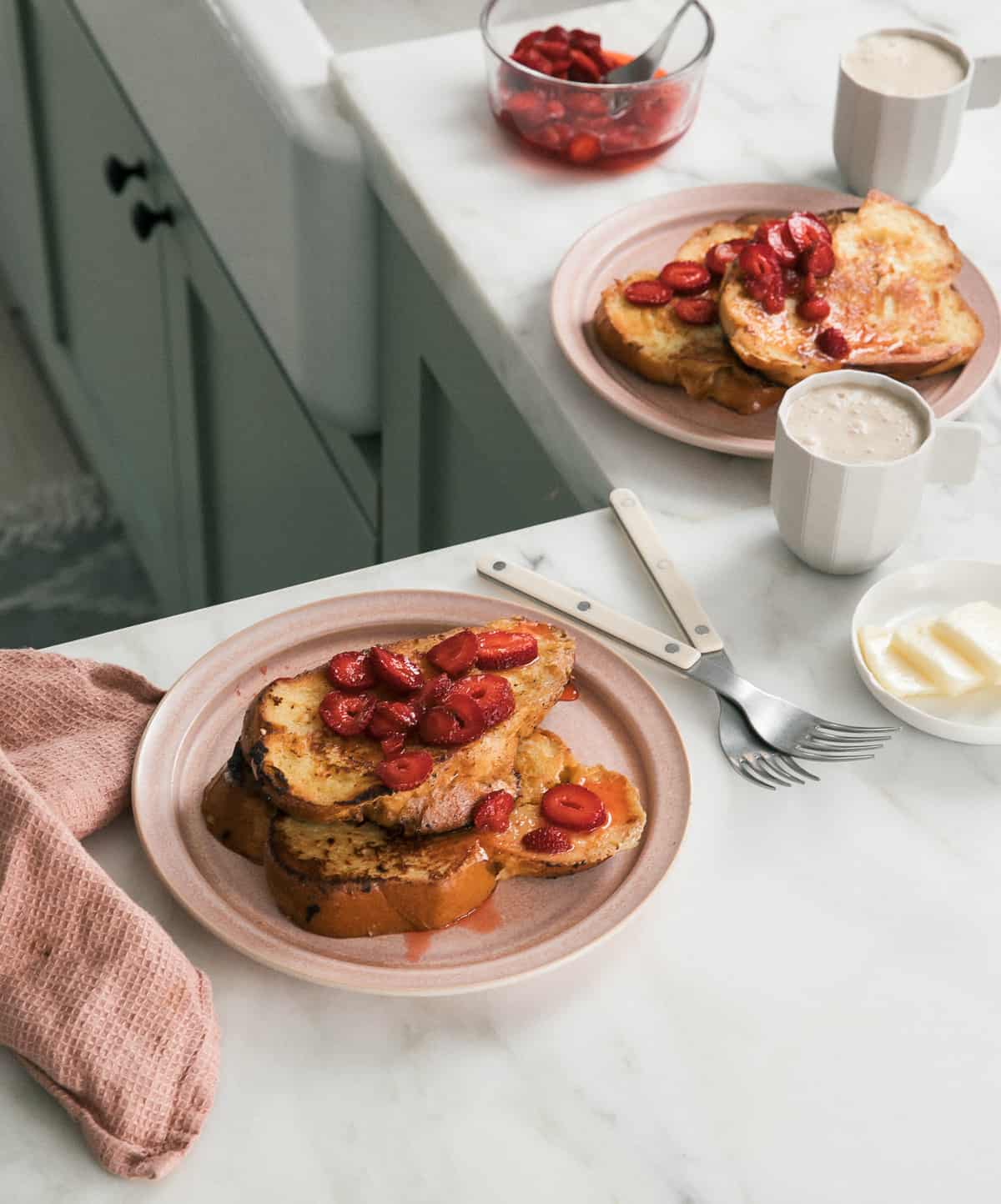 The first thing I ever learned how to cook was French toast. If I remember clearly, I learned how to make this when I was jumping on my parents bed…as they were sleeping. And in an attempt to get just 15 more minutes of shut-eye, my dad suggested that I make French toast. I stopped jumping. He explained. I listened. And then ran to the kitchen.
Custard French Toast is Better Than Regular
In my years as a French toast connoisseur, I came across the idea of melting ice cream and dipping toast in it for the most epic French toast.
So this plays on that idea. Essentially, we're making a creme anglaise and then proceeding as if we're making a normal French toast. But we're not. This is magical, special, iconic!

How to Make Custard French Toast with Macerated Strawberries
Start by mixing the strawberries with the sugar, lemon juice and a pinch of salt. This can be made the day ahead and be kept in the fridge.
Next, you're going to whisk together the eggs and egg yolks together.
In a pot, warm up the milk, heavy cream and sugar. When it's pretty steamy, but not boiling, add about 1/4 cup (you can eyeball this) to the egg mixture.
Whisk it. This will bring the egg mixture to a warmer temperature slowly–without cooking the eggs.
Pour it all back in the pot and bring it to a very gentle simmer, whisking it regularly. This will thicken the custard. You'll know it's ready when it coats the back of a spoon.
I like to strain it just to make sure there are no lumps. And then whisk in a bit of vanilla extract or paste.
Cool the custard down. This is why it's so great to do this the night before. You want it nearly room temp.
Warm some butter in a pan. And then dip the challah slices in the custard and cook on each side for about 1 to 2 minutes.
Repeat until they're all done and pour the macerated strawberries on top!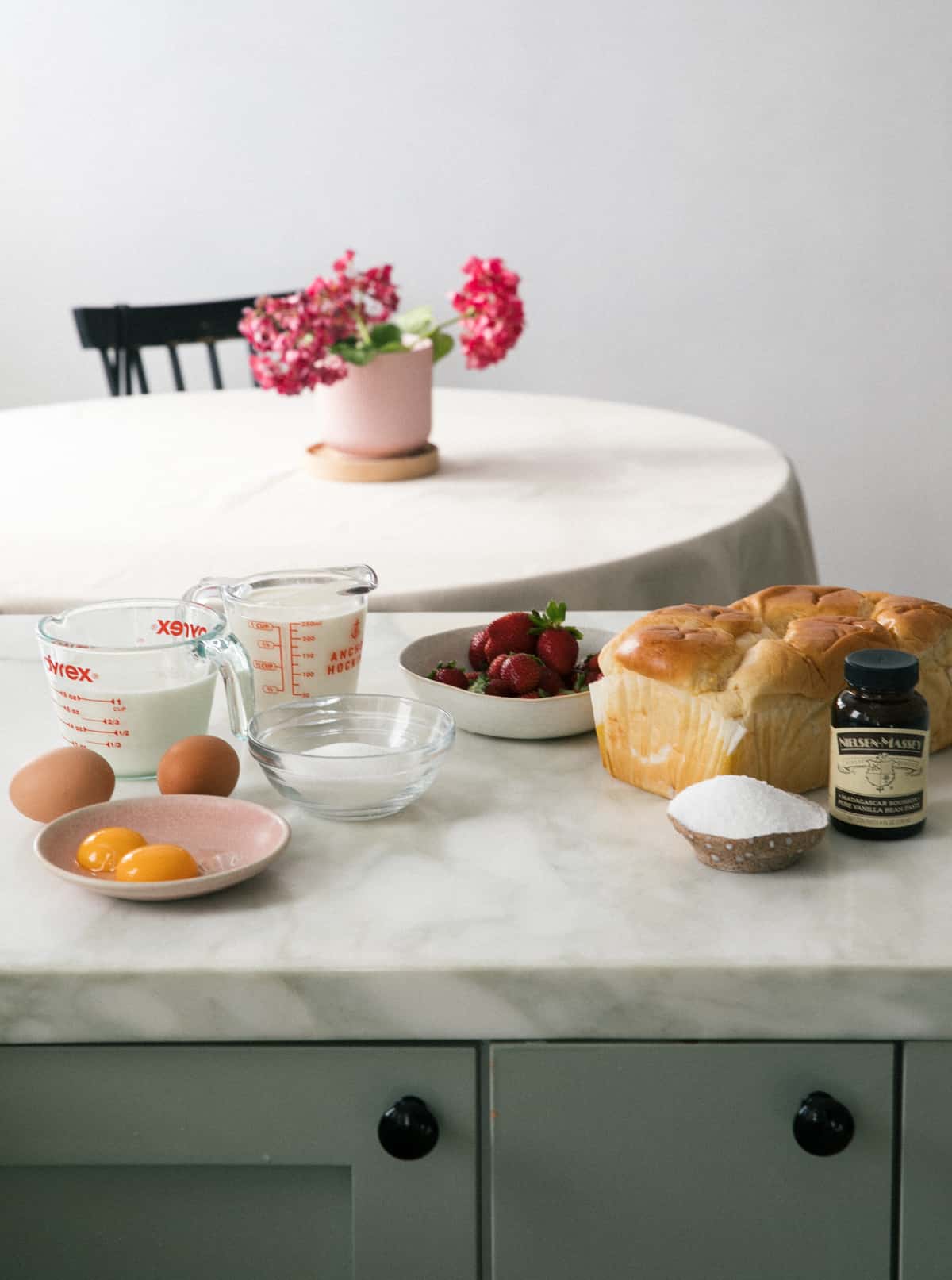 What Are Macerated Strawberries
Let's talk macerated strawberries! I was just gonna call them strawberries in the title because I think "macerated" is a word that perhaps is unfamiliar. But it's super simple, it's simply fruit that's been marinating in a bit of sugar and lemon (or booze).  It helps release the juices and creates a bit of a syrup that is truly delightful.
I love them. I'm kinda dreaming of putting them on top of ice cream with a good balsamic vinegar.}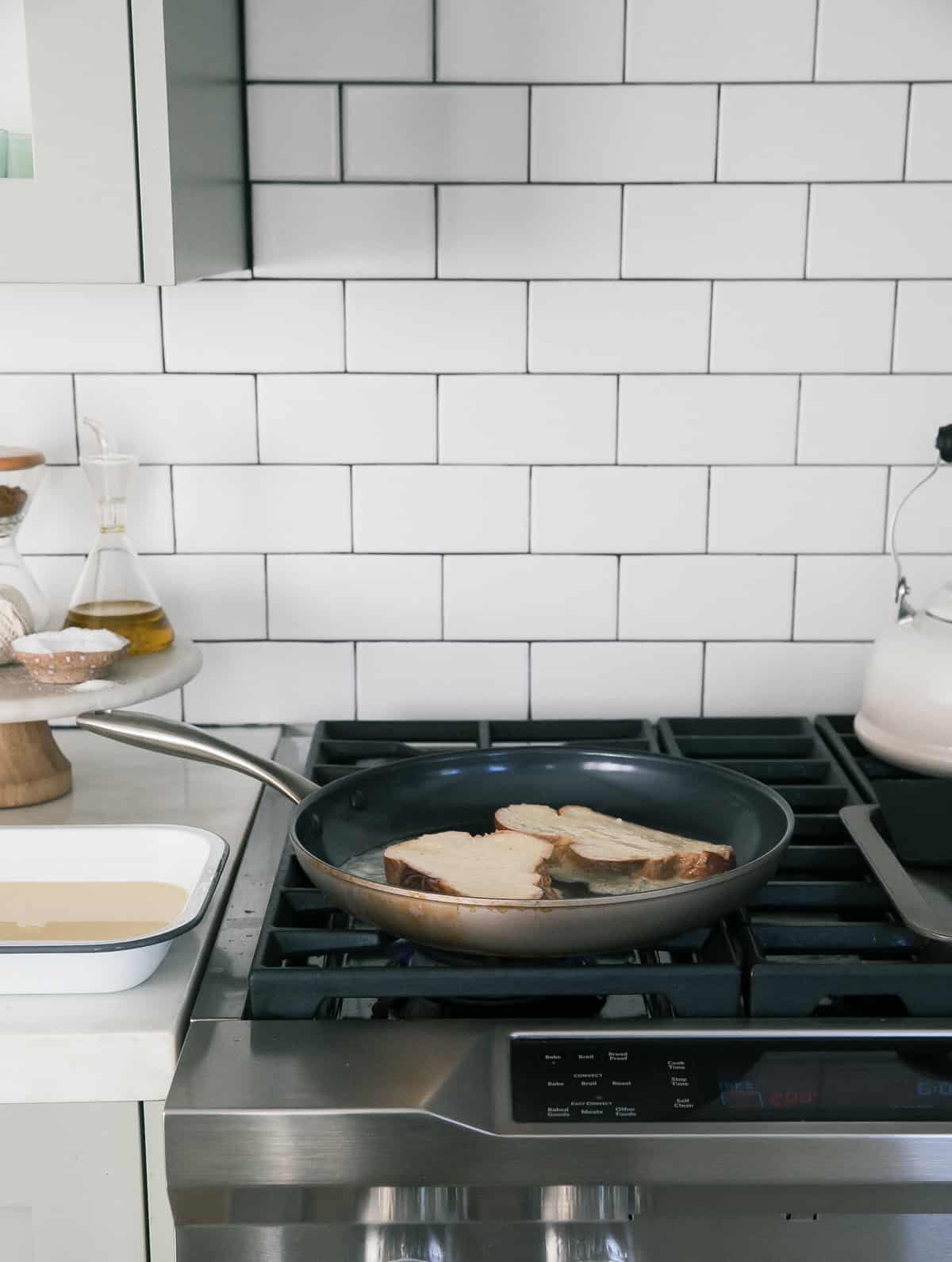 Tips and Tricks
You can make the custard ahead and stick it in the fridge overnight. The next morning, this will be ready to be used.
To avoid lumps in the custard, pour it through a strainer into a bowl. This will eliminate any cooked egg bits.
Make the macerated strawberries the night before!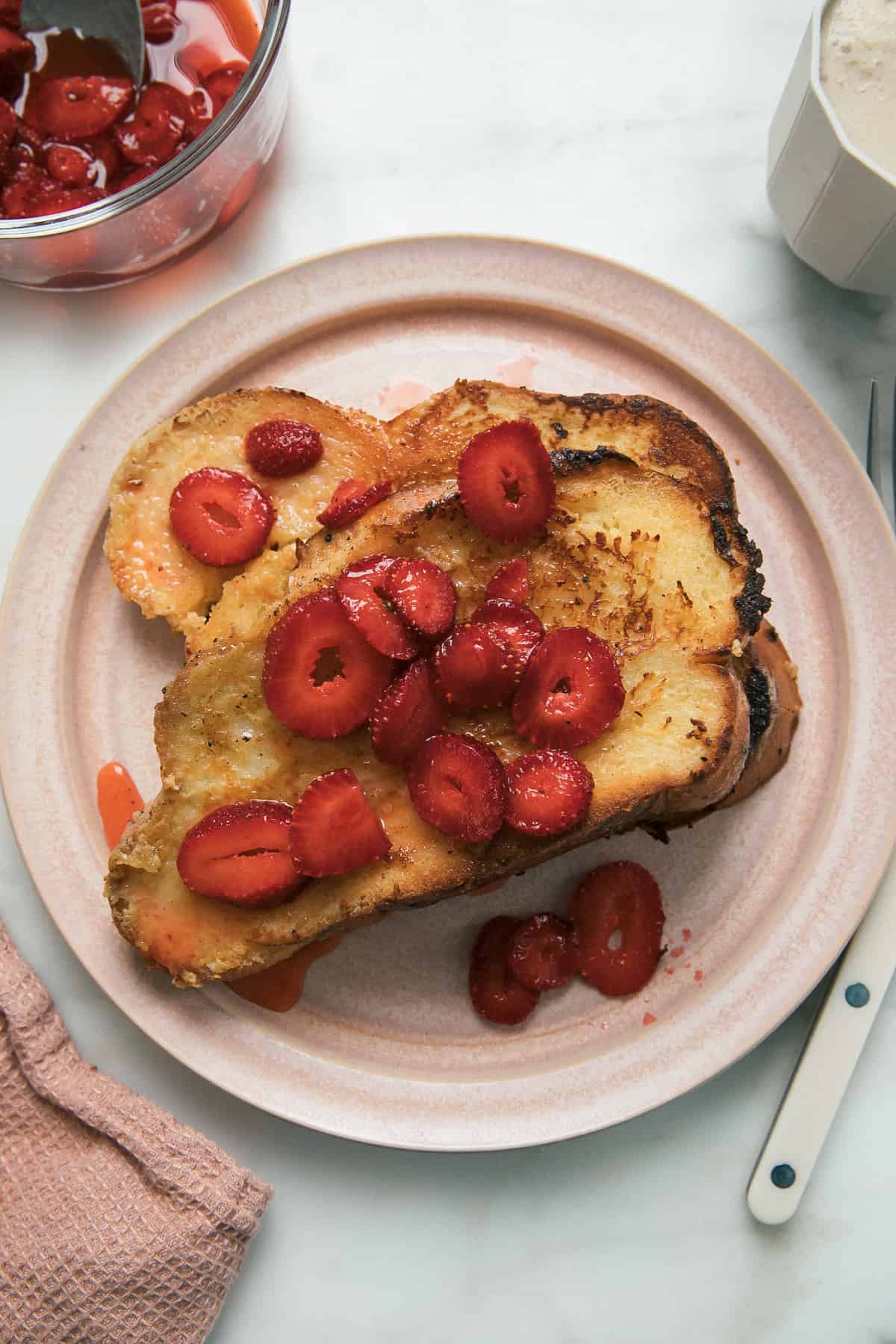 If you make this recipe, let me know on Instagram!
Looking for more recipes to make? Here are some favorites: 
Print Recipe
Custard French Toast with Macerated Strawberries
This Custard French Toast with Macerated Strawberries is the most delicious, perfect weekend breakfast. Making a custard--which can be made ahead--elevates this breakfast favorite into something magical! 
Ingredients
Macerated Strawberries:
1/2

pint

strawberries

hulled and quartered

1/2

lemon

juiced

2

tablespoons

granulated sugar

Pinch

kosher salt
Custard French Toast:
2

large eggs

2

large egg yolks

1

cup

whole milk

1

cup

heavy cream

1/2

cup

granulated sugar

3/4

teaspoon

pure vanilla extract

1/4

teaspoon

ground cinnamon

1/2

teaspoon

kosher salt

1

challah loaf

(6 slices cut in 1 1/2-2-inch-thick slices)

3

tablespoons

unsalted butter
Instructions
To Make the Macerated Strawberries:
In a small bowl, mix together the strawberries, lemon juice, sugar and kosher salt. Let sit for at least 1 hour or you can keep it in the fridge for up to 1 day.
To Make the Custard French Toast:
In a large bowl, whisk together the eggs and yolks.

In a medium saucepan, heat the milk, cream, granulated sugar, vanilla, dash of cinnamon, and salt over medium heat, whisking occasionally, until the mixture is warm to the touch and the sugar is dissolved, about 3 minutes. Remove the mixture from the heat, and whisking constantly, pour about one quarter of it into the egg mixture. (Note: This step is important. If you do add too much warm milk to the eggs, you'll make scrambled eggs.)

Pour the egg and milk mixture back to the pot and place back on the heat. Cook until it thickens, about 3 minutes, and then pour through a strainer, removing any clumps. Use immediately, or chill the custard for up to 2 days until ready to use.

Preheat the oven to 200˚F. I like to place a baking sheet in the oven. This is where I like to keep the French toast warm while I make them in batches.

In a large heavy skillet, heat 1 1/2 tablespoons of the butter over medium heat until it is hot but not smoking. Take your challah slices and dip them into the egg/milk mixture, coating them on both sides. I didn't leave the slices in there too long because I don't like a gooey French toast. If that's your thing, then I'd suggest leaving them in there for 2-3 minutes. I did a quick dip.

Add 2 or 3 slices of challah (or as many that can fit in your pan) and cook for 3 minutes on each side, or until puffed and golden brown. Transfer the French toast to a baking sheet and keep it warm in the oven. Repeat with the remaining butter and bread slices.

Top with the macerated strawberries. You can serve it with more butter and maple syrup, if you like!
Nutrition
Serving:
6
g
|
Calories:
201
kcal
(10%)
|
Carbohydrates:
32
g
(11%)
|
Protein:
2
g
(4%)
|
Fat:
42
g
(65%)
|
Saturated Fat:
43
g
(269%)
|
Cholesterol:
125
mg
(42%)
|
Sodium:
324
mg
(14%)
|
Potassium:
325
mg
(9%)
|
Fiber:
7
g
(29%)
|
Sugar:
9
g
(10%)
|
Vitamin A:
234
IU
(5%)
|
Vitamin C:
21
mg
(25%)
|
Calcium:
247
mg
(25%)
|
Iron:
1
mg
(6%)