Overnight Beignets with Strawberry Powdered Sugar are magical pillows of fried dough topped with a liberal amount of strawberry-flavored powdered sugar. They are glorious!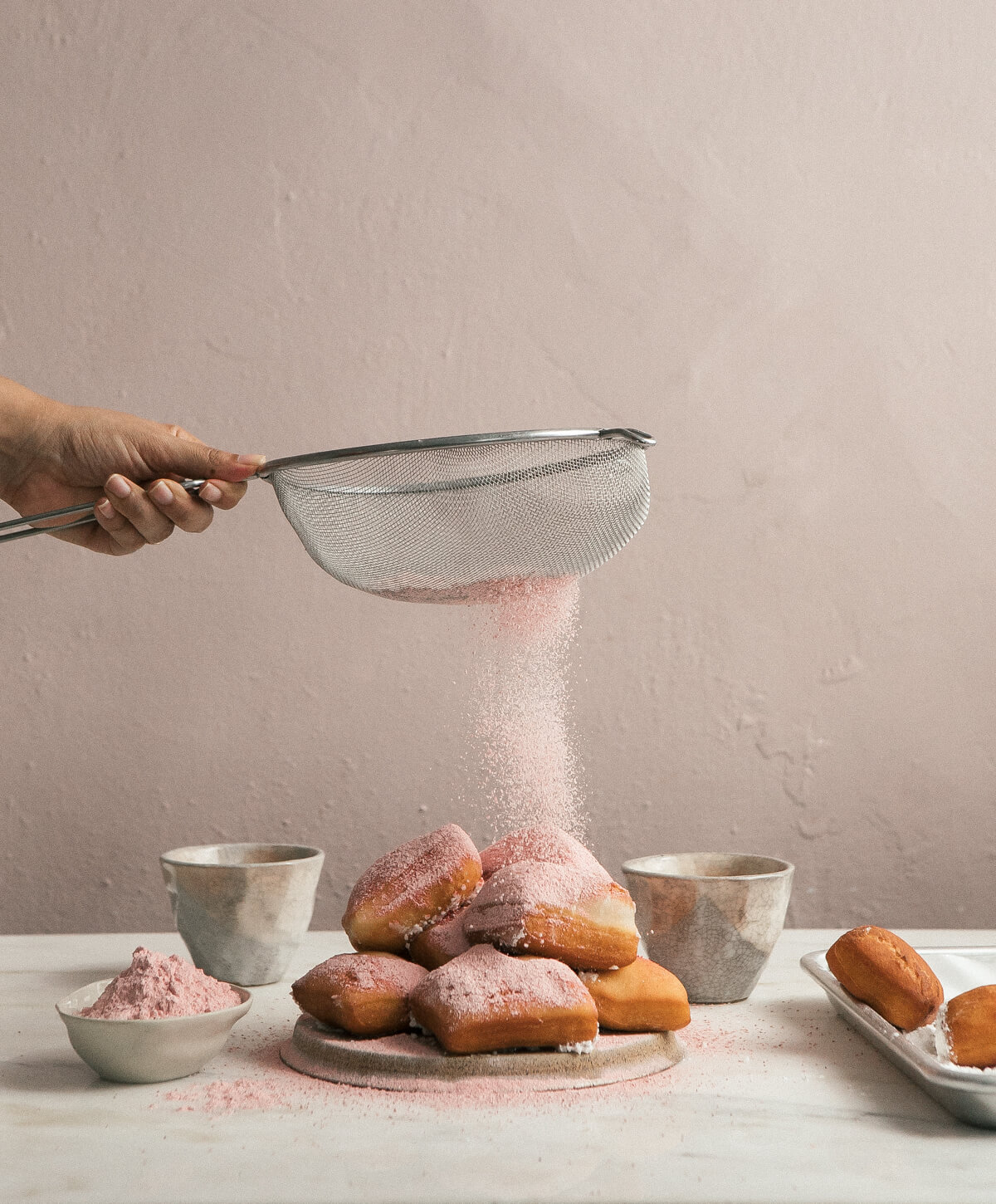 Hello, Monday!
I just spent the weekend in Palm Springs saying 'peace out' to my friend Whitney's singleness. It was definitely a 30-something-year-old bachelorette party because by 11pm on Friday night all of us were in our pjs and in bed. Lol.
And then the next morning everyone got up at 7am to workout and do yoga. But I wasn't mad AT ALL because it was super chill and relaxing and ridiculously enjoyable.
This recipe comes from my friend Joy's (the Baker) new book, OVER EASY. It is a full encompassing brunch book. You really don't need another. The recipes are creative and fun and so delicious-looking. And, of course, Joy's familiar, friendly voice opens up each and every recipe.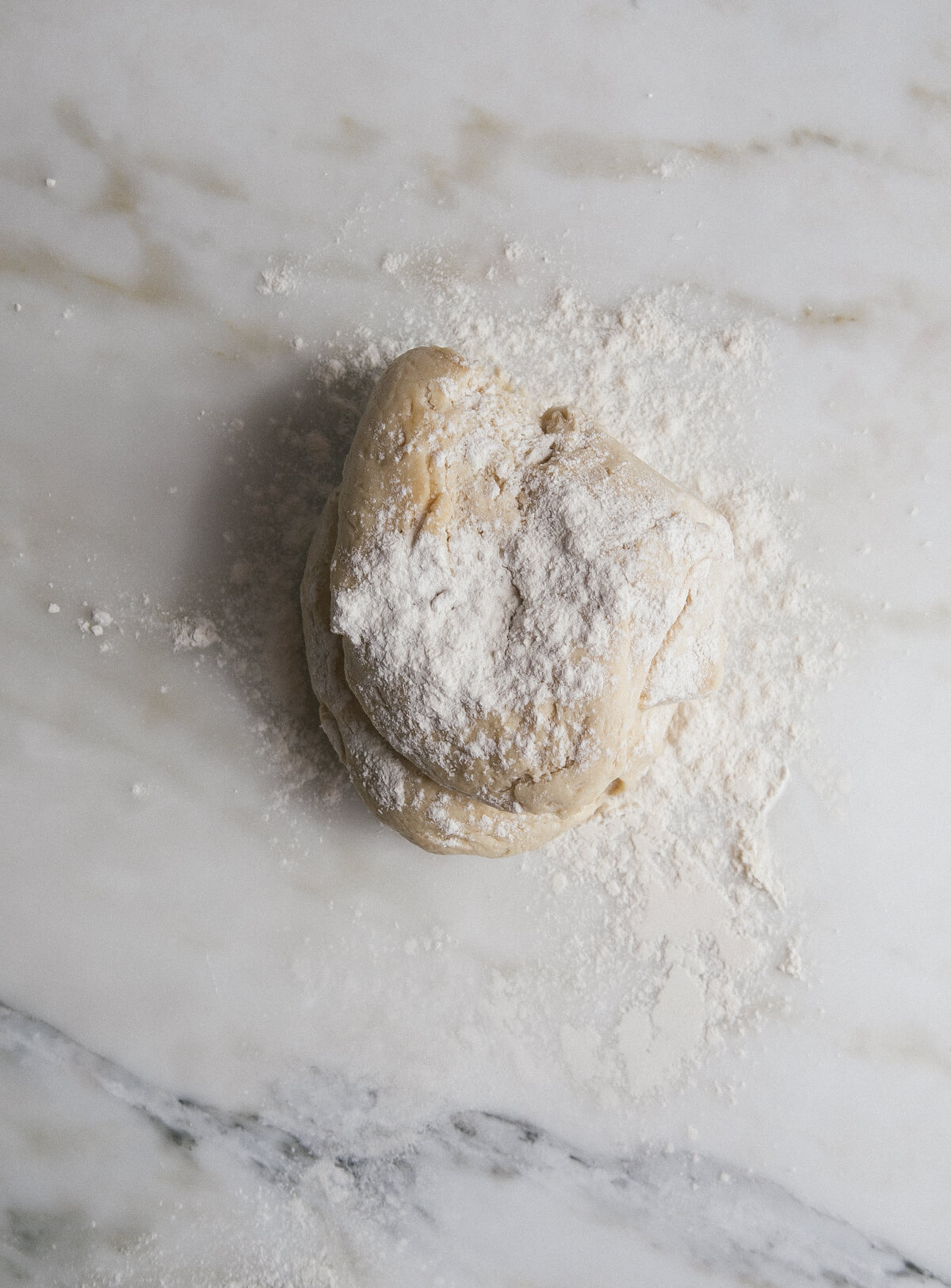 New Oreleans' Beignets
The background of the book is Joy's newly adopted city, New Orleans. I've been itching to go to New Orleans. I wanna go and eat all the beignets covered in mounds of powdered sugar and (hopefully) see Solange walking down the street looking angelic as she always seems to do.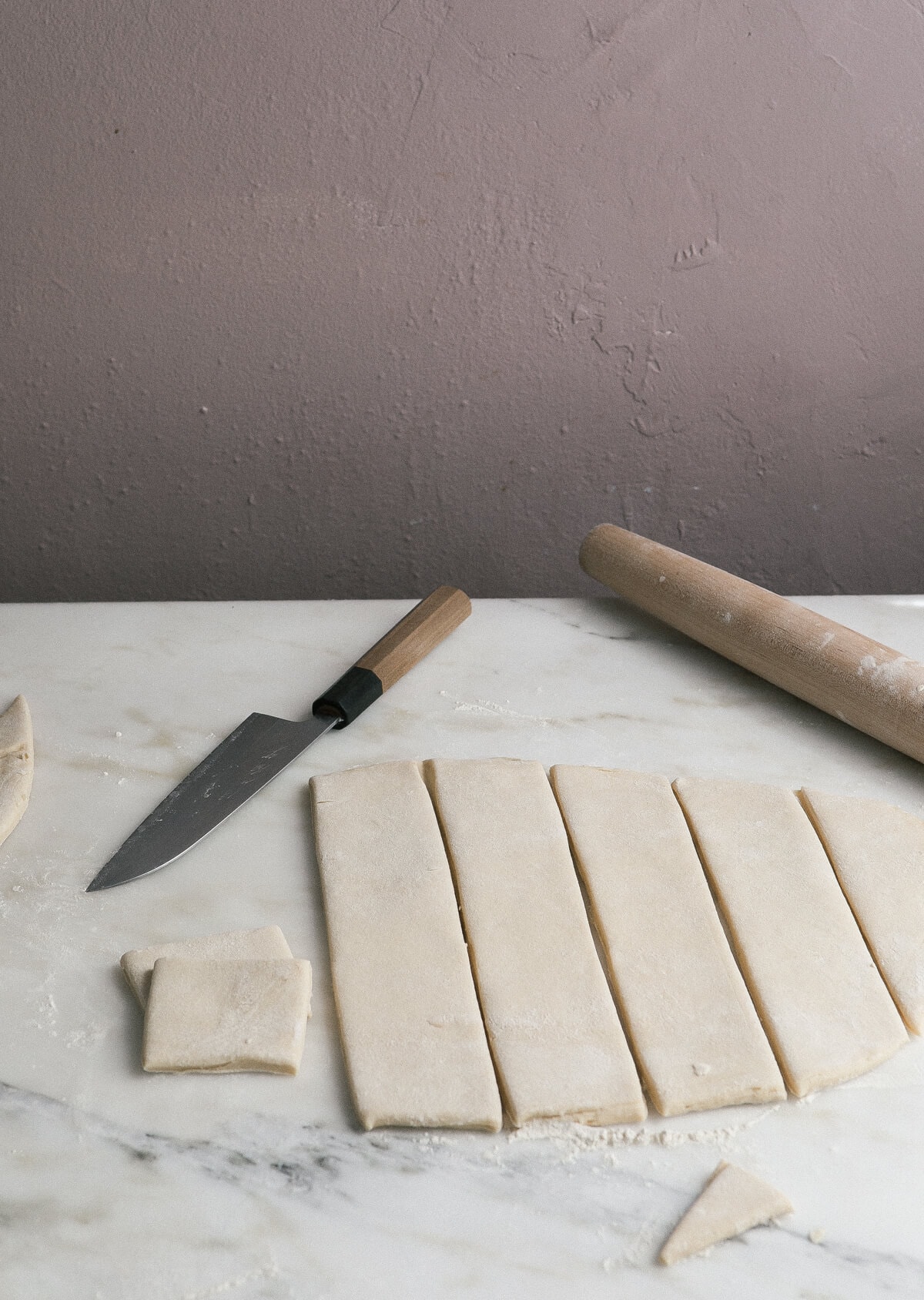 Why Overnight Beignets?
So, it was no surprise that out of all the recipes in the book, Joy's overnight beignets were calling my name!
I think the best part about this recipe—besides the taste—is the overnight part. It's v v important because it makes the recipe totally easy and doable and not a gigantic drag, which frying and doughs can sometimes feel like.
I will say that sometimes baking can take SO long, from start to finish. Breaking up the work is so incredibly helpful.
Beignets HAVE to be fried and eaten immediately. It's just an unspoken rule about them.
The dough rising overnight in the fridge results in a slower rise, hence more flavor.
Waking up, knowing that you have dough all ready to be fried is a glorious feeling!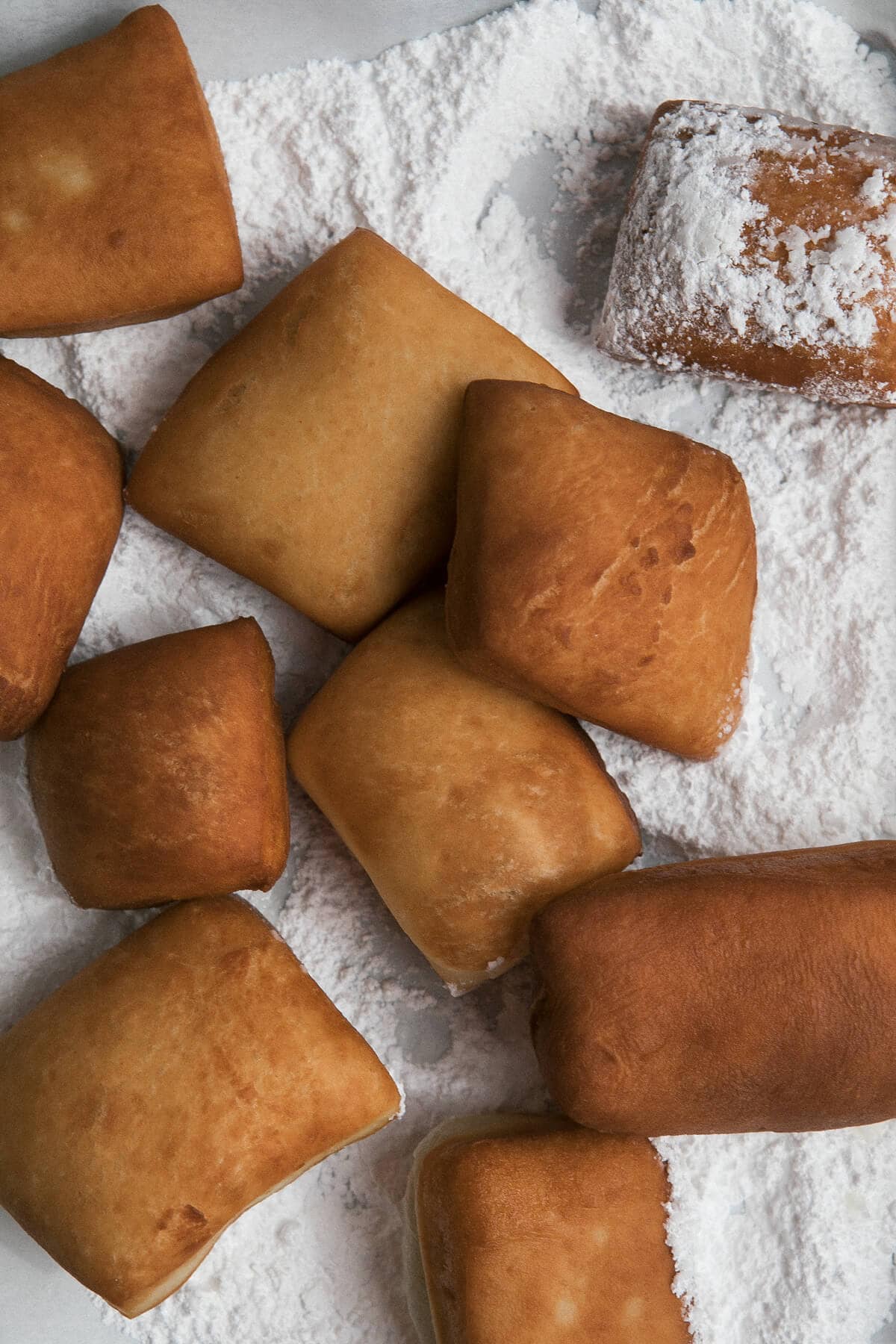 The Next Morning!
I started it in the afternoon and then the next morning I was only, like, two steps away from pillowy, delicious fluffy beignets.
Also a bonus: these have brown butter in them and we all know that brown butter makes every single thing better.
I threw in the strawberry powdered sugar because I LOVE making flavored sugars. I turned to Billy and was like WHUT IF WE MADE STRAWBERRY POWDERED SUGAR.
How to Make Strawberry Powdered Sugar!
I will go as so far as to say that Billy and I invented Strawberry Powdered Sugar. (I googled it and couldn't find any other recipe so we are creators of it.)
Freeze-Dried strawberries go in a blender, along with powdered sugar.
You turn the machine to "high" and let it run for about 1 minute.
When you remove the top of the machine, you will be met with strawberry powdered sugar and your mind will be blown. Promise.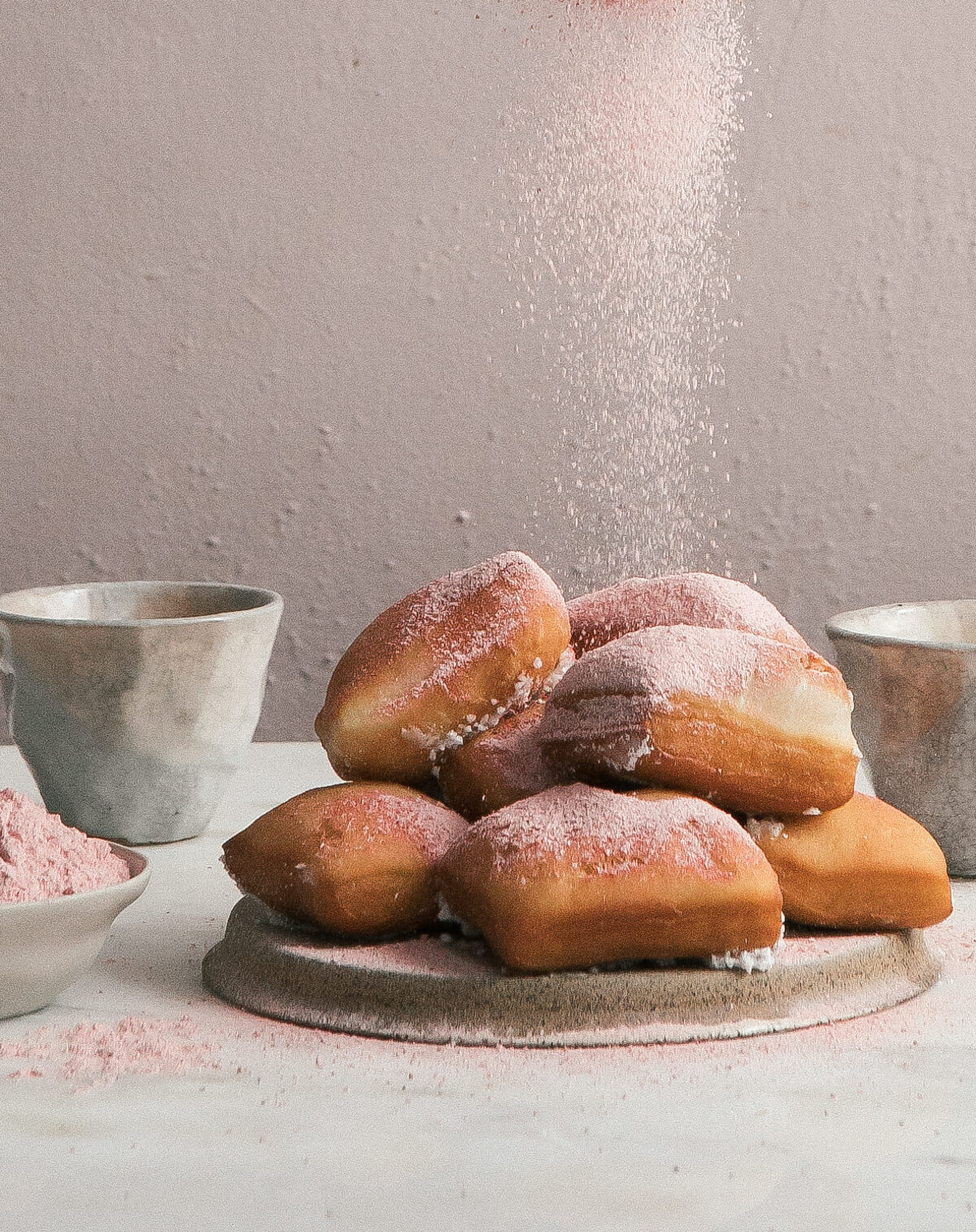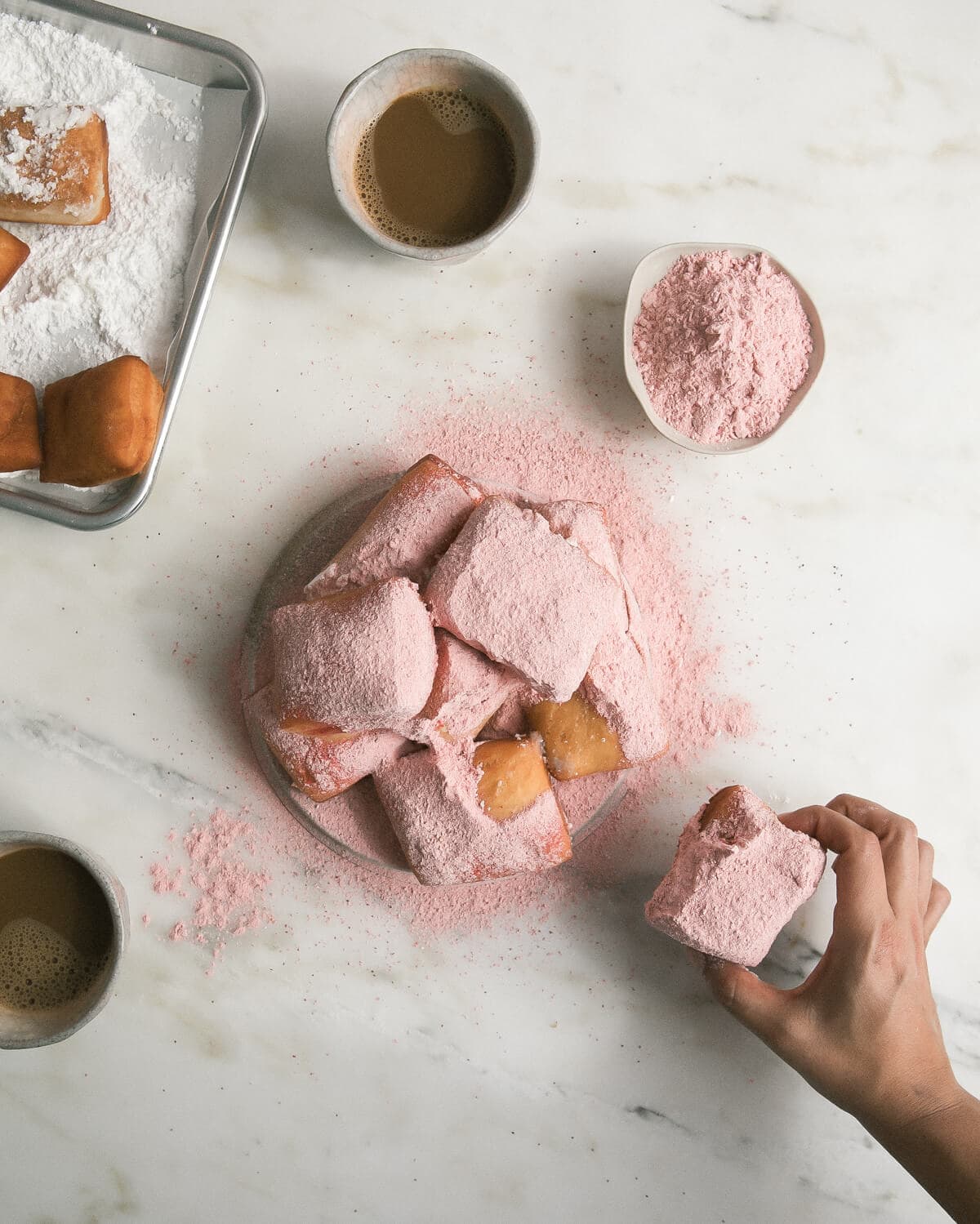 The Overnight Beignets with Strawberry Powdered Sugar were like fruity, fluffy clouds of fried, deliciousness. They taste like spring and comfort all in one!
Here's a link to Joy's book, OVER EASY!
xo,
Adrianna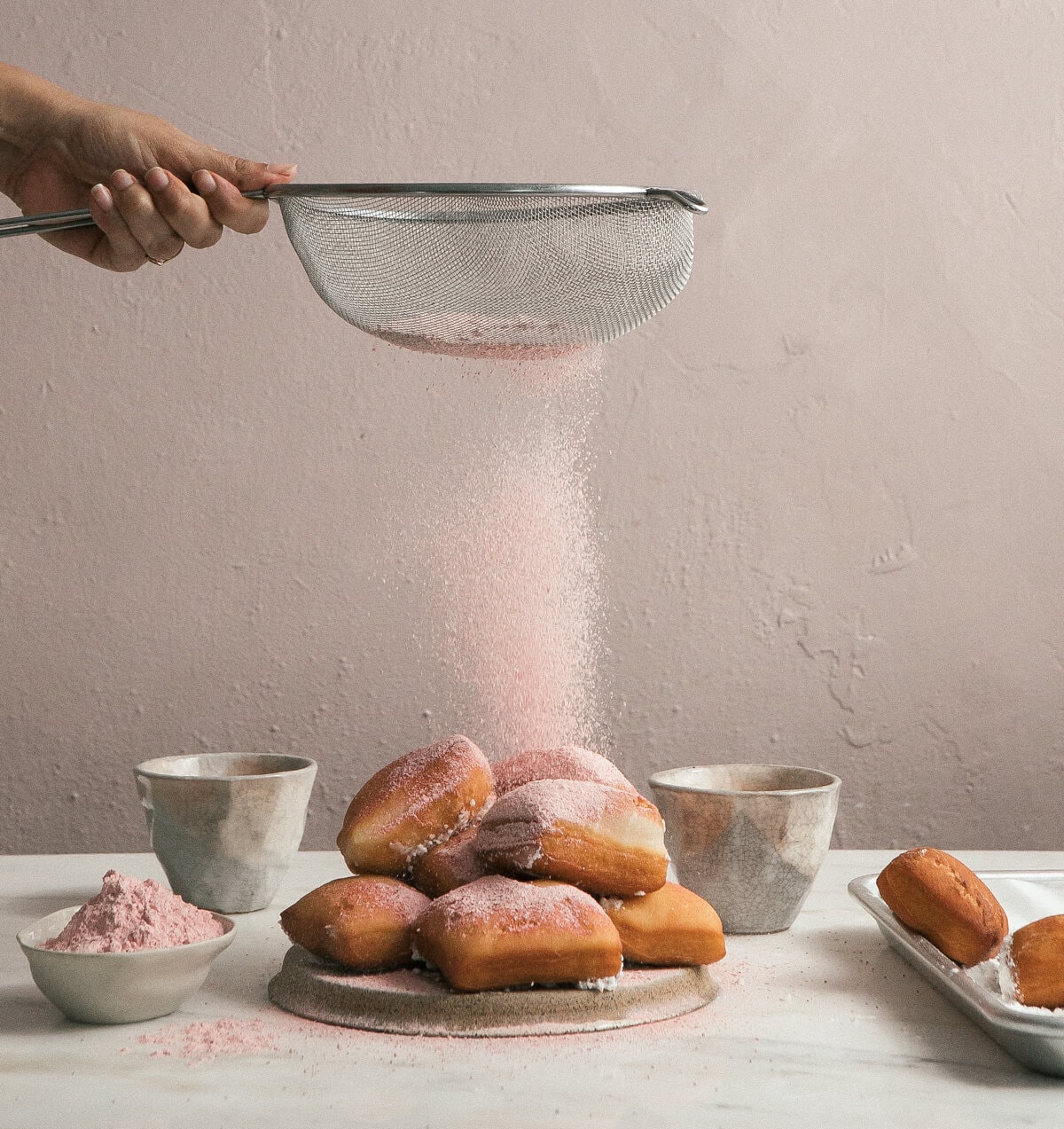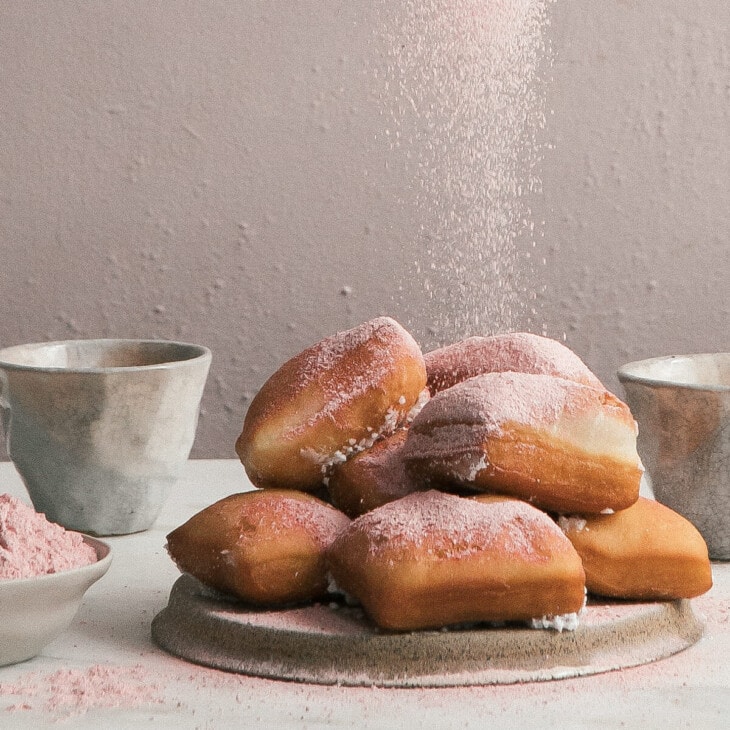 Print Recipe
Overnight Beignets with Strawberry Powdered Sugar Recipe
Overnight Beignets with Strawberry Powdered Sugar are magical pillows of fried dough with tons of strawberry-flavored powdered sugar. They are glorious!
Ingredients
To Make the Strawberry Powdered Sugar
2

cups

freeze-dried strawberries

1

cup

powdered sugar
To Make the Overnight Beignets:
2

tablespoons

warm water

(99 degrees F to 105 degrees F)

2 1/2

teaspoons

1 package active dry yeast

1/4

cup

plus a pinch of granulated sugar

1/2

cup

warm browned butter

1

cup

whole milk

warmed slightly

1

large egg

lightly beaten

3 1/2

cups

to 4 cups all-purpose flour

plus more for rolling

1

teaspoon

salt

1/2

teaspoon

baking powder

Neutral oil (canola or peanut oil)

for frying

1

cup

powdered sugar

for dusting the baking sheet
Instructions
To Make the Strawberry Powdered Sugar:
To a food processor or high-powered blender (such as a Vitamix), add the freeze-dried strawberries and powdered sugar. Pulse until powdery, about 1 minute.
To Make the Overnight Beignets:
In the bowl of a stand-up mixer, whisk together the water, yeast, and a pinch of sugar. Let it rest for 5 minutes, until foamy. Add the browned butter, the warmed milk, 1/4 cup sugar, and egg.

Add 2 cups of flour, the salt, and baking powder. Beat on low speed, adding more flour (up to 1 1/2 to 2 cups more) until you have a soft, slightly sticky dough. Scrape down the sides of the bowl, sprinkle with a bit more flour, cover with plastic wrap, and let rest at room temperature for 30 minutes before placing in the refrigerator overnight.

In the morning, remove the dough from the refrigerator and let it sit at room temperature for 30 minutes.

Punch down the dough and dump it onto a lightly floured work surface. Roll the dough out into a roughly 16 x 12-inch rectangle and, using a pizza cutter, cut it into 2-inch squares. Cover lightly with plastic wrap.

In a medium saucepan fitted with a deep-fry thermometer and set over medium heat, heat about 2 inches of oil to 375 degrees F.

Spread a generous amount of powdered sugar (not the strawberry kind, we'll use that later!). Working in batches of about four, gently lower the beignets into the hot oil and cook for 2 to 3 minutes total, until golden brown on each side. Using a slotted spoon, transfer them directly to the powdered sugar and then dust them with the strawberry powdered sugar immediately. Let the oil return to 375 degrees before each batch and repeat with the remaining beignets. Serve immediately.
Notes
*These beignets are best eaten straight from the fryer. 
*If you want to make them immediately, wait until they have proofed for 1 hour before dividing into pieces and frying. 
*Of course, you don't HAVE to top them with strawberry powdered sugar. Regular powdered sugar will work gloriously, too! 
Equipment
1 Candy thermometer or digital thermometer
1 Dutch oven or heavy bottomed 4-quart pot
Nutrition
Serving:
36
g
|
Calories:
248
kcal
(12%)
|
Carbohydrates:
10
g
(3%)
|
Protein:
3
g
(6%)
|
Fat:
3
g
(5%)
|
Cholesterol:
100
mg
(33%)
|
Sodium:
4
mg
|
Sugar:
12
g
(13%)
Looking for more dessert recipes? Here are some favorites: