Berry Crinkle Cookies are soft, cake-y cookies with a crackly top. They have a robust flavor  that come from freeze-dried strawberries and raspberries. They are delicious to eat and even beautiful as a gift.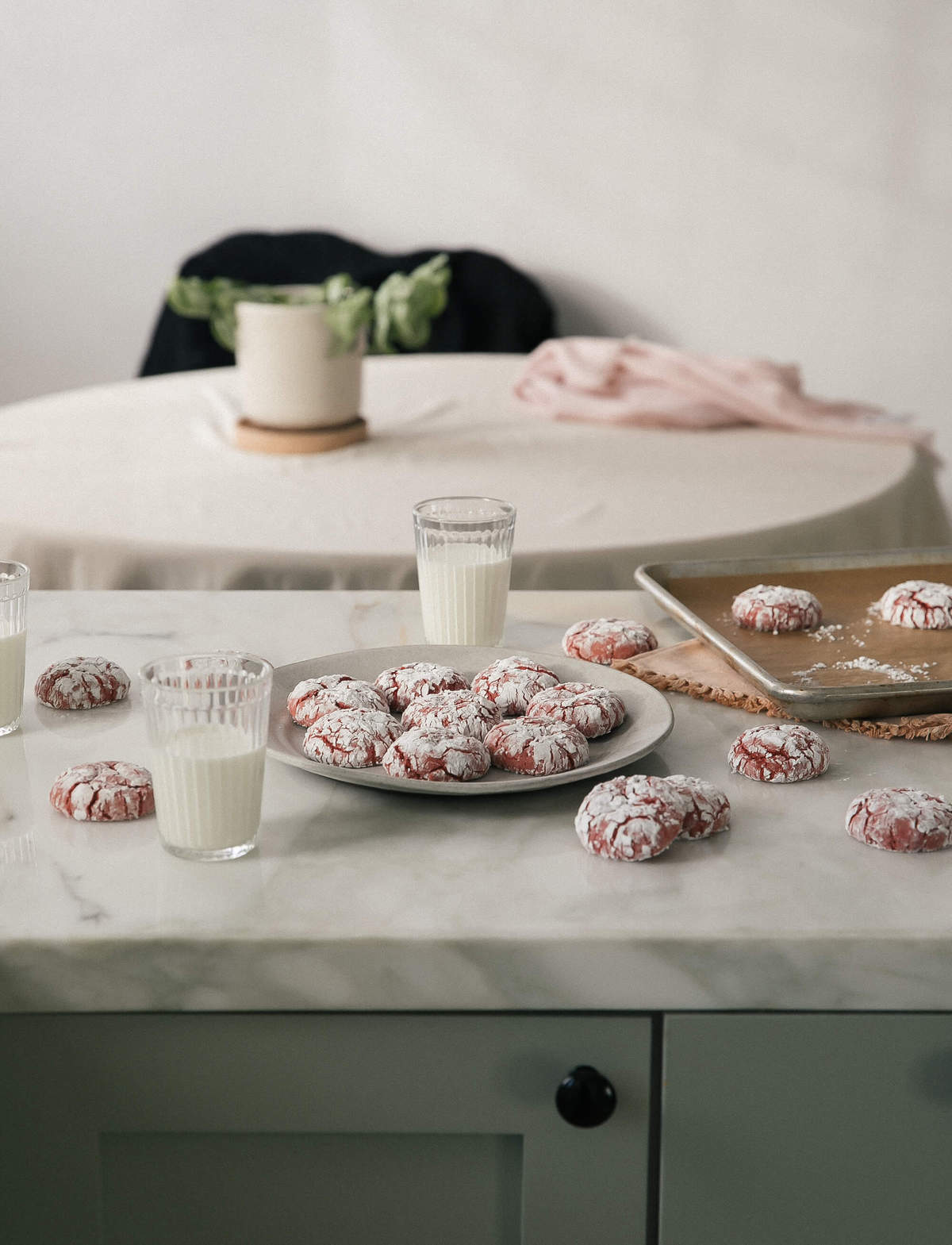 Crinkle cookies have always been super illusive to me. How do they crinkle? Why do they crinkle? Are they good? Would Berry Crinkle Cookies be delicious?
I have to say, they've always looked good to me. But how would they taste, I would question? The answer is…kinda good! I mean the chocolate ones are delicious. Like chocolate cake-y cookies (these look delightful!). What could be bad about them? Nothing. Absolutely nothing.
I've always wanted to make them around the holidays but have never gotten around to it. The time is now!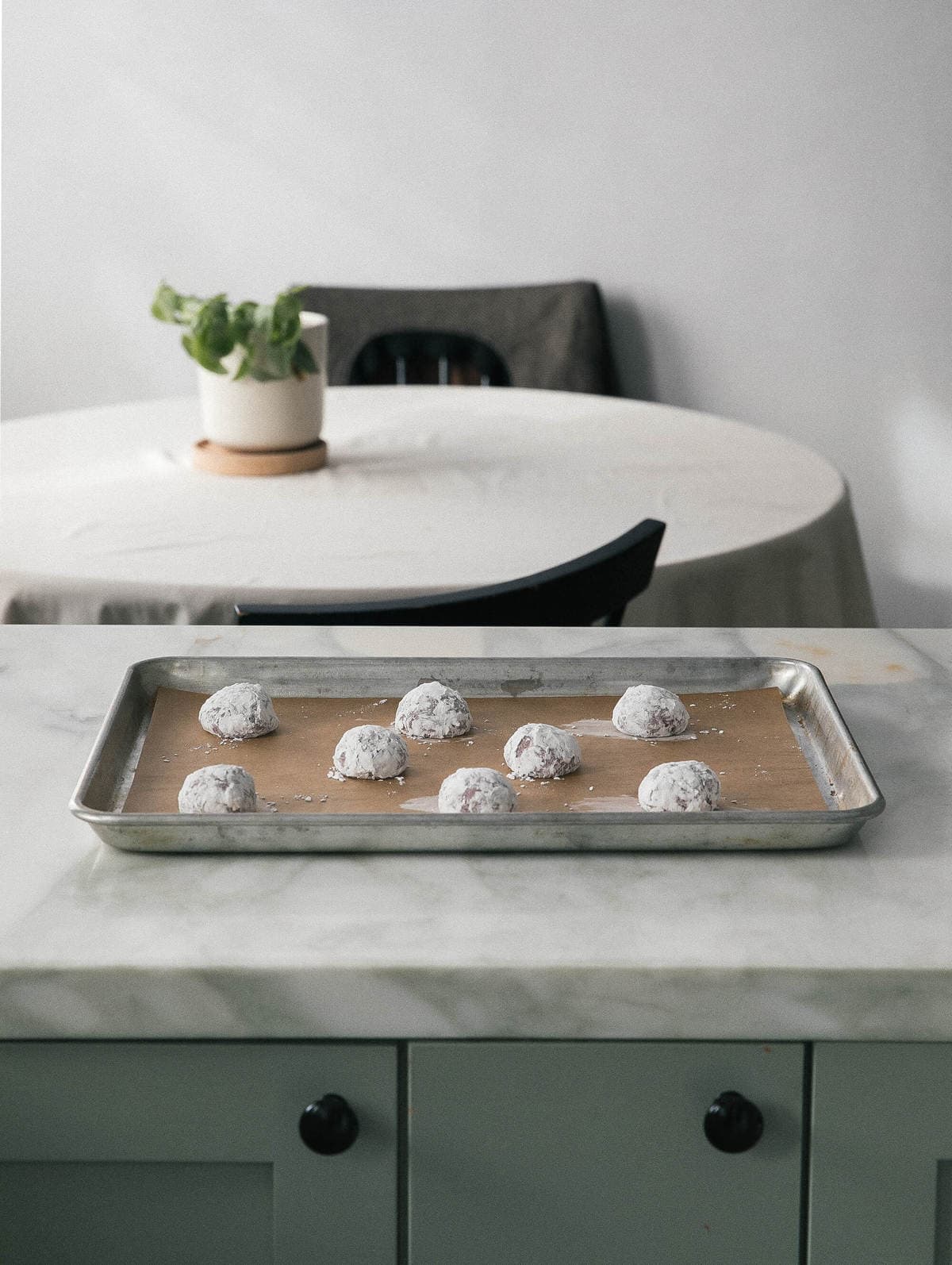 But the internet has a lot of chocolate crinkle cookies and I try and add value to this world, you know. So if I was going to make my own version, I wanted it to be special, unique, and cute. Enter: berry crinkle cookie.
What are Crinkle Cookies?
Crinkle Cookies have a fudge-y, cake-like texture. Most of the time these types of cookies are flavored with chocolate, almost mimicking brownies. My version uses freeze-dried raspberries and strawberries though–in order to deliver a powerful berry punch.
These would be amazing for around the holidays, too, given their red color and all. And even in the summer when you want everything to be berry-infused.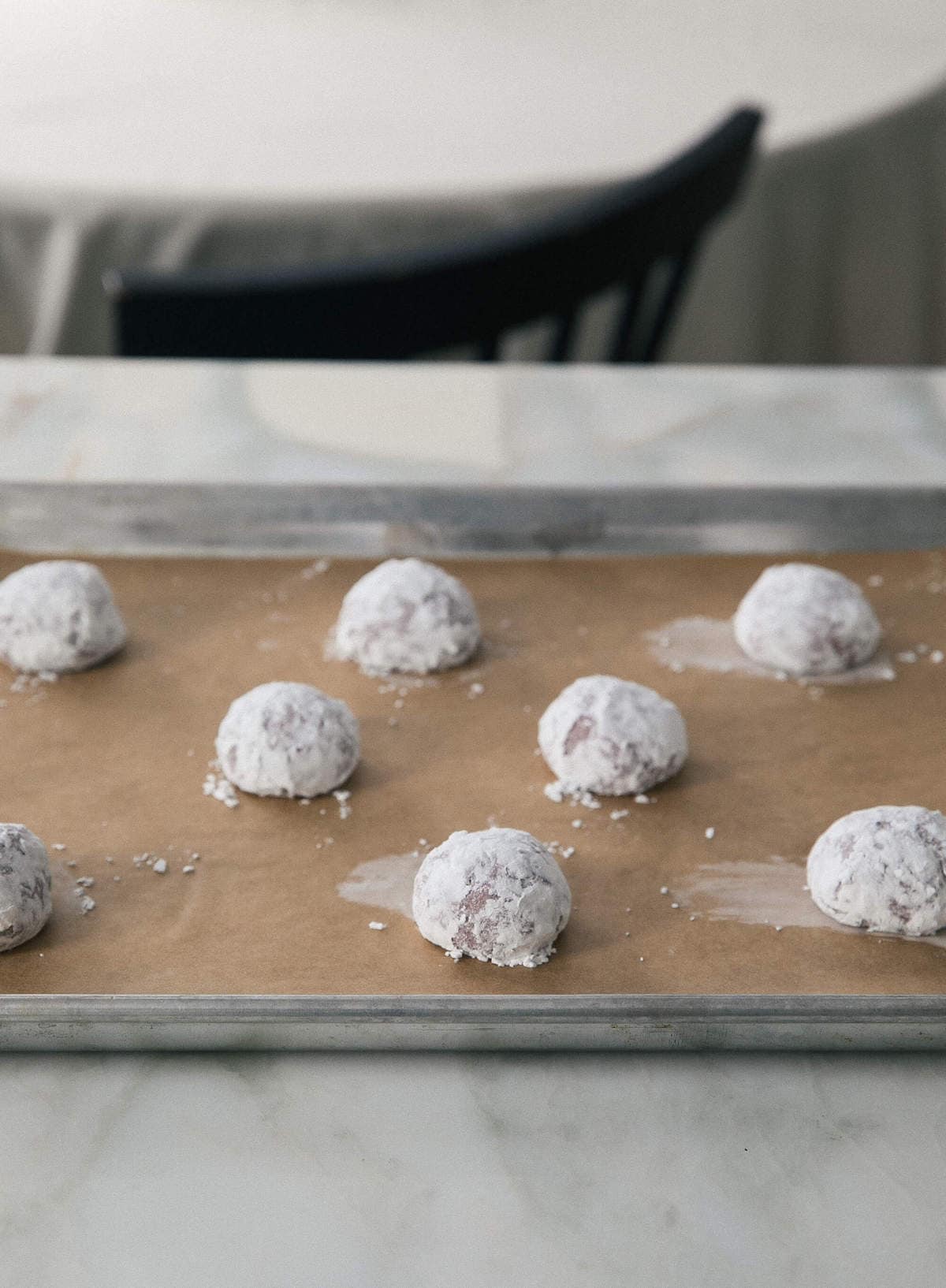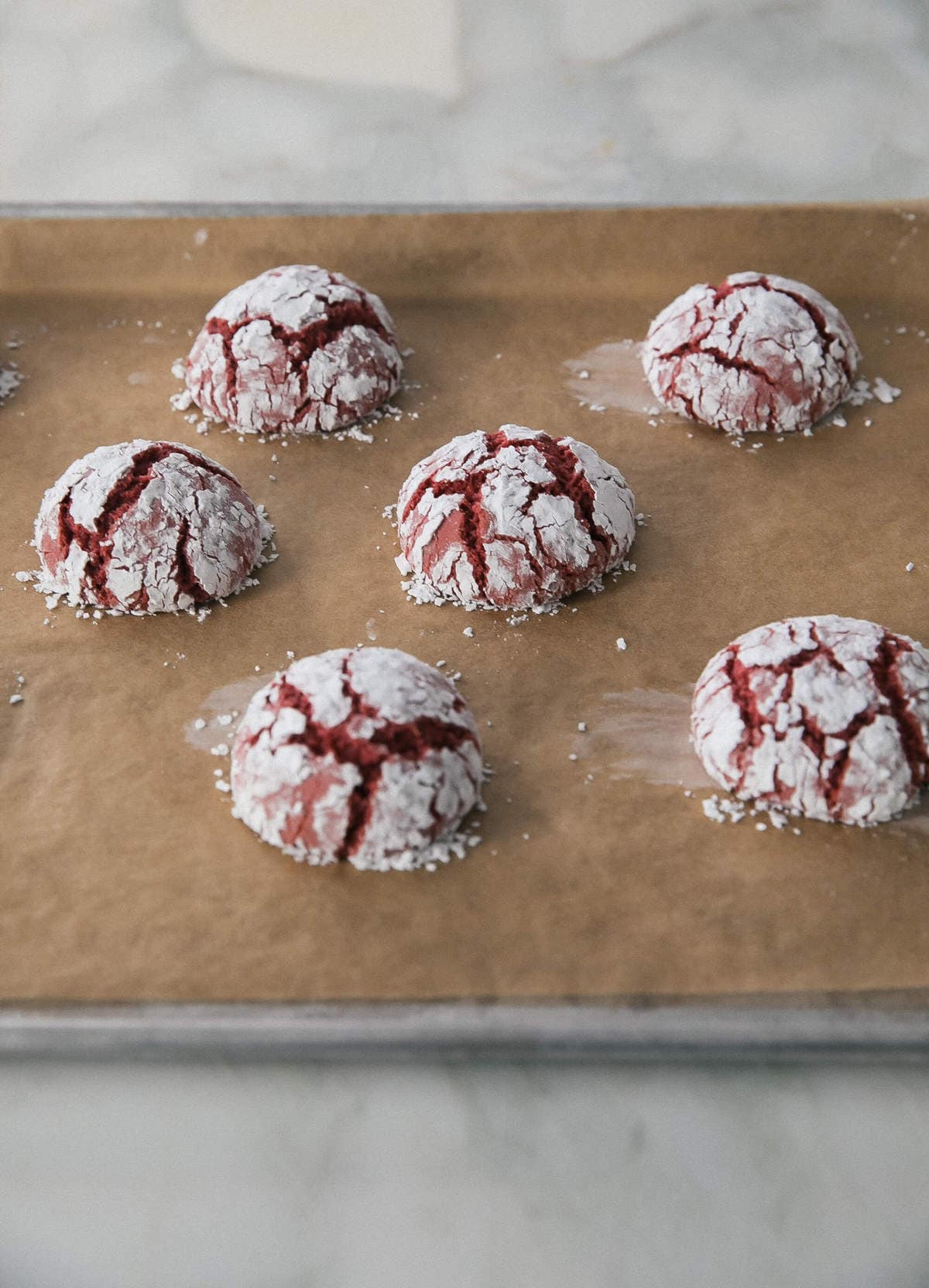 How the Berry Flavor Implemented In These Crinkle Cookies!
I implemented the berry flavor in these like how I always do—with freeze-dried strawberries and raspberries. You could actually do these with ALL strawberries or ALL raspberries. I did a mix. It's totally up to you.
There is no way to even think of doing this with fresh raspberries or strawberries given how much water those two things hold. Using freeze-dried berries give you all of the flavor but without the baggage of moisture.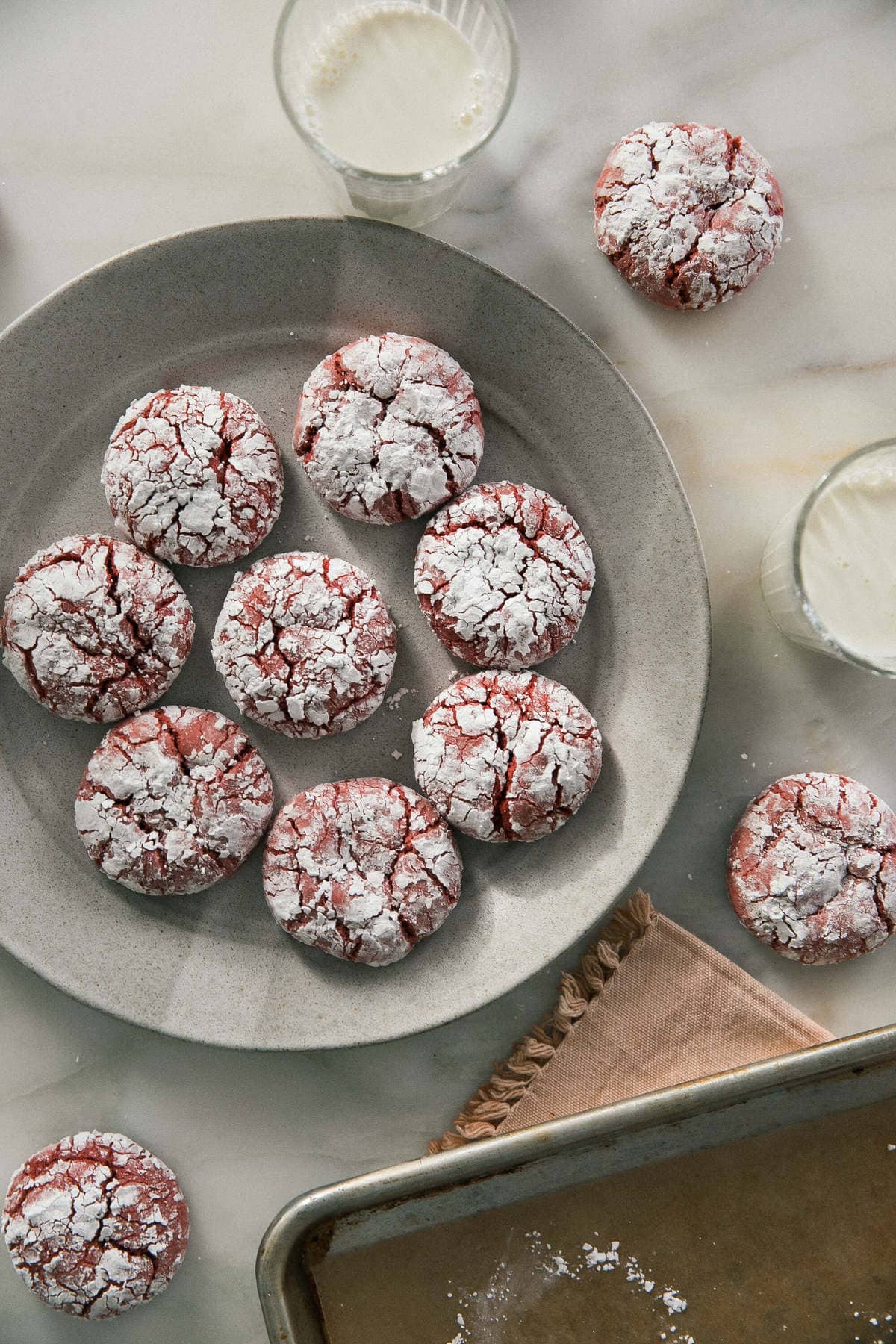 Grind up freeze-dried berries in a blender with sugar; you'll end up with a powder-type texture. And then it's normal from here on out.
Oil vs. Butter?
What we did find from our numerous tests that oil worked way better than butter in these types of cookies. Butter created steam, resulting in a cookie with wet powdered sugar on the outside. It made sense once we figured that out but for the first few rounds we were like, "why is the powdered sugar wet?!?!" Duh.
And you know, I thought they would taste less delicious without the butter but they tasted exactly the same–I think because the berry flavor is so profound.
They're a wonderful berry flavor that really comes through and the texture is soft and cakey–truly tasty!
These Berry Crinkle Cookies are the best!
xoxo,
Adrianna
How to Make Berry Crinkle Cookies
Grind the freeze-dried berries and sugar in the blender.
Mix together all-purpose flour, baking soda, baking powder and salt. Set aside.
Beat the berry sugar and oil in a stand mixer. Until light and fluffy.
Add the eggs one-by-one to the mixer. Make sure to wait until each one combines.
Add the coloring gel and vanilla extract. Mix until combined.
Add the flour mixture. Mix until no flour speckles appear.
Sift the powdered sugar into a bowl.
Using a cookie scoop, portion the cookies. Roll into balls.
Roll the balls in the sifted powdered sugar.
Transfer to a parchment-lined baking sheet. Bake for about 10 to 12 minutes, until they appear crackly and puffed up.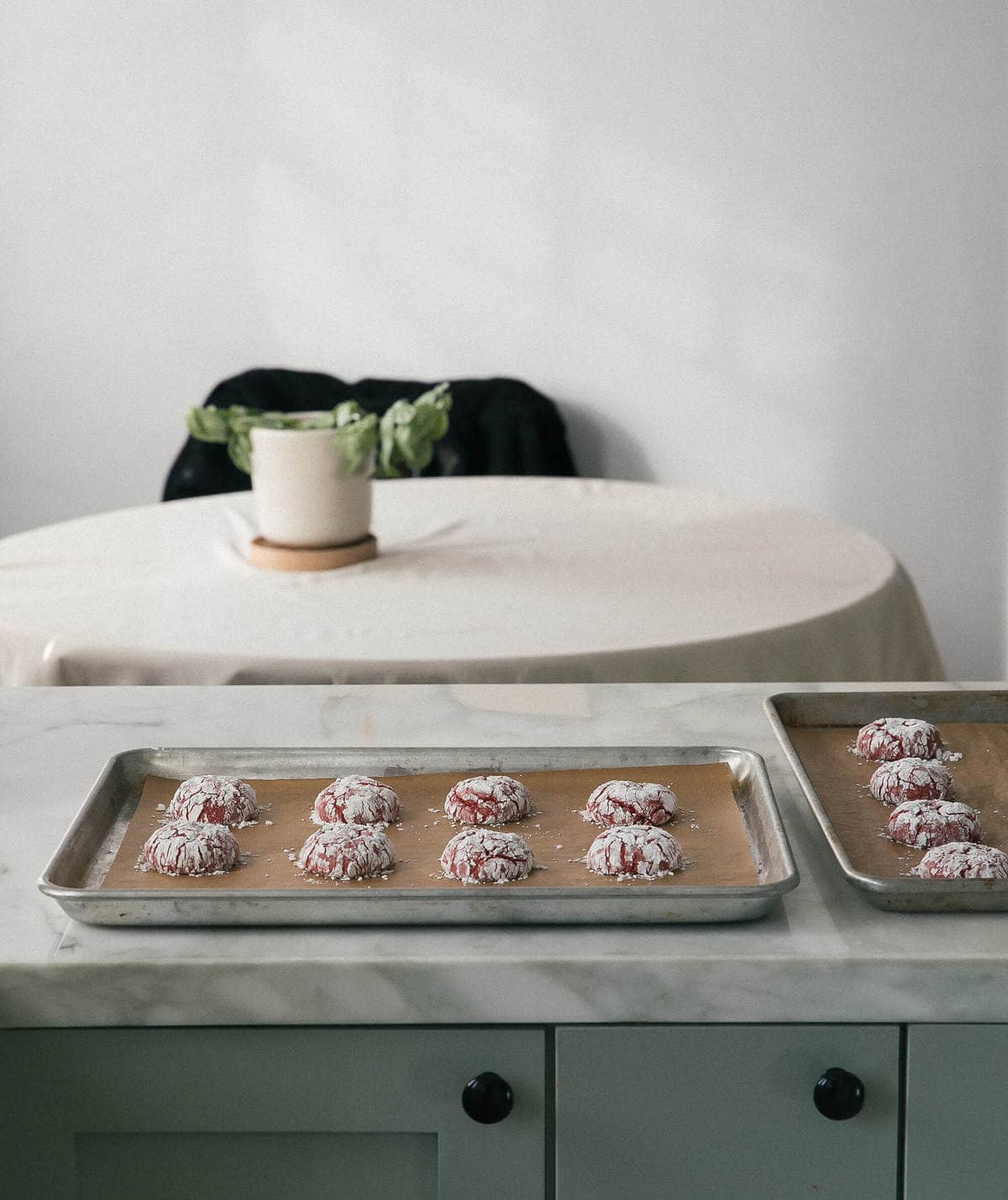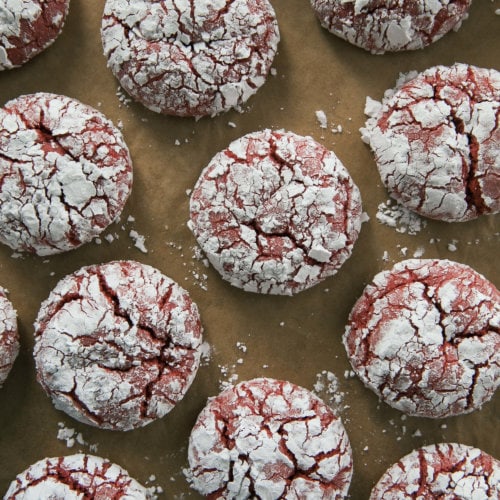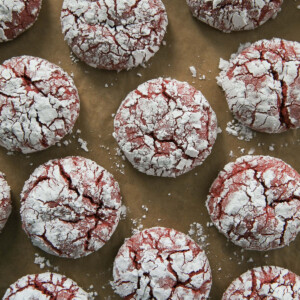 Berry Crinkle Cookies are soft, cake-y cookies with a crackly top. They have a robust flavor  that come from freeze-dried strawberries and raspberries. They are delicious to eat and even beautiful as a gift.
Ingredients
3/4

cup

white granulated sugar

1 1/2

cup

freeze-dried strawberries or raspberries

,

(or a combo of the both)

1 2/3

cups

all-purpose flour

1/2

teaspoon

baking powder

1/2

teaspoon

baking soda

1/4

teaspoon

kosher salt

1/2

cup

neutral oil

,

(avocado oil or vegetable oil)

2

large

eggs

1

teaspoon

pure vanilla extract

1

drop

fuschia food coloring gel

,

(optional)

4

drops

red food coloring gel

1/2

cup

powdered sugar
Directions
Preheat oven to 350 degrees F. Line two baking sheets with a sheet of parchment and set aside.

To a blender, add the sugar and freeze-dried strawberries/raspberries (if using a combination of the two). Blend until the freeze-dried berries are ground up, a few teeny bits of freeze-dried strawberries are ok.

To the medium bowl, add the all-purpose flour, baking powder, baking soda and salt. Whisk together until combined.

To the bowl of a stand-up mixer (or you could use a large bowl with an electric- hand mixer), add the sugar/strawberry mixture and oil. Beat until light and sort of fluffy, about 1 minute. With the machine running on low speed, add one egg at a time. And then add the vanilla extract, fuchsia food coloring gel and red food coloring gel. Mix until combined.

Add the flour mixture and mix just until no flour speckles appear and the dough is cohesive, about 30 seconds to a minute.

Sift the powdered sugar into a small to medium bowl. This will smooth out any pesky lumps that are in the powdered sugar.

Using a medium cookie scoop, scoop out balls of dough, rolling them in between your palms until balls form. Roll them in the sifted powdered sugar.

The powdered sugar should be on there pretty thick. I think it's our instinct to brush off the excess powdered sugar but leave it on! Transfer the dough ball to the lined baking sheet. Repeat with the remaining dough, spacing the cookies about 2 inches a part. They don't spread very much so you can fit about 8 per baking sheet.

Transfer the first baking sheet to the oven to bake for about 10 to 12 minutes, until they appear crackily and puffed up. Remove from the oven and allow them to cool on the baking sheets for at least 5 minutes before transferring them to a cooling rack. You'll notice that they'll fall a bit as they cool—this is good!

Serve with milk or coffee.
Notes
Freeze-Dried Berries:
You can usually find them in the dried fruit and nuts part of your local supermarket. 
These were tested with all freeze-dried strawberries and they work great. So feel free to use all strawberries. 
The fuschia food coloring is optional. The red is too! A few of readers have made it completely without food coloring and the cookies come out a pretty mauve color so food coloring is very optional!  
Equipment:
Baking Sheets | OXO Medium Cookie Scoop | Parchment Sheets | Stand-Up Mixer | Stainless Steel Mixing Bowls |  
Nutrition Facts
Berry Crinkle Cookies
Amount Per Serving (22 g)
Calories 258
Calories from Fat 98
% Daily Value*
Fat 10.9g17%
Cholesterol 30mg10%
Sodium 124mg5%
Potassium 55mg2%
Carbohydrates 37.8g13%
Protein 3.1g6%
Calcium 250mg25%
Iron 0.2mg1%
* Percent Daily Values are based on a 2000 calorie diet.
Looking for more cookie recipes? Here are some of my favorites: