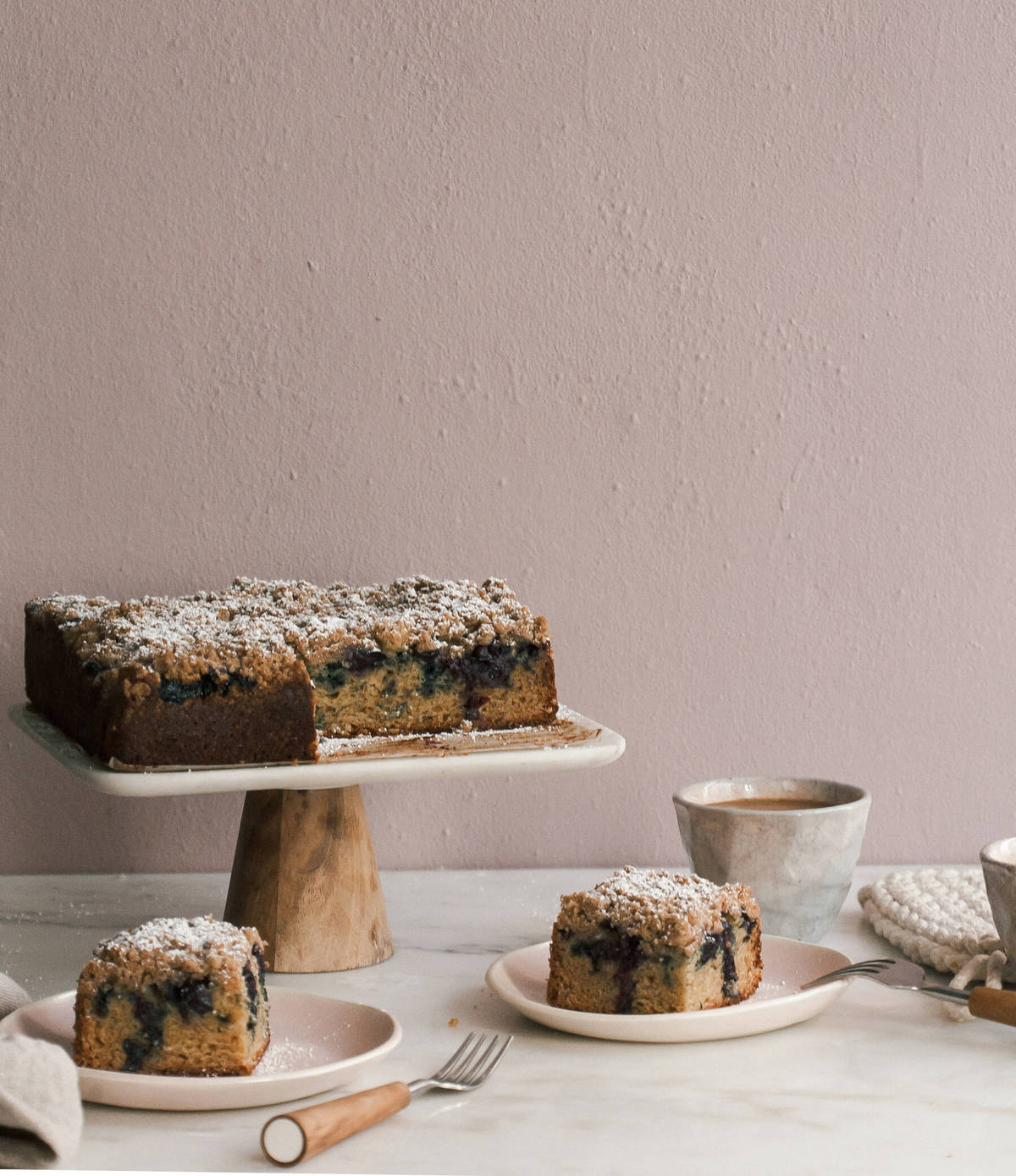 I realize that I might be the worst packer in the world. Namely because I want to take everything but I want it to fit into a carry-on because waiting for bags at LAX is SO boring. It all just takes so long. When I land after a long flight, I generally want to get out of the airport as fast as I can. I also love the idea of traveling super light, being one of those people that could survive off of nearly nothing.
But I'm not like that deep-down because I like options! And jackets and shoes. Who knows what I'll want to wear on any given day, you know?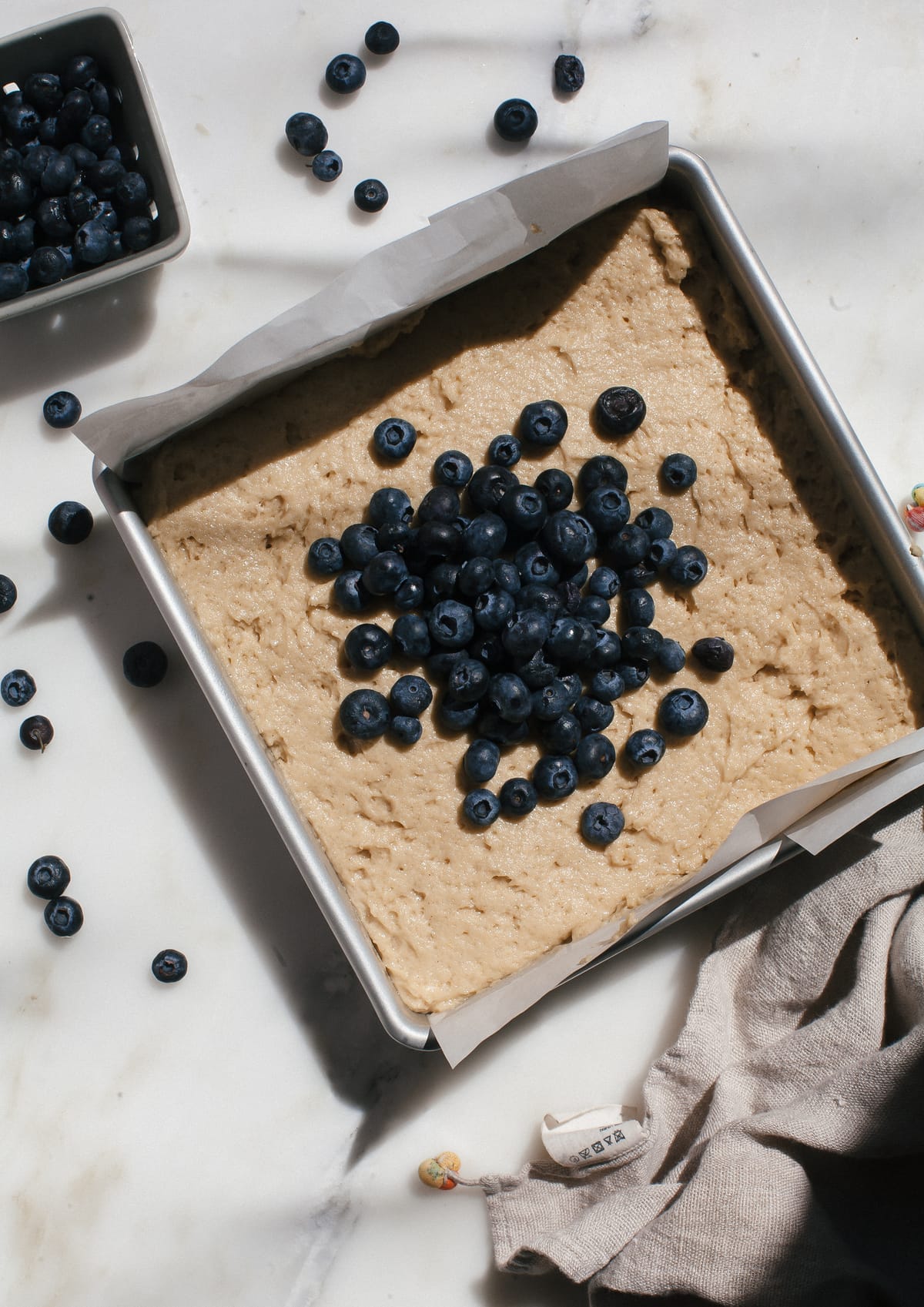 So, I wrote a list this time, and I'm trying very hard to stick to it. We'll see how I do. In other news, coffee cake!
I usually put coffee in my coffee cake but this time I thought that might be a little weird so I went with fall spices like cinnamon and cardamom. I love fall spices with summer fruit.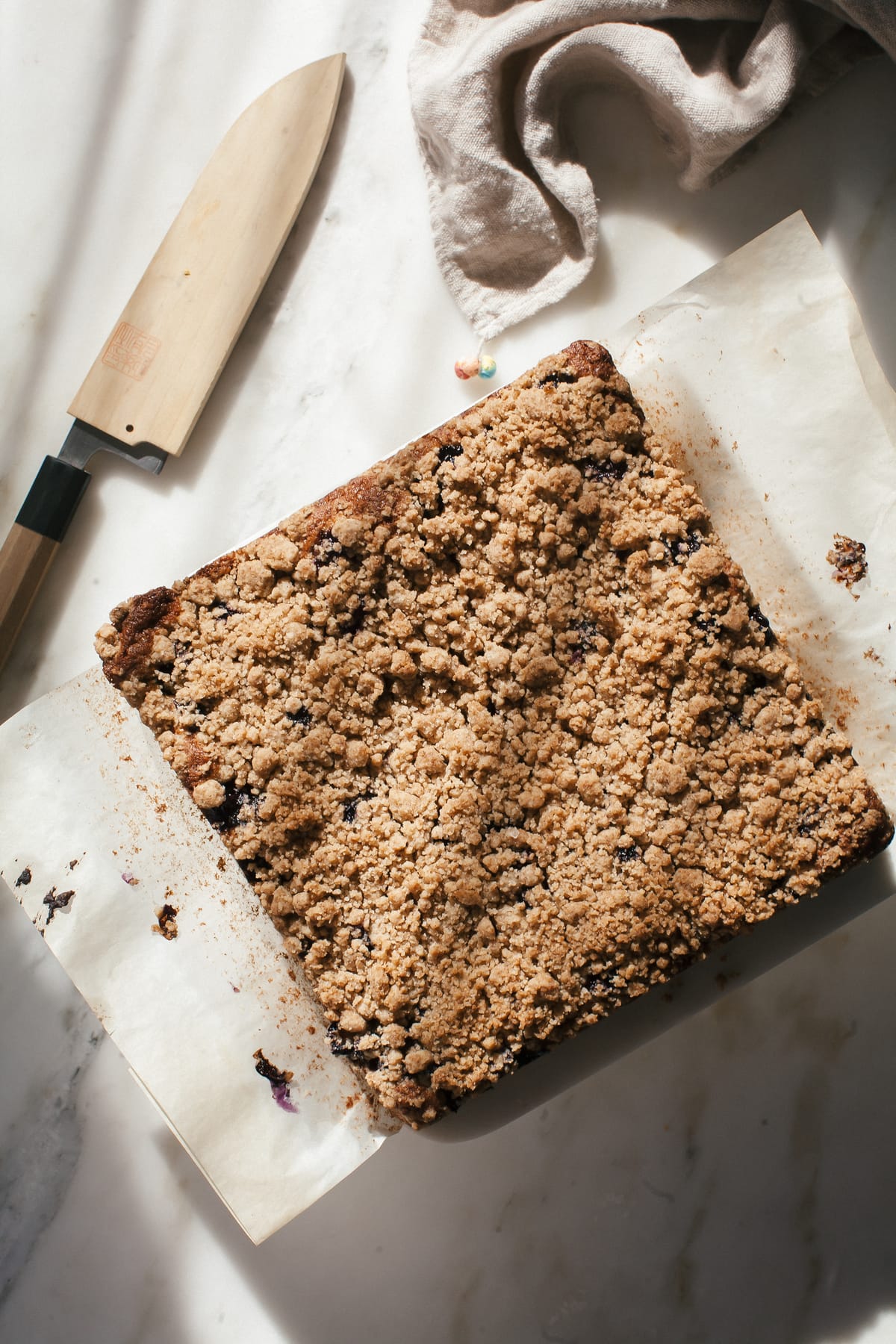 It makes you excited about what's coming up. I know I am but also a little nervous because once October starts it's like the last three months are a haze and then we're into January. It's all a bit anxiety-inducing.
But let's not think about that. Let's enjoy these last bits of summer. We still have a whole month, I think. And enjoy blueberries and coffee cake…even if eat it with some iced tea.
If you're like, what are you packing for?! I'm going to Copenhagen! Follow me on Snap (@acozykitchen), Instagram and Insta Stories. I'll be a posting!
Also, what do you think of Insta Stories? I feel like it's been around now for a few weeks. I like how Snap works better and I'm still sort of shy to post TOO much stuff to Insta Stories. But I like how people if they weren't snap people can see my vids.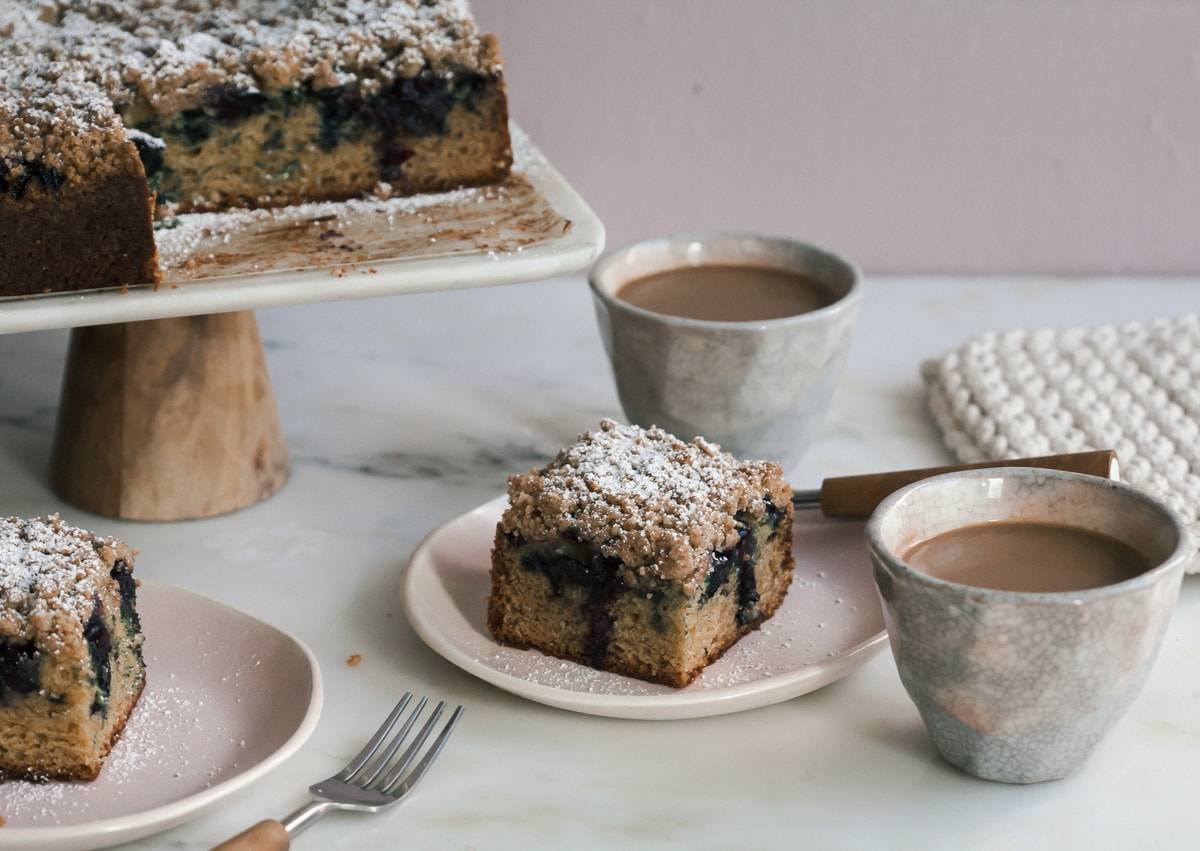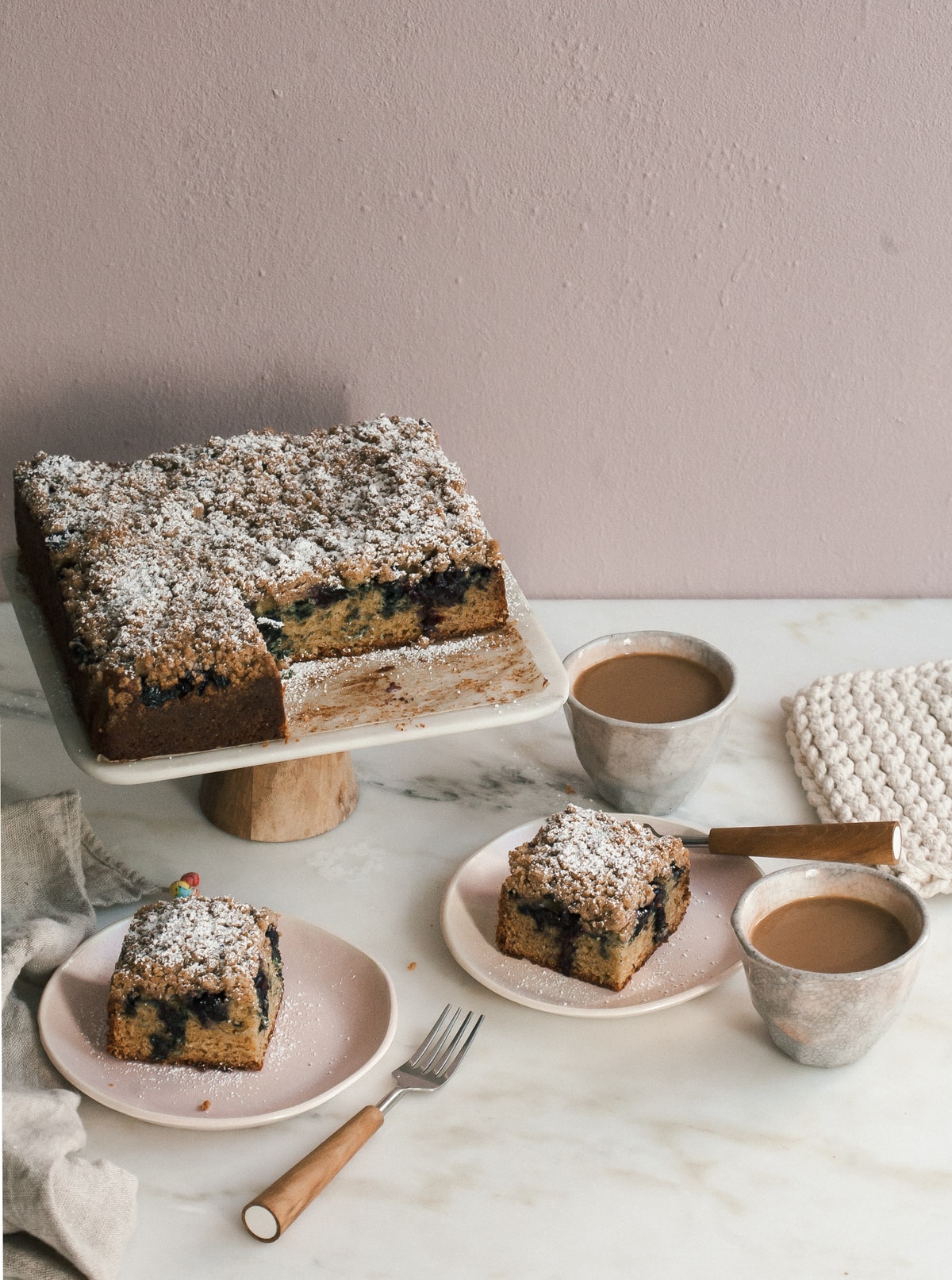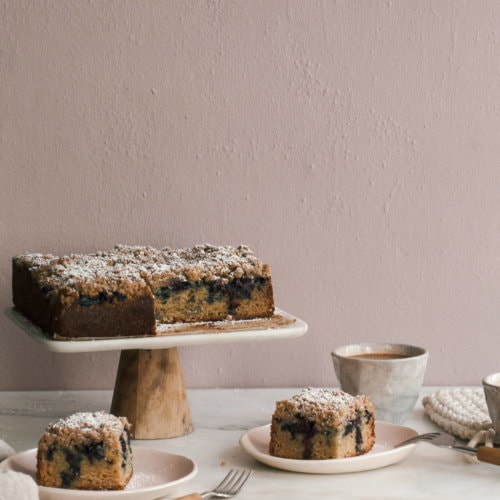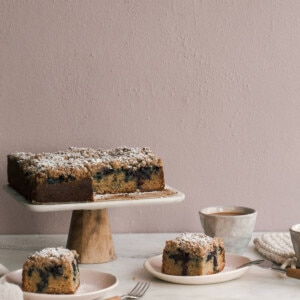 Blueberry Cardamom Coffee Cake
Ingredients
Spiced Streusel Topping:
1/4

cup

granulated sugar

1/4

cup

packed light brown sugar

1

teaspoon

ground cinnamon

1/8

teaspoon

ground cardamom

8

tablespoons

unsalted butter

,

melted

1 1/3

cups

all-purpose flour
Coffee Cake:
2 1/2

cups

all-purpose flour

1

teaspoon

ground cinnamon

1/4

teaspoon

ground cardamom

1

teaspoon

baking soda

3/4

teaspoon

baking powder

1/2

teaspoon

sea salt

8

tablespoons

butter

,

at room temperature

3/4

cups

granulated sugar

1/2

cup

light brown sugar

2

large eggs

1

cup

Greek yogurt

1

teaspoon

pure vanilla extract

1 1/2

cups

fresh blueberries
Directions
Preheat the oven to 350F. Spray and line a 9 x 9-inch circular or square baking pan so that the parchment paper has extra flaps coming off the sides. This way you'll be able to lift the cake out of the pan. You can also use a spring-form pan. Just makes sure it's about 3-inches up the sides because this guy rises a bit.

To make the streusel: To a medium bowl, combine the sugars, spices, butter and flour. The mixture will be clumpy and moist. Set it aside.

To make the cake: In a medium bowl, whisk together the flour, baking soda, baking powder, ground cinnamon, cardamom and salt. In the bowl of a stand-up mixer, with the paddle attachment, add the butter and sugars; beat until light and fluffy, about 3 minutes. Add the eggs and beat until incorporated. Next, add the yogurt and vanilla. Add the dry ingredients, in two batches, until barely combined.

Pour the batter into the prepared baking pan, smoothing out the top so it's nice and even. Add the blueberries to the top and spread them out so they're in one even layer. Top the blueberries with the streusel topping. Transfer to the oven to bake for 40 to 45 minutes, until a skewer comes out clean when inserted into the center.