Rye Rhubarb Upside Down Cake
14
Mar 21, 2016, Updated Jan 26, 2019
Disclosure: This post may contain affiliate links, which means I may earn a commission if you click on the link and make a purchase.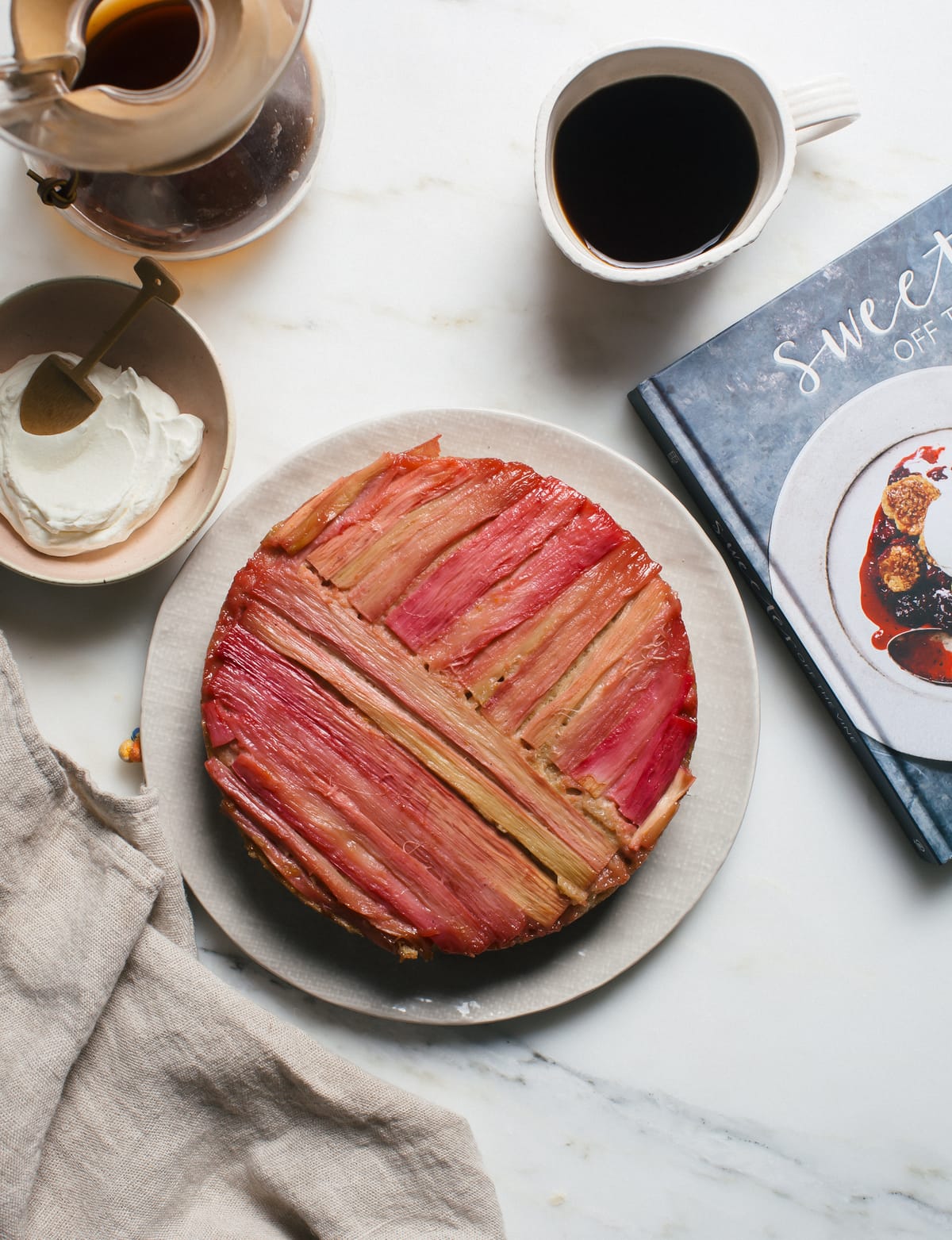 We're back at it on this Monday morning. I'm wishing you a chill to-do list, lots of coffee and warm memories of a restful weekend. Right now my mom is in town (she's a teacher and it's spring break) so I decided to take a mini break, too, which meant that last week was complete insanity trying to prepare for taking a break. But I'm doing it, enjoying it and thriving!
This cake is from Yossy's new book, Sweeter Off the Vine. Yossy's book is so beautiful. The chapters are divided by season and fruit. The recipes include everything from cakes to ice creams to popsicles to crumbles. When I saw this rhubarb upside down cake I was like, yussssss.
Upside down cakes are maybe my favorite type of cake because they're ridiculously easy. No layers. No frosting to make.
I always like creating patterns if I can. And this one couldn't be simpler, all that's really required is cutting the ribs of rhubarb to fit the pan, after they've cooked with the sugar, vanilla bean and butter.
And let me tell you, butter and rhubarb are SO good together.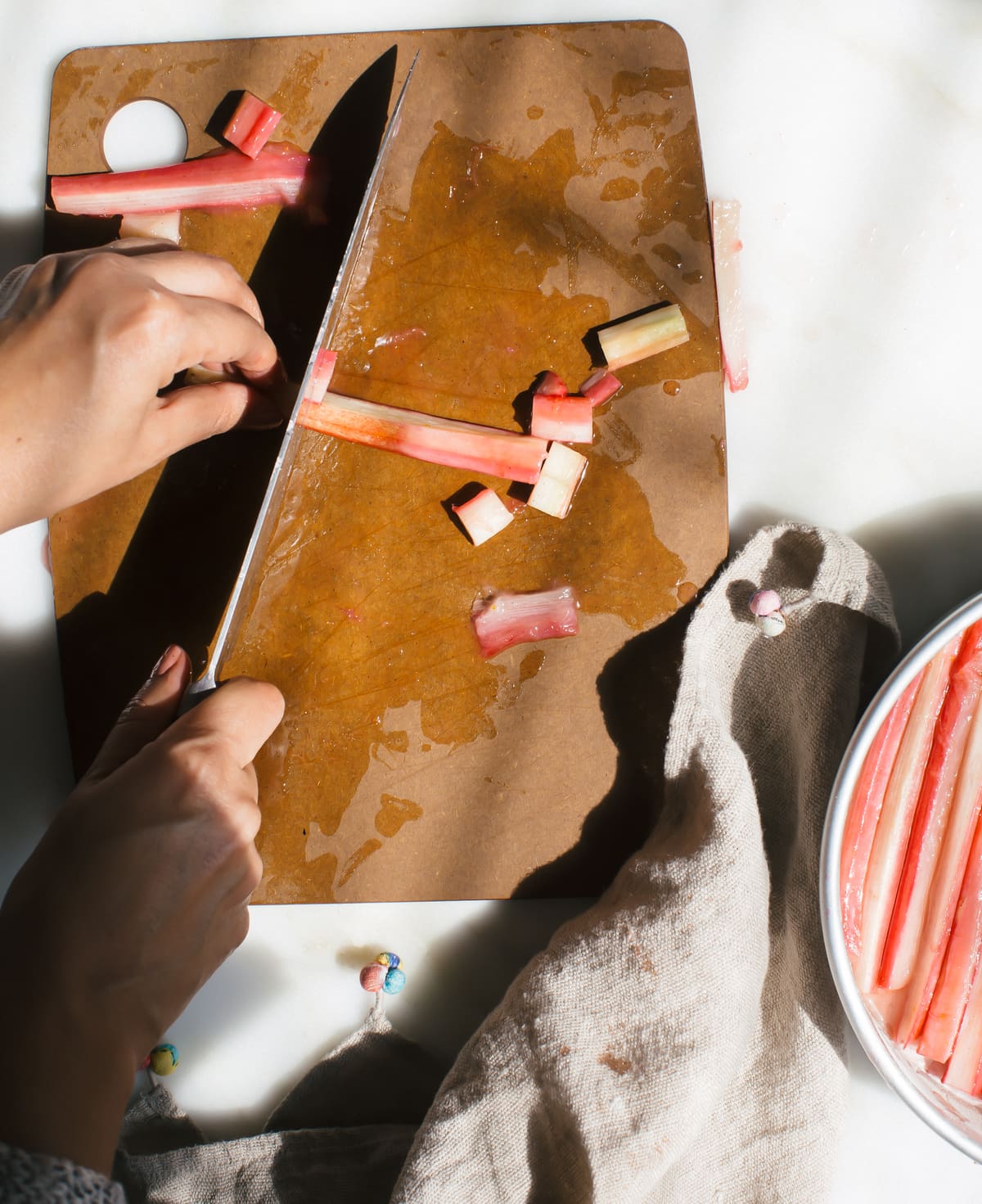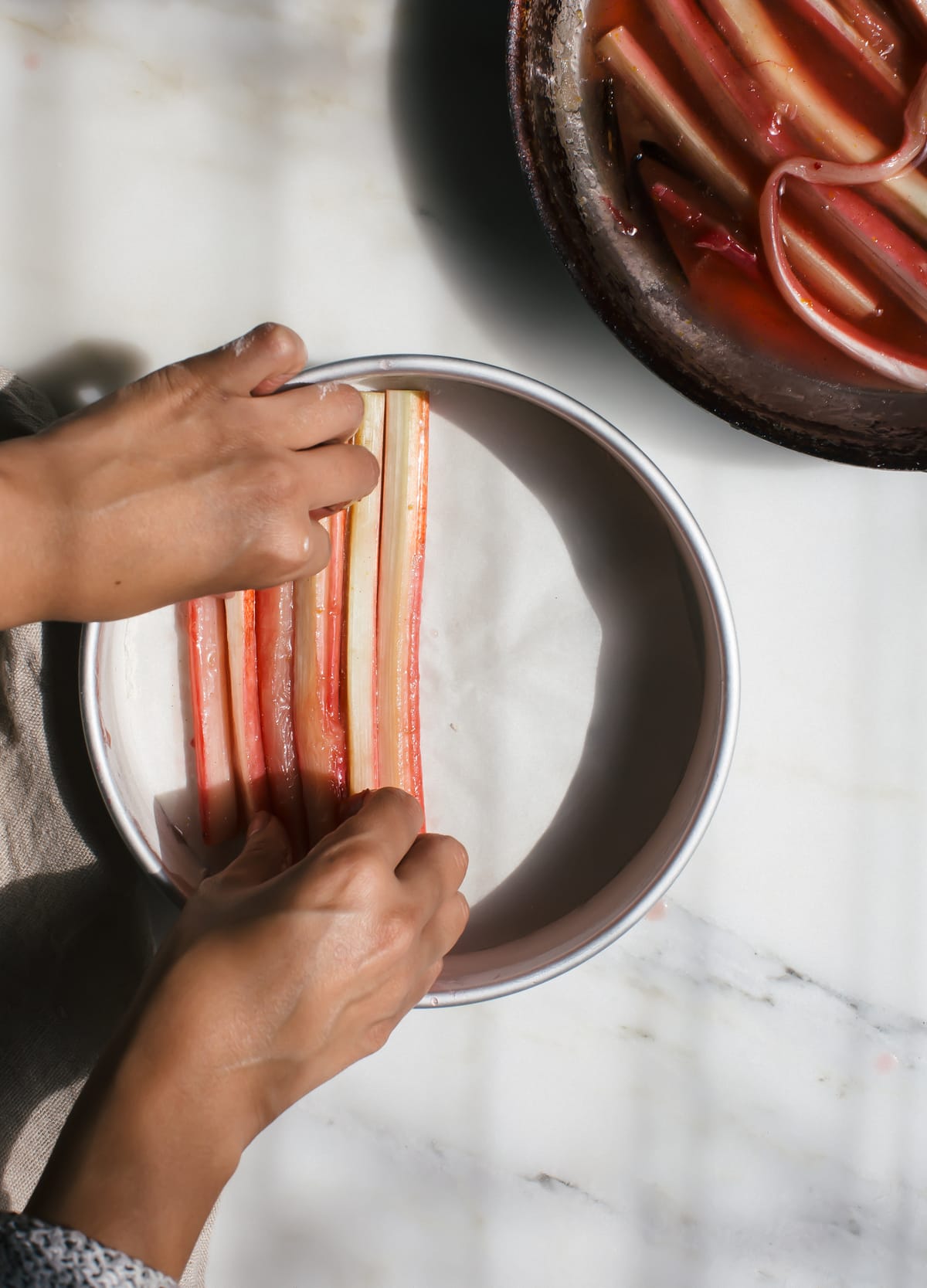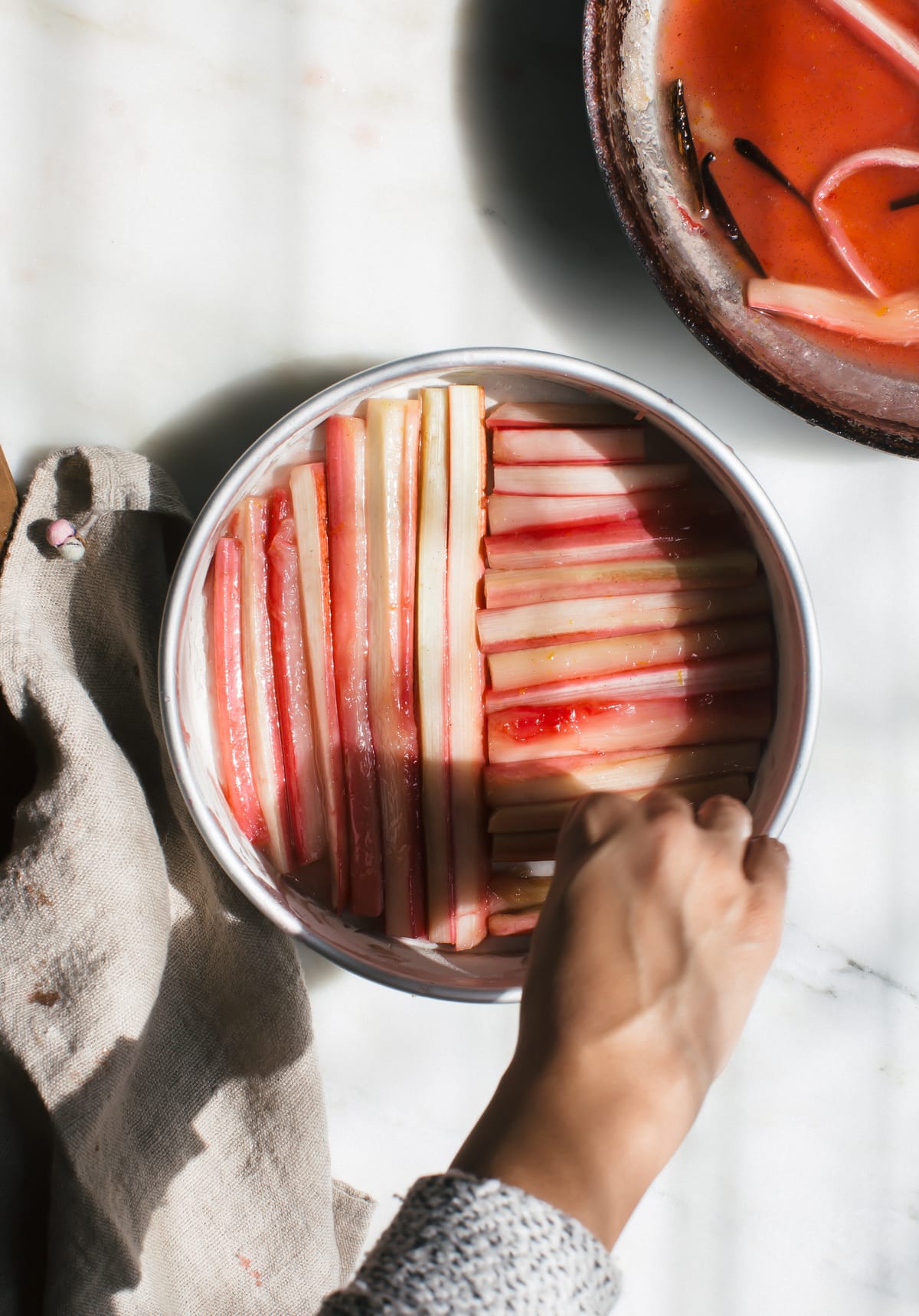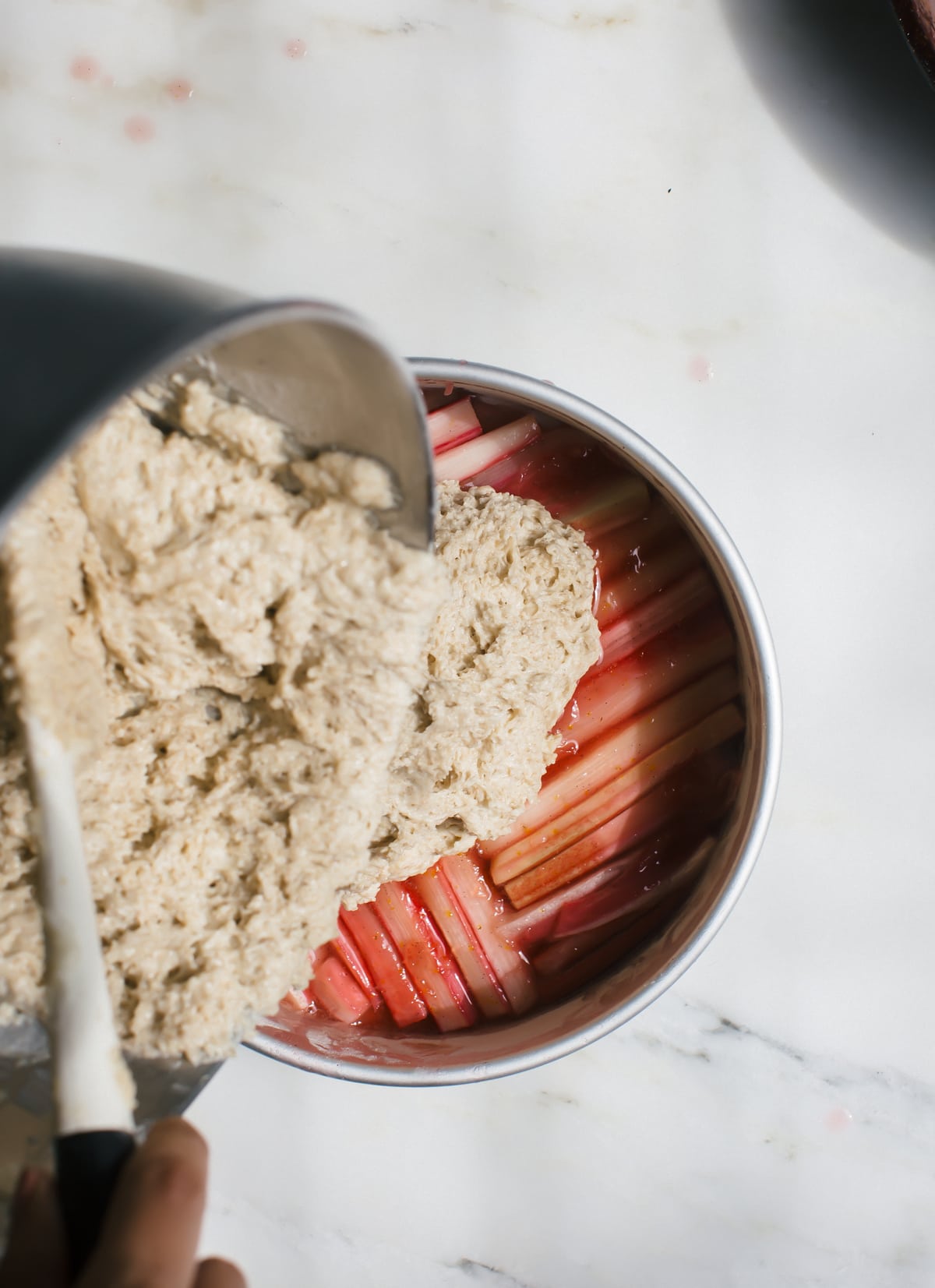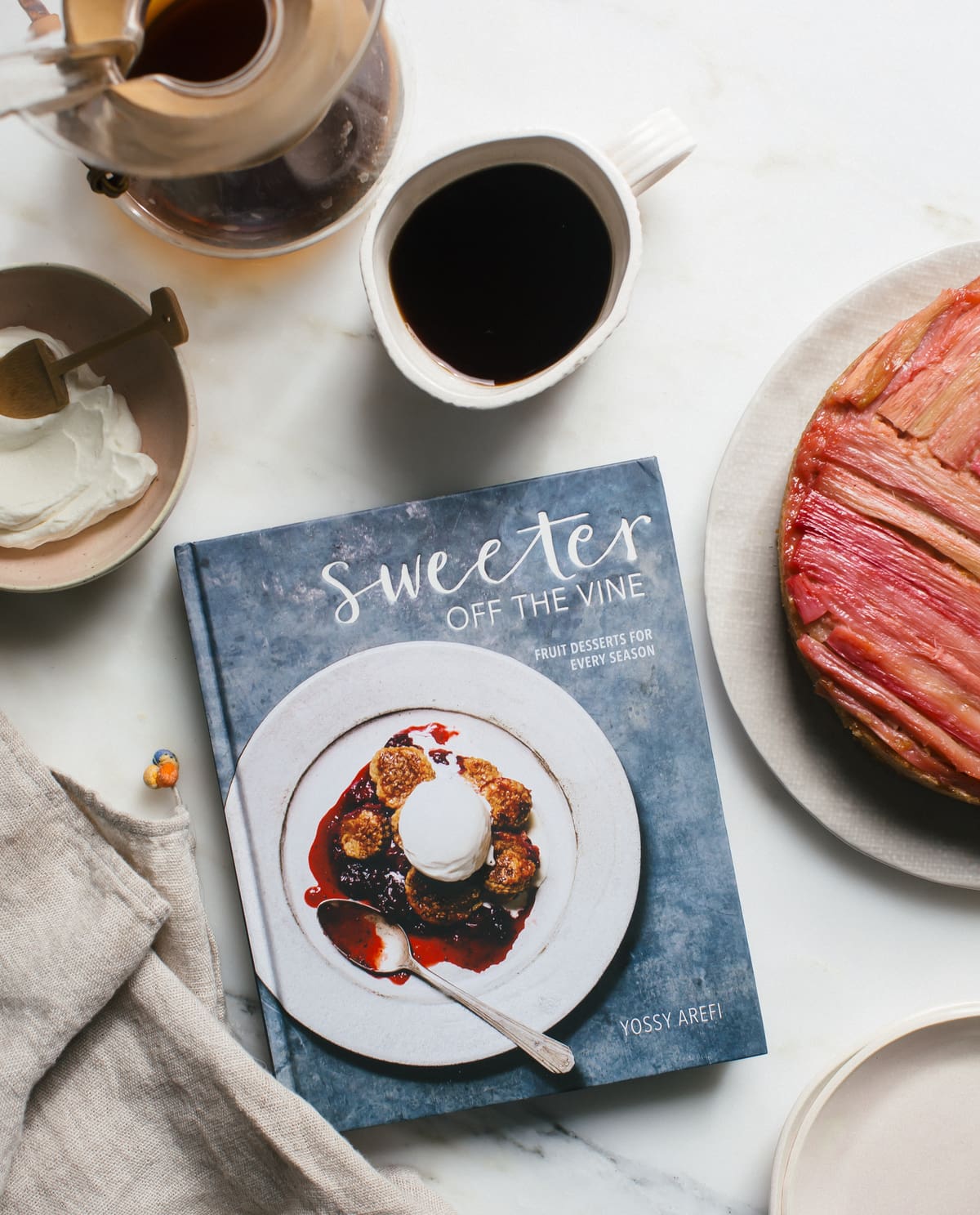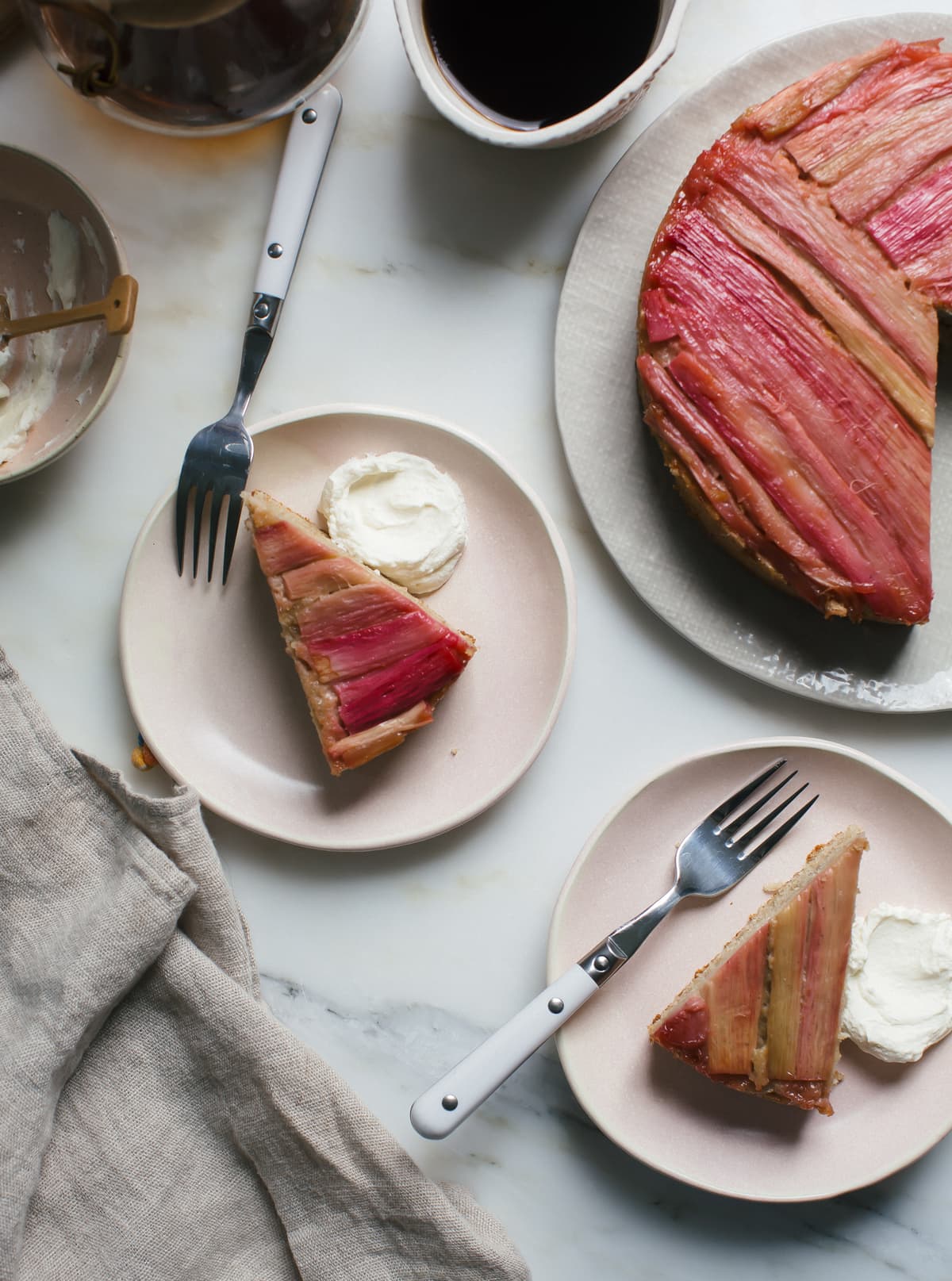 If you know me, you know I love rye. It might be my favorite flour of all but it definitely needs to be mixed with all-purpose to give it a lighter texture and Yossy did that. It's a 1 to 1 ratio and it results in a tender and hearty crumb with a nice zing from the buttermilk.
I love this spring-y cake so very much.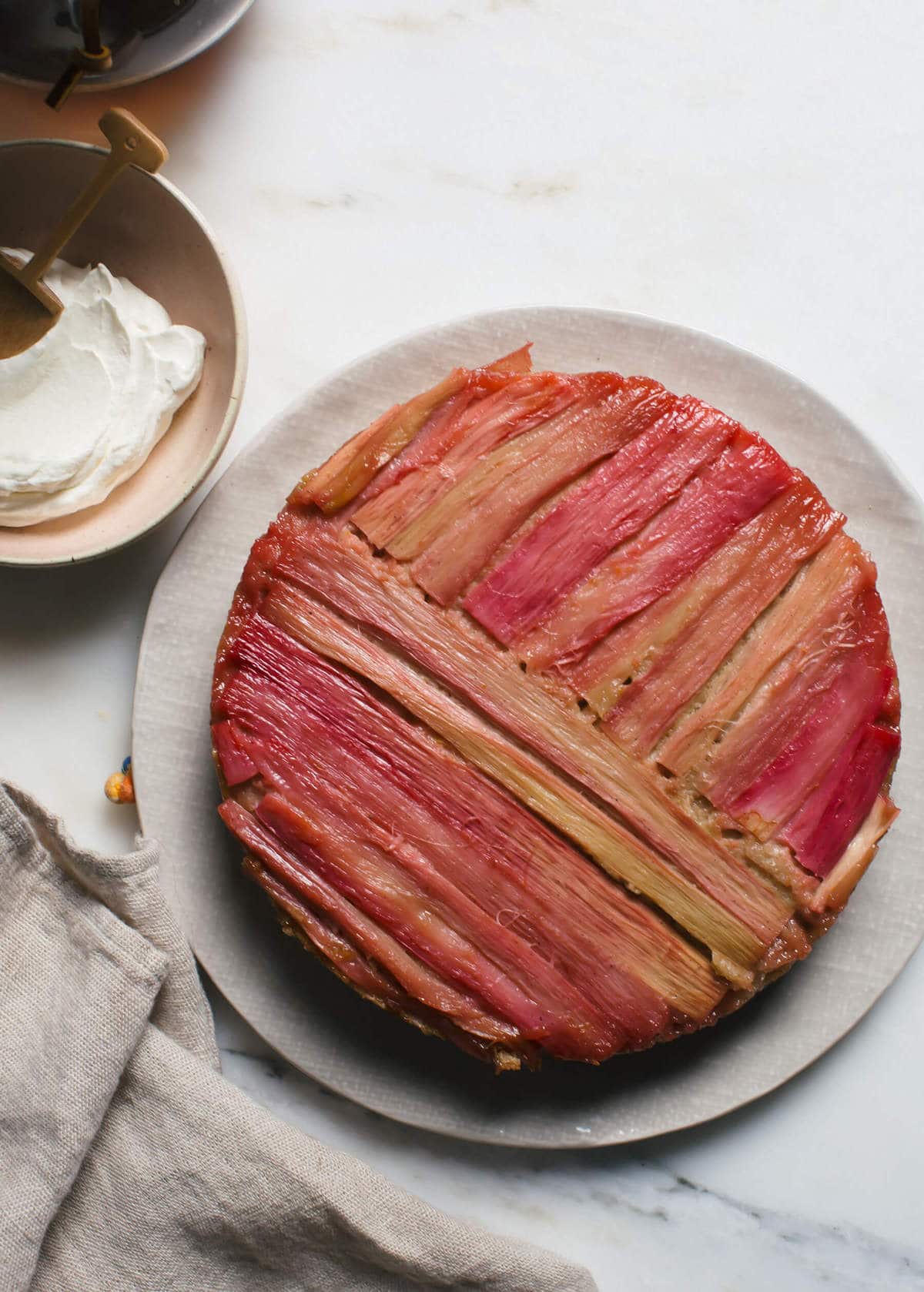 Rye Rhubarb Upside Down Cake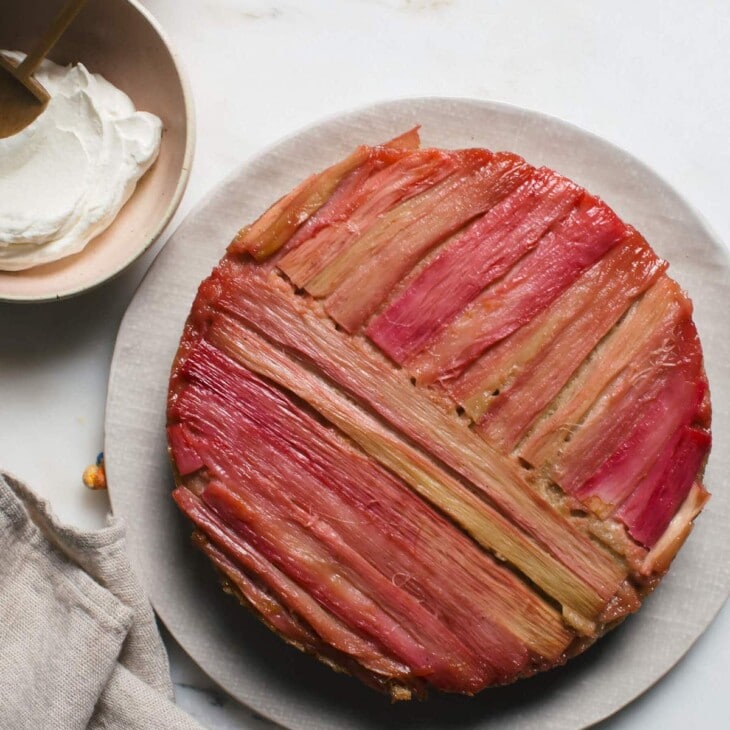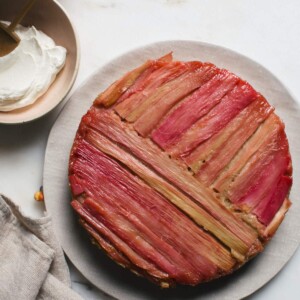 Ingredients
Rhubarb Topping:
1

pound

450g rhubarb, leaves removed, *cut a few into 9-inch pieces (these will act as the center) and the others into 6-inch pieces

1

vanilla bean

3/4

cup

150g granulated sugar

1/4

cup

55g unsalted butter

1

teaspoon

lemon or Meyer lemon zest

,

I used Meyer because that's what I had

Pinch

of salt
Cake:
1

cup

125g all-purpose flour

1

cup

130g rye flour

1

tablespoon

baking powder

1/2

teaspoon

baking soda

1/2

teaspoon

salt

1/2

cup

115g unsalted butter, at room temperature

1/2

cup

100g granulated sugar

2

large eggs

,

at room temperature

1

teaspoon

vanilla extract

1 1/2

cups

335ml buttermilk, at room temperature
To serve:
Lightly sweetened whipped cream or ice cream
Instructions
Position a rack in the center of the oven and preheat to 375F. Butter a 9-inch cake pan, that's 3 inches tall, line it with parchment paper, and butter that too. Dust the pan and paper with flour.

To make the rhubarb topping: Use the tip of a knife to split the vanilla bean lengthwise and scrape out the seeds; reserve the pod for another use. Combine the sugar, butter, vanilla seeds, lemon zest, and salt in a skillet and set over medium low heat. Heat, stirring occasionally, until the sugar and butter begin to melt together then add the rhubarb. Cook the rhubarb, turning it occasionally in the pan, until it is juicy, slightly tender, about 4 to 5 minutes. Set it aside to cool slightly, about 5 minutes.

At this point, you have some options: If you'd like to create a pattern like I did, place the 9-inch rib of rhubarb in the very center and then place a slightly shorter one next to it. And then repeat, trimming the rhubarb as needed, until you reach the edge of the pan. Next, place the rhubarb, trimming as needed, in a perpendicular to the first bit of rhubarb (consult the photos for more assistance). Pour the remaining syrup that's in the pan over the rhubarb. Alternatively, you can just place the rhubarb in the pan and arrange in one flat layer.

To make the cake: In a medium bowl, whisk the all-purpose and rye flours, baking powder, baking soda, and salt together. In the bowl of a stand mixer fitted with the paddle attachment, cream the butter and sugar together at medium high speed until light and fluffy, about 5 minutes. Add the eggs, one at a time, mixing for 30 seconds after each addition. Add the vanilla. Use a rubber spatula to scrape down the sides and bottom of the bowl. Alternate adding the flour mixture and the buttermilk in three additions and mix until just combined. Carefully pour the batter over the rhubarb in the pan and smooth the top. Tap the pan gently on the counter to remove any air bubbles.

Bake the cake until the top is golden and a cake tester inserted into the center comes out clean, 30 to 35 minutes. Let the cake cool on a rack for 15 minutes, then carefully invert onto a serving platter. Remove the parchment paper and reposition any rhubarb that has stuck to the paper. Cut into wedges and serve with whipped cream or ice cream, if you like. The cake is best serve the day that it's made.
Notes
*My rhubarb ribs were very wide, if yours are too, feel free to cut them lengthwise. I did this and it made the designed top a bit more manageable.
Nutrition
Nutrition information is automatically calculated, so should only be used as an approximation.
Recipe from Yossy's new book, Sweeter Off the Vine (comes out tomorrow!)