Classic Rhubarb Strawberry Crisp
15
Apr 18, 2015, Updated Dec 30, 2018
Disclosure: This post may contain affiliate links, which means I may earn a commission if you click on the link and make a purchase.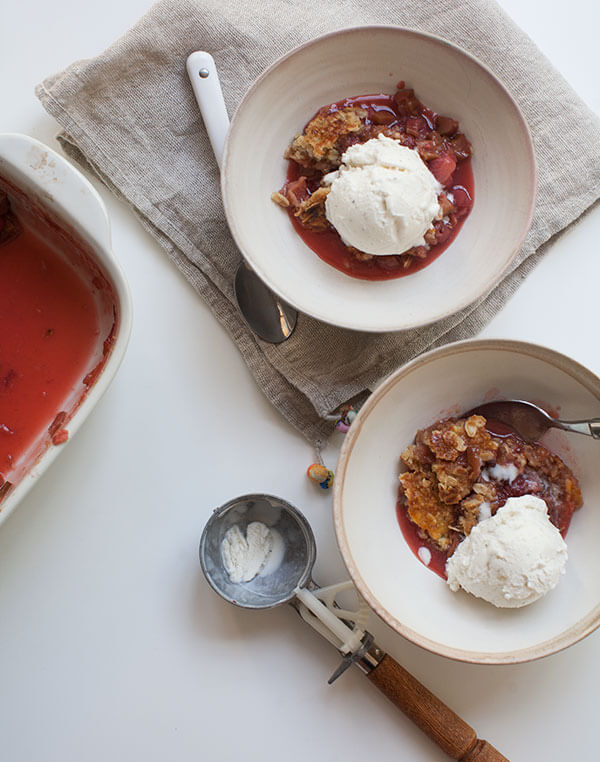 When I was a kid, my mom was big on dishes and meals that utilized an assembly line. For instance, taco night, huge assembly line situation. Beef in one big bowl, toppings like lettuce, guacamole, cheese and tomatoes all in an array of small bowls. My mom didn't stop at cooking; she was huge on creating assembly lines with the laundry too. She believed in making us pitch in…at least a little. Surprisingly my brother and I hardly ever complained. I think it's because she always did it in a way that made it seem like a game, it seemed fun.
Today I share with you the third part of my series with Wolf and their initiative to #reclaimthekitchen. As I mentioned in my last post within this series, reclaiming your kitchen can mean cooking simple meals, setting aside time to cook more often, and taking the time to cook with friends and family. This includes getting them to be involved; it's so much more fun that way anyway and is a great way to share tips and tricks in the kitchen. To see other recipes that would be a good fit for any sort of assembly line situation, check out the Wolf's Reclaim the Kitchen website.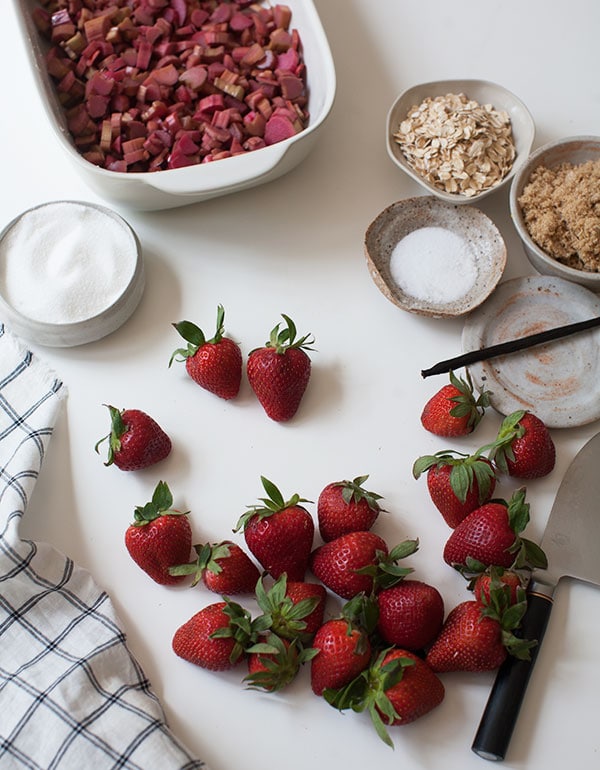 This rhubarb crisp is a good recipe, too, since it has a few super easy components. There's enough work for everyone! Just kidding, but seriously, everyone could have their own separate little job so they feel useful and like they're contributing.
The first step is hulling the strawberries and slicing the rhubarb into thin slices. Couldn't be easier but it does take a bit of time getting through those strawberries. I find prep work is done quickly alongside gossip, music or podcasts.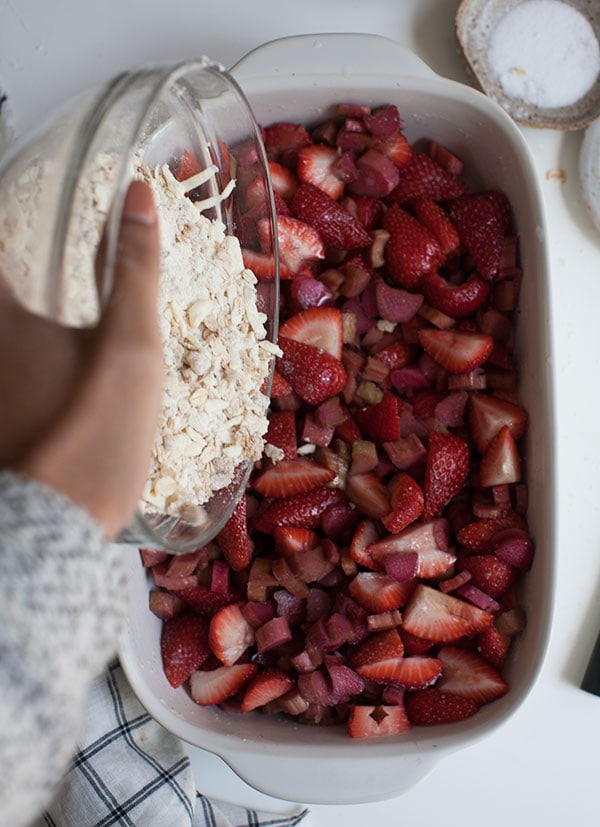 Next, the vanilla bean caviar and sugar are mixed together. This way the vanilla thoroughly incorporates and you won't be eating a whole big clump of vanilla.
The strawberries and rhubarb are mixed with the vanilla sugar goodness, lemon juice and salt, and left to sit while the topping is made. Yum!
The crumble topping is almost made like pie dough but a million times less difficult. I like to use a box grater to grate the butter into the flour. The rest of the ingredients are added and then it's dumped on top of the rhubarb and strawberries.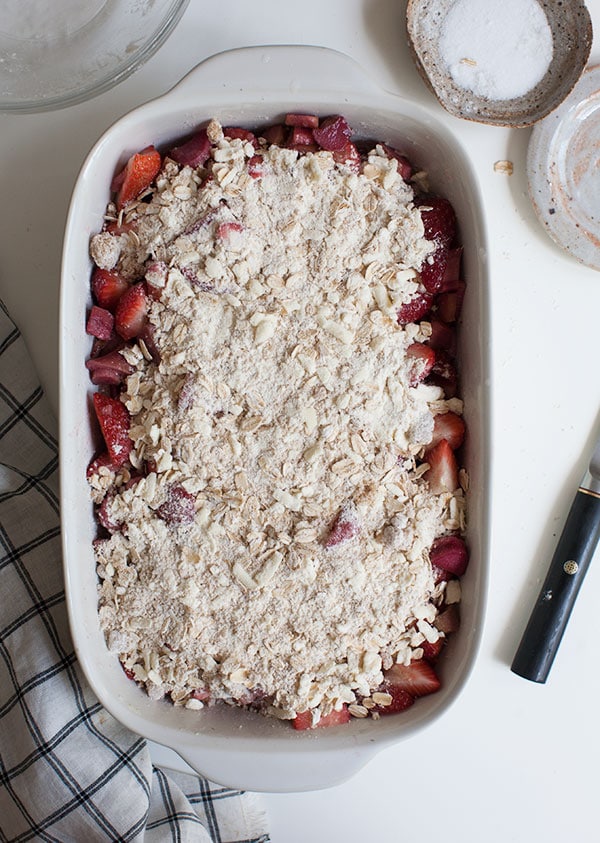 Another person could whisk the egg yolk and milk together to create the egg wash. Egg wash isn't super common in crisps, but I swear it created the most beautiful color and actually made the top crispy and glorious.
This rhubarb crisp is everything you want from a spring dessert: it's tart and perfectly sweet and warm (we're not in summer yet!). I like a bowl of this rhubarb and strawberry crisp warm, straight from the oven. The juice will be flowing (notice there's no cornstarch) but it's delicious this way. Plain vanilla ice cream sets it over the edge.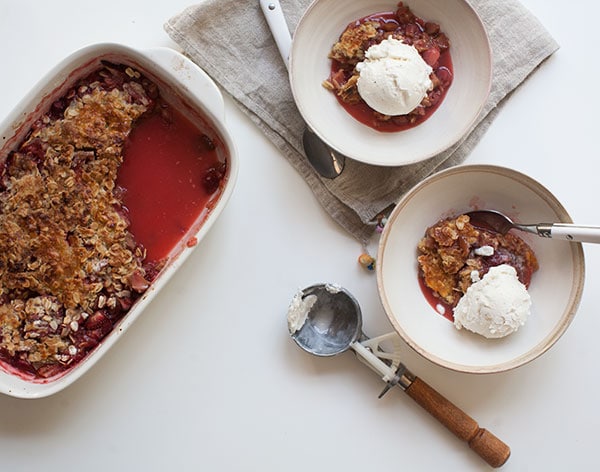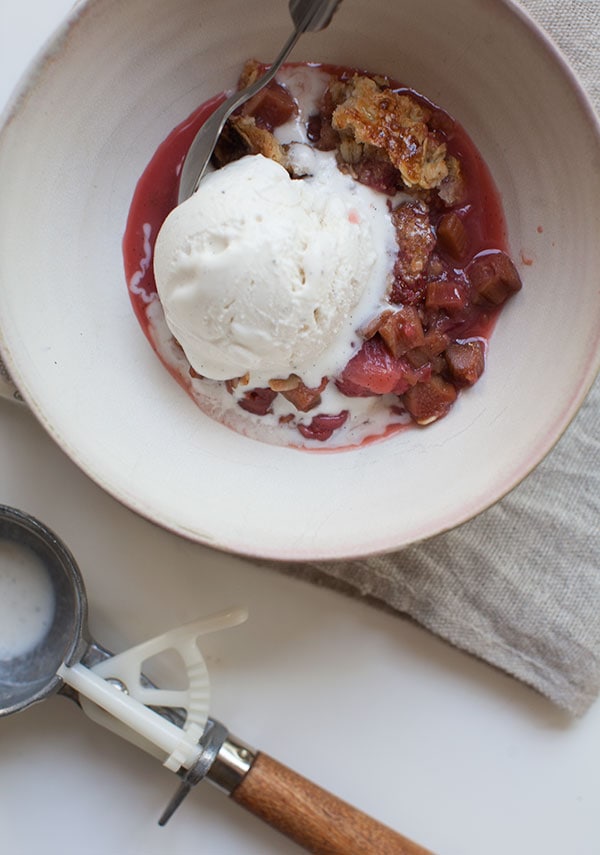 Classic Rhubarb Strawberry Crisp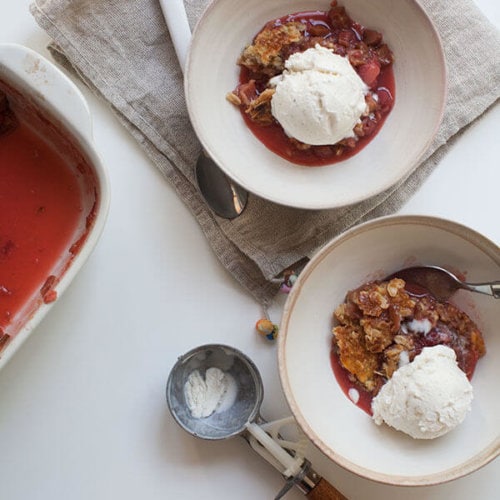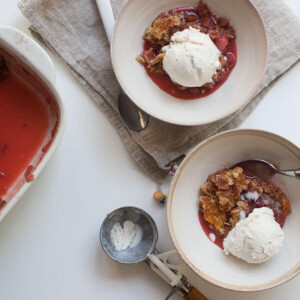 Ingredients
Filling:
1/2

vanilla bean

,

scraped

1/2

cup

white granulated sugar

1

pound

rhubarb

,

trimmed and cut into 1/4-inch pieces

1

pound

strawberries

,

hulled and quartered

1

tablespoon

lemon juice

,

from about 1/2 lemon

Pinch

salt
Crisp Topping:
1/2

cup

all-purpose flour

6

tablespoons

unsalted butter

,

frozen, plus more for greasing pan

3/4

cup

light brown sugar

1/2

cup

rolled oats

1/4

teaspoon

salt

1

large egg yolk

1

tablespoon

milk
Instructions
Preheat your oven to 350 degrees F. Rub about a half of a tablespoon of butter all over the inside of a 11-inch x 9-inch baking dish. In a small bowl, add the vanilla bean and sugar; rub the vanilla bean throughout the sugar until it's evenly distributed. In the baking dish (no need to dirty a bowl for this), combine vanilla sugar, the sliced rhubarb, strawberries, lime juice and salt. Set aside while you make the crisp topping.

In a small to medium bowl (feel free to use the one you used to mixed the vanilla sugar), add the flour. Using a box grater, grate the butter atop the flour and mix throughout until the butter resembles small peas. Mix in the brown sugar, rolled oats and salt. Pour the crisp topping over the rhubarb filling and transfer to the oven to bake for 30 minutes, until bubbly. Combine the egg yolk and milk in a small bowl and brush the top of the crisp with the egg wash mixture. Return it to the oven and bake for an additional 15 minutes, until the top is golden brown and has hardened slightly and the rhubarb and strawberries are all juicy and wonderful. Serve this crisp warm with vanilla ice cream.
Nutrition
Nutrition information is automatically calculated, so should only be used as an approximation.
(This blog post is part of a paid SocialMoms and Wolf blogging program. The opinions and ideas expressed here are my own.)