This Eton Mess is the perfect blend of crunchy meringue and soft whipped cream. Paired with Strawberries it's one of the best desserts for summer.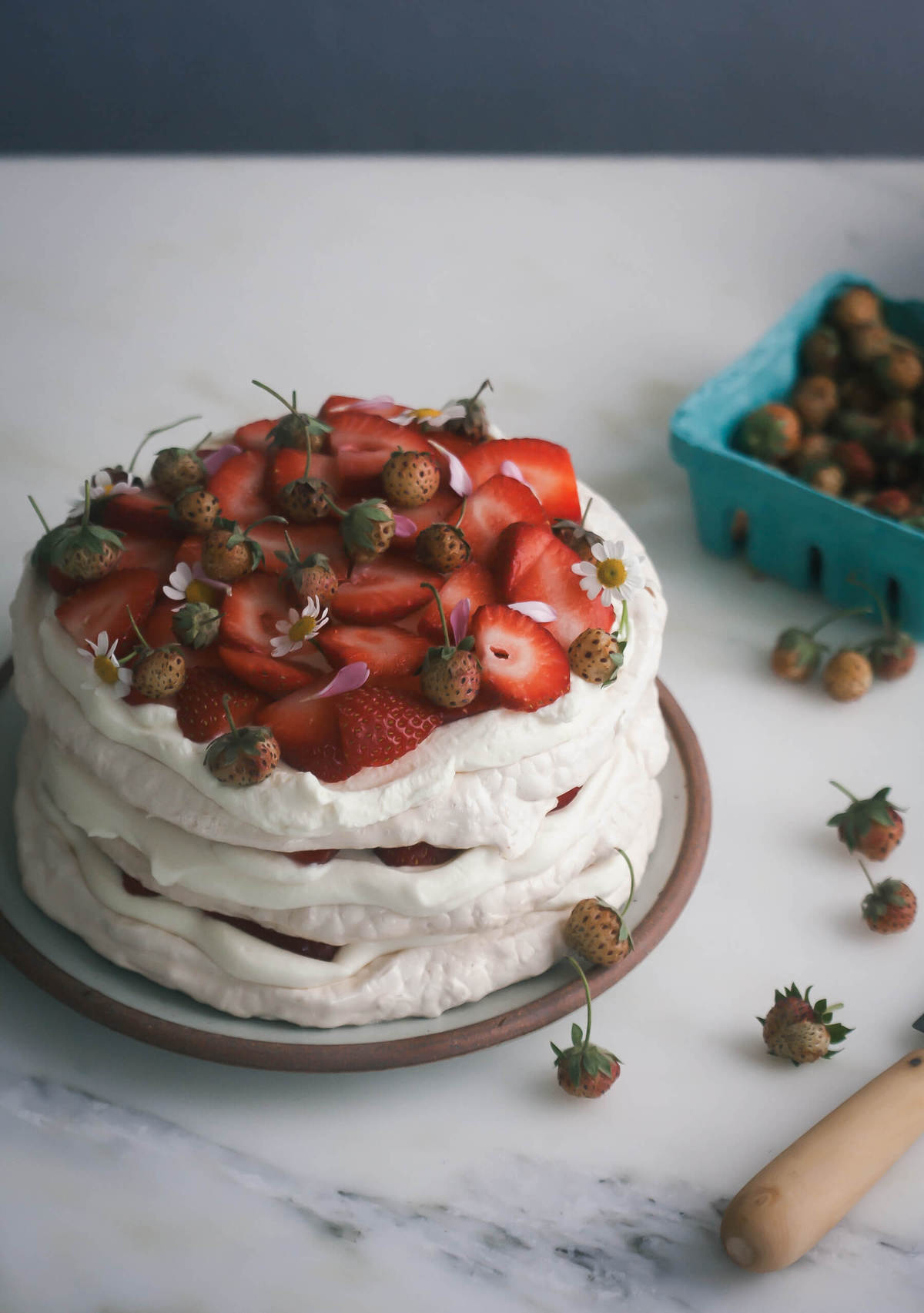 How Did Eton Mess Get Its Name?
Eton mess is my favorite story because it involves a dog.
The story goes like this: summer-y people go on summer-y picnic and bring a mix of meringue and strawberries and whipped cream. A mischievous dog (picture Amelia type mischievous) jumps up and smashes said dessert. Summer-y people are very very bummed but eat it anyway because dessert is always necessary and they LOVE IT.
Eton Mess is born. I like to think that I made what was most likely in the back of the car, pre-dog. It's a pavlova cake layered with whipped cream and sliced strawberries.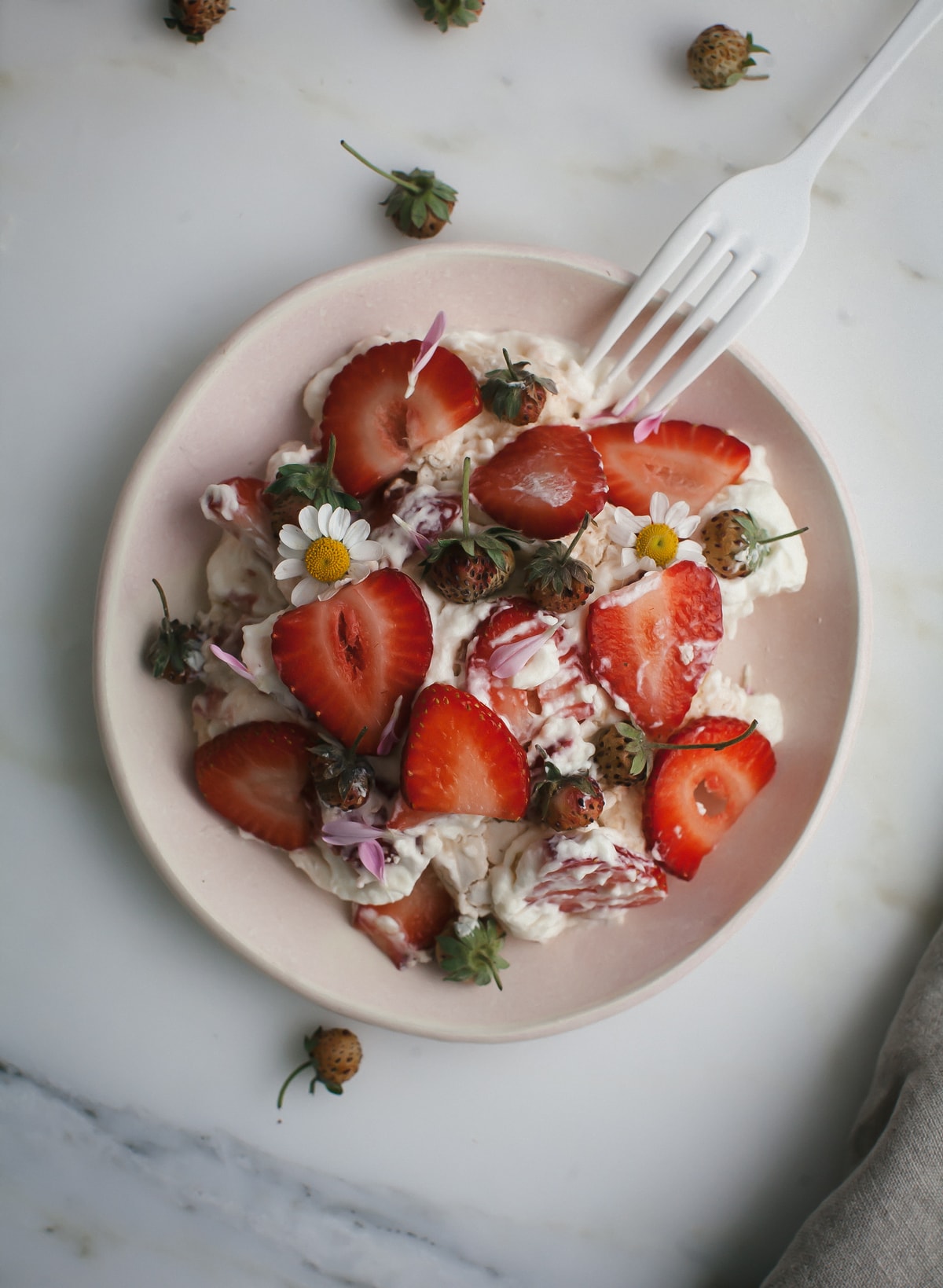 What is Eton Mess?
Eton mess is a mix of meringue and whipped cream, usually all folded together, hence the mess part of title, however I went ahead and presented it a little more beautifully and give the smashing mess opportunity to the people I'm serving it to. It's something that can easily be put together. Add a few flowers on top and baby strawberries and it's instantly a dessert that is VERY Instagrammable.
The good news is that it tastes good too.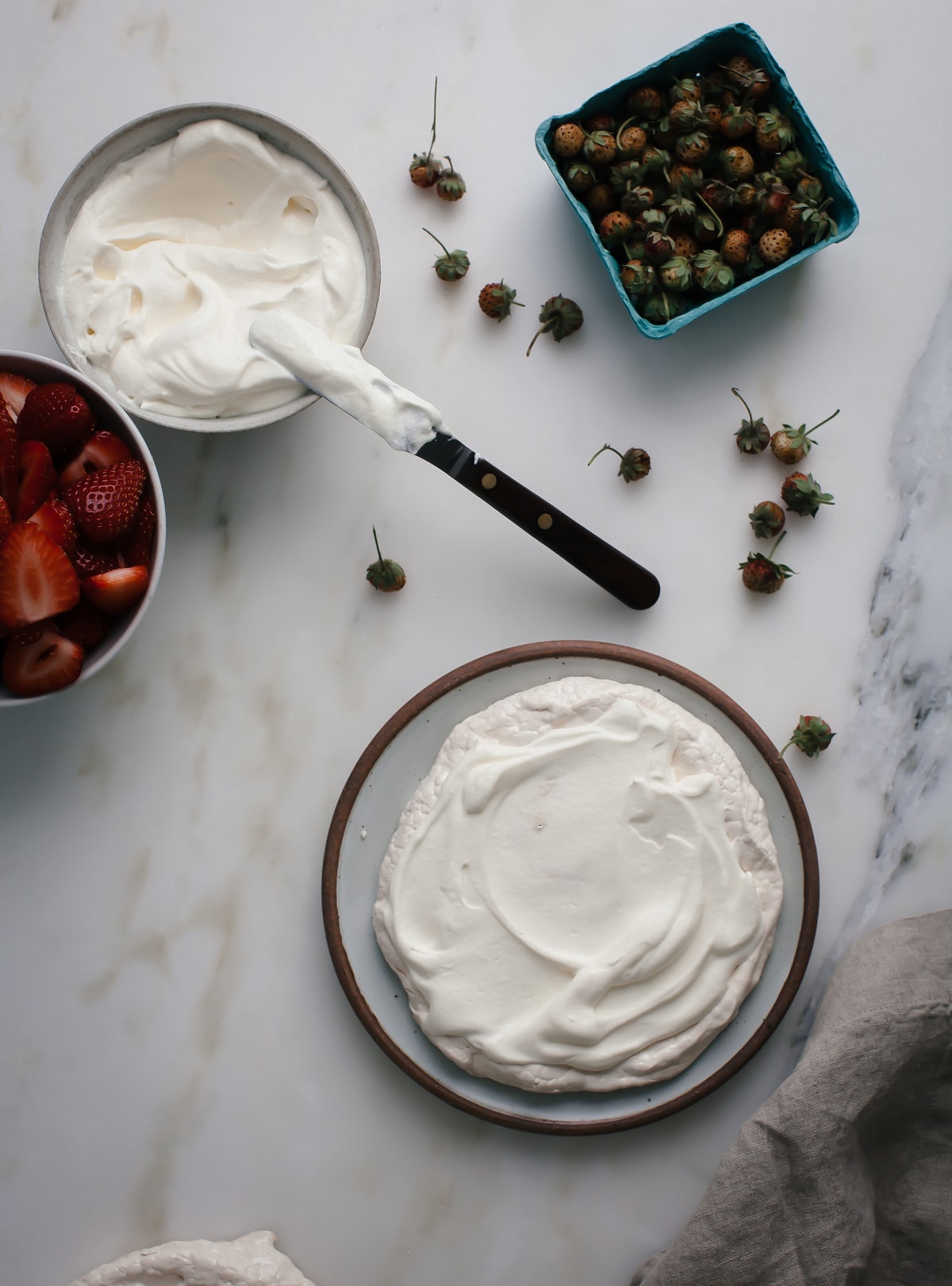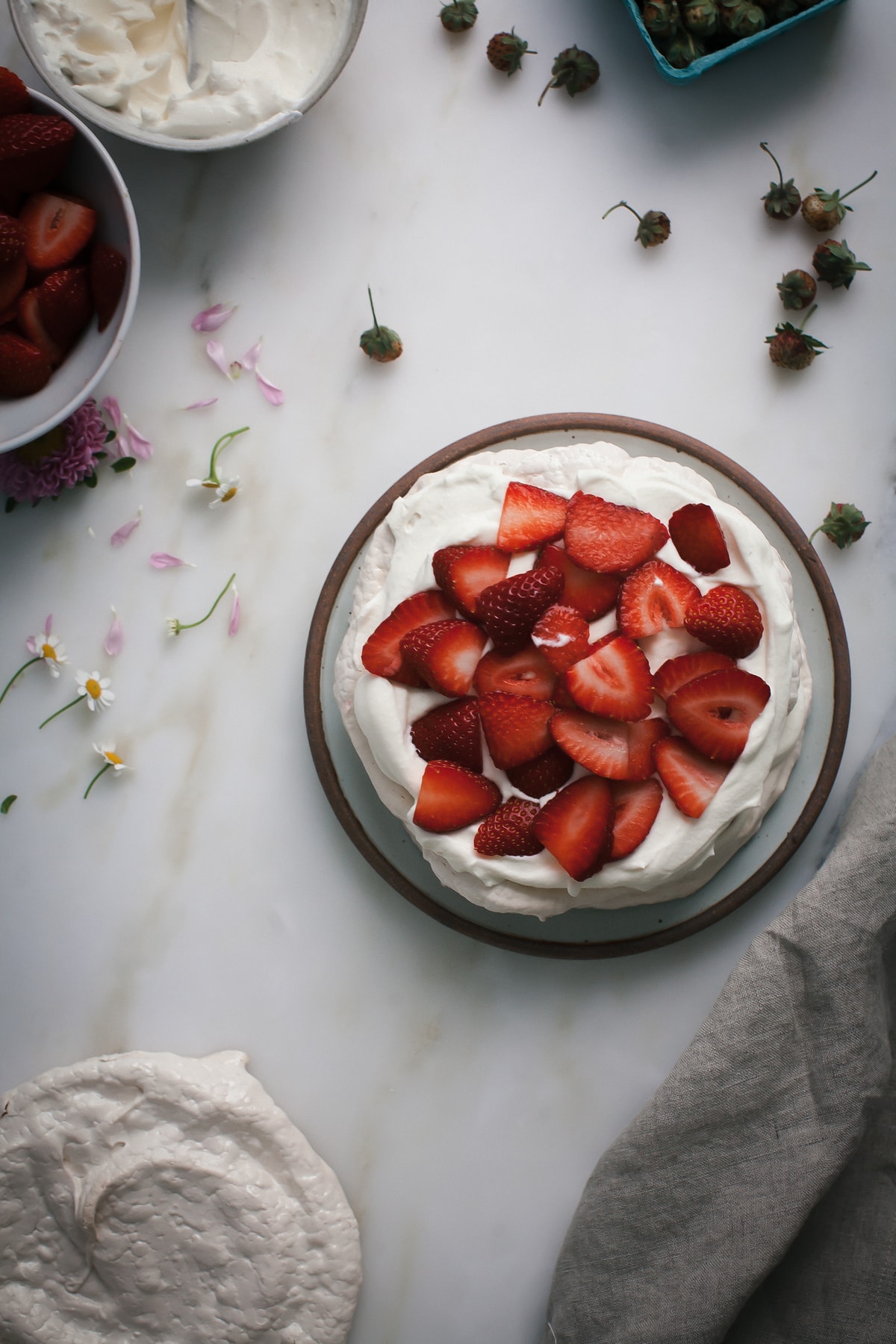 Can You Make Eton Mess in Advance?
As a whole dessert? No.
But you can make the meringues a few days in advance, kept at room temperature and wrapped up and prep the strawberries the day before so that all you have to do right before you serve it is whip the cream and layer everything together!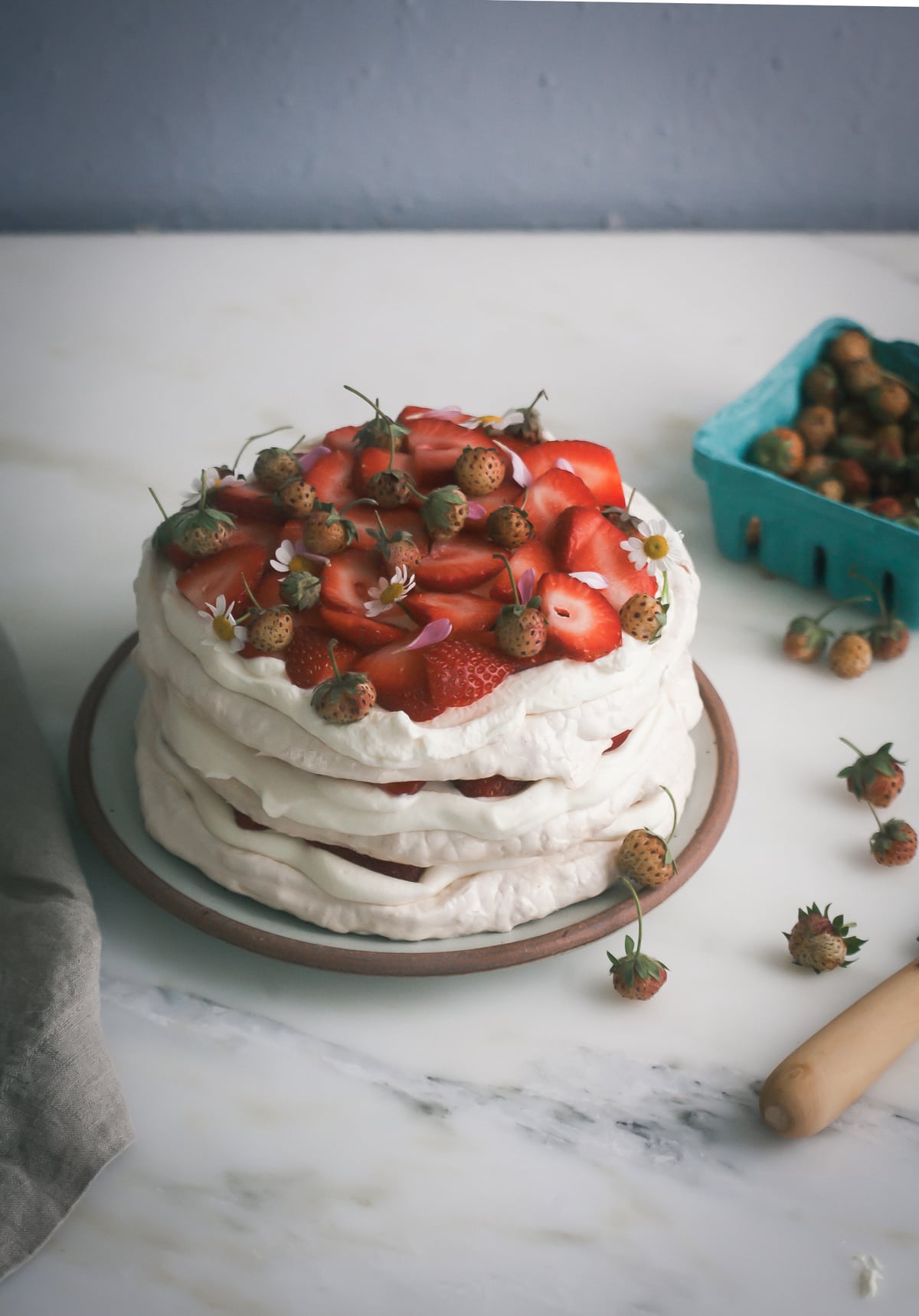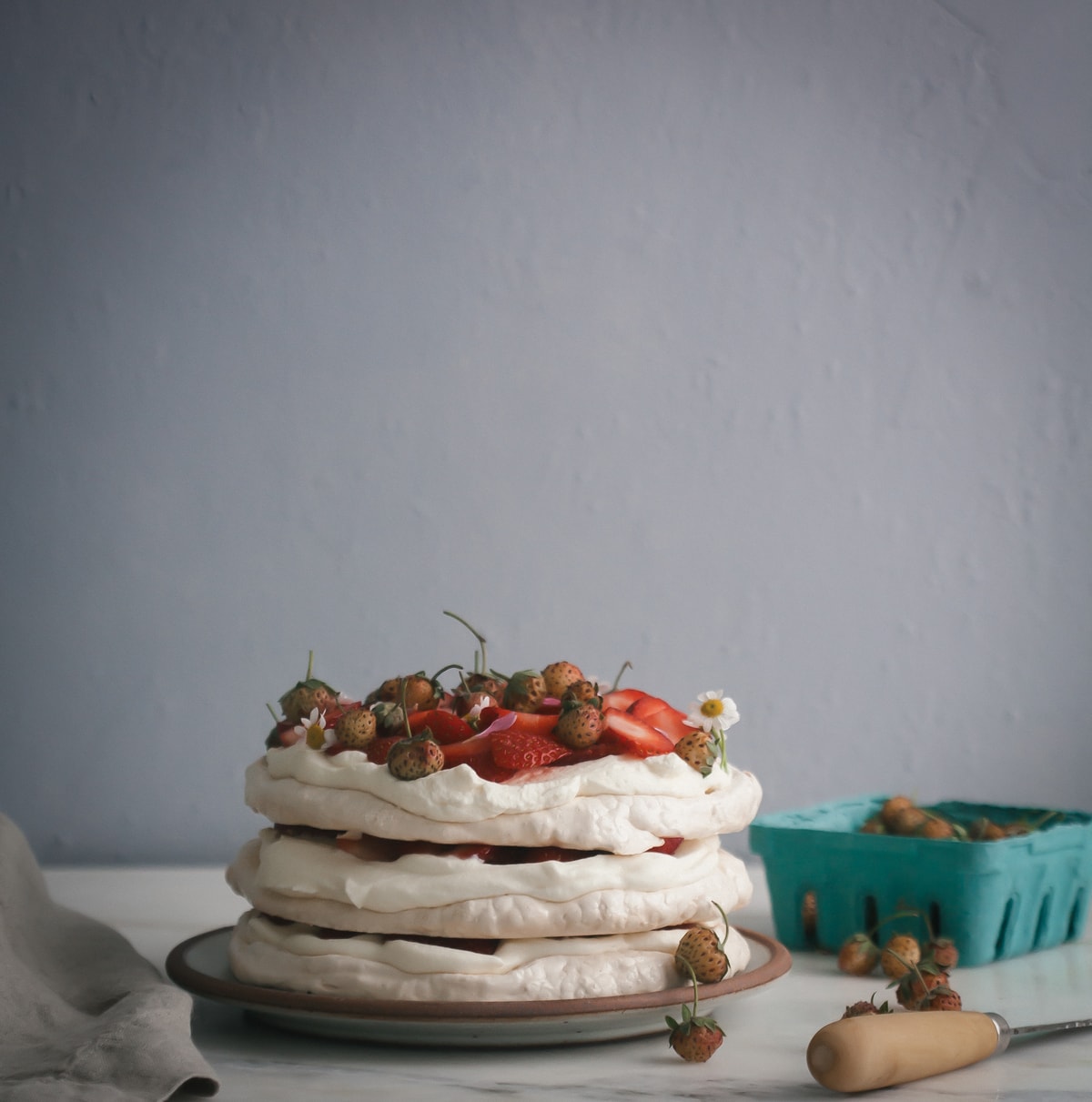 How to Make Eton Mess:
Eton mess is such an easy dessert to throw together, it all starts with a meringue.
Whip together egg whites with sugar, vanilla, and vinegar (the acid helps stabilize them but you can't taste it promise!)
Spread the meringue out on parchment lined baking sheets and bake until crisp then let them cool in the oven for 1 hour.
Remove from the oven and let cool completely.
When you're ready to serve, whip the cream with the powdered sugar and slice the strawberries.
Layer the meringue with the whipped cream and strawberries and garnish with chamomile and baby strawberries in addition to the regular strawberries for added cute factor.
Serve to guests and encourage them to smash up the dessert before eating!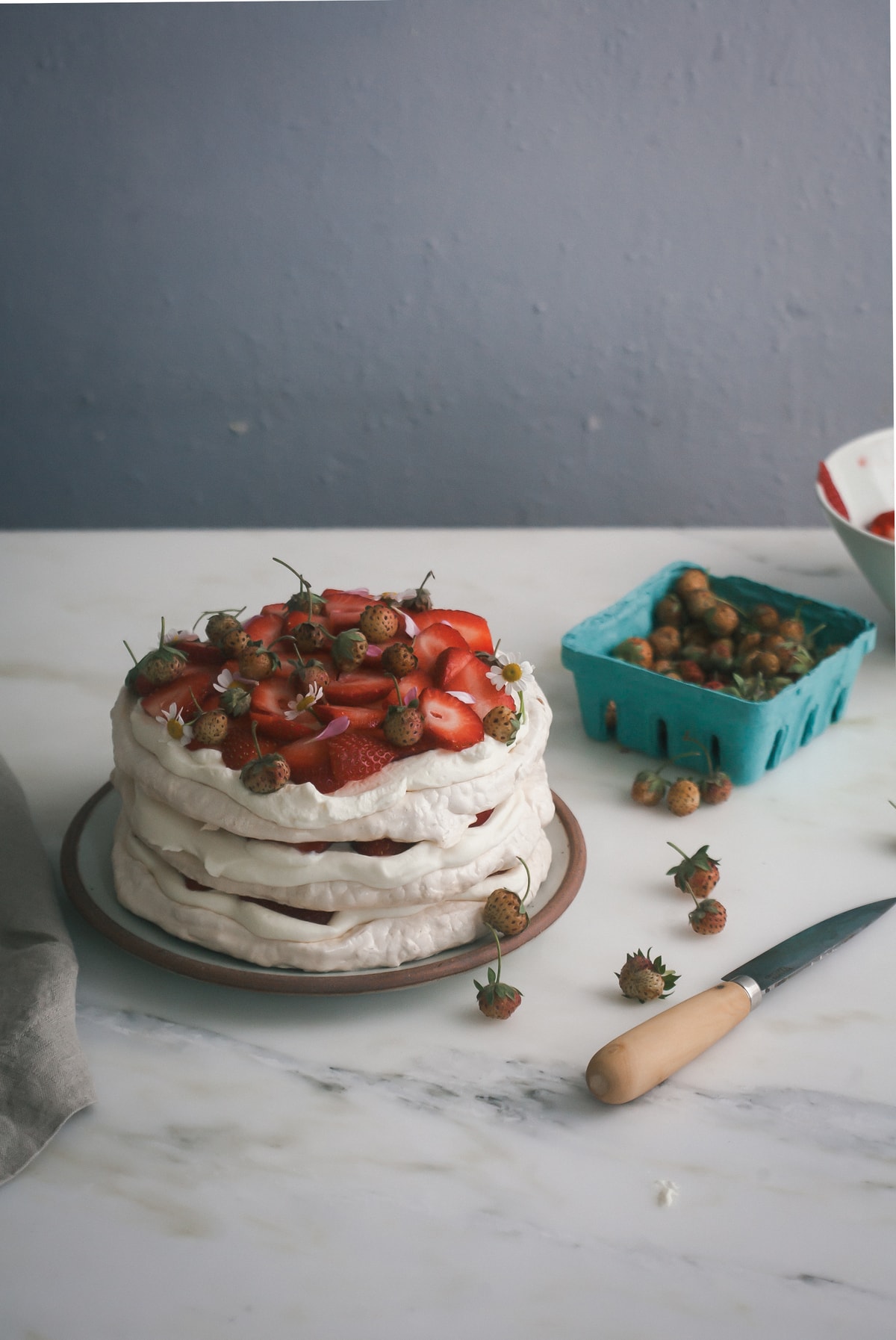 Tips and Tricks:
The meringue can be made a couple days ahead of time, just place in a Zip-loc bag once they're completely cooled and store at room temperature.
If you want to mash it up for everyone ahead of time you can do that too! Just break up the meringue and fold it with the whipped cream mixture and top with strawberries.
Use any juicy fruit you like that's in season. Any berry would be good with this but I've also had it with peaches and nectarines and it was delicious.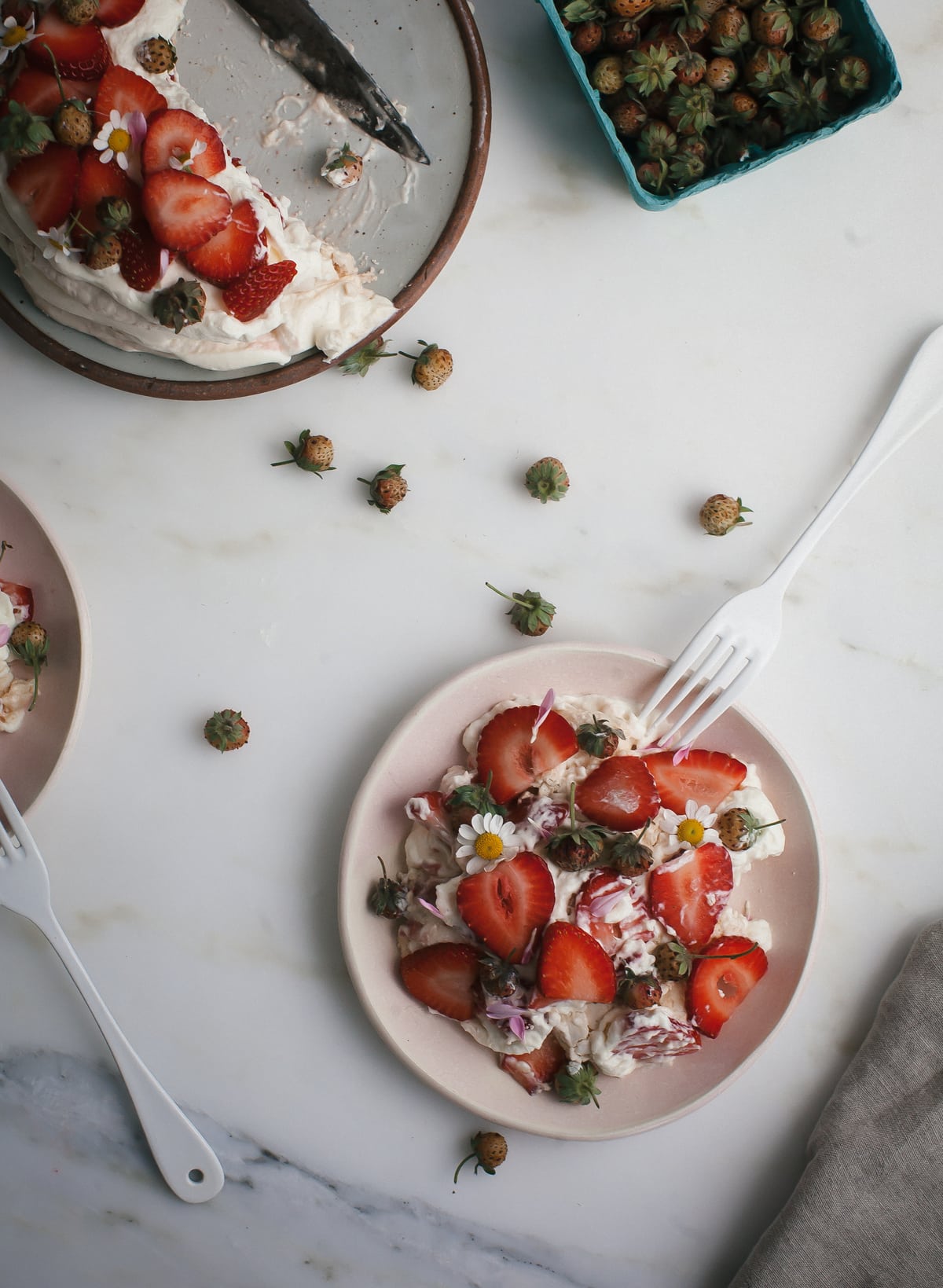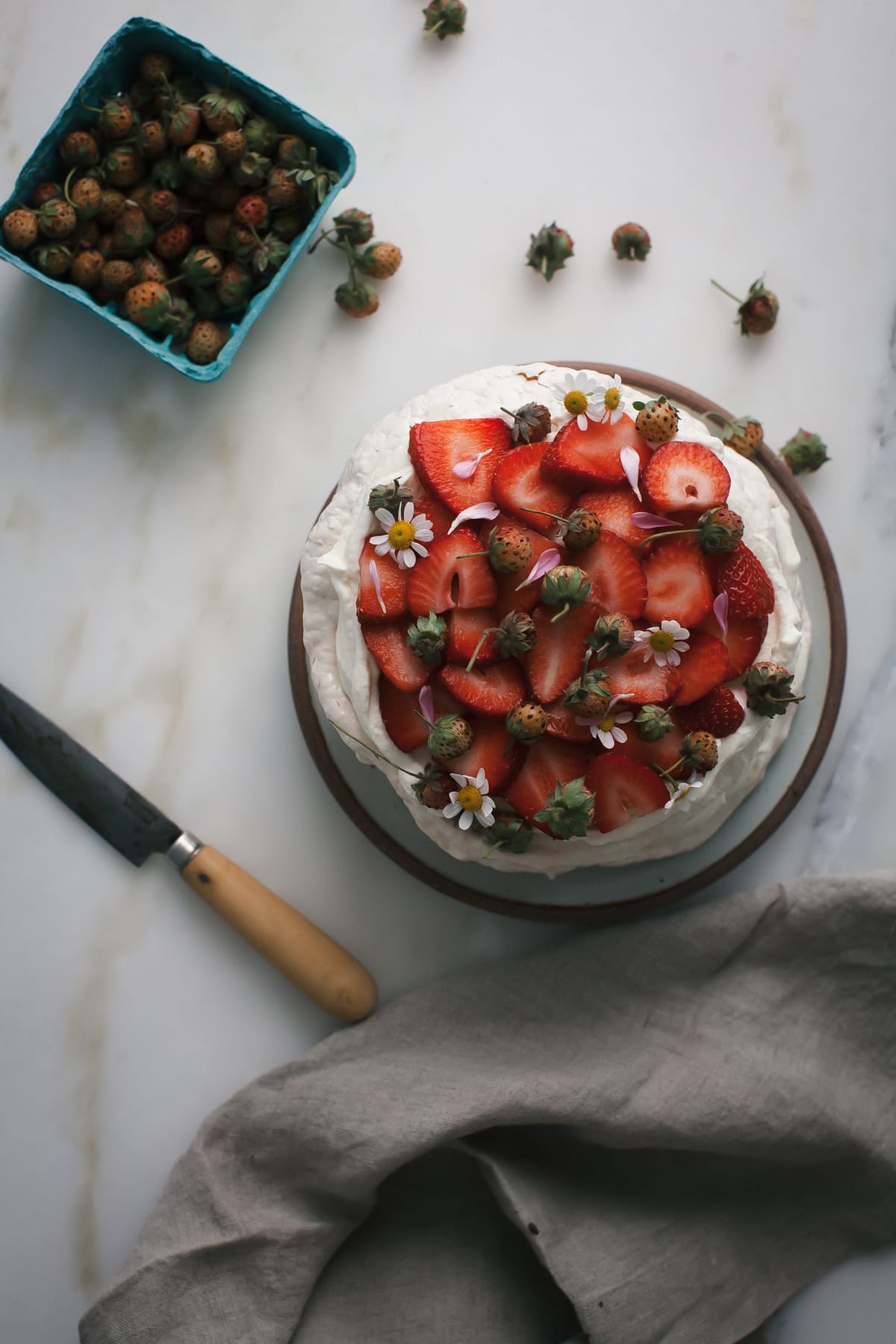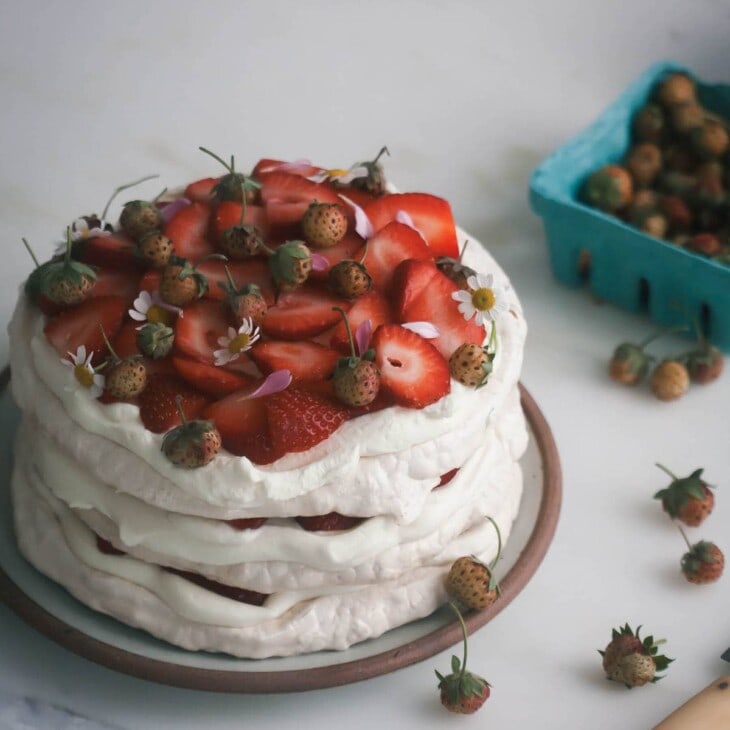 Print Recipe
Eton Mess Recipe
This Eton Mess is the perfect blend of crunchy meringue and soft whipped cream. Paired with Strawberries it's the best dessert for summer.
Serving Size:
(6-inch, 3 layer) pavlova cake
Ingredients
Pavlova
3

large egg whites

1/4

teaspoon

white vinegar

3/4

cups

granulated sugar

1/2

teaspoon

pure vanilla extract
Layering Things:
1

cup

heavy cream

1

tablespoon

powdered sugar

sifted

1

pound

strawberries

hulled and sliced

Fresh chamomile leaves

as garnish (optional)

Baby strawberries

as garnish (optional)
Instructions
To make the Pavlova: preheat the oven to 250 degrees F. Line a baking sheet with parchment.

To the bowl of a stand-up mixer, with the whisk attachment, add the egg whites and vinegar; beat until frothy, about 2 minutes. With the mixer running, slowly incorporate the sugar; beat until stiff peaks form, about 5 additional minutes. Mix in the vanilla extract.

Take a 5 or 6-inch plate, flip it over onto the parchment, and use it trace 3 circles. Divide the meringue evenly amongst circles, smoothing them out until they're about 1-inch thick. Transfer to the oven to bake for 1 hour until hard and crisp on the outside. Turn the oven off, prop open the oven door, and allow to cool completely on the baking sheet.

To make the whipped cream: add the heavy cream and powered sugar to a bowl. Using an electric mixer, beat the cream and sugar together until fluffy, soft peaks form.

Place the first meringue disk on a plate. Top with 1/4 cup of heavy cream (feel free to eyeball this measurement) and smooth it out until it reaches the edges. Top with strawberry slices. Repeat until you've made three layers. For the top, add more strawberries and garnish with chamomile leaves and baby strawberries.

When you're ready to plate, smash the meringue a bit with a knife and divide amongst bowls. That's your mess!
Nutrition
Serving:
6
g
|
Calories:
126
kcal
(6%)
|
Carbohydrates:
100
g
(33%)
|
Protein:
8
g
(16%)
|
Fat:
4
g
(6%)
|
Saturated Fat:
2
g
(13%)
|
Cholesterol:
3
mg
(1%)
|
Sodium:
12
mg
(1%)
|
Potassium:
53
mg
(2%)
|
Fiber:
3
g
(13%)
|
Sugar:
20
g
(22%)
|
Vitamin A:
24
IU
|
Vitamin C:
4
mg
(5%)
|
Calcium:
21
mg
(2%)
|
Iron:
2
mg
(11%)
If you make the Eton Mess Recipe, let me know on Instagram!
Looking for more easy desserts? Here are some other favorites: