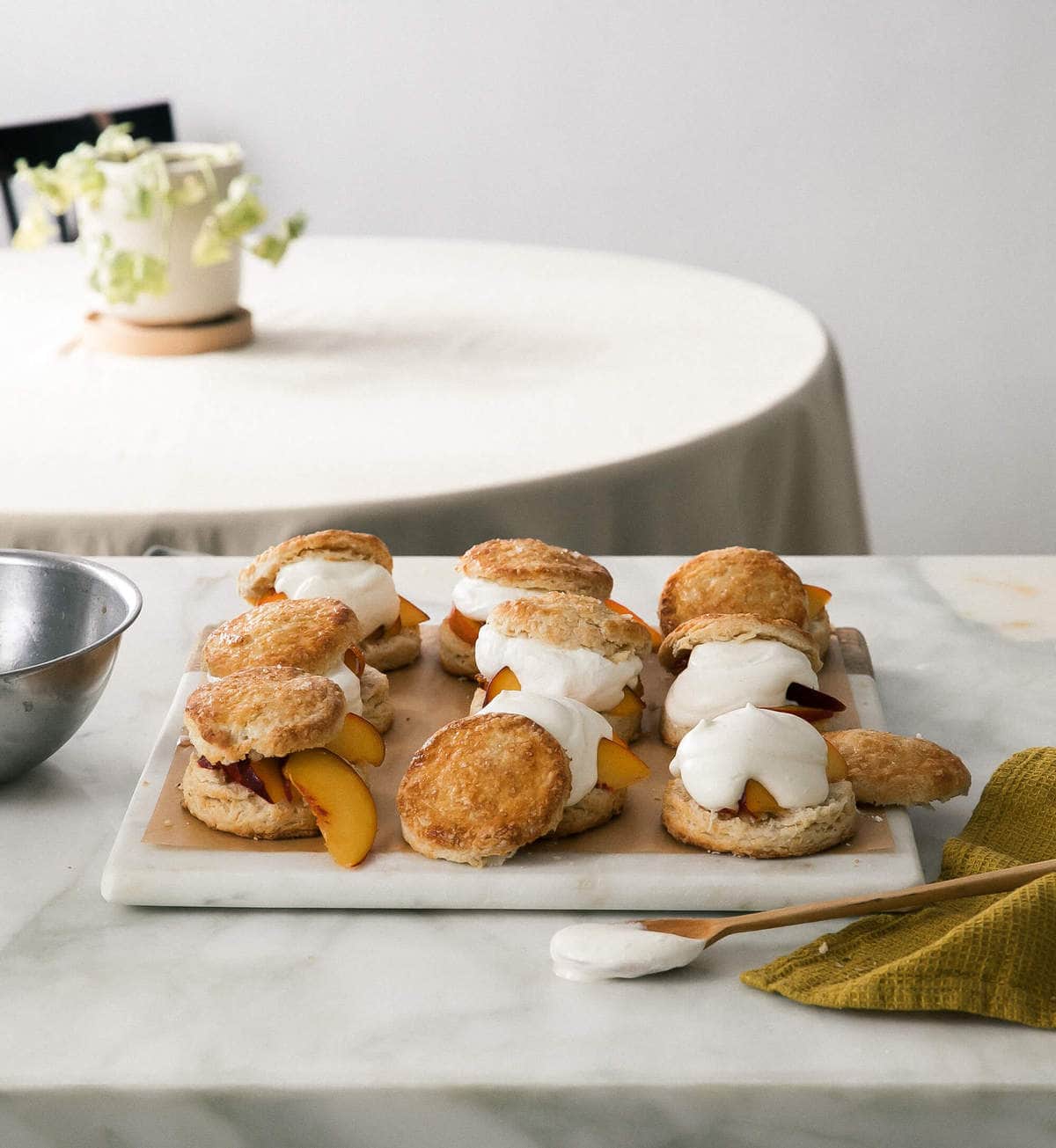 I'm currently in a very dark cave called 90-Day Fiance. It's an amazing show, GREAT content. And surprisingly very good for productivity. I always need some sort of television that doesn't require insane amounts of attention to play in the background while I work. And 90 Day show is perfect for that!
A few weeks ago we were blessed by being invited to a summer dinner party and I was tasked with dessert. I went strolling through the farmer's market that weekend and I was stopped dead in my tracks by the fragrant, sweet smell of summery yellow peaches. Yum. I decided to buy a handful.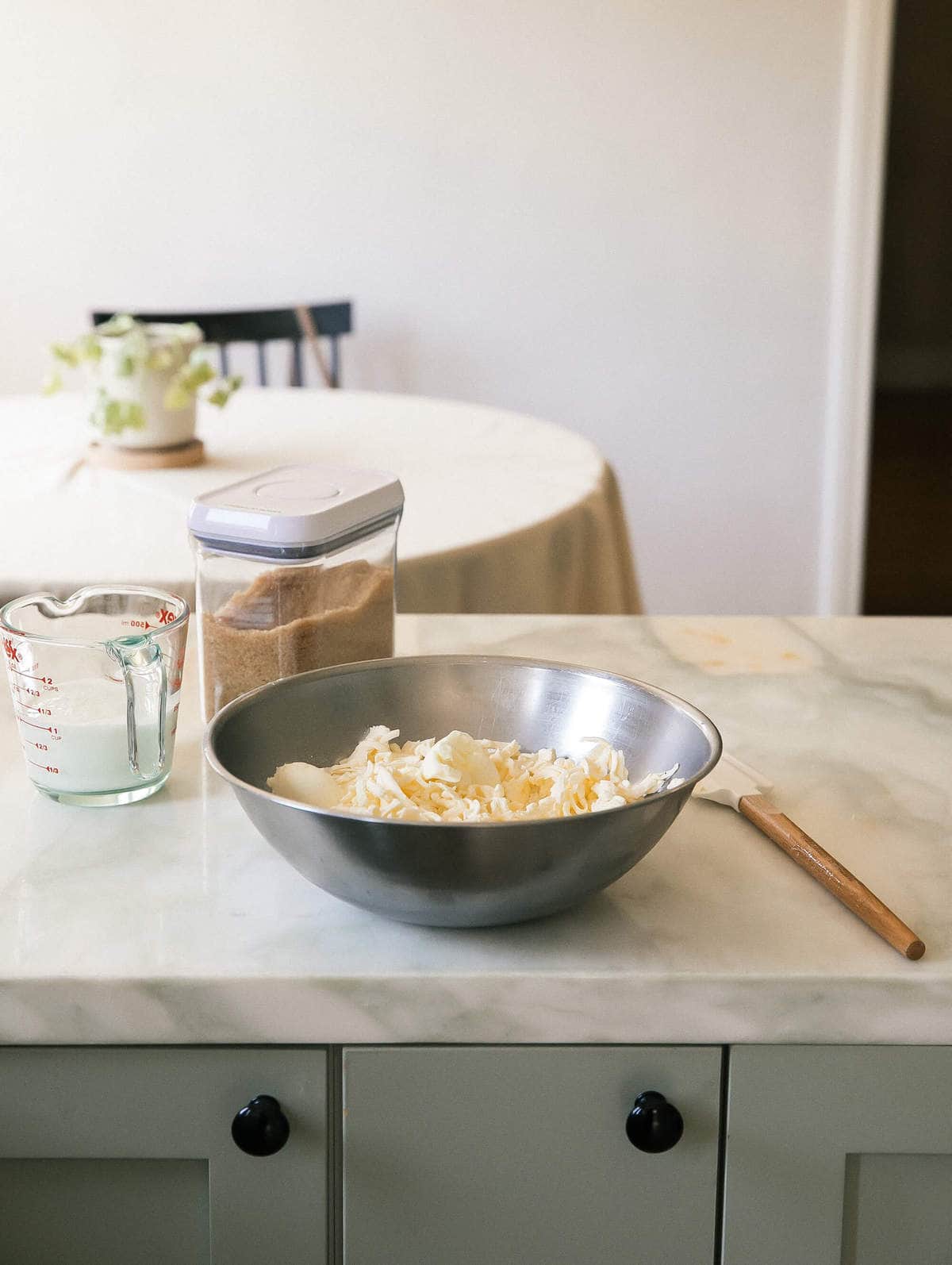 I wanted something that was easily transportable and would be easy enough to whip up in an hour or so. This fit the bill perfectly.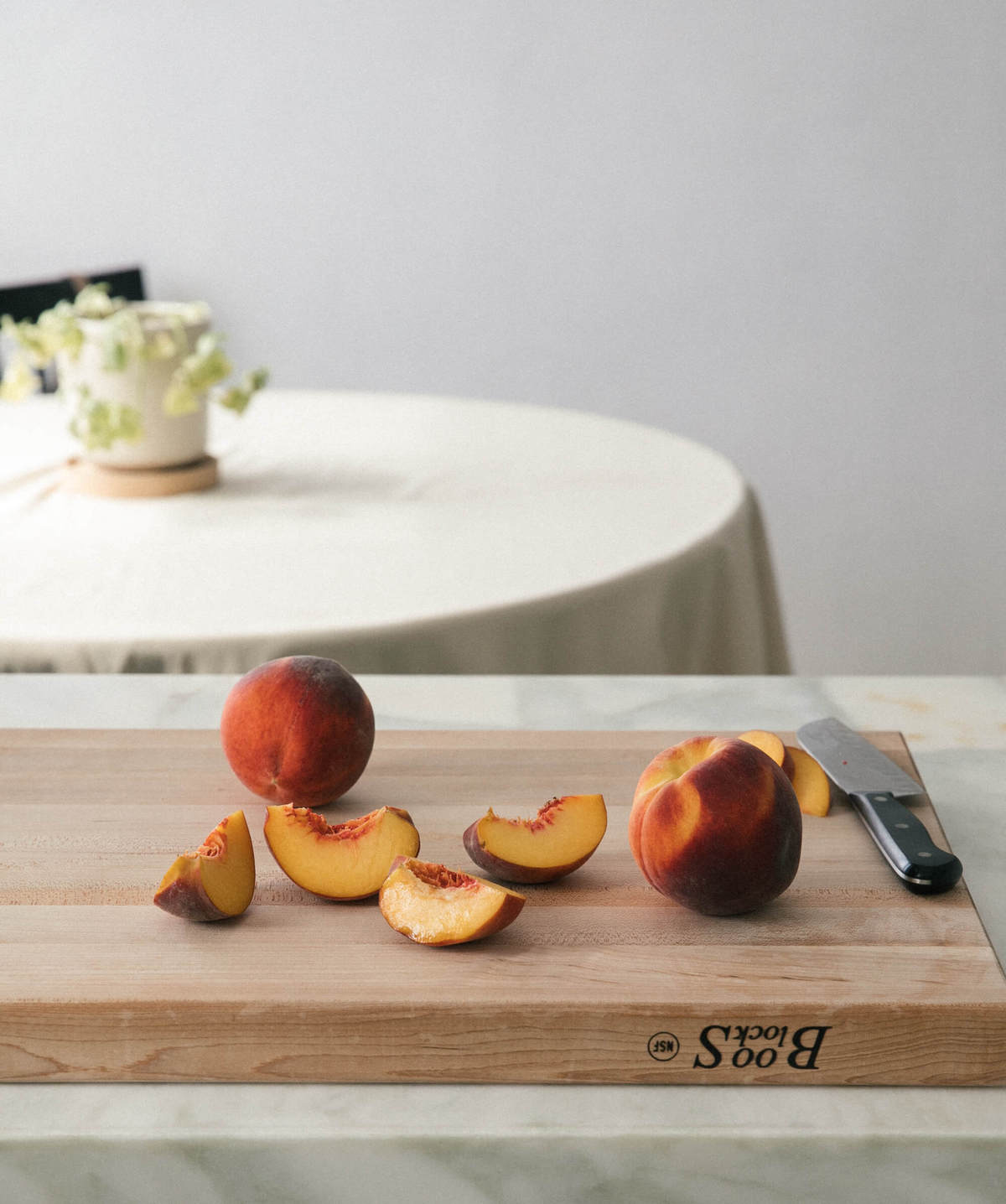 I made a sweeter version of Carla Hall's biscuits. I added about 1/4 cup of sugar to make them a bit sweeter (they still weren't very sweet so don't worry).
I sprinkled the tops with turbinado/raw sugar and a bit of flakey sea salt; they were delicious! Since I was transporting this whole thing, this is what i did: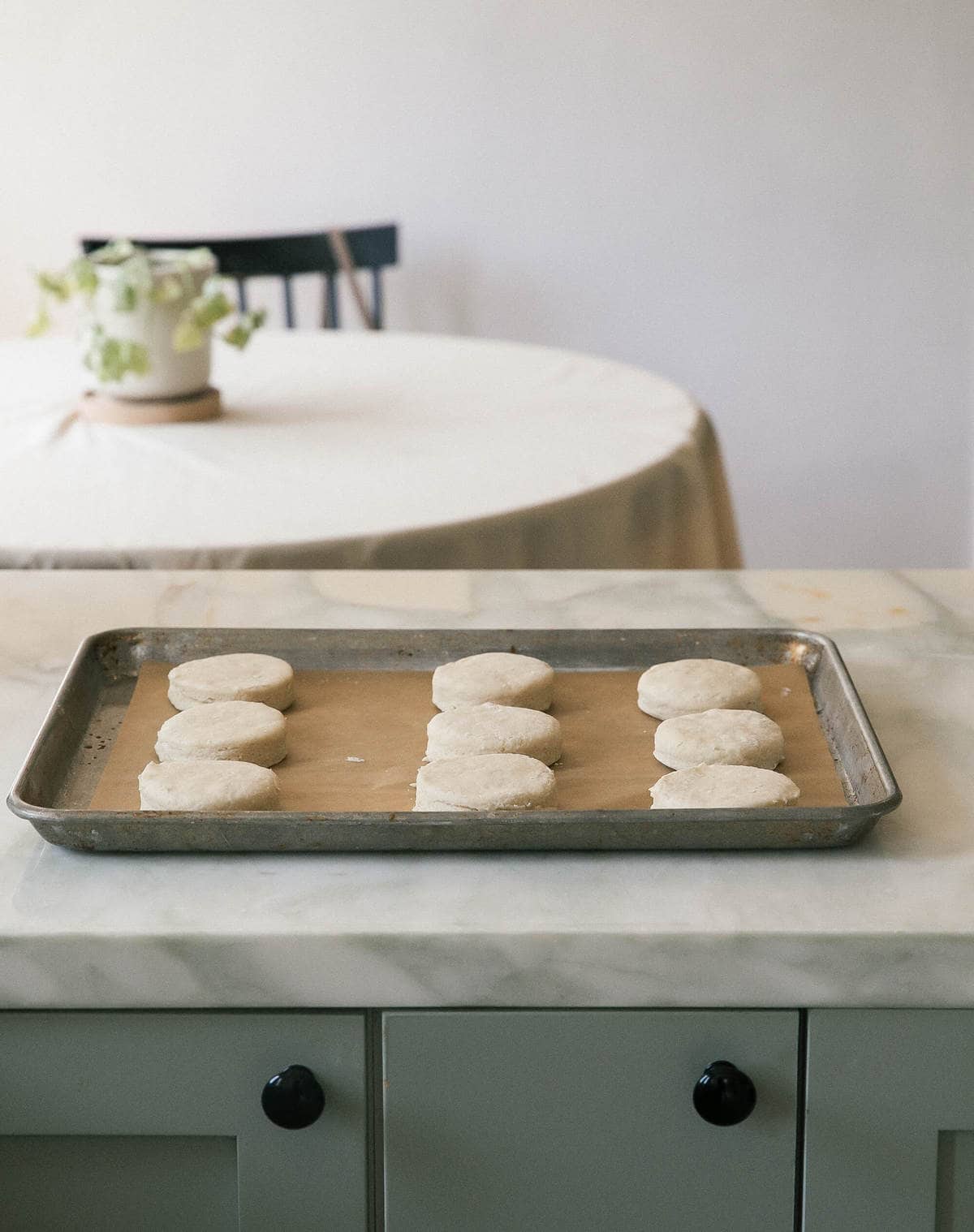 I baked off the biscuits, let them cool and packed them up.
In a glass tupperware (with a lid), I added the lemon zest, lemon juice, vanilla, salt and sugar to the bottom. I then placed the sliced peaches on top. I didn't mix it because once you do that, it'll begin to macerate and get all juicy. I didn't want them to be like canned peaches (like super soft and gross) so I figured I'd do that about 15 minutes before we were gonna have dessert.
I also brought the heavy cream and whipped it by hand. Super easy!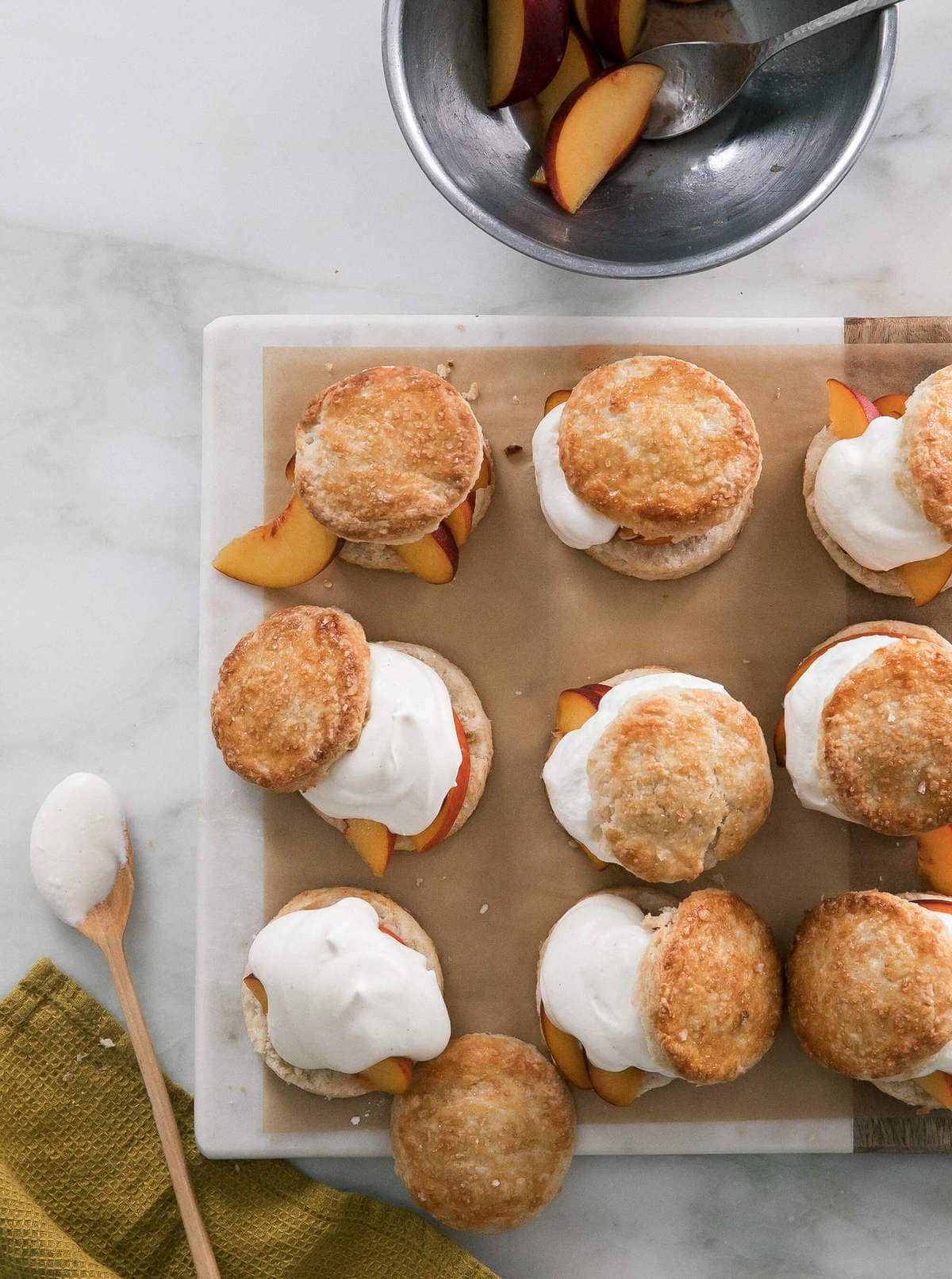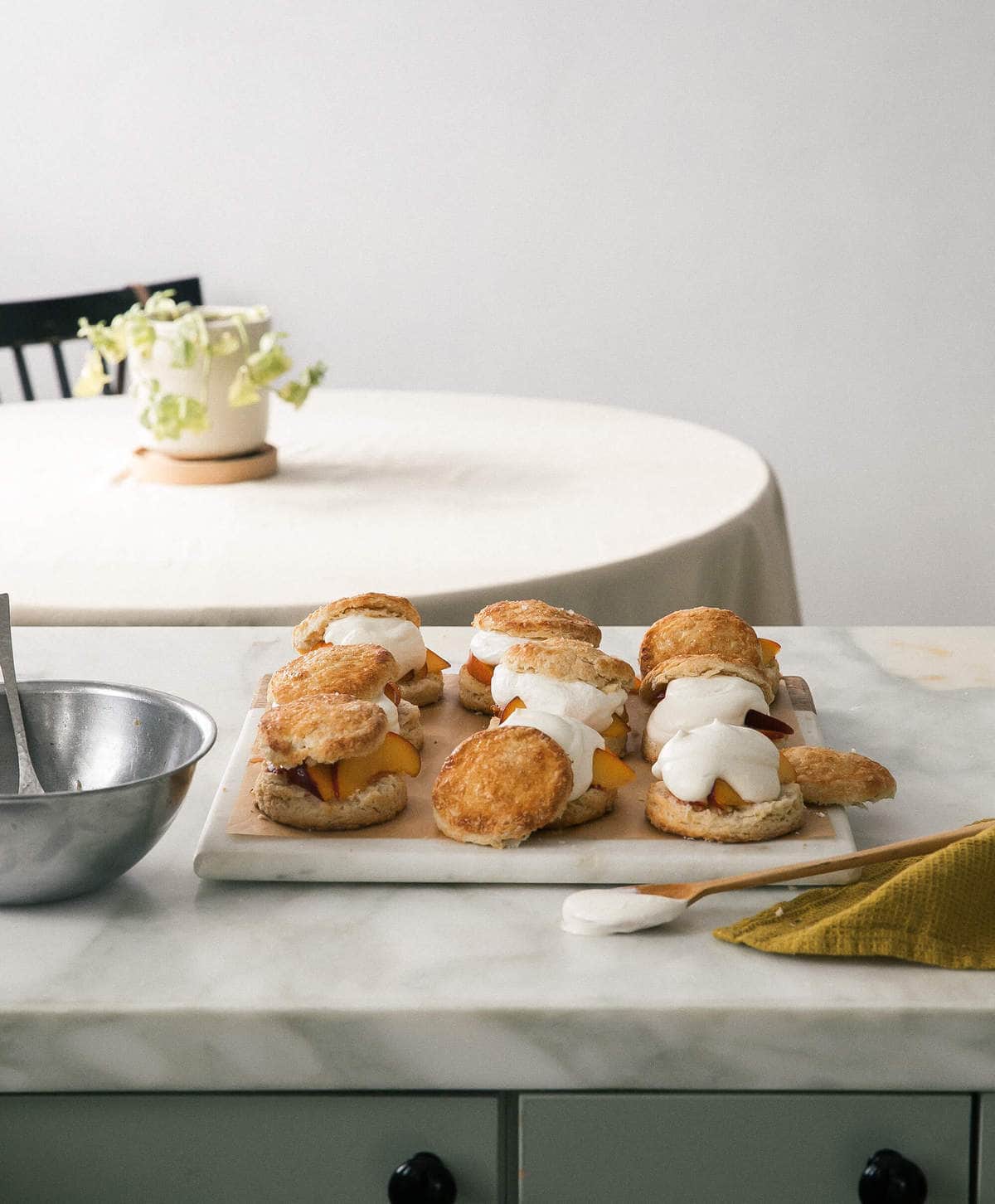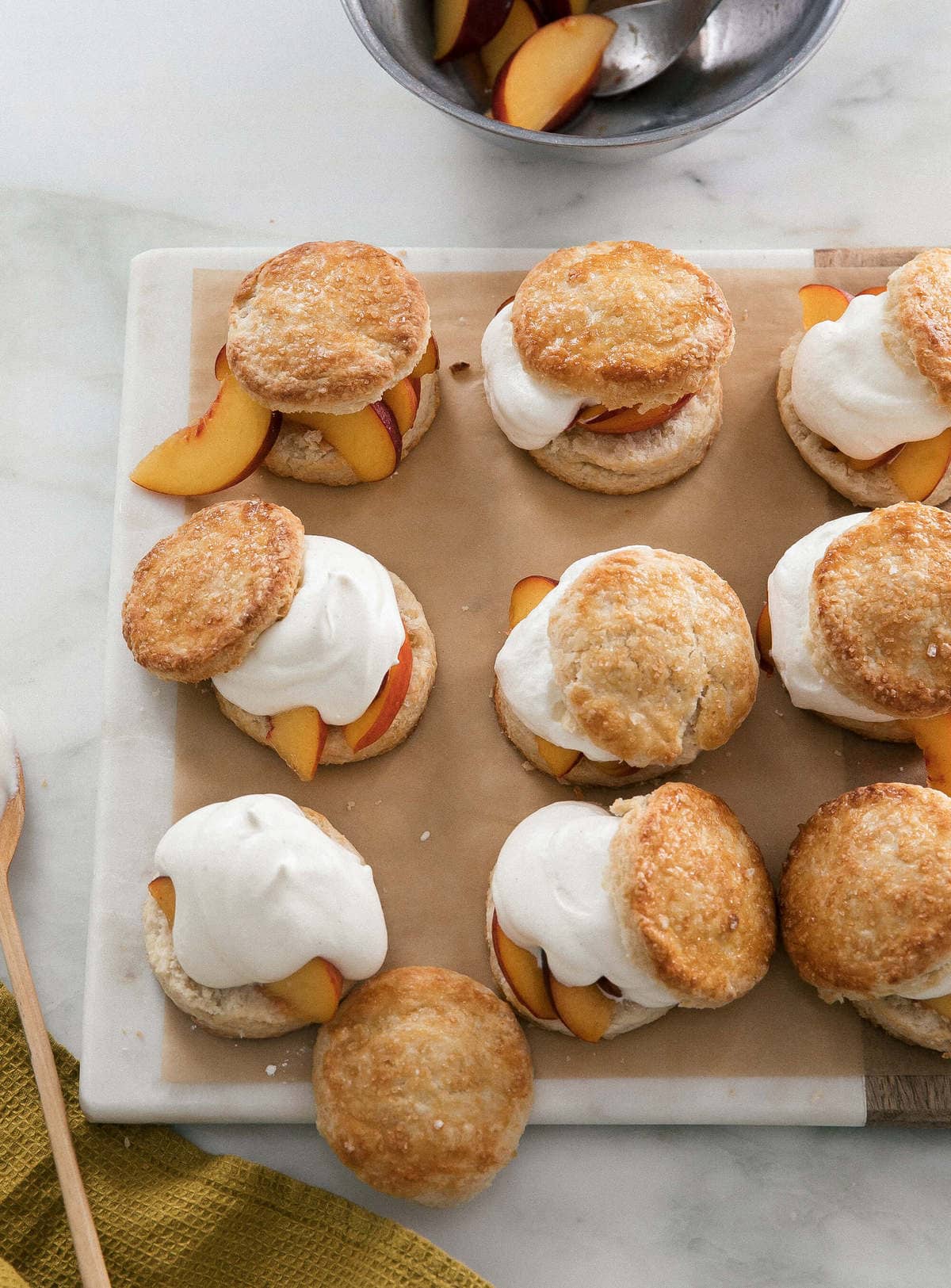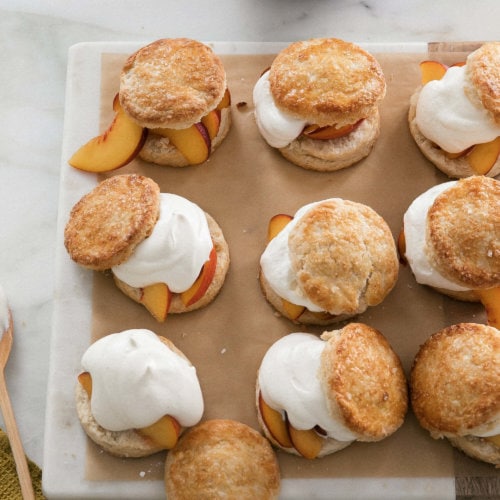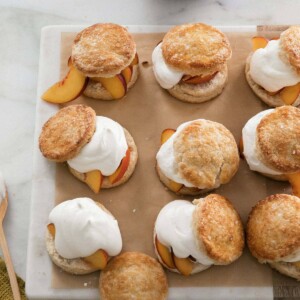 Sliced maserated peaches spooned over a sweet, fluffy biscuits and then topped with softly whipped cream.
Ingredients
Biscuits:
4

cups

all-purpose flour

1

tablespoon plus 1 teaspoon

baking powder

2

teaspoons

kosher salt

1/4

cup

granulated sugar

1/2

teaspoon

baking soda

12

tablespoons

unsalted butter

,

cold

4

tablespoons

trans fat-free vegetable shortening

1

cup

cold buttermilk

1

tablespoon

turbinado

,

for topping

Flaky sea salt

,

for topping
Filling:
3

whole

peaches (about 2 pounds)

,

thinly sliced

Zest and juice from 1 small lemon

1

teaspoon

pure vanilla paste or extract

Pinch of kosher salt

1 1/2

cups

heavy cream

2

tablespoons

powdered sugar
Directions
To Make the Dough with a Food Processor:
Combine the flour, baking powder, sugar, salt, and baking soda in a food processor fitted with the blade attachment. Pulse a few times, until well mixed. Add the shortening and pulse until fine crumbs form. Switch to the grating disk attachment. With the machine running, push the frozen butter through the feed tube.

Transfer the mixture to a large bowl and toss to make sure all the butter shreds are coated with the floury crumbs. Add the buttermilk and fold in using a rubber spatula, running the flat of it through the center of the mixture and then around the edge while you rotate the bowl. Keep at it, being as gentle as possible, until the dry ingredients are evenly hoisted.
To Make the Dough by Hand:
Mix the flour, baking powder, sugar, salt, and baking soda in a large bowl with an open hand, using your fingers as a whisk. Add the shortening and use your fingertips to pinch it completely into the flour until the mixture resembles coarse crumbs.

Using a box grater, grate the frozen butter on the large holes into the flour. Toss until all the pieces are coated. Add the buttermilk to the flour mixture. Using your hand as a spatula, gently mix until there are no dry bits of flour left. The dough will be sticky.

Lightly coat your work surface with nonstick cooking spray, then flour. (The spray keeps the flour in place.)

Turn the dough out onto the prepared surface and gently pat into a 1/2-inch thick rectangle. Sprinkle the dough with flour, then fold it in thirds like a letter. Repeat the patting, sprinkling, and folding twice, rotating the dough 90 degrees each time. Pat the dough to 3/4-inch thickness. It should no longer be sticky.

Flour a 3-inch-round biscuit cutter and press it straight down into the dough. Transfer the round to the prepared pan, placing the bottom side up. Repeat, cutting the rounds as close together as possible and spacing them 1-inch apart on the pan. Stack the scraps, pat to 3/4-inch thickness, and cut again. Refrigerate the rounds until cold, at least 15 minutes.

Preheat the oven to 450 degrees F.

Bake until the tops are golden brown and crisp, about 16 minutes. Let cool for 5 minutes on the pan before serving hot.
To Make Ahead:
You can let the biscuits cool completely, then freeze them for up to 2 months. To serve, thaw them and then bake in a 350 degrees F oven until toasted and warm.
To Make the Filling:
To a medium bowl, mix together the sugar, lemon juice, zest, vanilla paste or extract and a pinch of salt. Add the sliced peaches and toss until evenly coated. Allow to sit to macerate (i.e., marinate) for about 10 to 15 minutes.

Beat the heavy cream with the powdered sugar either by hand or using an electric hand mixer until light and fluffy.
To Serve:
Slice the biscuits in half. Spoon the peach mixture to the bottom half of the biscuit. Top with a spoon full of whipped cream. Repeat until you've worked through shortcakes.
Notes
If you don't want to use shortening, you can leave it out and add an extra 2 tablespoons of unsalted butter. It won't be the EXACT same texture but it'll be pretty good! 
I used vanilla paste in the whipped cream and the peaches. Here's a link. 
Nutrition Facts
Peach Shortcakes
Amount Per Serving (8 g)
Calories 230
Calories from Fat 18
% Daily Value*
Fat 2g3%
Cholesterol 100mg33%
Sodium 23mg1%
Potassium 2mg0%
Carbohydrates 10g3%
Protein 9g18%
* Percent Daily Values are based on a 2000 calorie diet.