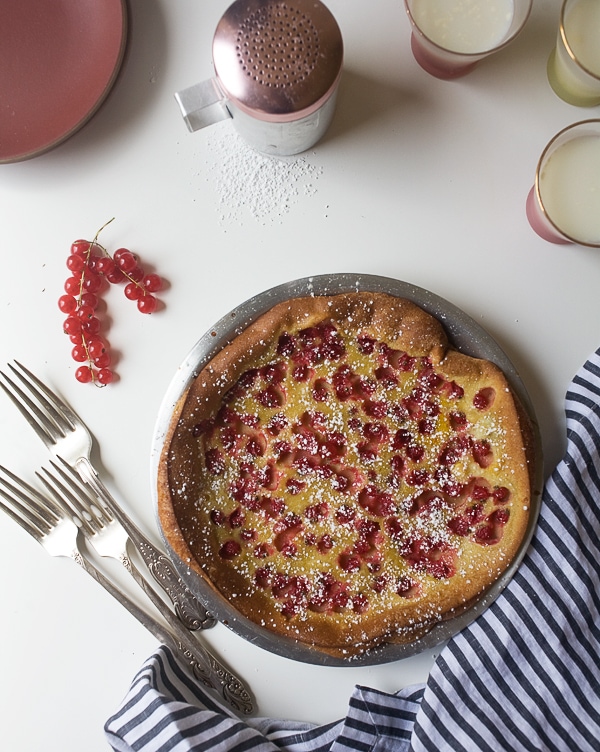 I'm pretty sure I'm in a bit of a summer slump. I've been wearing the same short/t-shirt combo with birkenstocks for what feels like FOREVER and I feel like I'm somehow always sort of sweating. It's a summer rut, I think. I'm not all that surprised it's here; we're close to August and the season has worn out its welcome a bit, amirite? We're officially in those Dog Days of Summer.
The thing that still makes me excited about summer is scoring produce like sour cherries, bright yellow peaches and these super pretty red currants. There's a small Armenian produce market not too far from my house and they always have some killer fruits and veggies.
I don't go in there that often but whenever I do, I'm always being introduced to new-to-me types of plums and pears. (Last year I made this Sour Plum Brown Butter Upside Down Cake with sour plums I got there.)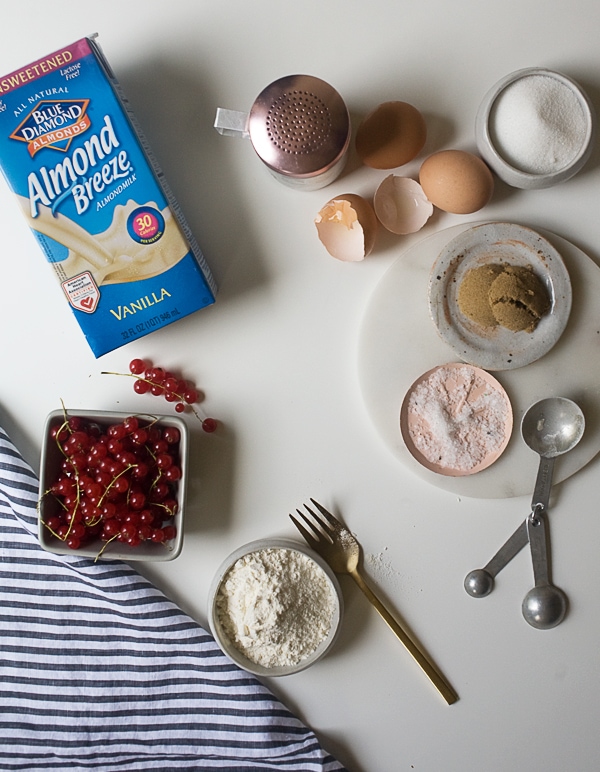 Late last week I couldn't keep my eyes off these currants. They were really beautiful and I figured their wonderful tartness would be awesome in a sweet clafoutis. I haven't made one in a while but gosh whenever I do I wonder why it's been so long.
For this recipe I teamed up with Almond Breeze, making the recipe ultra special because it's completely dairy-free.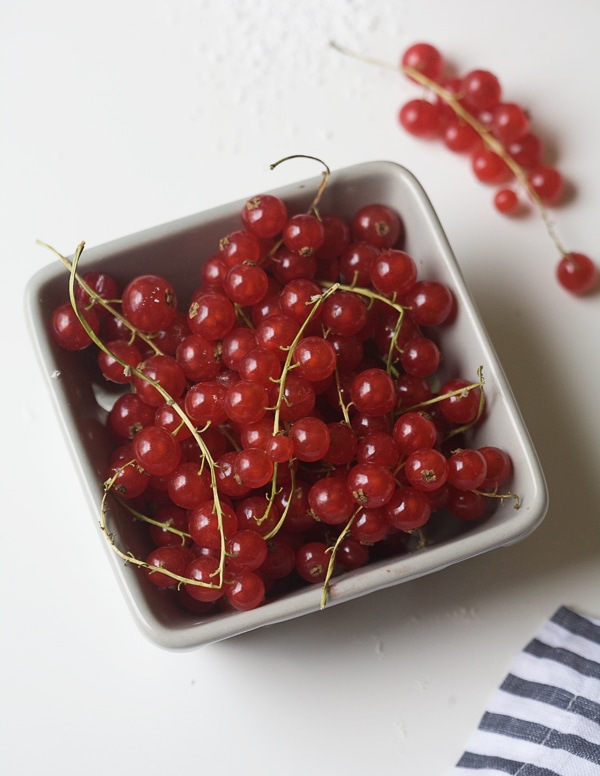 If you're not familiar with a clafoutis, think of them as one part pancake, one part custard. They're eggy and sweet and fluffy. Traditionally they're made with dark black cherries but people swap in different types of fruit all the time.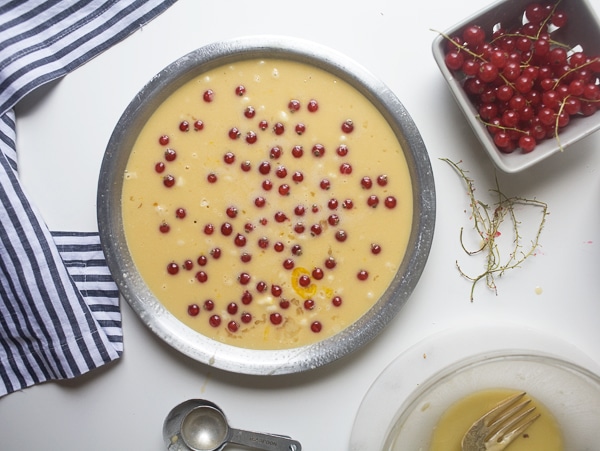 If you can't find red currants, this recipe welcomes all sorts of options. Think champagne grapes, sour cherries, regular cherries…etc., basically just stick with fruits that won't leech out too much water (read: peaches).
Here's to getting out of our summer rut…one dessert at a time.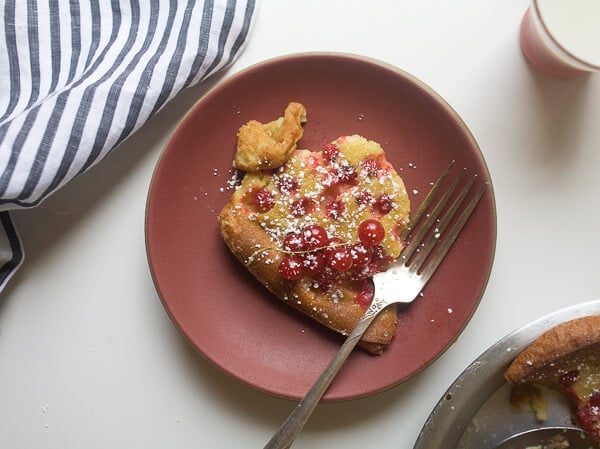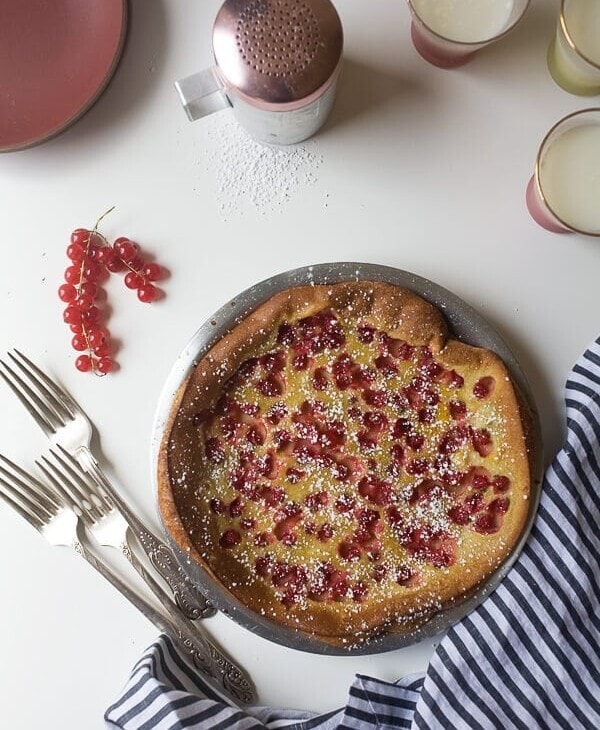 Print Recipe
Red Currant Clafoutis
Serving Size:
-inch clafoutis
Ingredients
Cooking spray

1/2

cup

all-purpose flour

1/3

cup

white granulated sugar

2

tablespoons

brown sugar

1/4

teaspoon

salt

3

large eggs

3/4

cup

plus 1 tablespoon, Blue Diamond Vanilla Unsweetened Almond Breeze

1/2

cup

fresh currants

removed from their vines, plus more for garnish

Powdered Sugar

for garnish
Instructions
Preheat the oven to 350F. Liberally grease a 9-inch round baking dish with cooking spray. Set aside.

In a large bowl, mix together the flour, white sugar, brown sugar and salt. Mix in the eggs and almond milk. Whisk until completely combined. The batter will have a few small lumps and be very thin. Allow to rest on the counter while pick off the currants from their vines.

Pour the batter into the baking dish. Sprinkle the currants on top, being sure to spread them out evenly. Bake for 40 to 45 minutes or until the edges are golden brown and the center is set and firm. The clafoutis will puff up slightly in the oven, but will deflate as it sits--not a big deal. Garnish with a few more vines of fresh currants and dust the clafoutis with powdered sugar. Serve with whipped cream, ice cream or enjoy it all by itself.
Notes
If you can't find fresh red currants, try it with champagne grapes, blueberries or blackberries.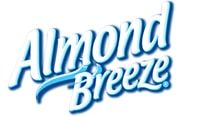 (This post is sponsored by Almond Breeze. Thank you for supporting the sponsors that keep A Cozy Kitchen cozy.)