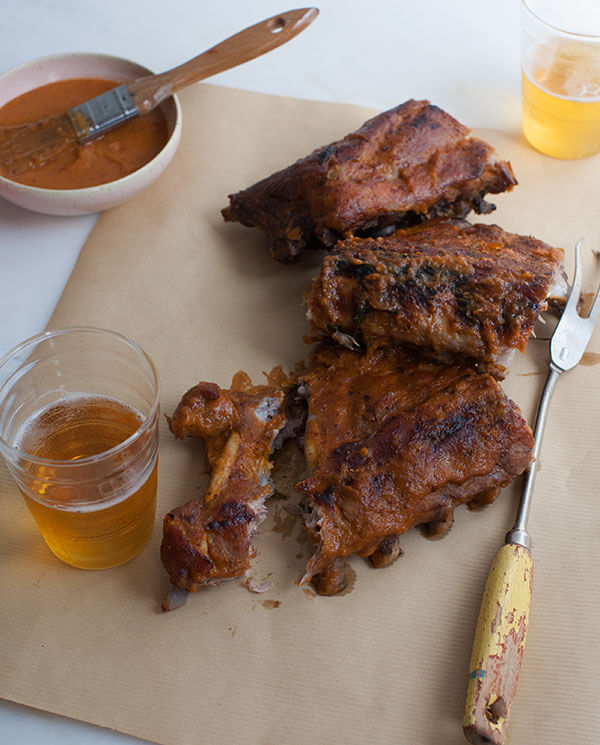 Let me start by saying thank you so much to all of you who pre-ordered my new book, The Year of Cozy. Your support truly means the world to me.
Now, ribs…
Have you ever had someone be very skeptical about something you're making. These people can also be referred to as H8TERZ. They drink haterade as they sit there and h8te.
When I was discussing this recipe with my boyfriend, as I often do, he was h8ting HARD. He didn't like the peach. He didn't like the bourbon. "It's too common of a combination." Blah blah I don't care. It's a delicious combination that's why you see it a lot and I've never seen it on ribs so let me live!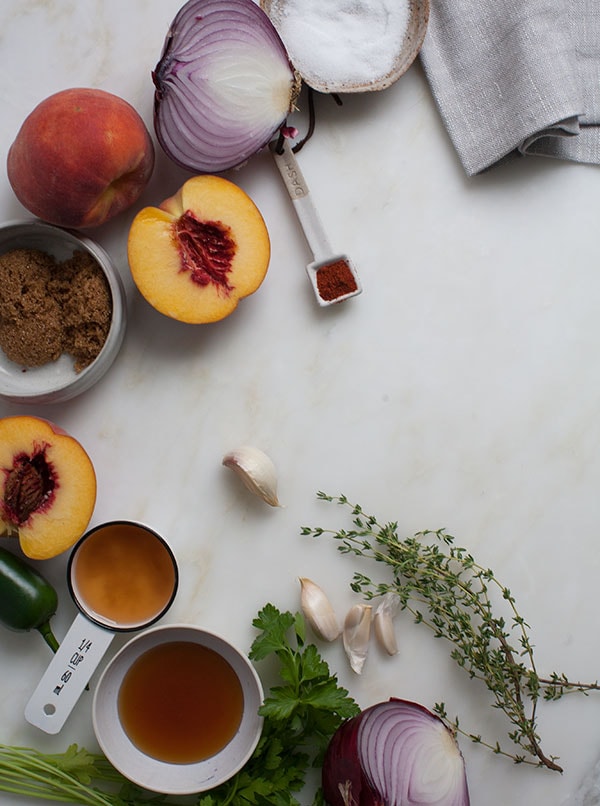 If you're like me, you might not have a grill. Or maybe you're just lazy and you don't want to buy charcoal and get that whole shebang going but you want some ribs. This is a good solution to that predicament. Oven ribs mean you can even rib (verb) on a weeknight.
Oven ribs begin with a bit of Italian parsley, thyme and garlic cloves being placed in the center of a sheet of foil (the exact size I used is below).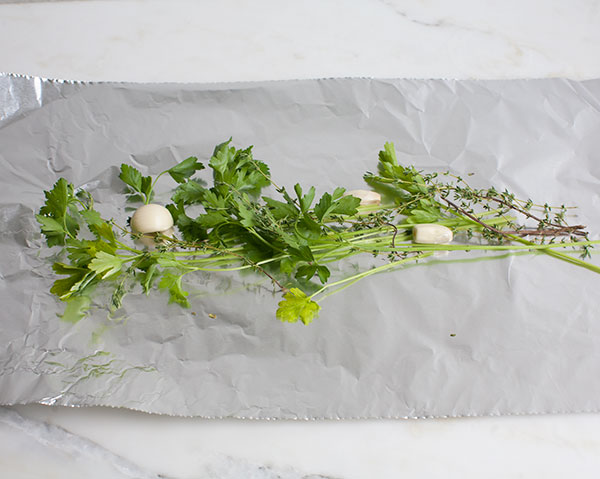 The rack of baby back ribs is placed directly on top. I salted both sides of the rack.
I then placed another sheet of foil right on top and sealed the edges like you would a present. Very neatly! Just like Christmas, you guys.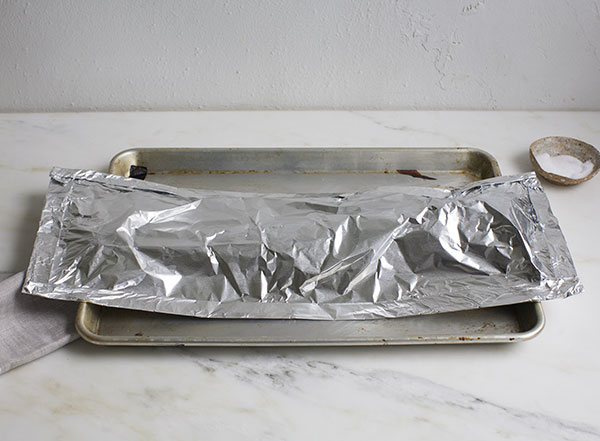 In the oven for 30 minutes at 350 degrees F. And then for another 1 to 2 hours at 250 degrees F. While it's cooking in the oven, the bbq sauce.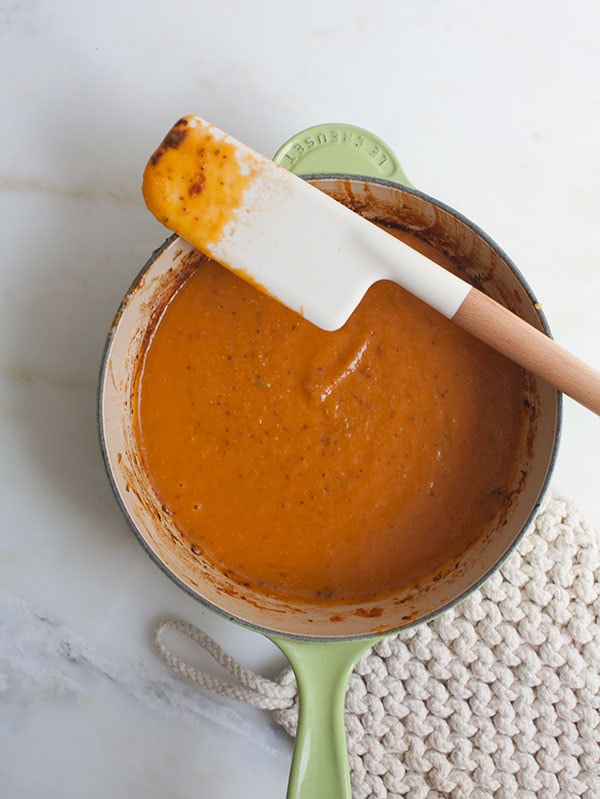 Unwrap your beautiful meat present and then brush the ribs, on both sides, with the bbq sauce. You'll want to eat it right away and make a mess…but wait. Put it under the broiler until it's all charred on its edges and the sauce gets pasty in a way that bbq sauce only gets when it's under extreme temperature.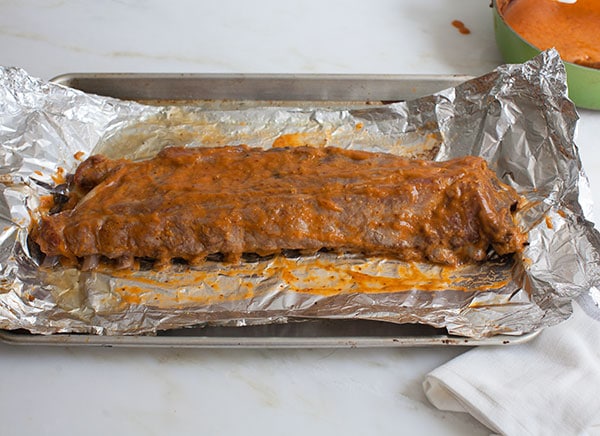 AND THEN EAT IT!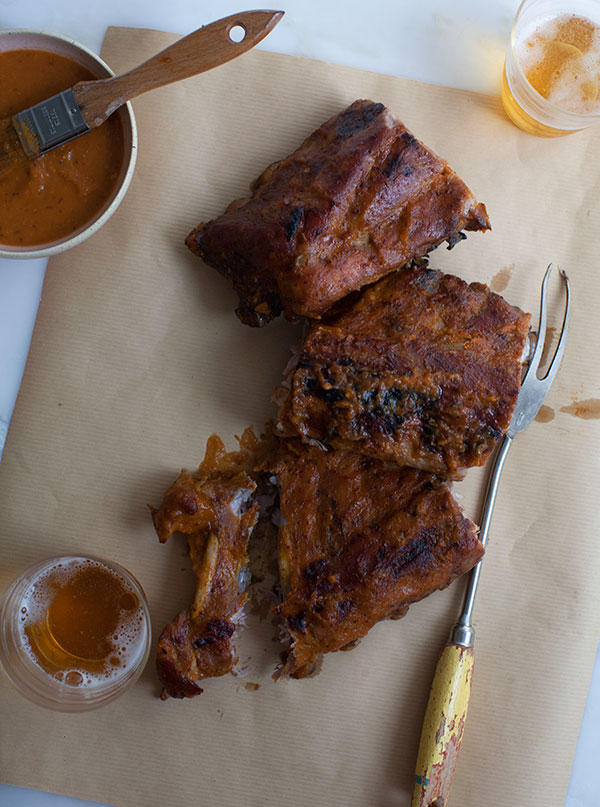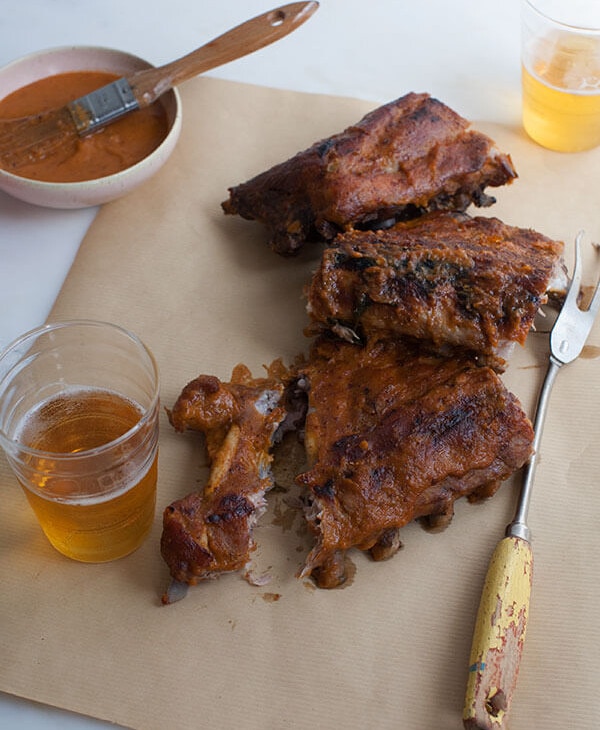 Print Recipe
Oven Baked Ribs with Peach Bourbon BBQ Sauce
Ingredients
Oven Baked Ribs
1

rack of baby rack ribs

weight 2 1/2 pounds

Salt

3

sprigs of thyme

3

stems of Italian parsley

3

garlic cloves

peeled
Peach Bourbon BBQ Sauce
1

pound

peaches

about 2 large peaches, cut in half

2

tablespoons

olive oil

1

sweet red onion

diced (from 1/2 sweet red onion)

1/2

jalapeno

minced

3

garlic cloves

1/4

cup

apple cider vinegar

1/4

cup

water

3

tablespoons

bourbon

2

tablespoons

tomato paste

2

tablespoons

honey

1

tablespoons

brown Dijon mustard

1

tablespoon

light brown sugar

maybe more?

1

teaspoon

Worcestershire sauce

Salt
Instructions
For ribs: Sprinkle ribs on both sides with a salt. I was pretty liberal with my salt and I went through about 1/2 teaspoon per side. Place fresh herbs and cloves of garlic in the center of a sheet of foil that measures about 24 inches long (your ribs may vary in size so just eyeball it, being sure to leave about 4 inches on each side. Place rack of ribs on top of the herbs and garlic. Top with a second sheet of foil that is the same size as the bottom sheet. Fold in the sides of the foil, wrapping it like a present. Transfer the foil packaged ribs to a baking sheet and place in the oven to bake for 30 minutes. Turn the oven's temperature down to 250 degrees F and bake for an additional 1 1/2 hours to 2 hours. Meanwhile, make the bbq sauce.

For the bbq sauce: Bring a medium saucepan with water to a boil. Using a knife, make an X in the bottom of each peach half. Drop each peach half into the boiling water, skin side down, and cook for about 1 minute, until the skins turn a more opaque color and the peach looks a bit softer. Transfer to a cutting board to cool. Peel peaches, discarding the skins and pit, and coarsely chop.

In same pot (just be sure to dump out the water - no need to wash it) over medium heat, add two tablespoons of olive oil. When the oil is hot, add the onion and cook until translucent, about 5 minutes. Next, add the garlic, jalapeño and chopped up peach. Cook for an additional 5 minutes, stirring every so often, until the peaches have really softened and everything is fragrant. Add the apple cider vinegar, water, bourbon, tomato paste, honey, Dijon mustard, light brown sugar, Worcestershire sauce and a few pinches of salt. Bring the sauce to a simmer, cover and then immediately turn the heat to low. Cook for about 10 minutes, until the sauce has thickened, peaches are super soft and everything smells delicious.

If you have an immersion blender, you can use it now. Blend the sauce until smooth. If you don't, no biggie. Transfer this bbq sauce to the blender and pulse until very smooth. Be sure to allow air to escape as you're blending to avoid a blender explosion.

Assembly: When the ribs are done cooking, carefully remove the top layer of foil, being careful because that steam is HOT! Brush the ribs very liberally with the bbq sauce--I'm talking LAYER IT ON. Turn the broiler on and place the ribs underneath the broiler until the edges are lightly charred and the sauce has thickened, about 5 minutes. Put another layer of bbq sauce on the ribs and repeat the broiler process. Serve immediately with more bbq sauce on the side and cold beer. It's summer afterall.