Rhubarb Strawberry Pink Peppercorn Pie
15
Mar 14, 2017, Updated Dec 22, 2018
Disclosure: This post may contain affiliate links, which means I may earn a commission if you click on the link and make a purchase.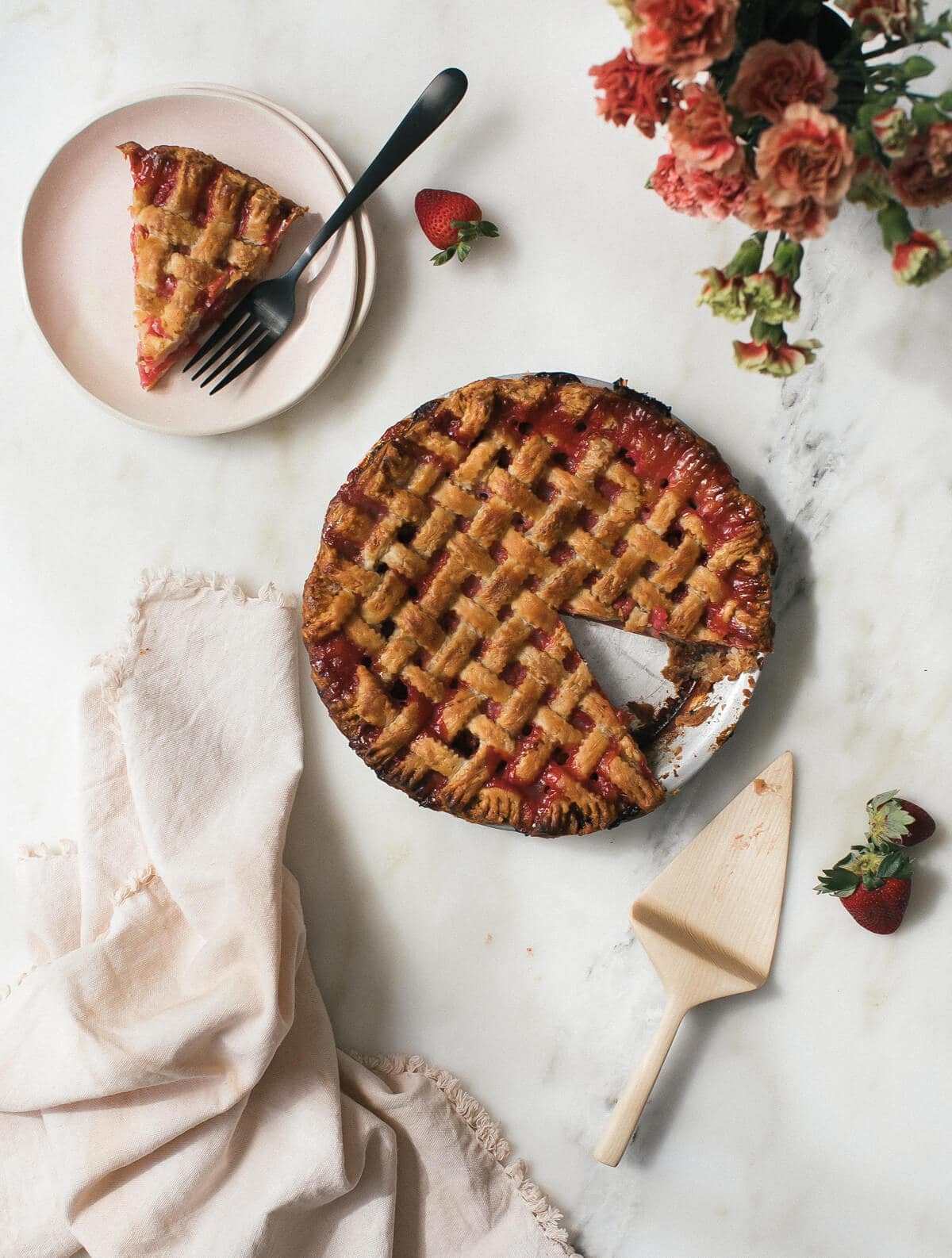 Do you wanna know what today is?
It's 3.14 AKA gorgeous, beautiful PI DAY!
This is honestly one of my favorite food days. I know it gets sort of exhausting with the whole "national peanut butter sandwich day" or "strawberry shortcake with basil pesto day," etc., etc.. But Pi Day is 100% LEGIT.
I've always wanted to put pink peppercorns in a pie; I'm so glad I finally did it.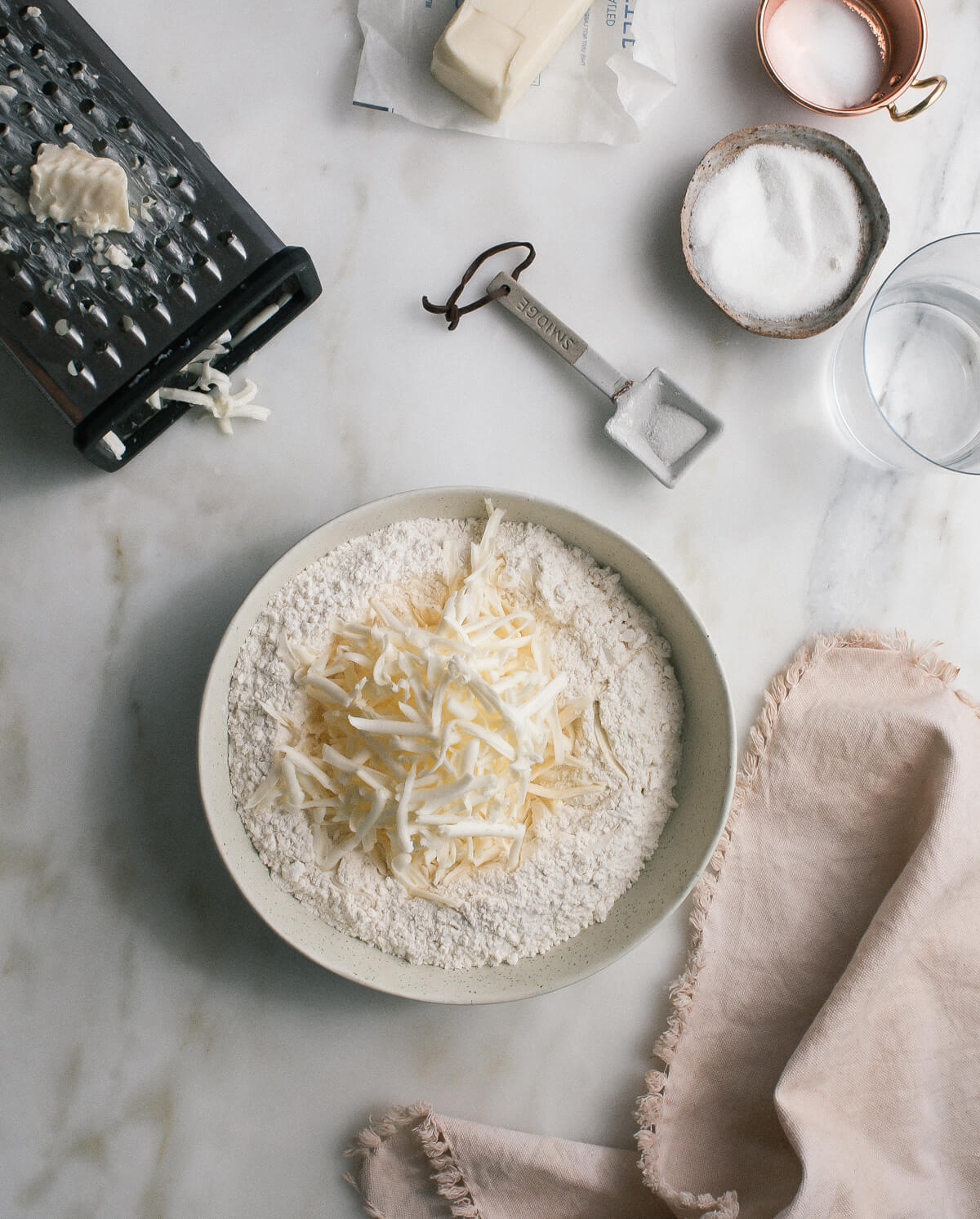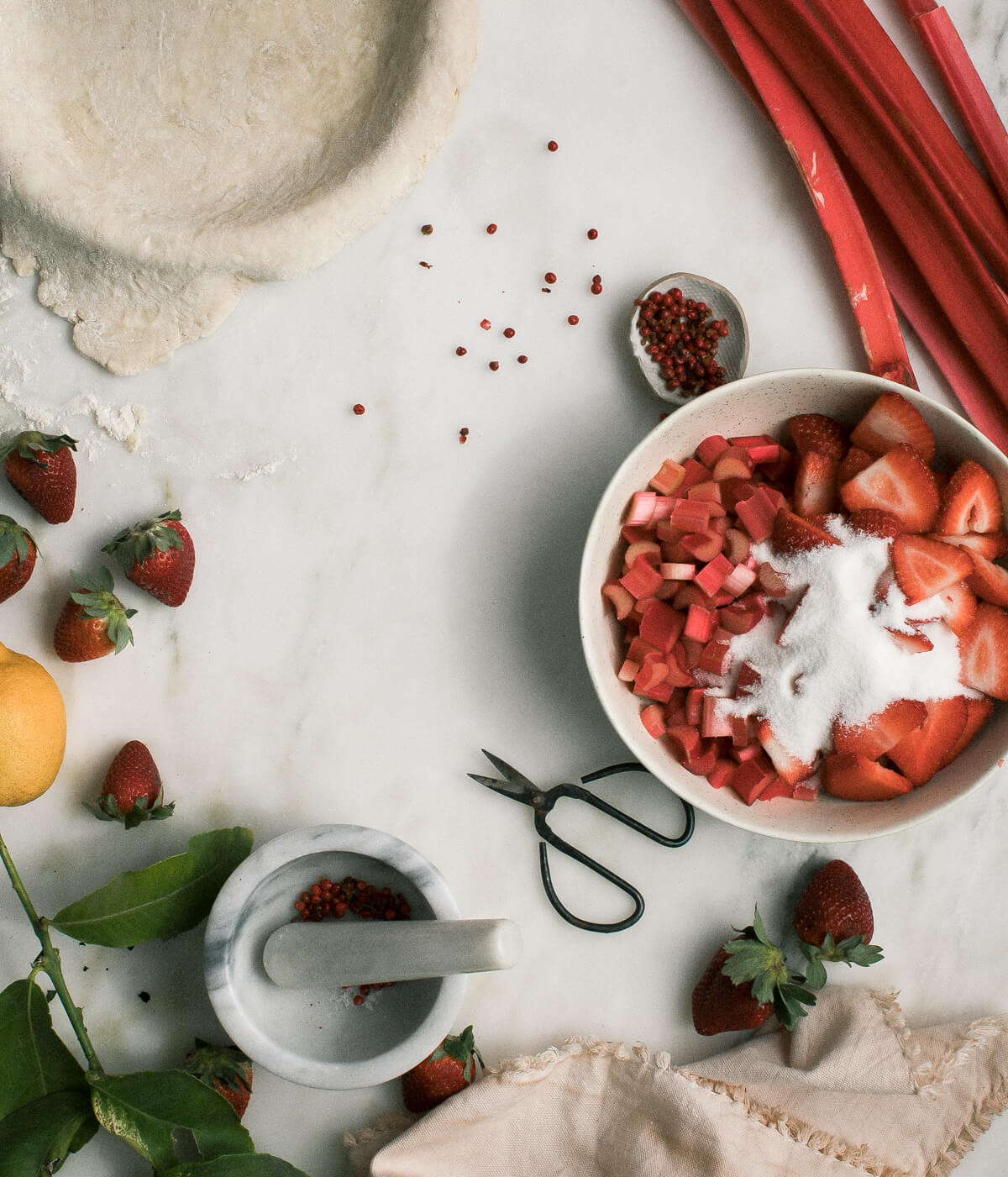 Since the rainy season hit LA and California really hard this year, we have been blessed with beautiful rhubarb. Crisp, beautiful, bright pink rhubarb. I'm so into it.
I have a batch leftover that I need to use up today or tomorrow so let me know if you have any delicious rhubarb ideas! I'll make 'em!
I really want to make sandwich scones. Because Cindy made a version a month ago or so and I can't stop thinking about them. Like roasted rhubarb in a scone. SHIIIITE that'd be good.
Back to this pie. It's simple really. Slice up strawberries, diced rhubarb, vanilla paste, a little lemon juice, corn starch (which I've warmed up to because I used to be a strictly tapioca starch human) and salt and mashed up pink peppercorns.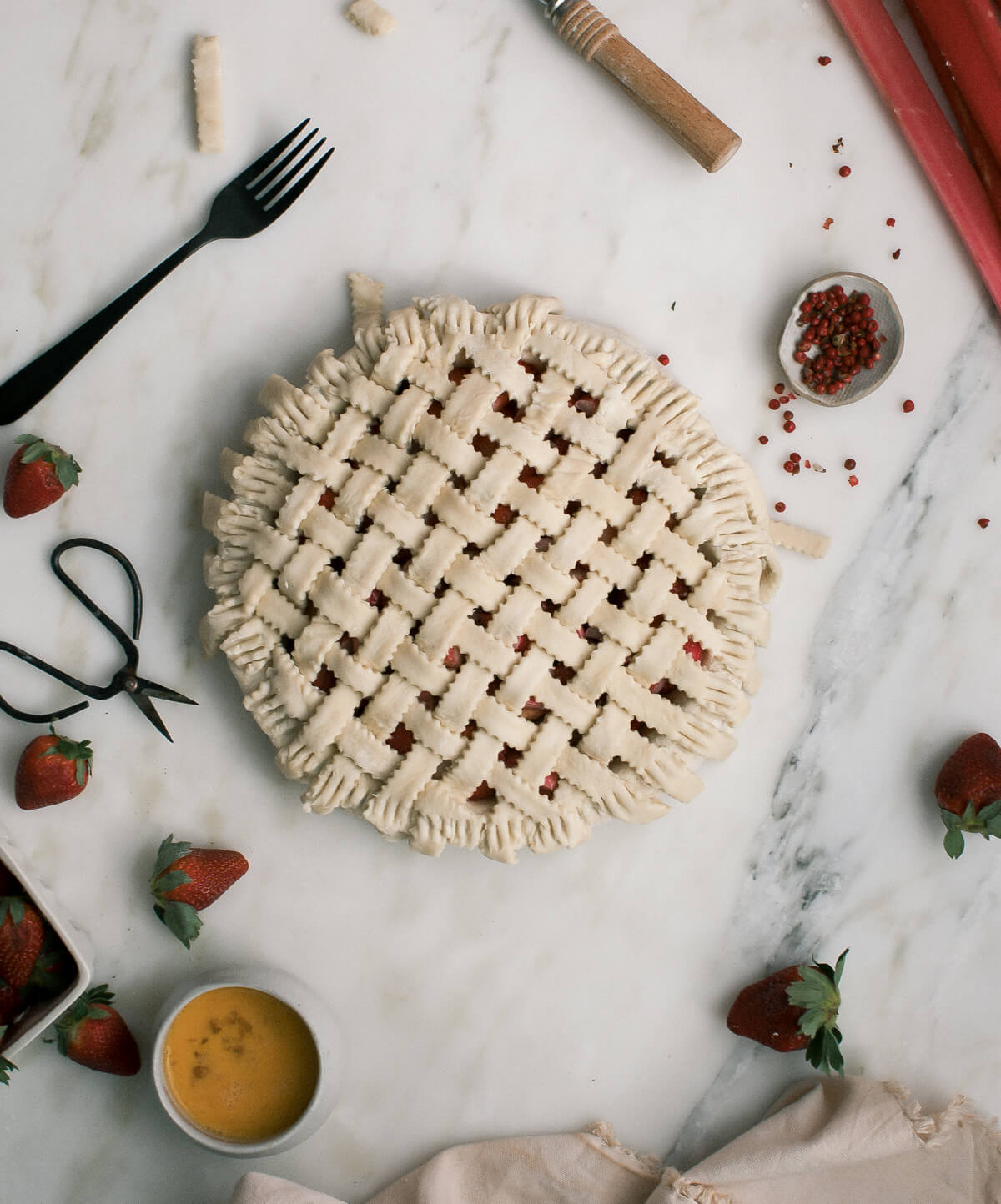 It's a subtle flavor that you sort of catch at the end. It's floral and peppery. I took this pie to my friend Karyn's birthday brunch on Sunday and a lot of people loved it but didn't necessarily ask what that "flavor" was EXCEPT a few people.
It made me happy because it doesn't give it a slight edge/advantage.
Later today (depending on when you read this), I'll be taking over Bake from Scratch's Instagram Feed with photos of this pie! (As the day goes, I'll post more photos of this pie!)
Later this week I'm traveling like a maniac. First there's Palm Springs for my friend Whitney's bachelorette party. And then there's Chicago (I know I was just there!) for a work event. And then Detroit to visit my brother. He just got a job there and moved there and I've never been. I'm super excited!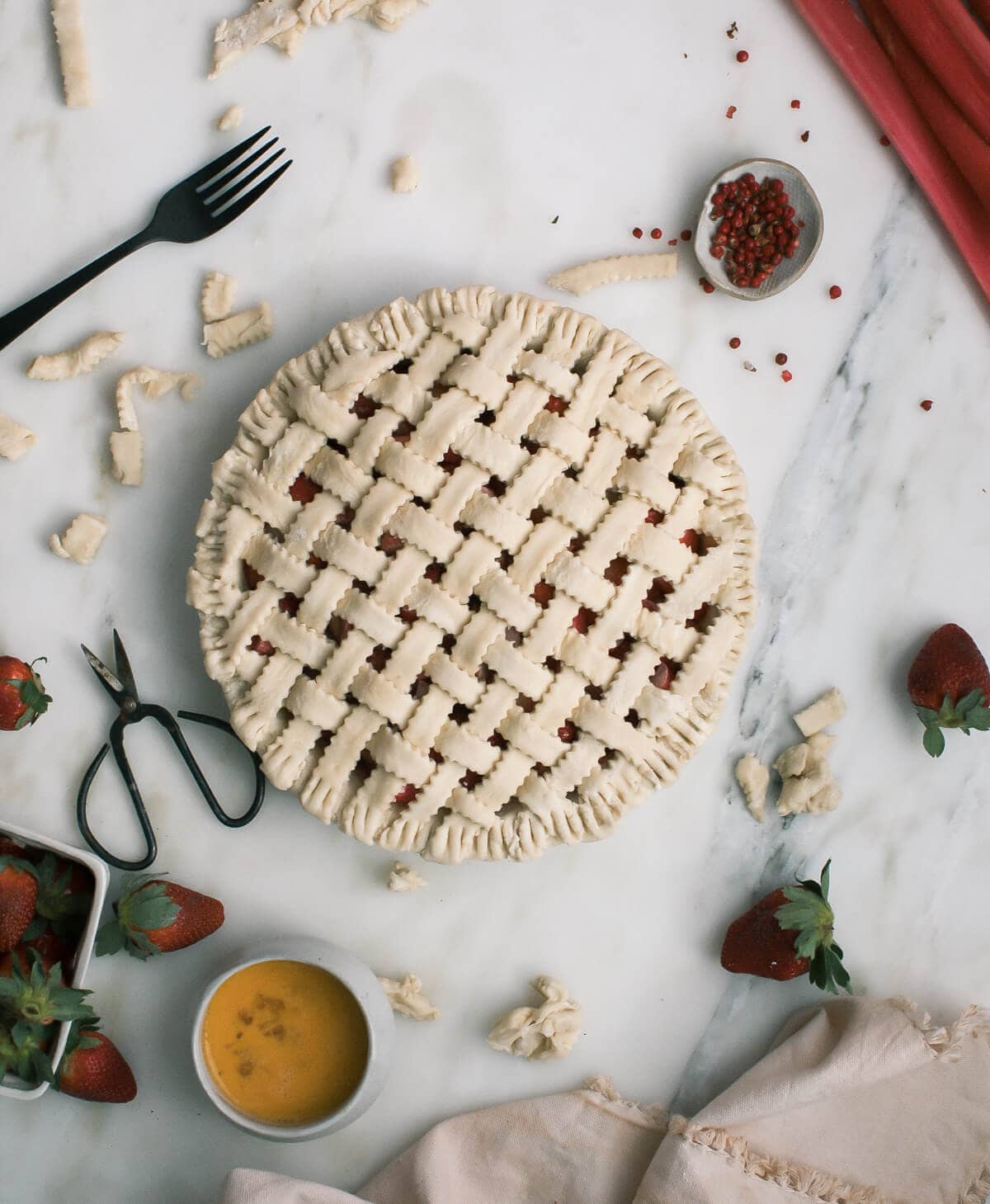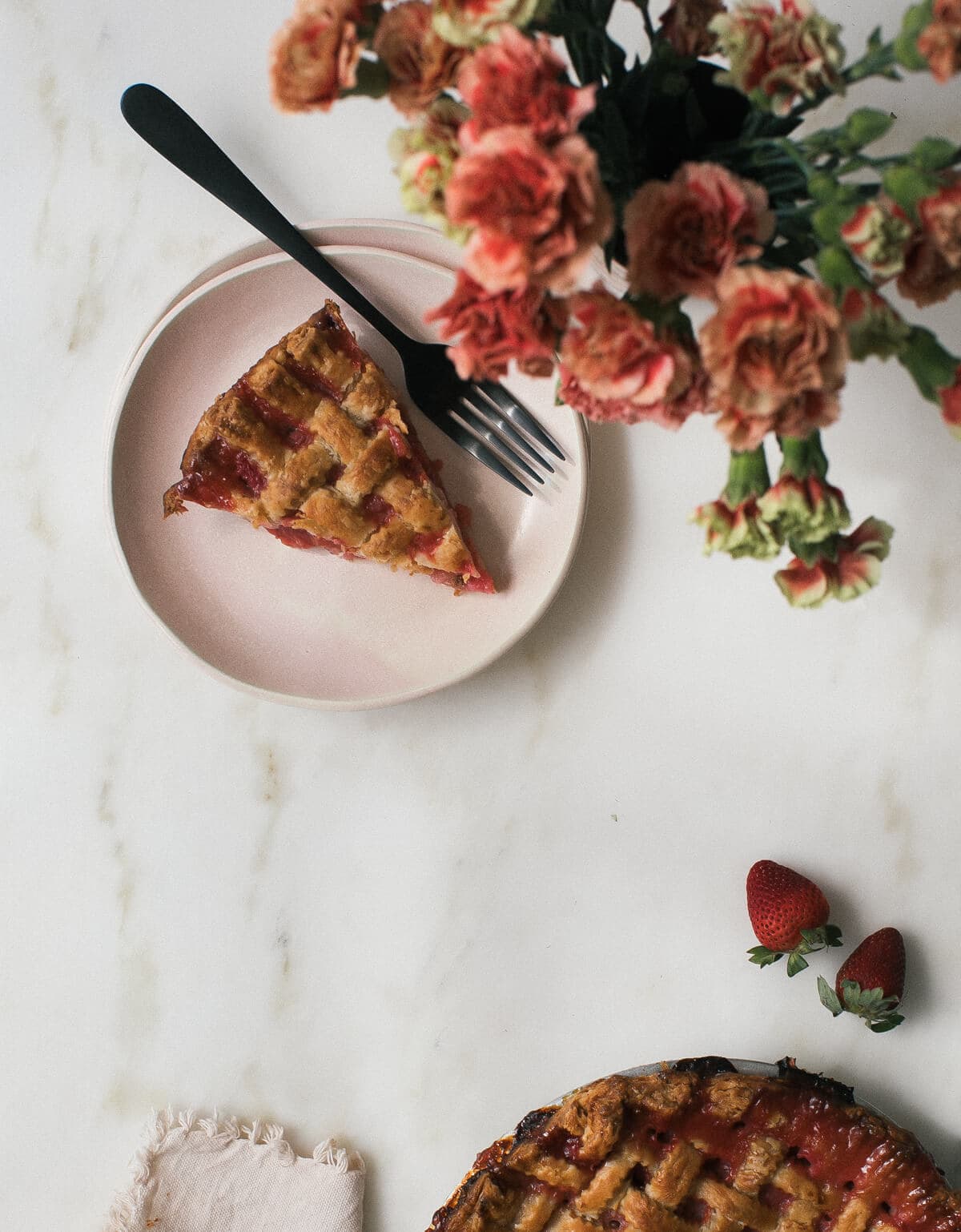 Rhubarb Strawberry Pink Peppercorn Pie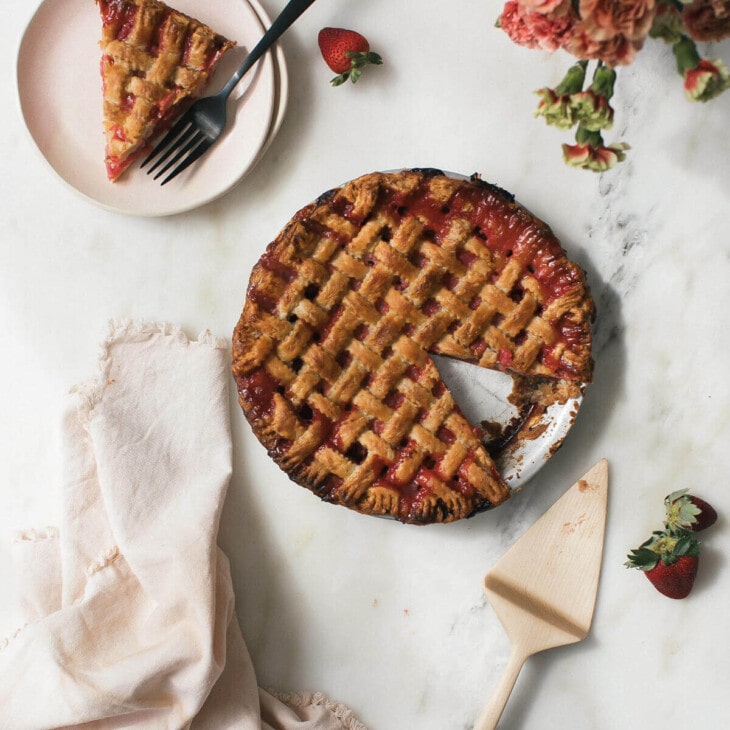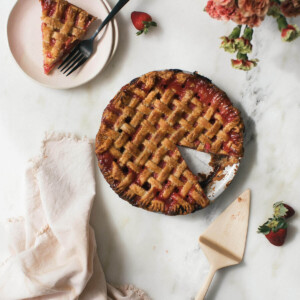 Ingredients
1

batch of double-pie crust

,

store-bought or homemade + more flour for rolling out

1

pound

rhubarb

,

trimmed and cut into 1/4-inch pieces

1

pound

strawberries

,

trimmed and sliced

1/2

cup

white granulated sugar

1/4

cup

cornstarch

Juice from 1/2 lemon

2

teaspoons

pink peppercorns

,

crushed

1

teaspoon

pure vanilla extract or 1/2 teaspoon vanilla paste

1

large egg + 1 tablespoon water

,

whisked (for egg wash)
Instructions
Liberally flour your rolling pin and work surface. Roll out the first disk of dough and place it over your 9-inch pie dish. Press it onto the bottom of the pie dish and up the sides.

In a medium bowl, combine the rhubarb, strawberries, sugar, cornstarch, lemon, pink peppercorns and vanilla. Toss until the fruit is thoroughly combined. Pour the filling into the pie crust and set aside.

Roll out the second disk of dough. To make a lattice like I did, use a ravioli cutter to cut thin strips. Weave a lattice on the top and using the tines of a fork, seal up the edges. Using a pair of scissors, trim the sides of the pie and transfer it to the freezer to chill for 3 to 4 hours.

When you're ready to bake the pie, preheat your oven to 400 degrees F. Place the pie on a baking sheet and brush the pie crust with egg wash. Bake for 20 to 30 minutes and then turn the heat down to 350 degrees F. Bake for an additional 30 minutes, until evenly golden brown. At any time, if your pie gets too brown, you can create a tent using foil. I usually end up tenting the edges with foil—be careful, it'll be hot! Allow the pie to cool for 2 to 3 hours so it can set. Slice it up and serve!