Miso Caramel Apple Pie
10
Nov 21, 2016, Updated Jan 05, 2019
Disclosure: This post may contain affiliate links, which means I may earn a commission if you click on the link and make a purchase.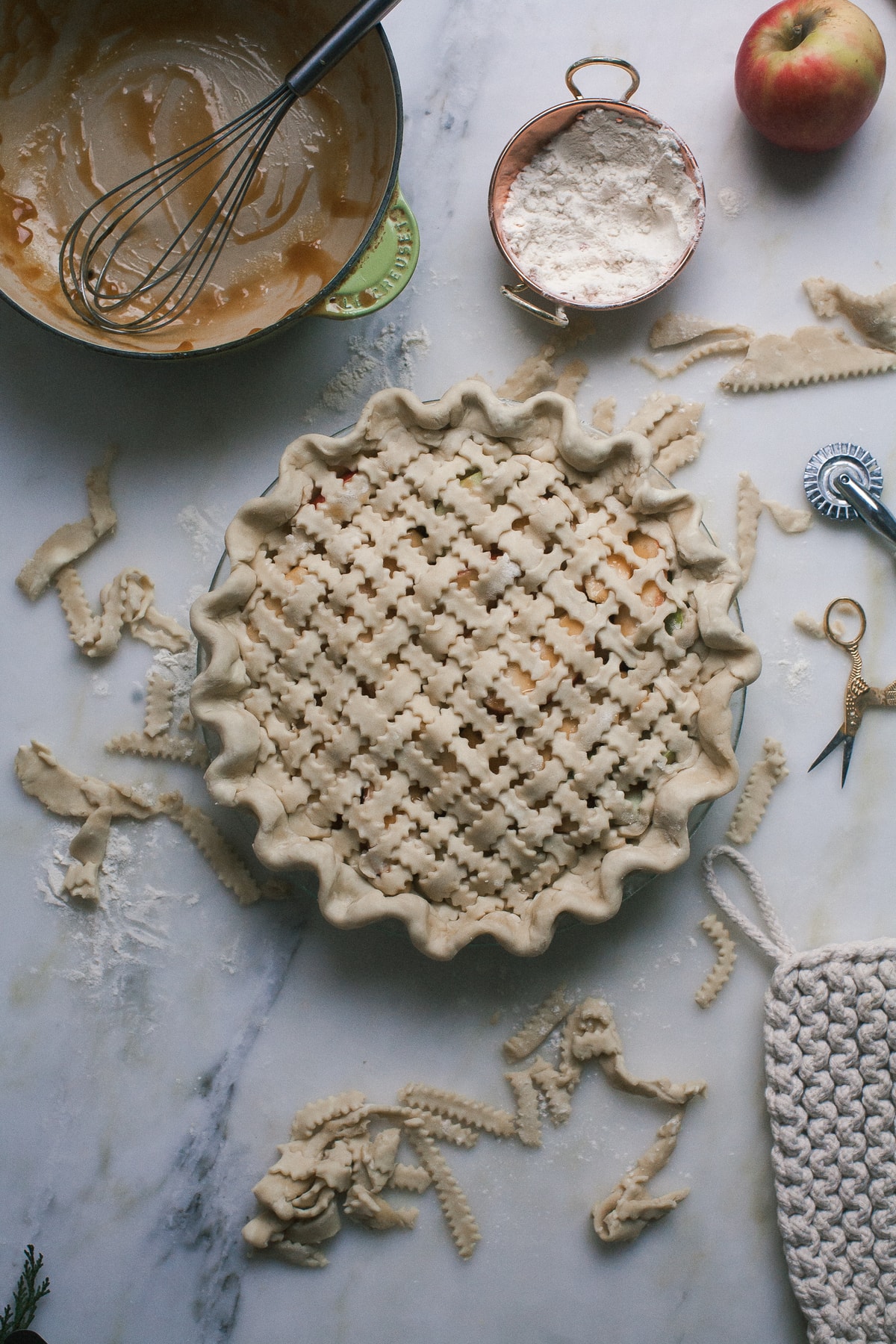 Thanksgiving is only like three days away!!! LAWD!
I've made this pie SO many times. It took me a good amount of times to get the miso caramel exactly how I like it but I FINALLY nailed it.
This pie is so delicious. The miso only makes it a little weird but no so weird that people will really even notice. The miso adds a nice, subtle savory element to it that makes you want to just eat more and more and more.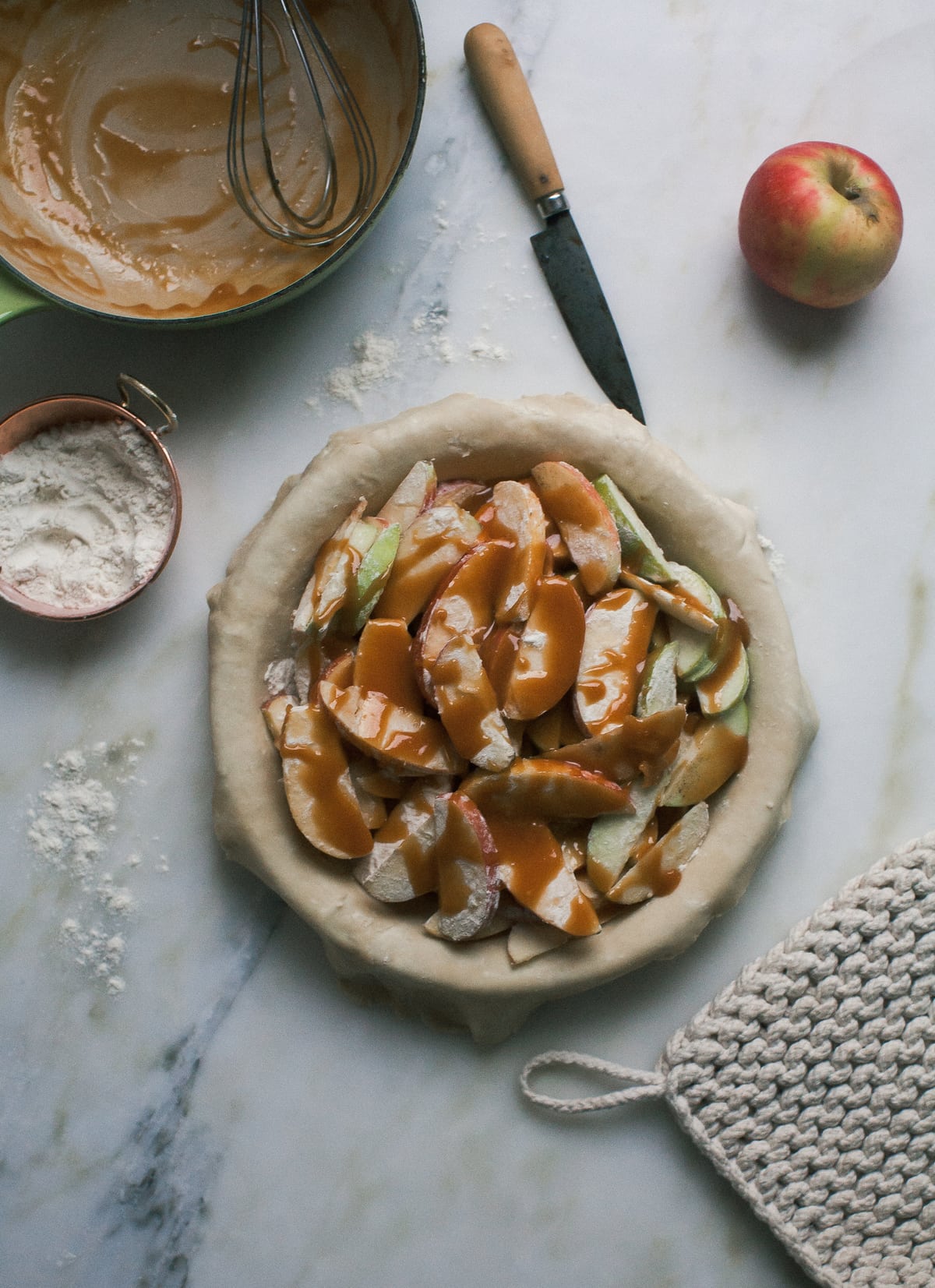 Think about it like this: you put salt in caramel. So instead of salt, we're adding miso. That's it. It works really well together.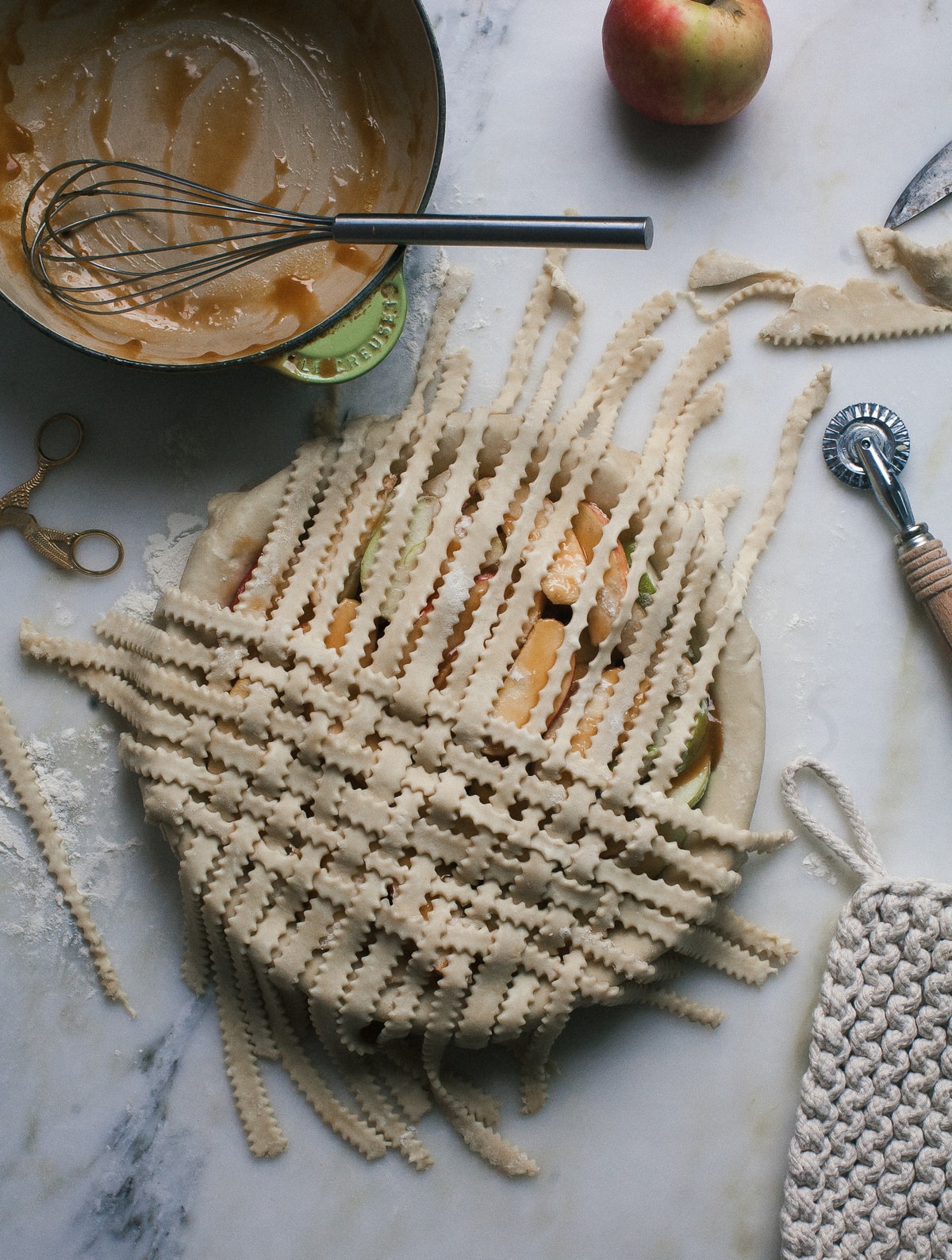 When it comes to the mix of apples, I threw in a few Granny Smith to add some tartness and it was really lovely. The vanilla helps too. A few weeks ago I splurged on some vanilla paste for the very first time–which might be crazy to some–and now I can't believe I've lived without it for so long.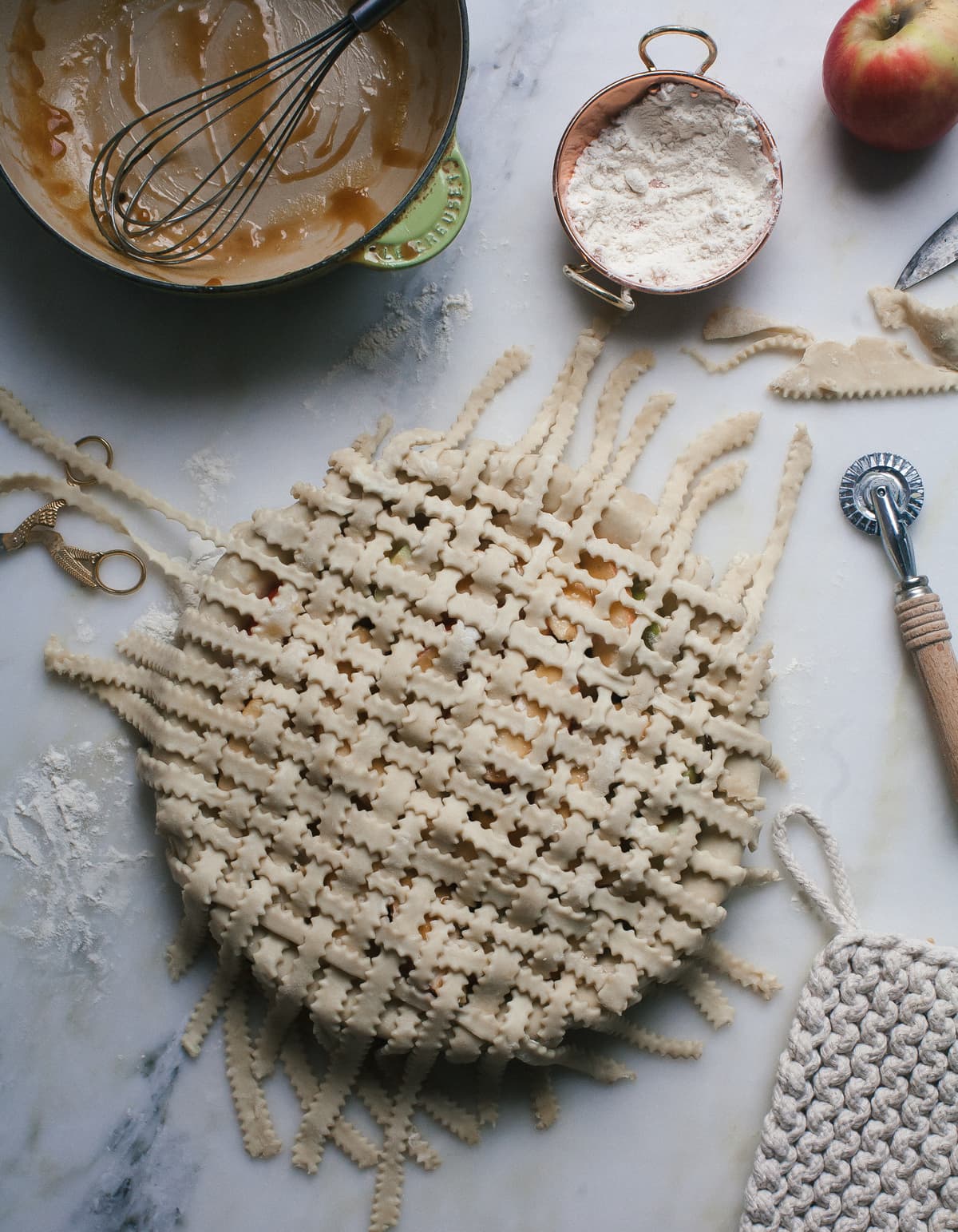 Of course, if you don't have it, regular vanilla works too. And people always ask me where I find miso and most grocery stores sell it. They usually keep it in the refrigerated section near the tofu. For this pie, I used yellow miso but white will work nicely too.
Happy almost-Thanksgiving!
And if you're looking for more pie, here are a few:
rose apple pistachio tart | black-bottomed pecan pie | walnut angostura pie | salty sticky toffee persimmon pudding | asian pear and apple pie | classic apple pie | rose apple pie with bourbon glaze | brûléed classic pumpkin pie | classic caramel pie with oat crumble
and most importantly: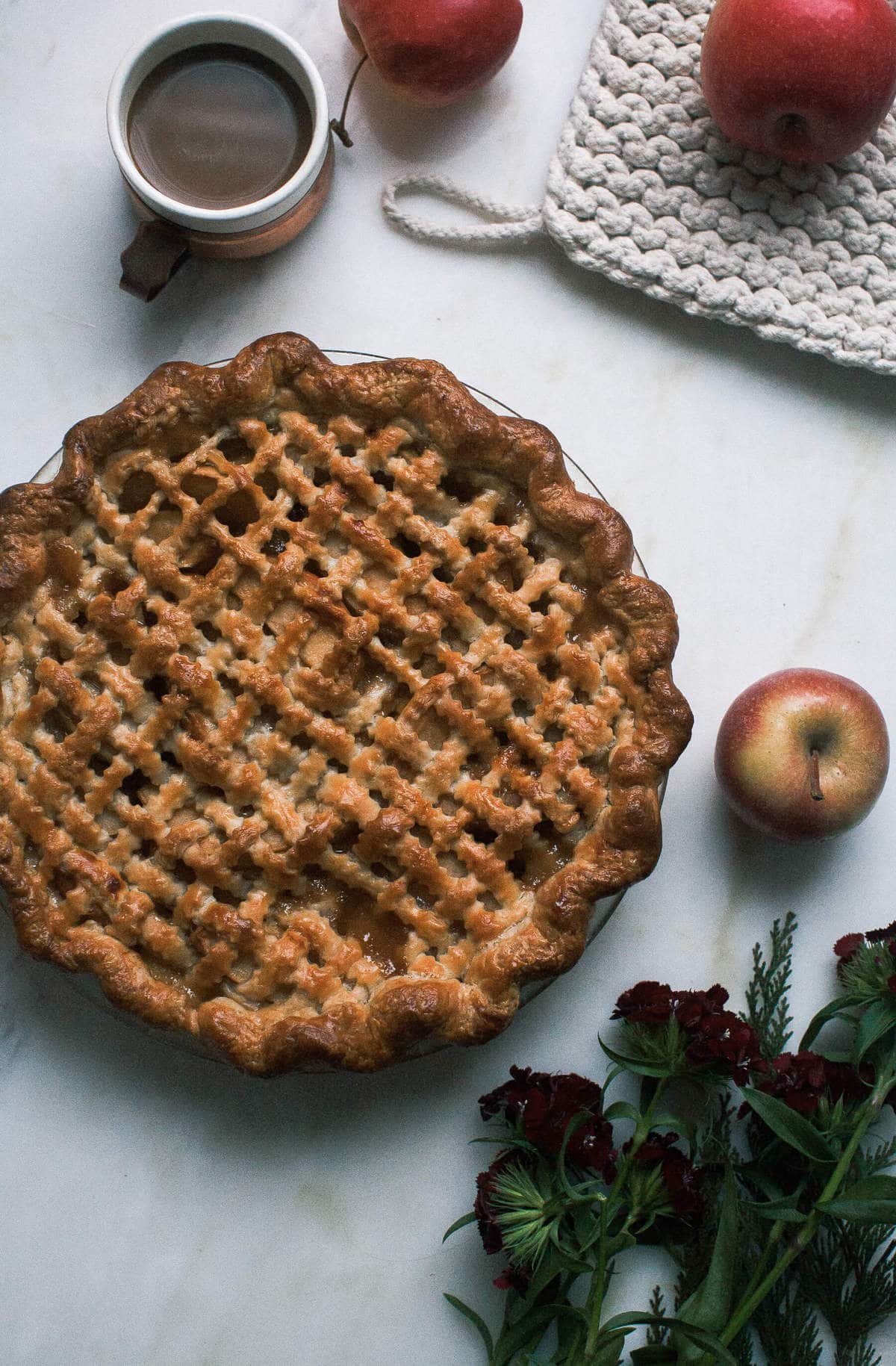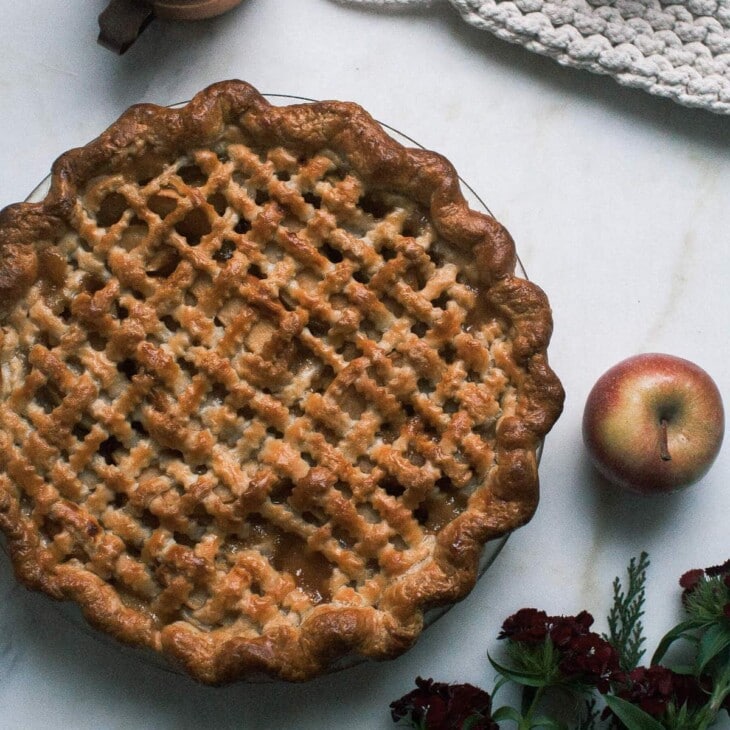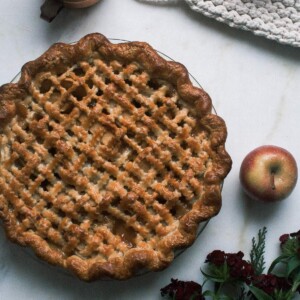 Ingredients
Filling:
1

double pie crust

,

store-bought or homemade

3

Honey Crisp apples

,

cut into 1/2-inch slices

1

Granny Smith Apples

,

I used this for an added tartness – totally optional, cut into 1/2-inch slices

4

tablespoons

of all-purpose flour

,

plus more for rolling out pie crust

1/2

teaspoon

vanilla paste or 2 teaspoons vanilla paste

1

large egg

,

beaten in a small bowl, for egg wash
Miso Caramel Salted Caramel:
2

tablespoons

heavy cream

1/2

cup

white granulated sugar

2

tablespoons

unsalted butter

,

room temperature

2

tablespoons

white or yellow miso
Instructions
Flour your rolling pin and work surface lightly. Roll out the first disk of pie dough, being sure to rotate it every so often, as to avoid it from sticking. Roll it over your rolling pin and lay it over the pie pan, fitting it to the sides. Set aside. In a medium bowl, add the apples to a bowl, along with the vanilla paste and/or vanilla extract with the flour. Toss until combined. Add half of the apple slices to the pie dough and even them out.

To make the miso caramel: In a small saucepan, set over medium heat (or you can use a microwave to do this), warm the heavy cream and then set aside.

In a medium saucepan, set over medium heat, add the sugar. Shake it around a bit until there's an even layer of sugar on the bottom of the saucepan. Cook the sugar, staying close by so you can keep an eye on it, until the edges of the sugar begin to dissolve and turn a light golden brown. At this point, give it a stir until it becomes an even light brown color. At this point, turn off the heat. Pour in the warmed heavy cream (it may bubble up a bit but that's ok) and keep stirring until smooth. Whisk in the butter until melted and then add the miso. If at any time you need to, feel free to turn the heat back on. The color should be a light golden brown.

Immediately pour half of the caramel atop the apples in the pie crust. Top with the remaining pie slices and caramel.

Roll out the second pie disk and add whatever decorative top you would like. Seal up the pie crust with a crimp and transfer to the freezer to chill for 30 minutes.

Meanwhile preheat the oven to 350 degrees F. Brush the pie with egg wash and transfer to the oven to bake for 45 minutes to 1 hour, until the top is an even golden brown and the pie is bubbling. Remove from the oven and allow to cool before slicing. Serve with ice cream or whipped cream.