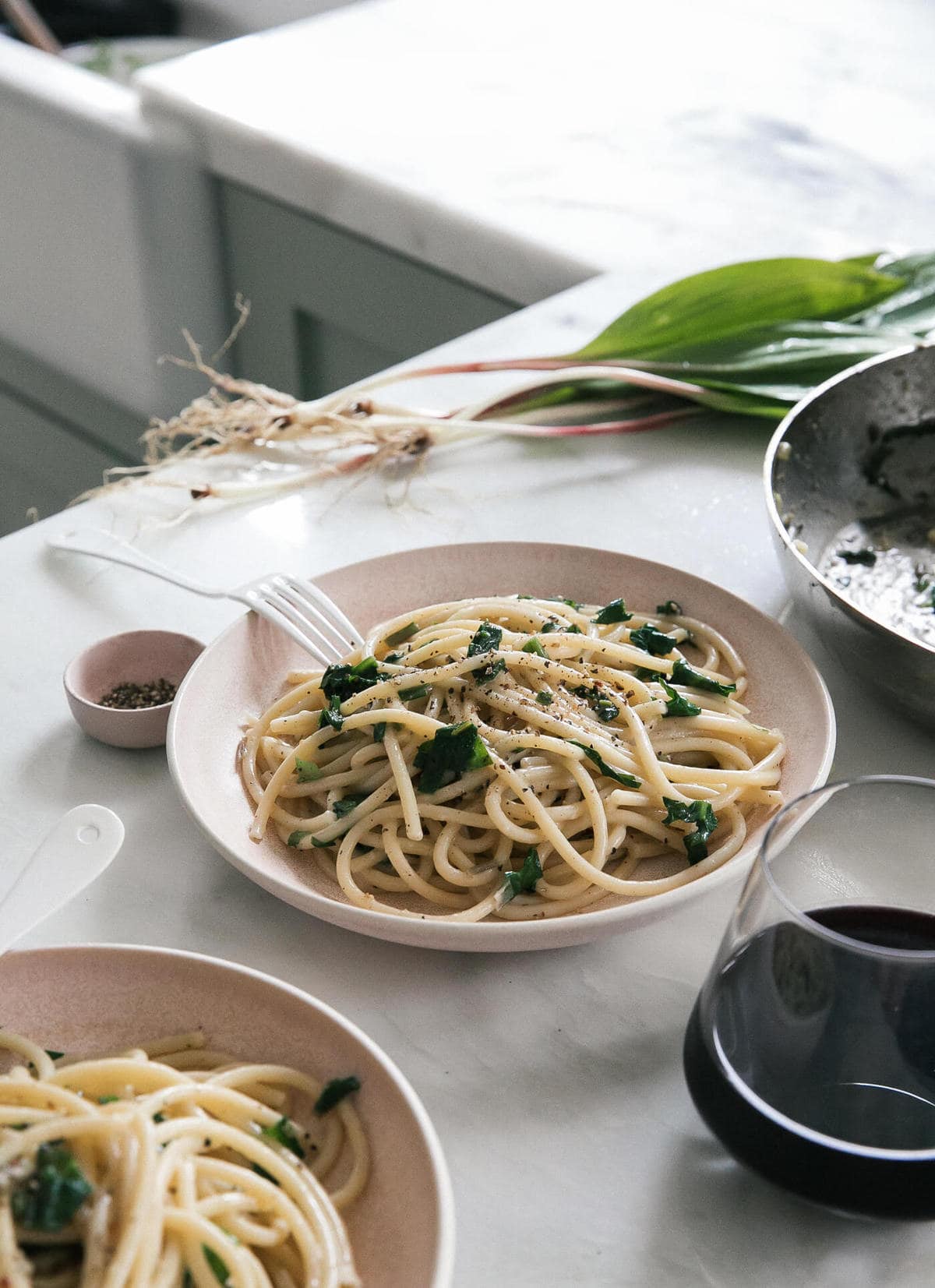 RAMPS! So very seasonal! Their seasonality is sort of dramatic. Especially here in Los Angeles where ramps don't grow locally.
Most ramps you'll find in LA are from the Pacific Northwest because they need like forest-y type of terrain and they need a lot of rain and water.
They're a spring time produce and they're so delicious. They're really good with so many things.
A few years ago was the first time I tried a ramp and I was, like, what is all the fuss about?!?! Well, if you've never had them I'll describe them like this: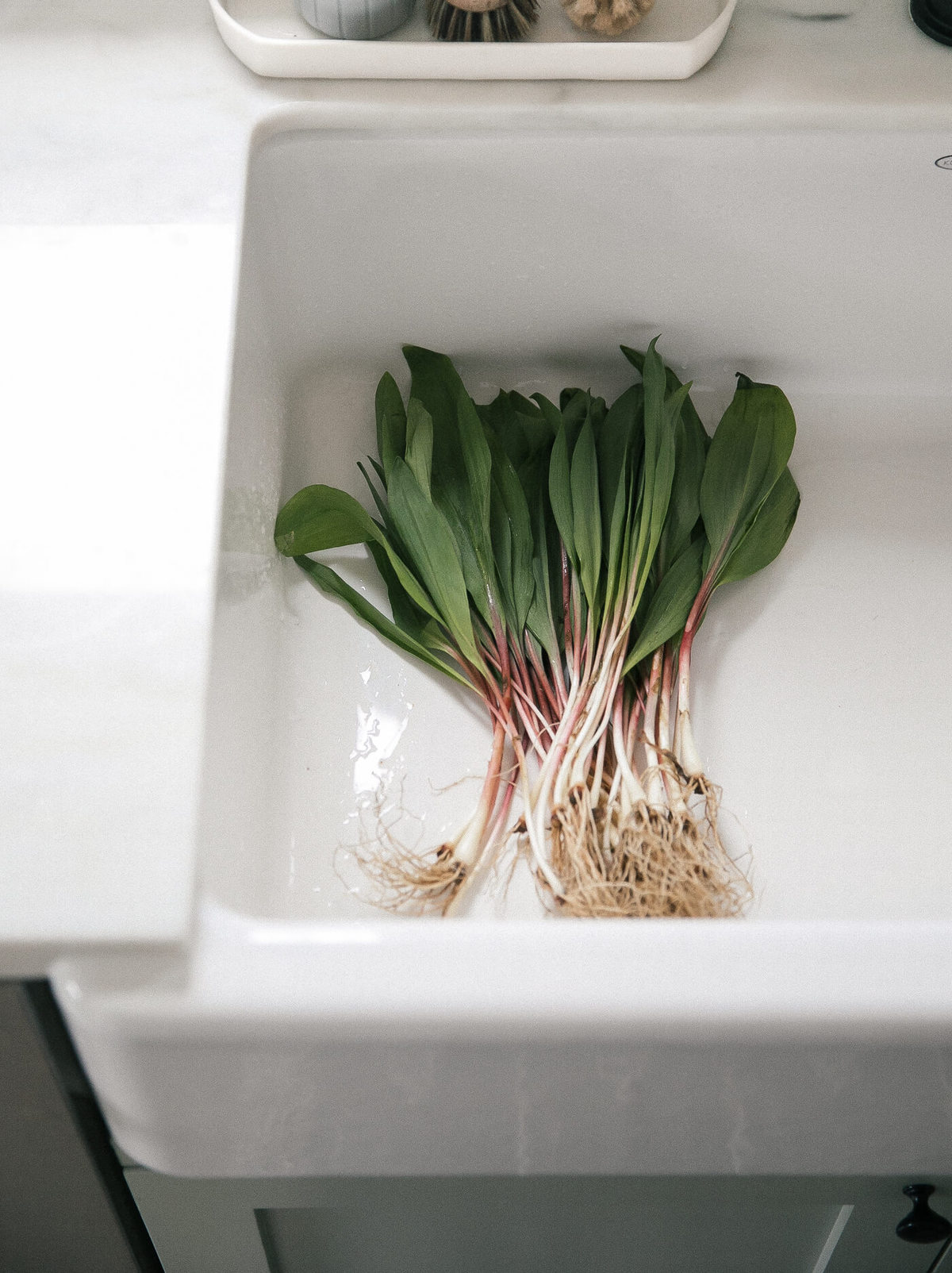 Think very garlicky but without the spice. They're a very smooth flavor but strong. It's hard to describe but they're really just this delicious garlicky/onion-y type flavor but don't feel intense or bitter or sharp. It's smooth AF.
This meal obviously could be made without the ramps. This is a classic cacio e pepe pasta. Cacio e pepe is super easy to make. It's all about technique tho and really the most important thing in this recipe is the pasta water and the black pepper and cheese.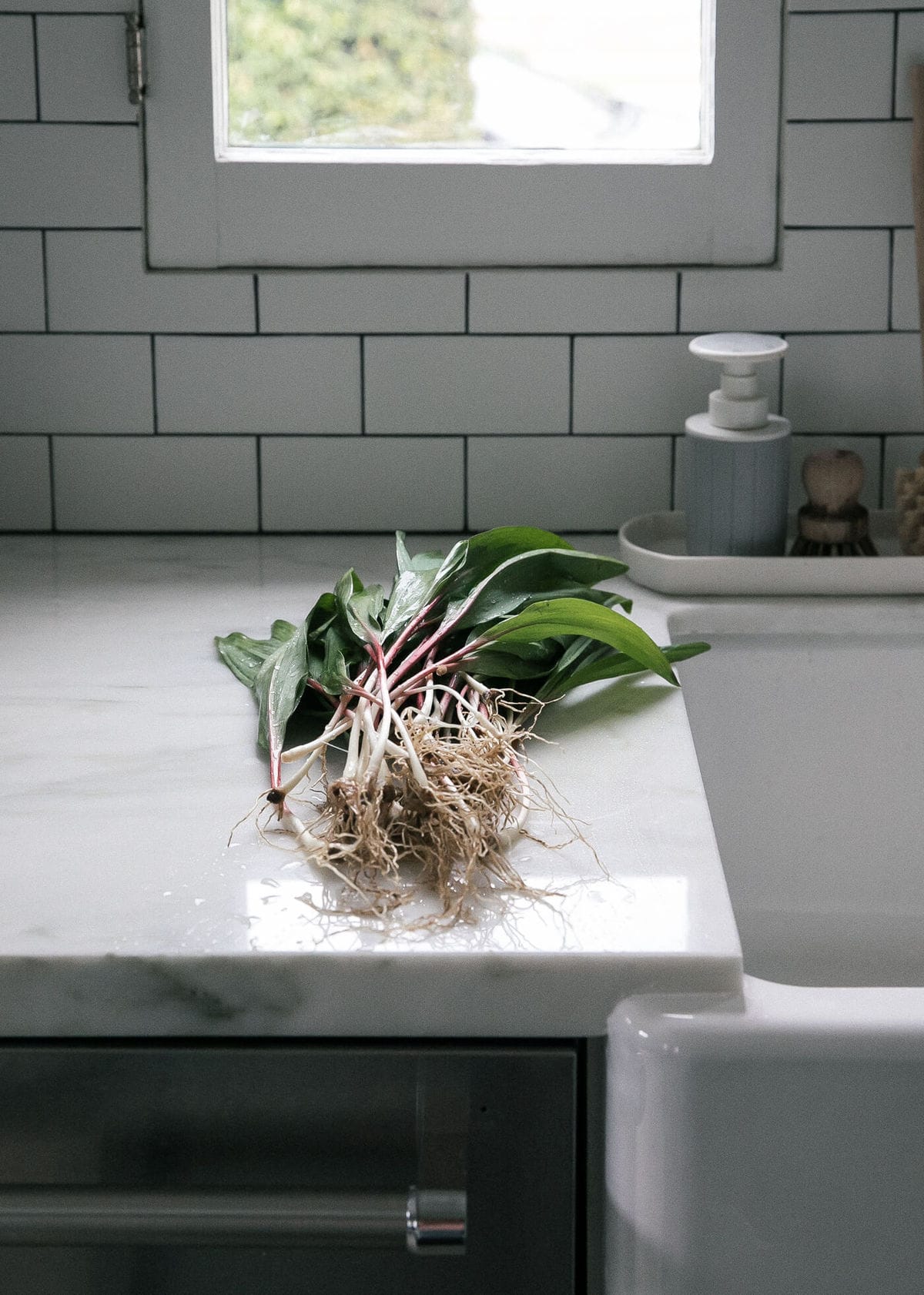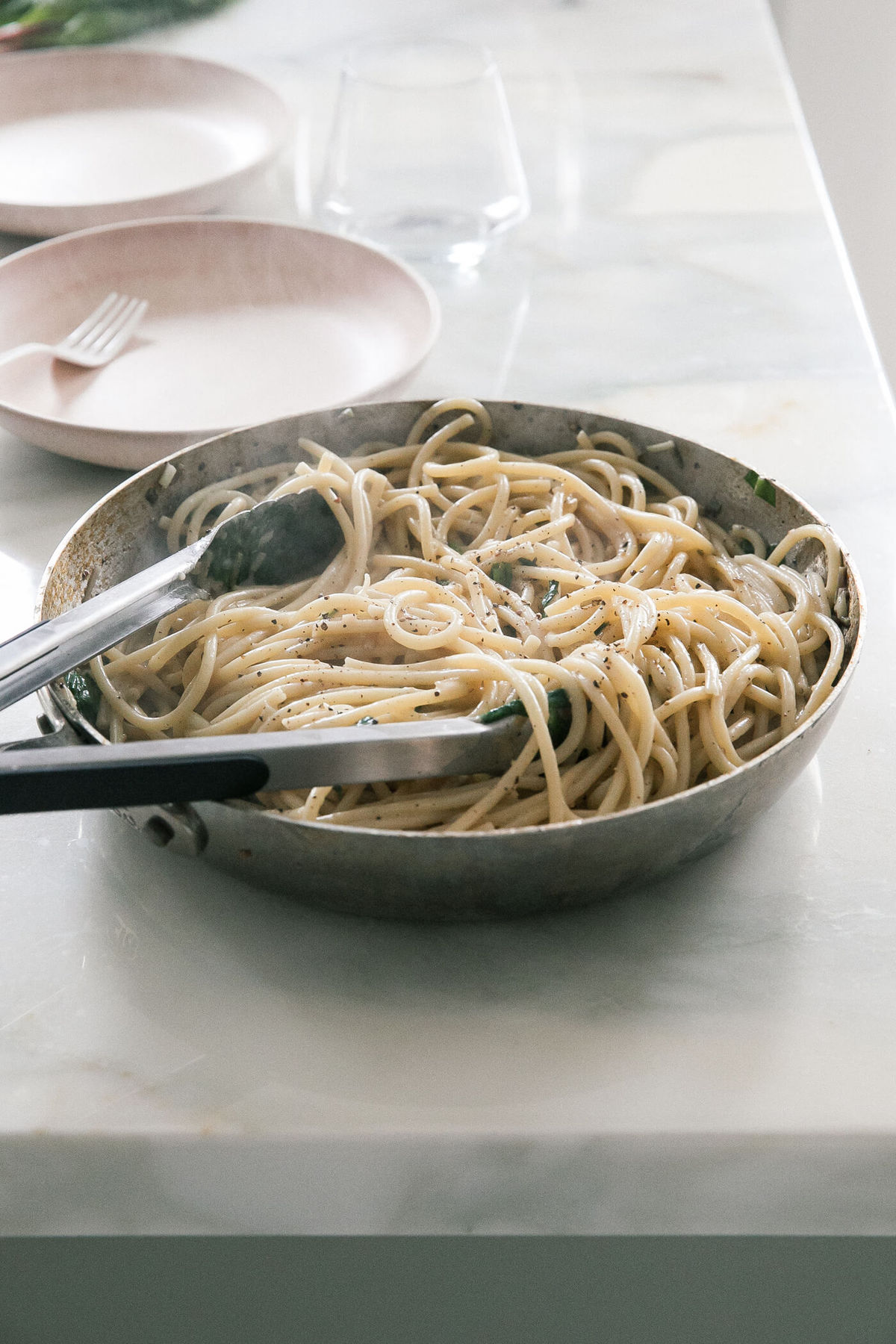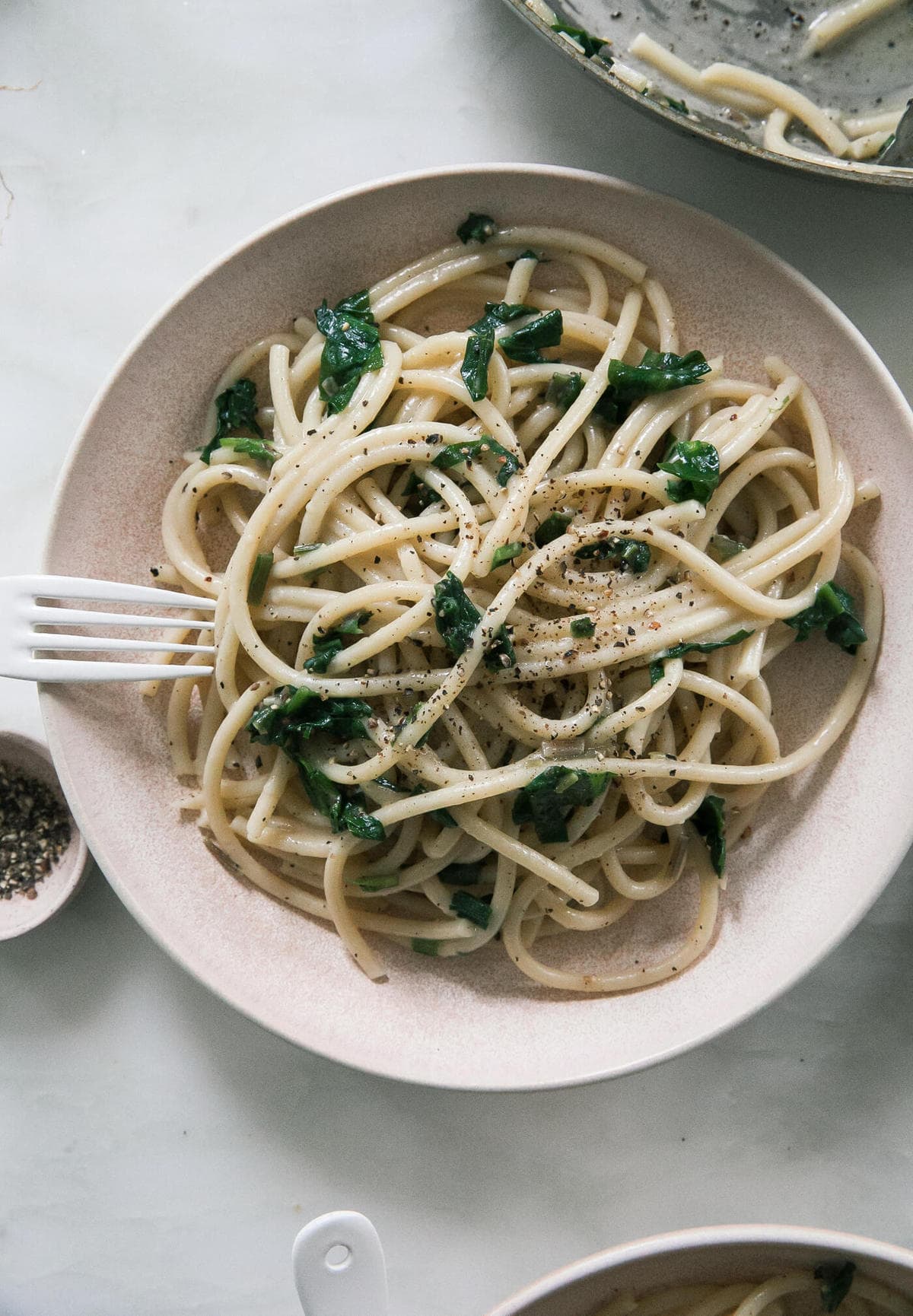 It's super simple and cooks in like 10 minutes but everything needs to be prepped before hand. The cheese needs to be grated. The ramps need to be cut. And the pepper needs to be grounded (it's not an absolute must but it's easier!).
When the pasta hits the 5 minute mark of being cooked, then that's when we start the sauce.
The bulbs of the ramps are cooked in a bit of olive oil for a minute or so. AND THEN, pasta water is added, along with the cheese, black pepper and butter Then the whole thing is brought to a rapid simmering. And then whisk whisk whisk. The sauce will thicken for sure.
And then when the pasta is cooked, you just use tongs to bring it over the big saucepan. And then more cheese, more black pepper, and maybe some salt. Oh and the green parts of the ramps. Turn the heat off and then…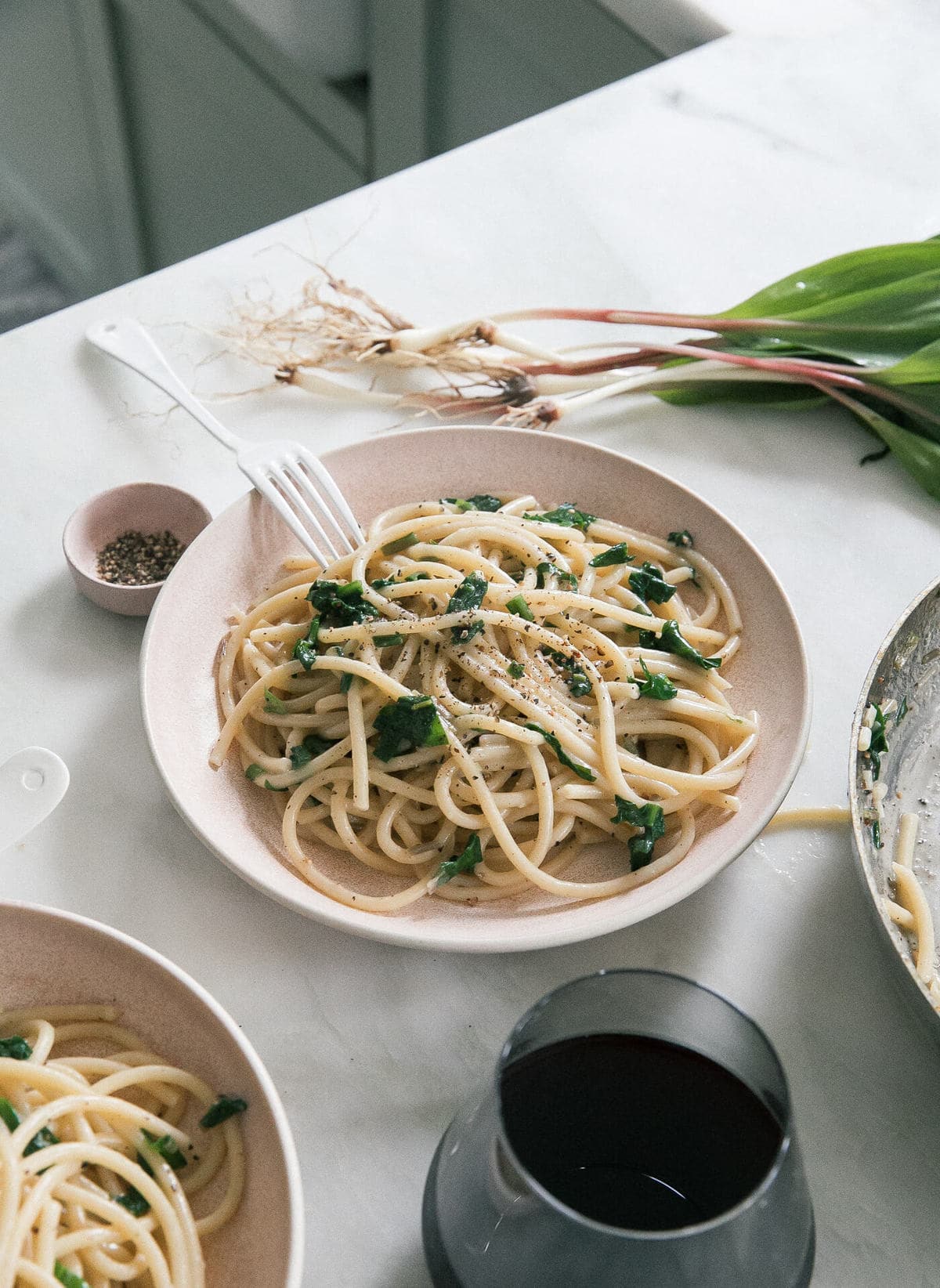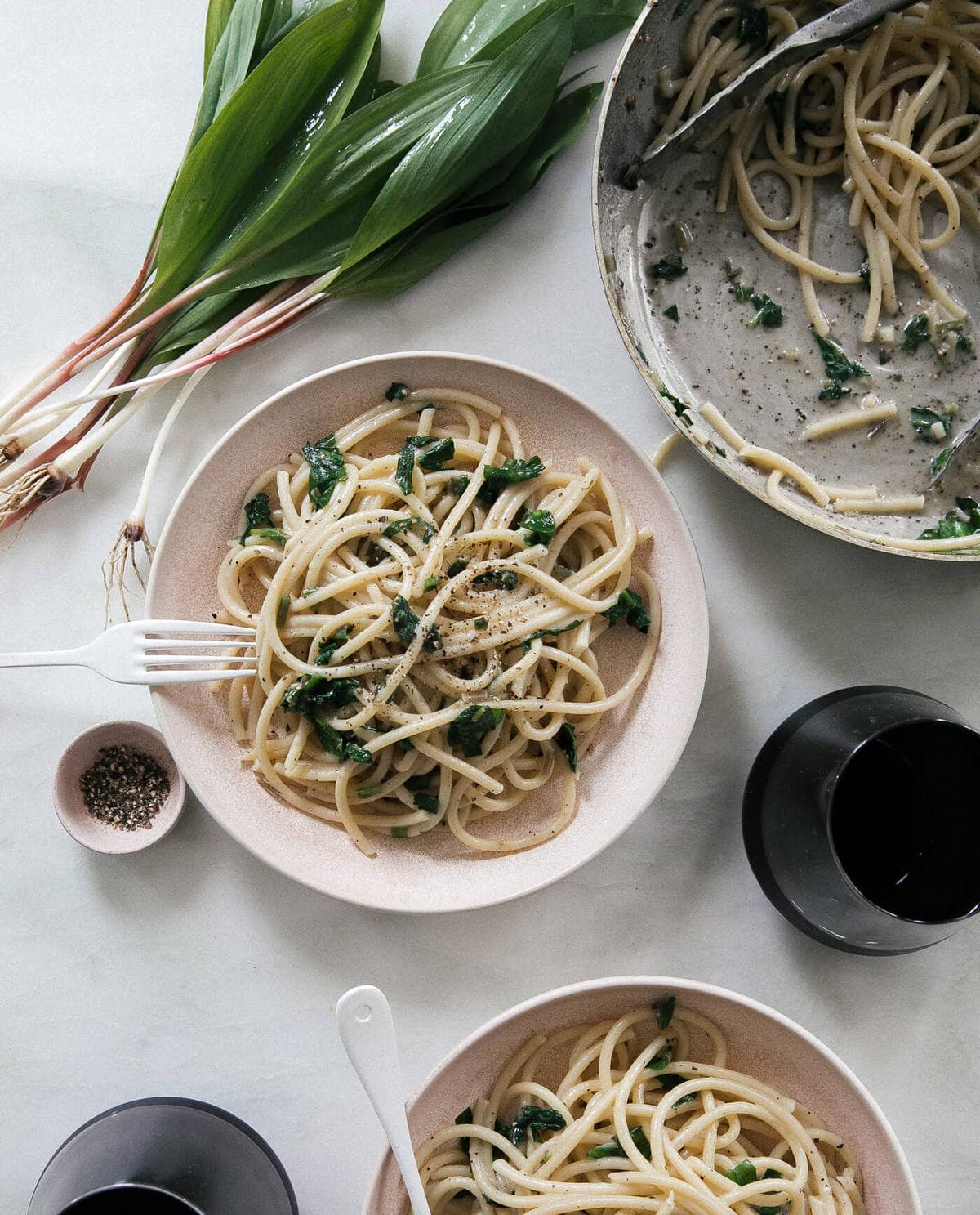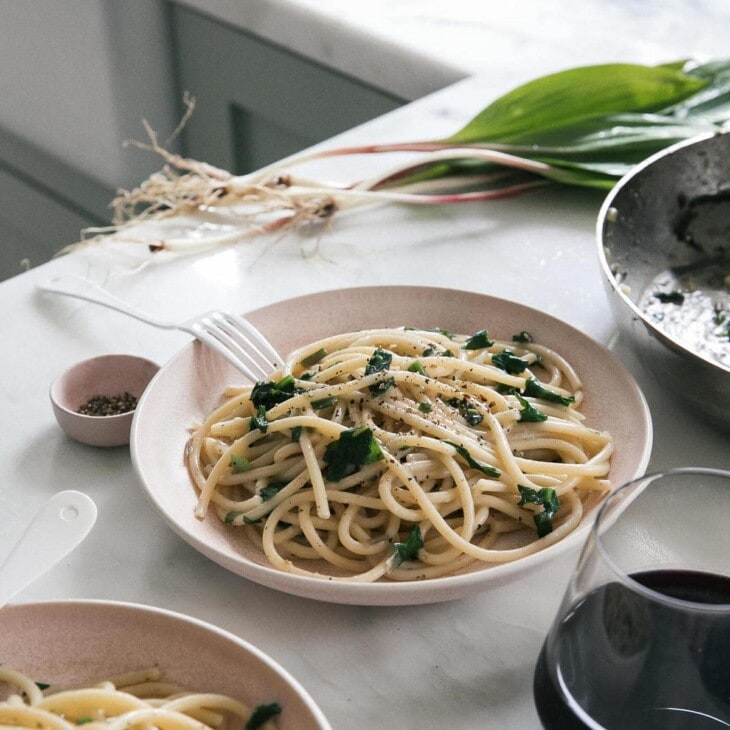 Print Recipe
Ramp Cacio e Pepe
Ingredients
8

ramps, cleaned and dried

1 1/2

cup

Parmesan-Reggiano, finely grated (I used a zester to grate this cheese!)

2

teaspoons

freshly ground black pepper

Salt

1

pound

pasta, of choice, I used bucatini

1

tablespoon

olive oil

3

tablespoons

unsalted butter

1 to 1 1/2

cups

pasta water

(issa vibe so this amount will vary)
Instructions
This recipe starts with some prep work! Trim the ramps and discard the ends. Slice up the bulbs of the ramps and set them to one side of the cutting board. Chop up the green parts, roughly, and set those to the opposite side of the cutting board. We're going to add these at different times to the pasta!

Since this recipe goes quickly, make sure you grate the parmesan now. And ground up your black pepper. Grab your salt. It goes quickly. Also, make sure you have a small liquid measuring cup OR even a dry measuring cup will be helpful (we're gonna use this when we scoop out the pasta water).

Bring a pot of salted water to a boil. Add the pasta and make sure it's fully submerged in the hot water. Set your timer to three minutes. Place a large saucepan on the burner next to the the pot of pasta. Most pastas will take about 9 minutes to be al dente.

At the three minute mark, pour the olive oil in the saucepan and turn the flame to medium-high heat. When warm, add the ramps and cook for about 1 minute. It doesn't take much for the ramps to get warm and become slightly softened.

Using your liquid measuring cup, scoop out 1 cup of pasta water and pour it into the saucepan. Add the finely grated Parmesan, black pepper and butter. Turn the flame to high heat and bring the mixture to a rapid simmer and cook for about 2 to 3 minutes. Give it a good stir and then start tasting the pasta. When it's cooked, using a pair of tongs, bring the pasta over to the saucepan. Add the remaining cheese and more black pepper (if you like).