How to Make the Best BLT
14
Jul 23, 2018, Updated Sep 17, 2023
Disclosure: This post may contain affiliate links, which means I may earn a commission if you click on the link and make a purchase.
Today we're going to talk about How to Make the Best BLT. It might seem super simple but we're breaking it all down to talk about what makes it the absolute best, from bread to spread to the types of lettuce.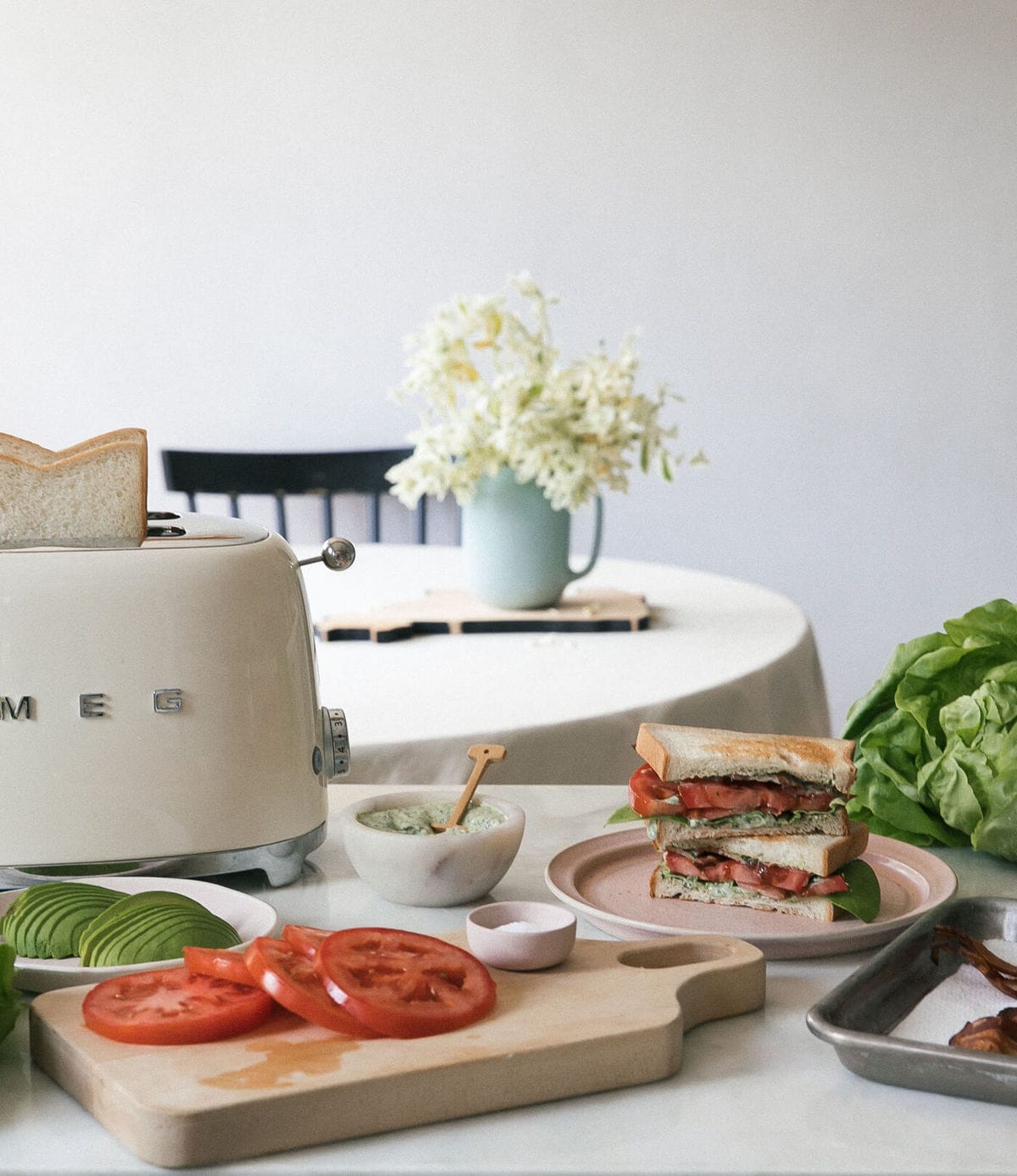 When my mama was pregnant with me, my dad was obsessed with BLTs. He'd make them all the time but there was a problem: my mom's morning sickness made her nauseous every single time she smelled bacon. So eventually he had to stop. Or he had to go over someone else's house in order to make them. Very random, fun fact about BLTs for you!!
Maybe this is the reason I love BLTs? I dunno…could be!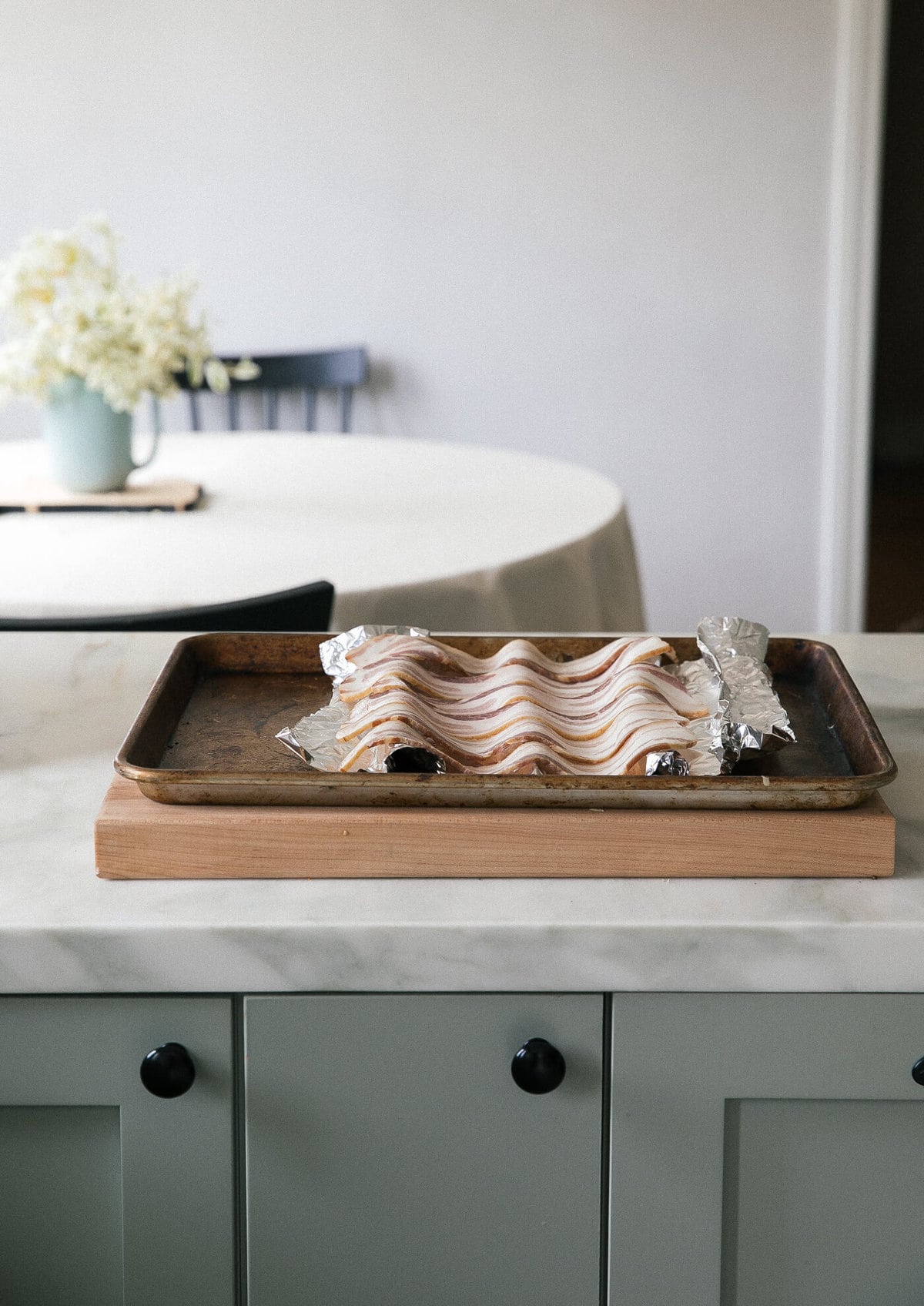 Truth is, I don't eat a ton of bacon. I'm not one of those people who believes bacon makes everything better. Sometimes it's too rich and too indulgent for me. But for some reason, when bacon is crispy and sandwiched between two soft pieces of bread with a swipe of mayo, crisp lettuce and soft tomatoes, the clouds part and…heaven.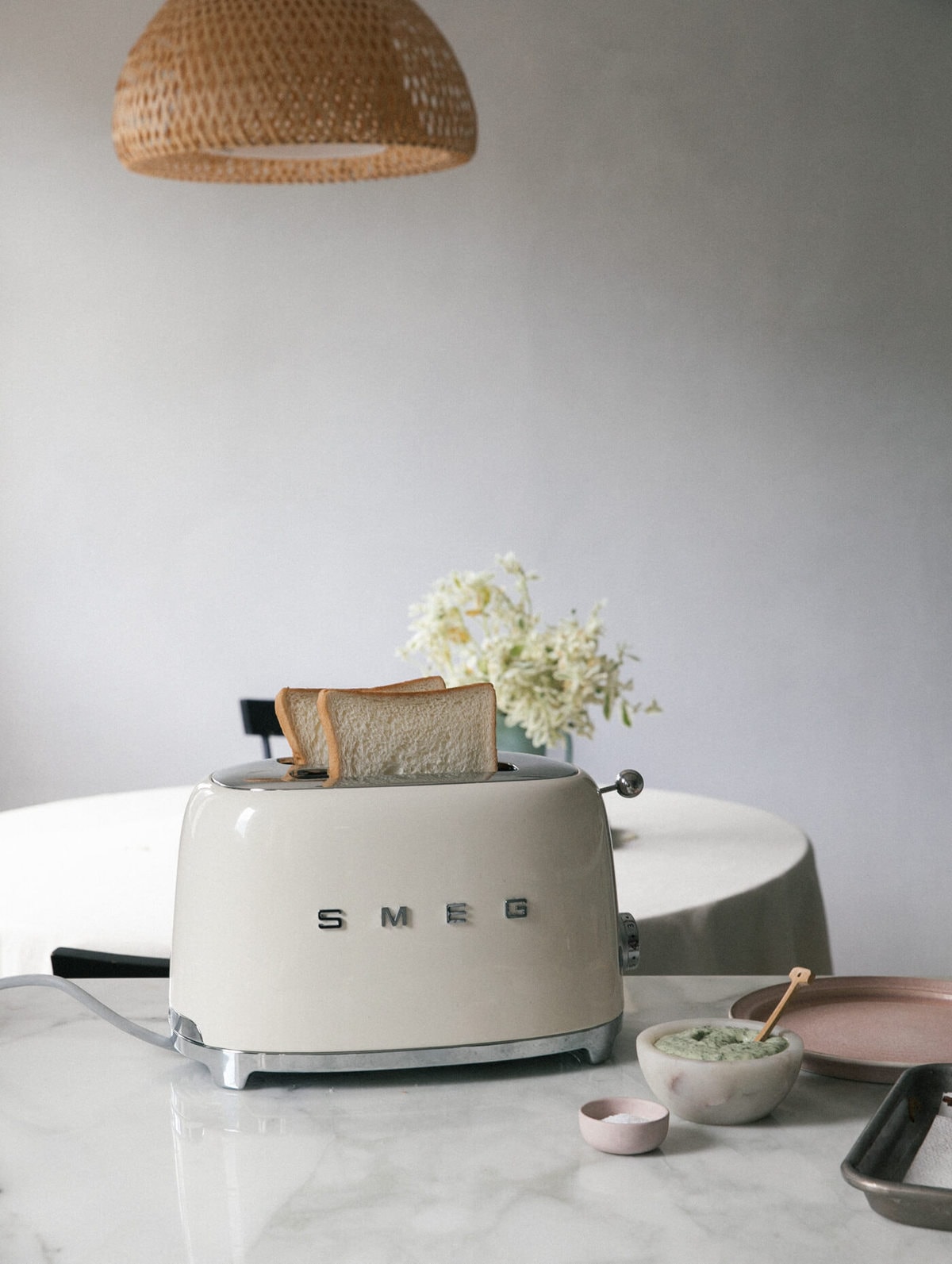 BLTs are summer's gift, they're simple, but that doesn't mean you don't have to give them special love and attention.
Tips for ingredients for a BLT:
Bacon should be crispy. Baked in an oven will give us this.
Lettuce should be crispy. Also flavorful. This is where butter lettuce comes in.
Tomatoes should be salted. Tomatoes should be good tomatoes. I also like to salt the tomatoes and let them chill on a paper towel a little bit. It makes them a teeny bit less juicy. Not dry, no. Just manageable.
And…the bread should be lightly toasted. Also the mayonnaise should be delicious. In this case, I made a green goddess mayo and it made everything taste SO good. It made the other components sing.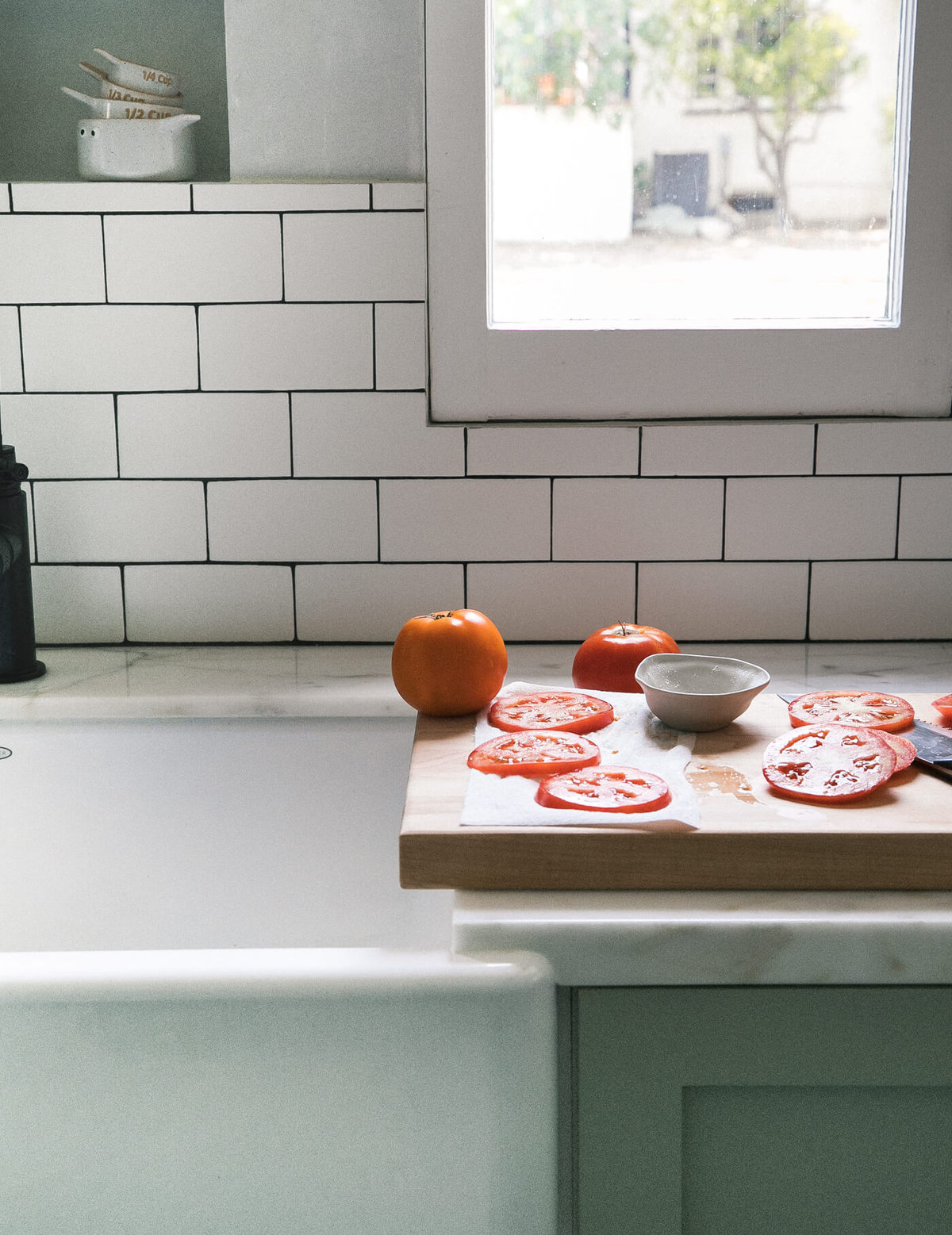 How to Make the Best BLT:
Bake the Bacon. This is my favorite method for cooking bacon, just line a baking sheet with foil, place the bacon on top, and cook until the bacon is nice and crispy.
Make the Spread. While the bacon cooks, make the green goddess spread. This isn't absolutely necessary but it just elevates the sandwich and all the ingredients. Just stir all the ingredients together and set aside.
Salt Your Tomatoes. This draws out some of the liquid to make sure your sandwich isn't soggy.
Toast Your Bread. Very important! This adds flavor and structure to the sandwich.
Assemble. Spread a little green goddess mayo on the bread and stack on the tomatoes, bacon, and lettuce.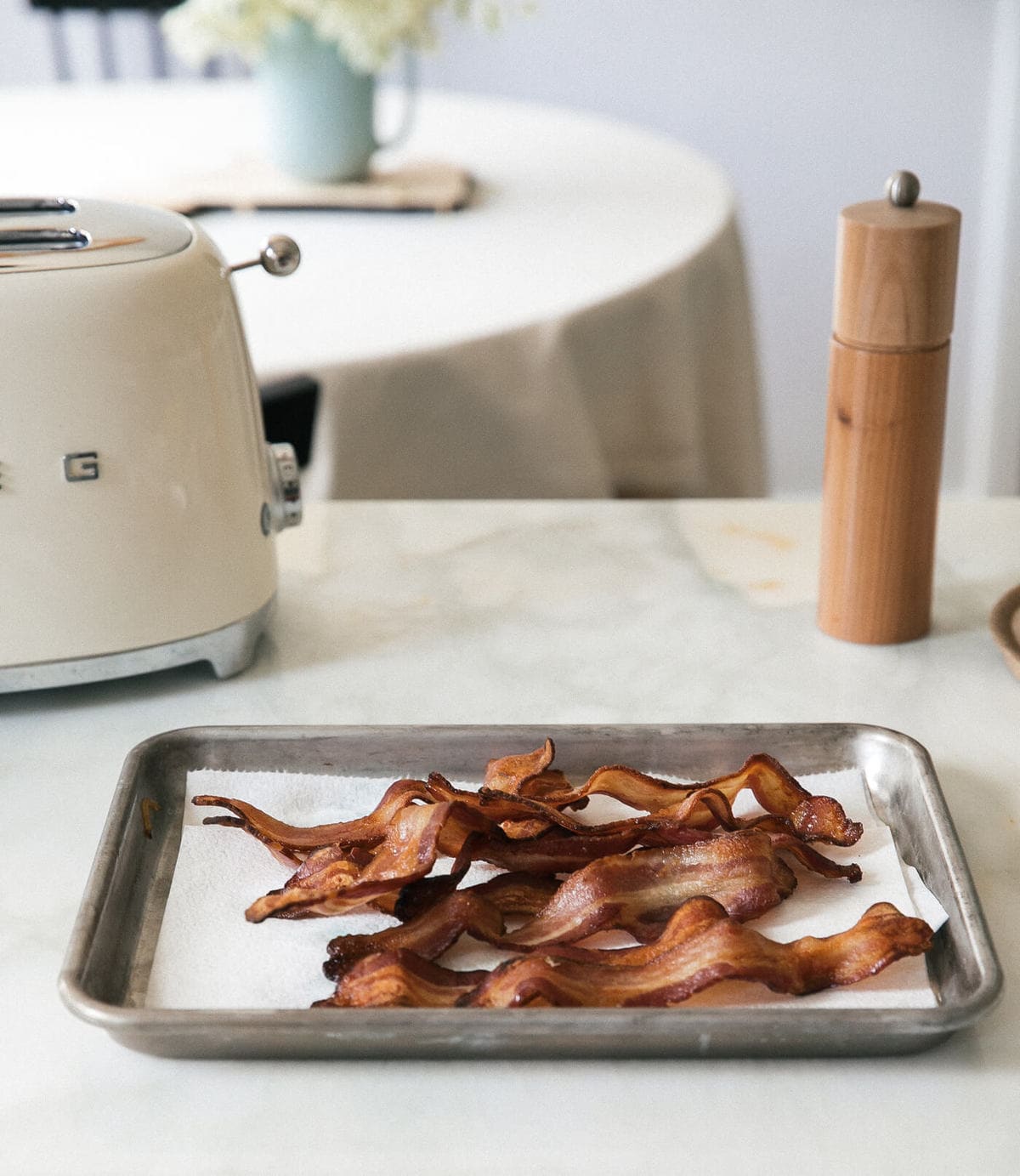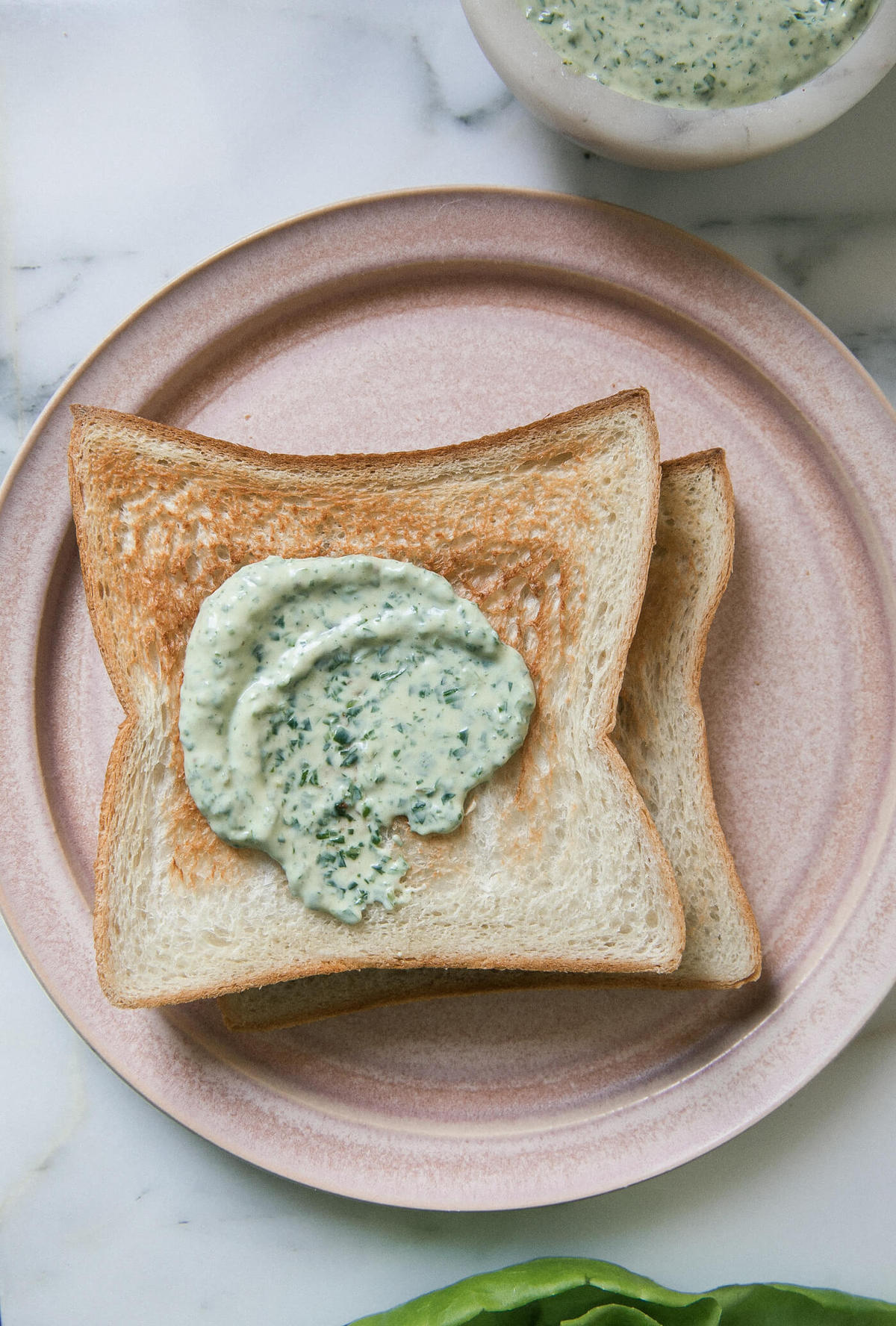 How to Cook Bacon for a BLT:
I wanted to create waves in the bacon, like those 90s commercials. Billy told me this trick about creating these large creases in the foil so they have "waves." I was like hmm…is this gonna work?
Well it did. Of course, we didn't want unnatural waves. You could create waves with foil tubes, blah blah. We're not food stylists on commercials shoots here, we're just home cooks trying to make wavy-ish bacon. I found this method to be super easy and chill and effective.
Wavy bacon looks cute, but does not affect the flavor so don't worry if you don't want to do it.
To make, just create creases in your foil you use to line your baking sheet, then roast your bacon at 400º until crispy.
Tips and Tricks:
Make the mayo ahead and use it on all the sandwiches you make, you won't regret it!
I like classic white bread but feel free to switch it up and use sourdough or your favorite roll. Make sure you toast it though, regardless! You don't want to end up with a soggy sandwich as a result of not toasting.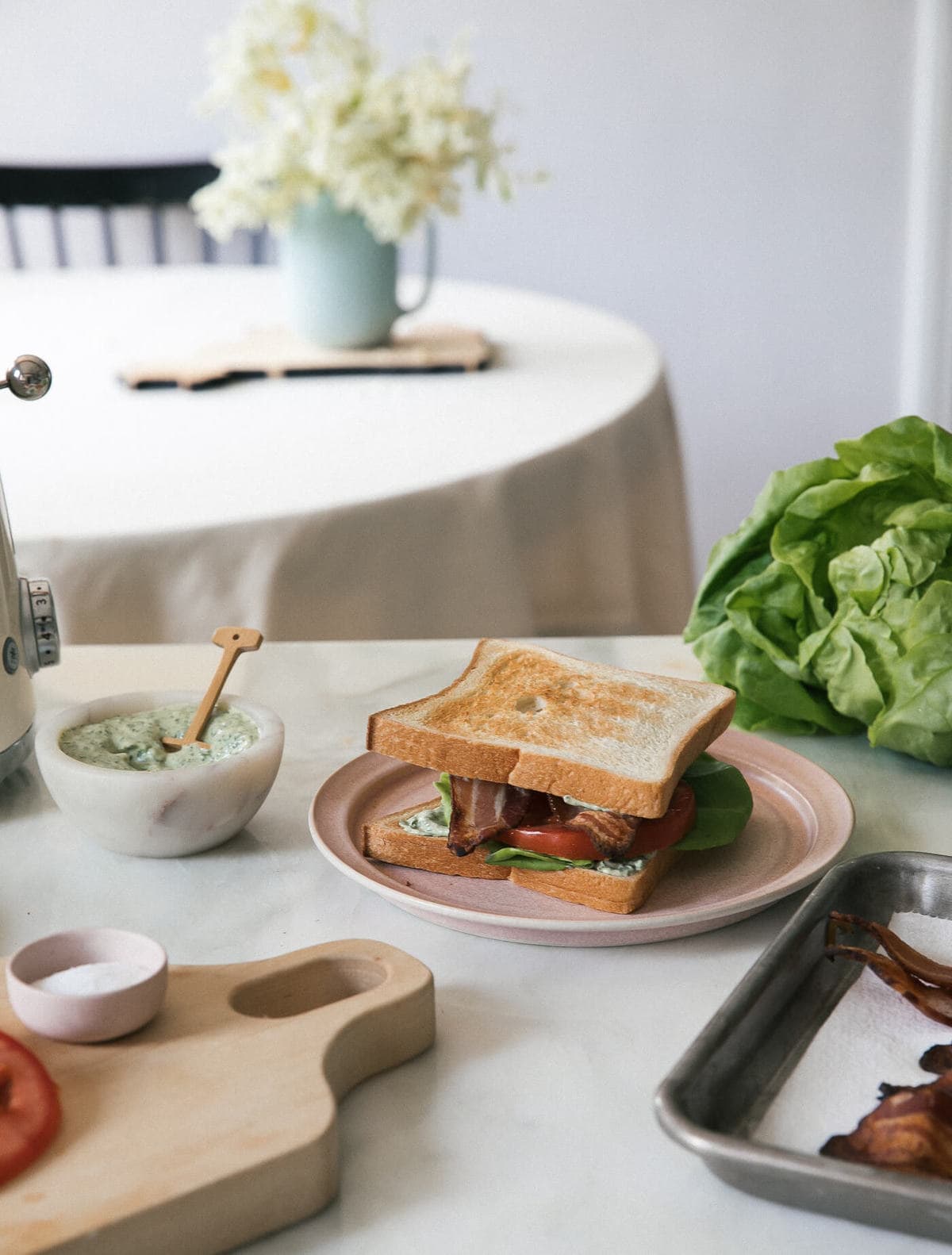 Ok that's it! These are some of my opinions on BLTs and here is a recipe for green goddess mayo. But really, you don't need this "recipe" for a BLT because you know exactly what you're doing.
If you have any special tricks, BLT memories, leave them below.
xoxo
Adrianna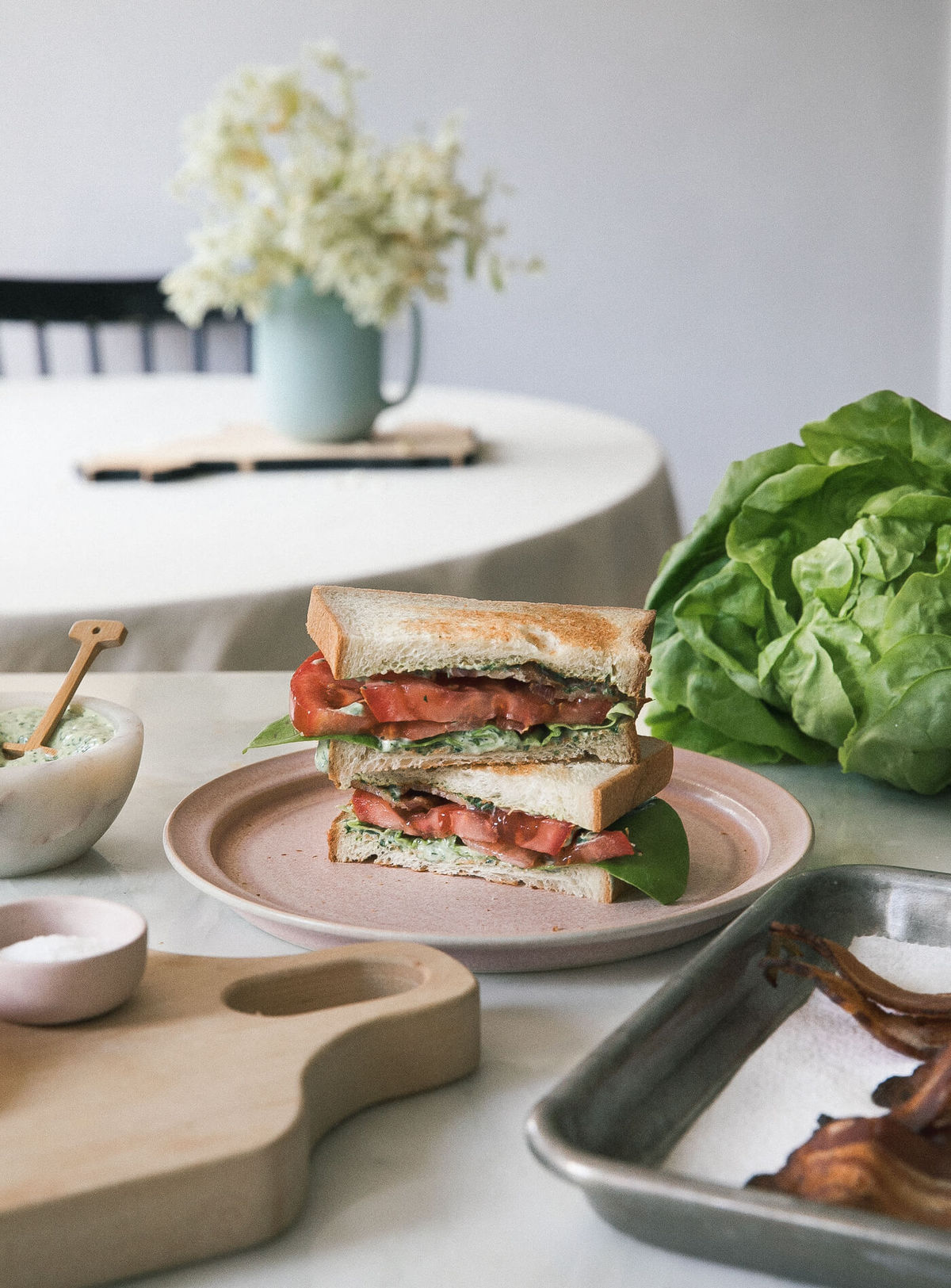 How to Make the Best BLT Recipe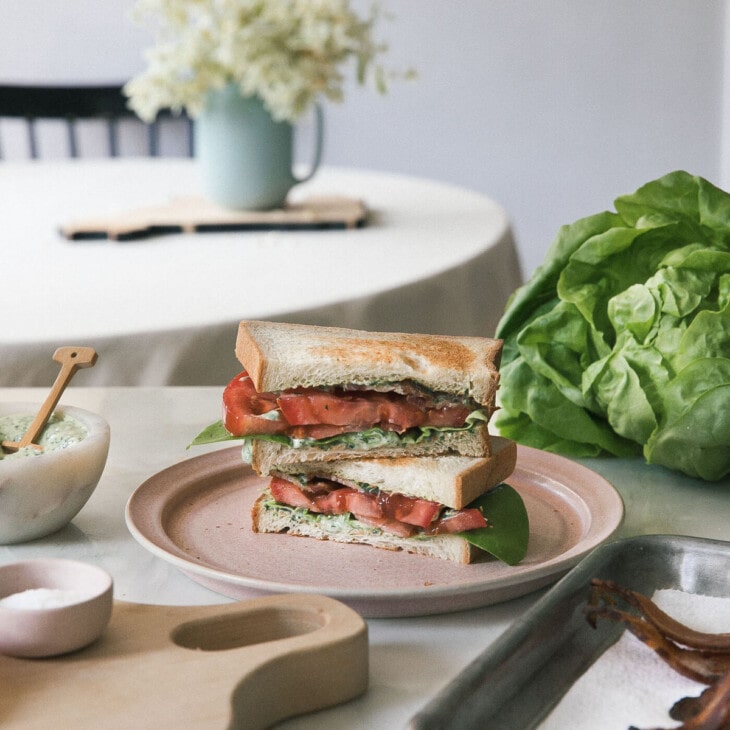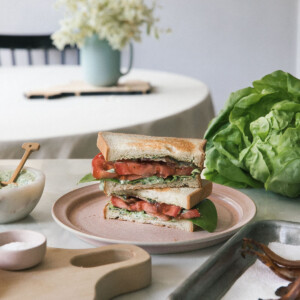 Today we're going to talk about how to make the best BLT. It might seem super simple but we're breaking it all down to talk about what makes it the absolute best, from bread to spread to the types of lettuce.
Ingredients
Green Goddess Mayo:
1

cup

mayonnaise of choice

2

cup

basil

,

chopped

1/2

cup

chives

,

chopped

1/2

cup

parsley

,

chopped

1/4

cup

tarragon

4

anchovy filets

1/2

teaspoon

kosher salt

1/2

teaspoon

freshly cracked pepper

2

tablespoons

lemon juice

,

from about 1/2 lemon
The Sandwich:
1

pound

thick-cut bacon

Head of lettuce of choice

,

I used butter lettuce and enjoyed it, see below for other options

2

heirloom or beef-steak tomatoes

1

loaf of bread

,

I used white bread from a local bakery
Instructions
To Make the Green Goddess Mayo:
To a food processor, add the mayonnaise, basil, chives, parsley, tarragon, anchovy filets, salt, pepper and lemon juice. Pulse until very smooth, about 1 minute. Give it a taste and adjust the salt and seasoning to taste.
To Make the Sandwich:
Preheat your oven to 400 degrees F. Line a baking sheet with foil. If you want to be psycho and have beautiful waves in your bacon, make little creases in the foil and lay the bacon on top. You may have to fiddle with it but be sure to use the visual reference above as guidance.

Transfer to the oven and bake for about 15 to 20 minutes, until golden brown. This amount of time will depend on the thickness of your bacon; thinner bacon will probably take 15 minutes, while thick cut will take about 18 minutes. Remove the bacon from the oven and transfer it to a bed of paper towels.

Slice up the tomatoes and sprinkle them with a bit of salt. Place them on a few paper towels while you gather the rest of the ingredients.

Lightly toast your bread and smear about of teaspoon of green goddess mayo onto both halves of bread. Add slices of bacon, lettuce, tomato and sprinkle with freshly cracked pepper. Cut the sandwich in half and enjoy.
Nutrition
Serving:
4
g
|
Calories:
496
kcal
|
Carbohydrates:
5
g
|
Protein:
17
g
|
Fat:
46
g
|
Saturated Fat:
15
g
|
Cholesterol:
77
mg
|
Sodium:
1052
mg
|
Potassium:
428
mg
|
Fiber:
1
g
|
Sugar:
1
g
|
Vitamin A:
1658
IU
|
Vitamin C:
20
mg
|
Calcium:
84
mg
|
Iron:
3
mg
Nutrition information is automatically calculated, so should only be used as an approximation.
Did you make this recipe? Let me know on Instagram!
Looking for more sandwich recipes? Here are some of my favorites: