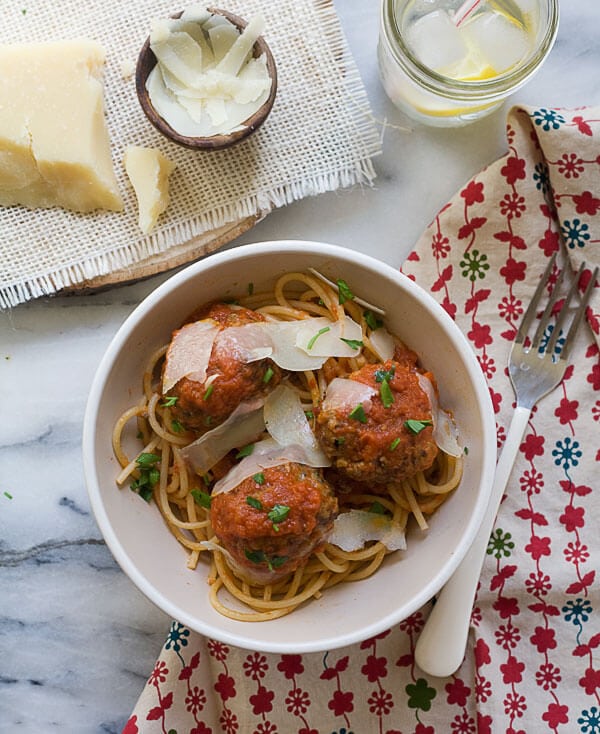 I very big part of me hopes and wishes that you read this blog post title as, "Spaghettiii and a Meat-a-balls!"
I feel like I just talked about my love of gangster movies a few weeks ago but I really do love that scene in Goodfellas where they're all in jail and they're like, who cares so what and cook up this like massive feast. Oh and that one guy slices the garlic with a razor blade. So unnecessary but so awesome.
The other day I was driving and had a very weird craving for spaghetti and a meat-a-balls! I mean, it's not super unusual because I could subsist on pasta every single day, but the meatball part is. I never really think to make them, but whenever I do I'm like, why don't I eat these everyday?! what is wrong with me?!
So, that my friends is what Los Angeles traffic will do to you: crave meatballs.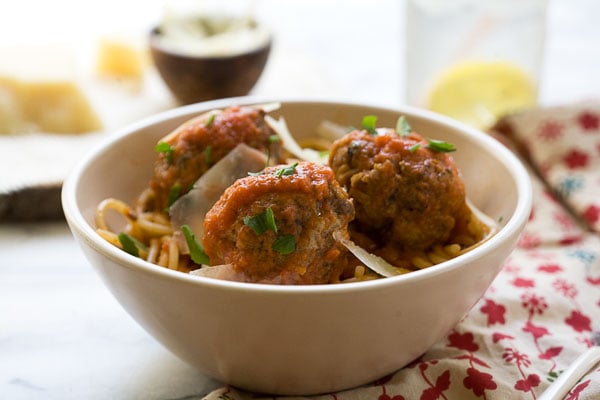 I'm so glad that my timing to want/make/consume this dish happened now and not in a few months when the entire country will be sweating. I feel like this is the last time we'll be able to have comforting dishes for a while and I'm sort of bummed about it. I'm not ready to eat popsicles for dinner. Not ready at all.
This whole shebang starts with the meatball forming. I like a good combination of ground pork and ground beef, but you could honestly do this with all pork or all ground beef.
Meatball forming might be one of the more therapeutic activities I've done all week. I was all zen-like in my kitchen yesterday.
This sauce is a riff on the famous Marcella Hazan tomato recipe that everyone and their mom loves. My version has a bit more ingredients.
I added a bit of fresh sage, some crushed red pepper (because I add it to everything in my life), butter and a seared onion. It's easy, simple and delicious.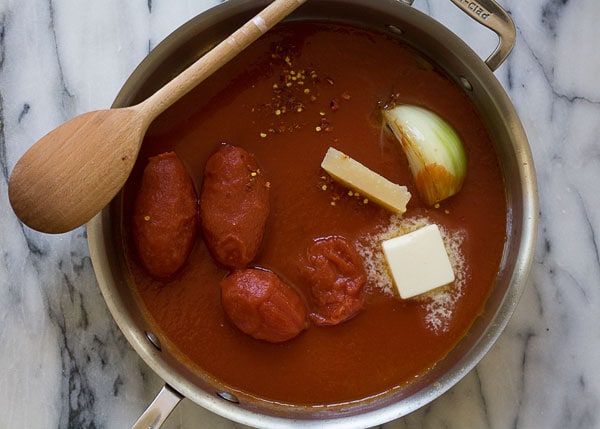 Do you save your parmesan rinds? Oh you should!
I always throw an old rind in tomato sauce or soups or whenever I'm making homemade chicken broth, which is like never, but I save them for that yet-to-happen-hypothetical-moment.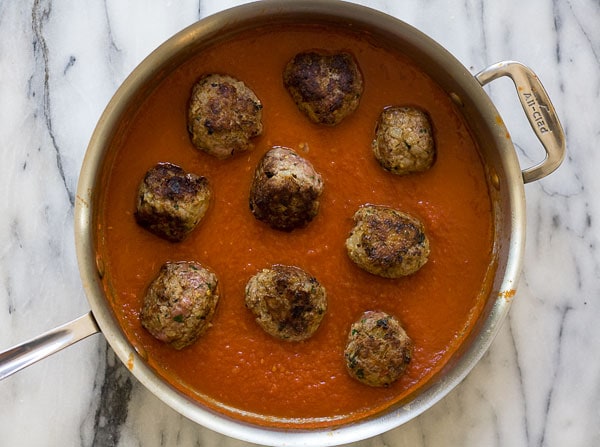 This is the kind of dish I want to eat like…every single day of my life. I'm not kidding. This and arroz con pollo and pancakes might be my favorite things to eat ever.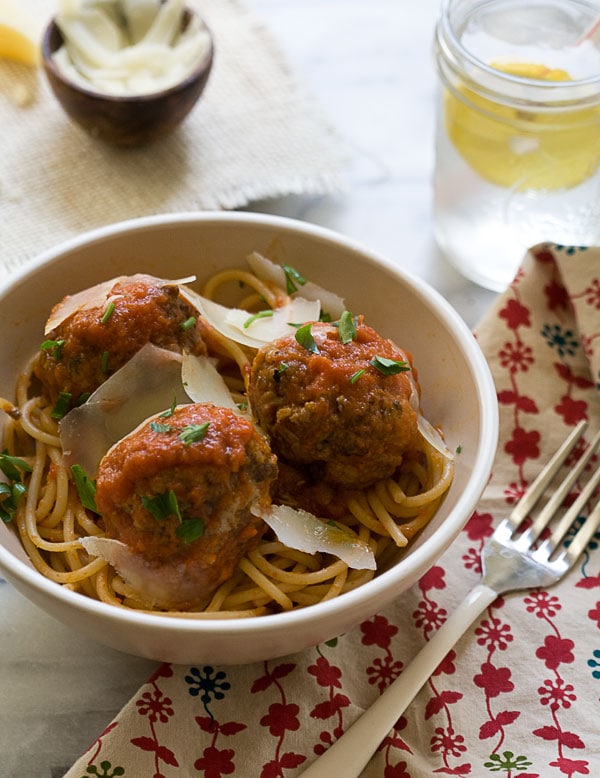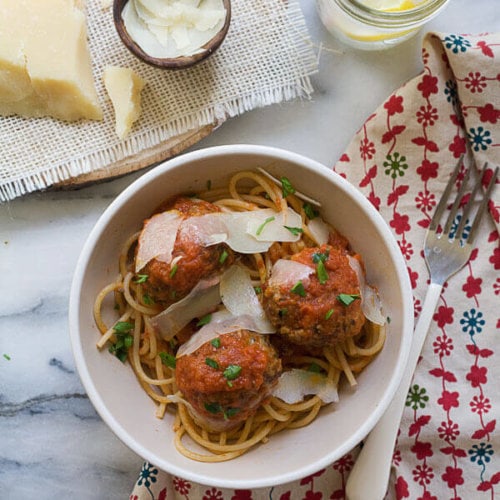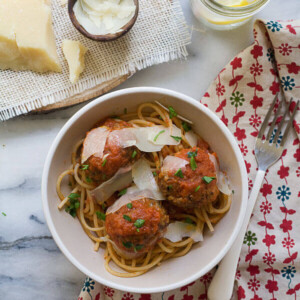 Ingredients
Meatballs:
2

tablespoons

whole milk

2

tablespoons

dried fine bread crumbs

1/2

pound

ground beef

1/2

pound

ground pork

3/4

teaspoon

kosher salt

Olive oil

1/2

yellow onion

,

diced

2

garlic cloves

,

minced

3

tablespoons

finely chopped Italian parsley

2

tablespoon

freshly chopped sage

1/2

teaspoon

crushed red pepper

1/4

cup

grated parmesan

1

egg
Easy-Peasy Tomato Sauce:
2

teaspoons

olive oil

1/4

of a yellow onion

1 28-

ounce

can of good quality tomatoes like San Marzano

1

parmesan rind

,

optional

Pinch

crushed red pepper

4

tablespoons

of butter

2-3

leaves

fresh sage

,

bundled and tied together
Directions
In a small bowl, mix together the milk and bread crumbs.

To a medium bowl, mix together the ground beef and ground pork. Sprinkle the ground meat with salt and give it another mix.

In a medium sauté pan, placed over medium heat, add a tablespoon of olive oil. Carefully add the diced onion to the oil and cook until translucent and soft, about 5-7 minutes, being sure mix them every few minutes or so. Turn the heat down to medium-low, and add the minced garlic, Italian parsley, sage and crushed red pepper. Add the onion mixture to the bowl of meat. By this time, the whole milk and bread crumbs should be moistened; add it to the meat mixture, along with the grated parmesan and egg. Mix the meat mixture until completely combined, but being careful to not over mix. Using your hands, roll a few tablespoons (or 2 ounces) into a ball. Repeat until all meatballs are formed.

To sear the meatballs, add a few tablespoons of oil to the sauté pan (you can use the same one you just used--we're into saving dishes around here). When the oil is hot, gently add the meatballs and sear on all sides for about 1-2 minutes per side, until golden brown. Transfer them to a bed of paper towels to drain. Repeat until you've seared all of the meatballs, adding more oil if the pan needs it.

To make the tomato sauce, add the olive oil to a dutch oven or medium pot. When the oil is hot, add the piece of onion and sear on both sides for 1-2 minutes, until lightly golden brown. Pour in the can of tomatoes, add the parmesan rind (if using), crushed red pepper, butter and sage bundle; mix, cover the pot and cook the tomato sauce over low heat for 30 minutes and until the kitchens smells awesome.

Add the meatballs to the tomato sauce and cook for an additional 10-15 minutes. To serve, toss the cooked pasta with a few big spoonfuls of sauce. Divide the pasta between bowls, top with a few meatballs and garnish with a sprinkling of Italian parsley and some Parmesan-Reggiano.
Easy-Peasy Tomato Sauce is a riff on Marzella Hazan's Tomato Sauce