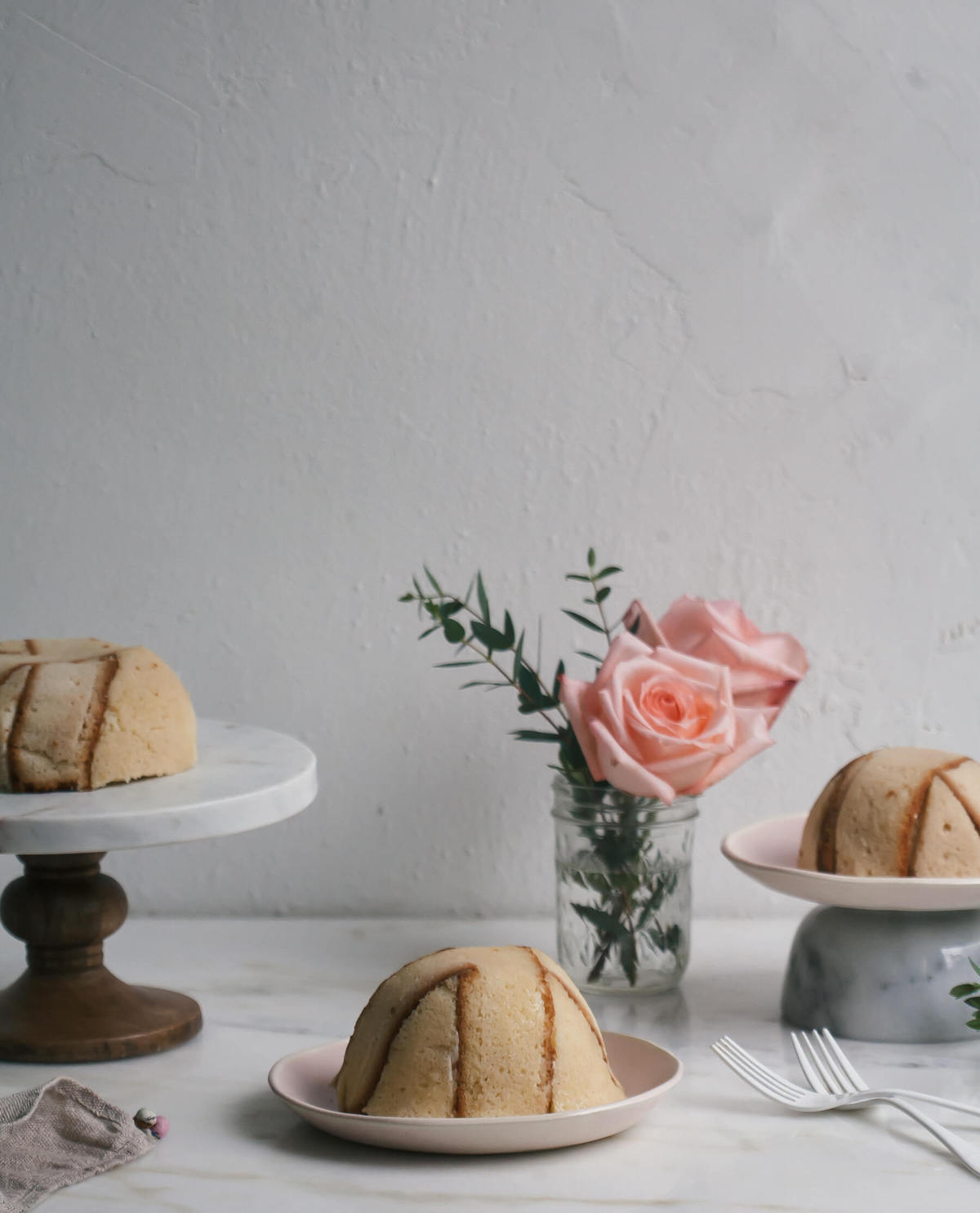 I was reading this book called Cooking by Hand one night and came across a description of a recipe (there are barely any photos in the book) called zuccotto. I liked the name and said it like I was an old Italian man: "zuccccotoo!" V exaggerated, you know?
It sounded really interesting: a dessert made with slices of poundcake and put into a mold and stuffed with whipped cream. I did some googling and came across this really fun video of this man making his with lady fingers and flavoring the ricotta with amaretto, chocolate, marscapone and nuts and fruit. When he removed it from the bowl, it looked amazing!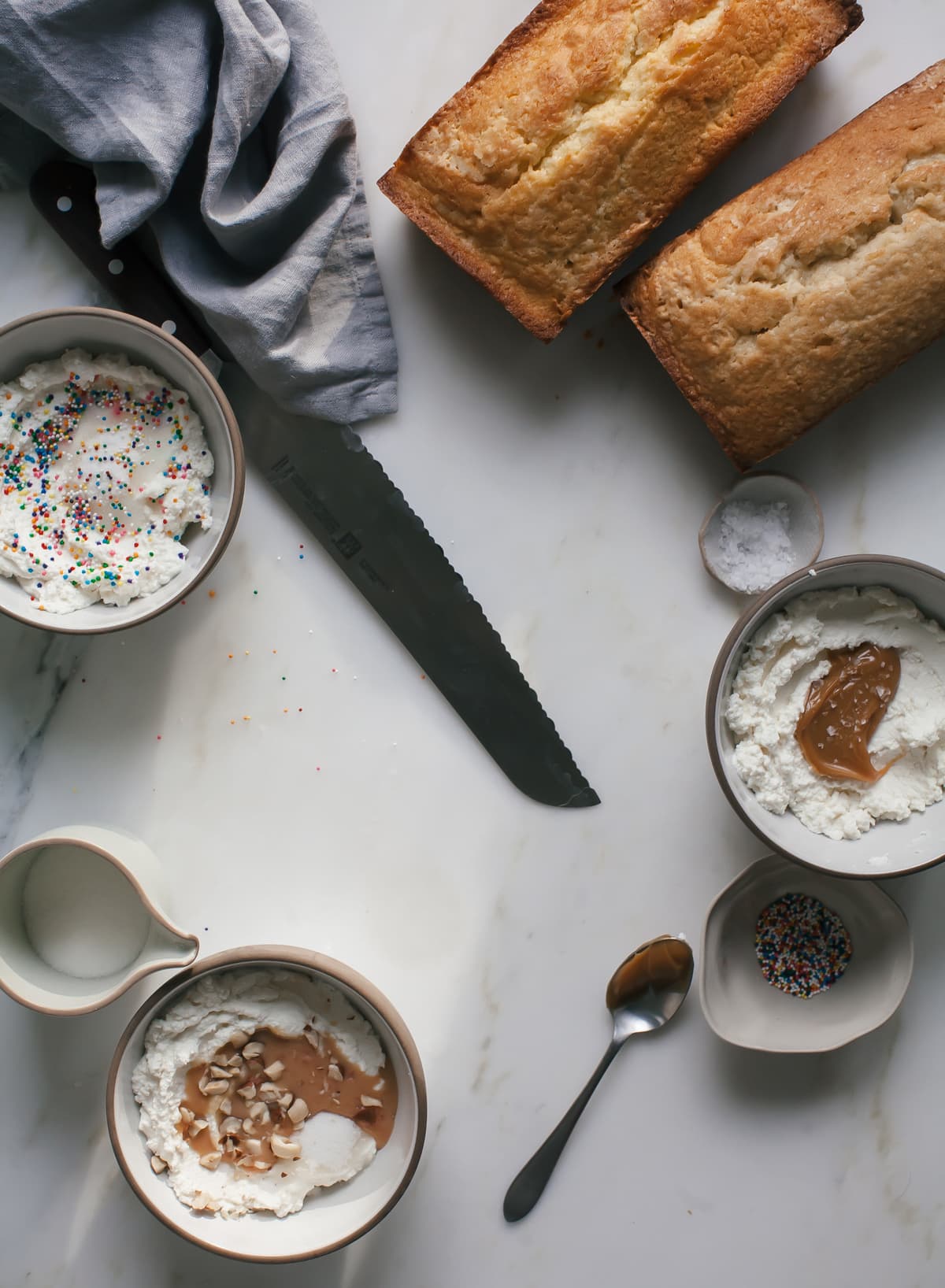 I was sold. I made this with poundcake instead of lady fingers and I stuffed it with a few different flavored ricottas.
I ended up using my own pound cake recipe but have tested this with store-bought pound cake and it totally works! So if you're looking for a crazy shortcut, look no further.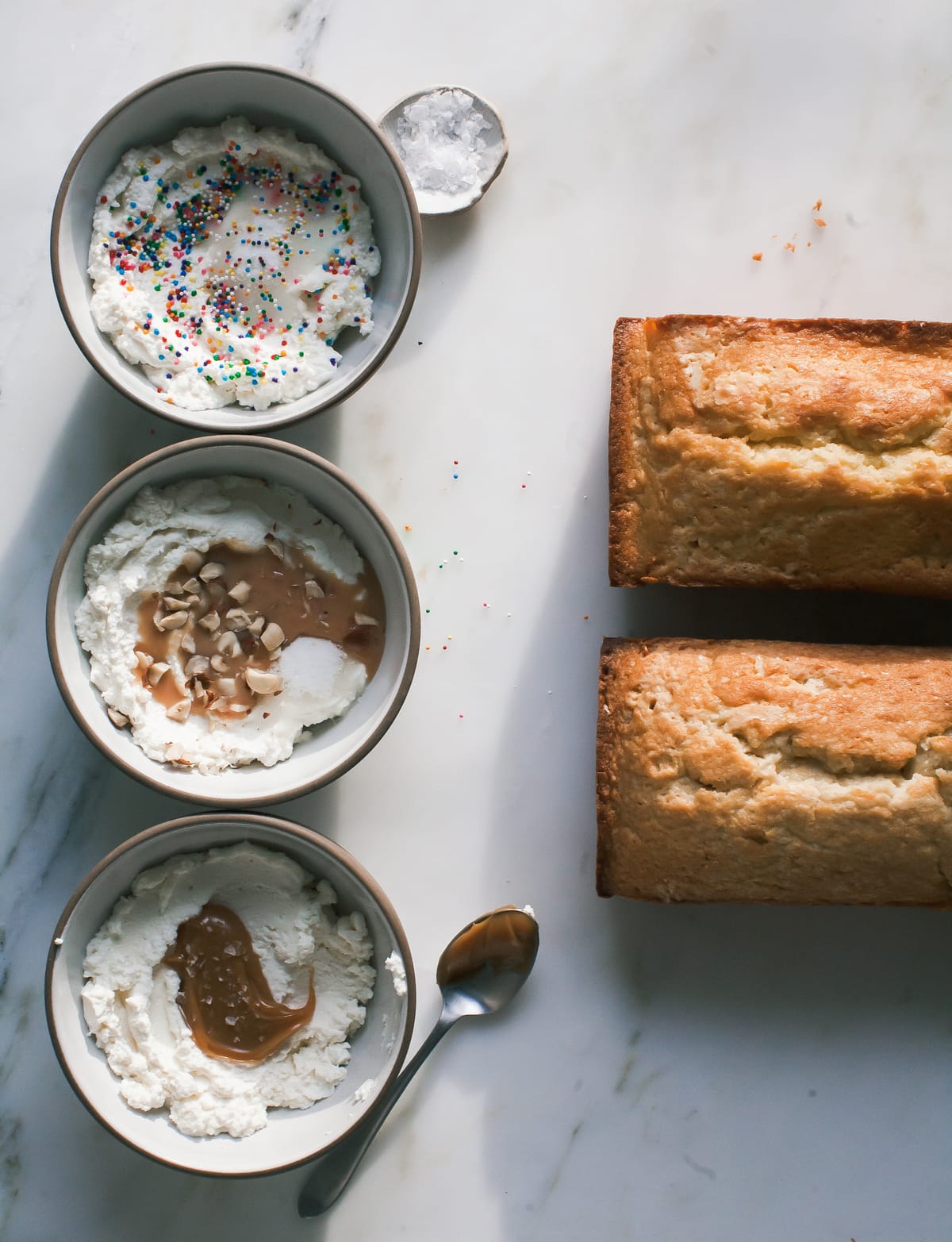 If you're making it with pound cake and wanna go with the all homemade route, you'll want to bake them up.
I did this the day before so they were a wee bit drier than they usually are. I ended up brushing the pound cake slices with a bit of rum and sugar mixture to make them more pliable.
If you have a very mischievous corgi, you may lose the top of your pound cake.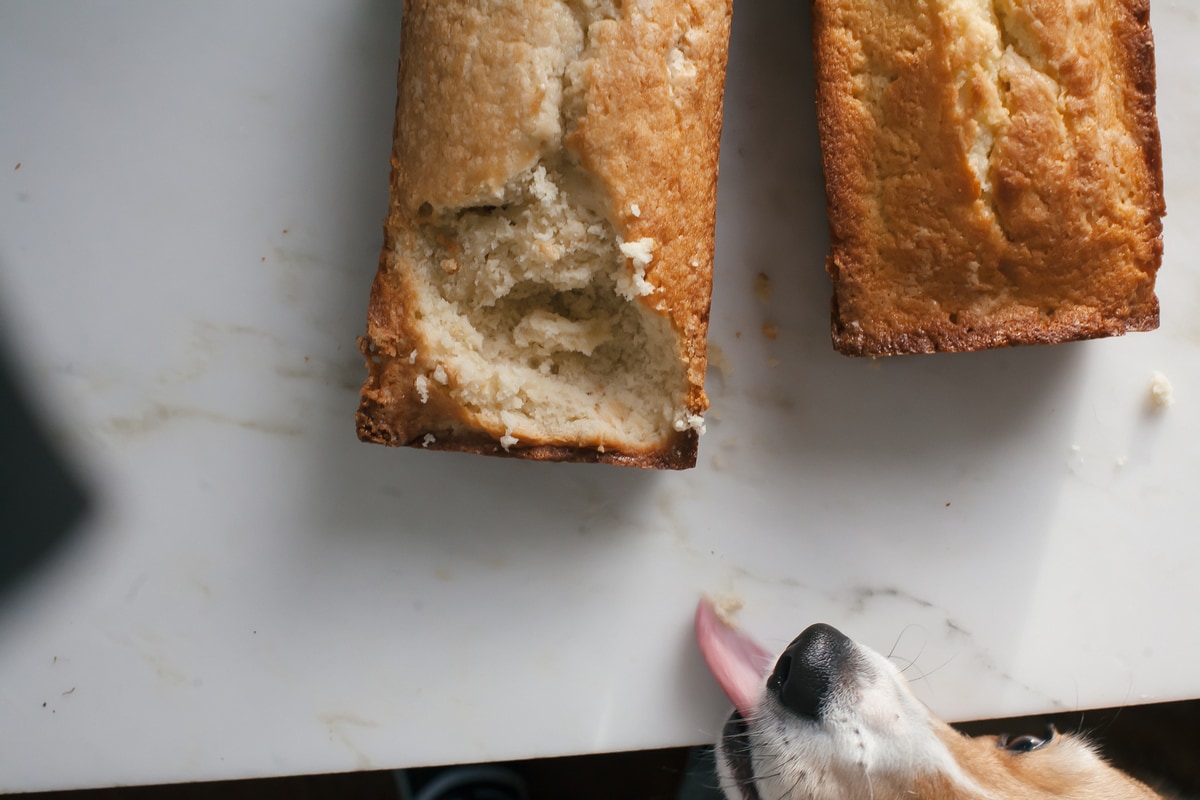 Yell at the corgi and then keep it moving. It'll be ok.
I made three little cakes with three different types of fillings:
1. Ricotta with blood orange curd and hazelnuts.
2. Ricotta with dulce de leche that my friend Hourie brought back from Argentina.
3. Ricotta with sugar and sprinkles.
But you can add all sorts of things. Think chocolate, minced mint leaves and ricotta! Maybe tahini, honey and ricotta. Or lemon zest, sugar and ricotta. The possibilities are endless.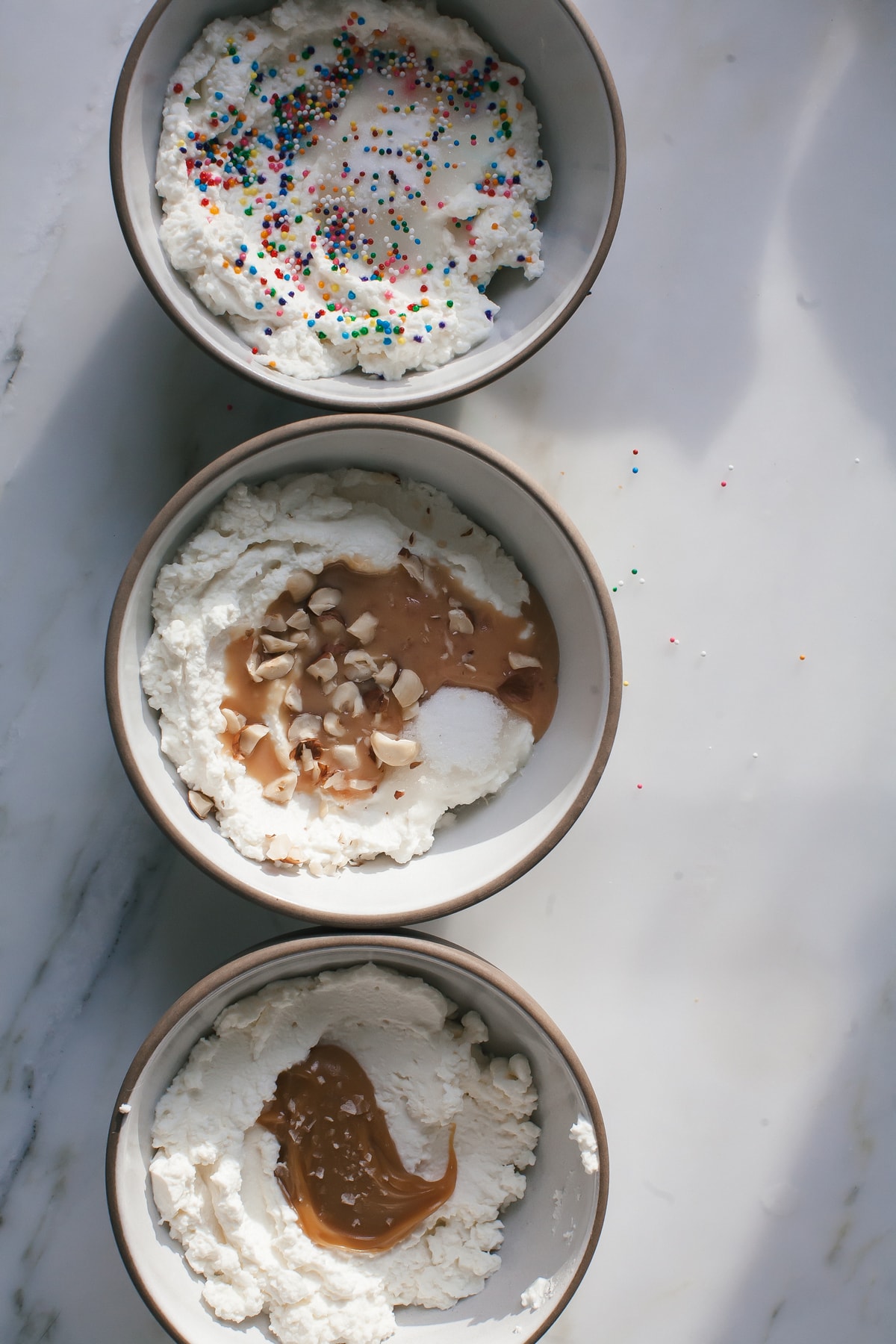 You'll then want to line a bowl (or bowls) with plastic wrap.
The pound cake is then sliced lengthwise. These slices are arranged like so in the lined bowl. You can super psycho with it, making it so lines exist and things are put in ever so carefully, or you can just put them in there and it'll be delicious!
I did it both ways and the just putting slices in there and making it work was way easier and less stressful.
If you are interested in being a little OCD, it will feel like playing tetris.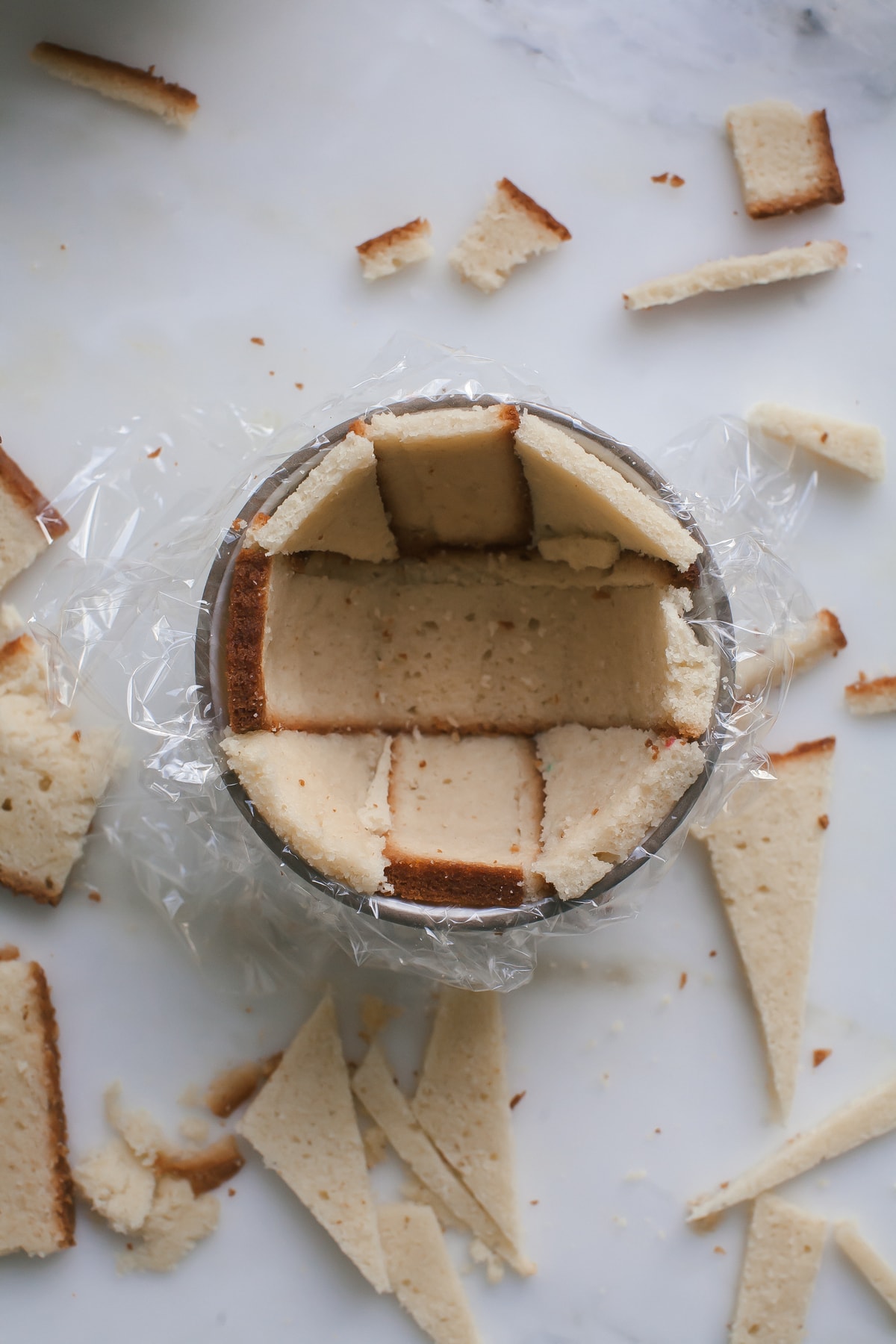 It's filled with ricotta. And then topped with more slices of pound cake. Then you wrap it REALLY tightly, push it down and stick it in the fridge for at least 8 hours.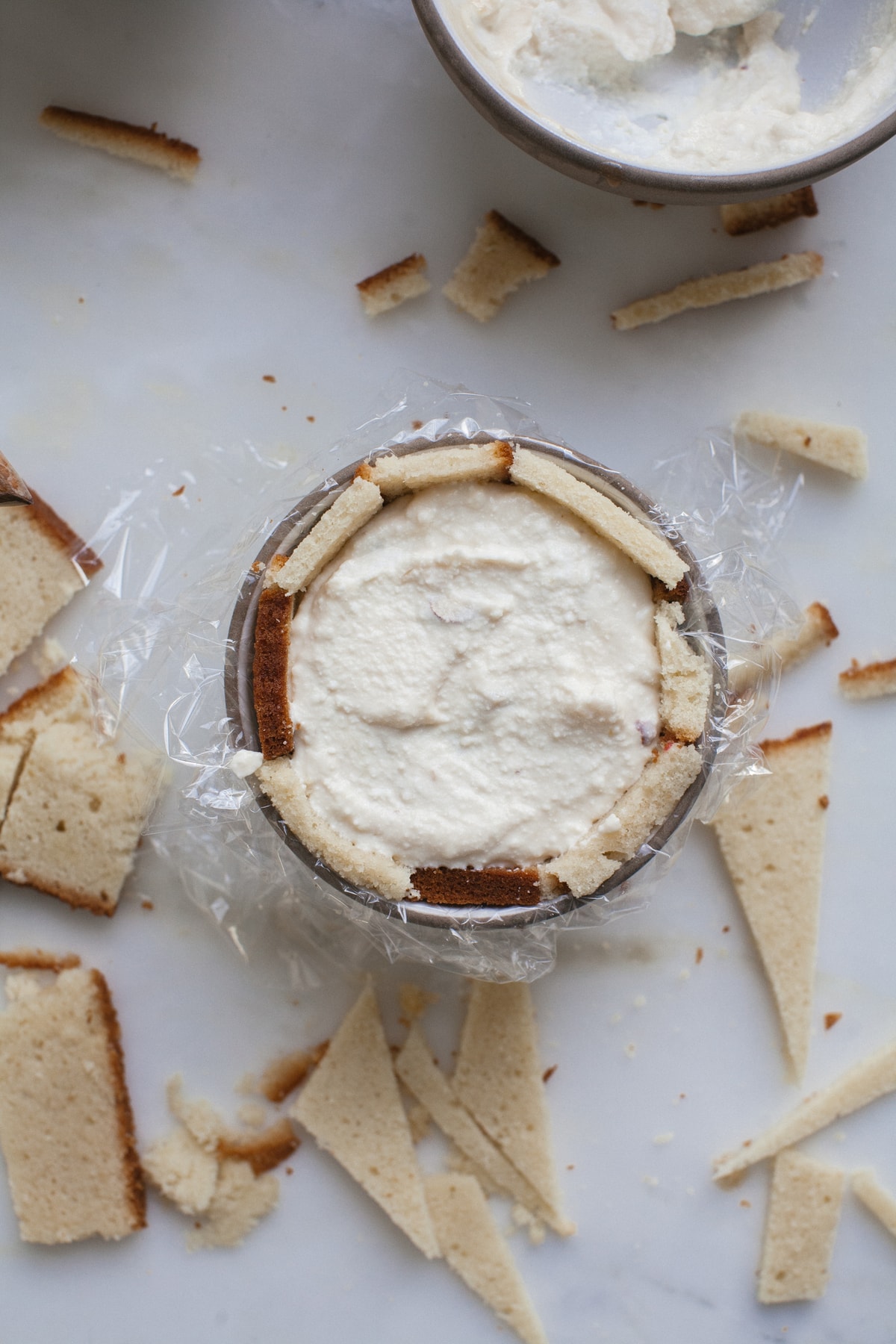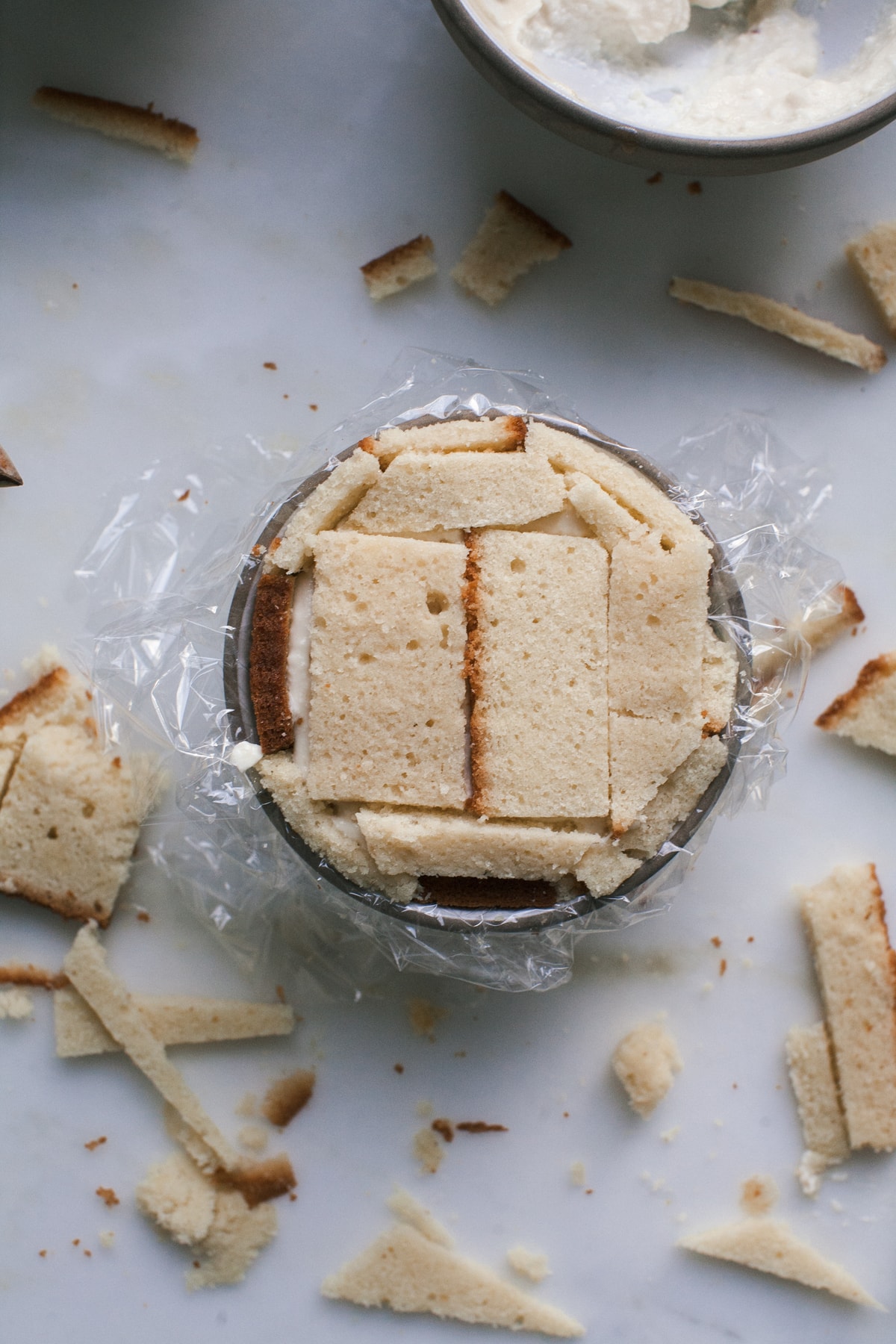 And then…it'll come out and look so beautiful and magical-looking.
It's the perfect thing to make for a holiday that's coming up that rhymes with Shmalentine's Day.
You could just make a small lil' one and split it with your boo. Or it all by yourself!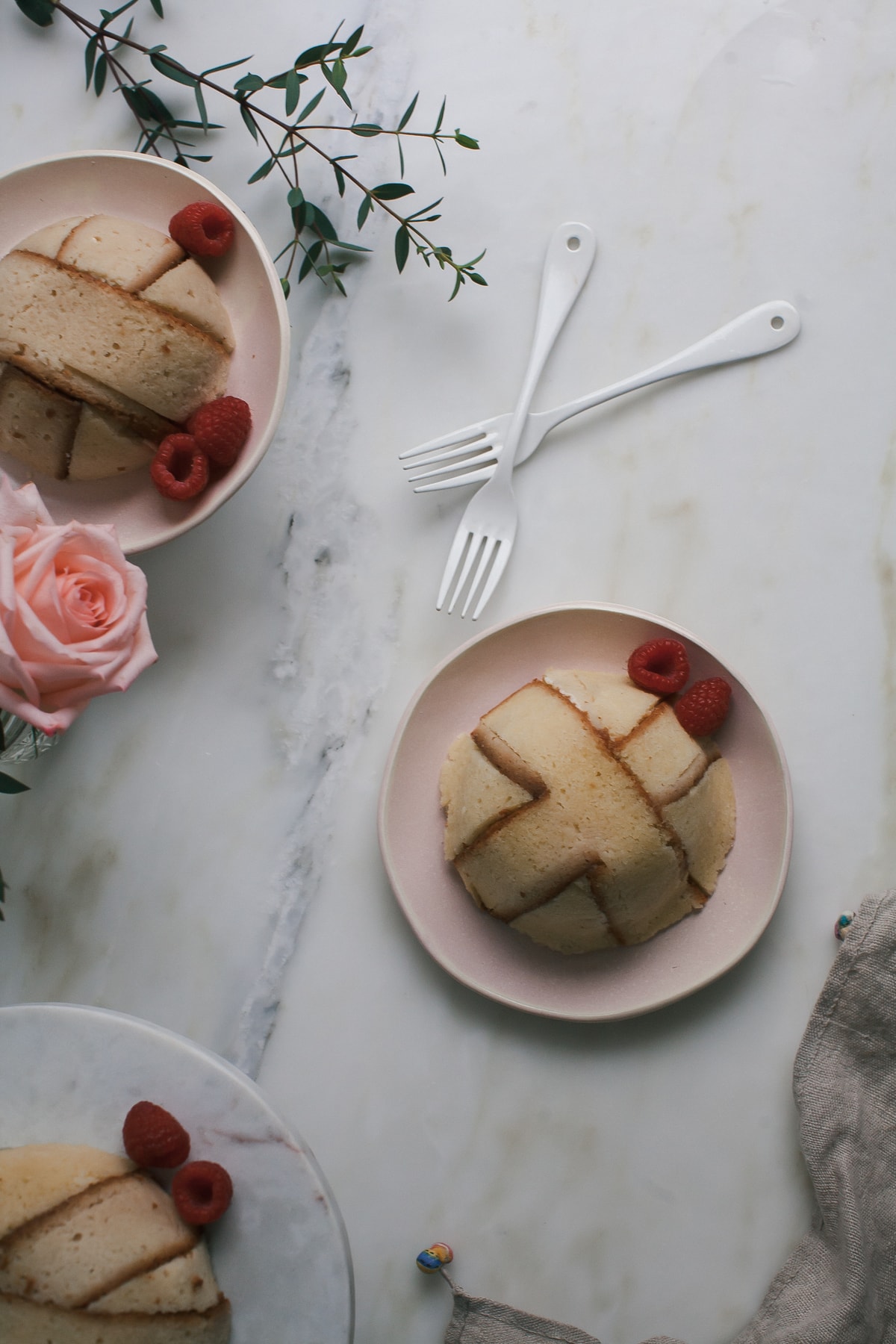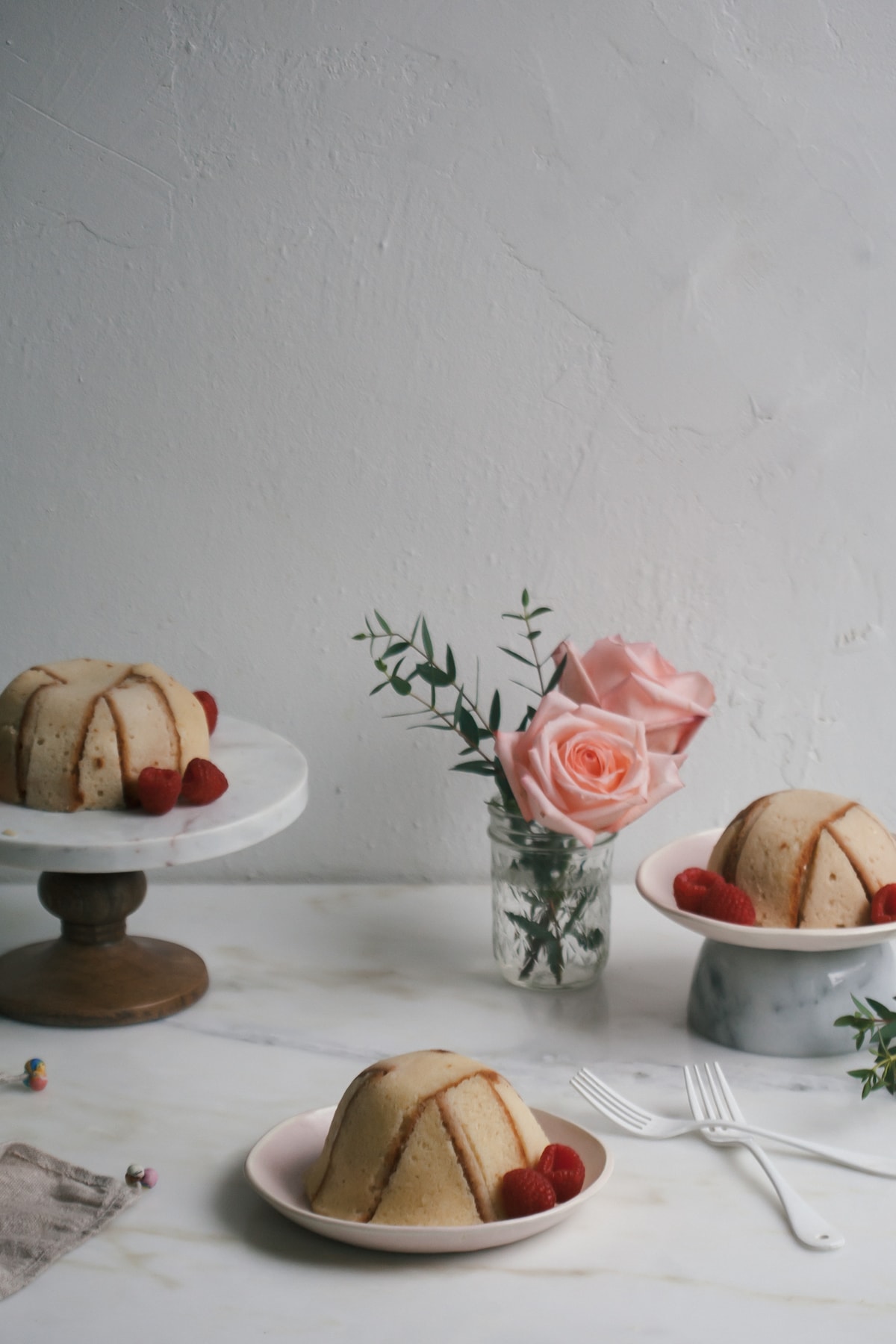 I tried dusting it with cocoa but I think I like it without.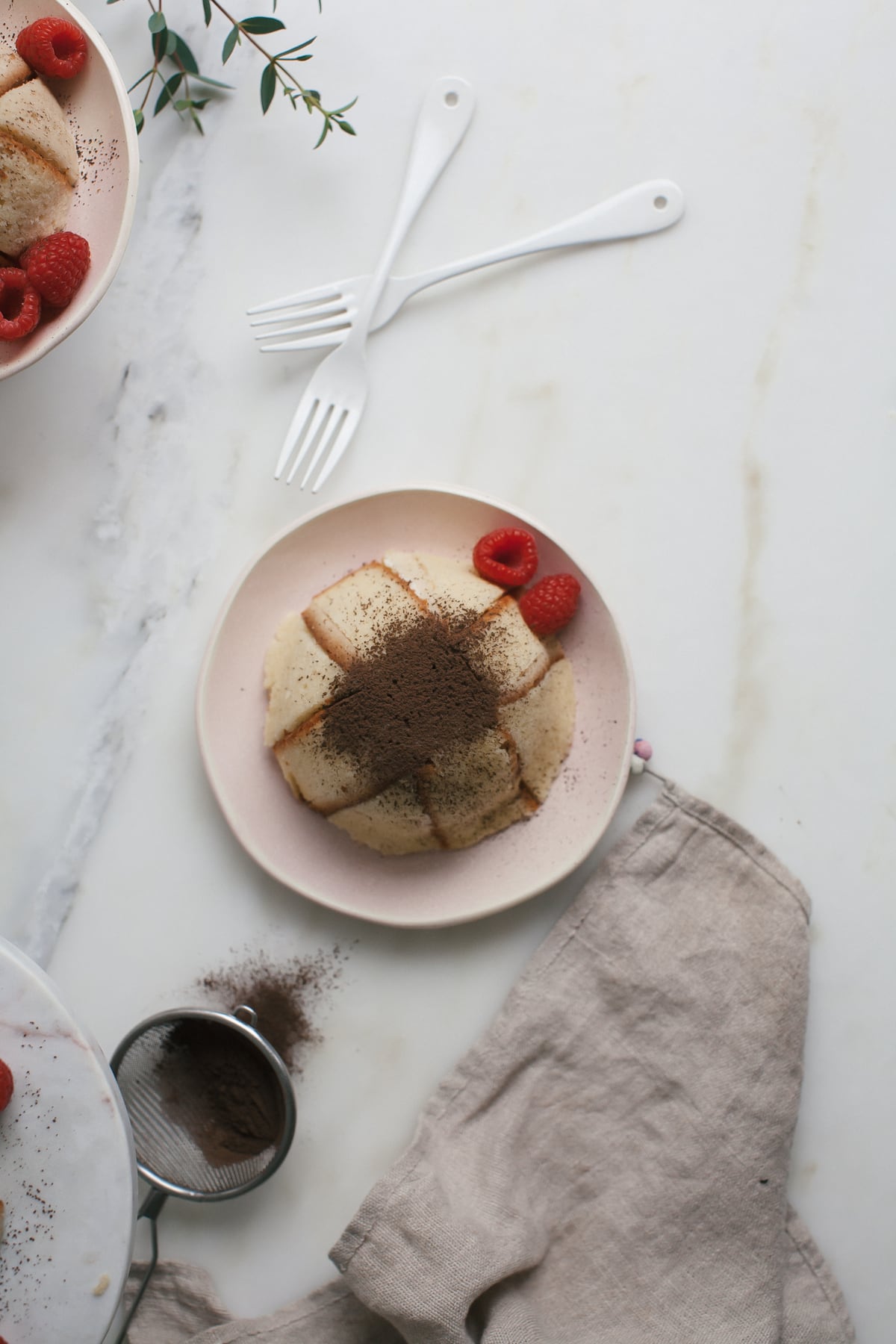 But my favorite part about this dessert is that you can do so many things that you like. Or you can follow the "recipe" below.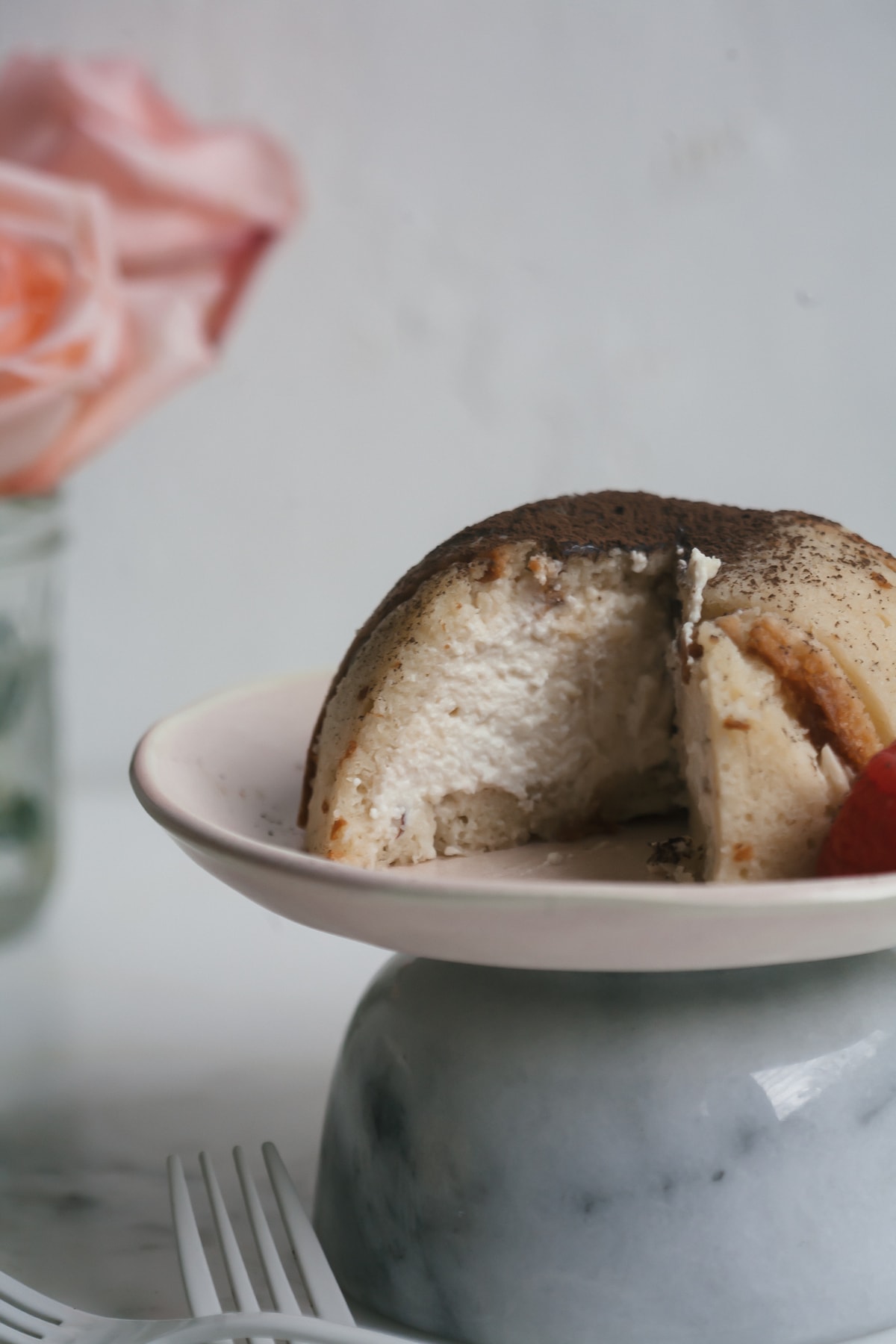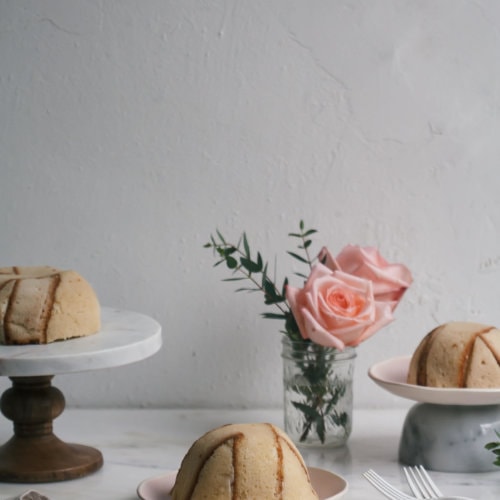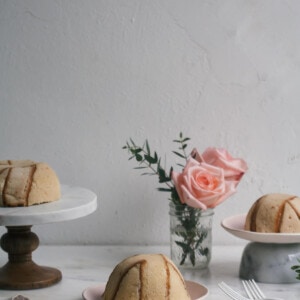 Ingredients
Cake
1 to 2

pound

cakes

, 1 to 2 pound cakes (store-bought or homemade)

3

tablespoons

rum + 1 tablespoons sugar,

,

whisked together
Filling #2:
3/4

cup

ricotta

2

tablespoons

sugar

1

teaspoon

vanilla extract

1

tablespoon

sprinkles
Filling #3:
3/4

cup

ricotta

2

tablespoons

dulce de leche

Pinch

of salt
Toppings:
1

teaspoon

cocoa powder

,

optional

1

teaspoon

powdered sugar

,

optional
Directions
This is a super loose recipe. The filling amount will vary depending on how big your bowl is. I used three soup-type bowls. Not serving size big. But you could make them that big, but of course you're going to need more filling and more pound cake.

Start by lining the bowl or bowls with plastic wrap, leaving enough slack so that you can wrap the pound cake at the end.

Slice the pound cake lengthwise. And then cut those big slices into strips. If the pound cake is a bit dry (you can test this by bending it slightly), you can brush the pound cake strips with a bit of rum and sugar mixture. This will add flavor and pliability.

Place the strips of pound cake into the bowl, creating whatever design you like. I ended up placing two strips on top of each other creating a X and then cutting the small square that's on top, creating an X that's completely flush to each other. Does this make sense? And then I added other triangles. There's no right way to do this, you just add, slice it up, add, until totally filled.

Add the ricotta filling and then top it with more slices of pound cake. Wrap the plastic wrap over the "bottom" of the cake and press it. Place it in the fridge to chill for at least 8 hours, ideally overnight. Repeat if you like, making as many as you like!

When you remove it from the fridge, unwrap it and turn it onto a plate. You may need to give it a few smacks to have it release from the bowl. Remove the plastic wrap and discard. Dust with cocoa powder or powdered sugar, if you like. Garnish with berries, if you like. Slice it up and enjoy.