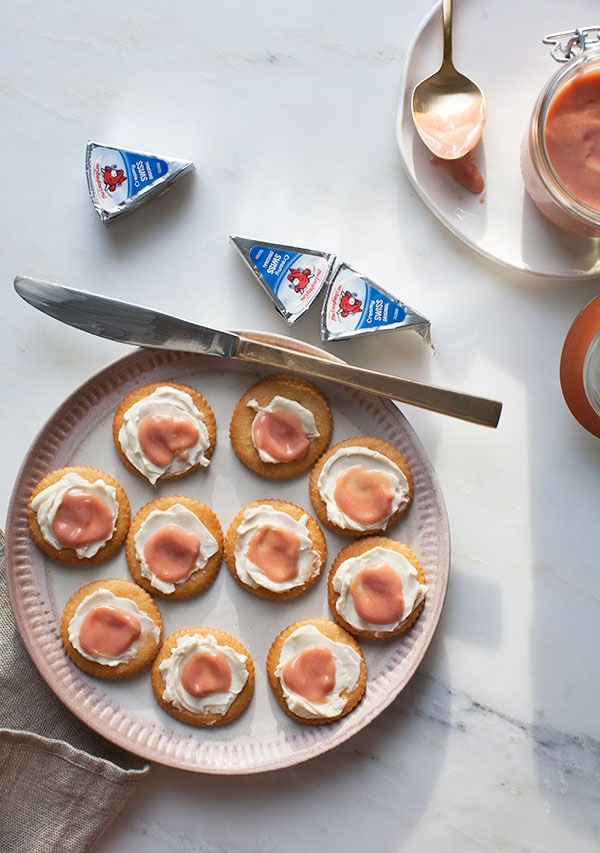 Right now, at this very moment, I'm really into the art of relaxation. When I think of proper relaxation, I think of George from Seinfeld (and all of the other people who followed him) eating a candy bar with a knife and fork. I have no idea why but eating something that you should eat with your hands with a knife and fork feels like pure luxury to me! George was a man who knew how to live right.
I tried to eat this cracker and cheese and curd situation with a knife and fork and sort of failed but the attempt was ridiculous and absurd but soooo enjoyable. Today I teamed up with The Laughing Cow® to bring you a reinvention on an old classic: the cheese, cracker and jam combo.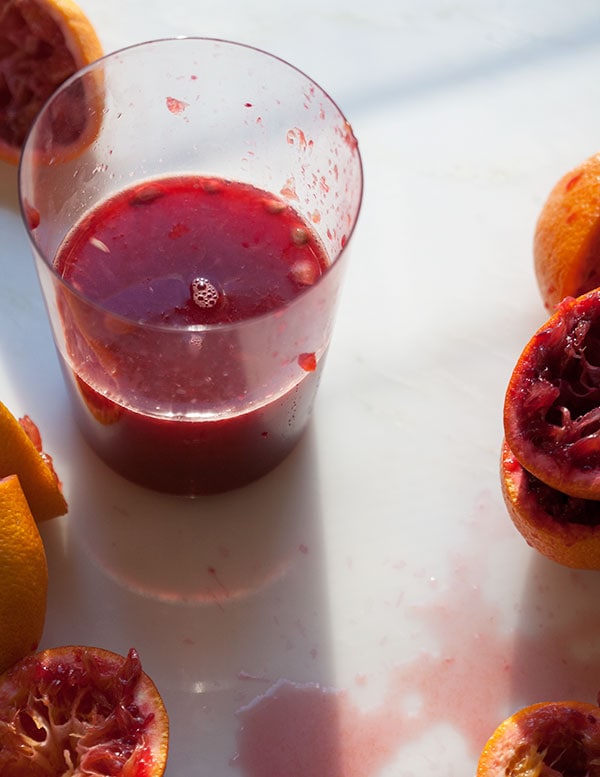 Right now winter citrus is everywhere and it's hard for me to look at its beautiful colors and not want to make all the things with it. This curd is soooo smooth and tart and perfectly sweet. It goes splendidly on a cracker with super creamy Swiss.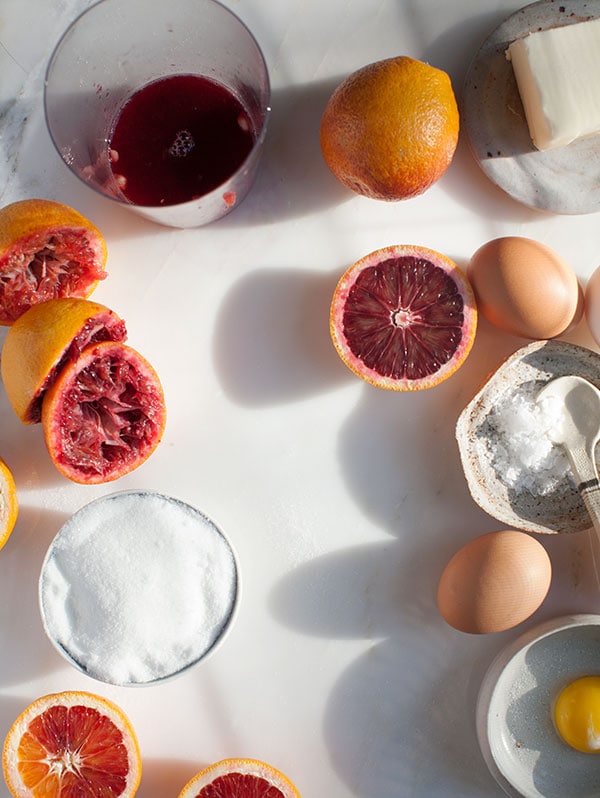 This curd recipe is maybe my favorite ever and it's adapted from this panna cotta recipe I did a year ago. It's one of those recipes that halfway through you question if it's going to work. The butter and sugar are creamed together and when you add the blood orange juice, the mixture almost looks like it's curdled. But soon enough, with a little help from a double-boiler, it becomes silky smooth and comes together in about 10 minutes. I ran this curd through a sieve about two times and did not push the extra bits through it, I discarded it, and kept running it through until it was as smooth as can be.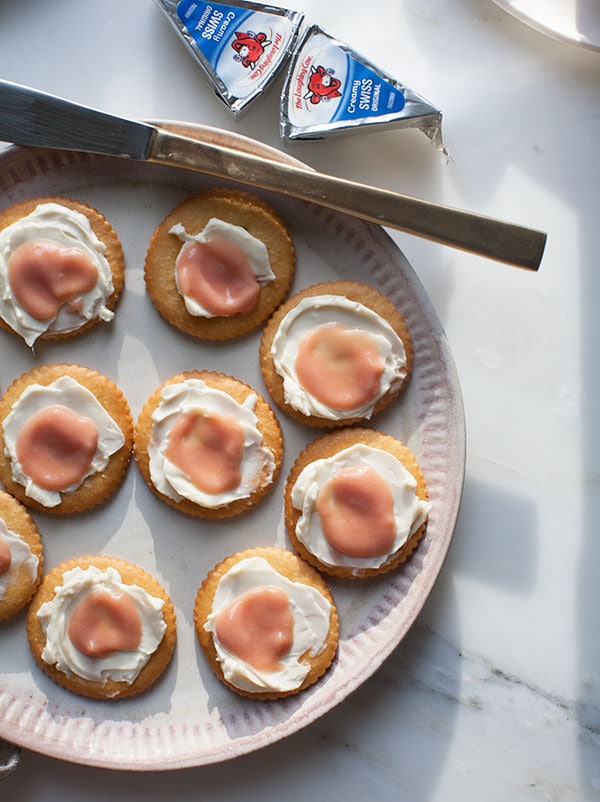 It was the perfect topping to a salty, buttery cracker and creamy cheese. Fork and knife are totally optional but chillaxation and savoring the flavor is absolutely required.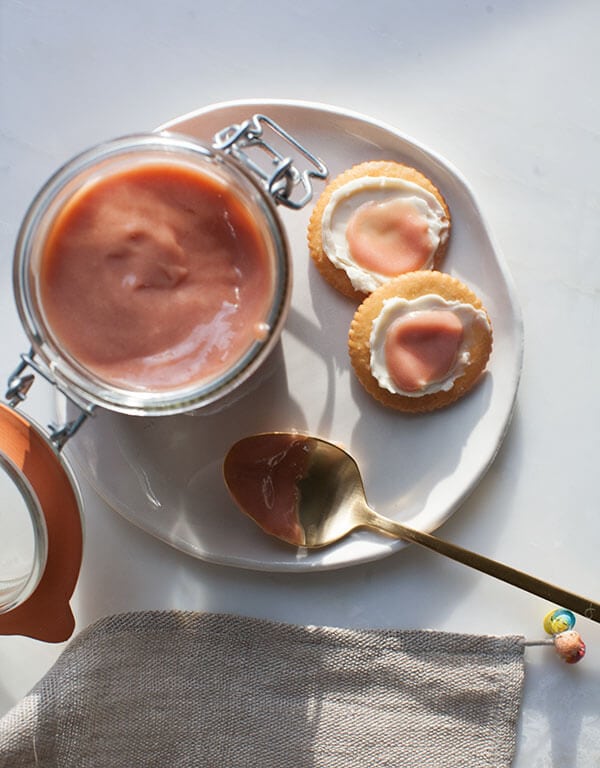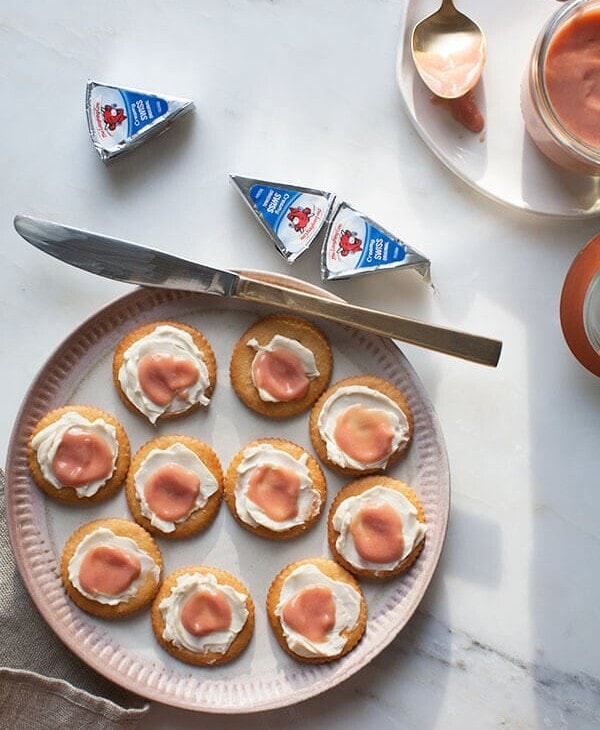 Print Recipe
Blood Orange Curd
Ingredients
3/4

cup

freshly squeezed blood orange juice

from about 6 blood oranges, strained 

4

tablespoons

unsalted butter

room temperature

1/2

cup

white granulated sugar

2

large egg yolks

2

large eggs

1/4

teaspoon

salt

2

teaspoons

freshly squeezed lemon juice

from about 1 tablespoon 
Instructions
To a small saucepan, placed over medium heat, simmer the blood orange juice until it reduces by half (to about 1/3 cup), about 3-5 minutes. Set aside to cool slightly.

*In the stainless steel bowl (note: you'll use this bowl as a makeshift double-boiler later) of your stand-up mixer, add the softened butter and sugar and beat until light and fluffy, about 2 minutes.

Add the egg yolks, beat the mixture together, and then add the eggs, beating again until they're well incorporated. Stir in the salt, and then in a few batches, add the blood orange juice and lemon juice. The mixture will look curdled and you might scratch your head and wonder if it's right, it will be! 

Rinse out the small saucepan you used earlier, and fill it with a few inches of water. Bring the water to a simmer and place your stainless steel bowl of curd mixture on top. Stir constantly, and heat the curd slowly enough that the sugar has time to dissolve and the whole mess becomes cohesive; this step usually takes about 10 minutes. Pull the curd from the head when it is just thick enough to coat your spoon and until a thermometer reads 166 F. The curd will thicken as it cools.

I ran the curd through a sieve into a chilled bowl a few times just to ensure it was silky smooth. I highly recommend this step! Transfer the curd to a container a keep in the fridge, in an airtight container, for up to a week.
Notes
*Note: You can also do this with a hand-mixer. Just be sure it's a stainless steel or glass bowl that you can nestle on top of a saucepan. 
(This post is sponsored by The Laughing Cow. Thank you for supporting the sponsors that keep A Cozy Kitchen cozy.)