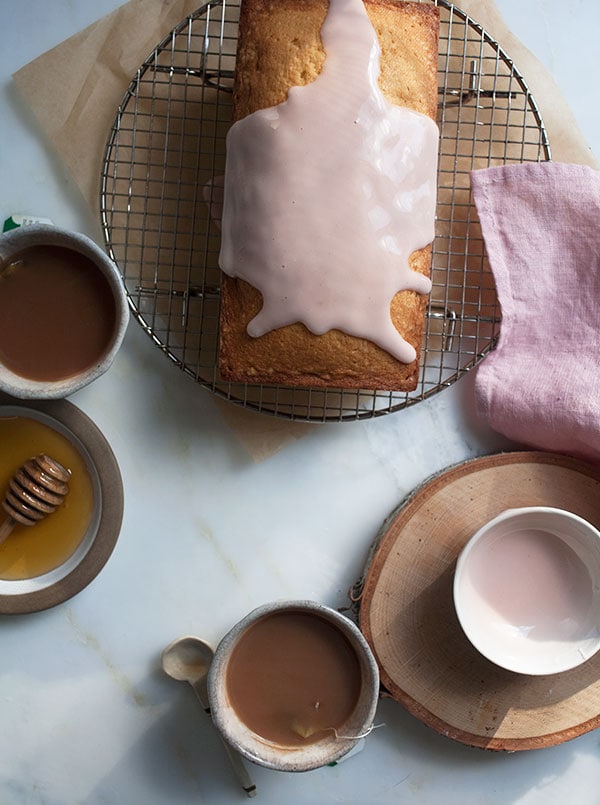 I have turned into a full on holiday baking psycho woman. It wasn't my intention but there's something about a cold drafty apartment, a twinkling Christmas tree in the living room and sticks of butter in the fridge calling my name, that gets me in the mood to bake.
I spent the better part of Saturday, baking, sculpting and arranging a bûche de noël with my friend Hourie. It was a bit of a challenge. There were a few mini meltdowns (the recipe we were using wasn't foolproof) but at the end it was really pretty. And I remembered why I love this season. Why I love baking with friends. Why I do what I do.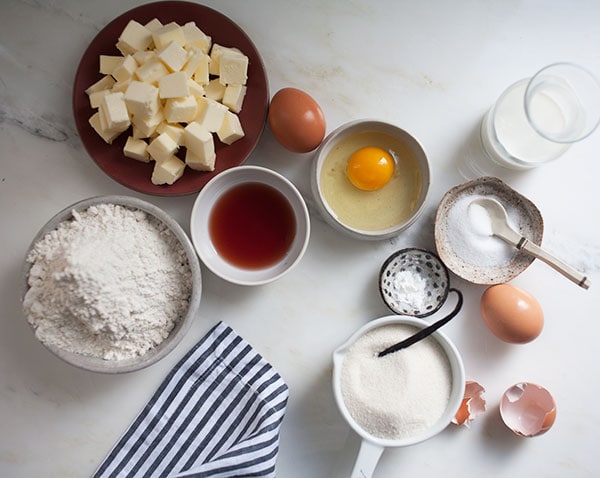 I may sound super ignorant about pound cakes but it was just a few months ago that I learned a pound cake is supposed to have a pound of butter, a pound of sugar and no leavening. Those two work wonders with one another and create a dense cake that isn't too, too dense. I dunno about you but that's a lot of damn sugar.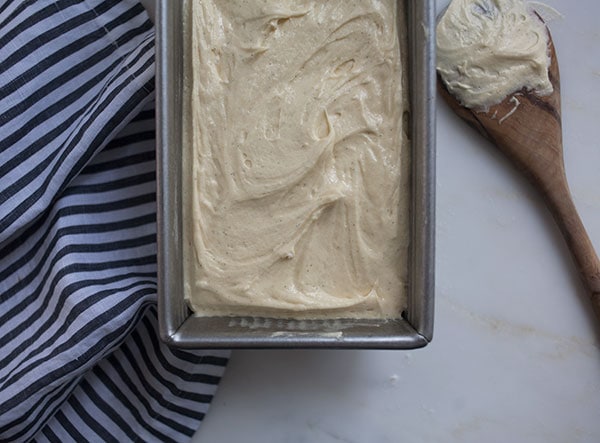 I tweaked that old idea and made it a bit lighter, less sugary, less buttery but not less tasty. It'd say that this is more like a vanilla bean half pounder…with pomegranate glaze.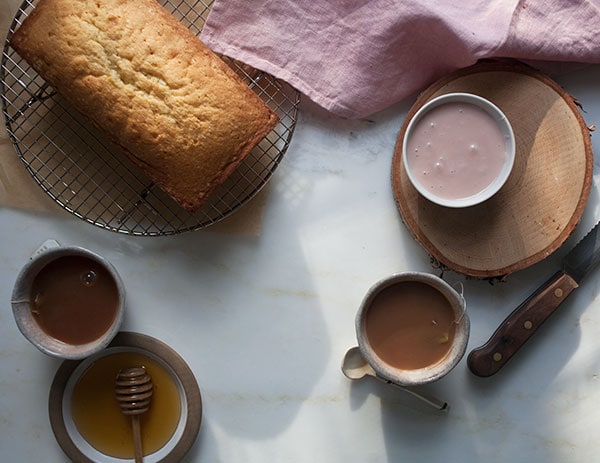 The one thing you have to not do is eat all the batter raw. That's how you get sick, but omg this cake batter is SO delicious. And this is coming from someone who is not known to eat raw
cookie dough. I don't love it but omg this cake batter!
Don't do that, it's gross, but if you do I totally get it.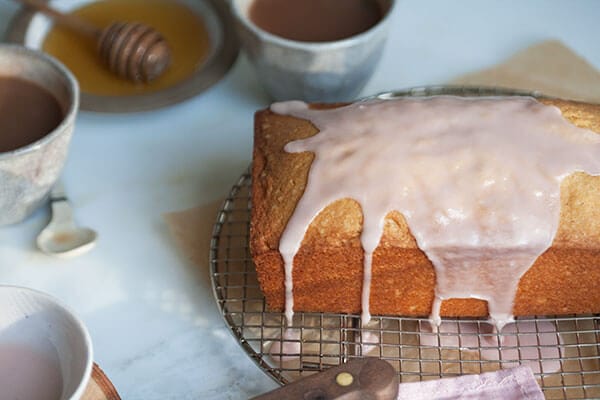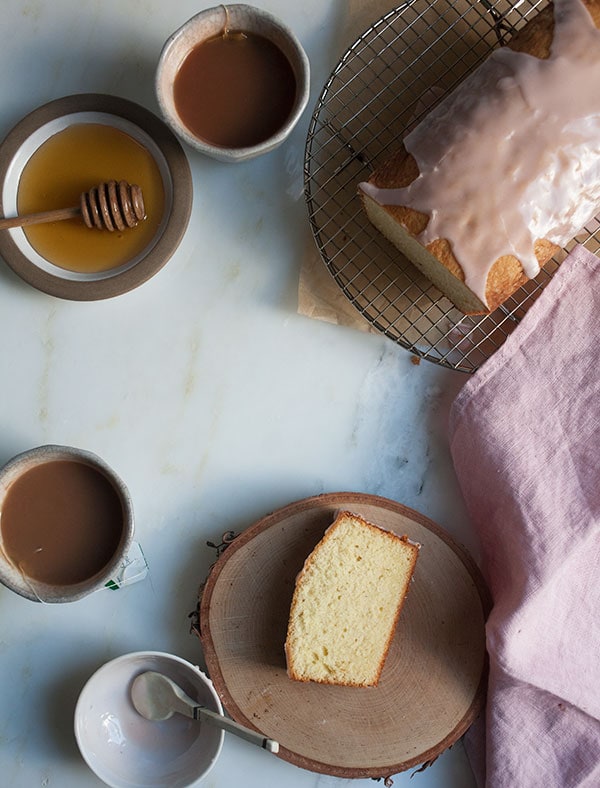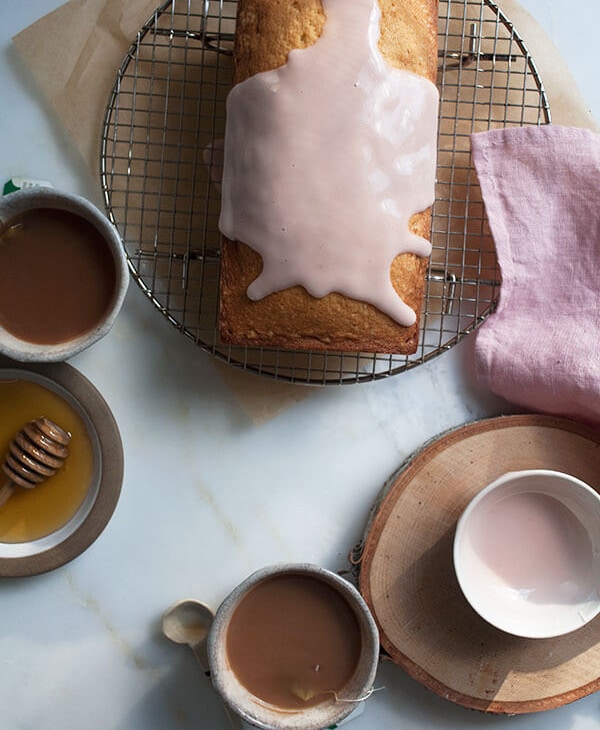 Print Recipe
Vanilla Bean Pound Cake with Pomegranate Glaze
Serving Size:
9x5-inch pound cake
Ingredients
2

cups

all-purpose flour

1

teaspoon

salt

1/4

teaspoon

baking powder

1/2

vanilla bean

scraped

1 1/4

cup

pure cane sugar

white granulated sugar is fine

1

cup

2 sticks unsalted butter, room temperature

3

large eggs

room temperature

1/3

cup

whole milk

1

cup

powdered sugar

sifted

2 to 3

tablespoons

pomegranate juice

Pinch

of salt
Instructions
Preheat oven to 300 degrees F. Grease a 9x5-inch loaf pan with cooking spray. Set aside.

In a medium bowl, mix together the all-purpose flour, salt and baking powder. Set aside. In a small bowl, mix together the vanilla bean caviar and sugar until the little speckles of vanilla bean are mixed throughout.

Add the softened butter to the bowl of a stand-up mixer. With the paddle attachment on the mixer, beat for about 5 minutes, until pale in color. Add the sugar and beat for an additional 2 minutes. Mix in one egg at a time, being sure each egg is incorporated before adding another.

Fold flour mixture into butter mixture, alternating with the milk, beginning and ending with the flour. Pour the pound cake batter into the prepared 9x5-inch loaf pan and transfer to the oven to bake for 60 to 65 minutes, until a skewer inserted into the center comes out clean. Allow the cake to cool for 5 minutes in the pan and then invert onto a cooling rack.

While the pound cake is cooling, whisk together the powdered sugar, 2 tablespoons of pomegranate juice and pinch of salt. If glaze is too thick, add the additional tablespoon of pomegranate juice. Pour the glaze over the cooled cake and slice up and serve.