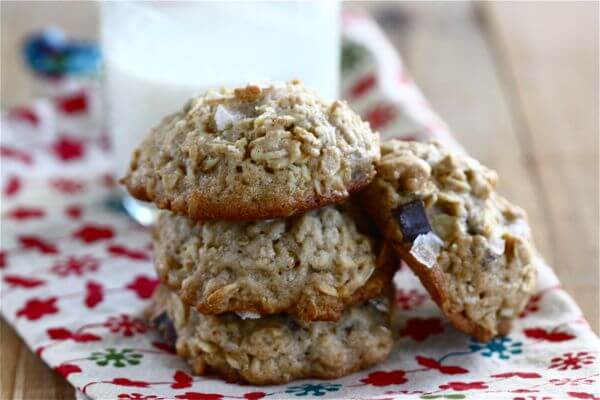 Uhhh…I might be a lil' addicted to Instagram. It's like instant blogging. It's impulsive, nosy (hello instagram stalking!) and my current fav way to procrastinate.
I'm convinced that most of these various social networking sites were invented to give us something to do while we collectively wait in line at the post office. Let's NOT talk to the person standing next to us…no, that'd be scary. But comment on a strangers's picture of their cute newborn/new shoes/lunch/dessert? Meh…perfectly normal.
I like our lives now. Technology has made our lives weird and awesome. I'm into it. This post is brought to you by my Instagram addiction. I peeped a picture from Suann of a salty oatmeal cookie (from Teaism in Washington D.C.). I was intrigued. Salty Oatmeal Cookie? Ummm…I like salt. And oatmeal…and cookies.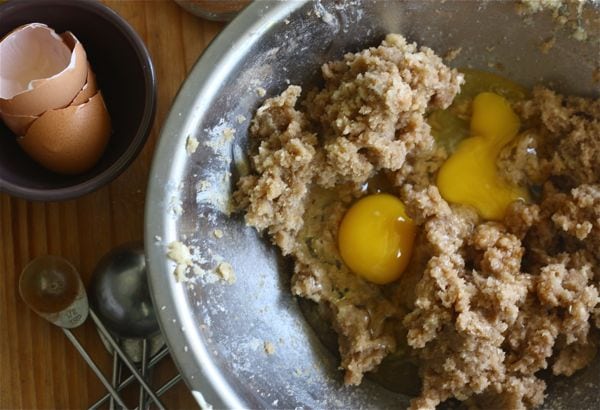 I did a little googling and found that this cookie is no normal cookie. It has a cult-like following, with recipes all over the internets attempting to get it right.
I have no idea if this tastes like the original, since I've never had it. So, if you're obsessed with the original and you make this and you're like, NO WAY THIS ISN'T IT…then I'm sorry. Don't be mad at me! I hate it when people are mad at me.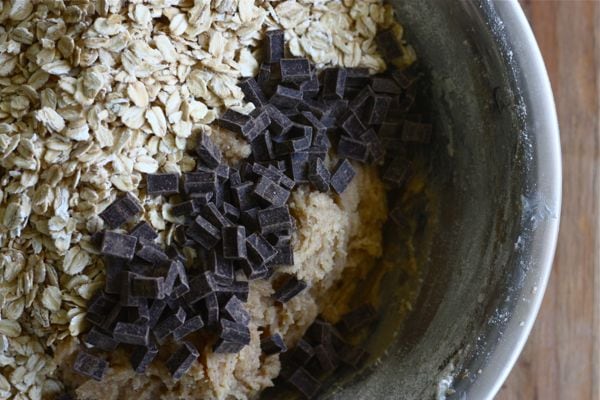 I can't promise a Teaism Salty Oatmeal Cookie look alike/taste alike, but I can tell you that this cookie is a win! The center is tender and light, in the way a good cookie always is. It has a medium size crumb, the oatmeal, per usual, makes for awesome texture, and the dark chocolate chunks are delicious.
Oh and the salt! I sprinkled fancy Maldon Sea Salt before I put these cookies in the oven. Salt works wonders with oatmeal (who knew!) and throw in the combo of chocolate? Heyyyy deliciousness, hey!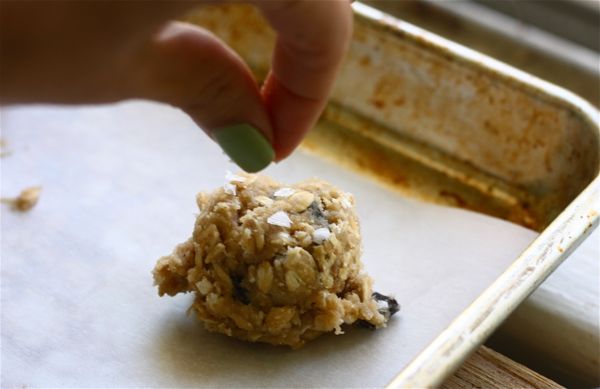 P.S. Don't splurge on fancy salt, if you don't want to. A coarse kosher salt will work perfectly for these cookies. No biggie! Take that $7 and put it to good use, like buying some nail polish or something. It's Spring, after all!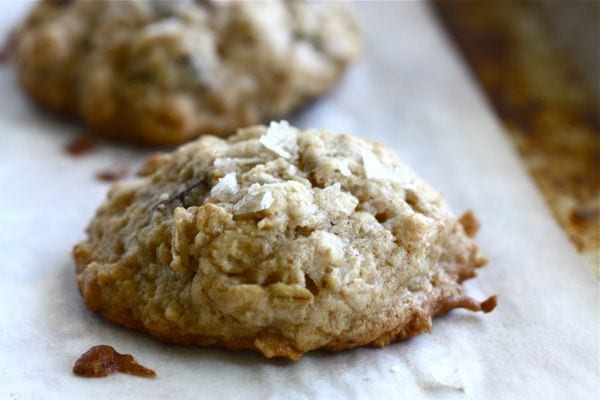 Salty Chocolate Chip Oatmeal Cookies
3/4 cup unsalted butter, sliced, slightly cold
1 cup packed light brown sugar
1/2 cup white granulated sugar
1 teaspoon baking powder
1/4 teaspoon baking soda
1/2 teaspoon ground cinnamon
2 large eggs
1 teaspoon pure vanilla extract
1 1/4 all-purpose flour
1/2 cup rice flour
2 cups rolled organic oats
1/2 cup dark chocolate chips
Maldon Sea Salt or Kosher Salt
1. In a stand-up mixer (or using a hand-mixer), beat the butter until mashed. It may stick to the paddle a bit, no biggie –scrape and mix once more. Next, add the brown sugar, white sugar, baking powder, baking soda and cinnamon. Combine at a medium speed until the mixture has a crumbly texture. Add the eggs and vanilla and mix again until combined.
2. Fold in the all-purpose flour and rice flour until just combined, being sure not to over-work the dough. Gently fold in the oats and chocolate chips. Cover the bowl with plastic wrap and transfer to the refrigerator to chill the dough for an hour.
3. Pre-heat the oven to 375 degrees F. When the oven is hot, drop the cookie dough, using a tablespoon or cookie dough scooper, onto a parchment lined baking sheet. Lightly sprinkle the tops with sea salt or kosher salt. Bake in the middle of the oven for 13-15 minutes; the edges golden brown and the center still soft. The cookie should still be soft to the touch so carefully transfer them to a cooling rack.
Recipe tweaked from The DCist