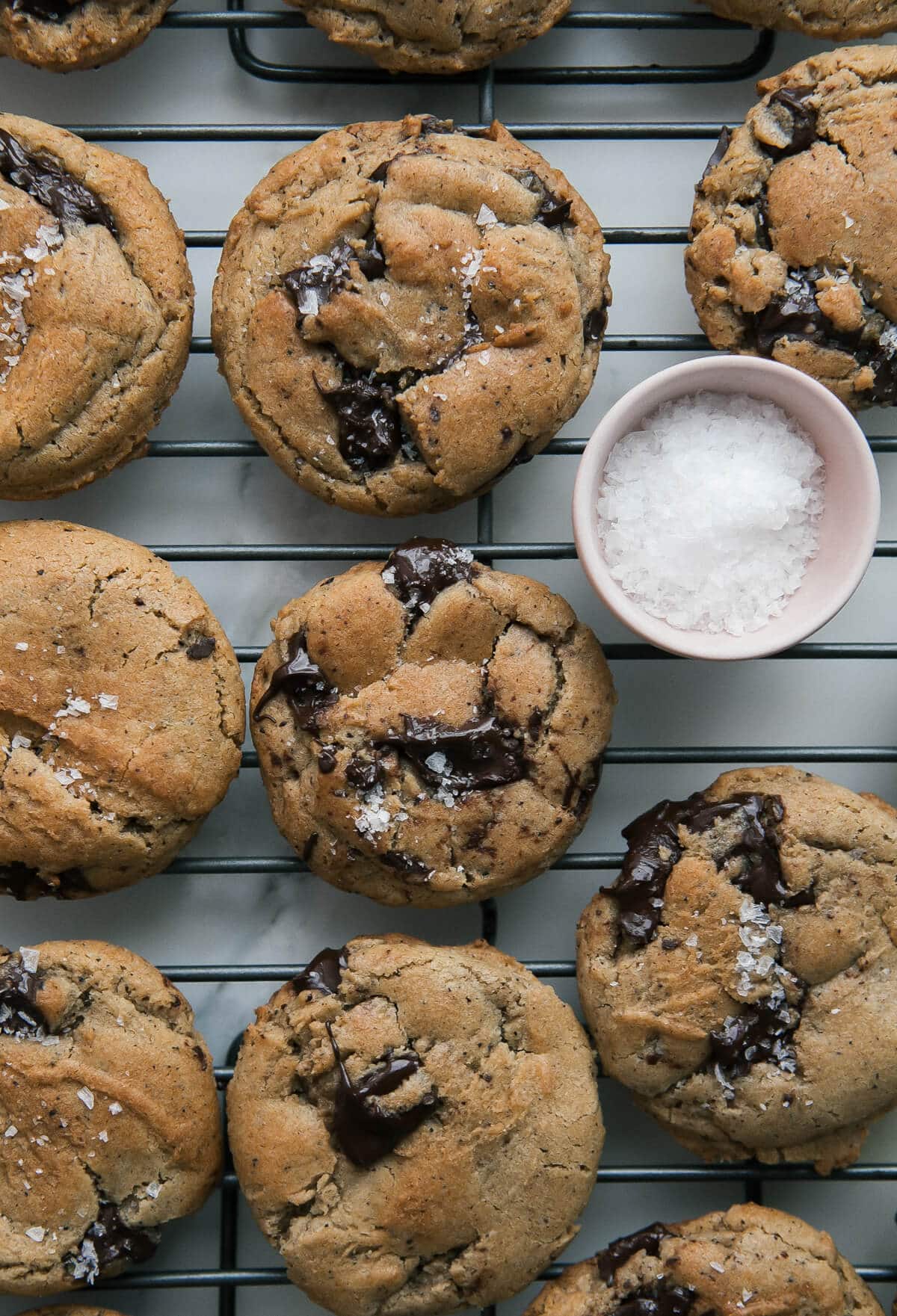 OK, let's talk about these espresso/coffee chocolate chip cookies. I love cookies. And recently I shared the Cozy Chocolate Chip Cookies with you and they are pretty much one of the top recipes of 2017 on this lil' blog.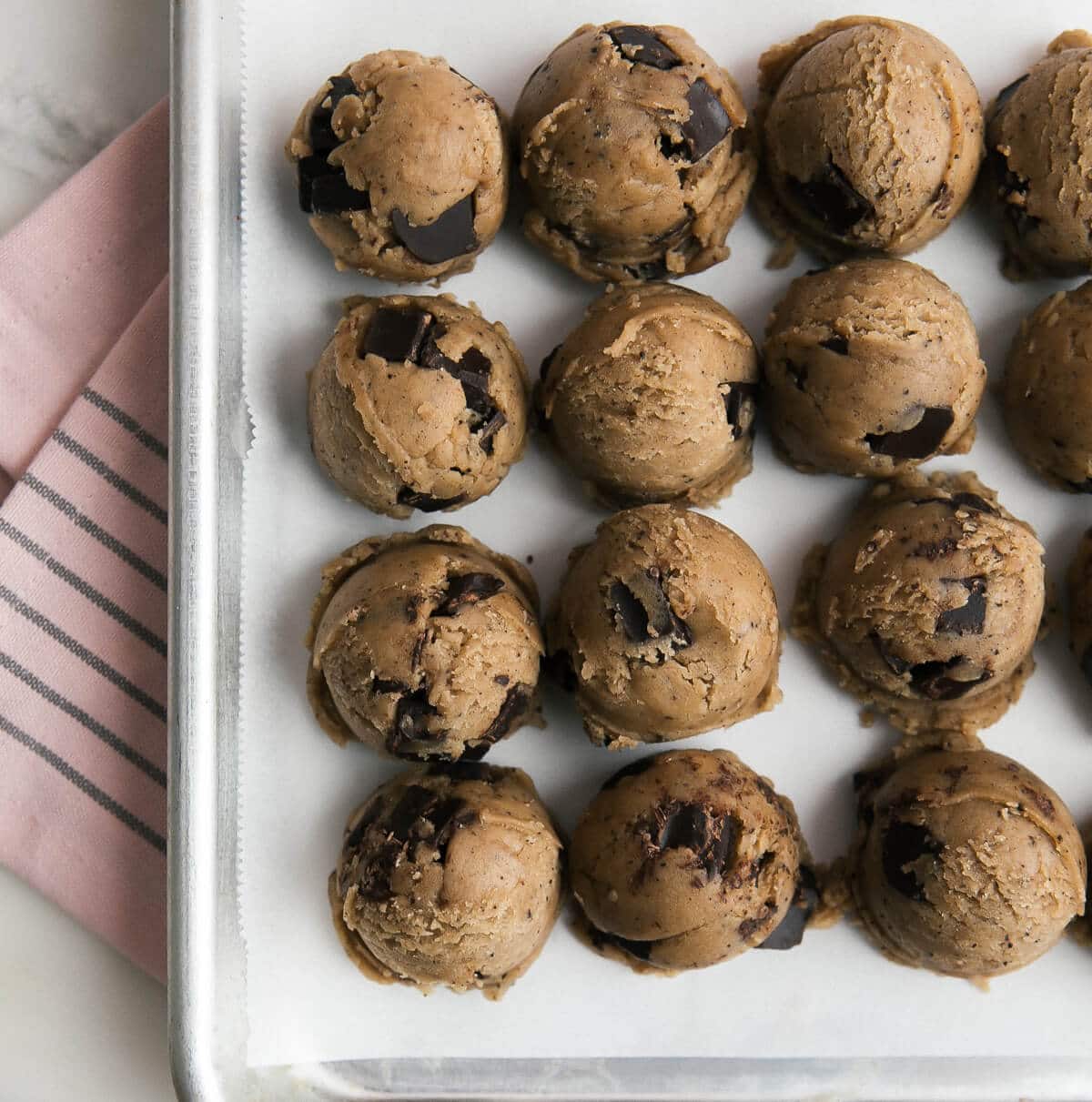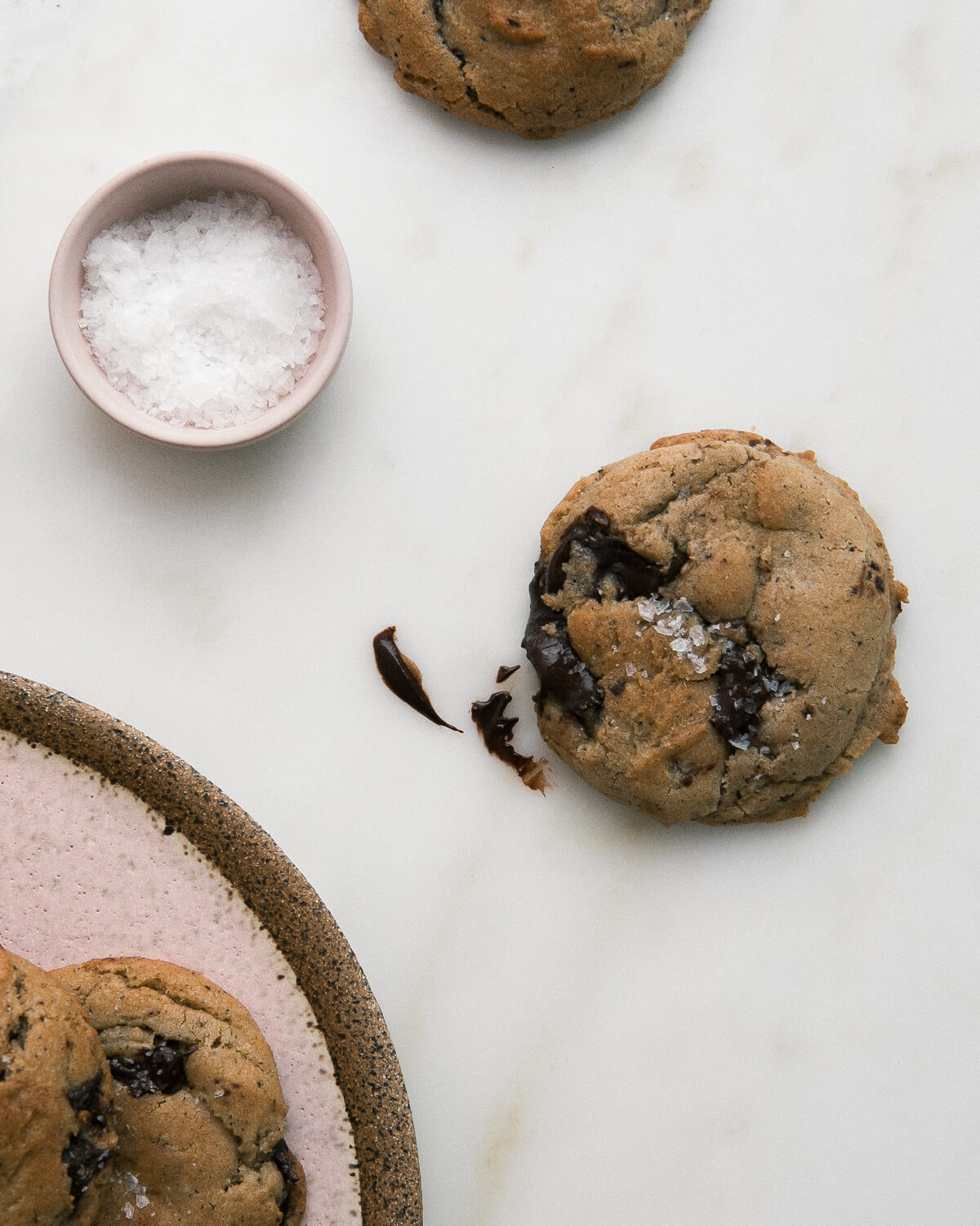 A lot of people have made them and it makes me so happy. I met someone at a conference recently and she told me it's her family's new go-to cookie recipe and that made me pumped! One of the bonuses that we both agreed on: it doesn't require to soften any butter so there's really immediate satisfaction involved.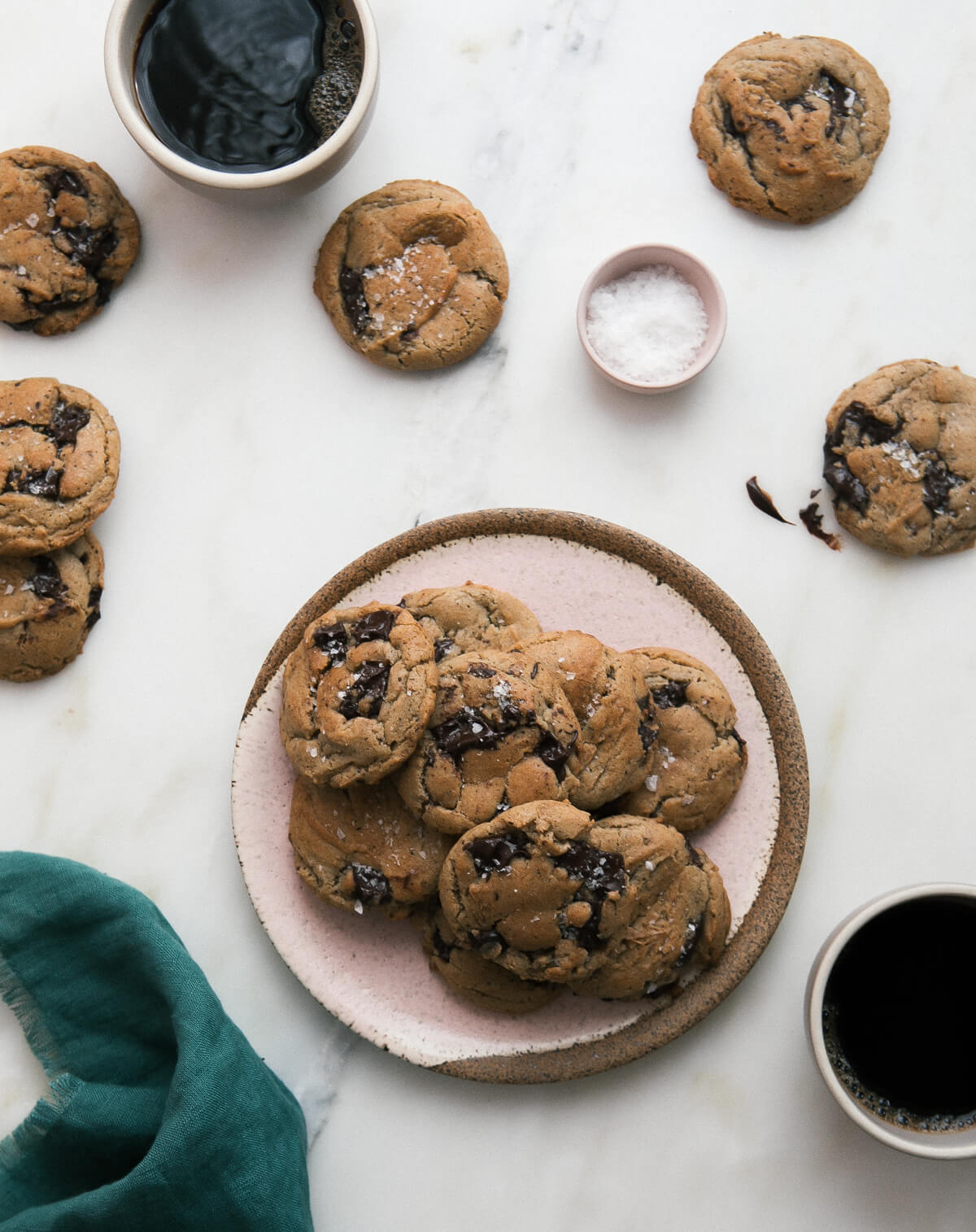 Testing Breakdown!
This is a coffee/espresso spin on that recipe. We tweaked it (and by "we" I mean Billy and myself) since he helped me figure out how to get the best espresso flavor into this cookie.
We tried it with instant espresso powder but WE HATED IT.
Instant espresso is really delicious in, like, a chocolate cake. You don't taste it, it's just there to accentuate the chocolate flavor. But in this cookie, it was a really overpowering flavor and it wasn't a good one.
Instant espresso powder doesn't yield a delicious cup of espresso. I don't think any of us are surprised by that.
We started again and we tried it with delicious espresso grounds. Surprise! It was so much better!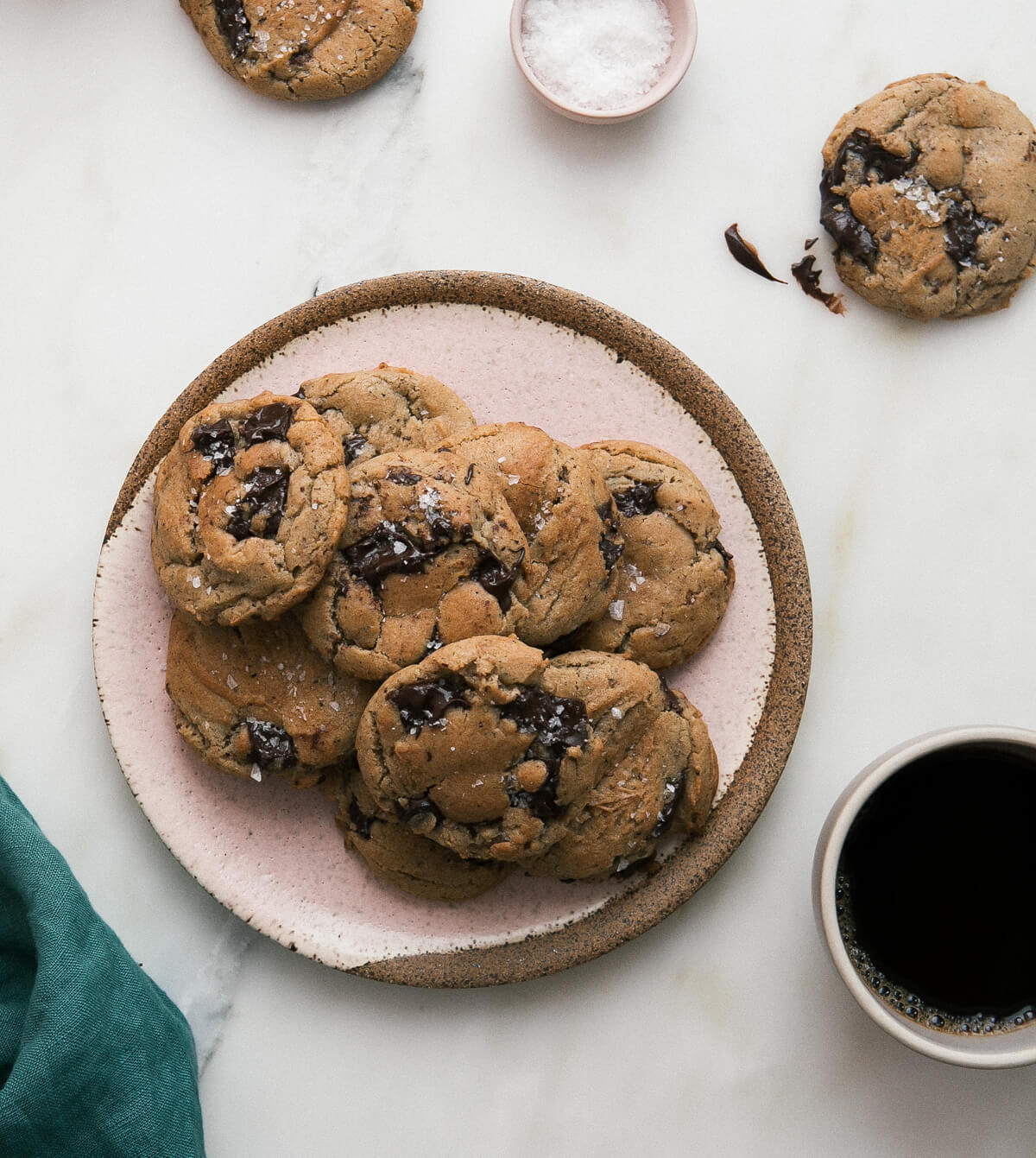 Quality of Espresso/Coffee That You're Using is Everything!
Ok, so REALLY good espresso is expensive. It can sometimes be, like, $15 a bag. I tested this with Allegro coffee brand of espresso and I didn't even buy an entire bag. I bought a half bag, which made it around $5. WIN! If you buy fancy espresso grounds, use those! But I figured it'd be kinda silly to spend a lot of money on awesome espresso to only use it for this recipe.
How the Espresso Is Incorporated Into the Chocolate Chip Cookie is Important!
The butter is melted and then the espresso grounds are steeped in it, creating a buttery espresso mixture. I then just ran it through a fine mesh strainer. You may be tempted to run it through a coffee filter but this will NOT work. Butter is too thick. We found out the hard way so don't do it!
We also added a bit of espresso grounds to the dry ingredients so it looked more espresso-like.
The coffee/espresso flavor is not overpowering but it's there and it works with the chocolate so well. It's totally delicious. WE LOVE IT!! I hope you love these espresso/coffee chocolate chip cookies as much as I do!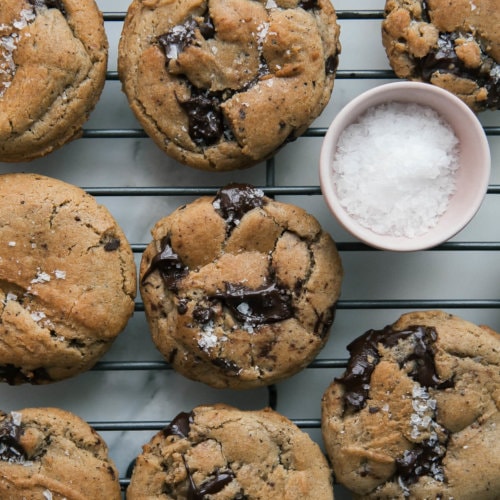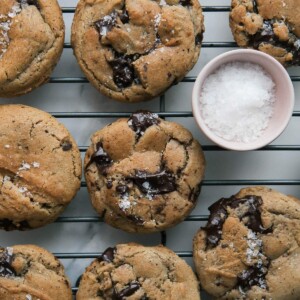 Espresso Chocolate Chip Cookies
Ingredients
Espresso Butter Mixture:
1 1/4

cup

unsalted butter

1/4

cup

espresso grounds
Dry Mix:
3 1/3

cups

all-purpose flour

1

tablespoon

espresso grounds

1 1/2

teaspoons

baking powder

1 1/2

teaspoons

baking soda

1/2

teaspoon

salt
Wet Mix:
1 1/2

cups

firmly packed brown sugar

1/2

cup

granulated sugar

2

large eggs

2

teaspoons

vanilla extract

12

ounces

dark chocolate chunks

Large flakes of salt

,

such as Maldon or Jacobson
Directions
To Make the Espresso Butter Mixture:
To a medium saucepan, set over medium heat, add the butter. When the butter has melted, turn off the heat. Stir in the espresso and mix until it's covered in the butter. Cover the saucepan and allow to steep for 20 minutes. When it's done, pour it through a fine mesh strainer, into a large bowl OR the bowl of a stand-up mixer.

Discard the used up espresso grounds. Set aside.
To Make the Dry Mix:
To a medium bowl, whisk the flour, espresso grounds, baking powder, baking soda and salt together. Set aside.
To Make the Wet Mix:
Grab the large bowl OR the bowl of a stand-up mixer (using the paddle attachment) with the melted/espresso butter in it. To that bowl, add the brown sugar and white sugar. Beat together until nice and fluffy, about 3 minutes. Add the eggs, one at a time, until combined. Pour in the vanilla extract and beat once more.

In one batch, add the flour. You will probably have to lift up the head part of your mixer to be able to add it all at once. Cover the mixer with a clean kitchen towel and turn it on low speed. Mix until the flour is mostly combined and then increase speed until you no longer see any flecks of flour. Pour in the chocolate chunks and mix one last time. Transfer the dough to the fridge to chill for an hour or up to 2 days.

Preheat oven to 350 degrees F. Line two baking sheets with parchment paper.

Using a medium cookie scoop, scoop out balls of dough. If it's super chilled, you may need to push some dough into the scoop so it's nice and compact and then release the lever. I like to add all the balls of cookie dough to a sheet of parchment versus scooping dough, as I bake.

Transfer 6 to 7 balls of dough onto the prepared baking sheet, spacing them a part because these do spread. Place in the oven and bake for about 7 to 8 minutes. If the dough is super cold, it may need up to 10 minutes to bake. They should be light to medium golden brown. Sprinkle with a few pinches of salt upon exiting the oven. Repeat until you've baked all the cookies.

To freeze, add the cookie dough balls to a baking sheet and stick in the freezer until very cold, about 20 minutes and then transfer to a freezer-safe plastic bag.