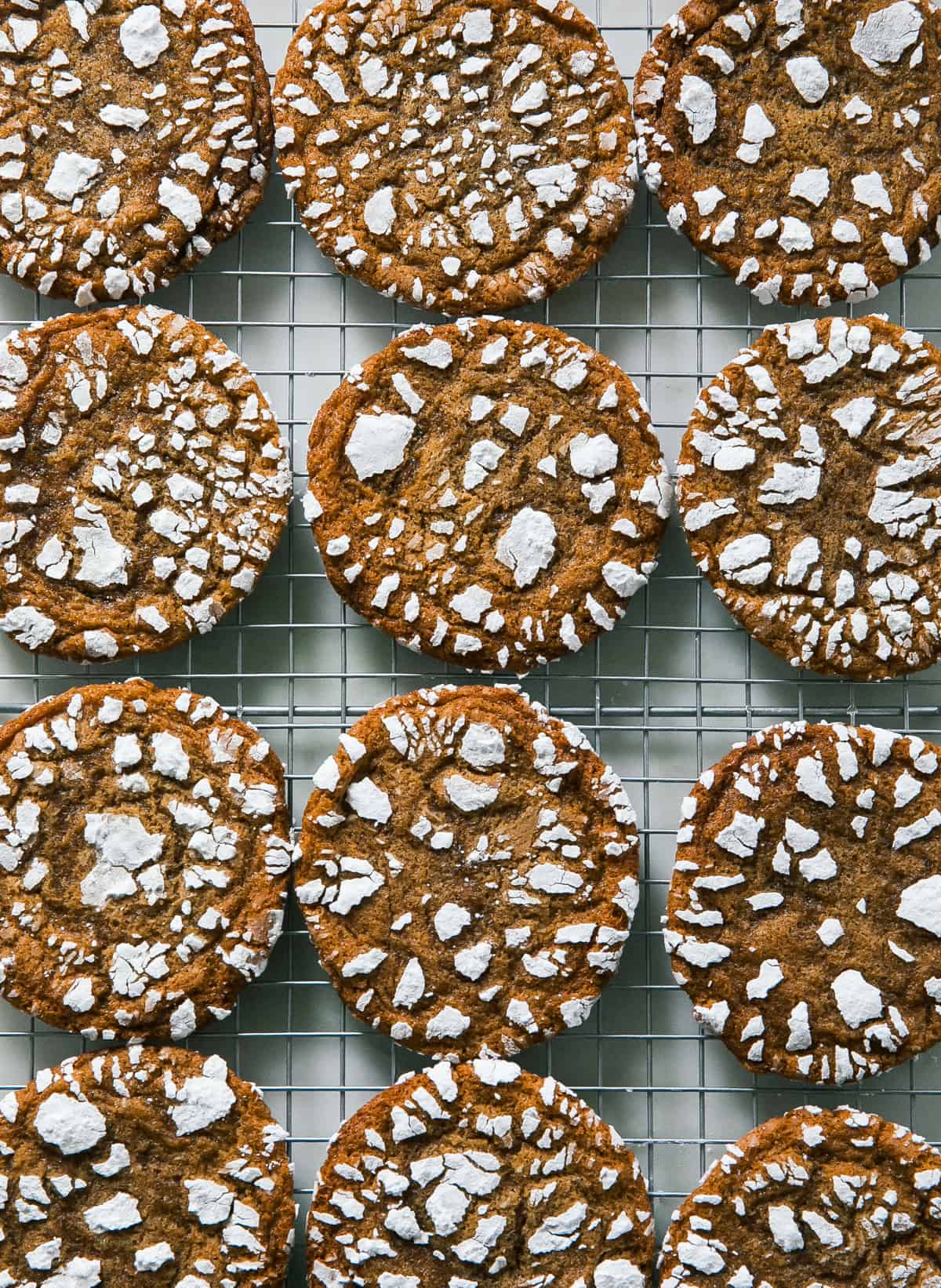 If you've been here for a bit, you know that I love a crinkle cookie. These Berry Crinkle Cookies were a smash success last Valentine's Day and I decided that for the holidays we needed a new crinkle cookie, so here we are: Gingerbread Crinkle Cookies.
These are heavy on the spices and molasses. They're a bit chewy but mostly soft and delicious. They taste like heaven on a plate. A true holiday cookie.
Why These Gingerbread Crinkle Cookies Are Amazing!
They are super pretty with their crackly tops!
Taste like soft and chewy gingerbread cookies
They look like brown little snow flakes
Festive as all heck!
(Yes, I said 'heck' for the first time in my life because I'm trying to be friendly to Google.)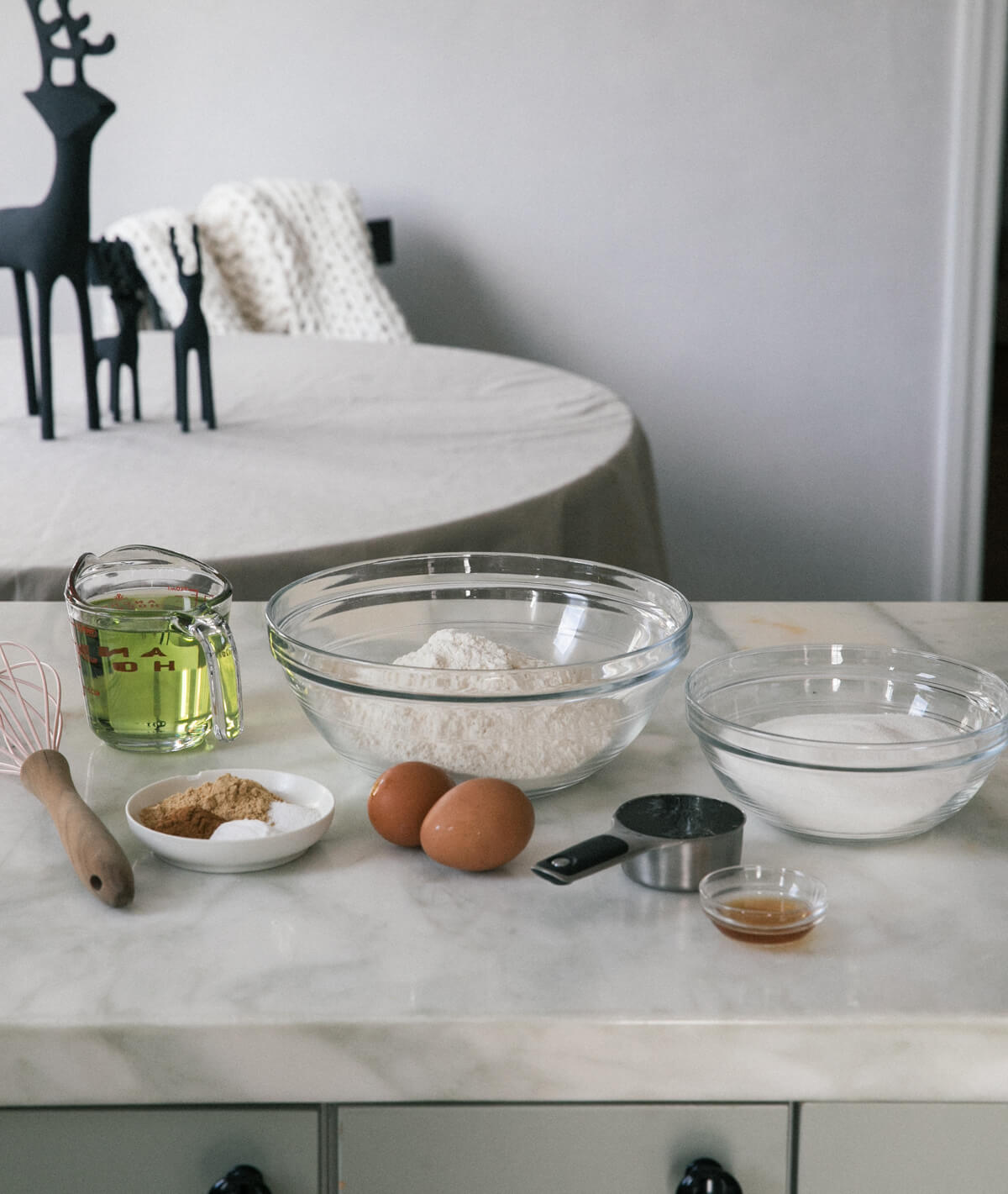 How to Make Gingerbread Crinkle Cookies
These cookies are pretty different than the berry crinkle cookies. They are way flatter and a bit thinner. I like them that way, to be honest but a lot of that has to do with us adding the right amount of molasses and the perfect amount of spices. We initially added too much molasses which made it way too bitter.
Mix the dry ingredients together – This combination is simple: all-purpose flour, ginger, cinnamon salt and baking soda (which will help with spreading and fluffiness).
Mix the wet ingredients together – With this cookie, this consists of neutral oil (I used avocado oil but see below for other options), sugar, molasses, eggs and vanilla extract.
Combine the wet ingredients with the dry ingredients – You want them to be mixed until zero flecks of flour appear.
Chill the cookie dough in the refrigerator – This cookie dough definitely needs some chill time to achieve the perfect amount of spreading.
Sift the powdered sugar – In order to make them look crackly, we'll need to coat them in a good amount of powdered sugar. Be sure to sift it before you use it since it tends to be lumpy.
Scoop and roll the cookie dough – Scoop out the cookie dough using a cookie scoop and then roll it, coating it heavily in powdered sugar.
Bake – Bake the cookies for about 12 minutes, until they've spread and look a bit puffy. They'll fall as they cool.
The powdered sugar coating is the trickiest to get right. In this recipe we use oil, which we found doesn't release as much steam. Steam can make the cookies a bit wet—we found that butter creates the most steam since of its water content—so we prefer oil in this cookie.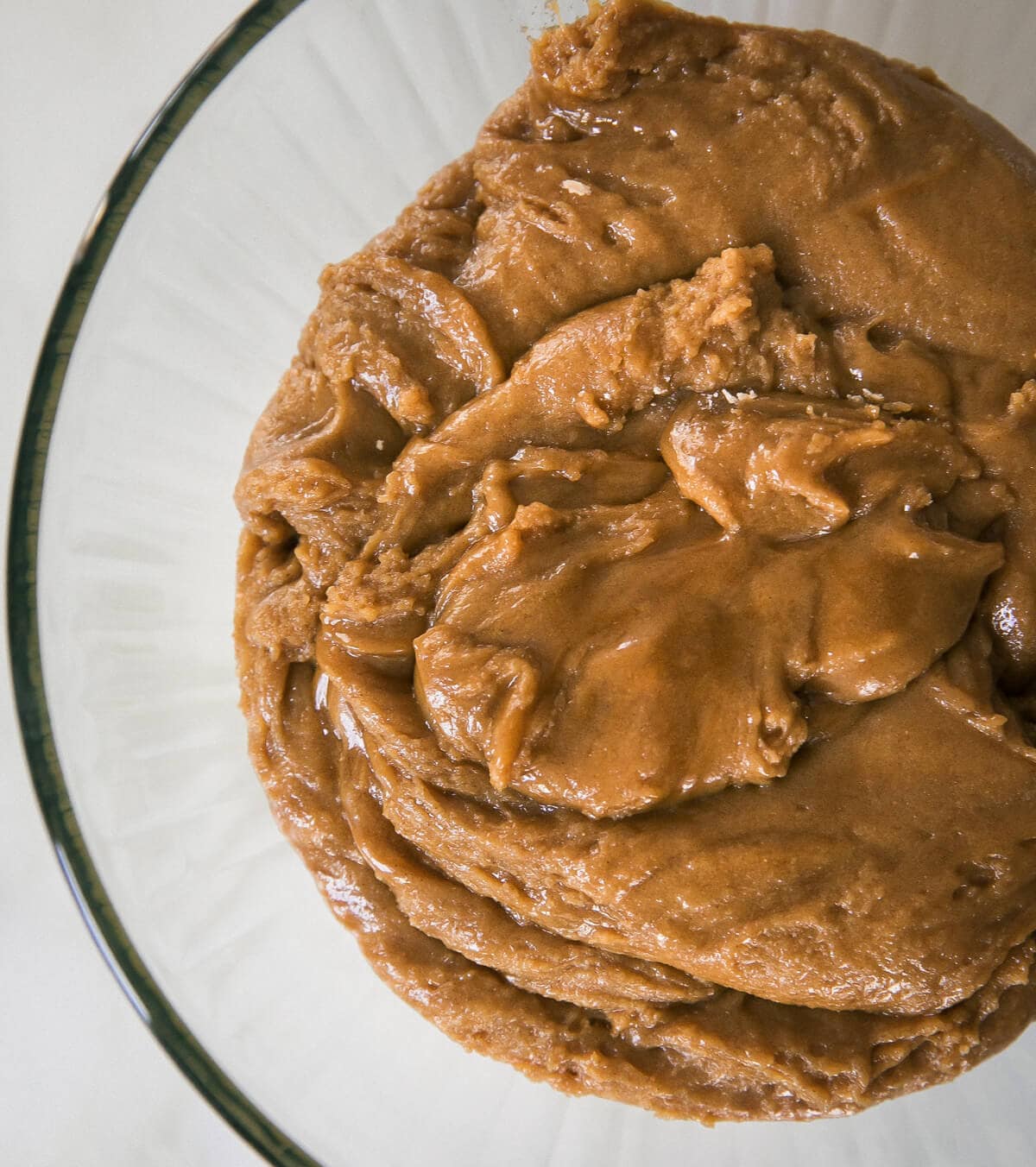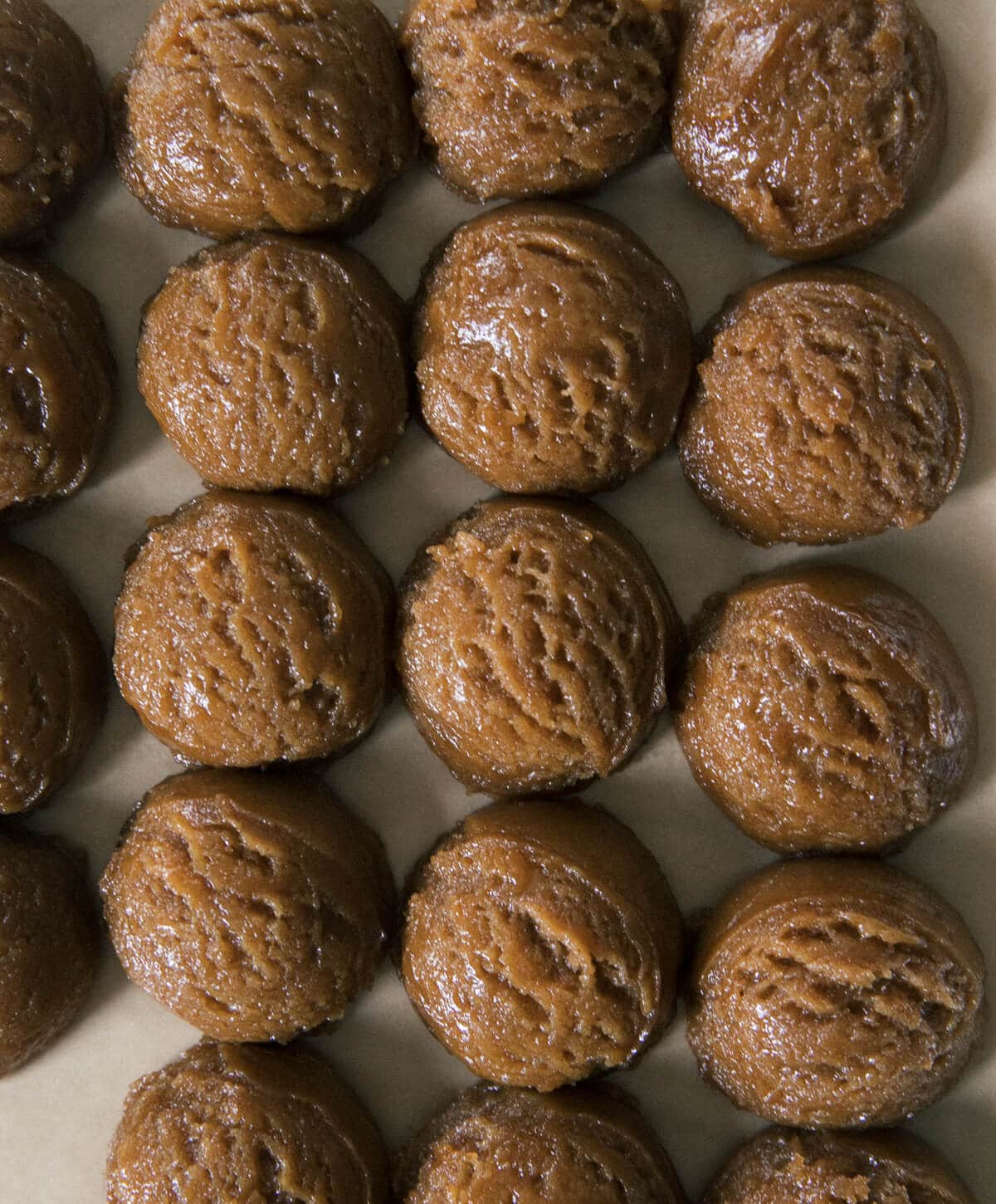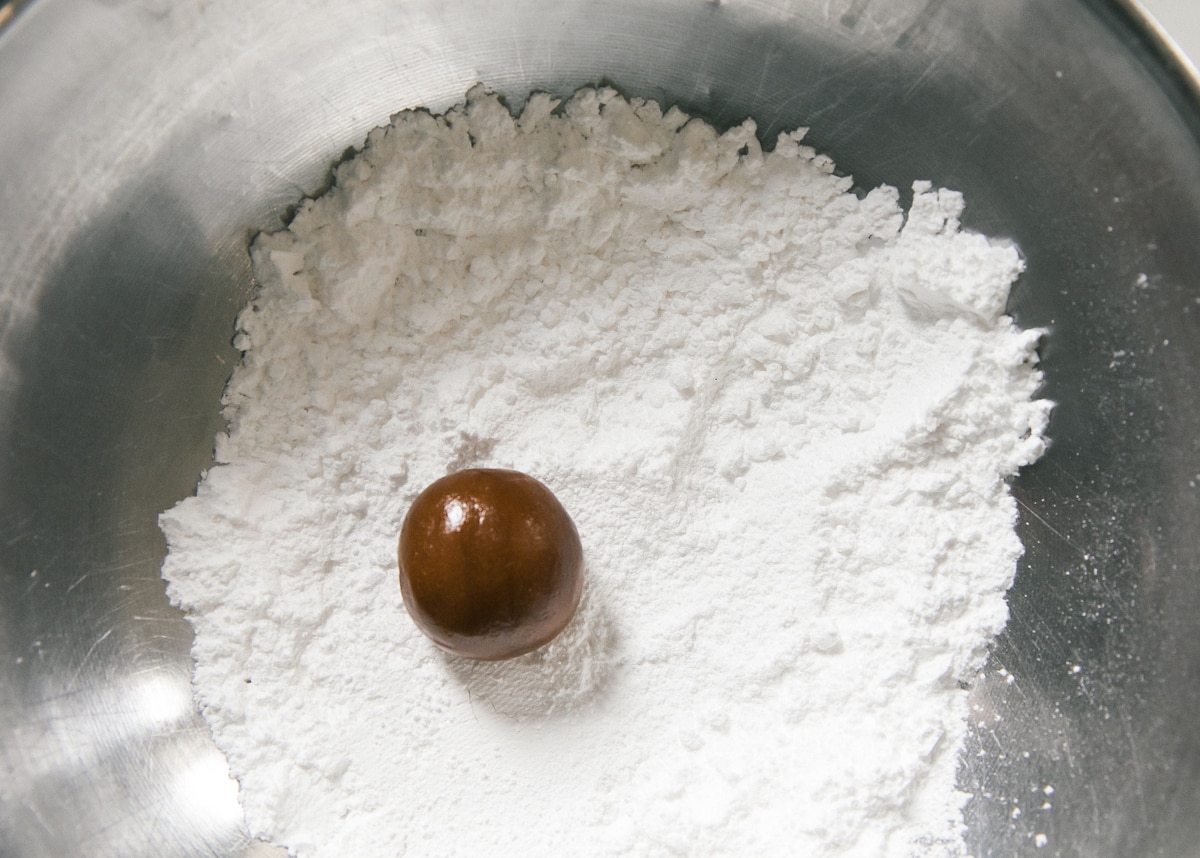 How to Freeze this Gingerbread Crinkle Cookie Dough
These cookies can definitely be made-ahead. Here's what you should do:
Make the cookie dough, chill for 1 hour.
Then scoop out and place on a baking sheet.
Transfer to the freezer to chill for 1 hour. And then place them in a freezer-safe container.
Let them thaw on the kitchen counter (on a plate or baking sheet) and then coat them in the powdered sugar and proceed with baking.
If you make these on Instagram, let me know!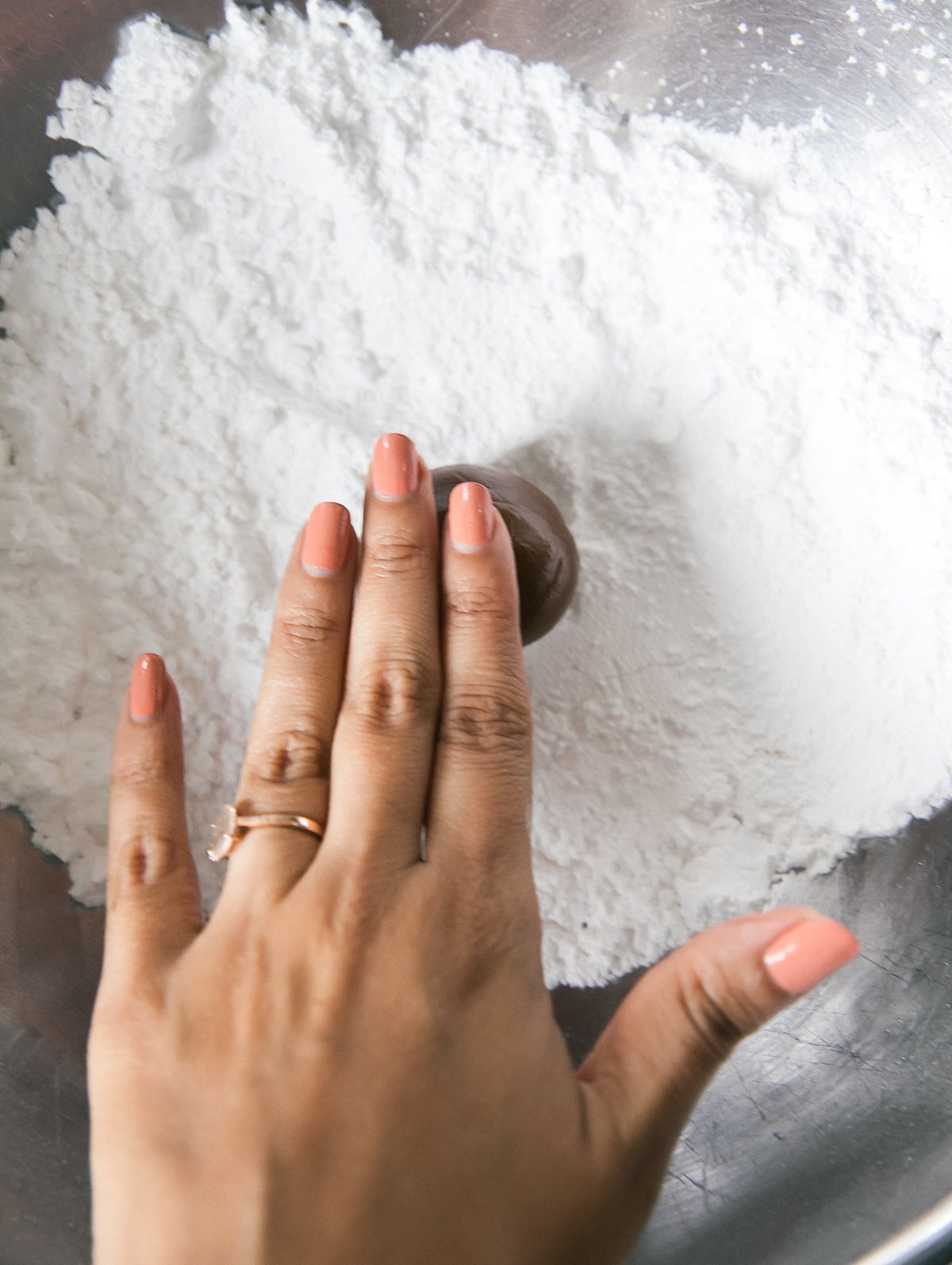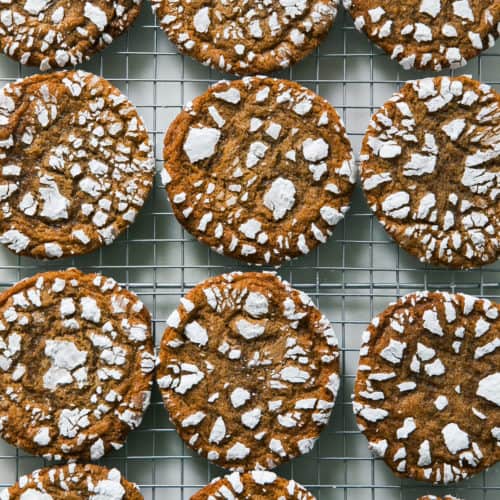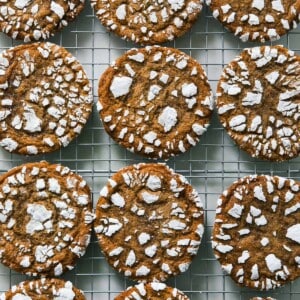 These gingerbread crinkle cookies have soft centers and chewy edges with lots of spice and molasses flavor. Perfect for a crowd.
Ingredients
2 2/3

cups

all-purpose flour

2

teaspoons

baking soda

4

teaspoons

ground ginger

2

teaspoon

ground cinnamon

1/2

teaspoon

kosher salt

1 1/2

cups

white granulated sugar

1

cup

neutral oil

,

(avocado oil, vegetable oil or grape seed oil)

1/3

cup

molasses

1

teaspoon

pure vanilla extract

2

large eggs

1

cup

powdered sugar
Directions
Preheat oven to 350 degrees F. Line two baking sheets with a sheet or parchment and set aside.

To the medium bowl, add the all-purpose flour, ground ginger, cinnamon, baking soda and salt. Whisk together until combined.

To the bowl of a stand-up mixer with the paddle attachment (alternatively you could do this in a bowl with an electric mixer), add the sugar and oil. Beat until light and sort of fluffy, about 1 minute. Pour in the molasses and vanilla extract; then with the machine running on low, add one egg at a time. Mix until combined.

Add the flour mixture and mix just until no flour speckles appear and the dough is cohesive, about 30 seconds to a minute. Cover the cookie dough with a clean kitchen towel or plastic wrap and transfer to the fridge to chill for 1 hour.

Sift the powdered sugar into a bowl. This will smooth out any pesky lumps.

Using a medium cookie scoop, scoop out balls of dough, rolling them in between your palms until balls form. Roll them in the sifted powdered sugar. The powdered sugar should be on there pretty thick. I think it's our instinct to brush off the excess powdered sugar but leave it on! Transfer the dough ball to the lined baking sheet. Repeat with the remaining dough, spacing the cookies about 4 inches a part. These spread a bit so give them some space. I baked about 6 cookies per sheet.

Transfer the first baking sheet to the oven to bake for about 10 to 12 minutes, until they appear crackily and puffed up. Remove from the oven and allow them to cool on the baking sheets for at least 5 minutes before transferring them to a cooling rack. You'll notice that they'll fall a bit as they cool—this is good!

Serve with milk or coffee.
Calories:
134
kcal
|
Carbohydrates:
32
g
|
Protein:
1
g
|
Fat:
1
g
|
Saturated Fat:
1
g
|
Sodium:
142
mg
|
Potassium:
88
mg
|
Fiber:
1
g
|
Sugar:
21
g
|
Calcium:
13
mg
|
Iron:
1
mg