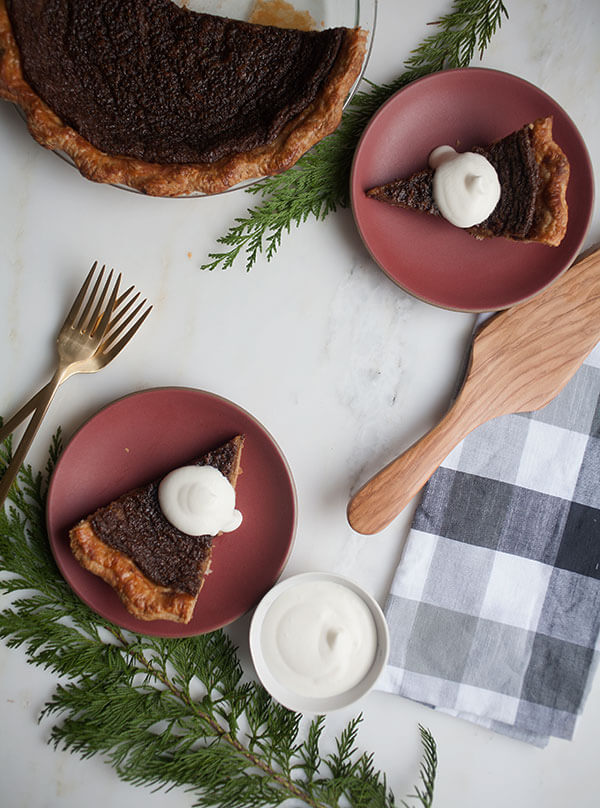 I'm pretty sure we can all agree that the week before Christmas is the most INSANE WEEK IN THE ENTIRE WORLD. We're all bustling, hustling and working (and werking) to get everything wrapped up and done before everyone peaces out for the rest of the year.
Next week I have a massage booked. I'm going to Palm Springs for a few days to rest up and do absolutely nothing. During this time, I plan on writing a few things down: my goals for 2015 (proof I'm getting older, I never used to do this), things I learned in 2014 and a few things I'm grateful for. It sounds like a cheesy little thing to do, but these tasks organize my thoughts. It's like going to The Container Store for my brain.
Next week, there will be pie. Because, pie. And because there always should be pie.
There's also a chance I might listen to the last episode of SERIAL again because OMG Ronald. NO! I'm not buying that, attorney-who-I-respect. UGH! Jay did it.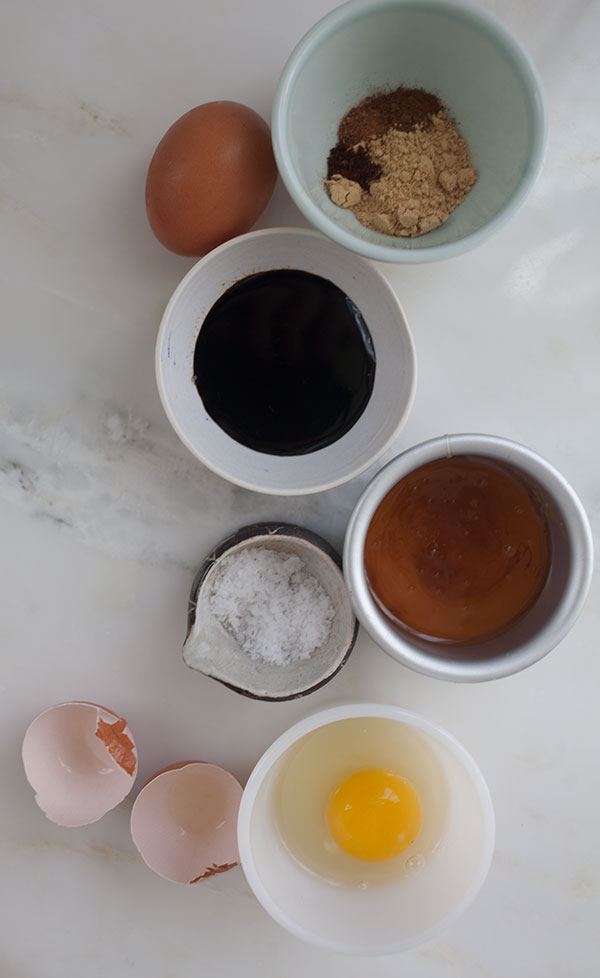 I'm not going to say too much because I know there are some people who haven't listened to it yet, but seriously what are you waiting for?
If you haven't listened to the series at all, oof. I'm jealous. You should make this pie and then listen to the entire thing. It's a good restful activity.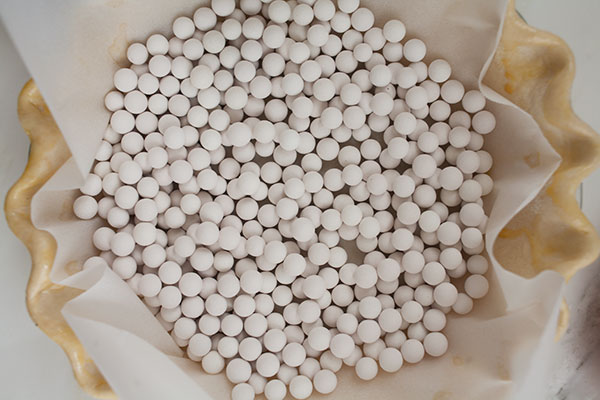 While cookies seem to reign king at this time of year, I love an unexpected pie on the dessert table. This pie is unique in that it kinda looks like a crinkly gingerbread cookie. It has grooves and cracks and it tastes a little spiced and molasses-like. There's a good dose of nutmeg and cloves and ginger, but unlike a lot of gingerbread, it won't hurt your nose.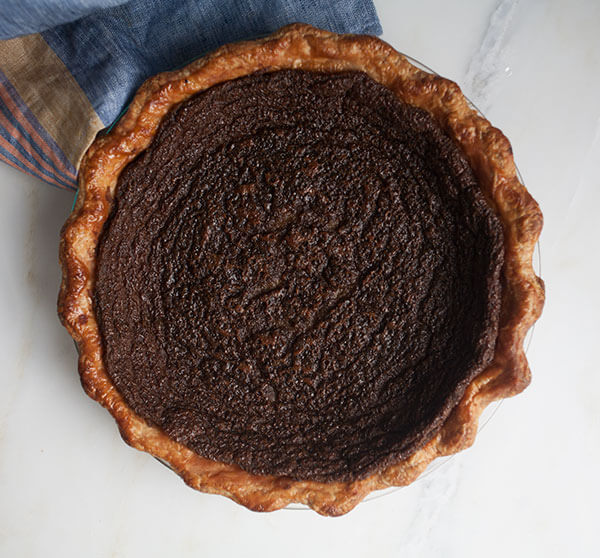 My biggest hope is that this pie is involved in your lazy adventures over the next week.
I hope that you're plotting your rest and relaxation situation. And I hope this pie is involved somehow. You deserve. What a year it's been.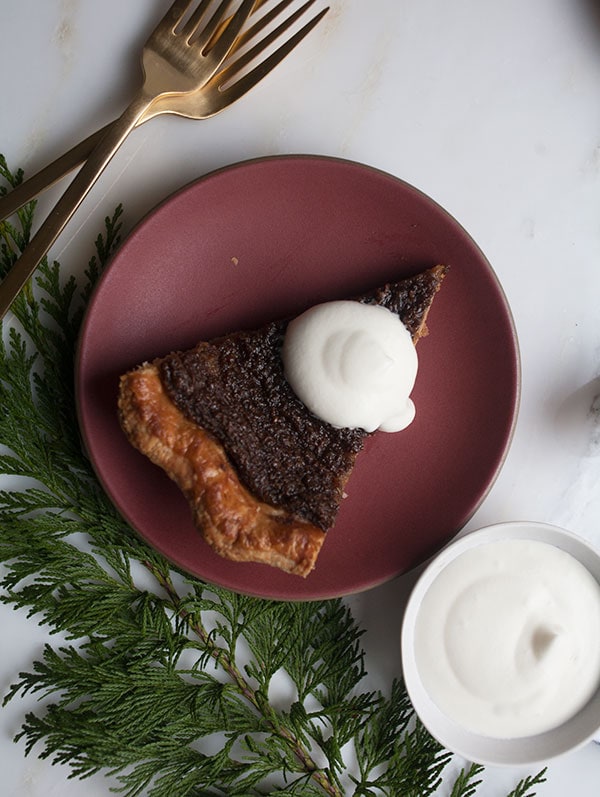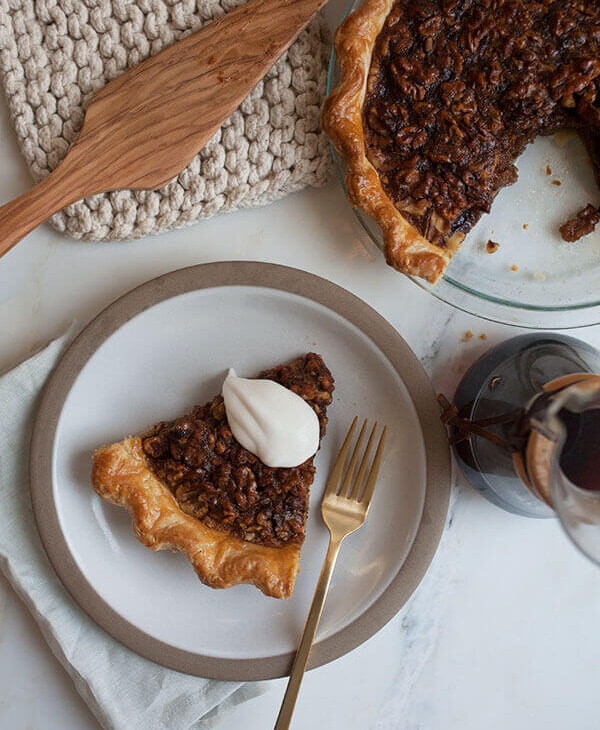 Print Recipe
Single Pie Crust
Serving Size:
(9-inch pie crust)
Ingredients
1 1/2

cups

187g all-purpose flour

1 1/2

teaspoons

8g white granulated sugar

1

teaspoon

5g fine-grain sea salt

1

stick

113g unsalted butter, frozen

4-8

tablespoons

very cold water

divided

1

large egg

beaten (for egg wash)
Instructions
In a large bowl, mix together the flour, sugar and salt. Using a box grater, grate the cold butter atop the flour mixture. Working quickly, and using your hands, break the butter bits into the flour until they're evenly distributed and resemble the size of small peas.

Add 4 tablespoons of water and mix. The mixture will be shaggy at this point. From here, add 1 tablespoon of water at a time until the dough comes together (I usually need to about 3 more tablespoons). Flour your counter and dump the dough onto it. Knead a few times more until it comes together. Form into a disc. Wrap the disc in plastic wrap and transfer to the refrigerator to chill for at least 1 hour, ideally overnight.

Remove the disc of dough from the refrigerator and allow to come to room temperature for 10 minutes. Liberally flour your work surface and rolling pin. Begin to roll the dough, being sure to rotate it every so often to avoid sticking, to a 13-inch round. Wrap the dough around the rolling pin and unroll it over a 9-inch pie dish. Gently fit the dough into the bottom and up the sides of the pie dish. Trim the dough around the pie tin, leaving a 1-inch overhang.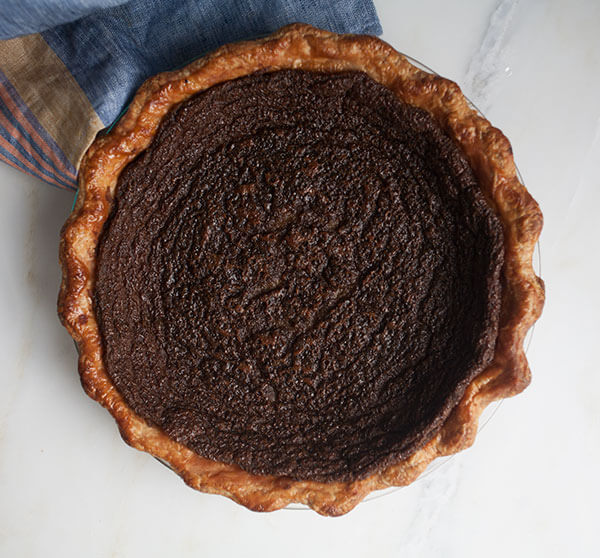 Print Recipe
Gingerbread Cookie Pie
Serving Size:
nine-inch pie crust
Ingredients
1/4

cup

butter

room temperature

1/2

cup

light brown sugar

1/4

cup

white granulated sugar

2

tablespoons

brown rice syrup or corn syrup

2

tablespoons

molasses

3

tablespoons

flour

1/4

teaspoon

salt

2

teaspoons

ground ginger

1

teaspoon

ground cinnamon

1/8

teaspoon

ground cloves

1/8

teaspoon

ground nutmeg

3

large eggs

1

teaspoon

vanilla

1

cup

heavy cream
Instructions
Preheat the oven to 400 degrees F. It's really important that the crust for this pie is par-baked. Start by rolling out your pie crust into a 13-inch (you can eyeball this) round. Fit in your nine-inch pie crust and trim the edges, leaving about a 1-inch overhang. Tuck under the overhang and crimp the edges the best you can. Make it look cute, if you want. Brush the edges of the pie crust with egg wash and stick it in the freezer for 15 to 20 minutes. Place the very cold pie tin on a baking sheet (this will make it easier to transport). Score the bed of the pie crust with a fork (this will help eliminate any puffiness that might happen when it's in the oven).

Take a sheet of foil of parchment and spray it with cooking spray. Nestle the foil, cooking spray side down, into the pie crust. Pour in pie weights (or uncooked beans or rice) and transfer to the oven to bake for 15 minutes. At the 15-minute mark, remove the foil, and place back in the oven to bake for an additional 10 minutes. Remove the par-baked pie crust from the oven and set aside. Turn the heat down to 300 degrees F.

While the pie crust is par-baking, you can make the filling. In the bowl of a stand-up mixer, with the paddle attachment, add the butter and light brown sugar and white granulated sugar; beat until it's light and fluffy and smooth, about 2 to 3 minutes. With the mixer going, pour in the brown rice syrup (or corn syrup) and molasses. Next, add the flour, salt, ground ginger, cinnamon, cloves and nutmeg. Then, add the eggs, one at a time, making sure each one is incorporated before moving onto the next one. Lastly pour in the vanilla and heavy cream.

Give one last mix and pour it in the par-baked pie crust. Carefully transfer it to the oven and bake for 45-50 minutes. The top will appear cracked and puffy. Remove it from the oven and allow it to cool completely, around 2 to 3 hours. During this time, it will set and deflate. Slice it up and serve it with whipped cream.