This whole holiday season situation is already stressing me out. It's going way too fast. There are too many sales, too many DIY snow globes on Pinterest and seriously the photos of snow everywhere are making me jealous. I realize it's not real life making me stressed, but internet life. It's intense right now! I vote for us to put on some comfy socks and make/eat some marshmallows.
I've been dreaming about making coffee-flavored marshmallows for FOREVER! Forever. If you've never made marshmallows before, they're muuuuch easier than you'd think.
If you've got a candy thermometer, you're half way there!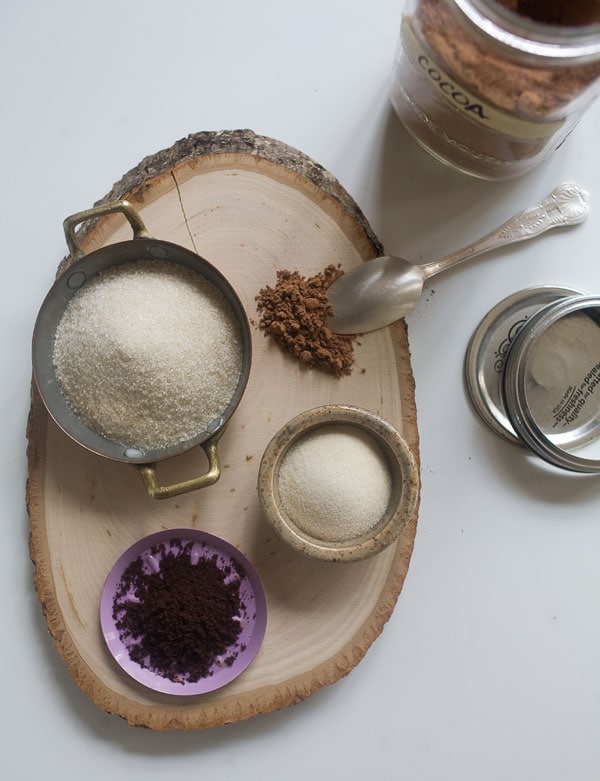 The coffee flavor in these marshmallows isn't overly strong, so all my coffee-haters out there (I don't understand you but love you anyway) shouldn't be too turned off.
Basically if you love coffee ice cream, these will be a-ok. .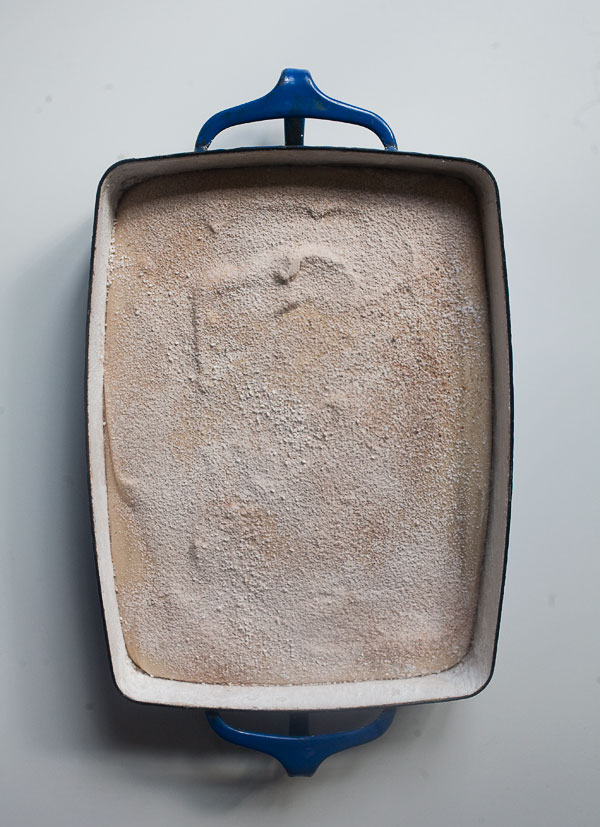 The flavor of coffee is these marshmallows is brought to you by strong instant espresso powder. I like using it in baked goods because it dissolves easily and has a pretty strong coffee flavor. I would never drink it. Never.
Since I'm a brat about coffee, the coffee that I tend to drink usually is lighter in roast and has a "gentle flavor profile" which wouldn't be strong enough for marshmallows. Blah. I hate myself a little right now.
The perfect option would be for us to all use coffee extract but seriously ain't nobody got time fo' that. We have enough on our plate; we don't need to drive all over town looking for some obscure coffee extract, you know
And you'll see below that there's a bit of cocoa powder used too. In addition to it being used for coloring purposes, I also love the flavor it lends to coffee everything. They're a good lil' pair.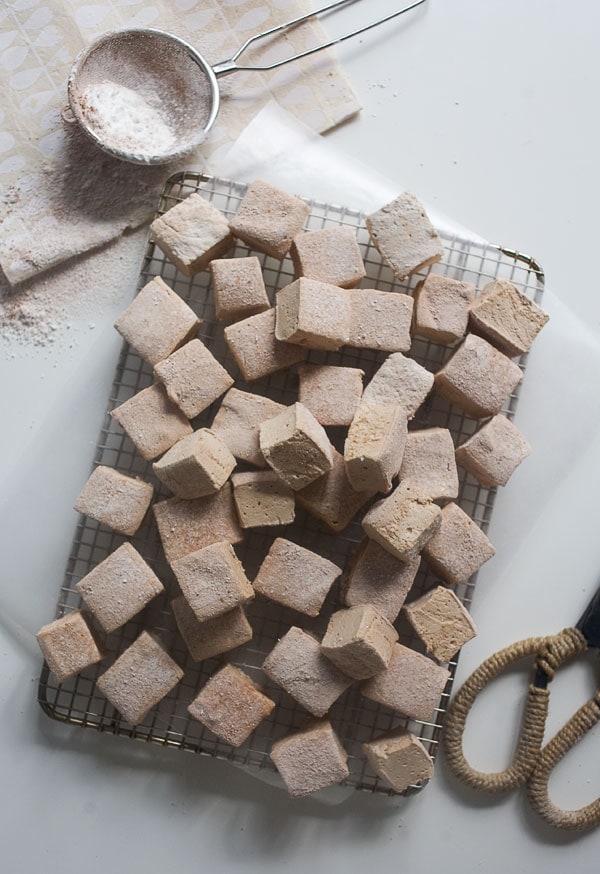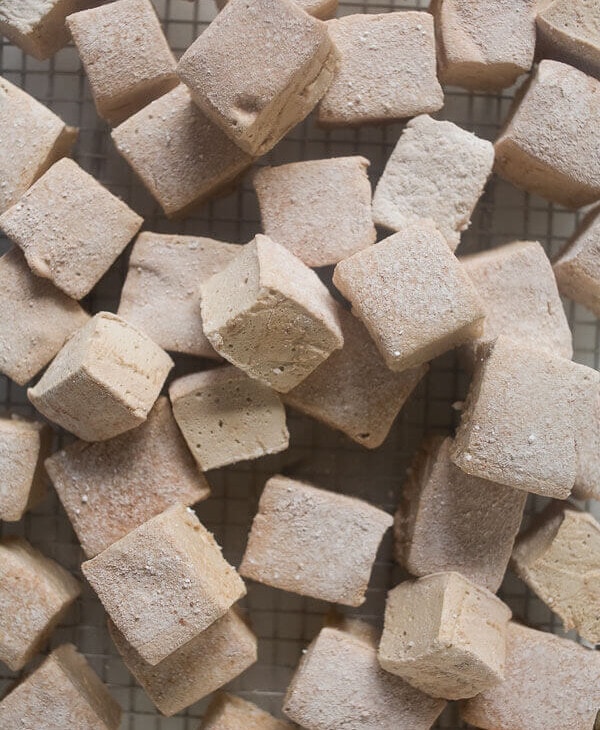 Print Recipe
Coffee Marshmallows
Serving Size:
marshmellows
Ingredients
Prep:
1/2

cup

powdered sugar

1/2

cup

corn starch

2

tablespoons

Dutch-processed cocoa powder

Vegetable oil
Marshmallows:
3/4

cup

warm water

divided

1

tablespoon

instant espresso granules

3

envelopes of Knox gelatin

1 1/2

cups

granulated sugar

1

cup

light corn syrup

1/2

teaspoon

salt

2

tablespoons

Dutch-processed cocoa powder

1/4

of a vanilla bean

scraped or 2 teaspoons vanilla extract

Vegetable oil

for the pan
Instructions
Prep:
Before you begin, let's do some prep. Start by sifting together powdered sugar, corn starch and cocoa powder onto a large plate. Next, grease a 10″ x 8″ (this size can vary) casserole dish or pan with vegetable oil. Add a teaspoon or two of the cocoa powder/sugar mixture to the casserole dish and shake it around until the bottom and edges are dusted. Set aside.
Marshmallows:
Combine 1/2 cup warm water and instant espresso granules. Whisk until granules are dissolved. Transfer the mixture to the refrigerator to cool. Pour the cooled coffee into the bowl of a stand-up mixer (or you can use a large bowl and a hand-mixer). Sprinkle the gelatin atop the cooled coffee mixture and allow to sit for 10 minutes.

Meanwhile, in a medium saucepan, with a candy thermometer attached to its side, combine the granulated sugar, corn syrup, salt and remaining 1/4 cup of water. Heat the mixture over medium heat until the sugar has dissolved. Turn the heat up to moderately high heat and bring the mixture to a hard boil and cook for 1 minute, until the candy thermometer reaches 240 degrees F.

Lower the whisk attachment and turn it on low. Carefully add the boiling liquid to the gelatin mixture. Turn the mixer to high and beat for 8-10 minutes, until the mixture has doubled in volume and holds stiff peaks. Sift in the cocoa powder and pour in the vanilla caviar or extract. Beat for an additional minute or so until the both of them are incorporated.

Pour the mixture into the prepared casserole dish or baking pan, smoothing out the top until it's evenly disbursed (it'll be sticky!). Dust the top with a few tablespoons of cocoa powder/sugar mixture. Cover with foil or plastic wrap and allow to set until firm, about 4 hours or overnight.

Take a knife and run it around the edges of the casserole dish or pan and invert the marshmallow sheet onto a large cutting board, smacking the bottom of it, if needed. You also may need to use your fingers to loosen the marshmallow sheet from the casserole dish and gently glide it onto the cutting board. Using a sharp knife, cut the marshmallows into 1-inch cubes. Store the marshmallows in an airtight container for up to 1 week.