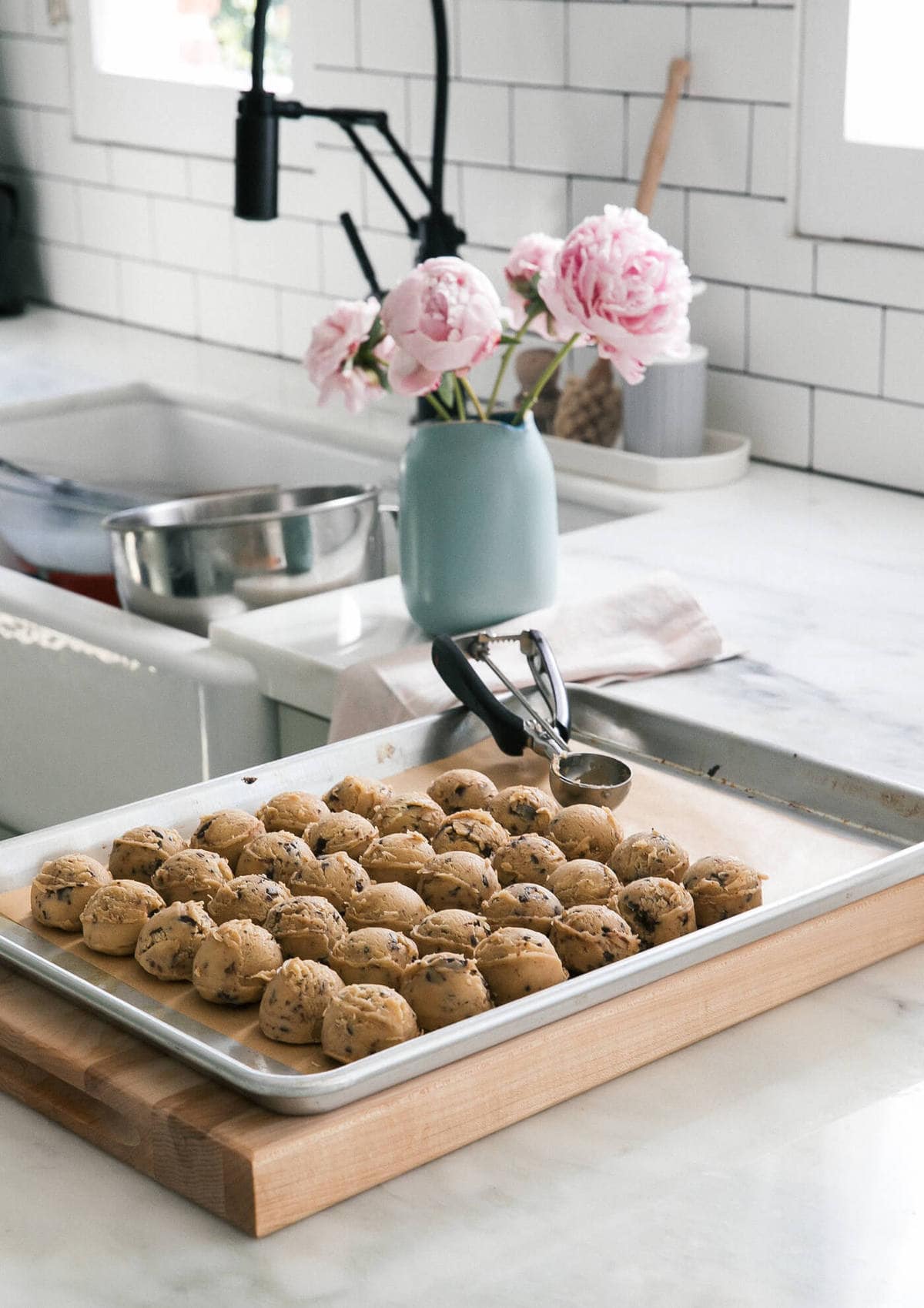 I would like to confess something to you all: I use to be anti-freezer. But it all changed when I started to freeze cookie dough.
I didn't like the idea of freezing food. I have no idea why. It sounded stale and not "fresh." I was also a very single person for a long time and really had no need to freeze anything. But I've since found my freezer to be a true gift. I freeze all sorts of things: sauces, cakes, muffins, pie crust…and cookie dough!
I always get questions about why I scoop cookie dough so close together. People ask me if I bake them that close together. NO, SILLY! If I did that it'd be one gigantic cookie (not a terrible thing).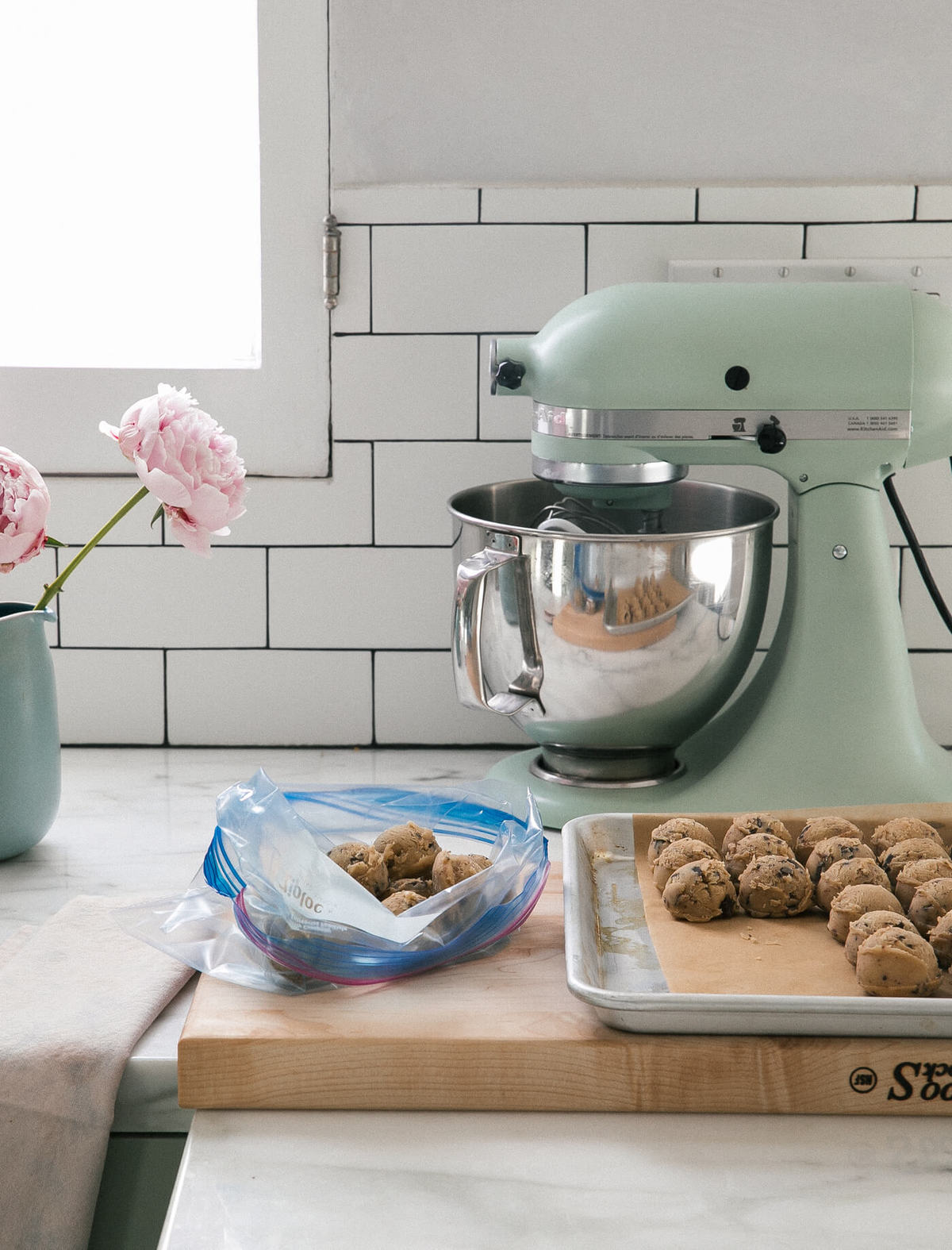 I scoop them out because I usually make a double batch of cookies and freeze most of the recipe for later use. It always comes in handy when people come over or we have a party to go to. I can usually reach in my freezer, bake off some cookies and have something to bring.
Here how I freeze cookie dough: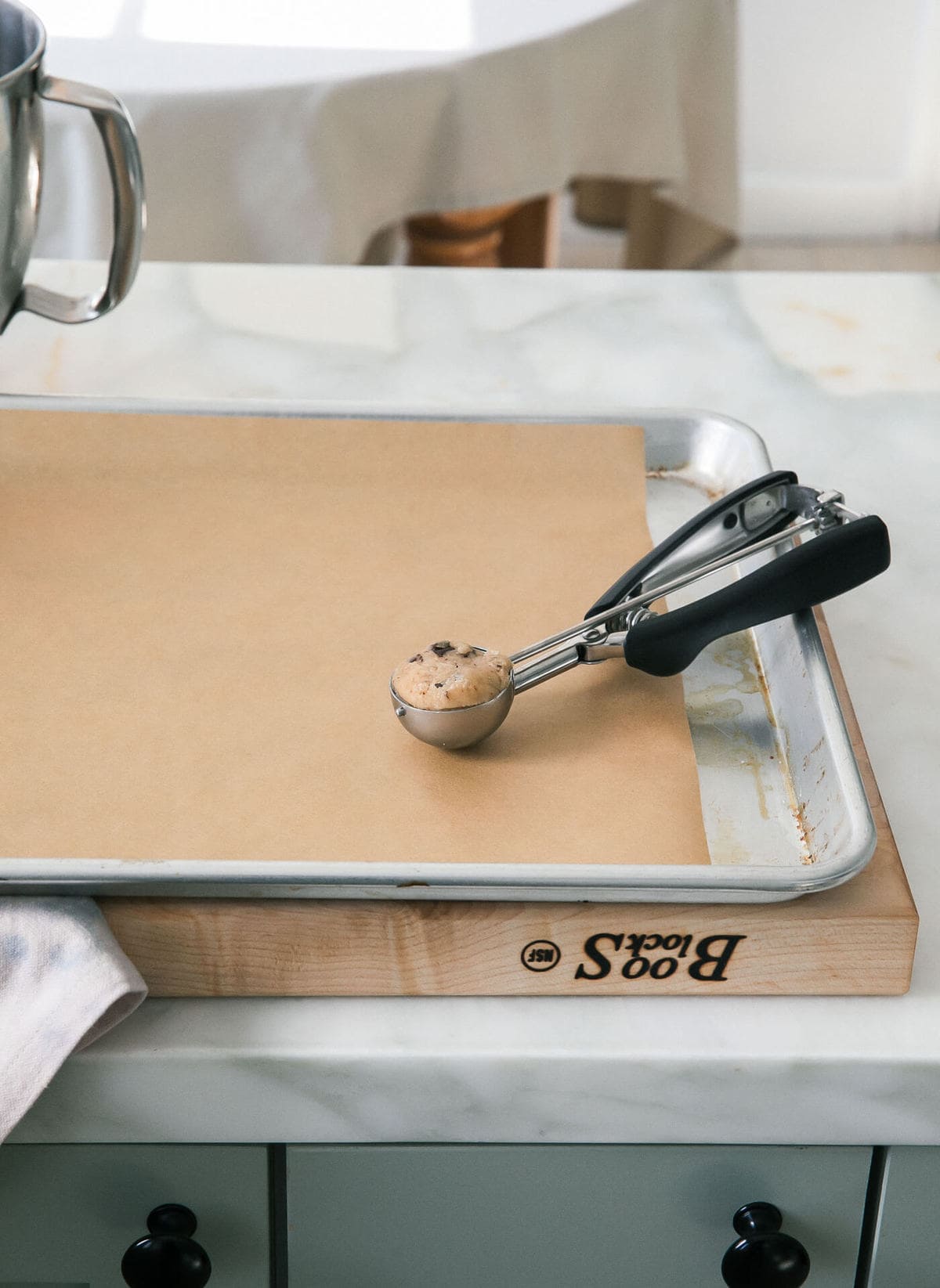 STEP 1: Make the cookie dough. Now this works best with cookie that needs to be scooped out and baked. It can work with, say, shortbread but those are different directions all together.
STEP 2: Per the instructions, I transfer it to the fridge to chill for 1 hour. You can chill it for longer, it just gets tougher to scoop out the colder the dough gets. So I always say an hour is good. This will also depend on your recipe.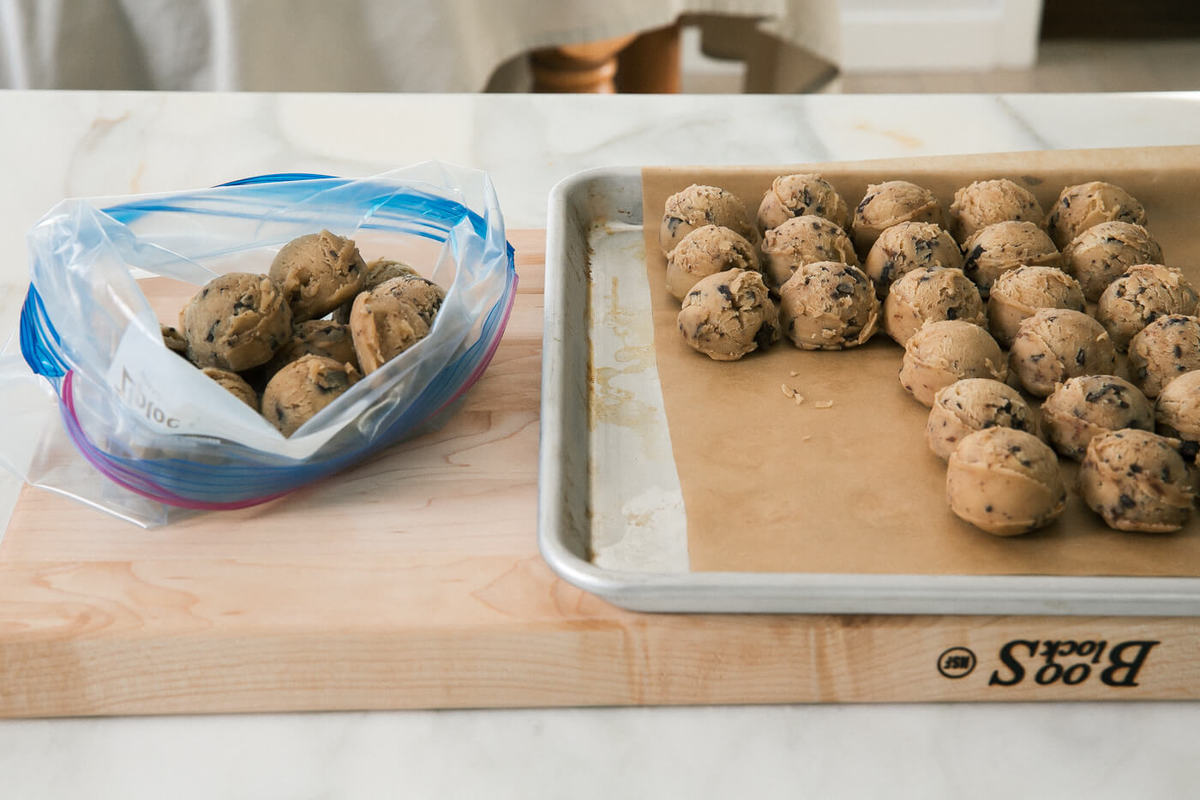 STEP 3: Scoop out balls of cookie dough. My favorite cookie scoop is this medium-sized ice cream/cookie scoop from OXO. It's the perfect size. It measures about 1 1/2 tablespoons. It makes it super easy.
The edges of this cookie scoop are very sharp, so it easily cuts into cold cookie dough.
I place the scoops right onto a parchment-lined baking sheet and I place them super close together, though none of them are touching.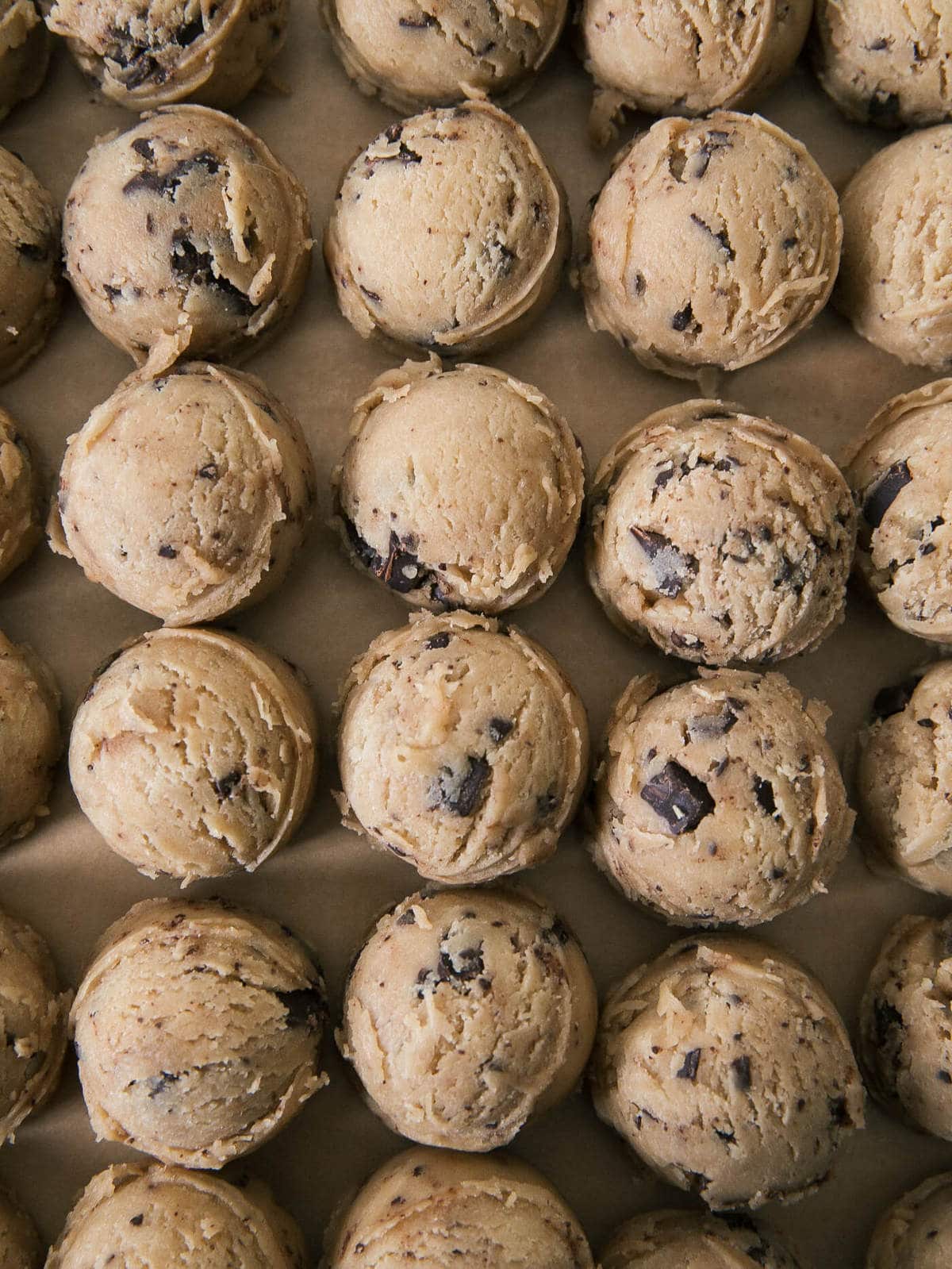 STEP 4: BAKE..OR FREEZE. If I'm baking the cookies, I'll line another baking sheet with parchment paper and just transfer about 6 cookies to the tray and stick it in the oven. While those cookie are baking, I'll usually transfer the cookies to the fridge, especially if it's a hot day.
It makes the baking process much easier because once the cookies are done, I line another baking sheet and keep going. I reuse the parchment and baking sheet, I just allow it to cool a bit before adding the cookies to them.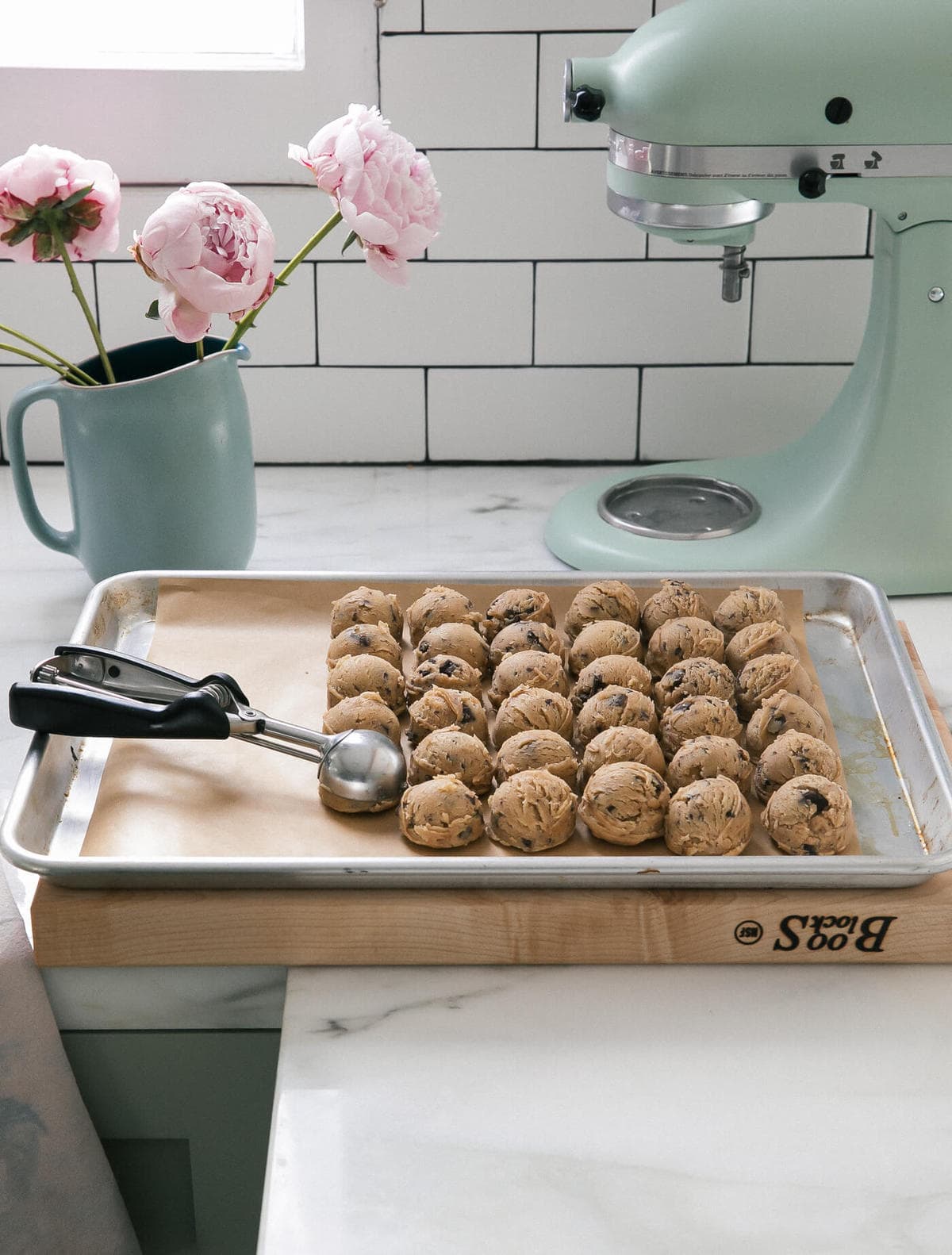 STEP 5: To freeze, I transfer the cookie sheet to the freezer and let the cookie dough balls chill for about 30 minutes. You want the exterior of the cookie dough ball to become super cold and solid so when you put them on top of each other they don't stick. This is called flash freezing.
After the cookie dough balls are super firm on the outside, I transfer them to a reusable freezer-safe bag or container. I stick a label on it with the date and what they are (you'll forget!) and that's it!
All cookies require a few extra minutes in the oven when baking them straight from the freezer. But it's so nice (and dangerous) to be able to bake a few cookies whenever you want one or two vs. a whole batch.
Here is a list of my favorite chocolate chip cookies to use this method with:
Cozy Chocolate Chip Cookies
Sesame Chocolate Chip Cookies
Oatmeal Chocolate Chip Cookies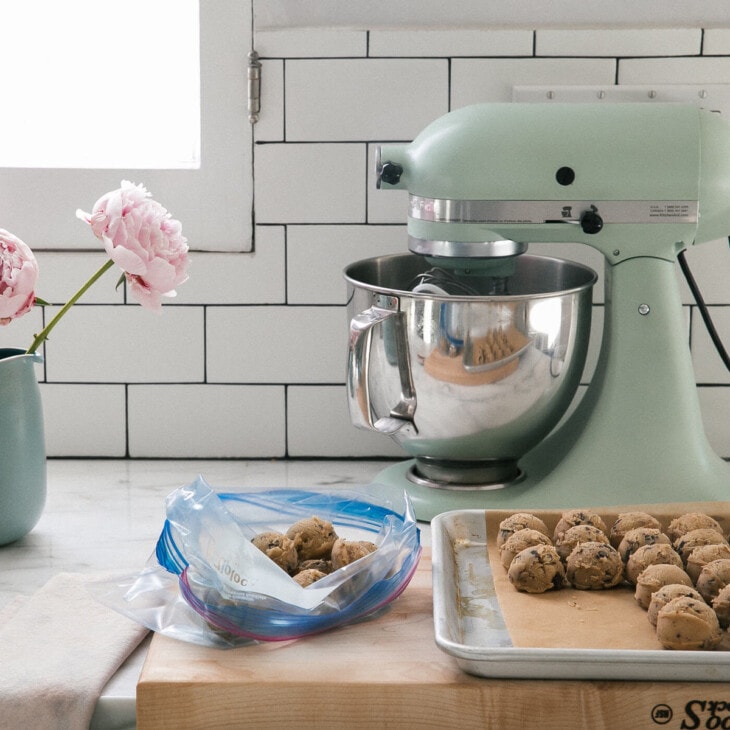 Print Recipe
How to Freeze Cookie Dough
A step-by-step how-to on how to freeze cookie dough so you can enjoy cookies straight from the freezer.
Ingredients
1

batch of raw cookie dough
Instructions
Chill cookie dough for at least about 30 minutes to 1 hour.

Using your cookie scoop, scoop out balls of cookie dough and place them side-by-side on a baking sheet. Transfer to the freezer and chill for about 30 minutes. This is what we like to call "flash freezing."

After 30 minutes, remove the baking sheet from the freezer and transfer the very chilled cookie dough balls to a freezer-safe container (plastic bag or otherwise). Label the container with the date and description of cookies.

To bake, bake straight from the freezer and add a minute or two onto the baking time.
Equipment
1 small, medium or large cookie scoop
1 freezer safe plastic bag OR freezer safe container