Delicata, Pomegranate Kale Salad with Lardon Dressing
22
Oct 16, 2013, Updated Dec 22, 2018
Disclosure: This post may contain affiliate links, which means I may earn a commission if you click on the link and make a purchase.
Last winter it felt like every single restaurant I went to there was some sort of kale salad on the menu. Usually some sort of hard cheese was involved like pecorino or Parmesan. There was sometimes fruit on it. And it was always massaged. I want a massage. Good gracious, enough with the dang kale, man. The last thing this universe needs is another kale salad. And here I am throwing another kale salad in your super cute face. But, this kale salad is really good. And there's lardon dressing involved. I mean…bacon fat dressing, c'mon!
This lardon situation was supposed to be guanciale, which is my current love, but when I headed to my local hipster super artisinal neighborhood market and they didn't have it, I turned to bacon. I figured if I couldn't get it, you probably wouldn't be able to find it either. So, instead we have this bacon/lardon situation. This salad is as fall as fall can get. There's fennel, roasted delicata squash, pomegranate and sturdy kale. The kale can easily be swapped out for another kind of green, it just needs to be able to stand up to the hot, warm dressing and not wilt and wither away.
This salad is easy with a capital E. The lardons are fried up in a pan, removed and then to that fat the dressing is made. A heavy splash of red wine vinegar, lemon juice, lots of pepper and a garlic clove are added to make up the dressing. The mixture is poured over the kale and massaged and tossed until the kale softens a bit. It's a winner of a salad.
In other news, a few of you recommended The New Girl and I resisted. I'm a brat. I dunno. Sometimes Zooey Deschanel kinda irks me. But in this show she's completely won me over. I'm hooked. I'm still on season one and am surprised that I actually LOL.
And in other OTHER news, tomorrow is Amelia's birthday. She's officially a year old. Remember when she looked like this?! I just shed a mama tear. Well, there might be a kewl little party hat involved. And maybe a doggie birthday cake. Get excited. I know I am! I'm sorry I'm strange, hopefully you are too!
Delicata, Pomegranate Kale Salad with Lardon Dressing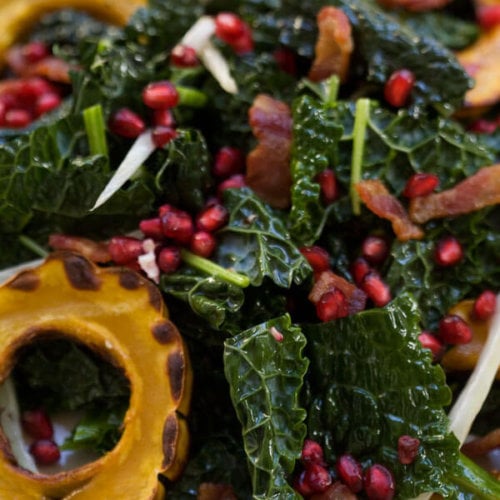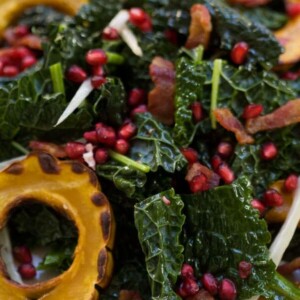 Ingredients
1

small delicata squash

,

cut into 1/2-inch slices

1

tablespoons

olive oil

2

slices

thickly-cut bacon

,

sliced into 1-inch-by-1-inch cubes

1/2

fennel bulb

,

thinly sliced

1

garlic clove

,

minced

1

tablespoon

red wine vinegar

1/2

lemon

Salt

Pepper

3

cups

chopped kale

1/4

cup

pomegranate seeds

,

from 1/2 small pomegranate
Instructions
Preheat the oven to 350 degrees F. Rub the delicata squash with olive oil and sprinkle them with a few pinches of salt. Transfer to the oven to roast for 15-20 minutes, until tender when poked with the tines of a fork.

To a small pan, heat the olive oil. (This may seem like a lot of olive oil but we'll be using it for the dressing.) Add the bacon and cook until crispy and lightly golden brown. Remove with a slotted spoon and transfer to a bed of paper towels to drain.

Turn the heat to low and add the slices of fennel and cook until lightly sautéed, about 2-3 minutes. Remove with a slotted spoon and set aside. Add the garlic clove, red wine vinegar, juice from 1/2 lemon, a few pinches of salt and pepper. Cook for 1-2 minutes, until the garlic is fragrant. Add the kale to medium-sized bowl, pour the dressing on top and massage the kale salad for about a minute. You might feel a little silly doing this--don't worry! Transfer the salad to a serving bowl or plate. Arrange the delicata squash, fennel and lardon all fancy like. And then top with a sprinkling of pomegranate seeds.
Notes
*It'll serve 2 as a main course salad and will serve 4 as just a starter
Nutrition
Nutrition information is automatically calculated, so should only be used as an approximation.