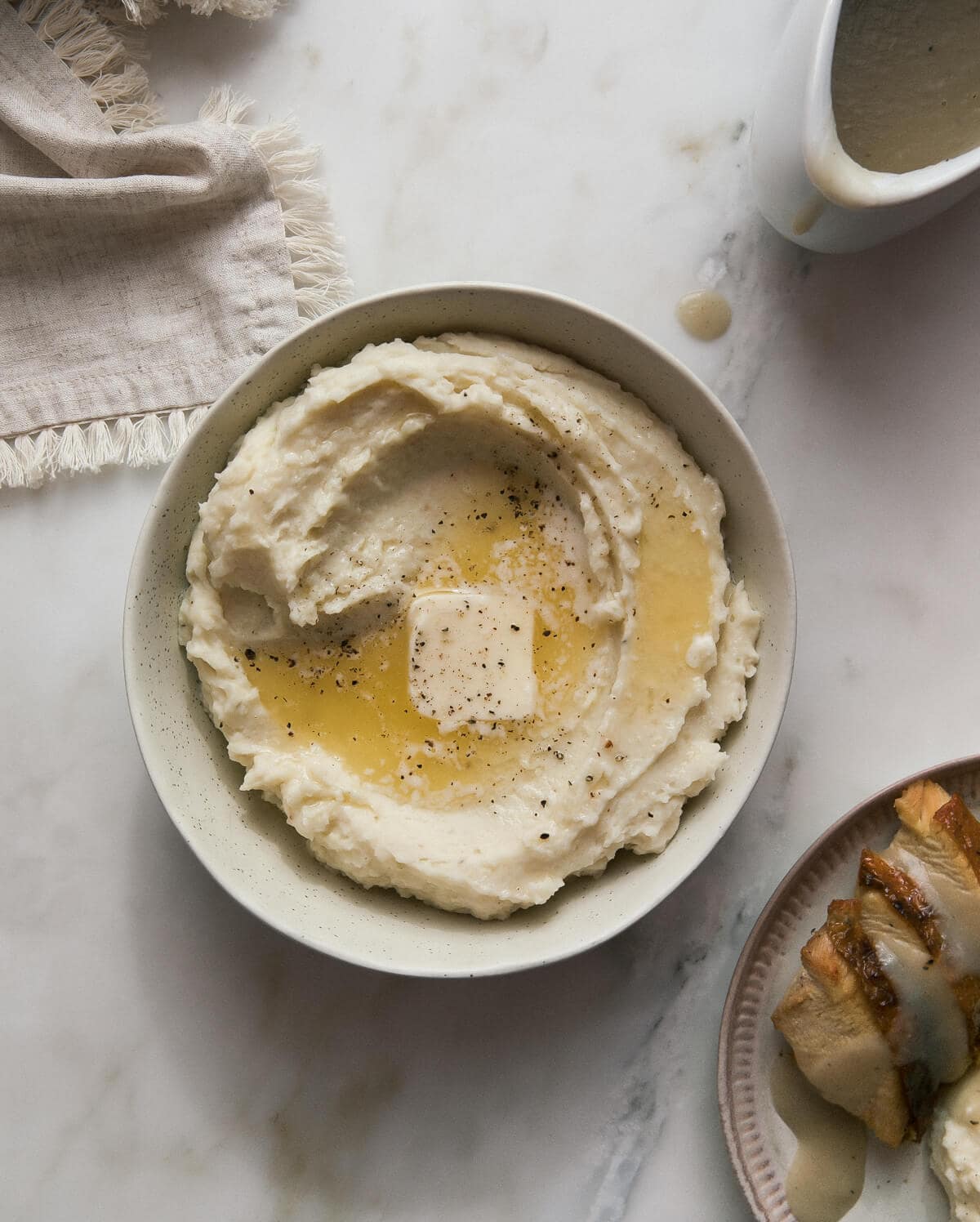 This blog post started off so innocently. I was all like, "I'm going to make some ultra fluffy mashed potatoes." And then…cut to me, like, three recipes in and still not super satisfied with the results.
Here's the thing that you learn with Googling "How to Make Fluffy Mashed Potatoes": everyone and their mom has an opinion about the process, potato type, etc. So, I read a lot. And then I asked Josh, who also (surprise!) had a lot to say about potatoes.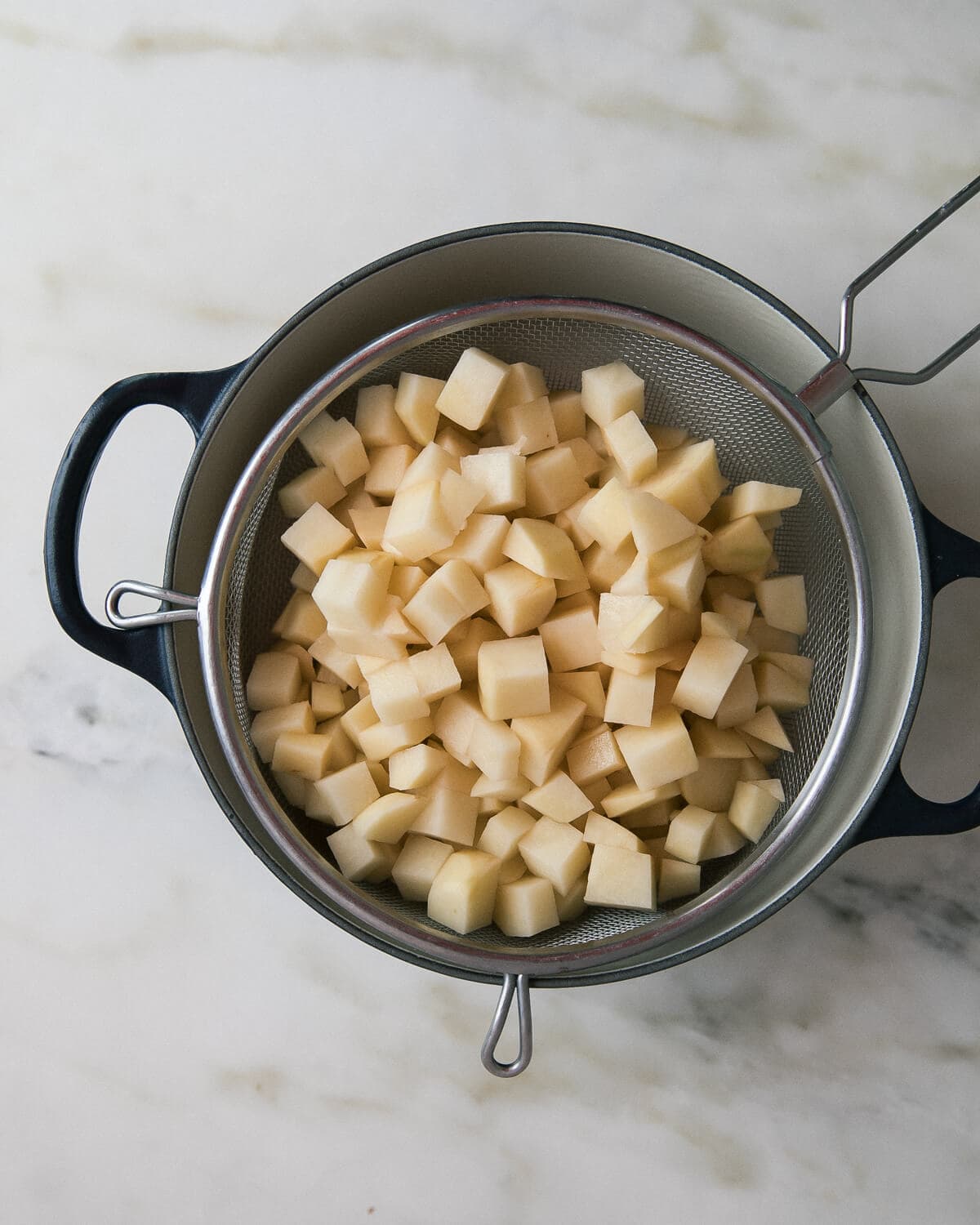 I feel like this recipe is a happy medium of what we're willing to go through (as home cooks) vs. attention to detail. Here are some things that I found successful:
1. Potato type (my preference!) – Russet Potatoes. I tried Yukon Golds and they were pretty tasty but they definitely have more body to them and took way longer to break down. Josh is and still is a Yukon Gold fan but honestly they took too long to cook and I ain't got time for that. My vote is for russets all the way!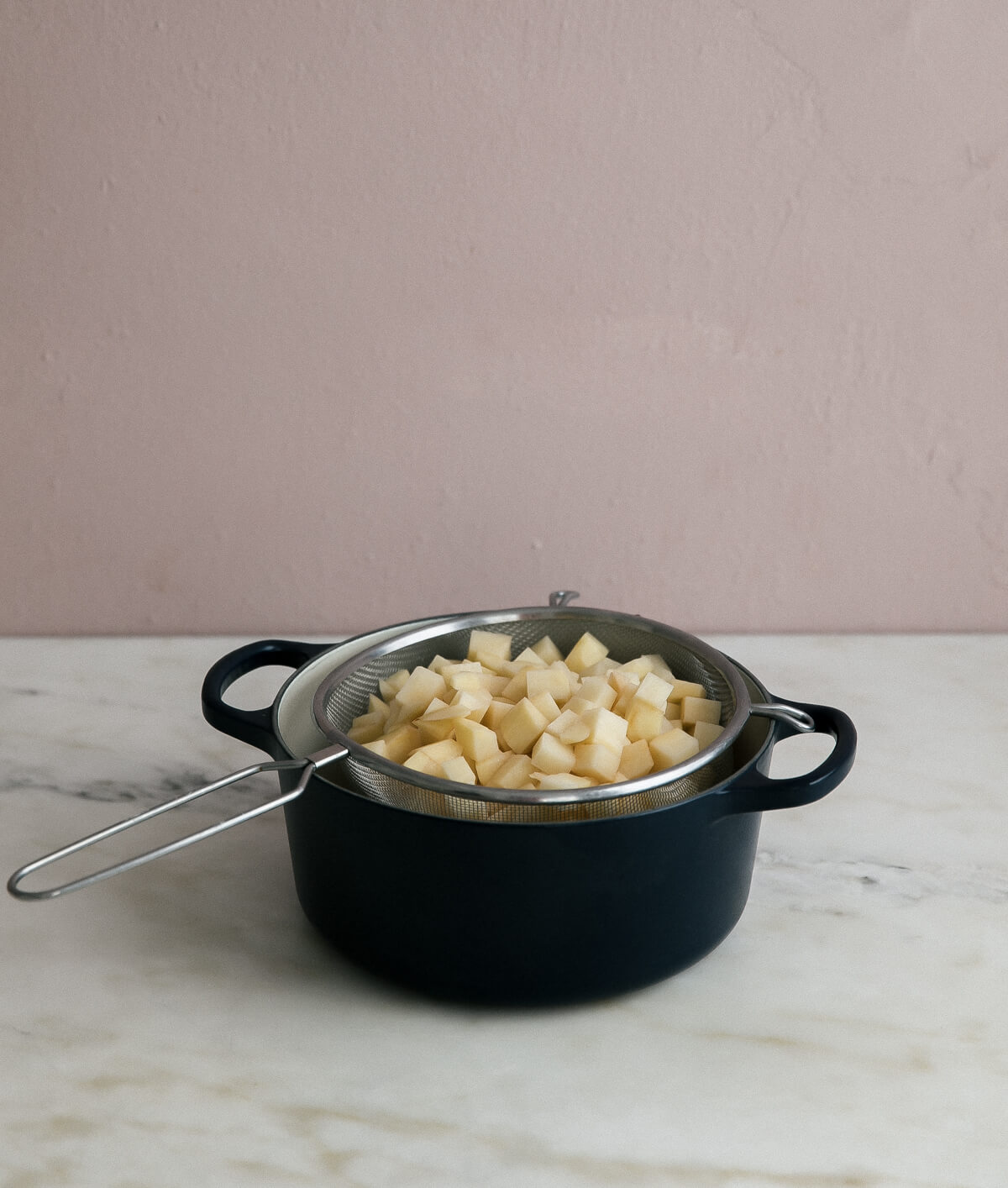 2. Cooking method – Steaming. I used to be in the camp of boiling diced potatoes but I have changed (because of this blog post and testing) to the steaming method. Some pluses: it doesn't waterlog the potatoes. I like the steaming method because it really cooks them evenly until they're super soft AND you don't have to bring a whole pot of water to a boil. Just a few inches. If you own a steam basket, use it! Or you could do like I did, which was to place a sieve over a few inches of water and cover it with foil.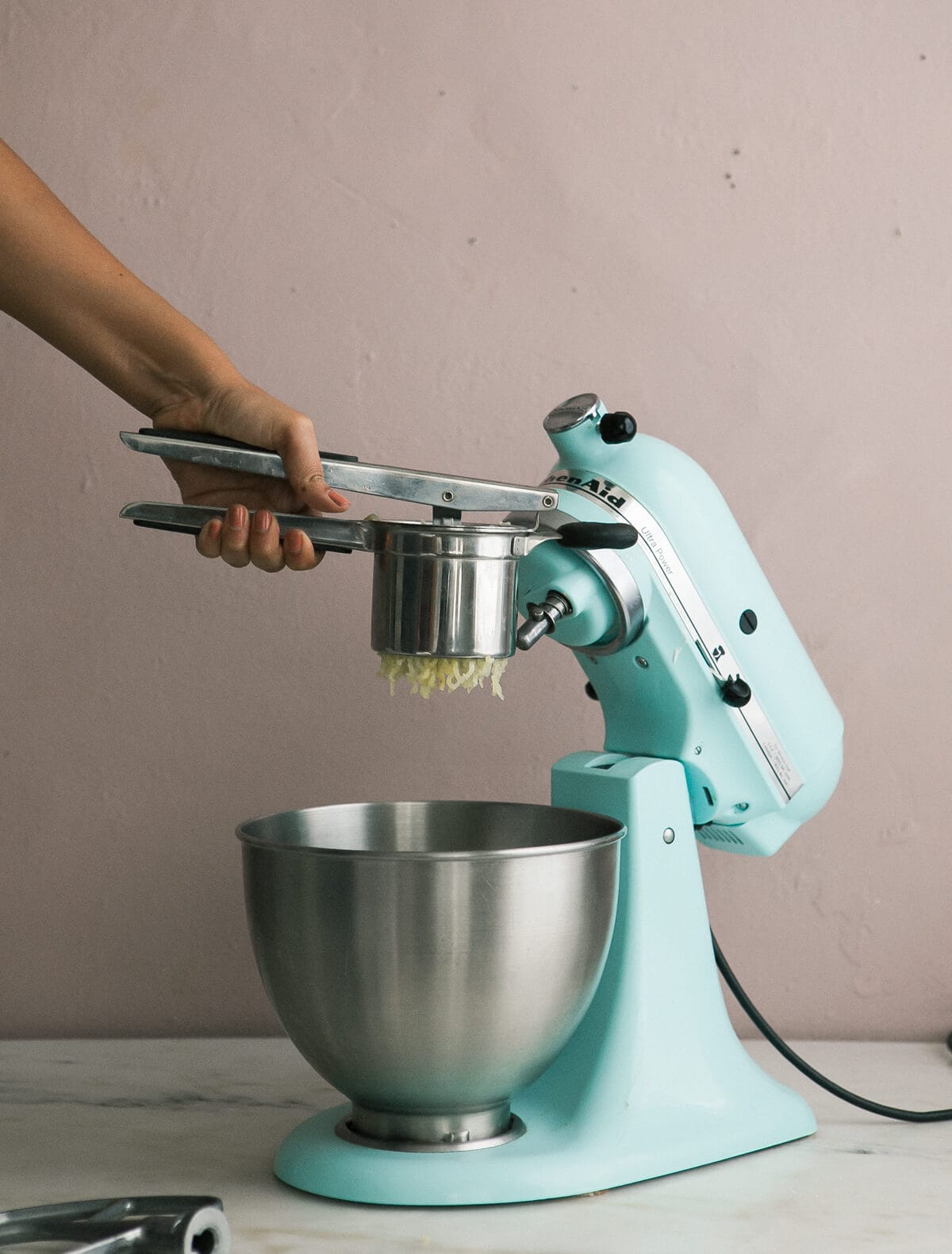 3. Processing method (masher vs. potato ricer. It is the ONLY way to go.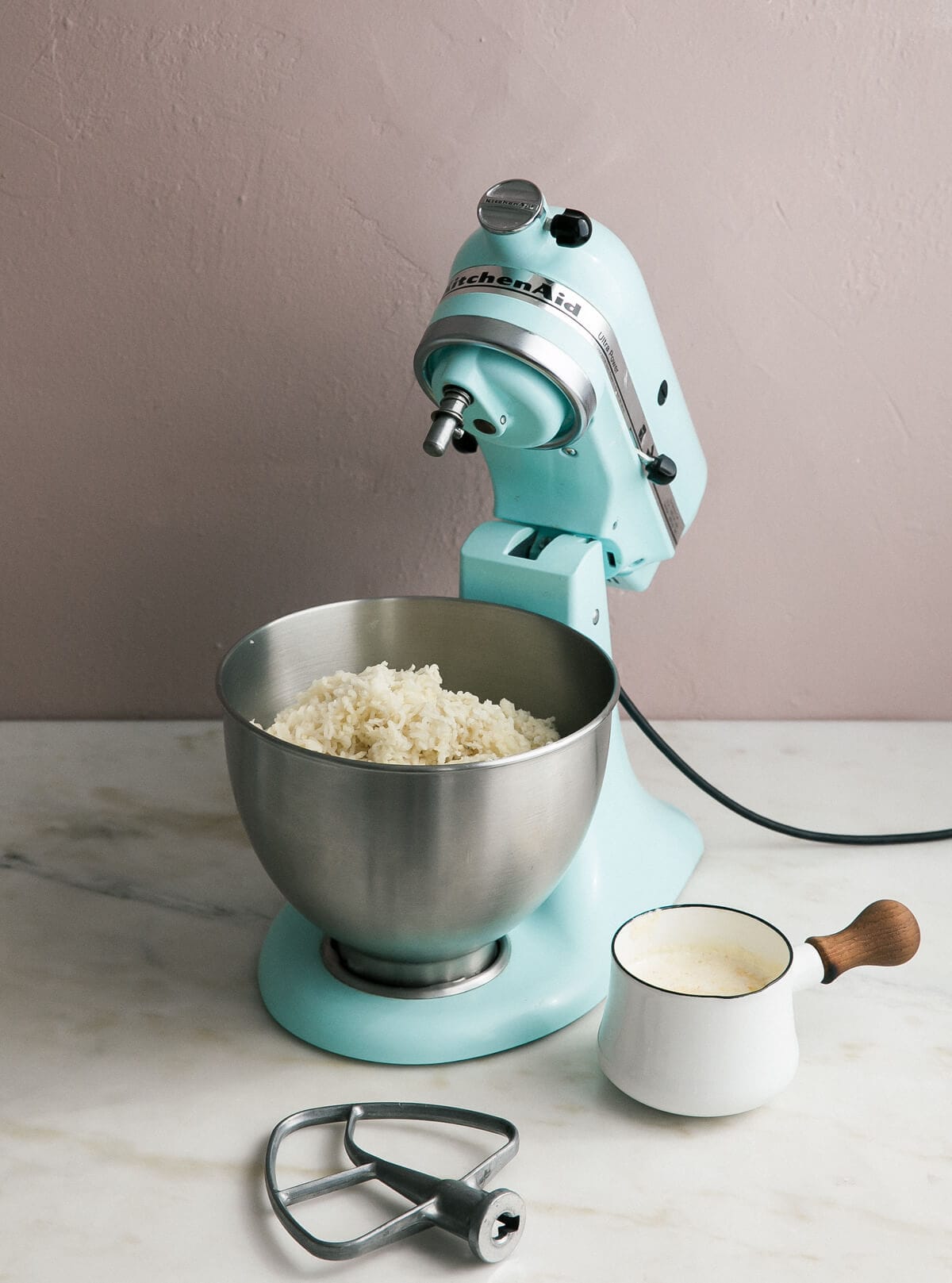 4. Milk vs. Cream Cheese vs. Cream – Warm Heavy Cream. I've tried mashed potatoes with milk (I used to do this); it's solid. I've also tried putting bits of cream cheese in it and I kinda like the tang but I think it's too heavy. I love heavy cream and I like to warm it. It combines beautifully and when you beat it for a minute, it adds a nice airiness to the potatoes.
5. Melted butter vs. Cold cubes of butter vs. Room temperature cubes of Butter – Melted Butter. A lot of people claim cubes of cold butter is the way to go; I tried it with cold cubes of butter and found NO difference. At all. I also love using melted butter because for this recipe, I simply combine the heavy cream and butter and warm them up together. It makes it a bit easier and is less fussy.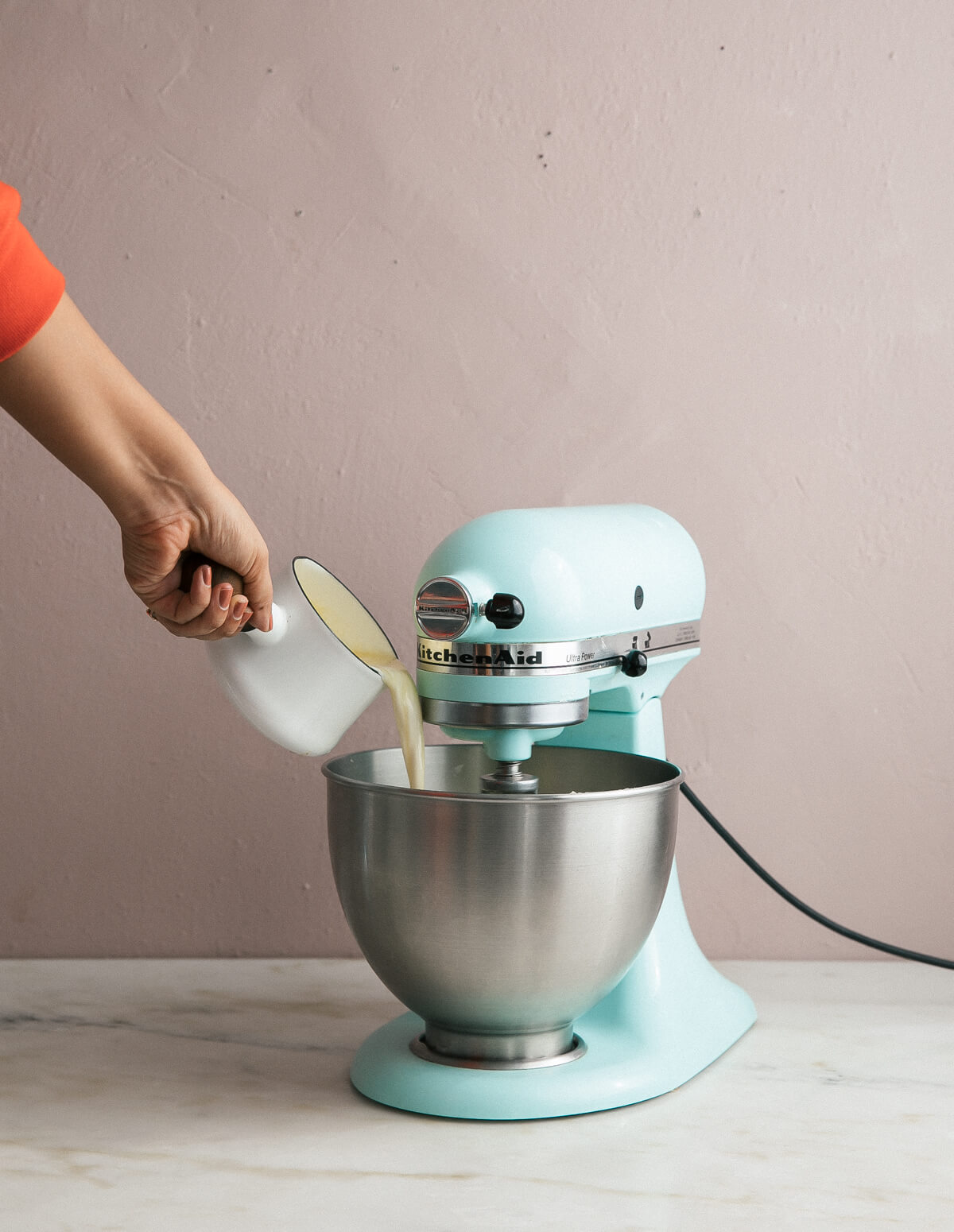 6. Mixing solution – Stand-up mixer with the paddle attachment. I found it so easy to mix it up. It took like 3 minutes and I was done. BUT, if you don't have one OR it's occupied, you can do this by hand in a mixing bowl.
Another enormously important ingredient in mashed potatoes is salt. You can't eat them/serve them without adding salt.
Ok that's it. I feel like this recipe below is super simple and hopefully streamlined for you.
Also unrelated: don't shoot recipes with an orange workout top. You'll have the reflection in the bowl (see below) and you won't be able to take it out lol.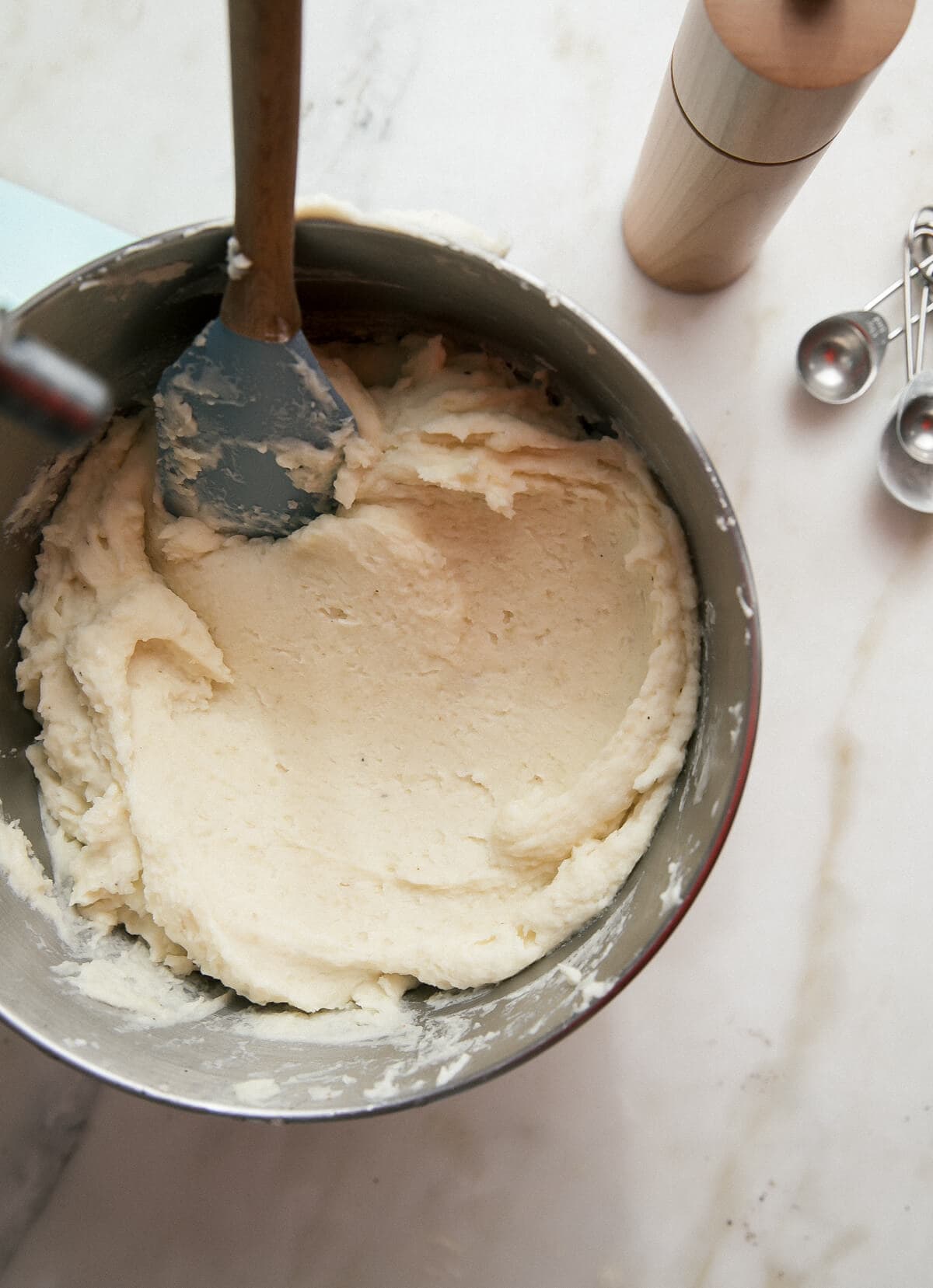 I can make these start to finish in about 45 minutes, with the majority of that time reserved for steaming the potatoes so it's mostly hands off.
Let's talk about reheating these!
Reheating was super simple too. I added a few tablespoons of cream to the bottom of a pot set over medium-low heat and then I just added the potatoes and covered the pot. I mixed it slowly and let it slowly come to temperature.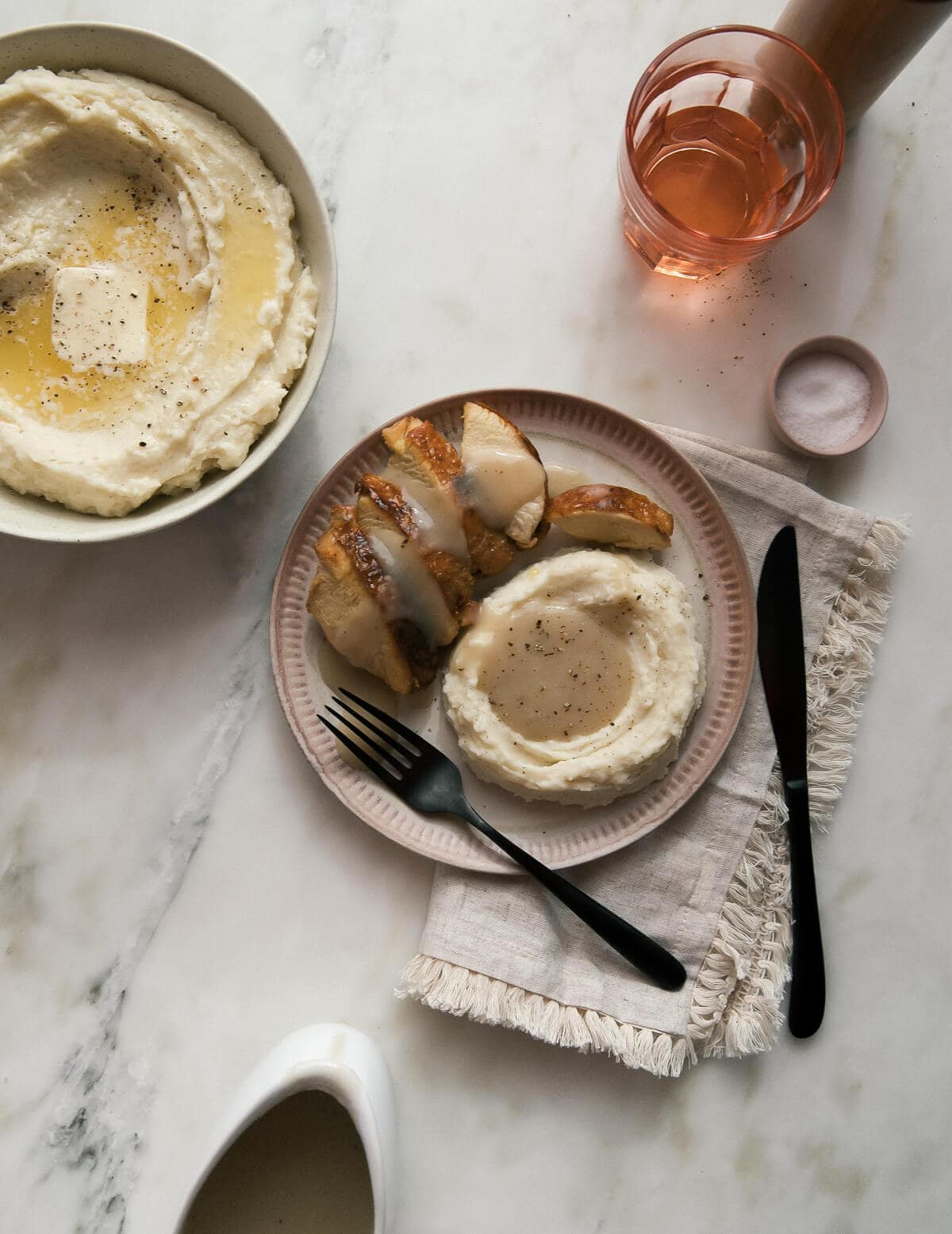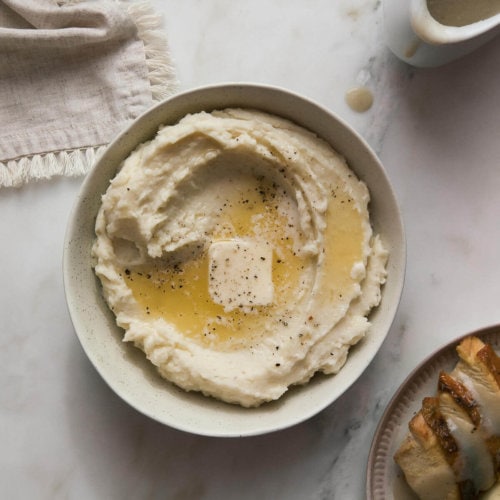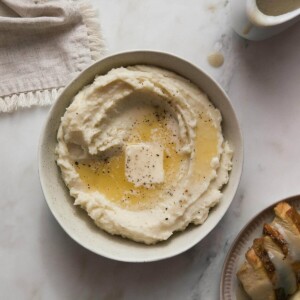 Ingredients
2 1/2

pounds

russet potatoes

,

about 4 potatoes

1 1/2

cups

heavy cream

5

tablespoons

unsalted butter

,

plus more for garnish (this is optional!)

1 3/4

teaspoon

salt

,

plus more to taste

Freshly ground pepper
Directions
Peel all the potatoes and dice them into 1-inch cubes. This doesn't have to be perfect but try your best to get them to be uniform in size.

If you own a steam-basket, great—use it! I don't own one so I made a make-shift steam basket by filling up a 3-quart Dutch oven/pot with a few inches of water. I then nestled a sieve on top and added the potatoes to it and covered the potatoes with foil.

Place your steam basket/make-shift thing over medium-high heat. Steam the potatoes for about 30 to 35 minutes, stirring them about half way through. Give them a taste and make sure they're VERY soft. Remove them from the steam basket and run them through the potato ricer, in batches, into the bowl or a stand-up mixer (or just a regular ol' medium bowl).

Repeat this step until you've worked your way through all of the potatoes.

In a small saucepan, add the heavy cream and butter. Warm over medium-low heat until the butter has melted. Pour that into the stand-up mixer bowl, along with the salt and pepper and beat, with the paddle attachment, for about 1 minute. Scrap down the sides, if you need to. Give it a taste and adjust the salt to your liking.

If you don't own a stand-up mixer, you can do this last part in a medium bowl and mix it using a spatula.
How to Reheat:
Add a few tablespoons of heavy cream to the bottom of a medium-sized pot and place it over medium-low heat. Add the cold potatoes and cover the pot. Cook for 1 to 2 minutes and then stir them. Cover the pot again and allow to warm up for about 3 to 4 minutes. Repeat until the potatoes are warm.

You can also microwave them lol.