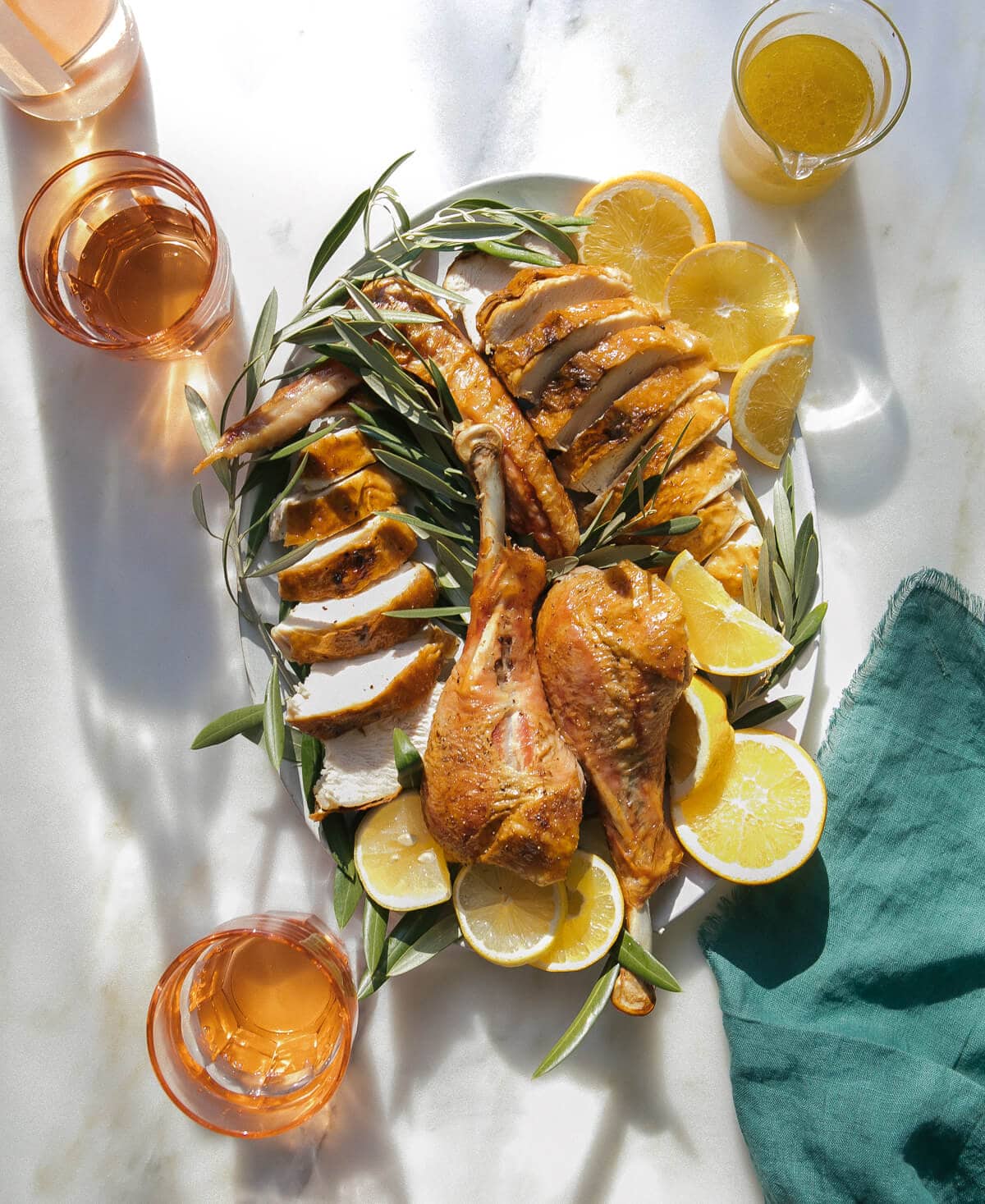 I am SO excited about this post because if I'm being completely honest, I never cook the turkey for Thanksgiving. Josh is super passionate about brining, roasting, blah blah and I just let him do it and I concentrate on the sides and desserts.
BUT, when ALDI reached out about hosting a Friendsgiving with some of my bestest blog friends–Geri, Teri + Jenny, Naomi, Jeanine, Ashley and Claire–I decided that it was time to figure out how to make and share a proper recipe for Thanksgiving turkey. I like to think that this post forced me to learn how to spatchcock a turkey. I'm so glad I know now!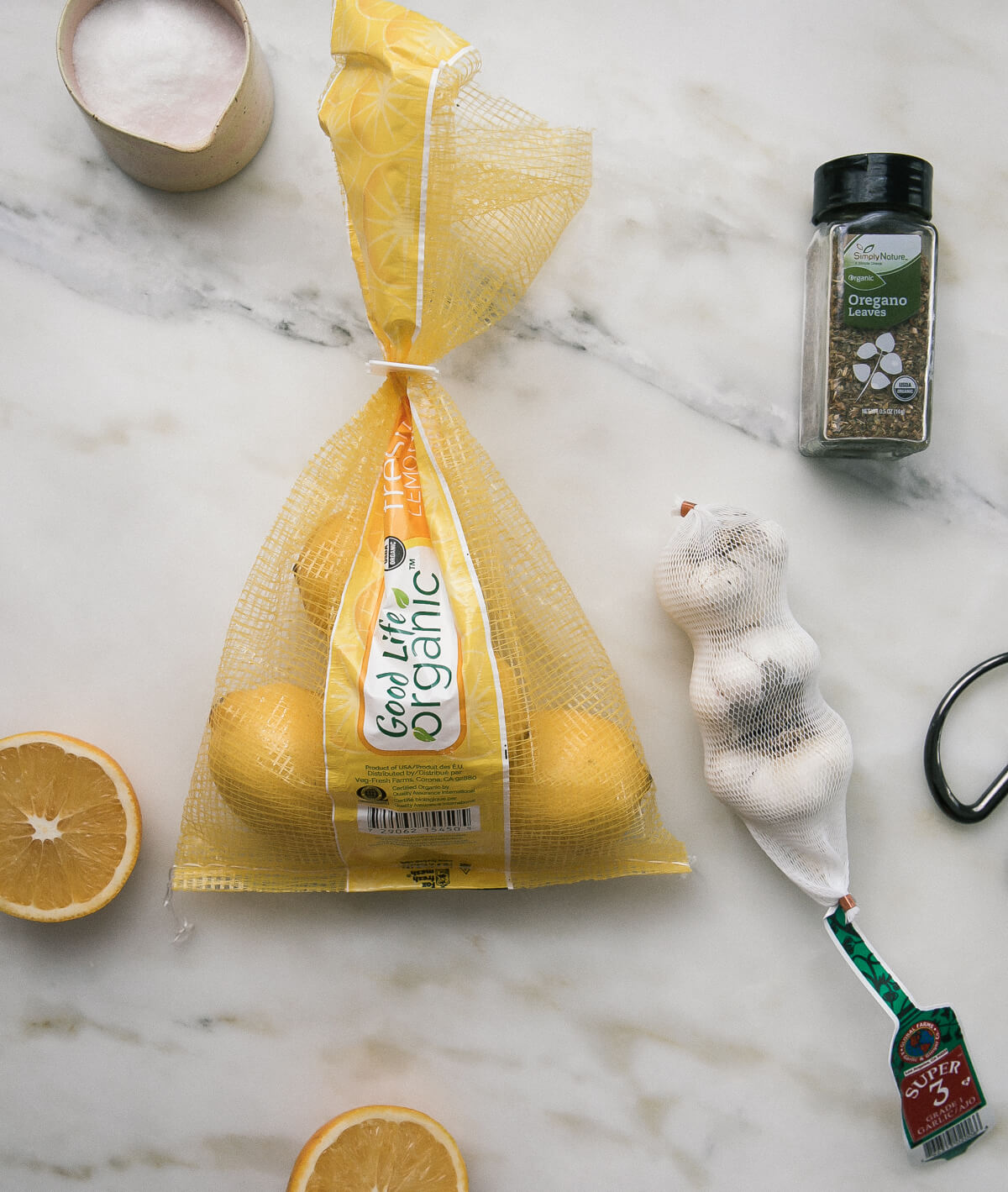 One of the most popular recipes this fall has been this Mojo Sheet Pan Chicken and there's good reason for it! It's so flavorful and the lemon/orange and heavy garlic flavors work so well together. I thought that maybe it would be delicious on turkey and boy was I right!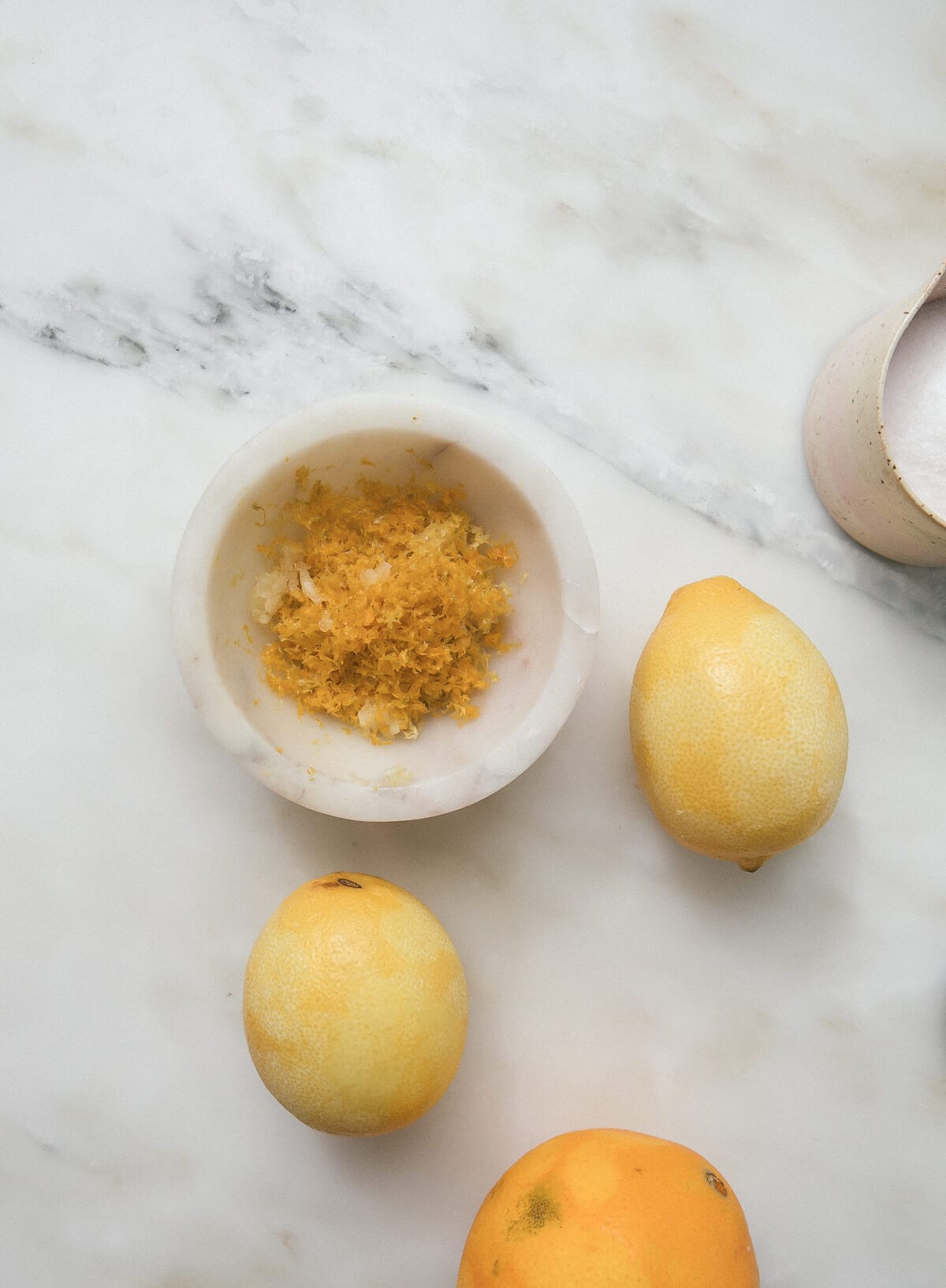 If you're unfamiliar, mojo is a Cuban marinade that is wildly simple but oh so good. In Cuba they have sour oranges, which are sort of a cross between a lemon and an orange. They aren't readily available in the United States and most Cubans/people trying to achieve mojo, simply combine lemons and oranges—it's a good solution!
I went to ALDI where I picked up a gorgeous, hormone-free turkey at a super affordable price, along with the organic dried oregano and organic lemons and naval oranges.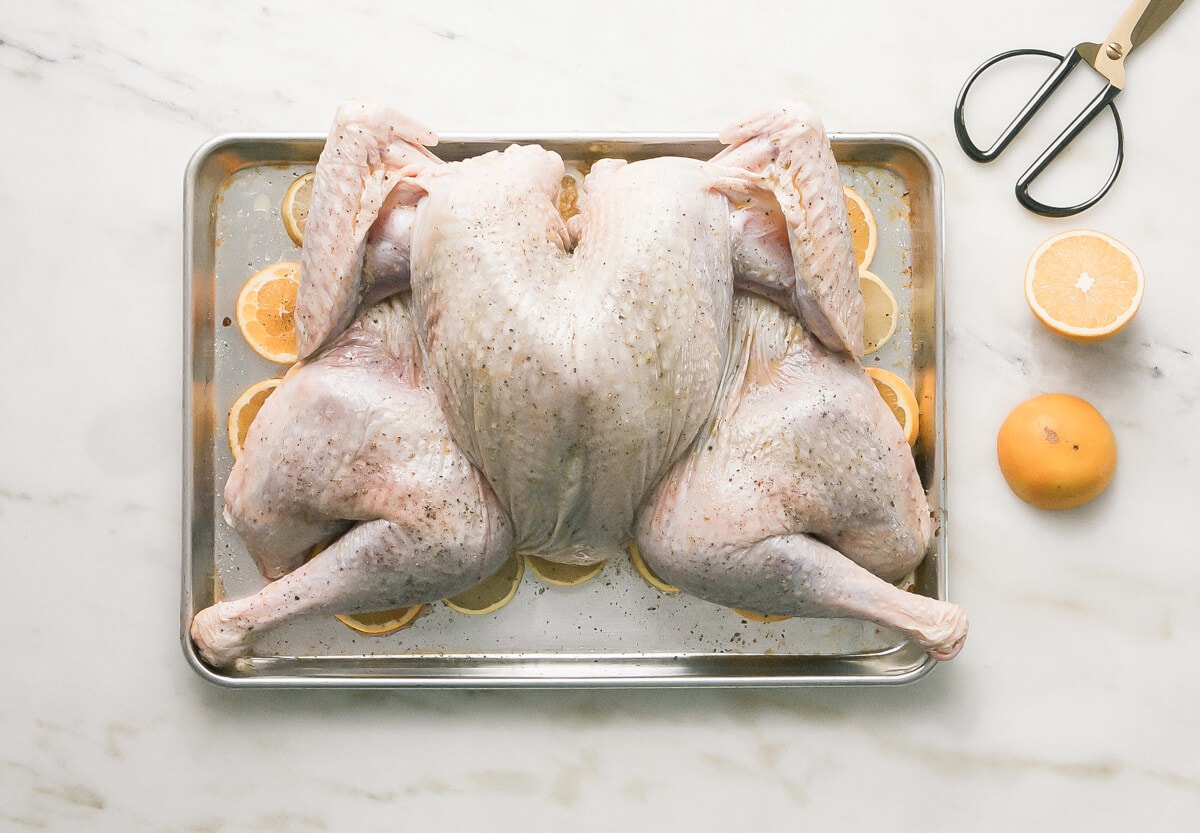 I made this Thanksgiving turkey sort of sheet-pan-like because Billy convinced me to cut out the back bone and lay it flat on the baking sheet a.k.a spatchcocking a turkey.
I completely believed Billy because he was super passionate about it but when it came out of the oven looking like a queen, I was permanently converted.
Taking out the backbone a.k.a. spatchcocking the bird does a few amazing things:
1. It gives you bones to make broth for silky smooth gravy (recipe coming soon!).
2. It makes it so you don't really need to brine it at all. I didn't brine this. I added the flavoring underneath the skin, sprinkled it with salt and pepper and that's it!
3. The turkey roasts in an hour and a half (no four hour turkeys!). So this is a quick and easy Thanksgiving turkey recipe.
4. I set it on one sheet of lemons and naval oranges and it provided a delicious base.
5. The breast meat was moist—not dry! The entire turkey cooked evenly. It's basically magic!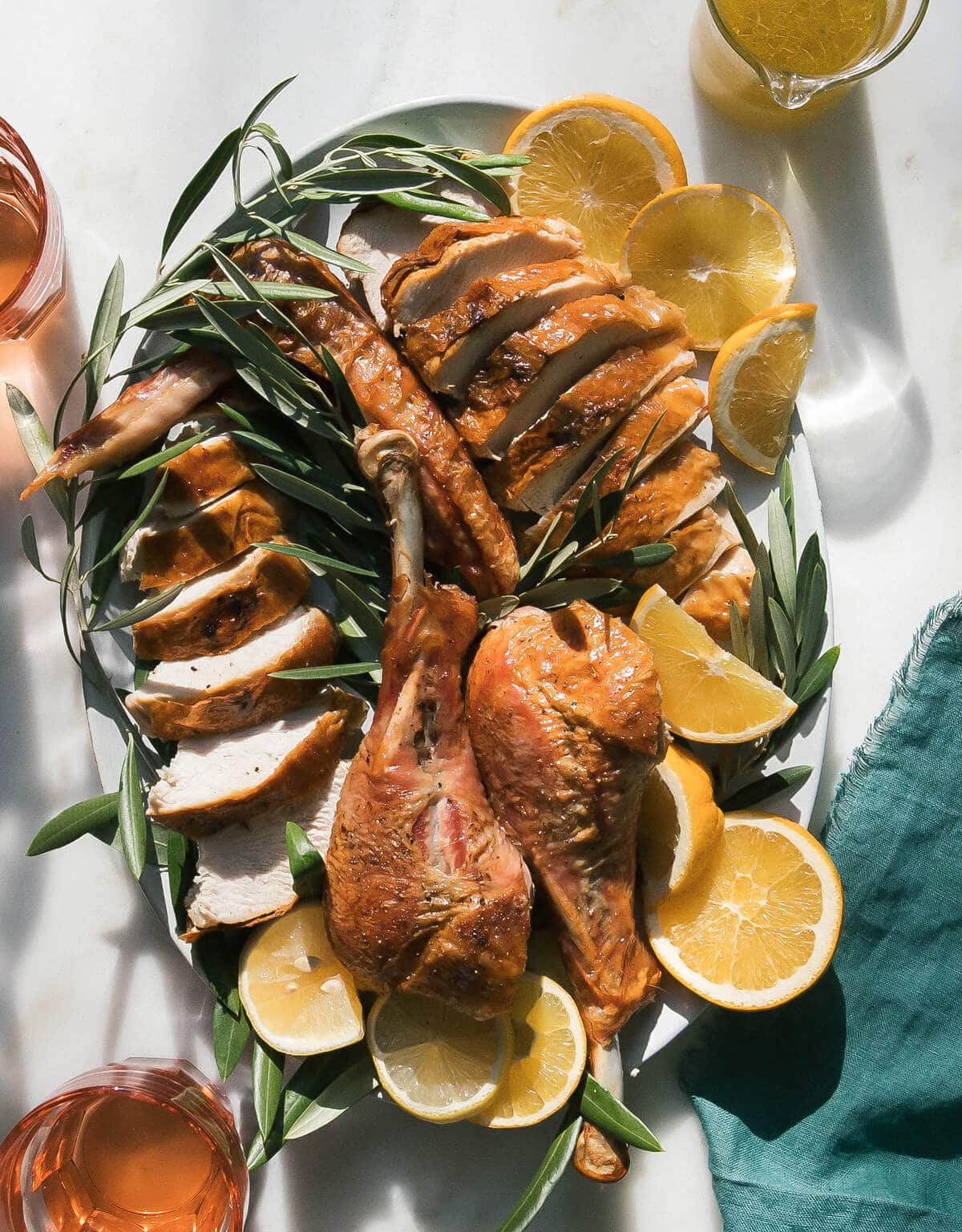 And then I carved it beautifully and arranged some olive branches and slices of lemon and orange around it.
In a few days (Wednesday, actually!), my friends will be coming over for a Friendsgiving with all of the dishes they're making! I can't wait to eat all the things with my friends! Be sure to check my Insta Stories for more updates.
Here are a link to all the recipes:
Naomi from Bakers Royale
Teri + Jenny from Spoon Fork Bacon
Geri from Because I'm Addicted
Ashley from Sugar + Cloth
Jeanine from Love and Lemons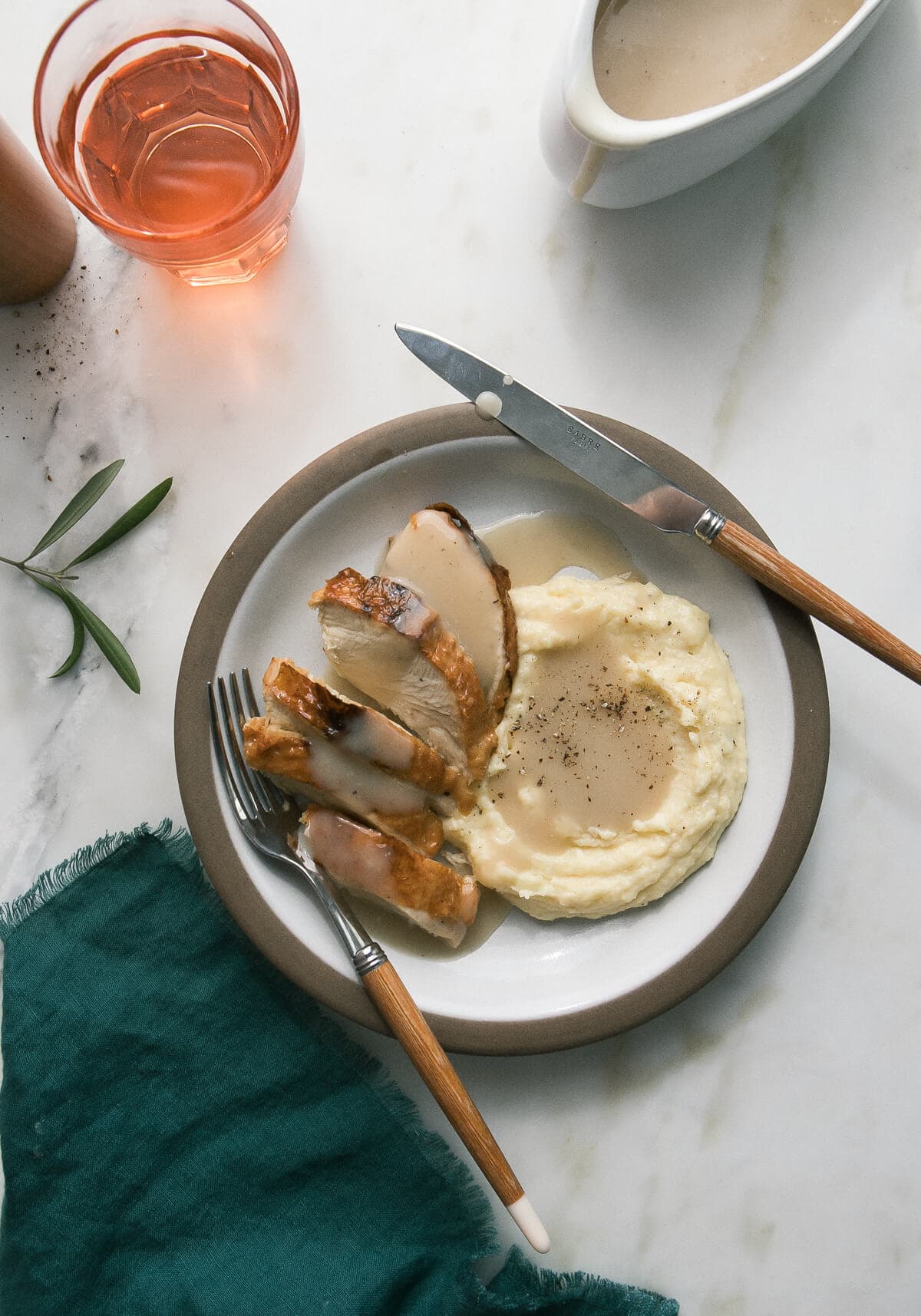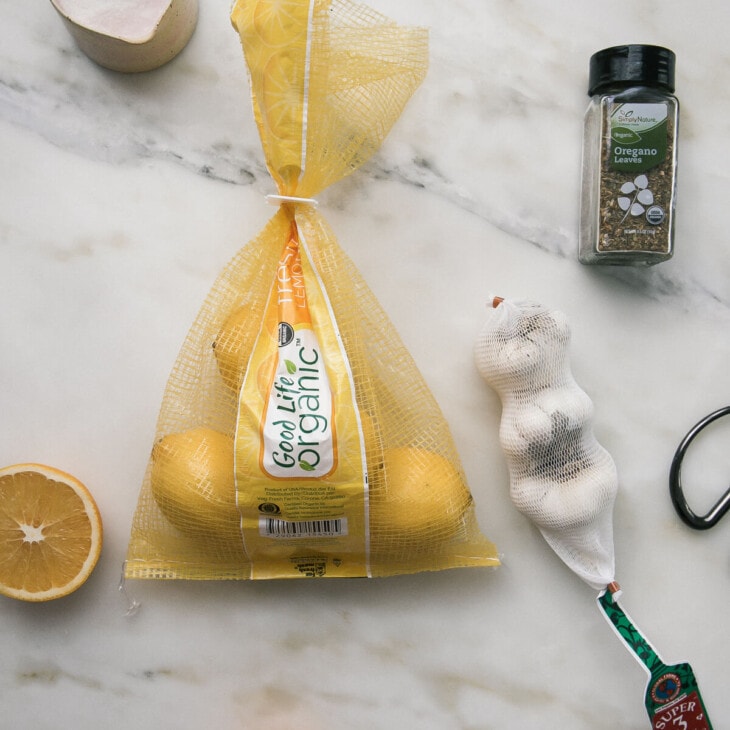 Print Recipe
Sheet Pan Mojo Turkey
Ingredients
Mojo for roasting the turkey: 
2

tablespoons

olive oil

1

tablespoon

kosher salt

Zest from 2 lemons

Zest from 2 navel oranges

6

cloves

of garlic

peeled and crushed 

1/2

teaspoon

dried oregano
Prep the turkey:
1

12-pound turkey, thawed in the fridge 

2

lemons

sliced (I used the lemons that were zested)

2

oranges

sliced (I used the oranges that were zested)

Kosher salt

Freshly ground pepper 
Mojo sauce for dipping: 
Juice from 2 lemons

Juice from 2 naval oranges

1/4

cup

olive oil

1

teaspoon

kosher salt
Instructions
To make the mojo for roasting the turkey: 
In a small bowl, combine the olive oil, salt, lemon zest, orange zest, crushed garlic and oregano. 
To prep the turkey: 
Preheat the oven to 425 degrees F. Remove the gizzards from the cavity of the turkey. Using a pair of kitchen shears, slice the backbone out of the turkey (I used

this video

as assistance). Removing the backbone should allow you to lay the turkey completely flat onto a half baking sheet. Separate the skin from the breast meat all the way around. Rub the breast meat (under the skin) with the mojo mixture. Sprinkle the top of the turkey with about a teaspoon of salt and pepper. Add a few slices of lemons and oranges underneath the turkey. 
To cook the turkey:
Transfer to the oven to roast for 1 1/2 hours. This will depend on the size of your bird. You really know it's done when a thermometer inserted into the thigh reads 170 degrees F. 

Remove it from the oven and allow it to rest for 10 minutes. While the turkey is cooking and/or resting, make the mojo sauce. 
To Make the Mojo Sauce for Dipping: 
In a measuring cup, whisk together the ingredients and transfer to a serving dish. 

I carved this turkey and decorated the plate with more lemons and oranges. After it was carved, I brushed the mojo onto the turkey and served the rest on the side. 
(This post is sponsored by ALDI. Thank you for supporting the sponsors that keep A Cozy Kitchen cozy.)