Smoked Gouda Creamy Mashed Potatoes
8
Nov 02, 2016, Updated Feb 23, 2019
Disclosure: This post may contain affiliate links, which means I may earn a commission if you click on the link and make a purchase.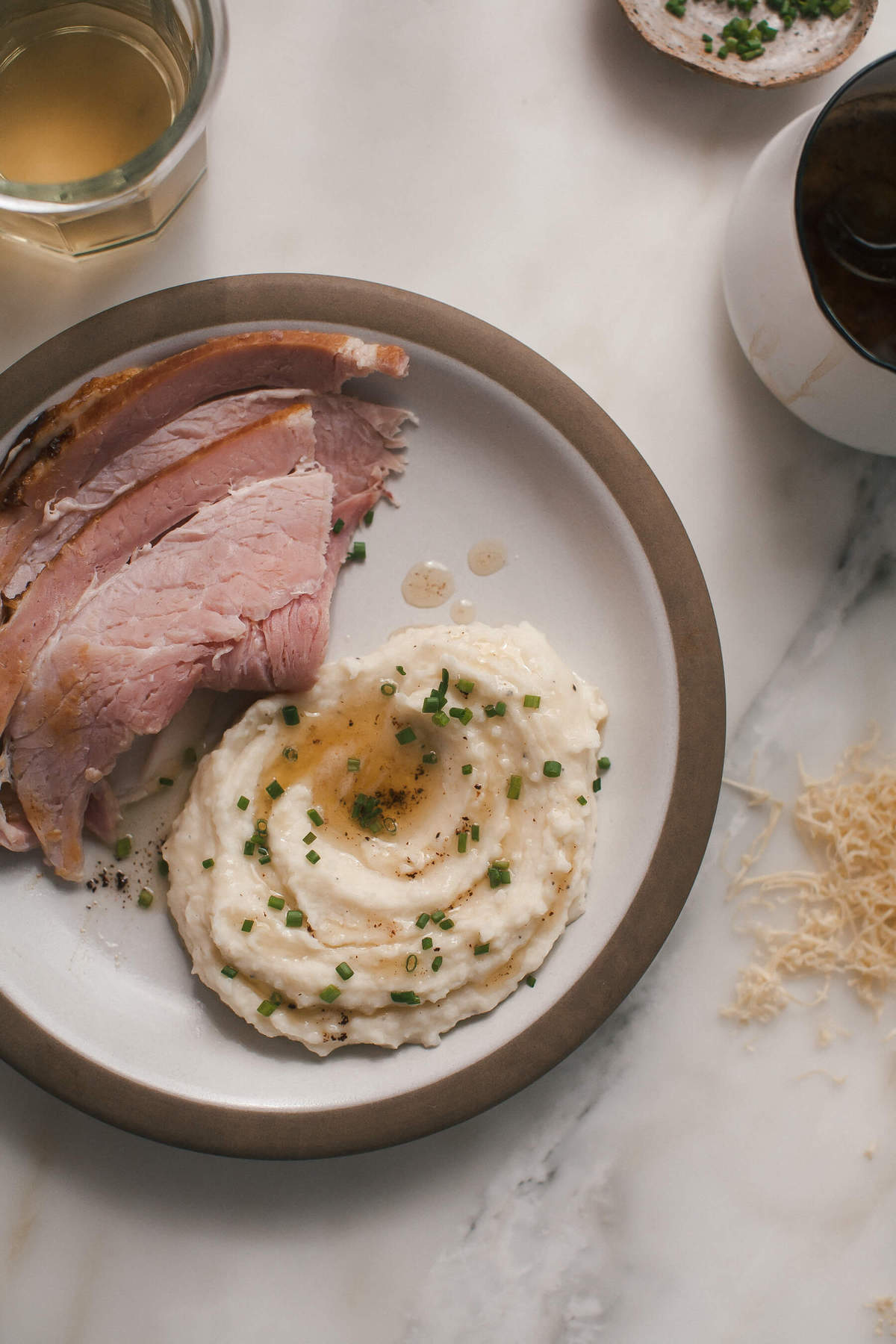 I can't believe the time has come where it is actually appropriate to talk about what we're making for Thanksgiving. It's ok to say where we're going to be for Christmas. And it's ok to start thinking about what the table is gonna look like and who's gonna gift who what.
It's just too much for me. It feels rushed, like too much too soon so I'm starting slowly. I'm warming up to the idea that the holidays are near and I'm starting with this smoked gouda cheesy mashed potatoes. It feels right.
This is also the kinda recipe that doesn't really require any particular holiday to exist to enjoy.
For this post, I teamed up with ALDI to bring you my new-favorite mashed potatoes, along with spiral cut double brown sugar ham. TIS THE SEASON.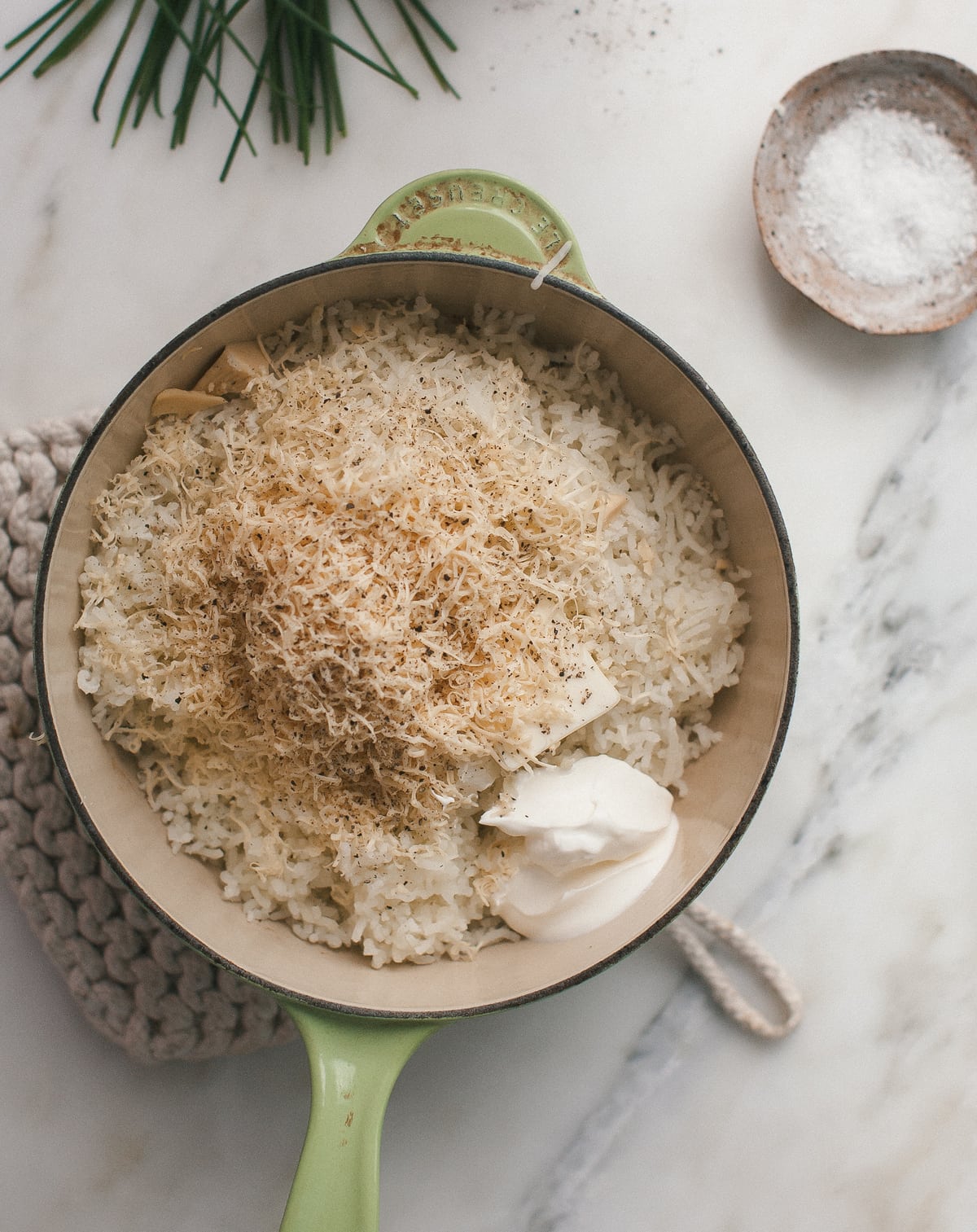 Mashed potato-making is serious business for me. I have some rules, albeit chill rules.
#1 – They must be boiled to the point where they're almost a little overcooked.
#2 – And then drained and set out to dry for a bit. We want creamy mashed potatoes, not watery.
#3 – A potato ricer is a must. The texture will be so fluffy and beautiful.
#4 – Don't be shy with the butter, milk or sour cream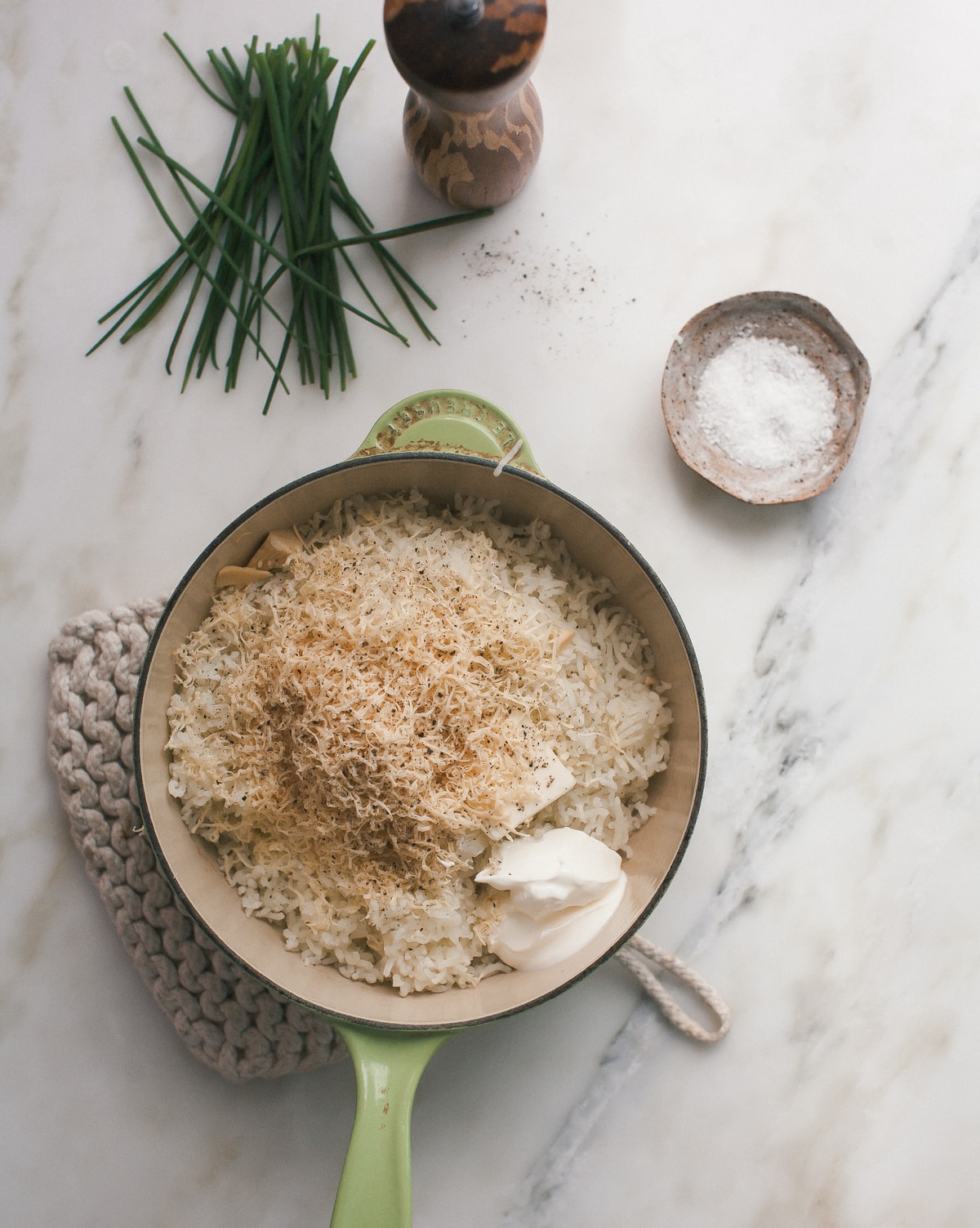 This smoked gouda is just the ticket to make them a liiiitle bit different but still super classic and delicious.
The trick to adding any cheese (besides super soft ones like brie or goat cheese) to mashed potatoes is grating it very finely. Use the teeny tiny grater on your box grater. This way the cheese will easily melt in the mashed potatoes and you won't have to do much stirring or heating up.
Pairing it with this ham with ALDI makes everything a gigantic breeze because all you have to do is stick it in the oven for an hour at 350 degrees F and most of dinner was taken care of! This means more time can be spent on making these mashed potatoes pitch perfect.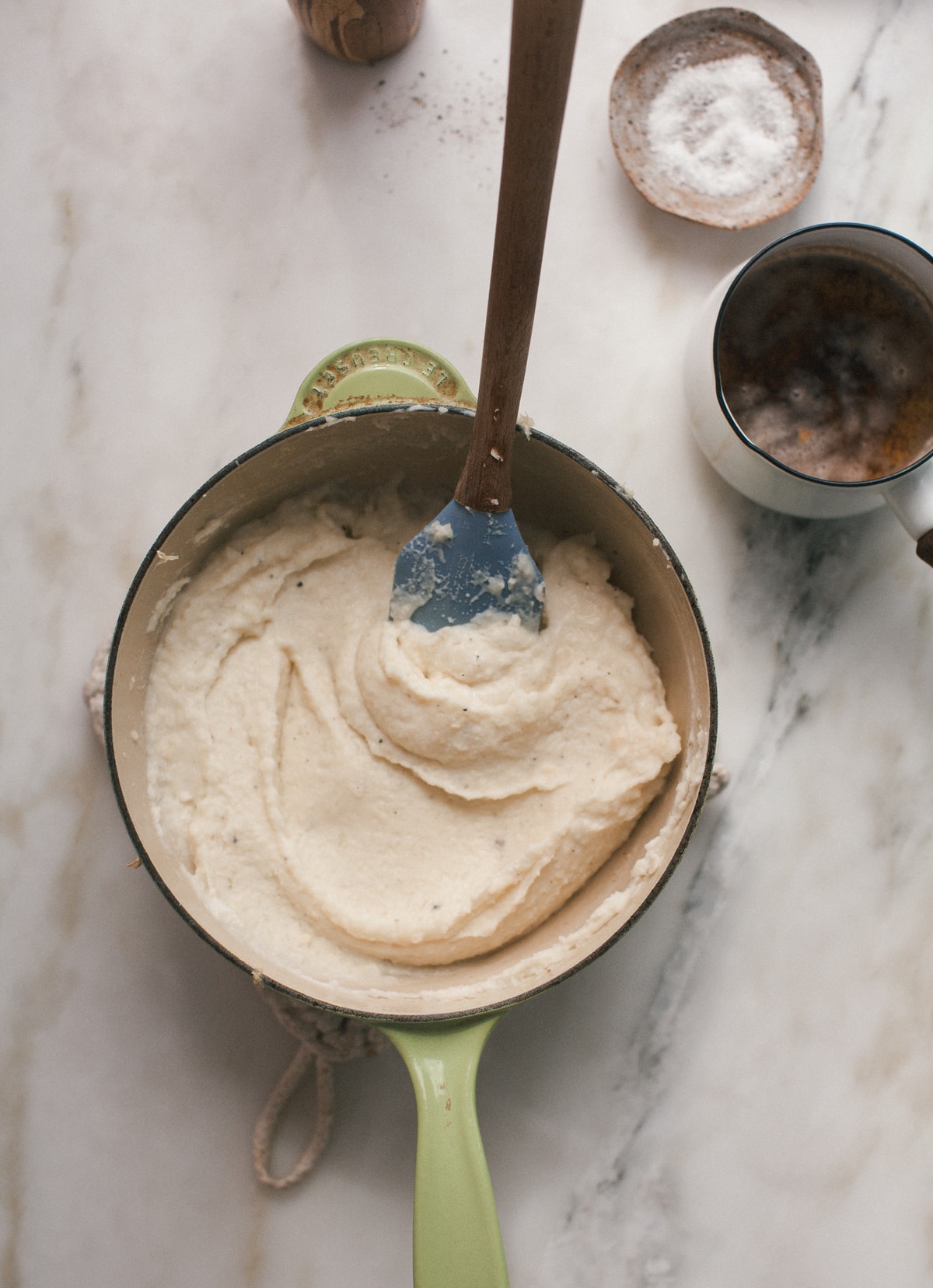 I feel like I could write forever how much I love these potatoes but I won't bore you any longer.
More Thanksgiving stuff soon, soon! This year is gonna be fun.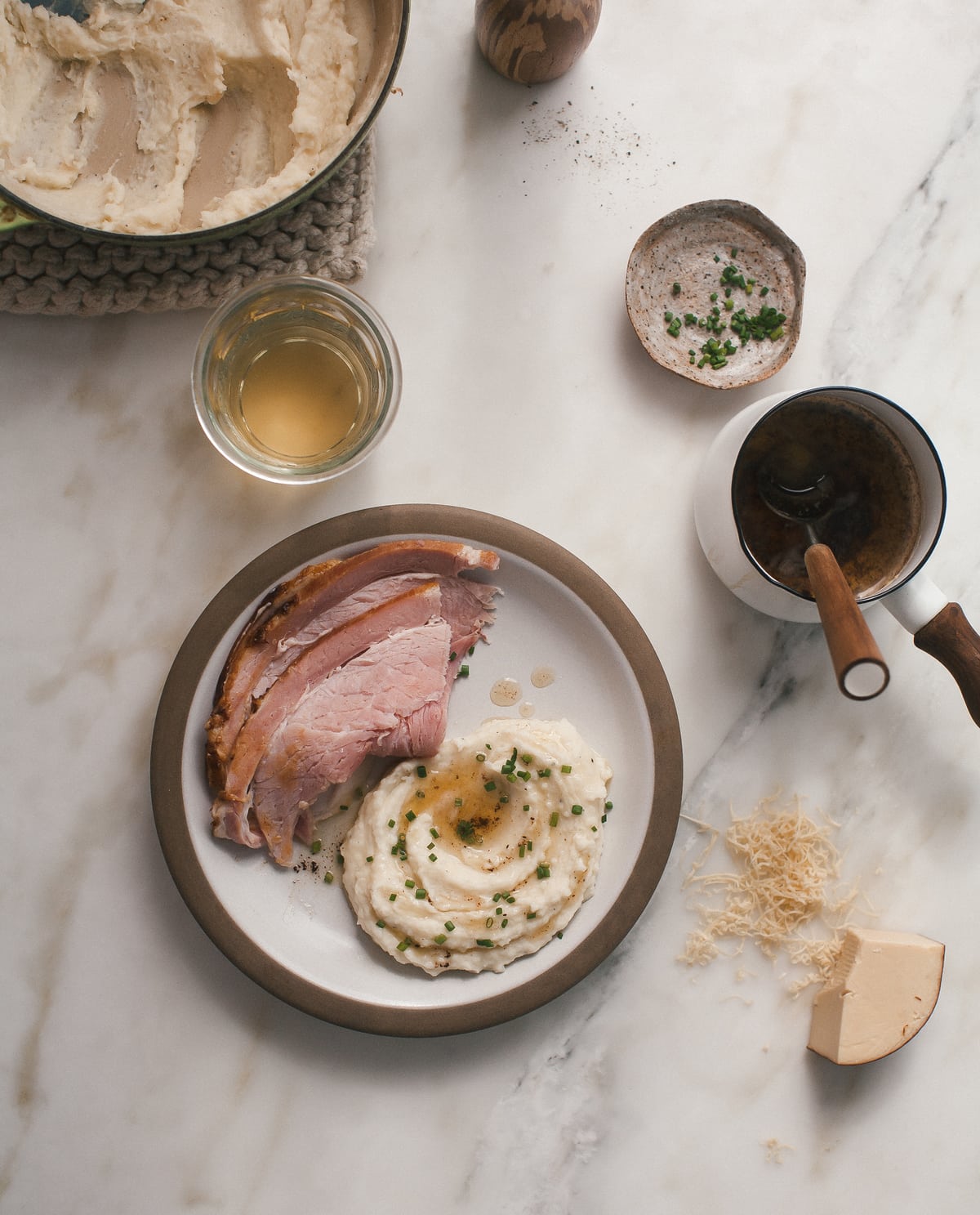 Smoked Gouda Creamy Mashed Potatoes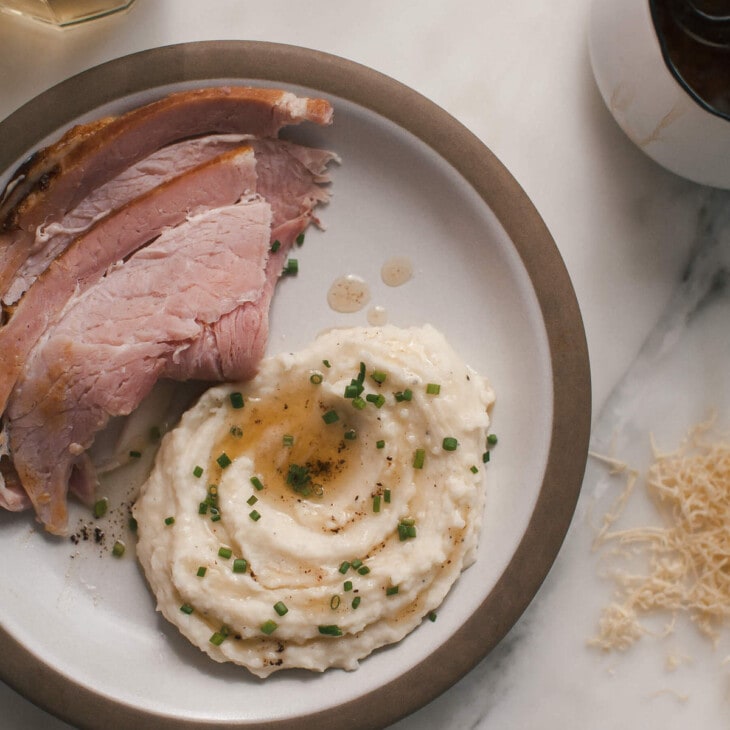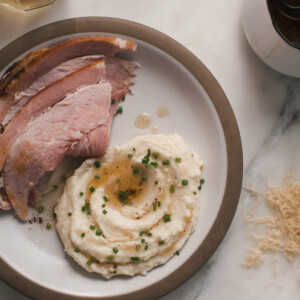 Ingredients
2

medium-sized russet potatoes

,

peeled and diced

1/2

cup

finely grated Happy Farms Preferred Smoked Gouda

2

tablespoons

creme fraiche or Friendly Farm's sour cream

1/2

cup

Friendly Farm's milk or Countryside Creamery half and half 

1

teaspoon

freshly ground pepper

6

tablespoons

Countryside Creamery unsalted butter

,

divided

2

tablespoons

chives 
Instructions
In a medium pot filled with boiling water, add the diced potato. Cook until very tender, about 15 to 20 minutes. 

Drain the potatoes and let them stand and air dry for a bit in a colander, about 5 minutes. Using a potato ricer, run the potatoes, a few scoops at a time, through the ricer and back into the pot. Repeat until you've worked your way through all of the potatoes. 

Turn the flame up to medium low. Add the smoked gouda, creme fraiche or sour cream, milk or half and half, freshly ground pepper and two tablespoons butter, along with a few pinches of salt. Give it a stir and allow to warm through, about 1 to 2 minutes. Stir until everything is incorporated. Give it a taste and adjust for salt. Turn the heat to low and cover with a lid so it can stay warm while you make the browned butter.

In a small saucepan, set over medium heat, add the butter and swirl until melted. The butter will go from all foamy to having little speckles of brown bits. Continue to stir until it's mostly brown. Immediately remove from the heat and set aside. 

Serve the potatoes with a drizzle of brown butter on top and a sprinkling of fresh chives
Notes
Note: If you don't have a potato ricer, simply use a potato masher! Or a gigantic fork.
Nutrition
Nutrition information is automatically calculated, so should only be used as an approximation.
(This post is sponsored by ALDI. You can find them on the internets: Facebook, Twitter, Instagram , Pinterest and you can visit www.aldi.us/holidays. Thanks for supporting the sponsors that keep A Cozy Kitchen cozy.)