Milk Tea Flan
21
Mar 09, 2016, Updated Nov 30, 2020
Disclosure: This post may contain affiliate links, which means I may earn a commission if you click on the link and make a purchase.
Milk Tea Flan with Boba is a twist on the classic flan dish. The milk used is infused with black tea to give that familiar flavor and served with soft chewy boba.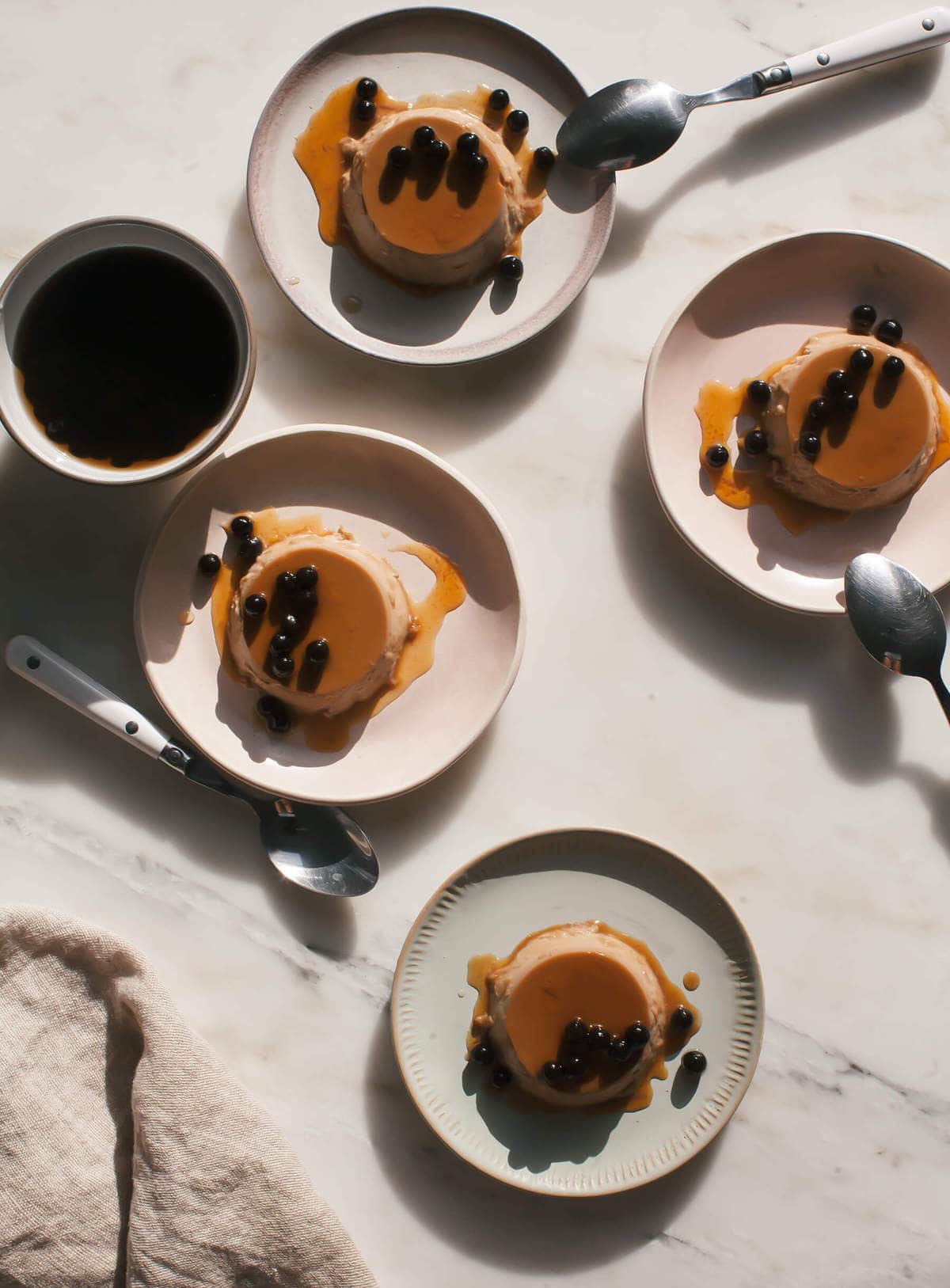 This recipe is a bit of a mishmash of two of my favorite things: flan meets milk tea. It's simple, really.
Milk is steeped with black tea and then sugar is added. It tastes EXACTLY like milk tea. And then that mixture is used to make flan. The boba is on top as a garnish and tastes soooo good on top.
I grew up eating bad flan all the time. And let me tell you, flan is all about texture. If it's not silky smooth, I'm not interested. Like, at all. This one is as smooth as silk!
Oh and if you need to buy black tapioca pearls online, here's a link!
The act of binge-watching is one of my favorite past times. It's always so nice and cozy to be in sweats,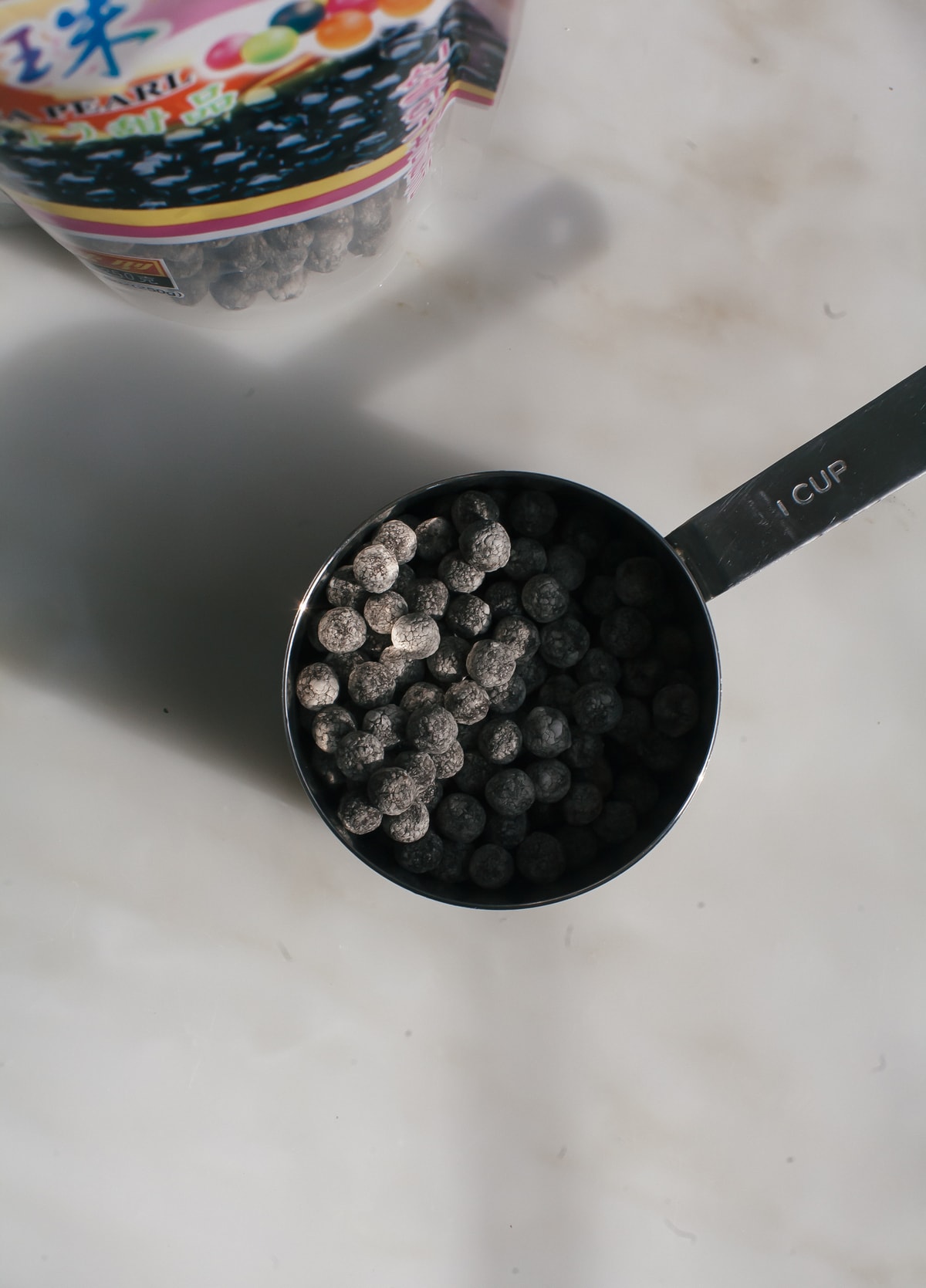 How to Make Milk Tea Flan:
Make the Boba. The instructions are different depending on the type of boba you get so I always recommend cooking them according to the package directions. The only thing that's the same between boba is the brown sugar syrup. Mix the water with the brown sugar until dissolved then use that to store the boba in once it's cooked.
Infuse the cream. Stir together all the milks in a saucepan and bring to just under a simmer. Add the tea bags and let them steep for 30 minutes.
Make the caramel. While the tea infuses, melt the sugar down in a saucepan and cook until it reaches a sort of amber color. Remove from the heat and immediately divide it between the smaller dishes and place in a larger baking dish.
Temper the eggs. Pour a little bit of the warm milk into the eggs to bring them closer to the temperature then add that to the warm milk mixture and whisk to combine. Pour this mixture through a sieve to get rid of anything that will make the flan not smooth.
Cook the flan. Add the custard to the ramekins with the caramel  then place boiling water in the larger baking dish. Bake until the centers of the flan are just barely set.
Cool and serve. Once the flan has cooked, cool completely in the refrigerator then gently flip them out onto small plates. Top with a spoonful of the boba and serve.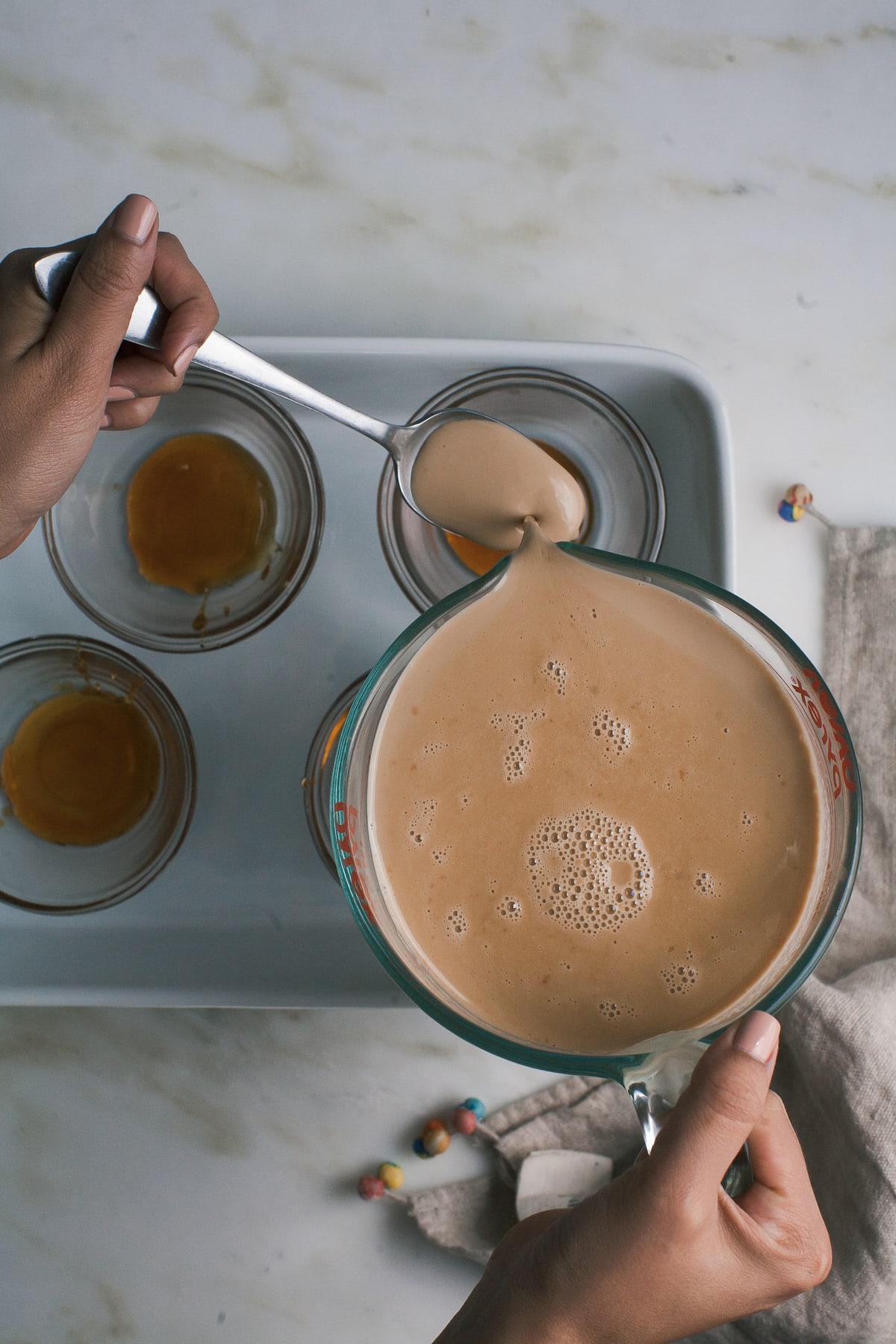 Tips and Tricks:
If you wanted to make one larger flan, just make the flan in an 8″ cake pan and cook for 50 min-1 hour.
You can make the flan ahead of time if you want to, just wait to make the boba until you're closer to serving the flan, as a result, you'll have fresher tasting boba. Cold boba that's been in the refrigerator for a couple days can be a little tough.
If you want boba milk tea just infuse your favorite milk with black tea, let it cool, and serve with the boba. Add as much of the syrup from the boba as you need to make it your preferred sweetness level.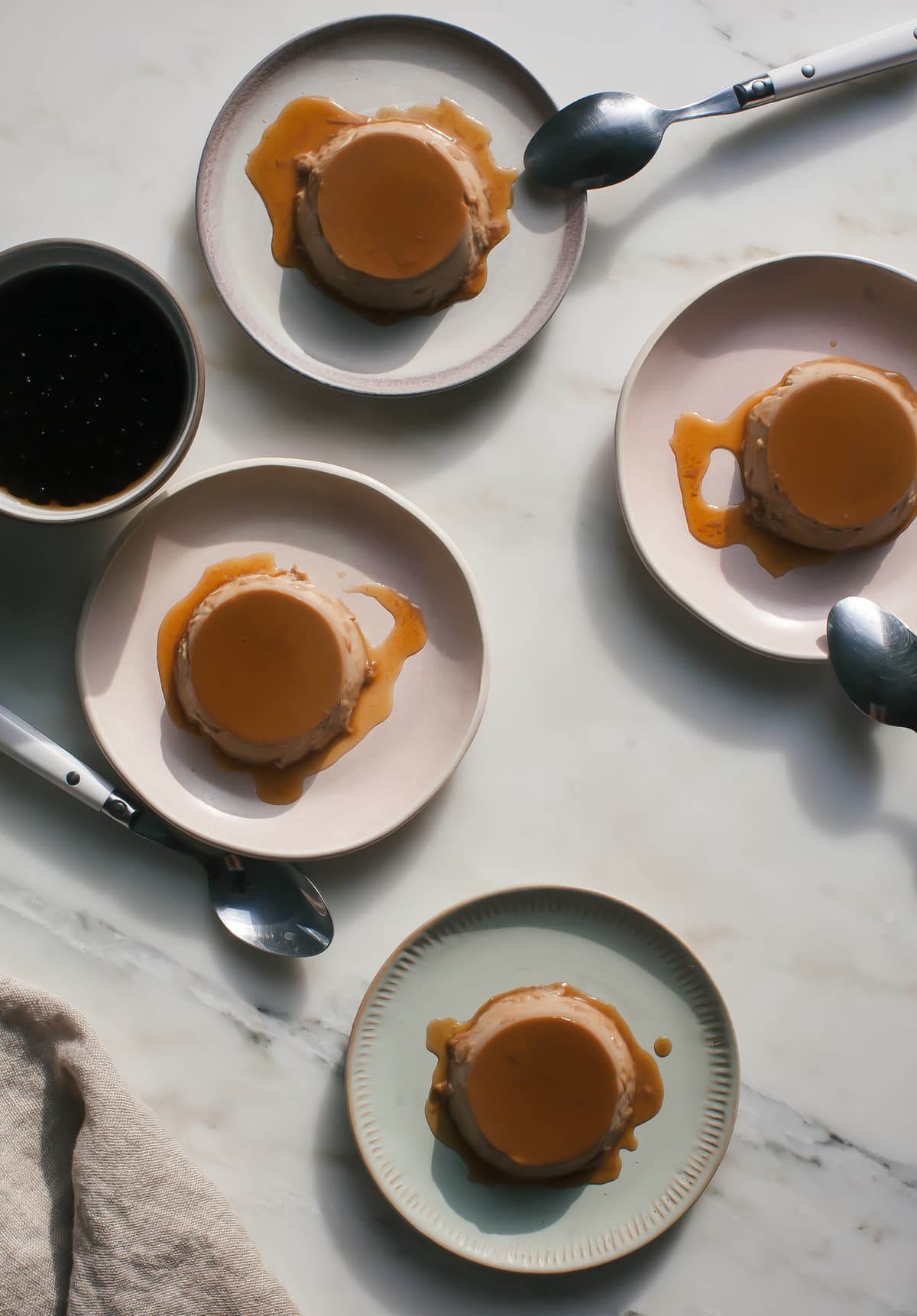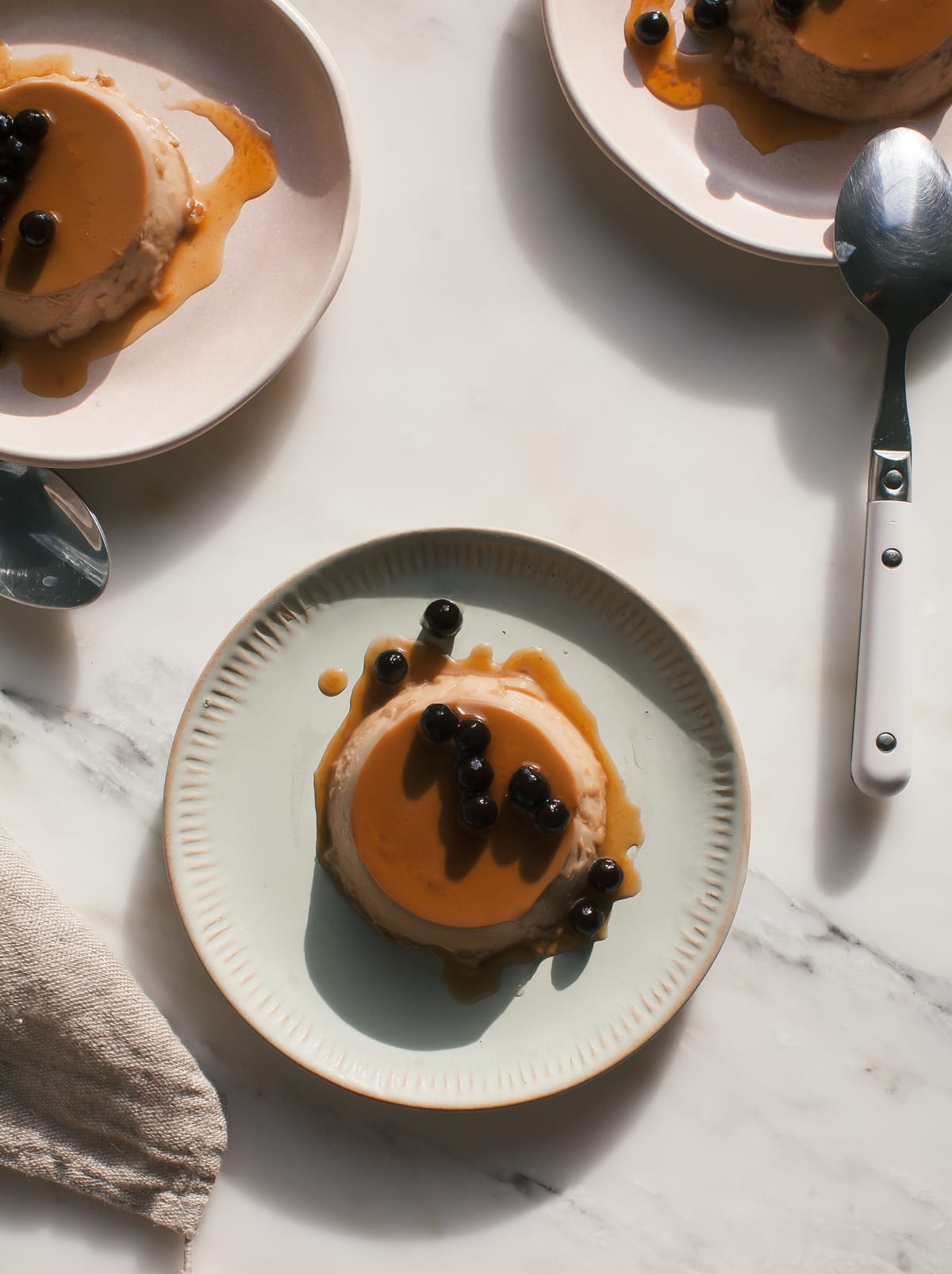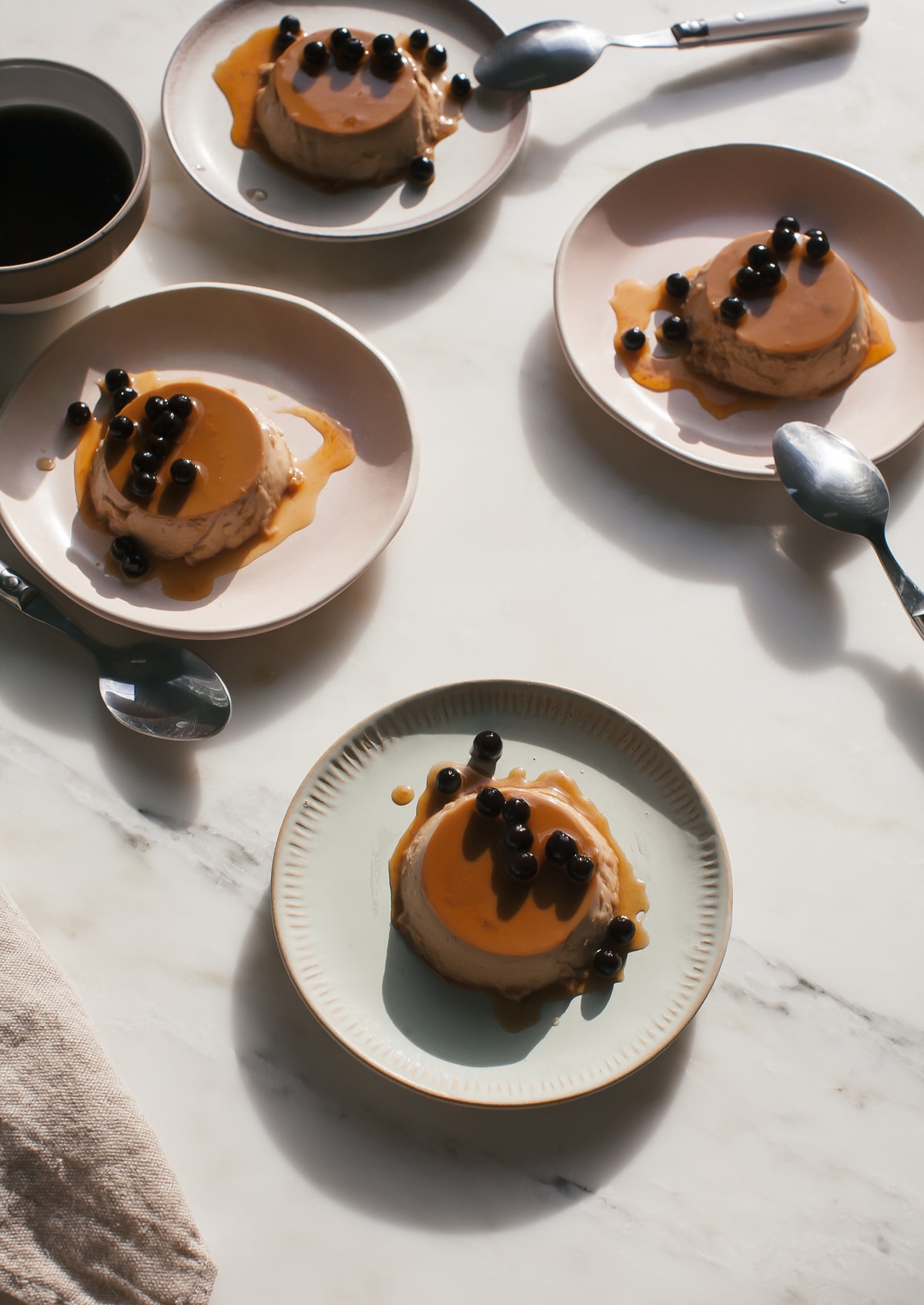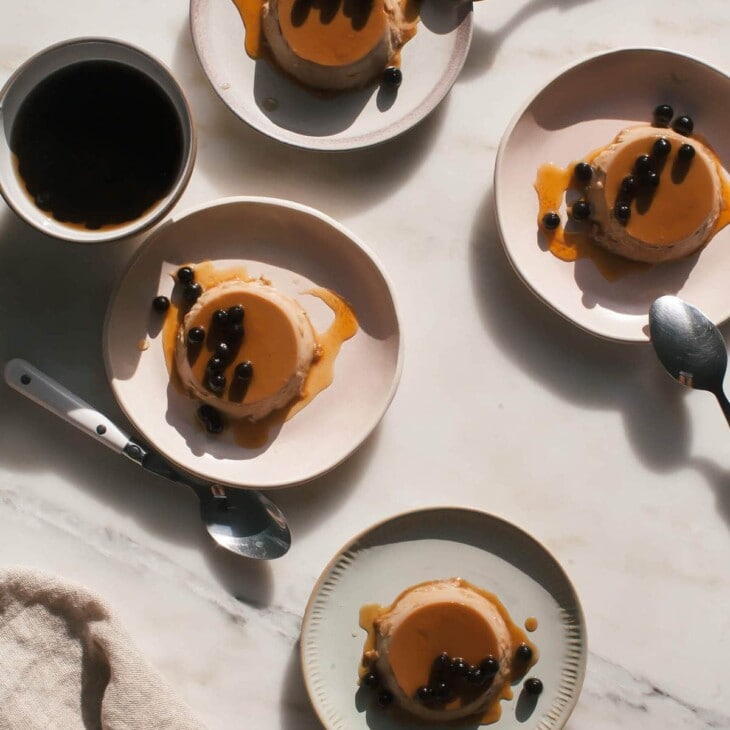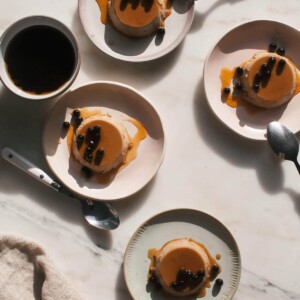 Ingredients
Boba:
1/4

cup

light or dark brown sugar

1/4

cup

water

1/2

cup

black or white tapioca balls

,

boba
Flan:
1 3/4

cups

heavy cream

1

cup

whole milk

5

black tea bags

Pinch

of salt

1/4

cup

,

plus 3 tablespoons, white granulated sugar

3

large eggs

2

large egg yolks
Caramel Topping:
1

cup

sugar

,

divided

1/4

cup

water
Special Equipment:
6 to 8

oven-proof ramekins

1/4 cup water
Instructions
To make boba: In a small saucepan, combine the sugar and water and heat until the sugar dissolves. Set aside. Next, cook up the boba, following the directions on the back of the bag of boba. Mine were quick-cook boba and the directions were spot on. Drain the boba and rinse with cool water to stop the cooking and then transfer to (my favorite) the brown sugar syrup. I included these boba instructions at the top of the recipe but I it doesn't necessarily have to come first. I find that boba tastes the best just after it's made so please use your own discretion as to when you should start the process.

To make the flan: Combine cream, milk and salt in heavy medium saucepan. Bring to simmer over medium heat. Remove from heat and add the teabags and cover and let steep for 30 minutes. Remove teabags and discard.

Position rack in center of oven and preheat to 325°F.

Whisk eggs, egg yolks and sugar in medium bowl just until blended. Add a 1/4 cup of the milk mixture to the beaten eggs and mix. (This will bring the temperature of the eggs closer to that of the milk mixture.) Add all of the egg mixture to the milk mixture and gently whisk without creating lots of foam. Pour custard through small sieve to eliminate any eggy bits. Set aside.

To make the caramel: Combine the sugar and water in a heavy medium saucepan. Stir over low heat until sugar dissolves. Increase heat to high and cook without stirring until syrup turns deep amber, and swirling pan occasionally, about 7-8 minutes. Quickly pour caramel into six 3/4-cup ramekins or custard cups. Using oven mitts as aid, immediately tilt each ramekin to coat sides. Set ramekins into 13x9x2-inch baking pan.

Pour the custard into the prepared ramekins, dividing evenly (mixture will fill ramekins). Transfer baking dish to oven rack and fill the baking dish with enough water into baking pan to come halfway up sides of ramekins. Bake until centers of flans are gently set, about 30 minutes. Transfer flans to rack and cool. Chill until cold, about 2 hours. Cover and chill overnight. (Can be made 2 days ahead.) To serve, run small sharp knife around flan to loosen. Turn over onto plate. Shake gently to release flan. Carefully lift off ramekin allowing caramel syrup to run over flan. Repeat with remaining flans and then lastly, top with a sprinkling of boba.
Nutrition
Serving:
6
g
|
Calories:
400
kcal
|
Carbohydrates:
38
g
|
Protein:
3
g
|
Fat:
27
g
|
Saturated Fat:
17
g
|
Cholesterol:
99
mg
|
Sodium:
51
mg
|
Potassium:
106
mg
|
Sugar:
36
g
|
Vitamin A:
1086
IU
|
Vitamin C:
1
mg
|
Calcium:
93
mg
Nutrition information is automatically calculated, so should only be used as an approximation.
Did you make this recipe? Let me know on Instagram!
Looking for more dessert recipes? Here are some of my favorites: