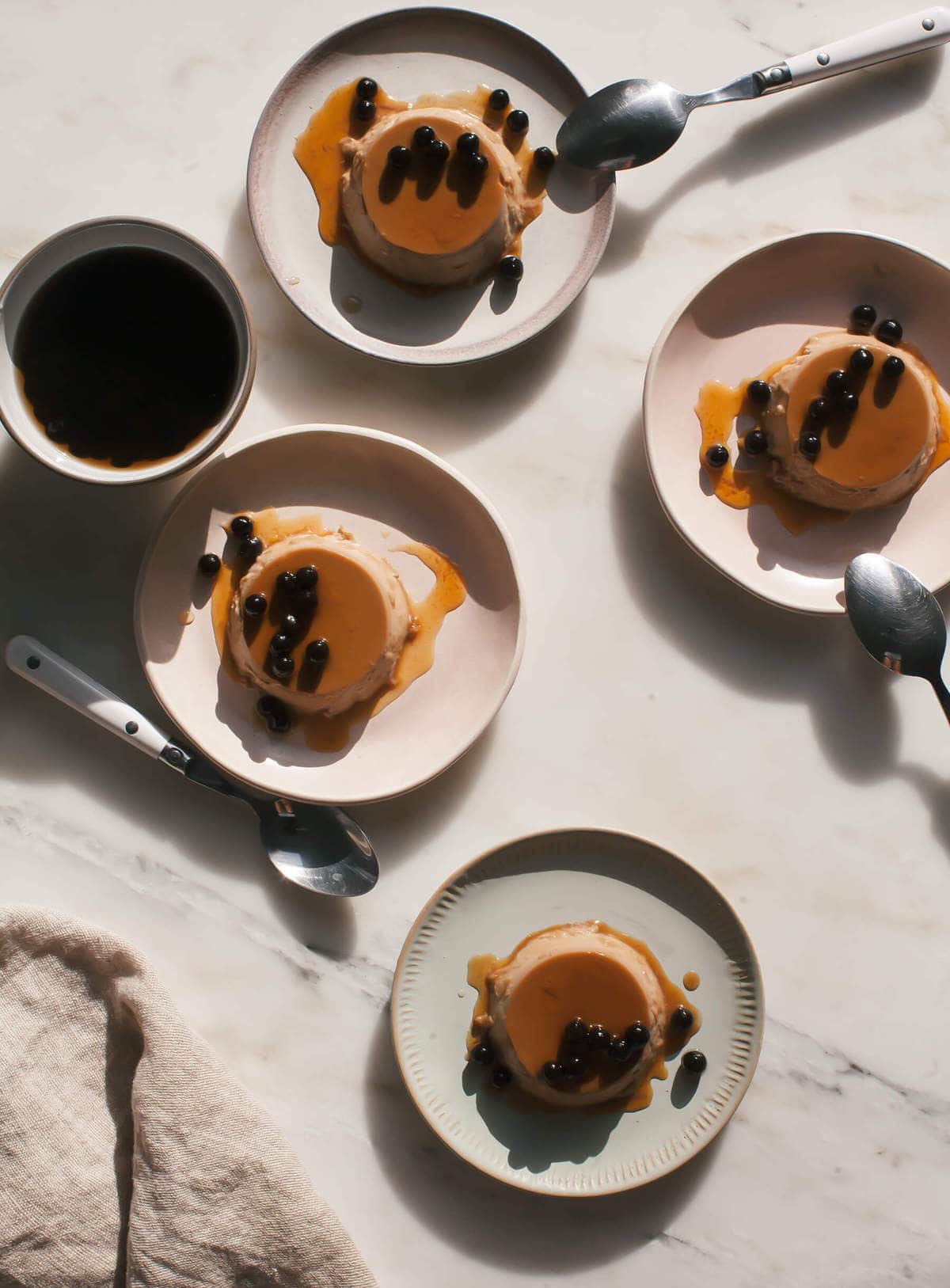 The act of binge-watching is one of my favorite past times. It's always so nice and cozy to be in sweats, in bed, with a dog at your feet and selecting "play next episode" over and over again.
It always makes me a feel a little lazy and terrible about myself after but during it's great! This past weekend I plowed through the new season of House of Cards. It's like political candy. I couldn't stop myself!
During the entire time of watching ova and ova again, I was craving a milk tea. One of the perks of living in LA is the large amounts of boba shops all over. I loooooove milk tea. I recently started making it at home because I'm too lazy to leave the house AND I get to make it with almond milk so I feel less badly about drinking it all of the timez. (Highly recommend the almond milk version because it's so tasty and less heavy.)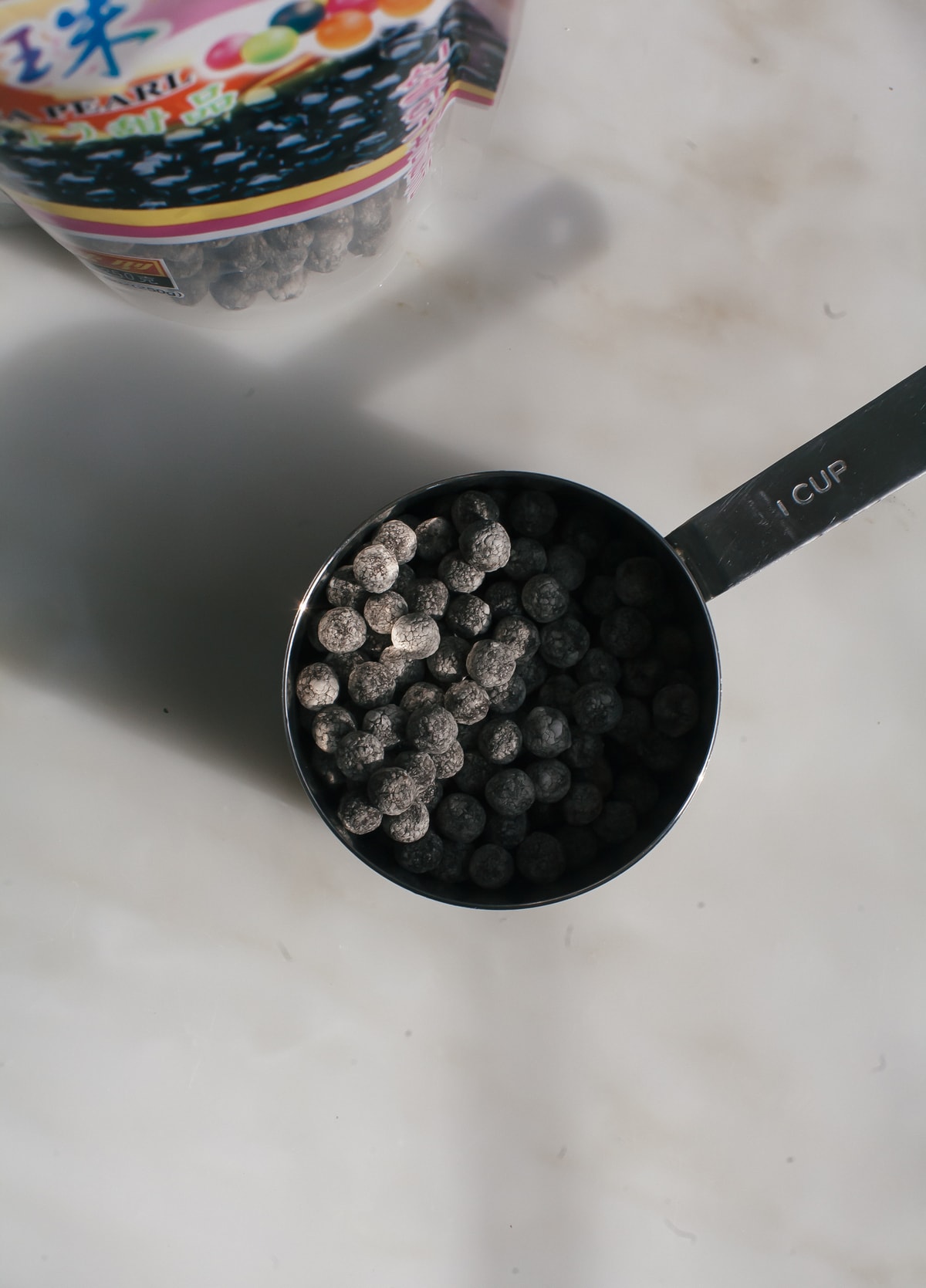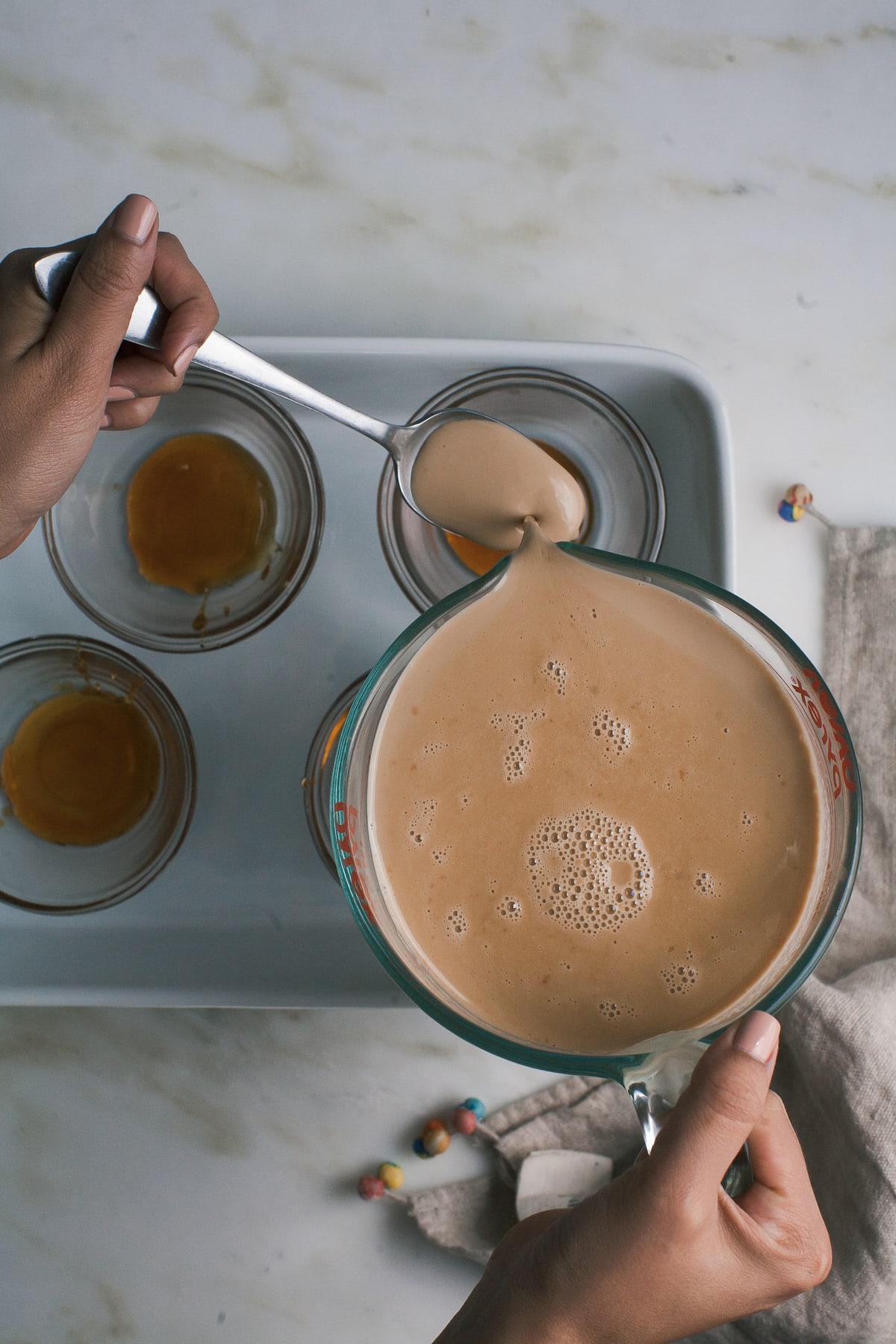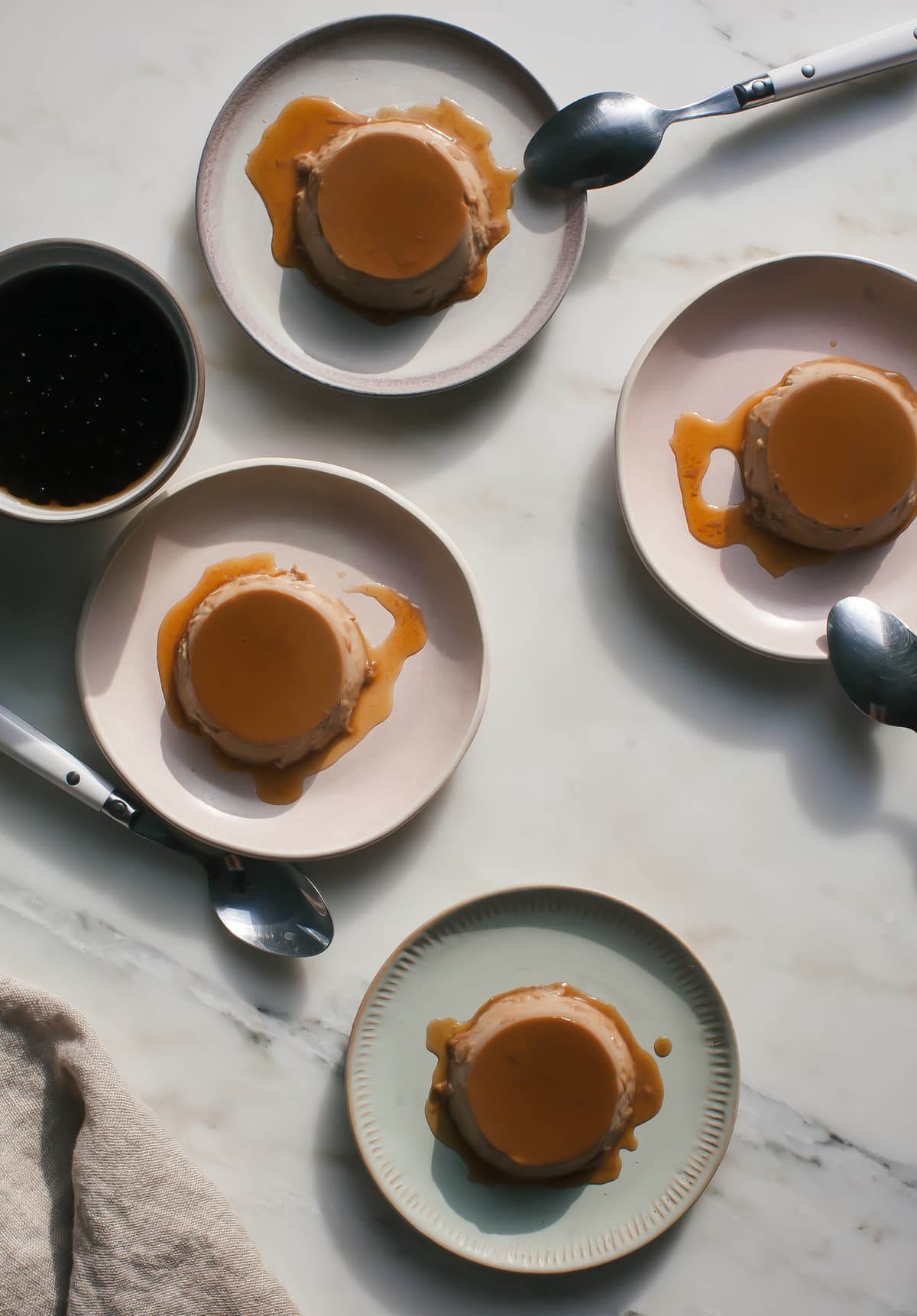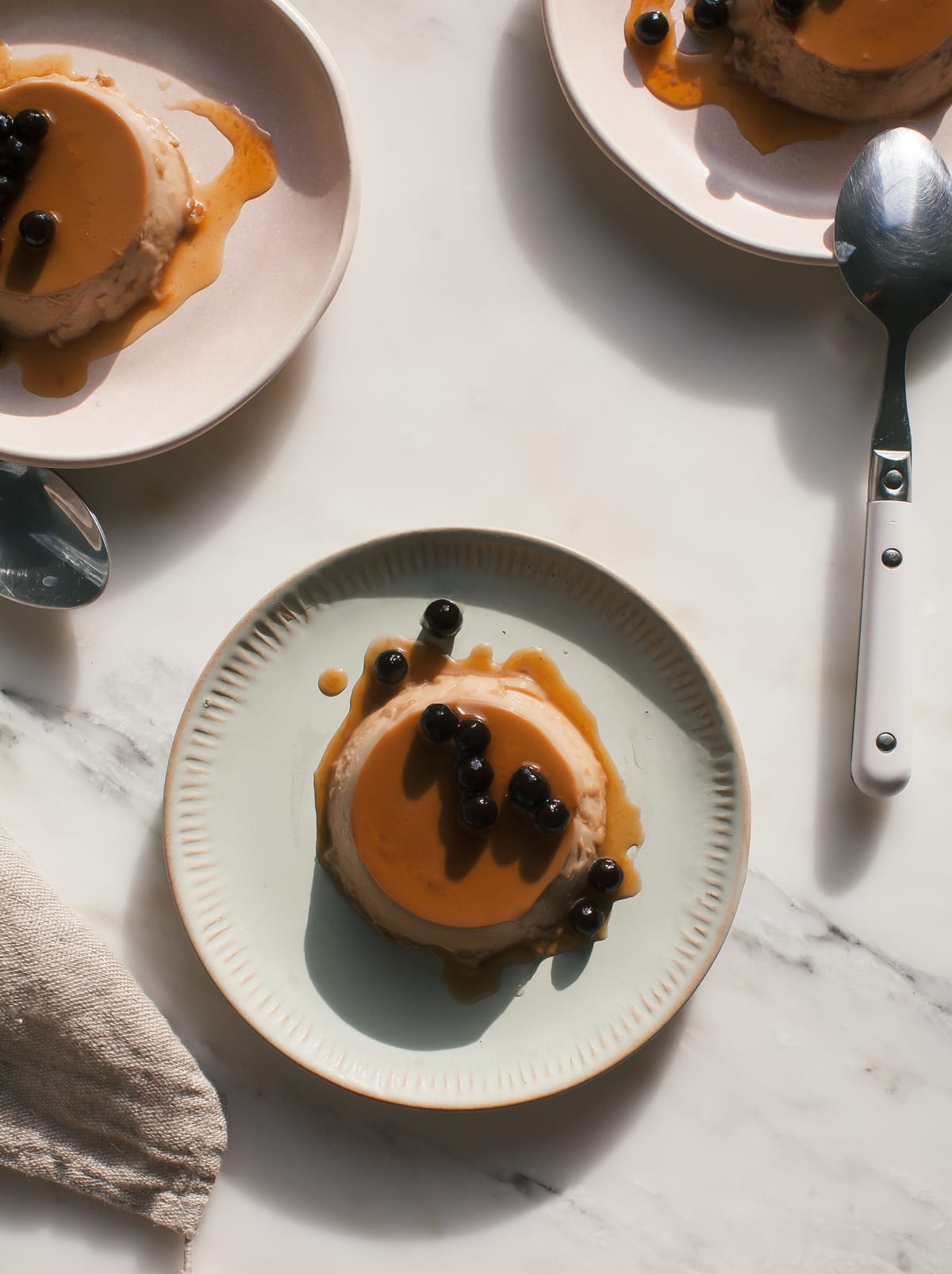 This recipe is a bit of a mishmash of two of my favorite things: flan meets milk tea. It's simple, really.
Milk is steeped with black tea and then sugar is added. It tastes EXACTLY like milk tea. And then that mixture is used to make flan. The boba is on top as a garnish and tastes soooo good on top.
I grew up eating bad flan all the time. And let me tell you, flan is all about texture. If it's not silky smooth, I'm not interested. Like, at all. This one is as smooth as silk!
Oh and if you need to buy black tapioca pearls online, here's a link!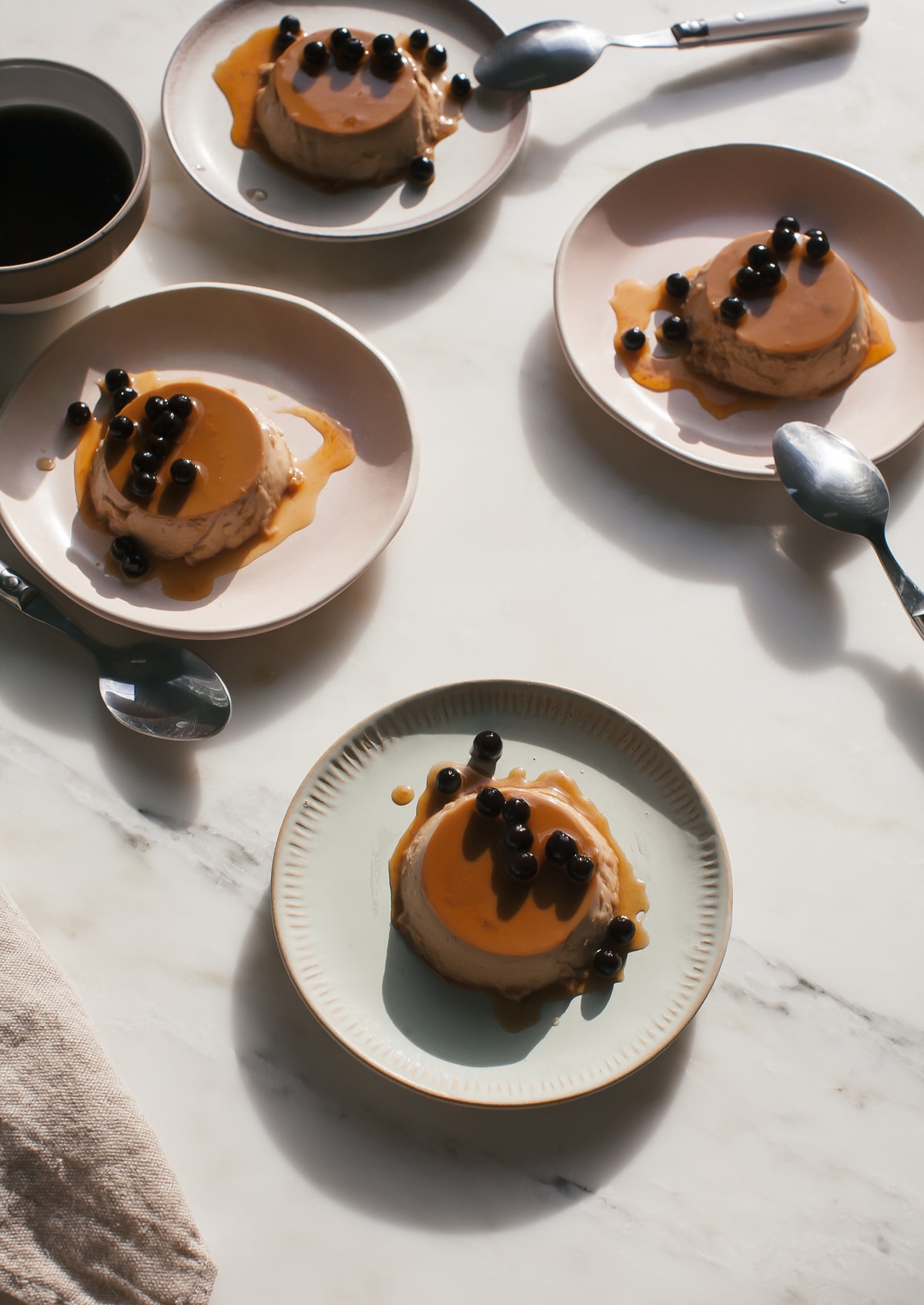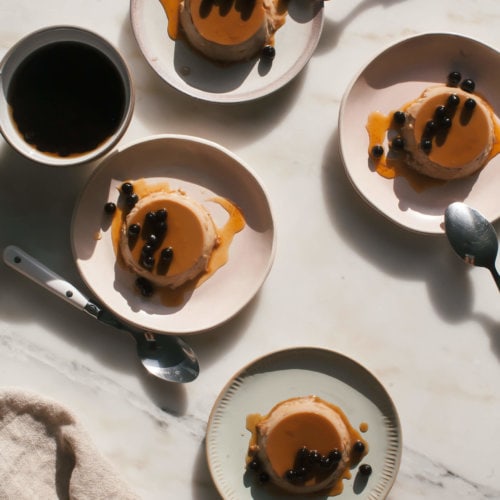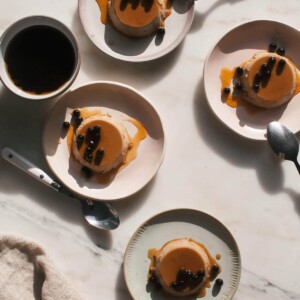 Ingredients
Boba:
1/4

cup

light or dark brown sugar

1/4

cup

water

1/2

cup

black or white tapioca balls

,

boba
Flan:
1 3/4

cups

heavy cream

1

cup

whole milk

5

black tea bags

Pinch

of salt

1/4

cup

,

plus 3 tablespoons, white granulated sugar

3

large eggs

2

large egg yolks
Caramel Topping:
1

cup

sugar

,

divided

1/4

cup

water
Special Equipment:
6 to 8

oven-proof ramekins

1/4 cup water
Directions
To make boba: In a small saucepan, combine the sugar and water and heat until the sugar dissolves. Set aside. Next, cook up the boba, following the directions on the back of the bag of boba. Mine were quick-cook boba and the directions were spot on. Drain the boba and rinse with cool water to stop the cooking and then transfer to (my favorite) the brown sugar syrup. I included these boba instructions at the top of the recipe but I it doesn't necessarily have to come first. I find that boba tastes the best just after it's made so please use your own discretion as to when you should start the process.

To make the flan: Combine cream, milk and salt in heavy medium saucepan. Bring to simmer over medium heat. Remove from heat and add the teabags and cover and let steep for 30 minutes. Remove teabags and discard.

Position rack in center of oven and preheat to 325°F.

Whisk eggs, egg yolks and sugar in medium bowl just until blended. Add a 1/4 cup of the milk mixture to the beaten eggs and mix. (This will bring the temperature of the eggs closer to that of the milk mixture.) Add all of the egg mixture to the milk mixture and gently whisk without creating lots of foam. Pour custard through small sieve to eliminate any eggy bits. Set aside.

To make the caramel: Combine the sugar and water in a heavy medium saucepan. Stir over low heat until sugar dissolves. Increase heat to high and cook without stirring until syrup turns deep amber, and swirling pan occasionally, about 7-8 minutes. Quickly pour caramel into six 3/4-cup ramekins or custard cups. Using oven mitts as aid, immediately tilt each ramekin to coat sides. Set ramekins into 13x9x2-inch baking pan.

Pour the custard into the prepared ramekins, dividing evenly (mixture will fill ramekins). Transfer baking dish to oven rack and fill the baking dish with enough water into baking pan to come halfway up sides of ramekins. Bake until centers of flans are gently set, about 30 minutes. Transfer flans to rack and cool. Chill until cold, about 2 hours. Cover and chill overnight. (Can be made 2 days ahead.) To serve, run small sharp knife around flan to loosen. Turn over onto plate. Shake gently to release flan. Carefully lift off ramekin allowing caramel syrup to run over flan. Repeat with remaining flans and then lastly, top with a sprinkling of boba.
Nutrition Facts
Milk Tea Flan with Boba
Amount Per Serving (6 g)
Calories 0
* Percent Daily Values are based on a 2000 calorie diet.