Chai Tiramisu! Doesn't it look dreamy?
Thank you for contributing to the very serious reality television conversation. SO many good recommendations that I'm mostly scared to check out because what will happen if I watch that much reality TV?! Will my brain turn to mush?! PROBS. I'll need to balance that shit out with some articles from the New Yorker.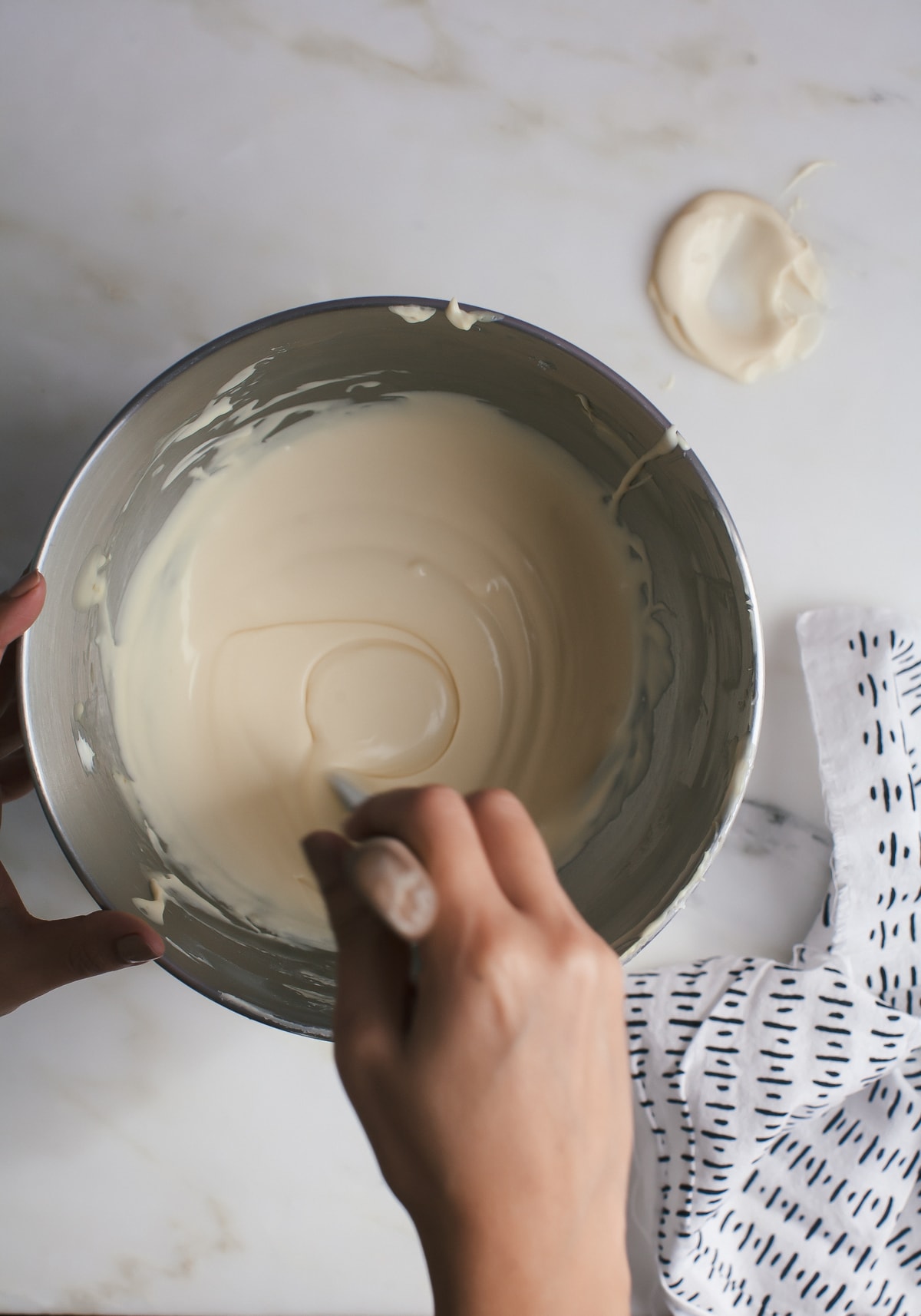 Chai Tiramisu is a Banger!
Let's talk about this dessert because it's the freakin' weekend. This "winter" the two drinks that have been in very heavy rotation have been the golden milk tea and chai tea from The Year of Cozy. I usually make them for a mid-afternoon pick me up when really my body is calling for espresso but I'm scared I'll be up all night. Those two drinks help me the most in that scenario.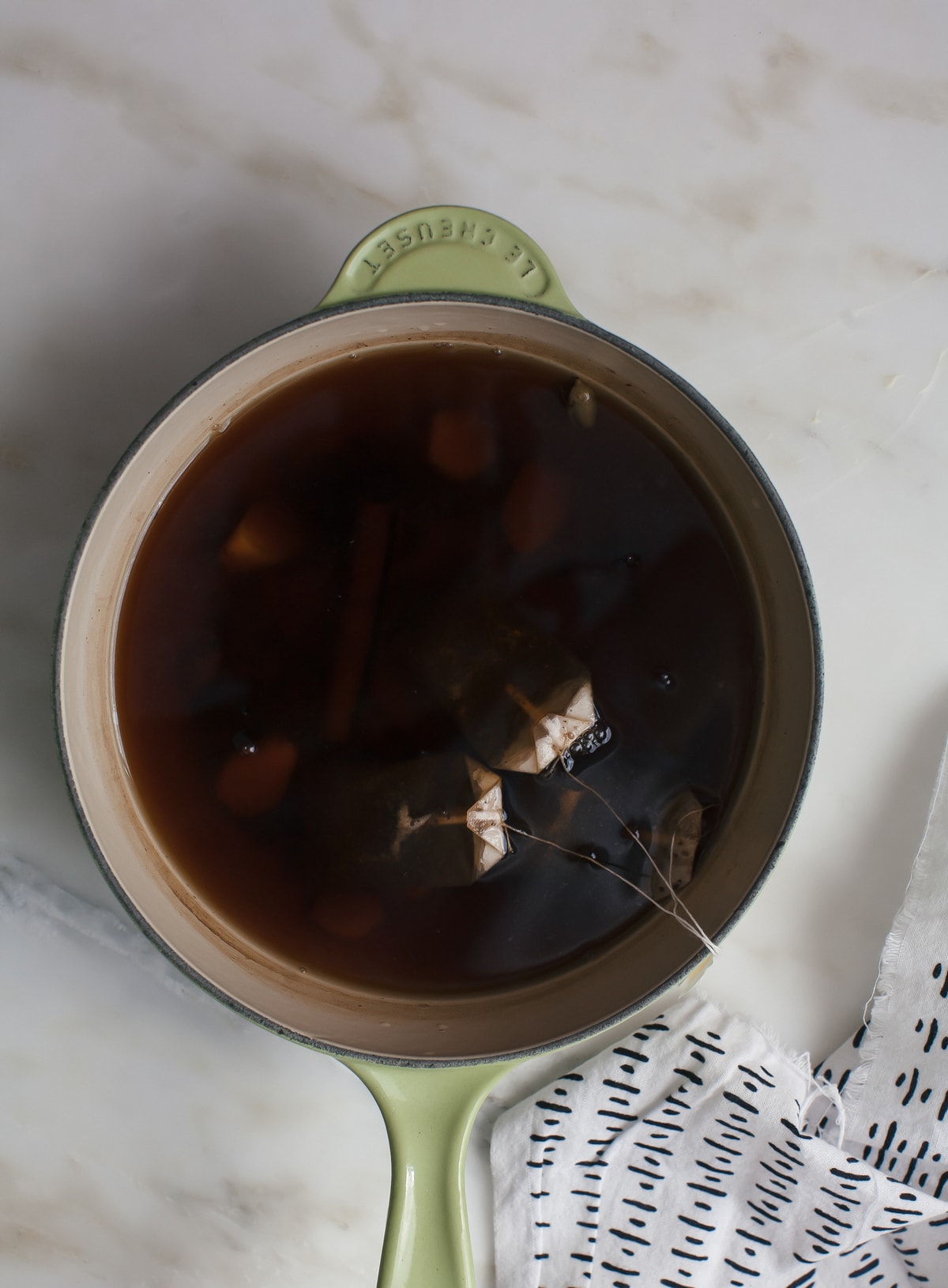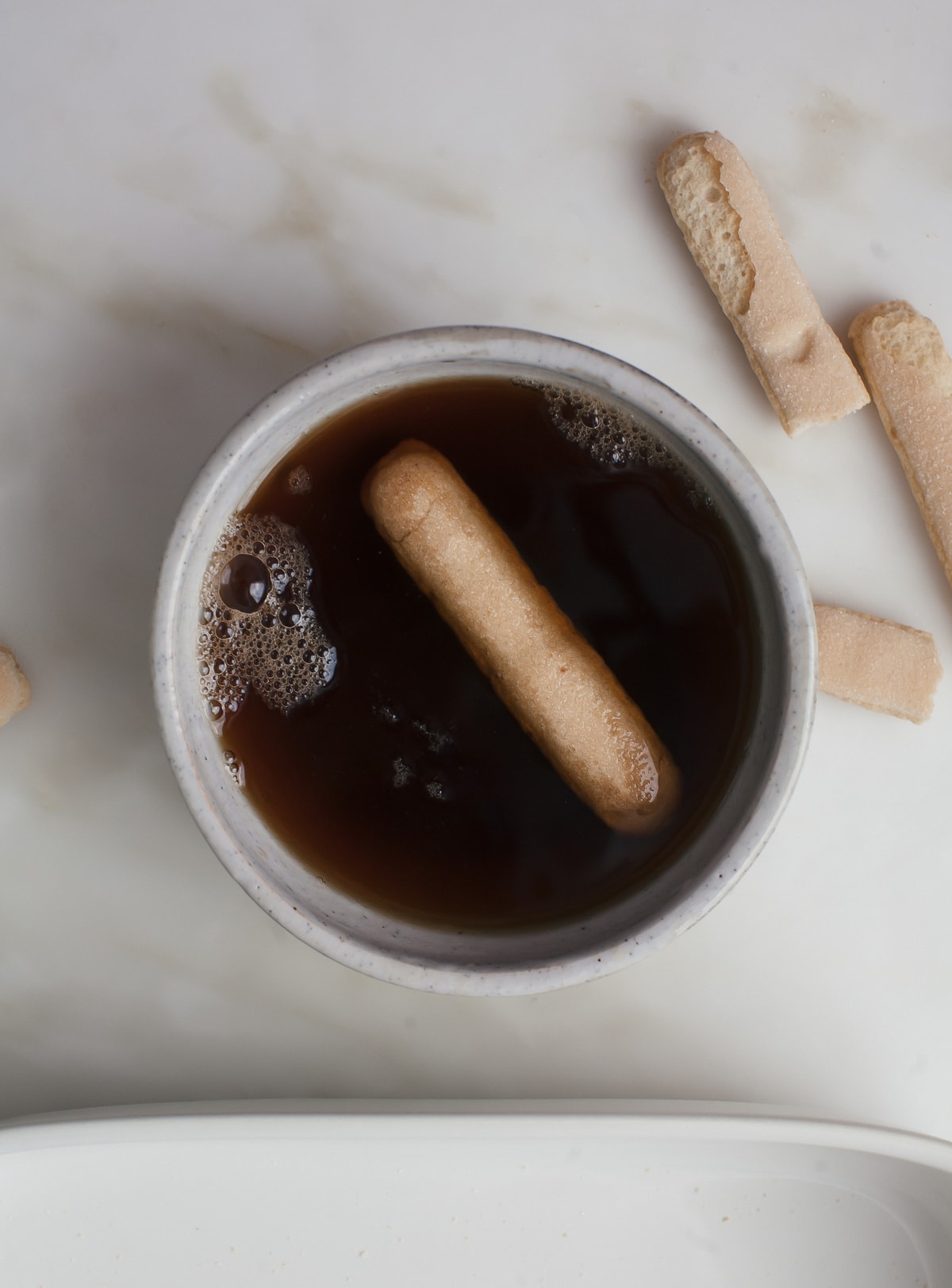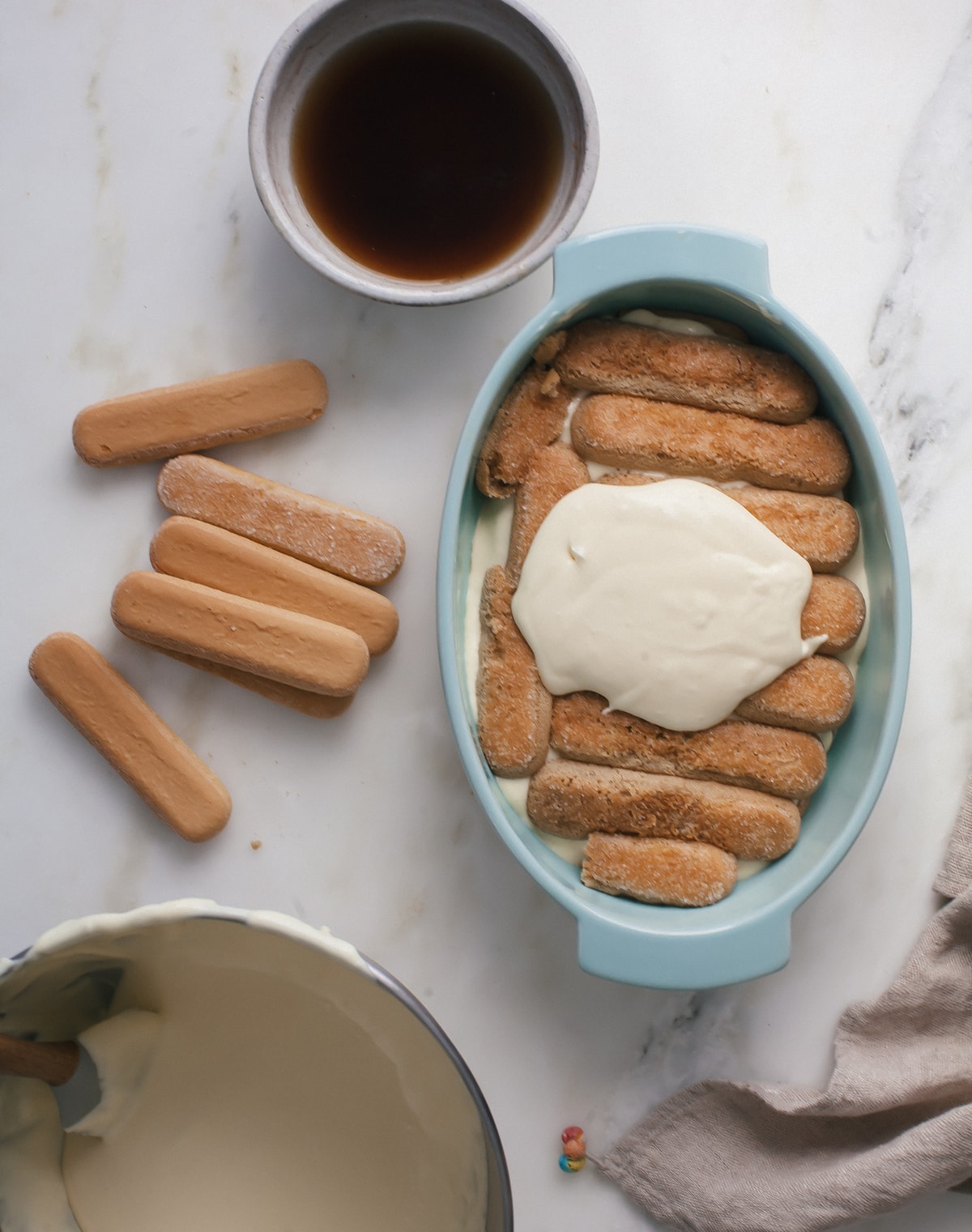 And just like Jessica, I've been wanting to "chai" everything. It started with the Masala Chai Snickerdoodles (recipe in Da Year of Cozy) and it's now continue to this Masala Chai Tiramisu.
It's a simple and delicious addition that acts in place of the espresso that's usually in tiramisu.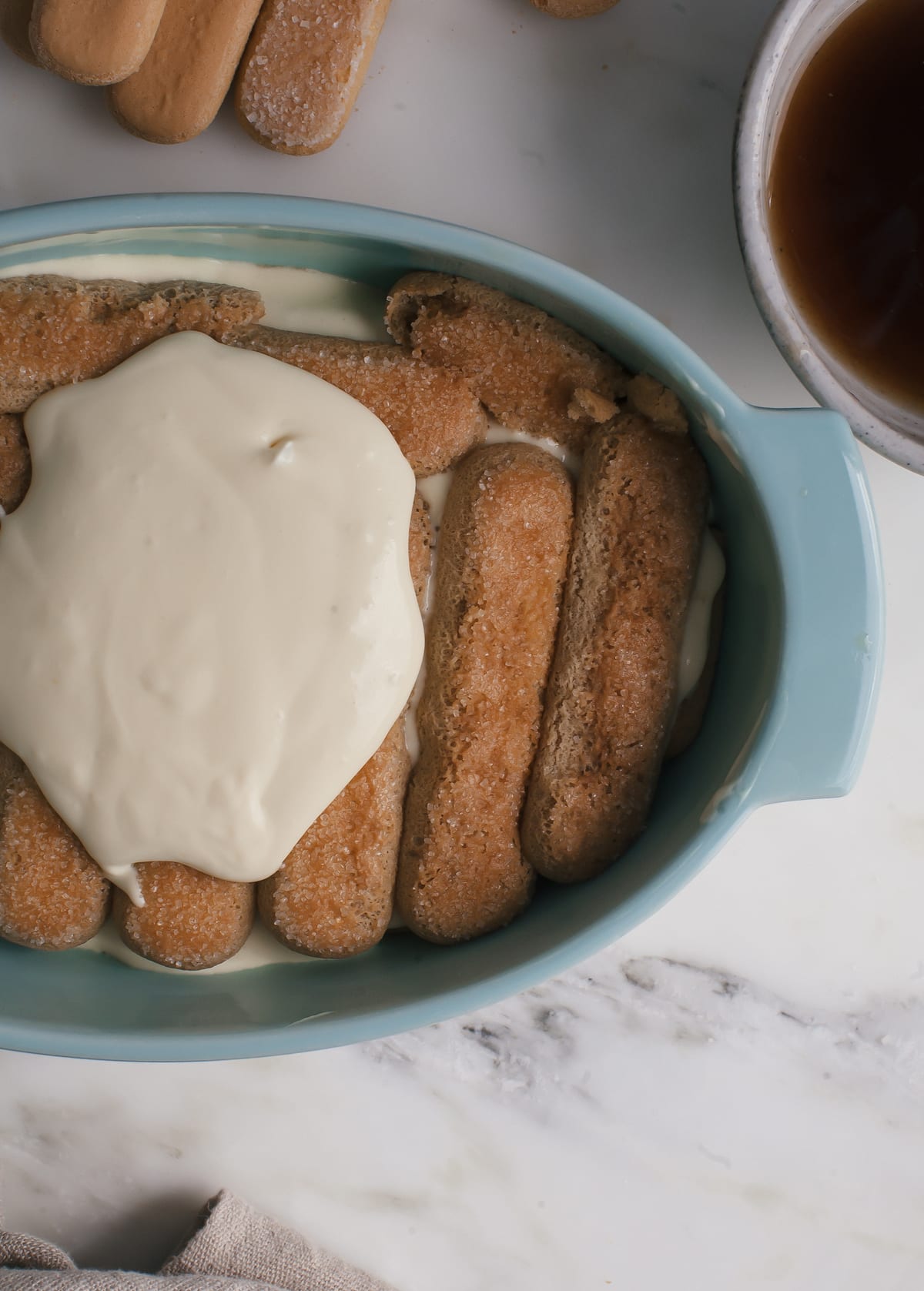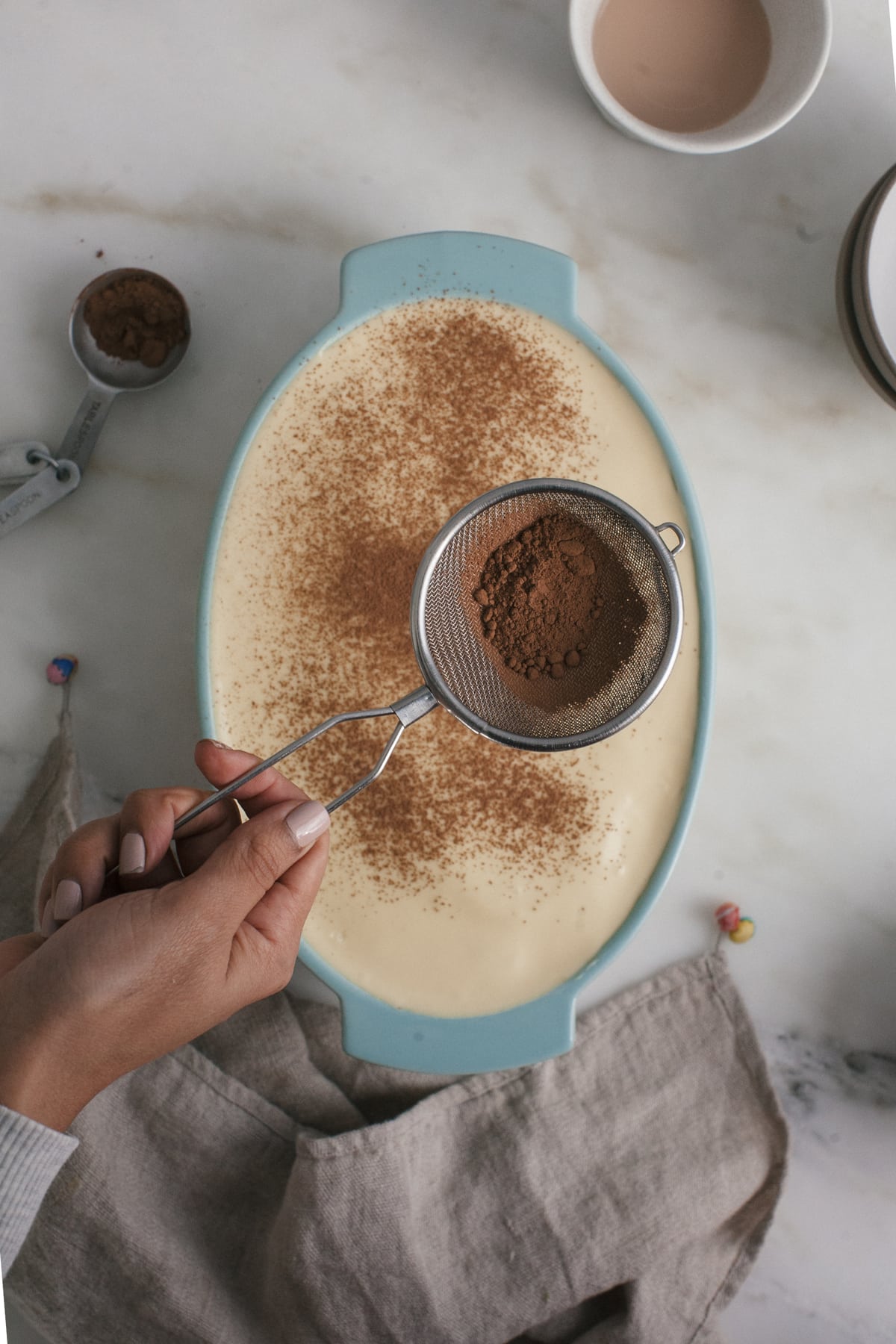 Mascarpone Is Important
The filling for the recipe is adapted from the tiramisu at Del Posto which is the most amazing tiramisu in the entire world. (If you haven't eaten it, do it the next time you're in New York.)
It's fluffy and airy with just a hint of rum. I'm not a super big fan of tiramisu's that taste just like rum. The lady fingers are dipped in the chai and then layered with the filling. The entire shebang is dusted with lots of cocoa powder.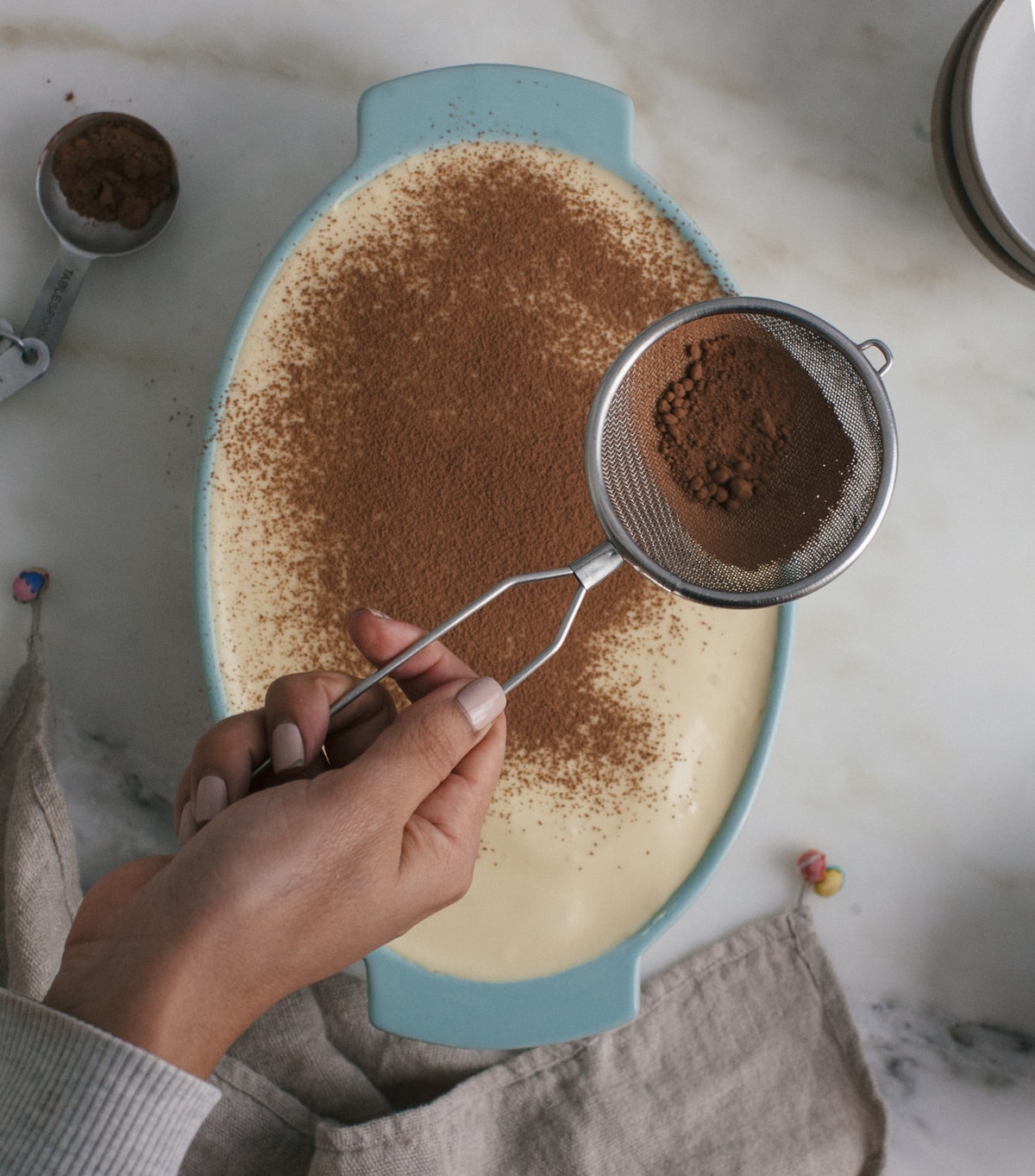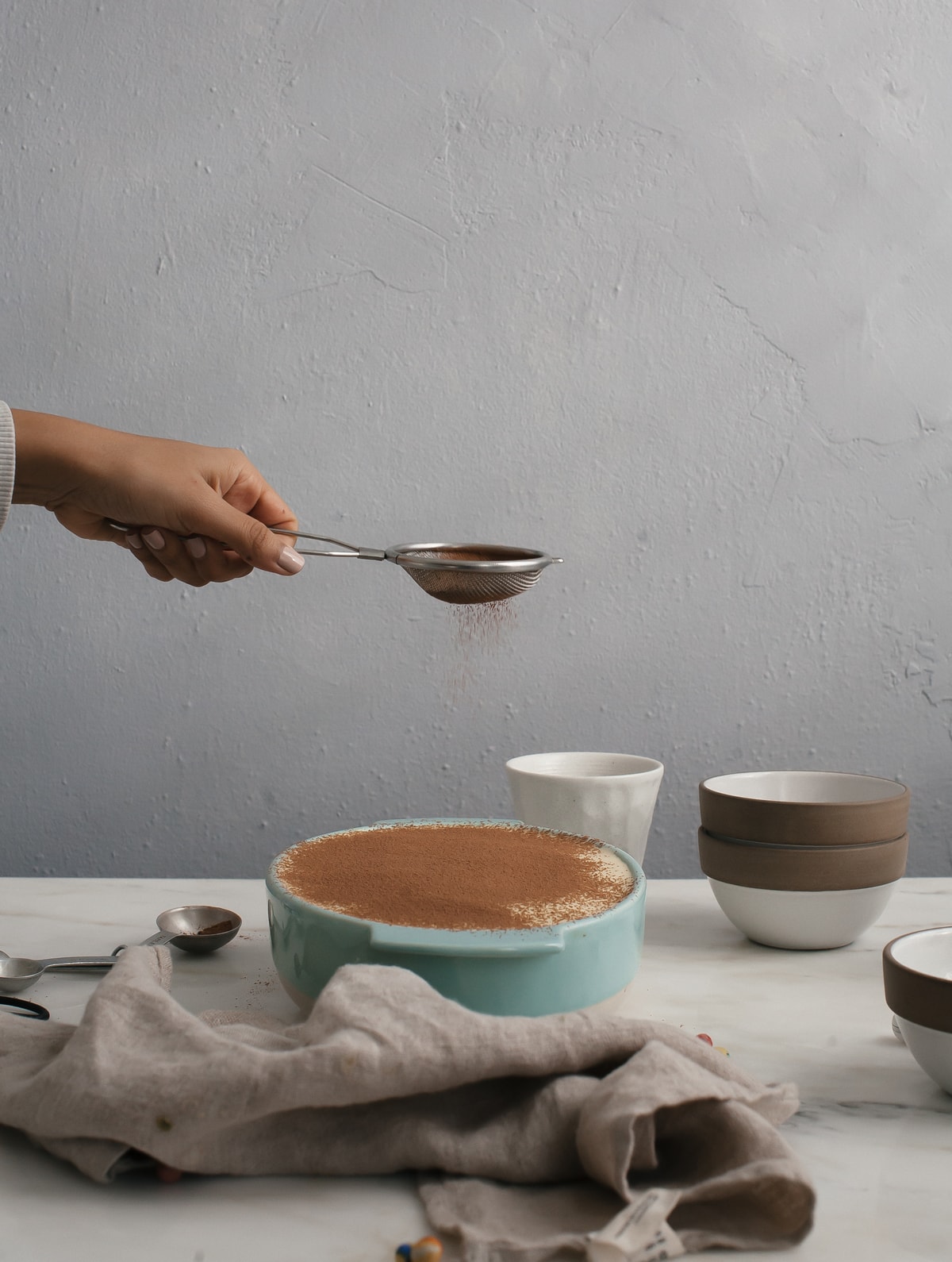 It's so good and tasty. And it's the easiest thing to make for when friends come over because you can make it ahead and
I know a lot of people love making their own lady fingers. I personally didn't bother (and these comments on this post aren't convincing either) because I wanted this recipe to be super easy. When shopping for lady fingers, I lean toward the Italian brands. They are a bit drier and you'll see my note below. They can take a bit more liquid so I favor them a bit more than other American brands.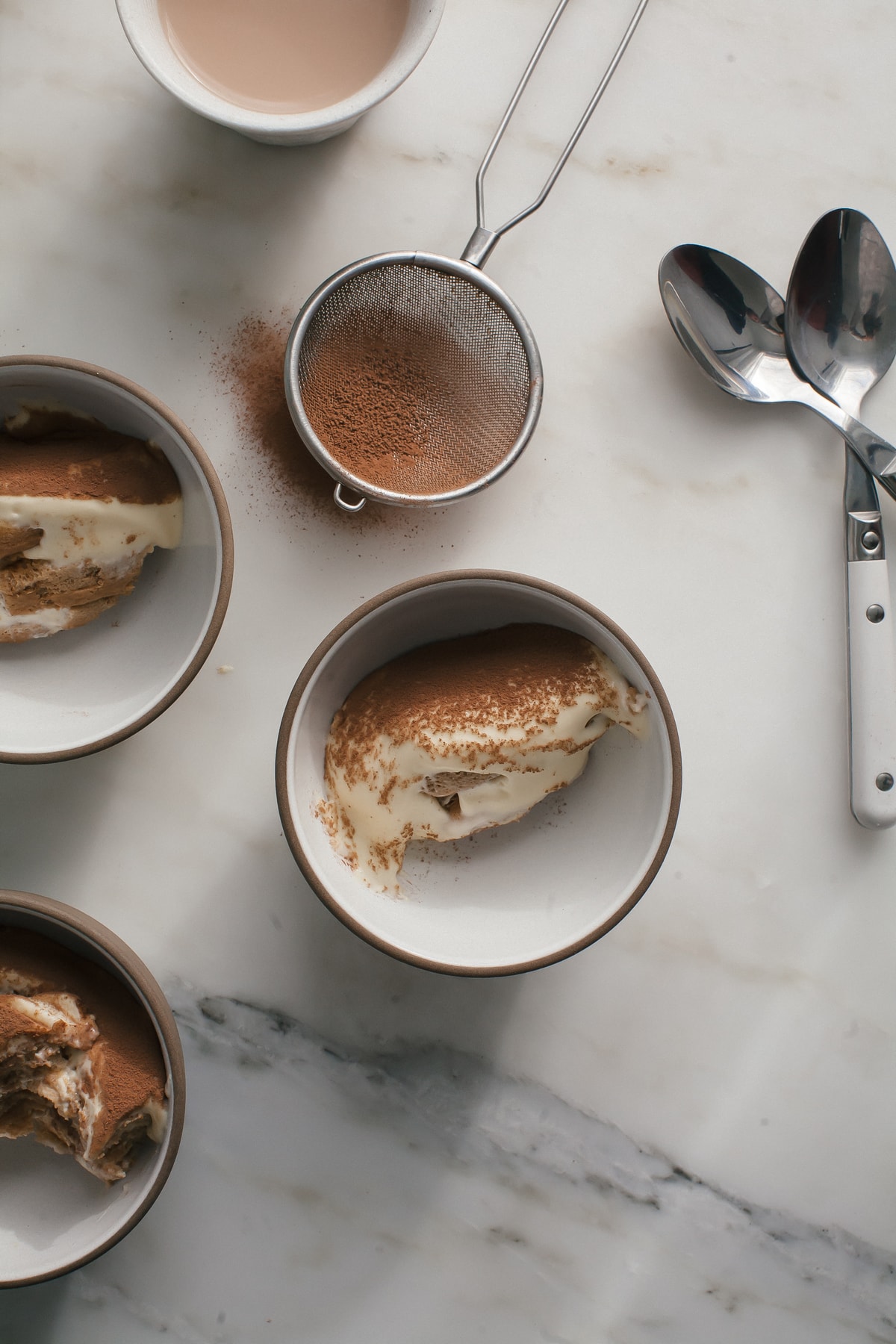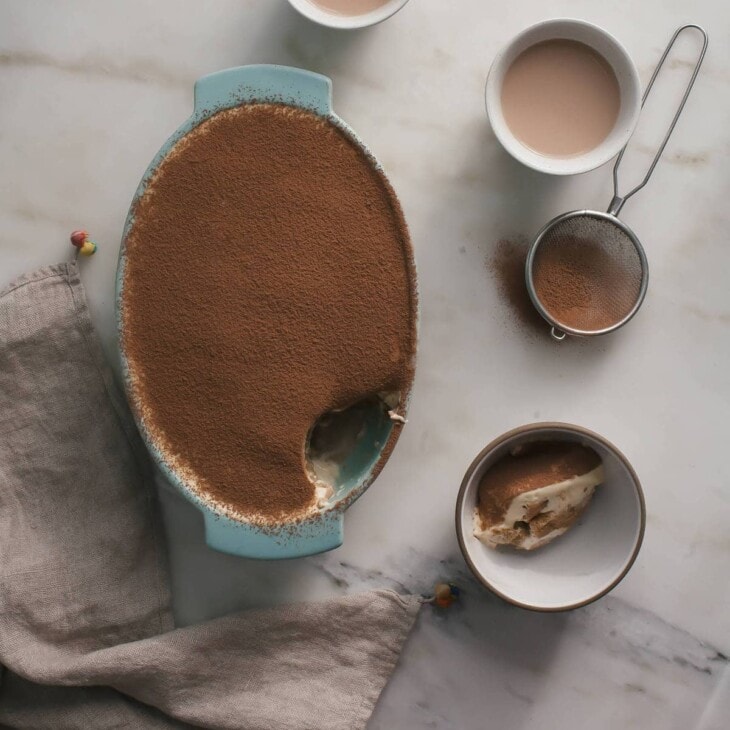 Print Recipe
Chai Tiramisu
Serving Size:
dish of tiramisu
Ingredients
Chai Tea Concentrate:
1

teaspoon

black peppercorns

(about 10 peppercorns)

5

whole cloves

3

pods cardamom

2

" knob fresh ginger

(peeled and cut into rounds)

1

stick cinnamon

3

cups

filtered water

3

bags black tea

1/4

cup

sugar
Mascarpone filling:
2

cups

mascarpone

½

cup

white granulated sugar

4

large egg yolks

2

tablespoons

dark rum

3

tablespoons

heavy cream

Pinch

of kosher salt

24

lady fingers

(from a 7-ounce package)

1 1/2

tablespoons

unsweetened cocoa powder

sifted, for topping
Instructions
To Make the Chai Concentrate:
On a cutting board, using the back of a chef's knife, crush the black peppercorns, cloves, and cardamom pods. Place them in a medium saucepan over medium heat. Add the ginger and cinnamon sticks and toast for 2 to 3 minutes, or until fragrant.

Add the water and bring to a boil over medium-high heat, then reduce the heat to medium-low and simmer for 10 minutes.

Add the tea bags, turn off the heat and cover the pot so the tea can steep for 5 minutes. Discard the tea bags and pour in the sugar. Stir until the sugar dissolves. Pour the tea through a strainer and set aside. If you're moving super fast through this recipe, you may need to transfer the bowl of chai tea to the fridge to chill faster.
To Make the Mascarpone Filling:
In the stand-up mixer (with the whisk attachment) or using a hand-held electric mixer, combine the mascarpone, sugar, egg yolks, dark rum, heavy cream and salt. Beat for about two minutes, until light and fluffy. The mixture should fall back onto itself.
To Assemble the Tiramisu:
Spread about 1/3 cup of the mascarpone filling onto the bottom of a 2-quart baking dish. Dip about 6 to 7 lady fingers, one by one, into the chai tea, arranging them side by side. If there's a gap between the lady fingers and the baking dish, place a few in the opposite direction.

Spread about 1/2 cup of the mascarpone filling atop the lady fingers. Repeat layering with the remaining two layers. Smooth the top layer of mascarpone filling until nice and even. Lightly cover the tiramisu and transfer to the fridge to chill for at least 2 hours (or up to 1 day). Dust the top with the cocoa powder.
Notes
Before you start the recipe, give your lady fingers a taste test. If they're hard and dry, then feel free to dunk the lady fingers in the chai tea for about 5 long seconds. if they're not dry, then I recommend doing a super fast dunk.
Let's talk different brands of mascarpone. I tested this with two different brands. Bellwether Farms was much thicker than Vermont Creamery. I love both brands but for this particular recipe I favored the thickness from Bellwether Farms. But both will work great!