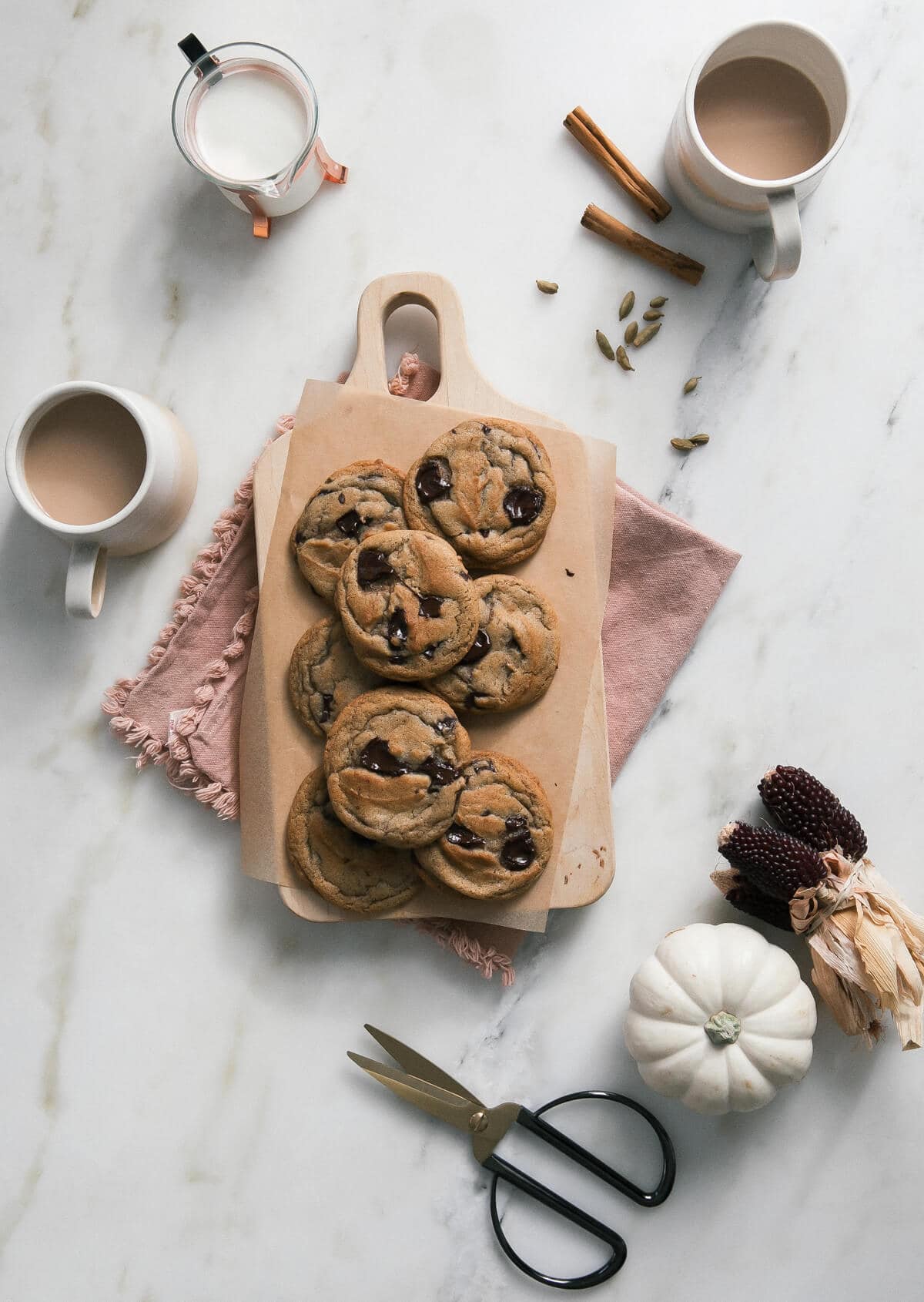 SUUUP! Here we are staring at this beautiful plate of Masala Chai Chocolate Chip Cookies.
I'm in big-time fall mode, cooking up as many things as I can for Thanksgiving. This year I really want to BRING IT. But oddly enough, I'm kind of a classics girl when it comes to Thanksgiving. I want classic Thanksgiving. Classic pumpkin pie sounds nice! I kinda don't like too many crazy twists.
Are you in the twists, weird interesting Thanksgiving foods?
OR,
Are you a classic Thanksgiving foods human?
Leave a comment below.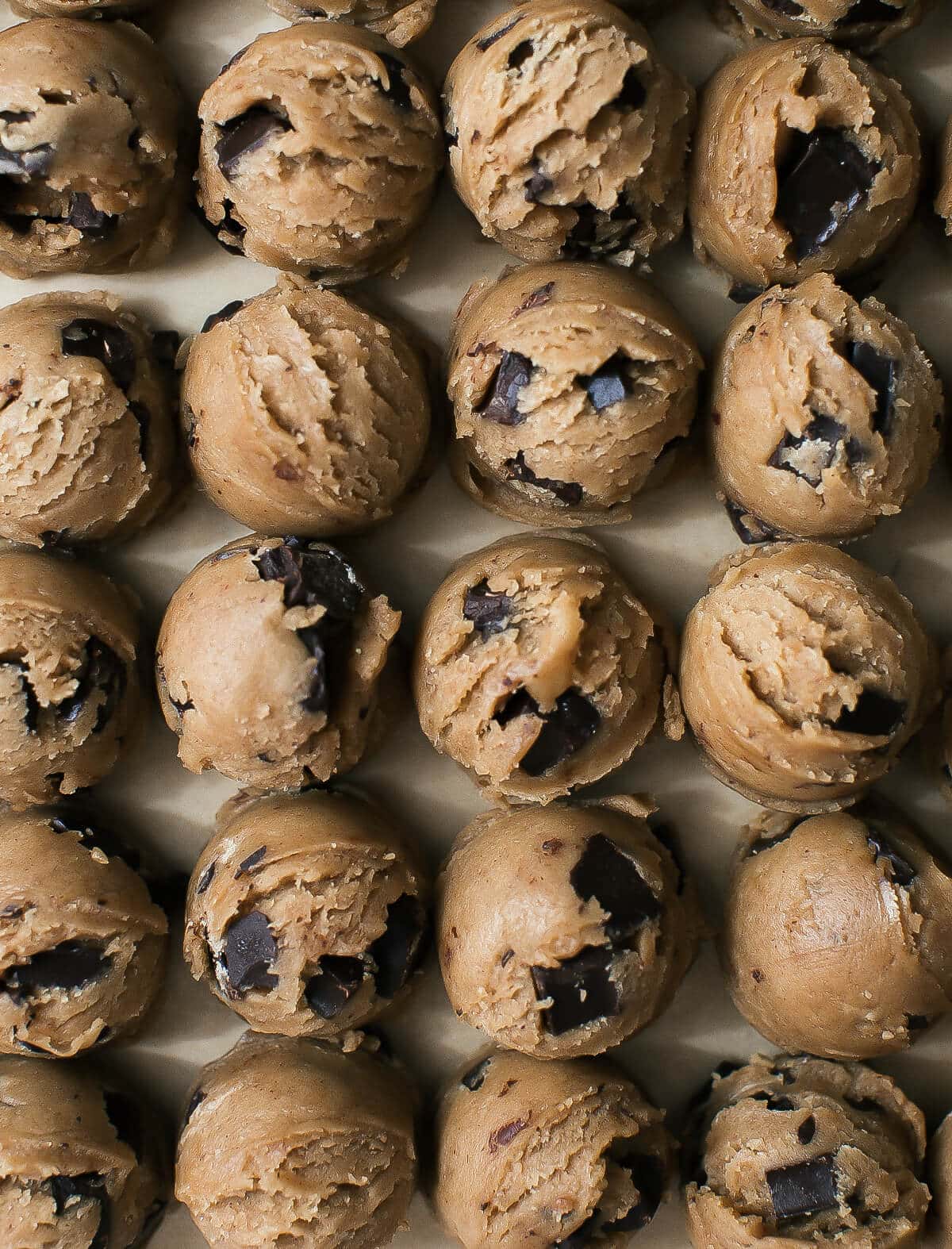 If you're a classics, maybe I'll do a whole post on making suuuuper fluffy potatoes. Maybe I'll try and make the BEST classic Thanksgiving stuffing everrrr.
It would actually be fun content to create either way!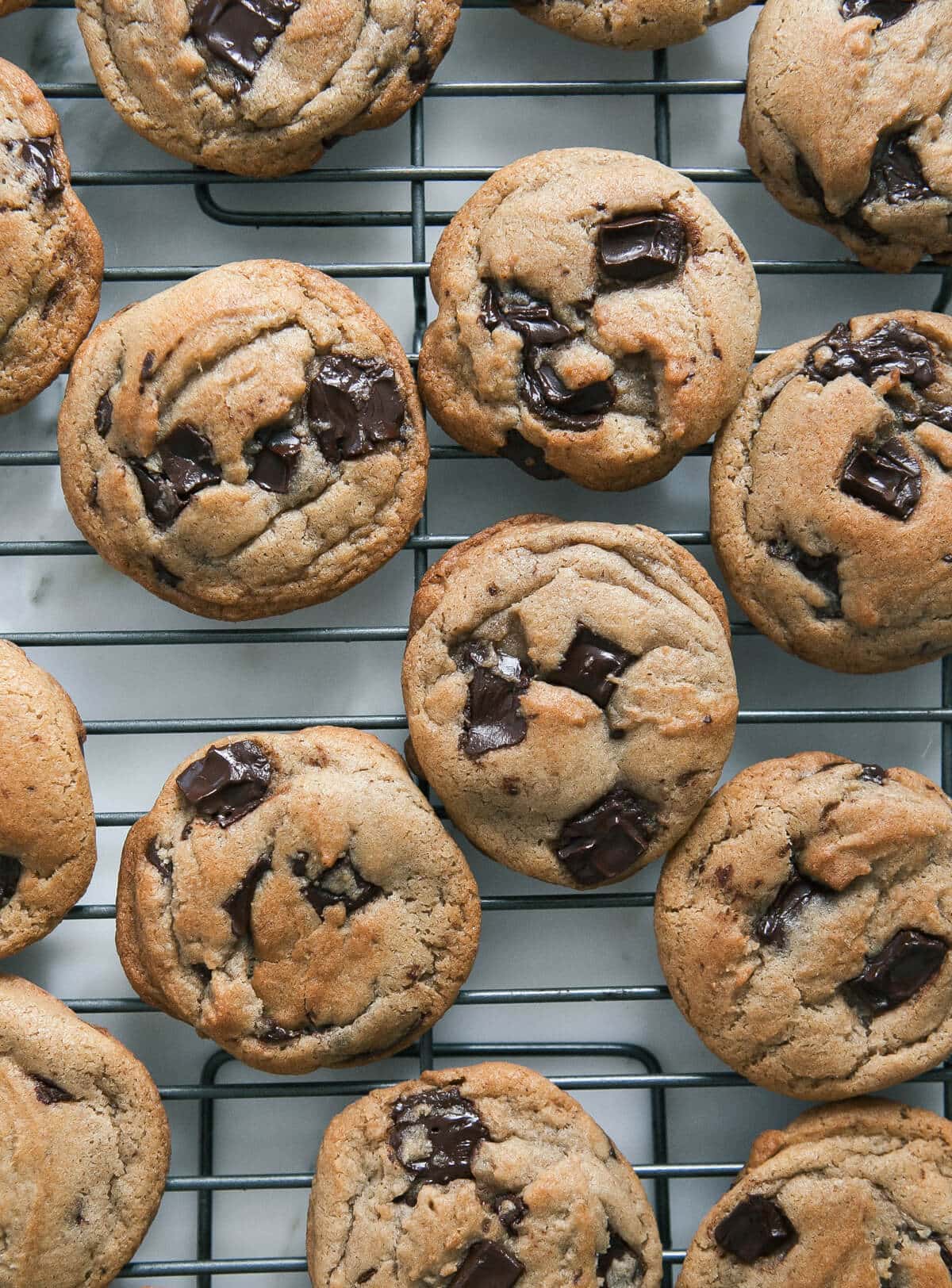 OK, let's talk about these cookies because these scream fall. My friend, Matt, works in one of those hip cool communal workspaces in New York and he texted me a few months ago and was like CHAI CHOCOLATE CHIP COOKIES.
Apparently a baker drops off chai chocolate cookies to his workspace and he was obsessed wit them. I though the sound of chai in chocolate chip cookies sounded AMAZING…so here we are.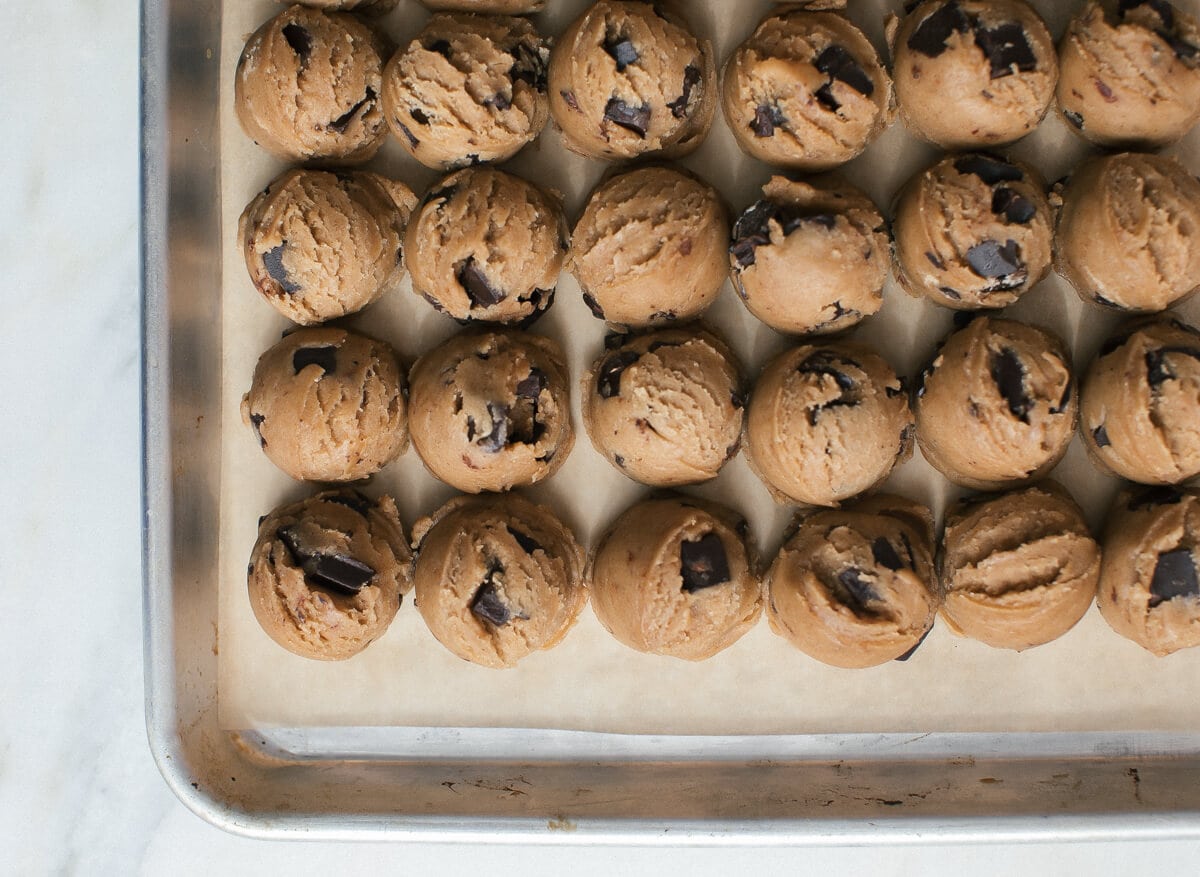 These are wonderfully spiced, super chocolate-y and the texture is so good.
Basically these are my cozy chocolate chip cookies but with spices. That's it really!
Let's talk about Chai Masala/Chai/Masala Chai!
I won't take credit for knowing this info. It all came from my friend Tara O'Brady. But she really broke it down for me.
Chai literally translates to tea. So if you say, "I'm having chai tea," you're basically saying "tea" twice.
When referring to the spice mixture that's in chai, it's called "chai masala."
Chai Masala is the spice used in spiced tea. It's similar to pumpkin spice–it doesn't imply that there's pumpkin inside.
With these cookies, it's called Chai Masala because it doesn't have any tea inside, but instead leans on the spices often found in the tea. Does this make sense?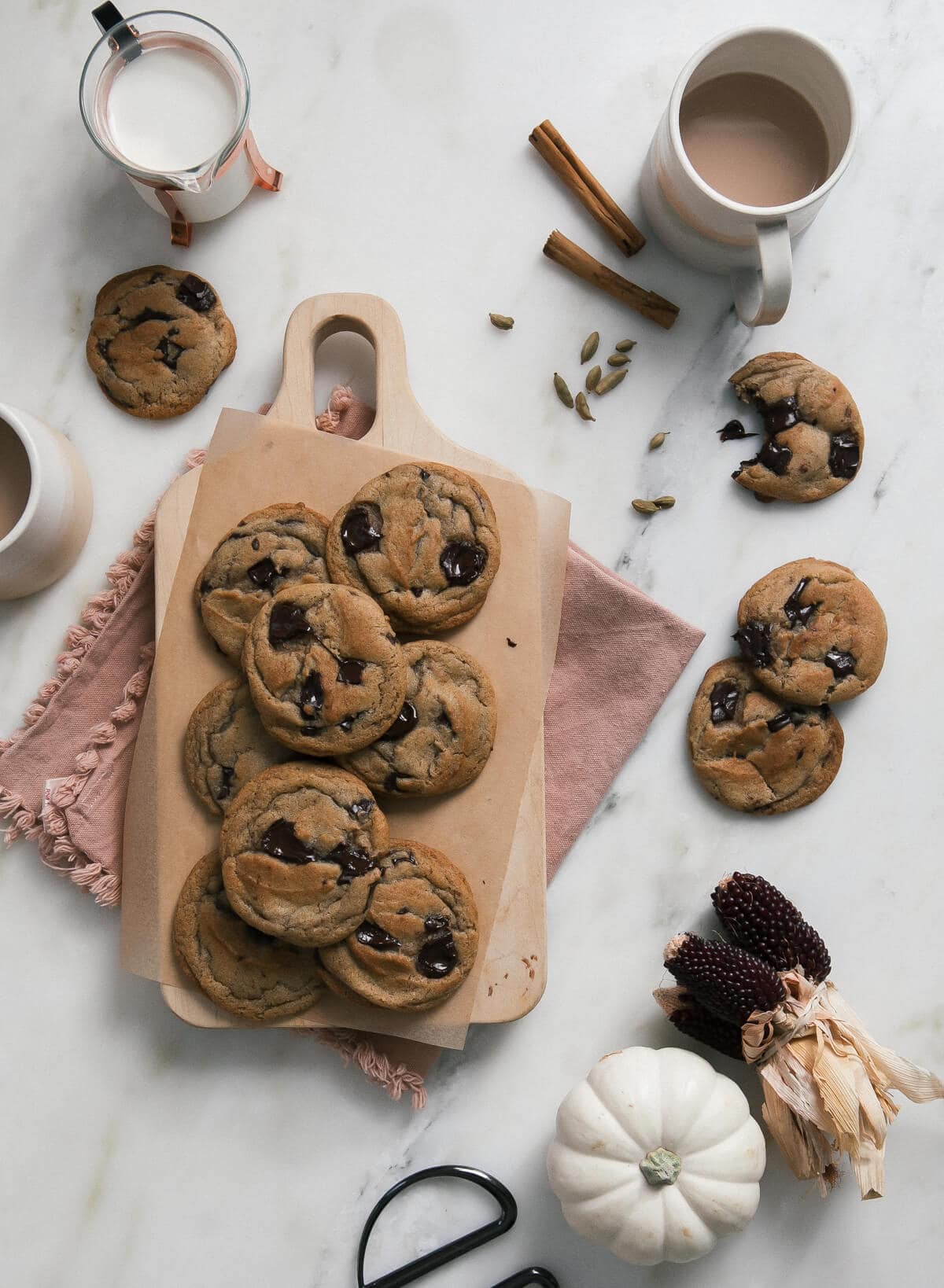 These Chai Masala Chocolate Chip cookies are so delicious and perfectly spiced. All those spices work wonderfully with dark chocolate chunks.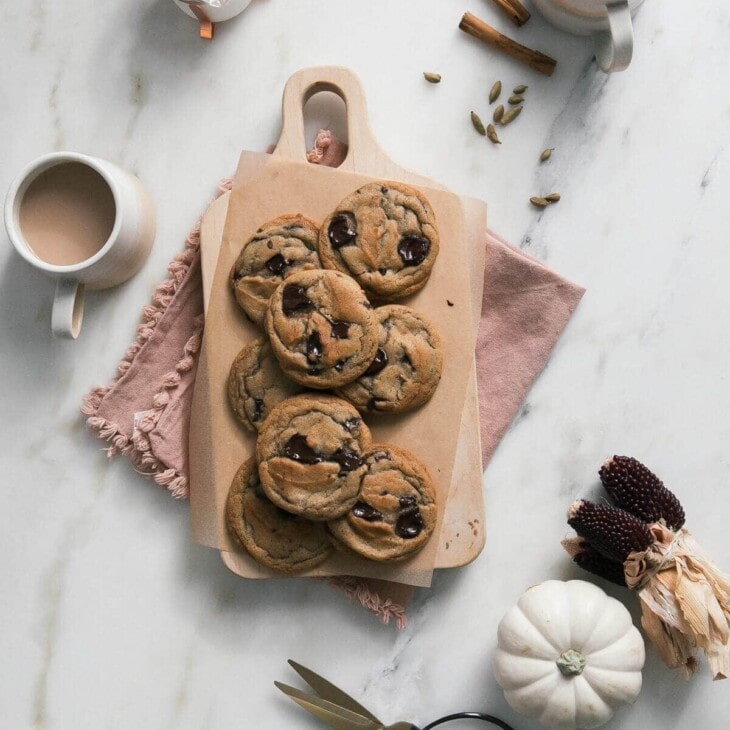 Print Recipe
Chai Chocolate Chip Cookies + A Question?
Ingredients
Dry Mix:
3 1/3

cups

all-purpose flour

1 1/2

teaspoons

baking powder

1 1/2

teaspoons

baking soda

2

teaspoon

ground ginger

1

teaspoon

ground cinnamon

1/2

teaspoon

ground cardamom

1/2

teaspoon

ground cloves

1/2

teaspoon

ground allspice

1/2

teaspoon

freshly ground black pepper

1/2

teaspoon

salt
Wet Mix:
1

cup

unsalted butter

melted and cooled slightly

1 1/2

cups

firmly packed brown sugar

1/2

cup

granulated sugar

2

large eggs

2

teaspoons

vanilla extract

12

ounces

dark chocolate chunks
Instructions
To a medium bowl, whisk the flour, baking powder, baking soda, ground ginger, ground cinnamon, cardamom, cloves, allspice, black pepper and salt together. Set aside.

To the bowl of a stand-up mixer with the paddle attachment (you can also do this with a hand-mixer or by hand in a medium/large bowl), add the melted butter, brown sugar and white sugar. Beat together until nice and fluffy, about 3 minutes. Add the eggs, one at a time, until combined. Pour in the vanilla extract and beat once more.

In one batch, add the flour. You will probably have to lift up the head part of your mixer to be able to add it all at once. Cover the mixer with a clean kitchen towel and turn it on low speed. Mix until the flour is mostly combined and then increase speed until you no longer see any flecks of flour. Pour in the chocolate chunks and mix one last time. Transfer the dough to the fridge to chill for an hour or up to 2 days.

Preheat oven to 350 degrees F. Line two baking sheets with parchment paper.

Using a medium cookie scoop, scoop out balls of dough. If it's super chilled, you may need to push some dough into the scoop so it's nice and compact and then release the lever. I like to add all the balls of cookie dough to a sheet of parchment versus scooping dough, as I bake.

Transfer 6 to 7 balls of dough onto the prepared baking sheet, spacing them a part because these do spread. Place in the oven and bake for about 7 to 8 minutes. If the dough is super cold, it may need up to 10 minutes to bake. They should be light to medium golden brown. Sprinkle with a few pinches of salt upon exiting the oven. Repeat until you've baked all the cookies.

To freeze, add the cookie dough balls to a baking sheet and stick in the freezer until very cold, about 20 minutes and then transfer to a freezer-safe plastic bag.