Homemade Mint Milano Cookies are just like the Pepperidge Farm favorite. These thin, snappy cookies are on either side of silky smooth minty chocolate that's sandwiched in between.
These cookies were the thing that my mom had to hide from me after she she her weekly grocery shopping. She'd always buy a bag or two and by the next day they were usually GONE. All that was left were those little crinkle-y white liners they came in.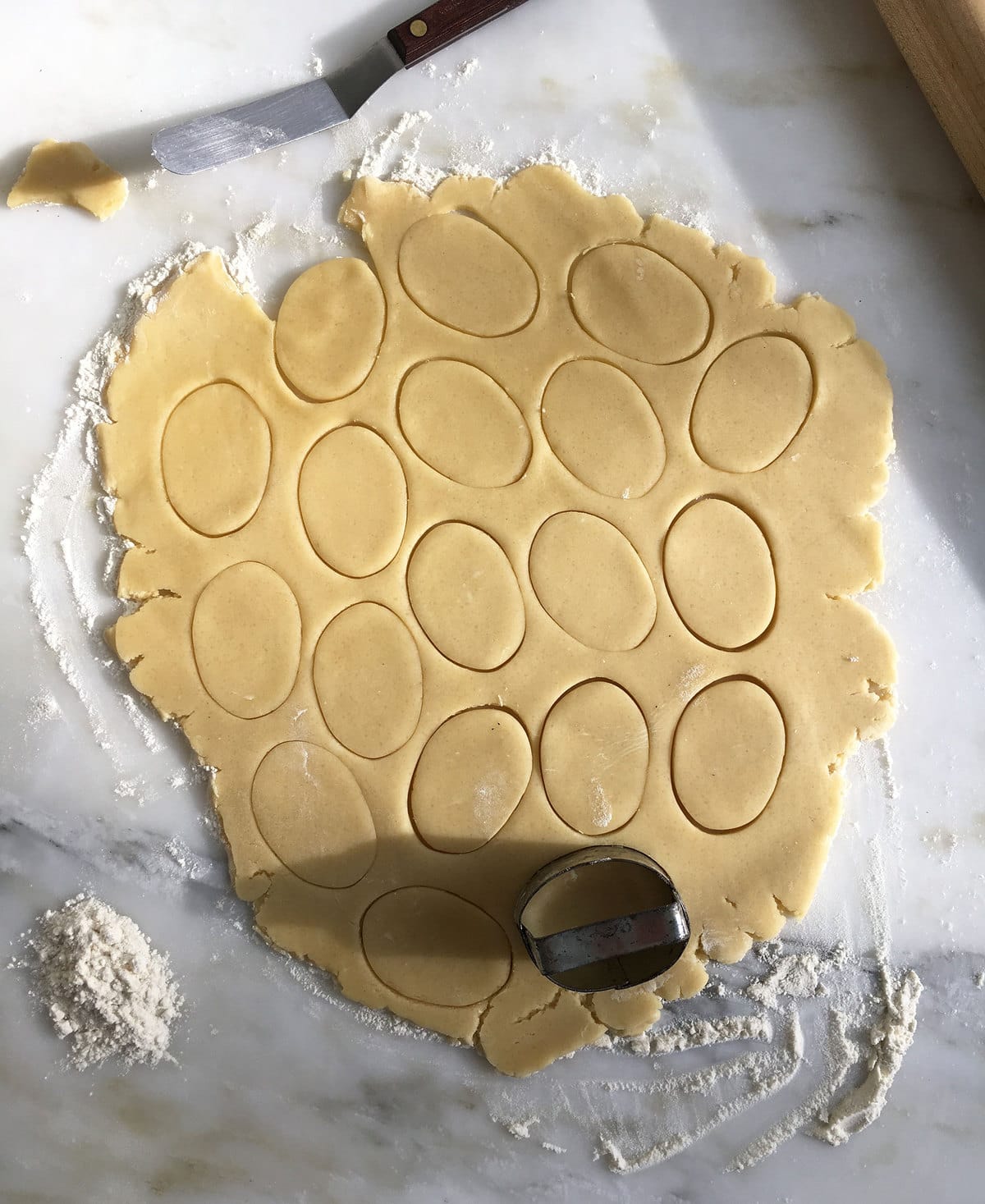 I've been wanting to make them for a long time but all the recipes I read online required piping cookie dough batter onto a baking sheet and I dunno…if I have to do a piping tip it's always such a hard sell for me.
It's like one more thing for me to mess up AND when I think of cookies, I don't usually associate them with piping tips. SO, I always avoided them.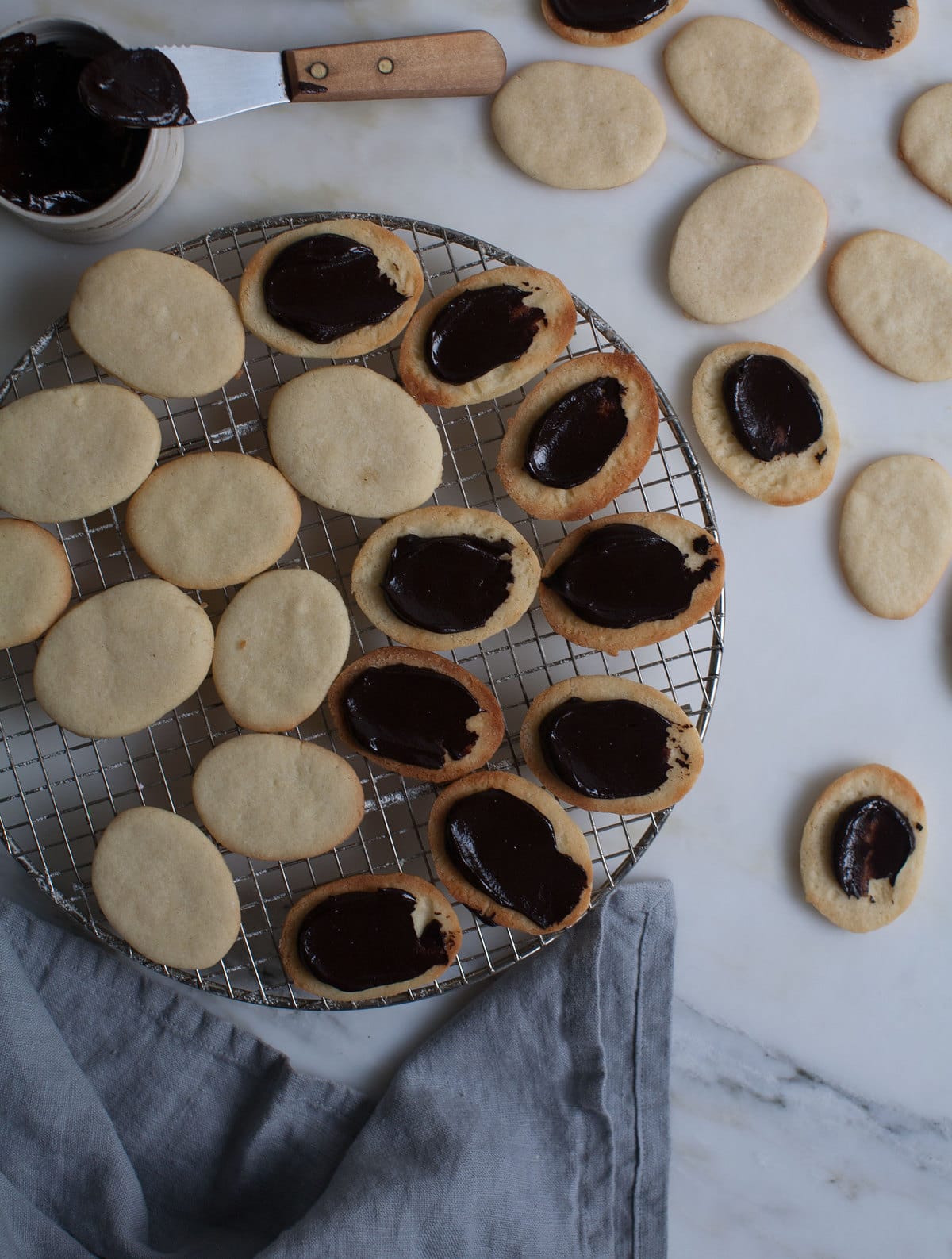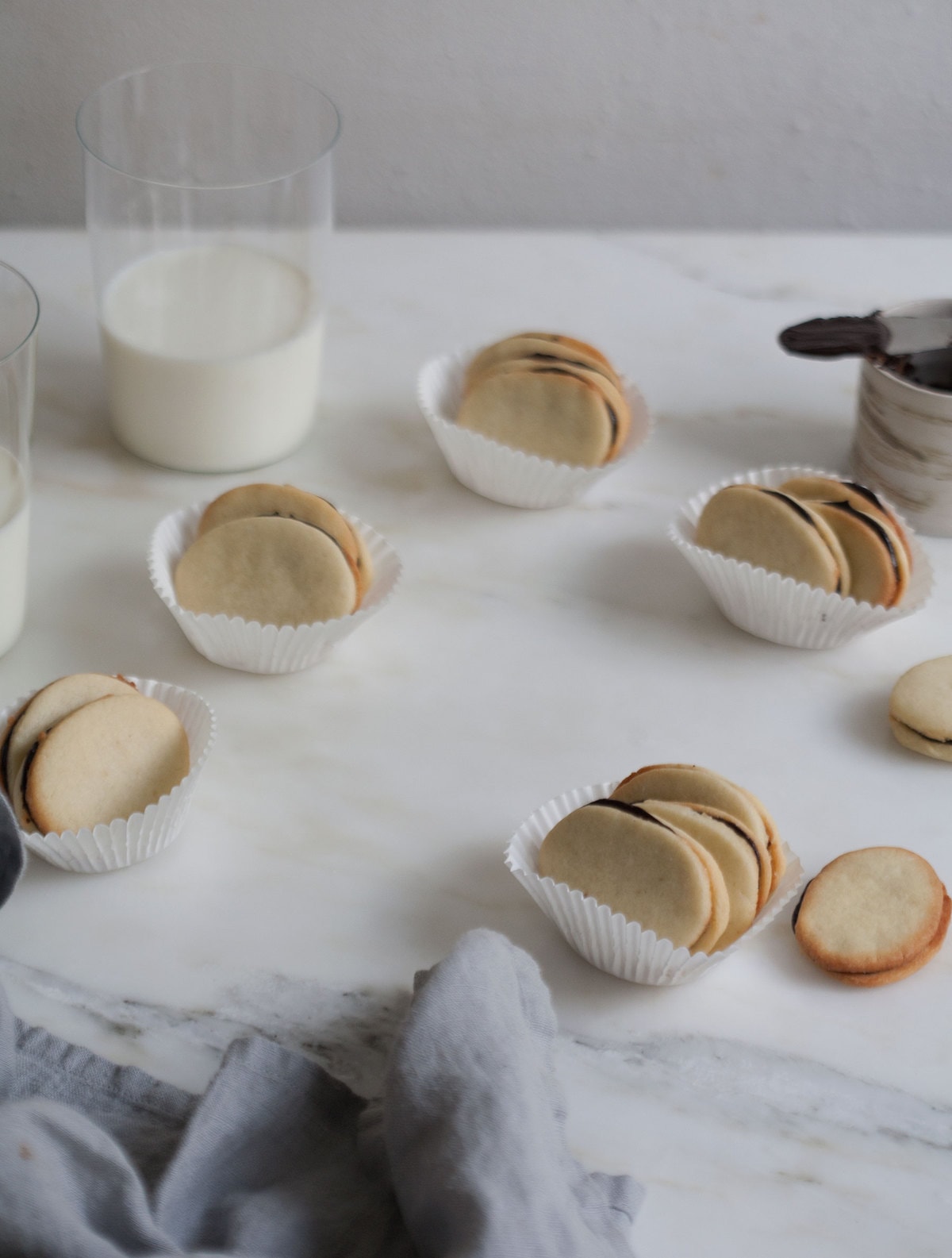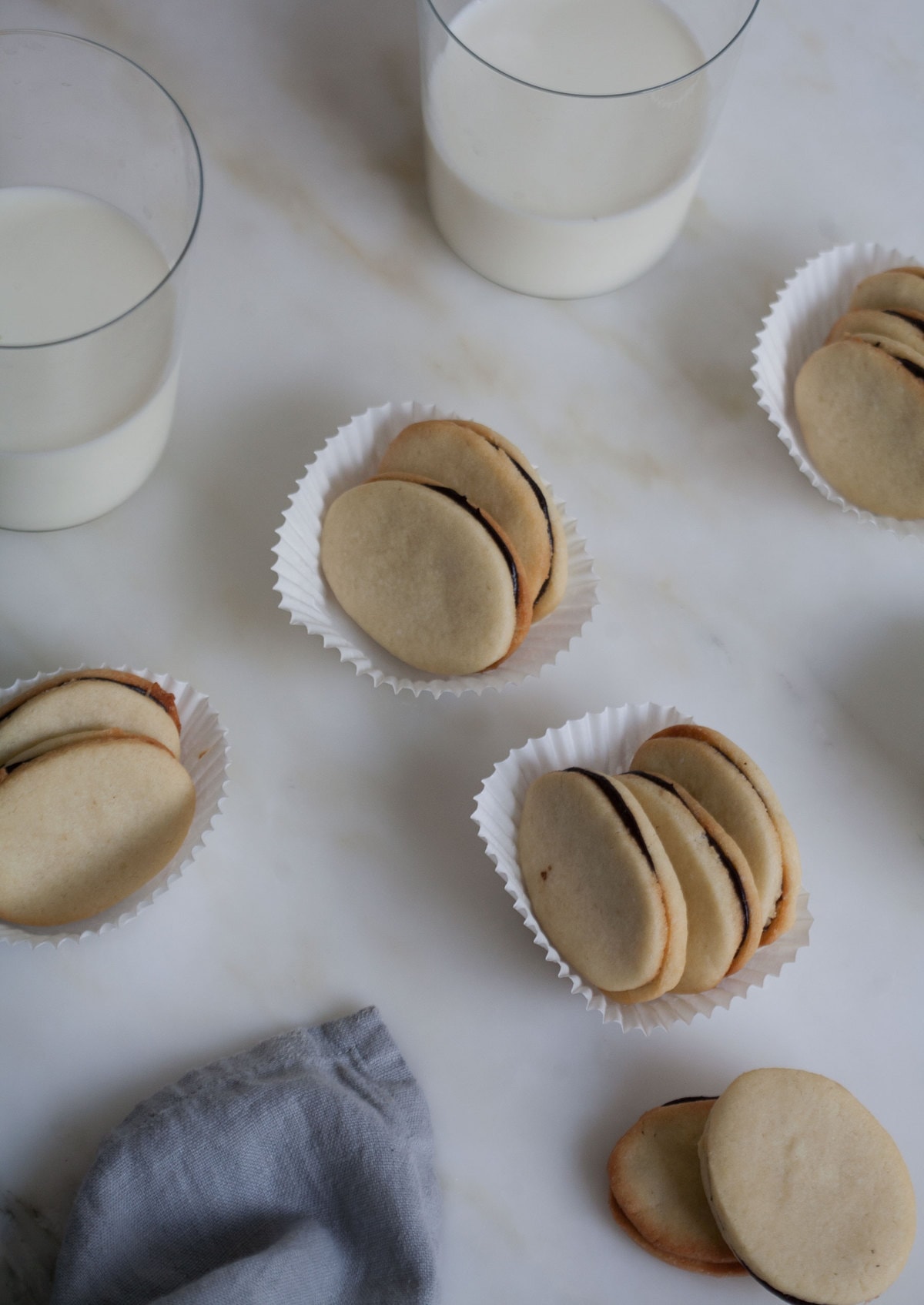 Pepperidge Farm Mint Milano Cookies
If you've never had them, wow. WOW. Please go to the grocery store right this second so you can try the original. They are truly magical. My favorite as a kid was definitely the mint varietal.
But then I started to think about them in this super analytical way and I realized they're sort of just like shortbread cookies but softer. And what makes a shortbread cookie softer? Powdered sugar! If you want a crispier one, for use all white granulated sugar.
I ended up going to store and buying a bag because, you know, research. And was surprised that they do have a bit of crisp to them. Here in this recipe, you'll find half powdered sugar and half white granulated.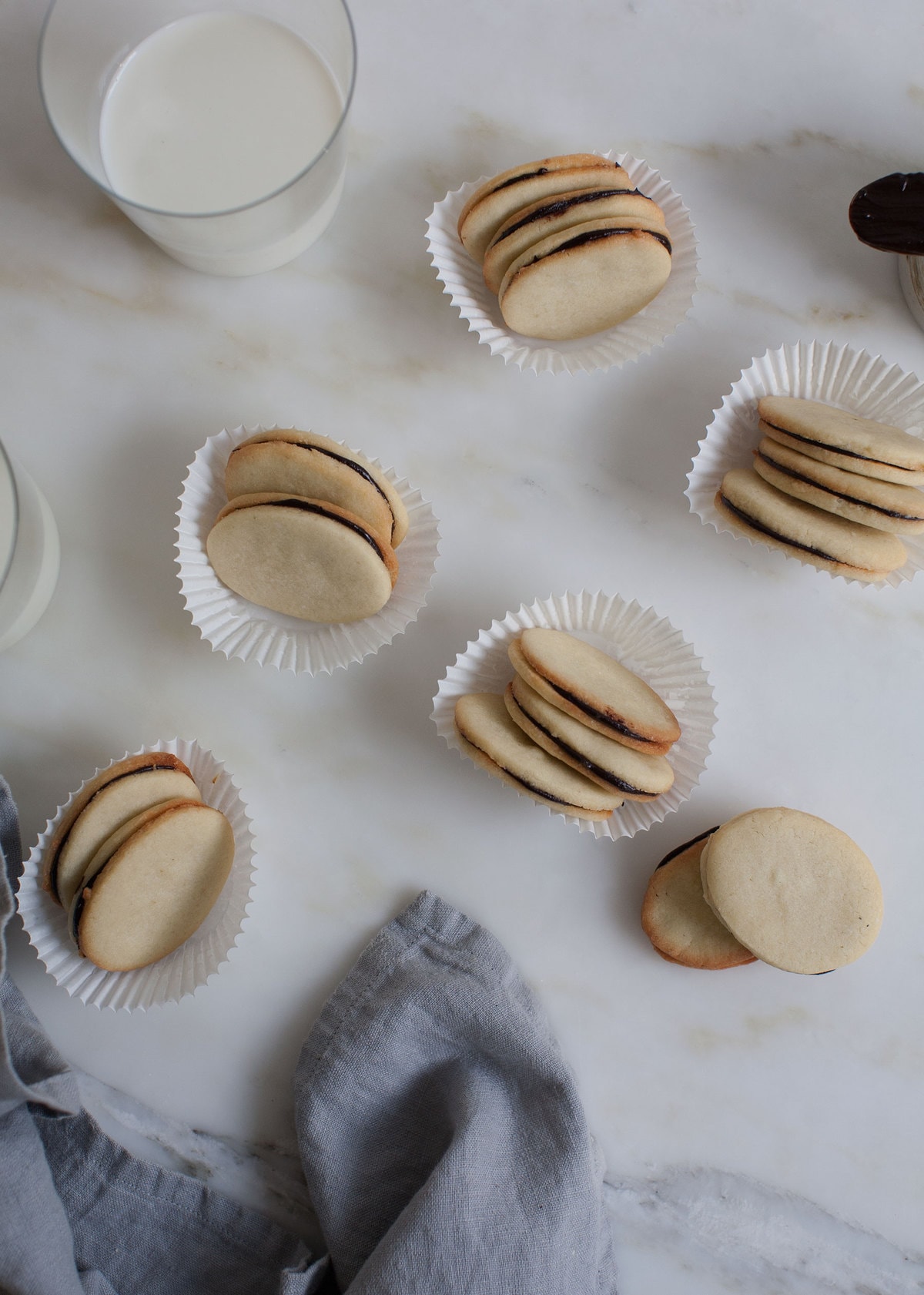 Don't Buy An Oval Cookie Cutter, DIY IT!
I didn't want to buy an oval cookie cutter because when would I use it besides with these, so I ended up just pushing the sides of a circular one to shape it sorta like an oval. And then, I just pushed it back to a circle; problem solved!
And since I loved the minty ones the best, I made these minty too. Nothing a lil' peppermint extract can't fix.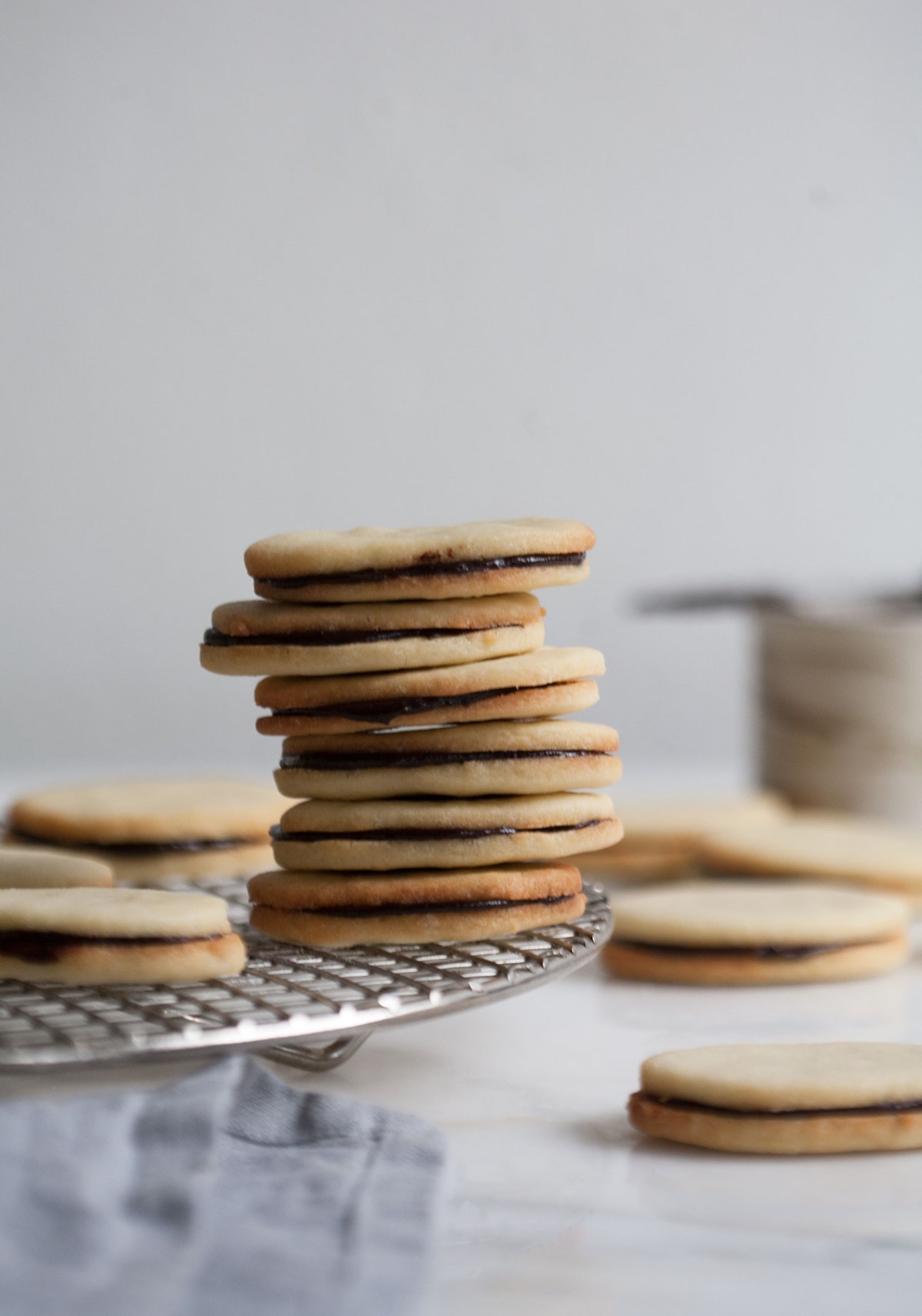 How to Make Homemade Mint Milano Cookies
Cream together the butter and sugar. I have powdered sugar as one of the sugars because this will make it a soft, delicious short bread cookie. The white sugar will still add some snap!
Add the egg and egg yolk. This will create a cohesive dough.
Next add the vanilla extract and then add the all-purpose flour. 
Chill it in the fridge. 
Gently roll out the dough. And then using your cookie cutter, stamp out cookies.
Transfer them to a baking sheet. And bake them just until the edges are lightly golden brown.
Let them cool. 
Combine the heavy cream and chocolate. Whisk until it's melted and cohesive. Mix in the peppermint extract.
Flip over half of the cookies. Drop a teeny bit of chocolate to each cookie half and smother it around.
Top the cookies with the other half and that's it!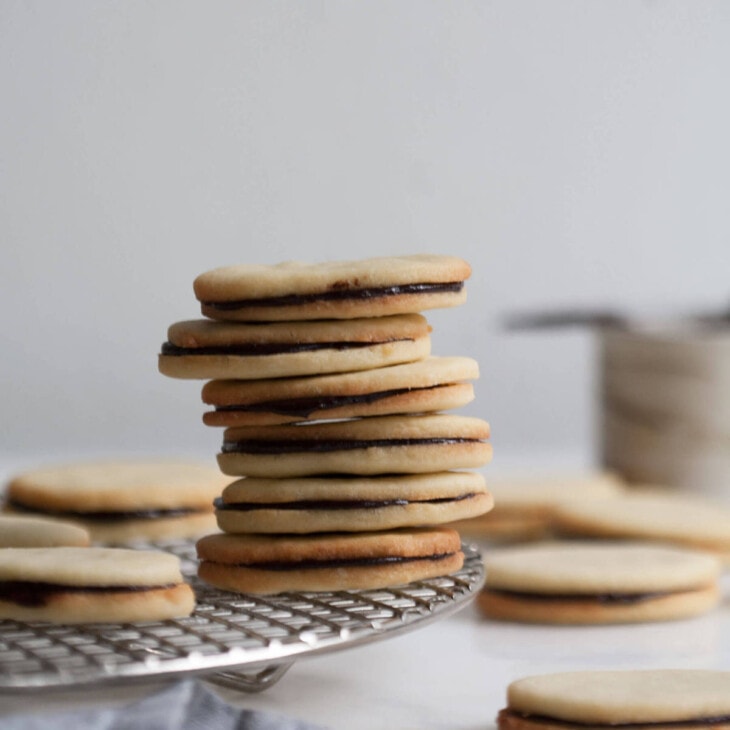 Print Recipe
Homemade Mint Milano Cookies
Ingredients
Shortbread Cookies:
1/2

pound

unsalted butter, room temperature

1/2

cup

white granulated sugar

1/2

cup

powdered sugar

1/4

teaspoon

salt

1

large egg

1

large egg yolk

1

teaspoon

vanilla extract

2 1/2

cups

all-purpose flour
Filling:
4

ounces

dark chocolate chips or semi-sweet chocolate chips

1

tablespoon

heavy cream

1/4

teaspoon

peppermint extract
Instructions
To make the cookies: To the bowl of a stand-up mixer, add the butter, sugar, powdered sugar and salt. Beat until light and fluffy, about 3 minutes. Add the egg, egg yolk, vanilla extract and beat once more until combined. In two batches, add the flour, being sure each addition is combined before adding the next one. Divide the dough in half, transfer it to two sheets of plastic wrap (it'll be quite soft!), shape into a disc and transfer to the fridge. Allow to chill for about 1 hour. Ideally it should be at least 3 hours.

Turn the oven up to 375 degrees F. Line two baking sheets with parchment paper and set aside.

Remove the first disc of dough from the fridge. Allow to come to room temperature for about 10 minutes. Liberally flour a rolling pin and work surface. Roll out the cookie dough to a 1/8-inch thickness. Stamp out the cookies with a cookie cutter of your choice (I used a round cookie cutter that I shaped into an oval to replicate the traditional milano cookie shape). Transfer the cookies to the baking sheet, spacing them about 1-inch apart (these spread slightly). Re-roll the scraps to get a few more cookies. Repeat with the second disc of dough.

Bake the cookies, one baking sheet at a time, for about 8 to 10 minutes, until lightly golden brown around the edges. Cool on the baking sheet before transferring to a cooling rack. Repeat with the remaining cookies.

To make the chocolate: Add the chocolate and heavy cream to a very dry stainless steel or glass bowl. Fill a saucepan with a few inches of water and set it over medium heat. Nestle the bowl with the chocolate atop the saucepan and melt the chocolate slowly, about 3 minutes. If you own a microwave, you can simply add the glass bowl with the chocolate and heavy cream to the microwave for about 30 seconds until melted. When the chocolate is melted, stir in the peppermint extract.

Flip over half of the cookies (these will be the cookie bottoms). Drop about a teaspoon of melted chocolate onto each of the cookies bottoms and spread it out just a bit. Top with the "tops" of the cookies and sandwich the two together. Repeat until you've worked your way through all of the cookies.
If you make these Homemade Mint Milano Cookies, let me know on Instagram! 
Looking for more cookie recipes? Here are some favorites: