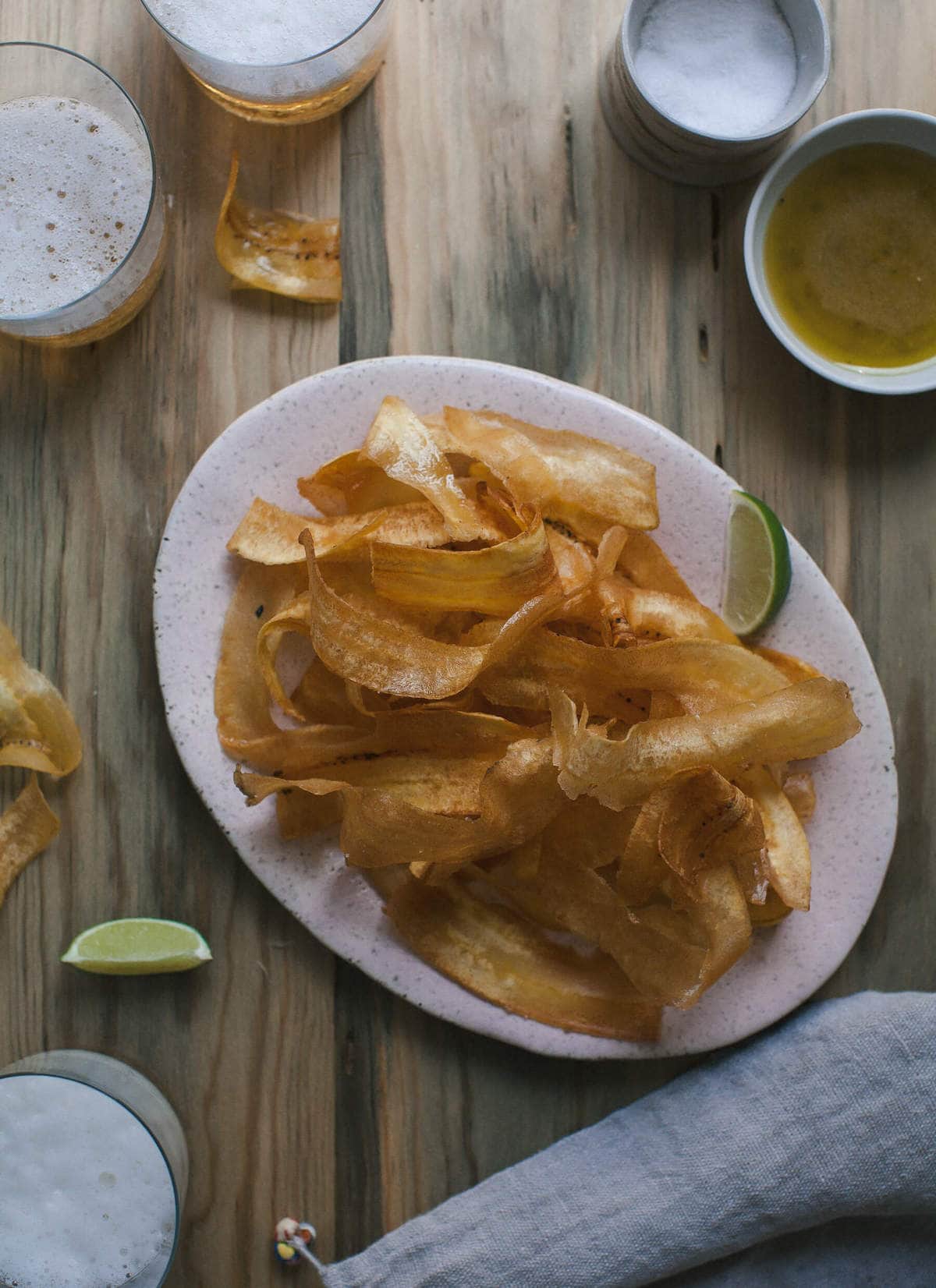 Once upon a time I loved my daddy a whole lot. We'd sit on the couch together and we'd watch sports I didn't care about. The only thing I cared about were all the snacks he had. He always had the best snacks. There was ice cream and saltine crackers and of course, plantain chips, straight from the bag.
We were best friends then, him and me, and these chips. I never really thought about the chips again until I moved away, far away from home, far away from him and far away from any Cuban and South American food.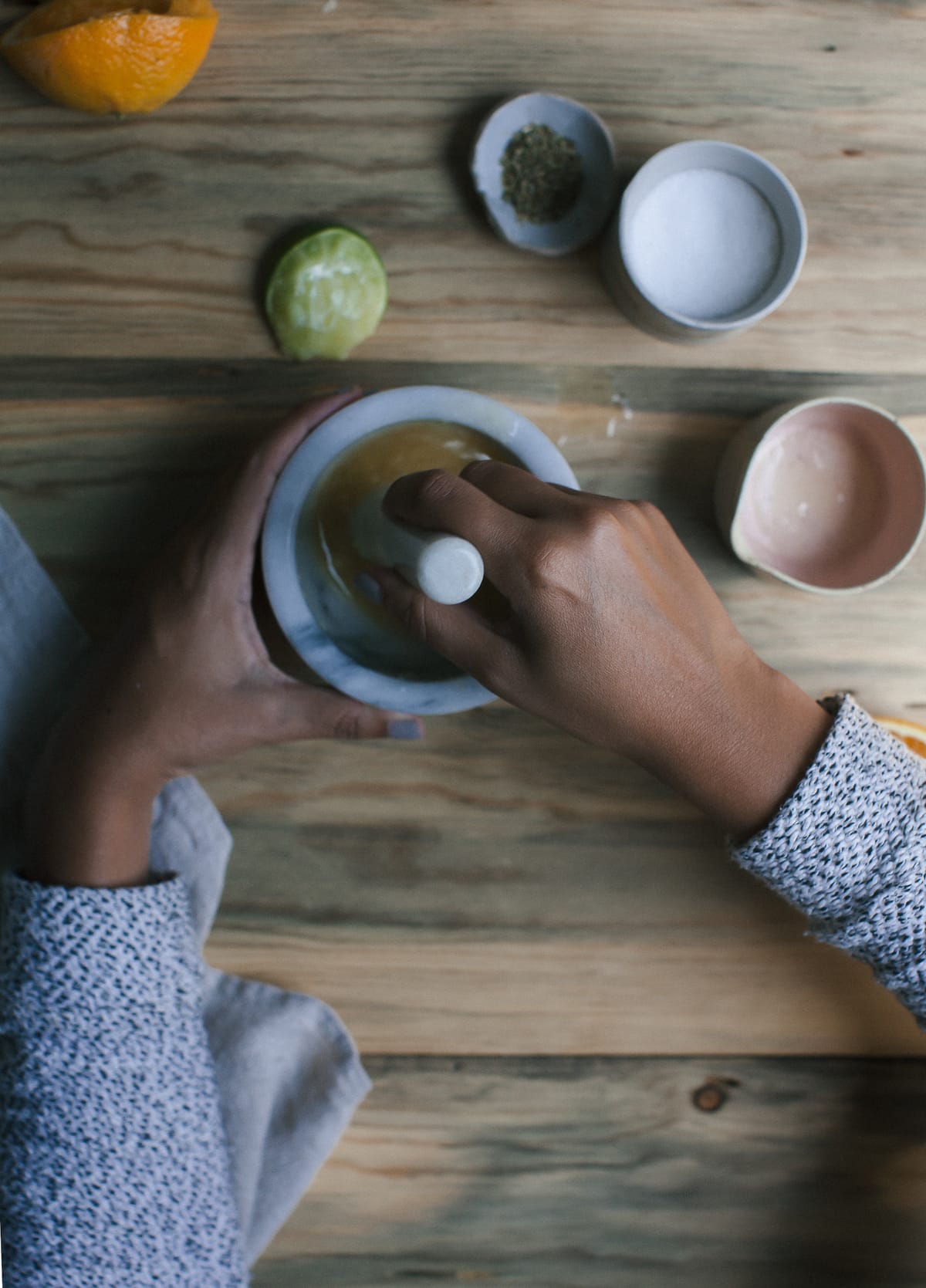 I was working a boring desk job when a lunch menu was plopped on my desk. It was for a Cuban restaurant nearby.
My bratty cynical self about Cuban food in LA started to scan the menu, stopping at my favorite: ropa vieja. When my food was delivered I was right about the ropa vieja but so wrong about the plaintain chips that came for free.
They were thin as newspaper, crispy AF and slightly salty.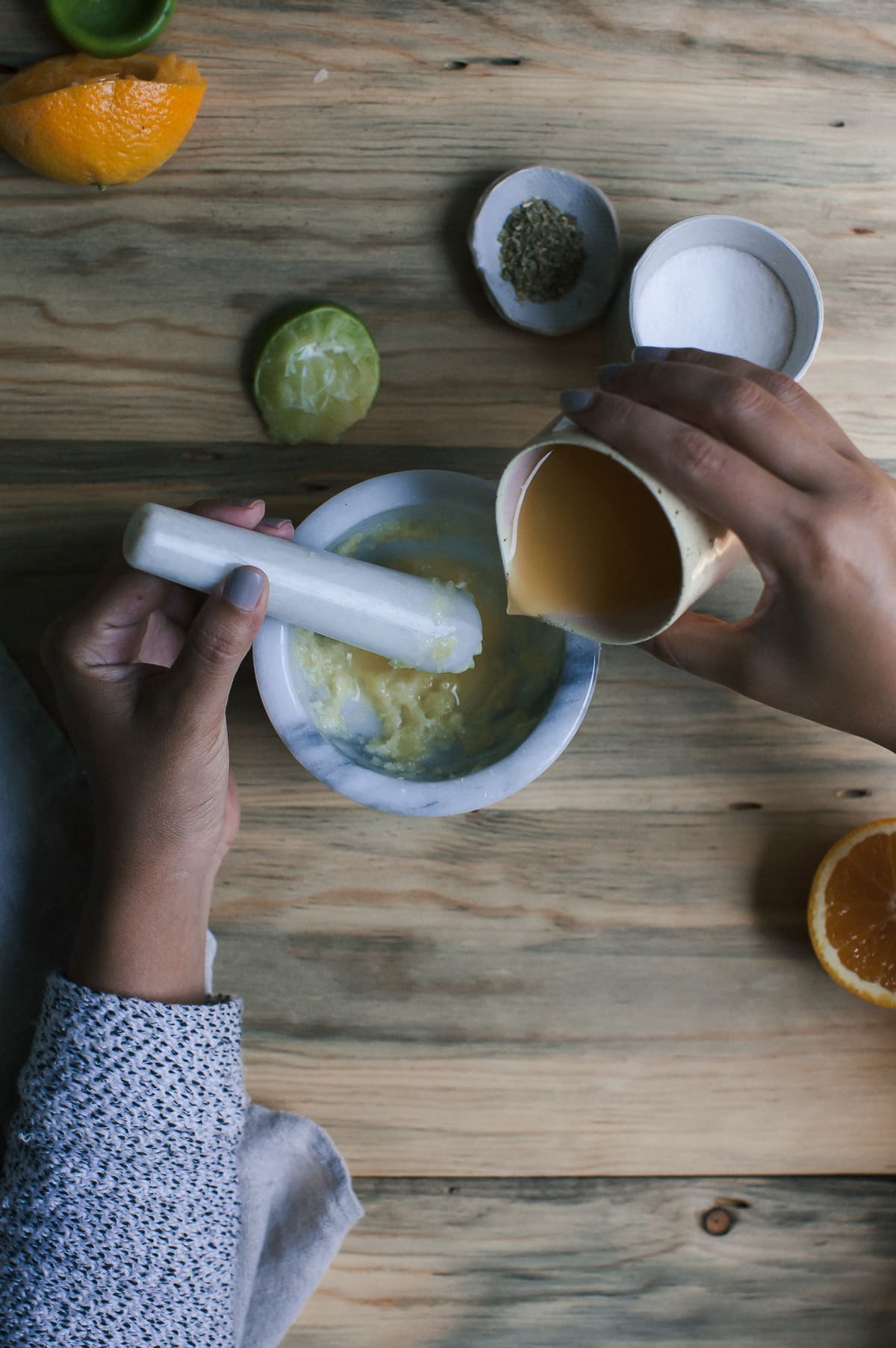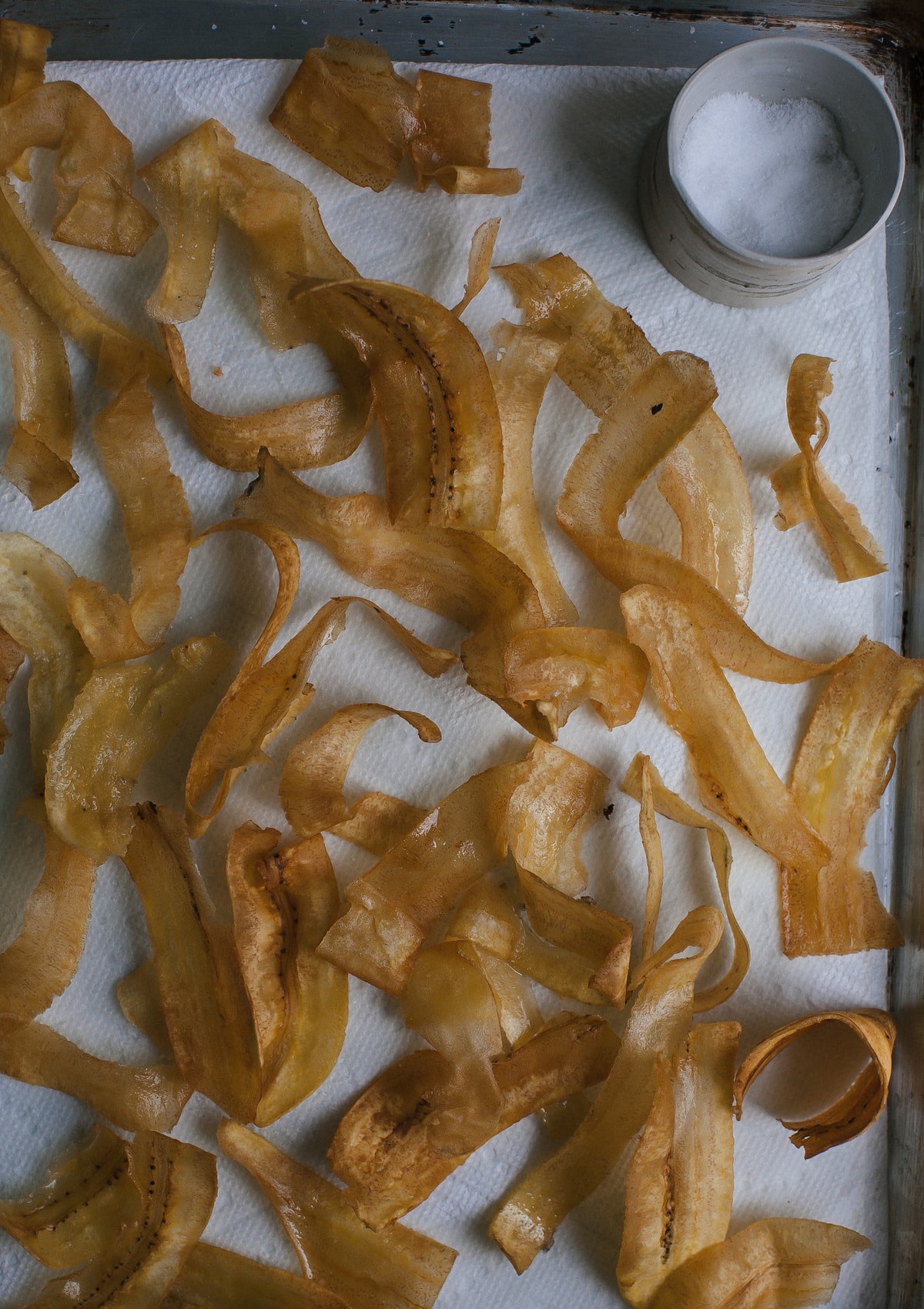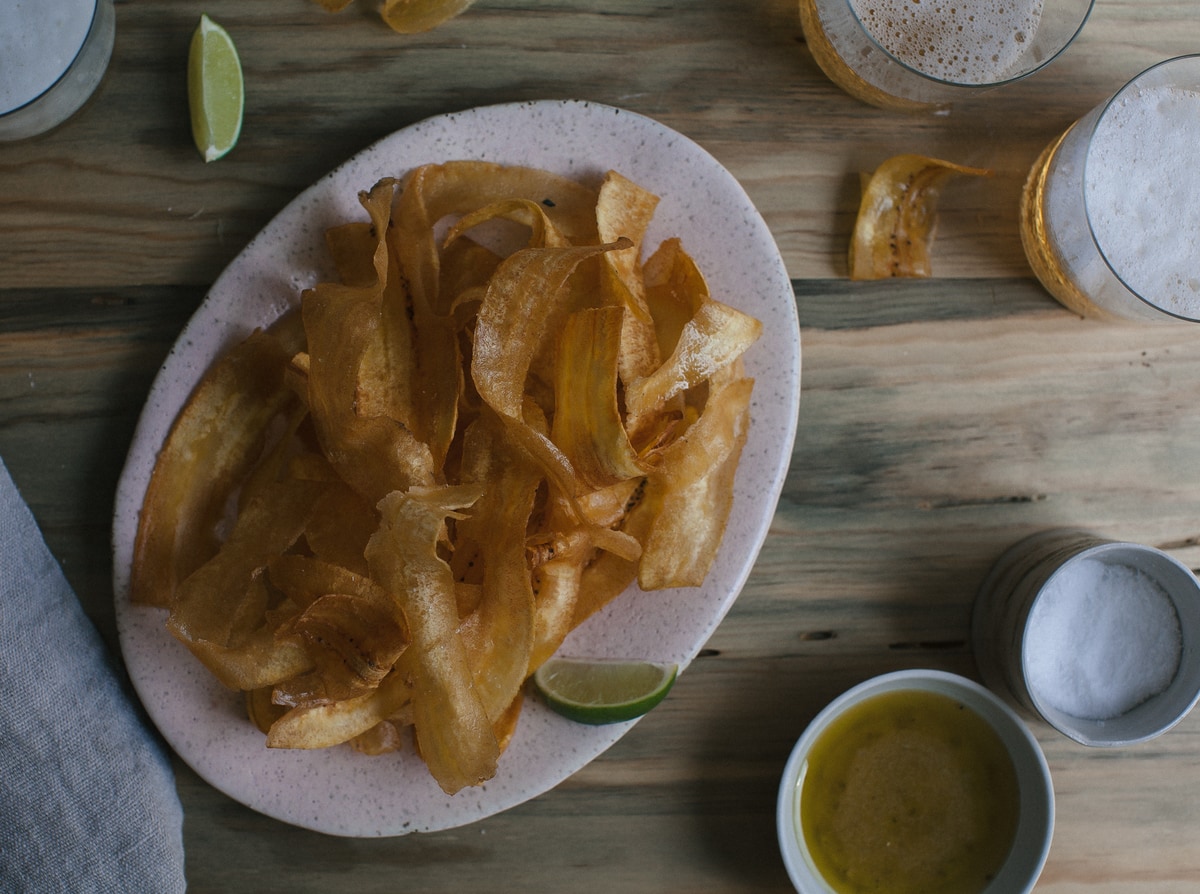 I love mojo sauce on everything and with everything. If you're unfamiliar, you're in for a treat.
It's usually made with sour oranges but we don't have access to sour oranges so instead I like to combine orange juice with lime juice. Lots of garlic and olive oil is added with a good amount of salt. It's so simple and perfect.
These chips remind me of home. They remind me of my papa.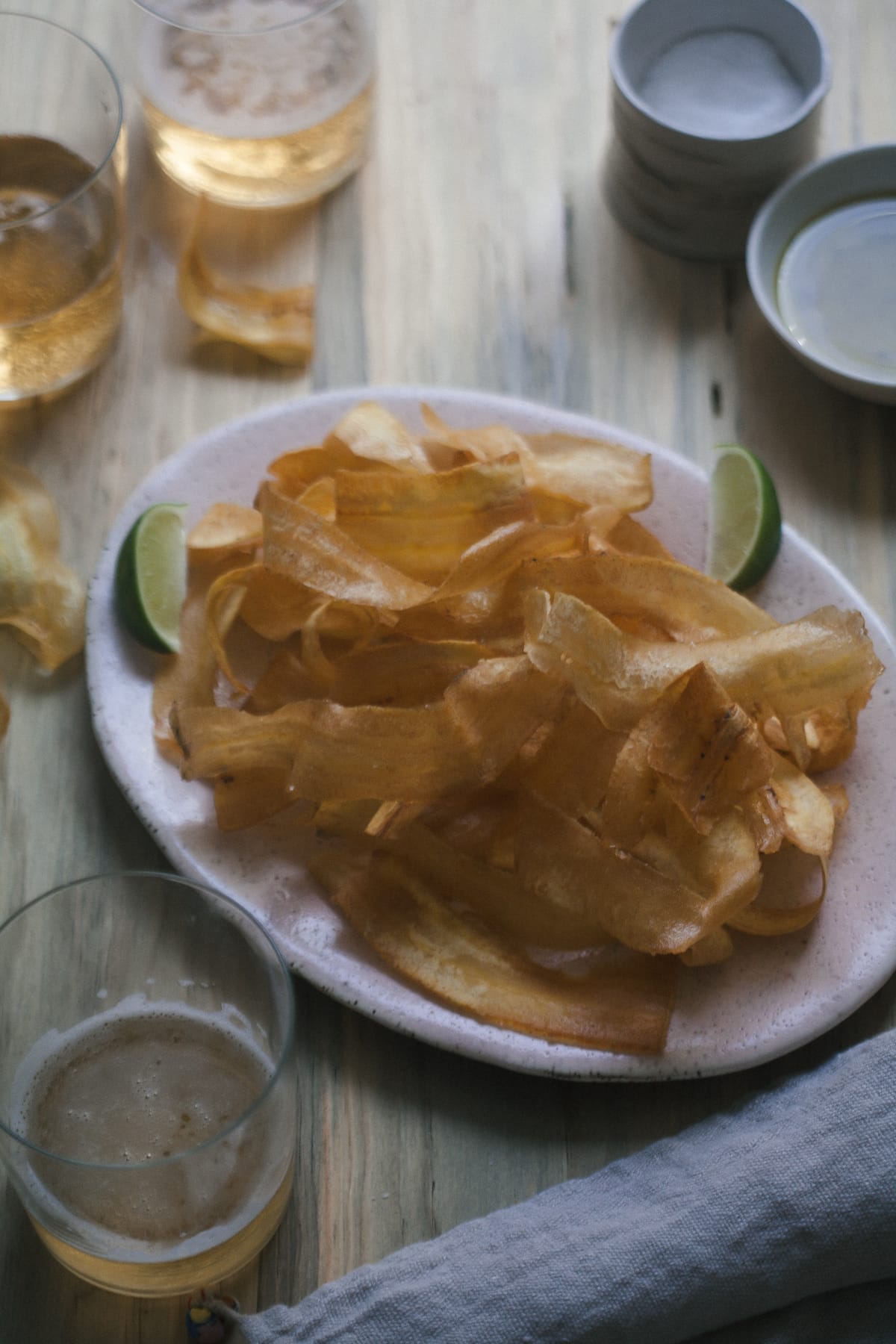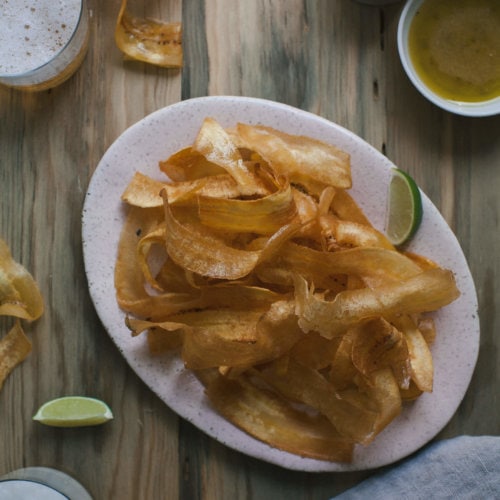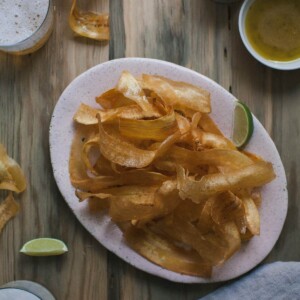 Ingredients
Mojo:
4

garlic cloves

,

peeled

1/4

teaspoon

dried oregano

1

teaspoon

salt

Pinch

of freshly black pepper

2

tablespoons

fresh orange juice

2

tablespoons

fresh lime juice

1/4

cup

olive oil
Plantain Chips:
2

green plantains

,

peeled*

Salt

Vegetable oil
Directions
To make the mojo sauce: add the garlic cloves, oregano, salt and pepper to a mortar and pestle. Grind and twist and grind and twist again to make a paste. Slowly add the orange juice and lime juice and then lastly, the olive oil. Give it a taste and adjust the salt according to taste.

Line a cutting board with a few layers of paper towels. Set right next Heat about 3 inches of oil 350-360 degrees F. Peel plantains and slice with a vegetable peeler or a mandolin. Or you can thinly slice them using a knife. Gently drop the plantain strips into the hot oil. Cook for 30 seconds to a minute, flipping them over about halfway through. Remove and transfer to the paper towels. Repeat until you've worked your way through the plantains. Sprinkle with salt and serve alongside the mojo sauce.
Notes
*So here's the thing. The best chips are the super thin ones. It's easier to get super thin slices on the outside of the plantain but once you get closer to the center it's impossible to do. You can do two things: a vegetable peeler or a mandolin.
If that is annoying-sounding to you then you can always slice them thinly with a knife at an angle.