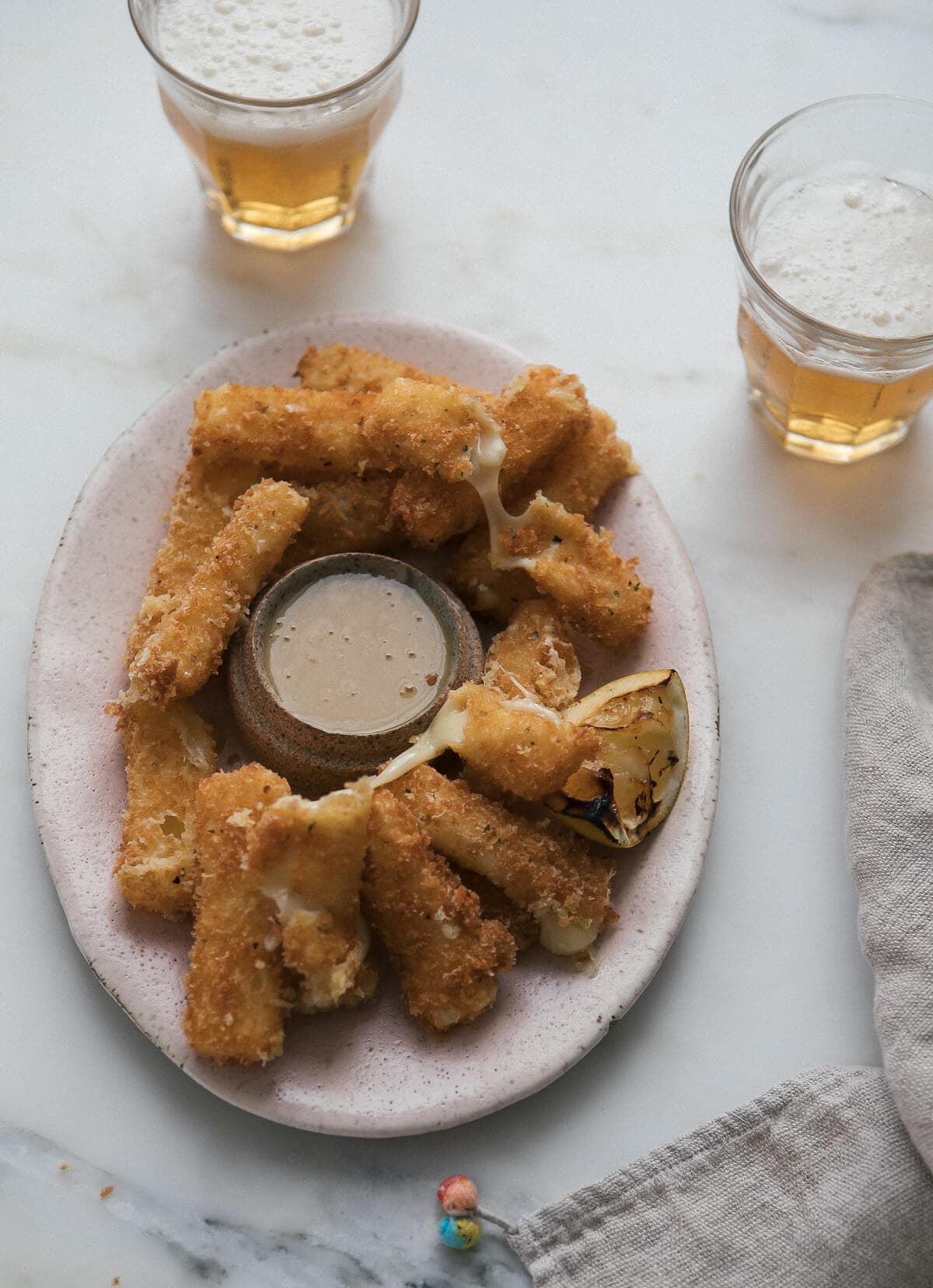 Look at this cool diet food!
I kid, I kid.
A few weeks ago, I had this idea to make traditional mozzarella sticks but with something cooler…
Immediately I thought: raclette! I instantly talked myself into it but realized when I went to the store that it would require a disclaimer. And that disclaimer is that these are not cheap. The price tag on this big block of raclette almost made me turn myself right around and walk out of Whole Foods but I kept going on with this project. I even purchased regular ol' mozzarella sticks to test the recipe with because I was scared to use the precious raclette.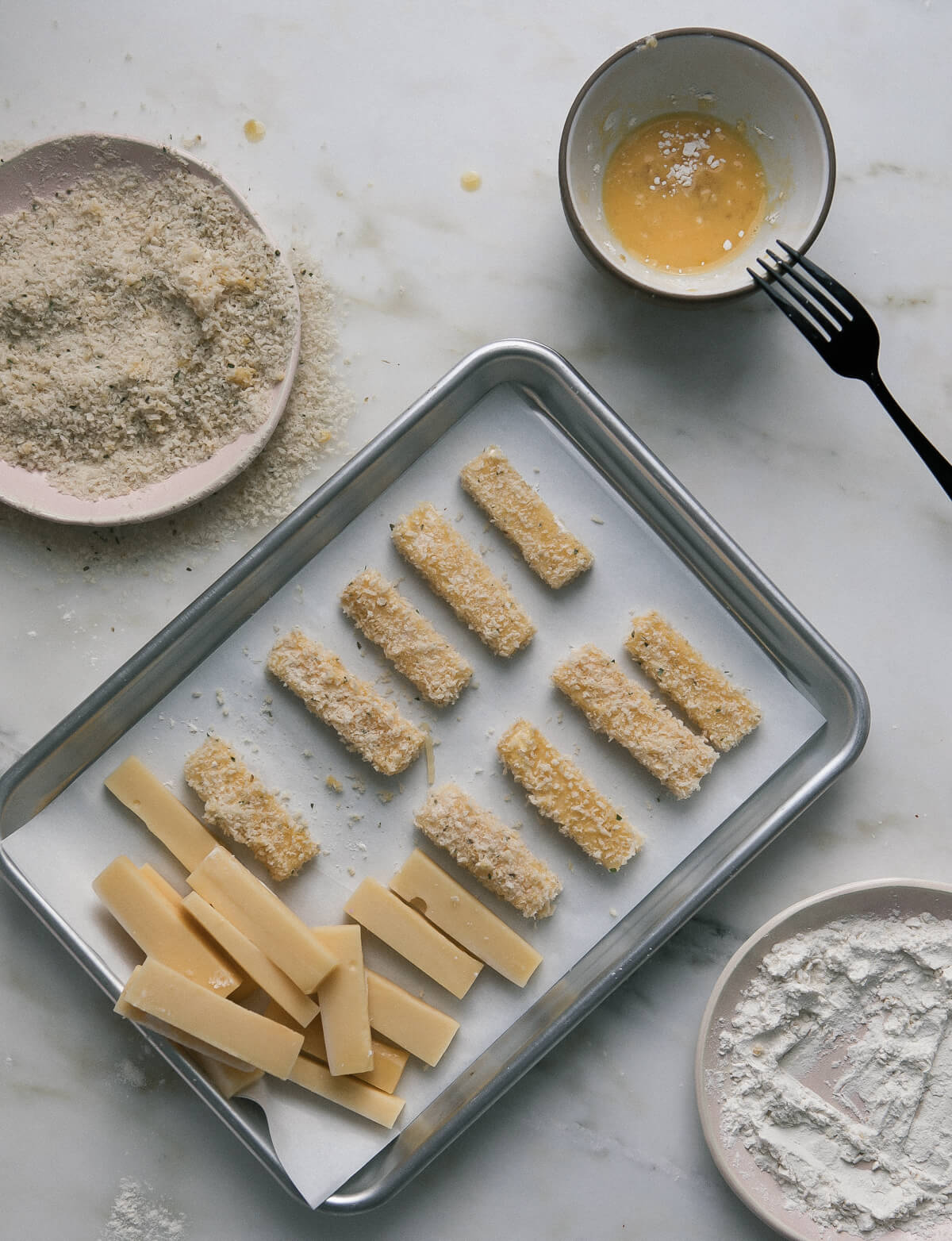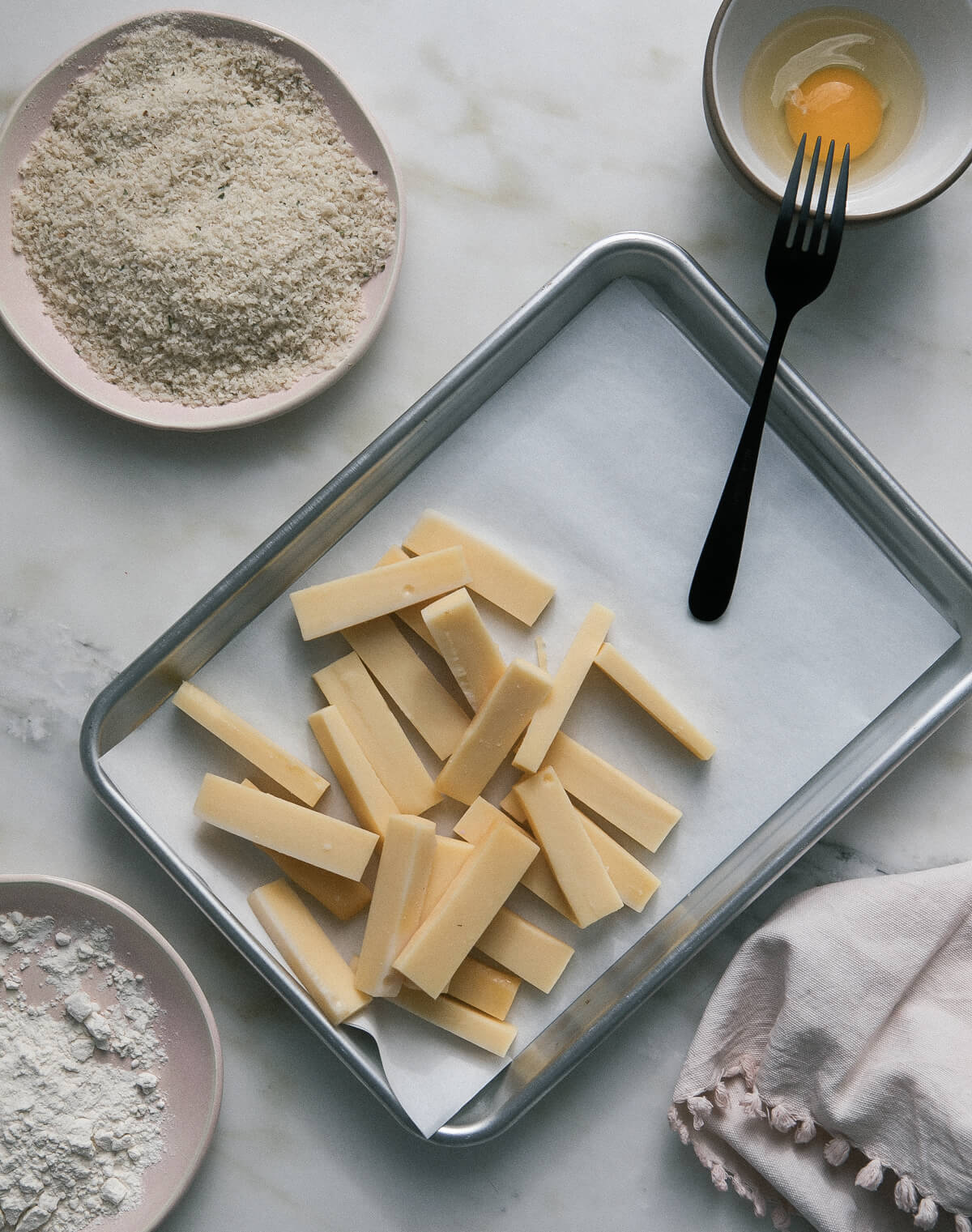 I paid $18 for the block of raclette and luckily got a pretty good amount of sticks out of it. I cut them rather on the thin side and the cheese went much further than initially expected. Lucky me/us!
I would say that this is a good thing to make when everything else is kinda cheap and chill. Serve it with a side salad. Or just make this, if everyone else is bringing everything else.
Make this on payday when you're feeling a little rich.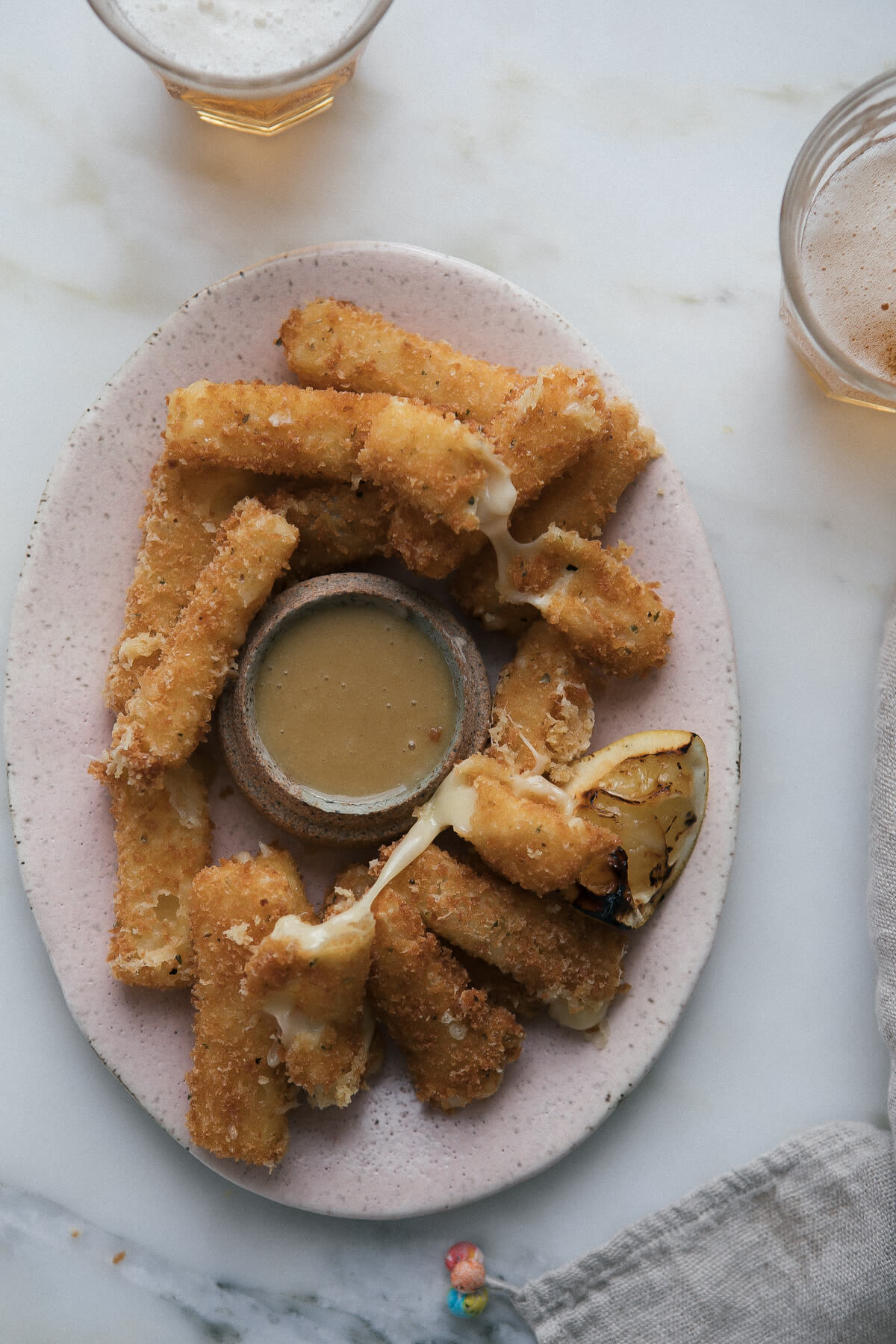 I will say that these are a million times better than mozzarella. The cheese is funky—without being too heavy on the funk—while still being so ridiculously melty and cheesy.
I paired it with honey mustard because you need a bit of acid to cut through the richness. I also squeezed a grilled lemon all over it and it was SO good (almost like how you would do with fried calamari).
This is a wonderfully indulgent and fun thing to make.
And of course, you can use other melty cheese. Like mozzarella sticks (or a combo), cheddar, fontina, etc.
As long as it's melty, you're all good.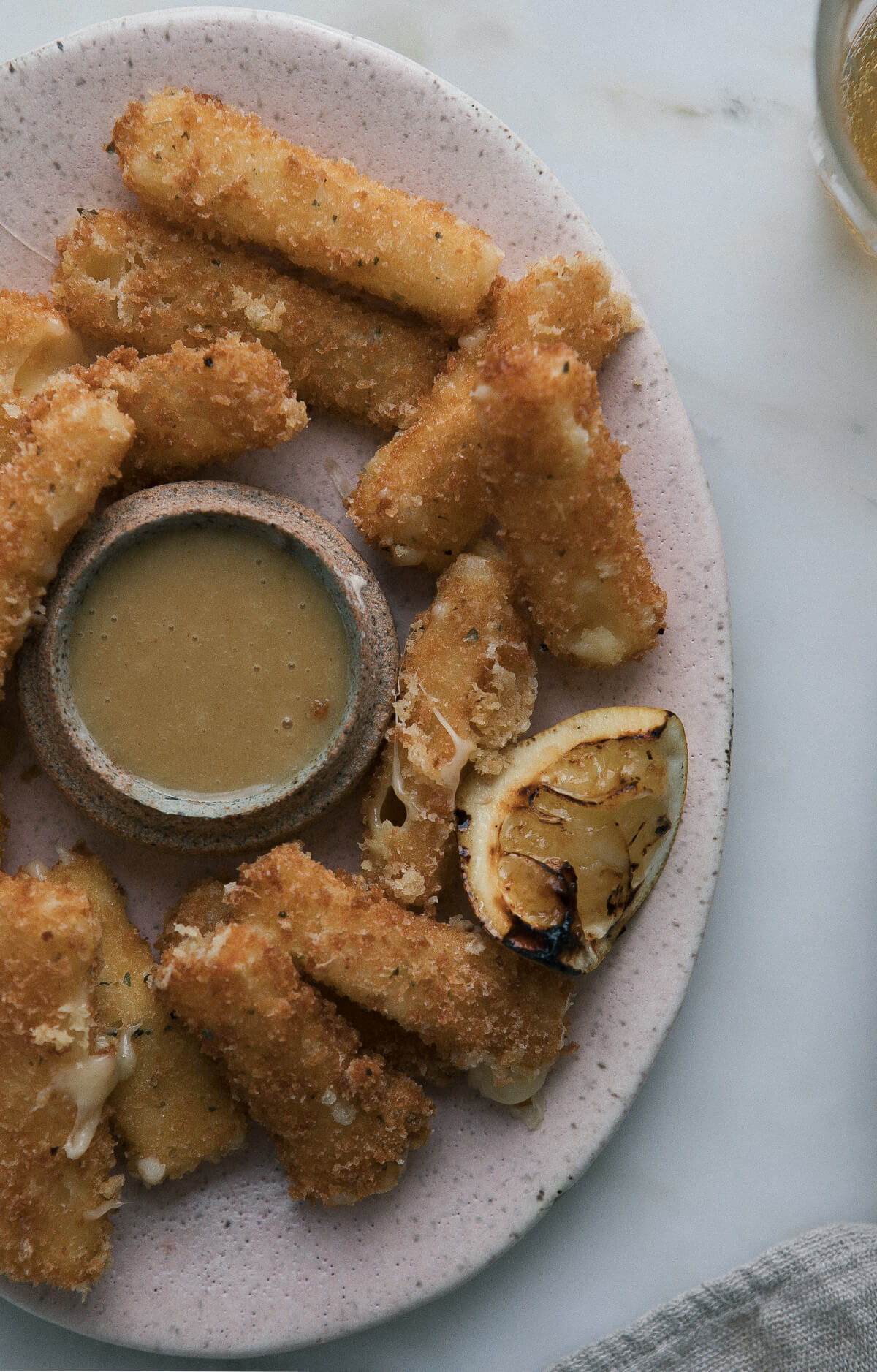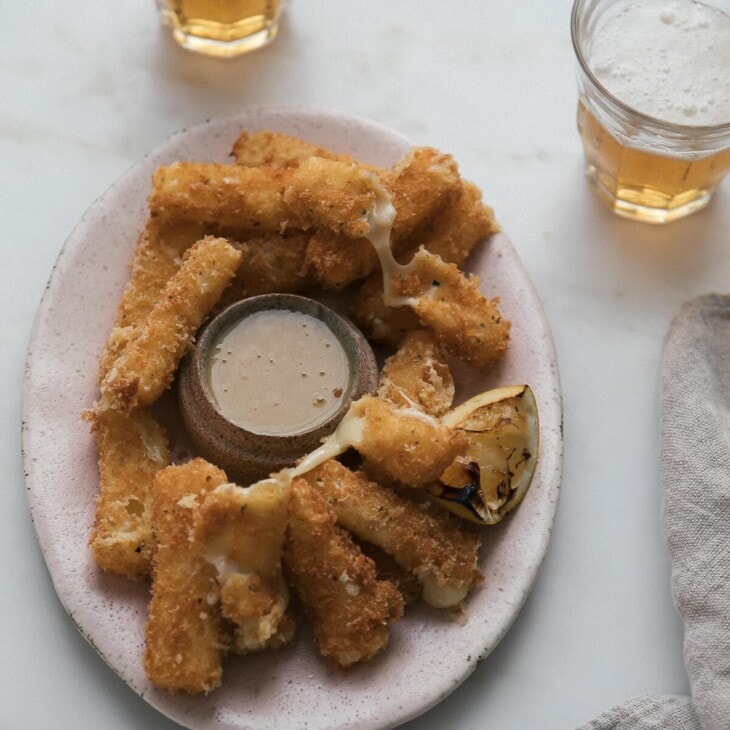 Print Recipe
Raclette Sticks 
Serving Size:
TO 6 (AS AN APPETIZER)
Ingredients
Honey Mustard
3

tablespoon

mayonnaise

3

tablespoons

honey

3

tablespoons

Dijon mustard
Raclette Sticks:
1/2

cup

all-purpose flour

1

large egg

1

cup

Japanese panko bread crumbs

1

teaspoon

Italian seasoning

you can make your own by adding a pinch of dried oregano, dried thyme, dried parsley

1/2

teaspoon

salt

1

pound

raclette cheese

*see below for other ideas of cheese!, *chilled

Oil

for frying (I used canola but grapeseed or peanut are great, too)

1/2

lemon

grilled, for serving (optional)
Instructions
To make the Honey Mustard:
In a small bowl, whisk together the mayonnaise, honey and Dijon mustard.
To make the Raclette Sticks:
Preheat the oven to 200 degrees F (we'll use this to keep the sticks warm while we fry them up in batches). Line a baking sheet with parchment paper or paper towels. Place a few sheets of paper towel on a baking sheet or oven-proof plate.

Place all-purpose flour on a shallow plate. Whisk the egg in a small bowl. And combine the panko bread crumbs with the Italian seasoning and salt.

Cut up the cheese into 3-inch by 1-inch sticks. You don't want them to be too thick because you want this cheese to go far!

Dip the sticks, one by one, in the flour first. Then transfer them to the egg, allowing any excess egg to run off. Next, place them in the panko and thoroughly coat. Transfer them to a baking sheet and place in the freezer while the oil heats up.

Heat the oil to 350 degrees F. Fry the cheese sticks in batches of 2 to 3, and fry for 1 to 2 minutes, until lightly browned. (Typically you'd want to take mozzarella sticks to a golden brown color but I found that the cheese got too melty so a light brown color was ideal!) Transfer them to oven to keep them warm. Repeat until you've worked your way through all of the cheese sticks.
Notes
*This recipe will work equally as well with mozzarella sticks, fontina or Gruyere.