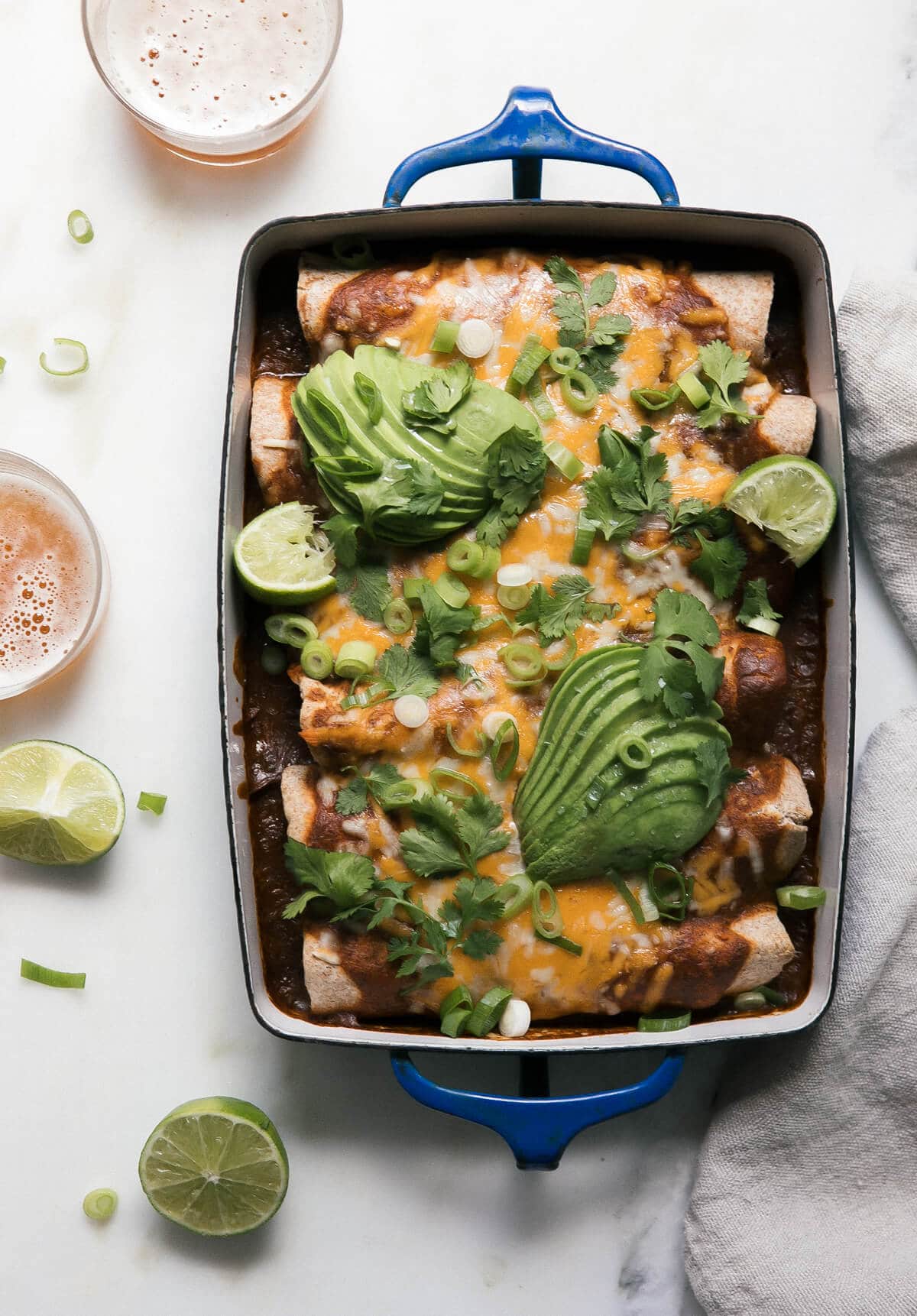 My weekend was so fun! There was a lot of running around. I first arrived in Florida to spend a day or so with my mom and then I flew to Maryland for the day to visit some Jersey cows and then I returned to Florida to spend Mother's Day with the fam, it was a lot. But it was worth it!
When I got back and checked the mail, I was super excited to see my friend LOVE REAL FOOD. Do you know her blog? Whenever I need a delicious vegetarian recipe, I always go there. And Cookie (her dog) is so adorable, I want to squeeze her. If you follow Kate on Insta Stories/Snapchat you know that Cookie is as mischievous as Amelia and they very similar in their ambitions for stealing all blog creations. I don't blame them.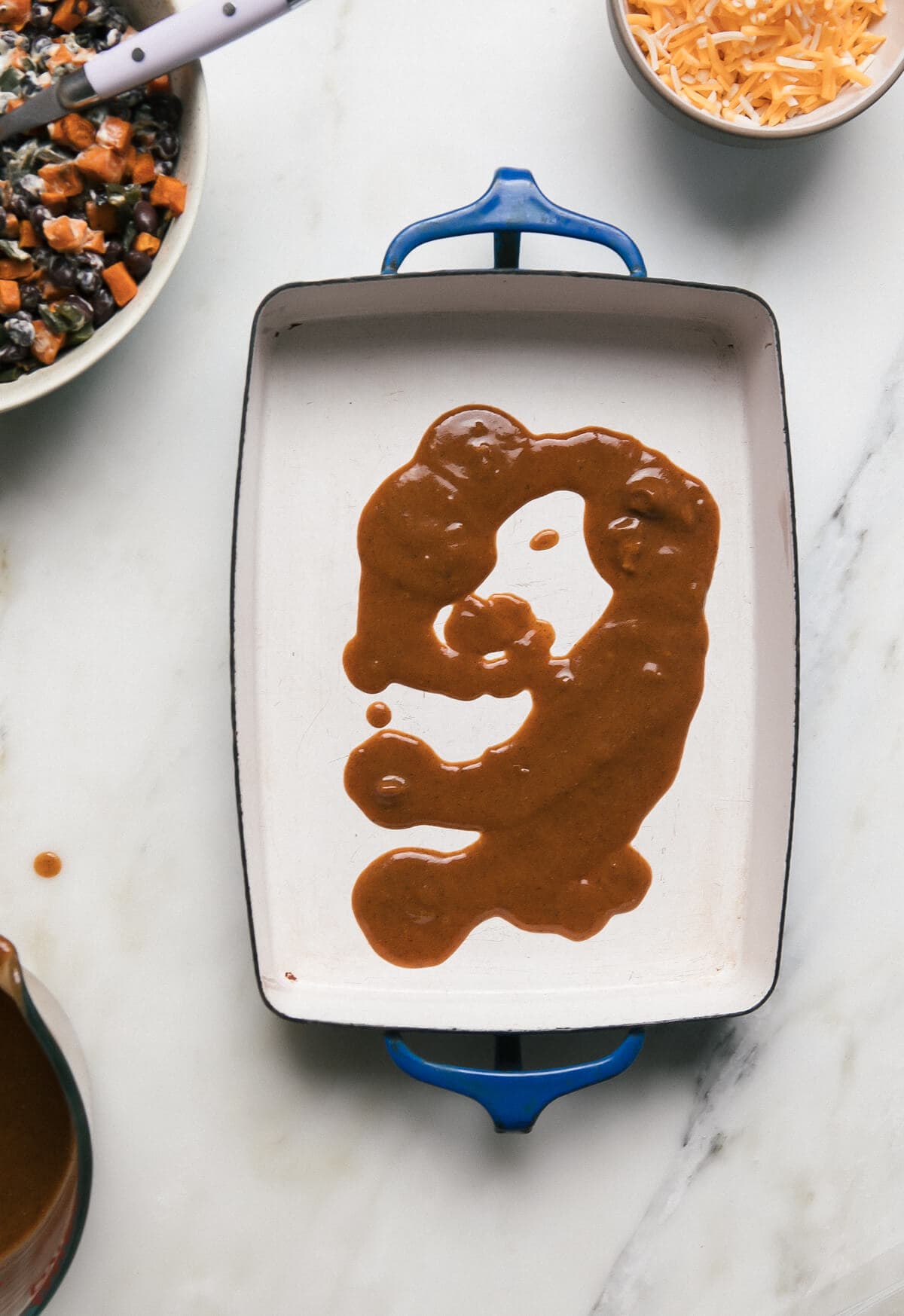 This enchilada recipe is from her new book and it is SO good. I ate it for lunch yesterday and am eating the leftovers as we speak.
The filling is super easy to throw together because it's roasted sweet potato and poblano peppers, mixed with canned black beans and a bit of sour cream. You could definitely use yogurt, if you wanted to make it a bit healthier.
The tortillas are whole wheat but you can absolutely use corn tortillas, if you like.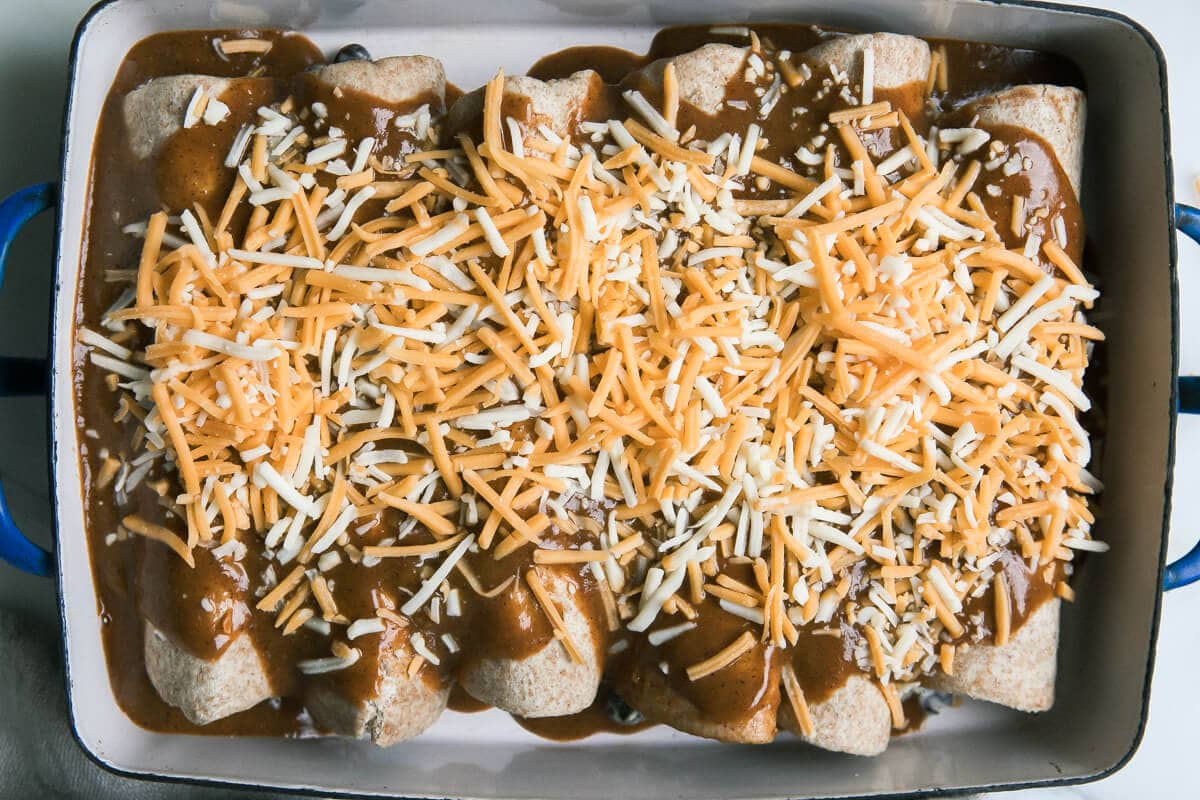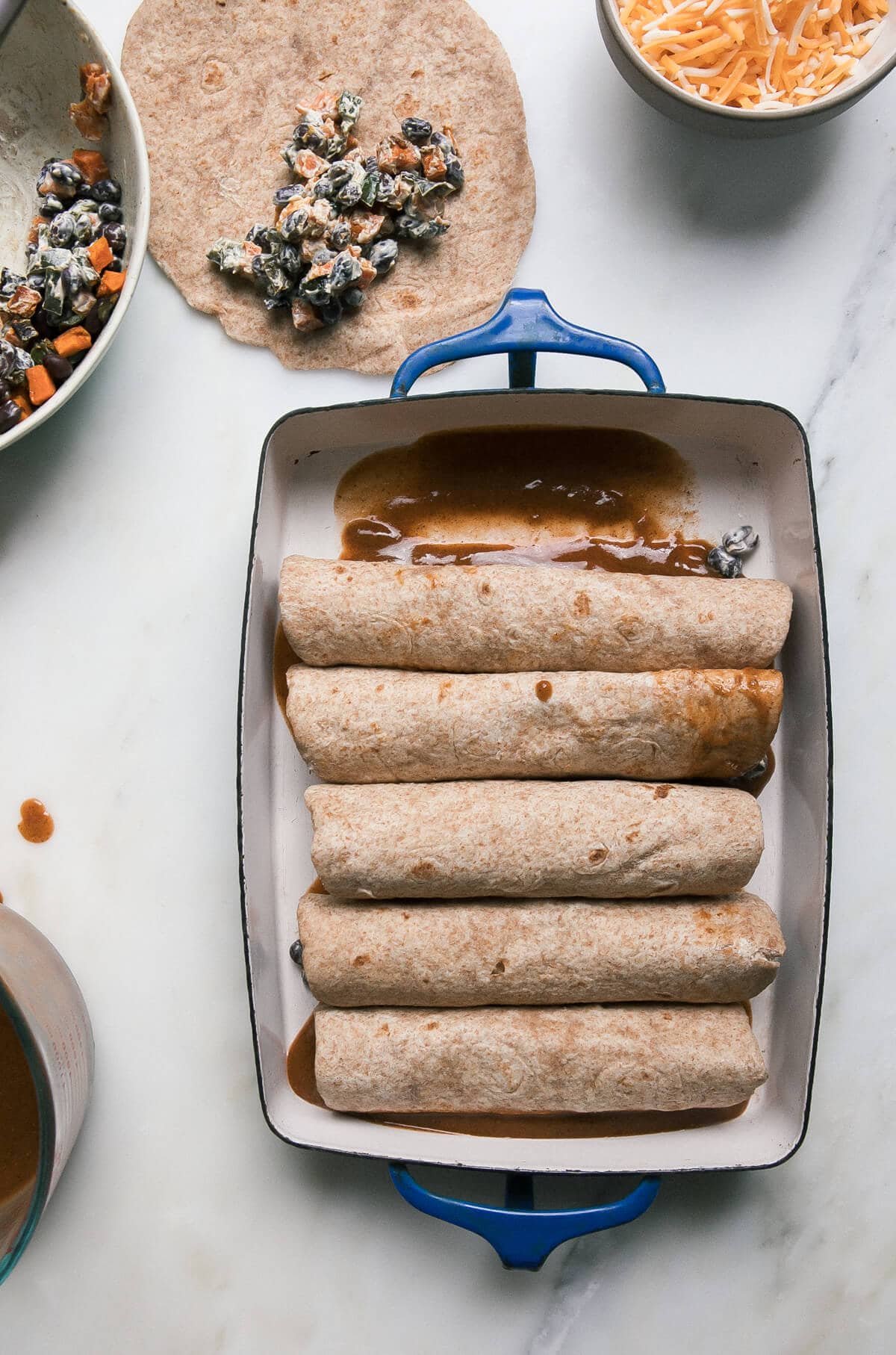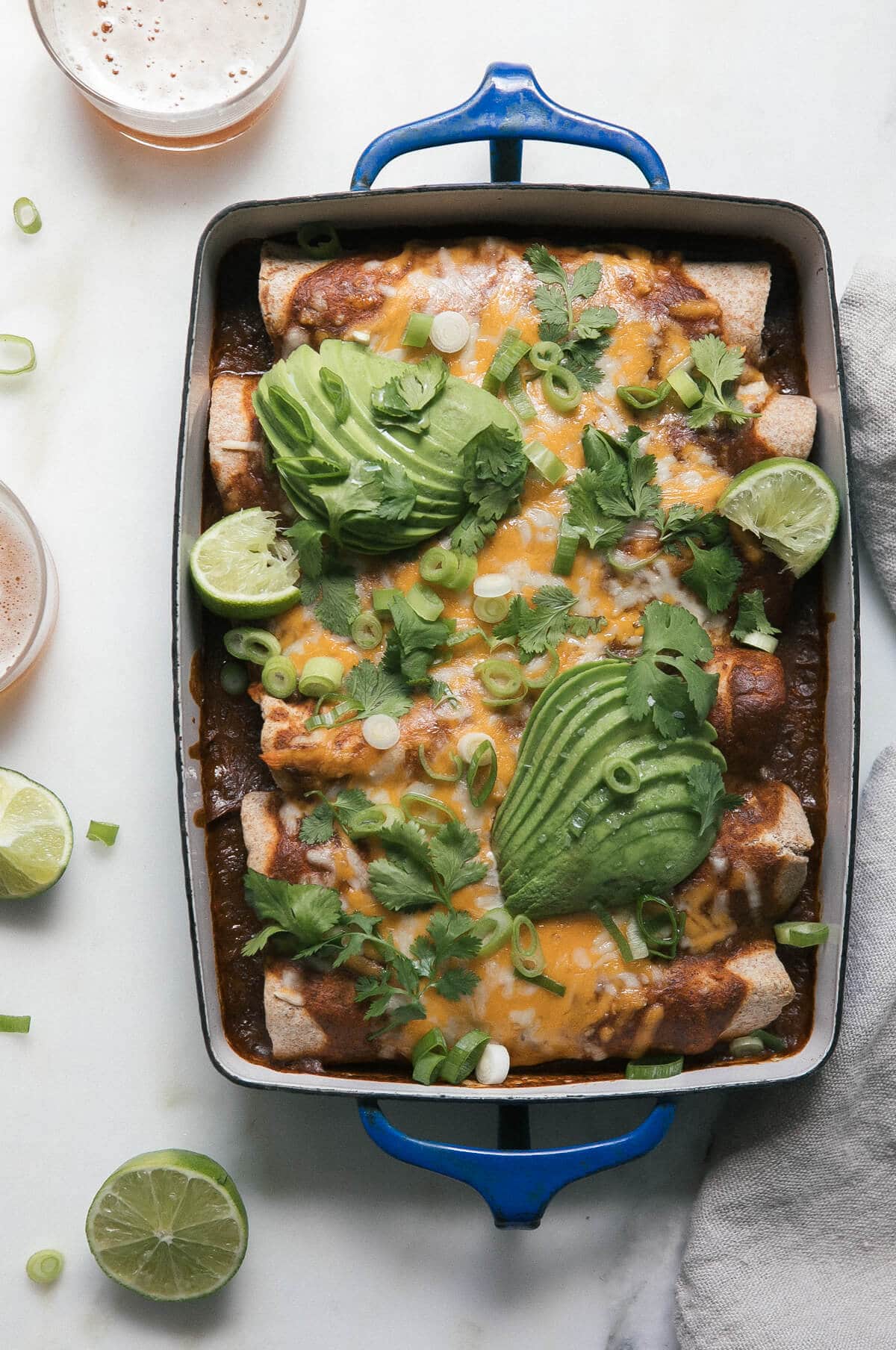 The thing I found to be the most interesting with this recipe is the homemade enchilada sauce. I've always made homemade enchilada sauce by soaking a dried chile pepper in chicken broth and then blending it.
But I know sometimes people think it's a drag to have to blend stuff and sometimes you can't find dried chile peppers. I like to think of this version as a pantry-enchilada sauce—pretty cool! It's soley made with spices from your pantry and it's super quick to throw together.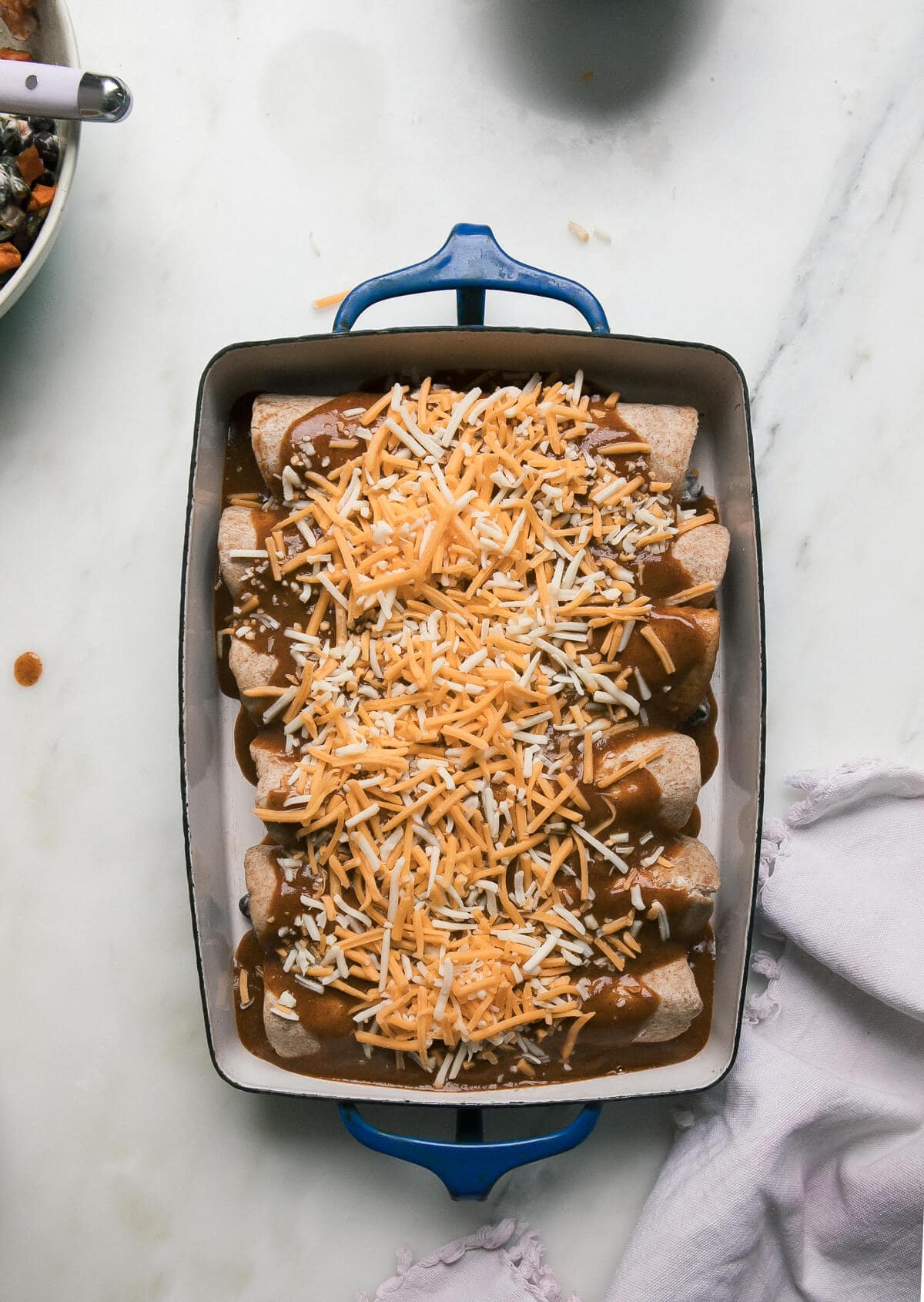 Looking through the book there are at least 10 recipes I want to try right now; they're all doable on a random weeknight when I need to eat something that's sorta healthy but still tastes awesome.
Here's the recipe to her book and blog.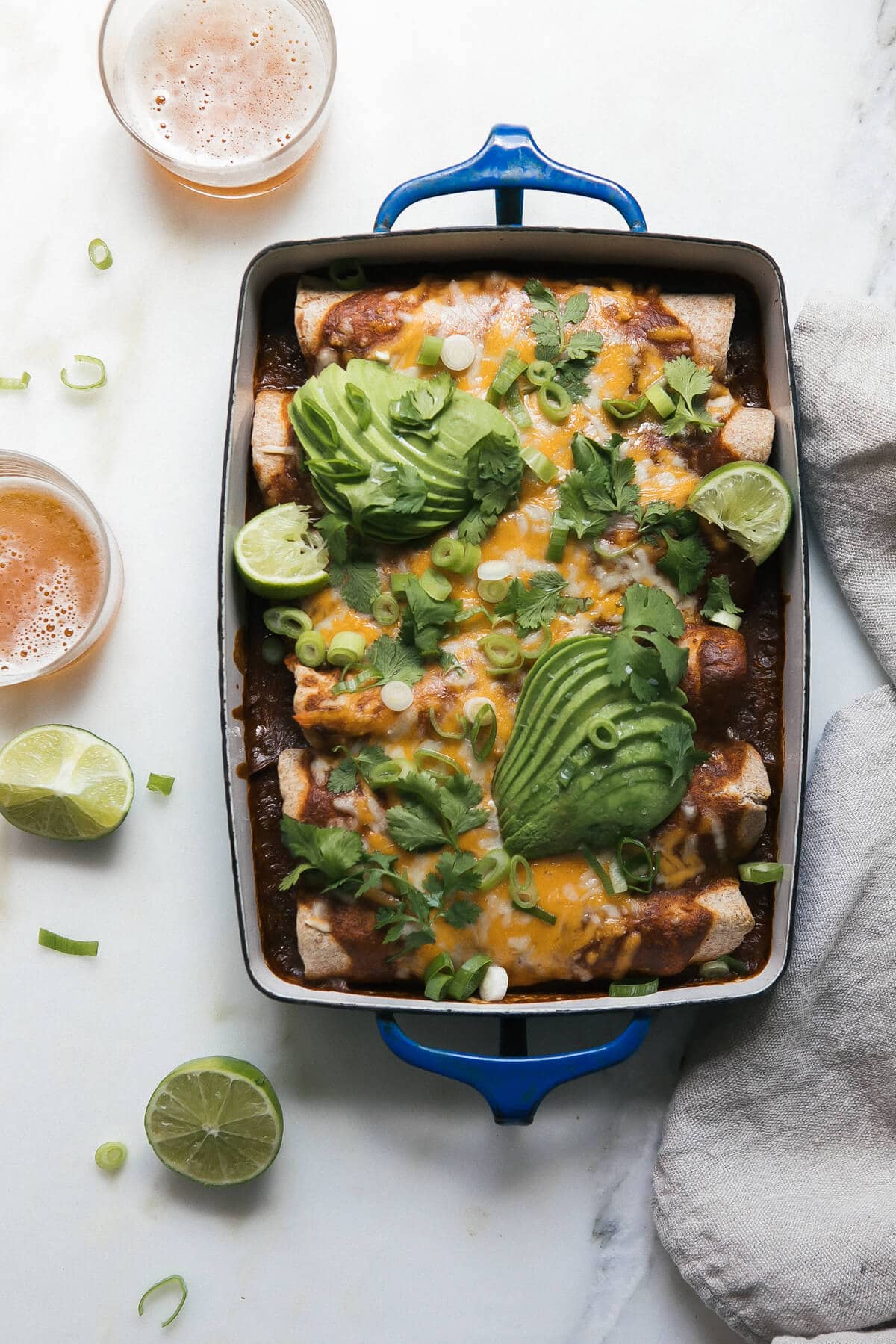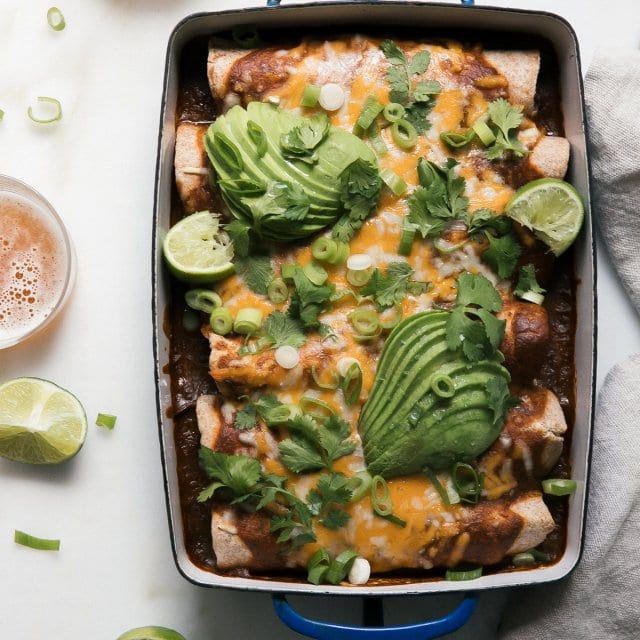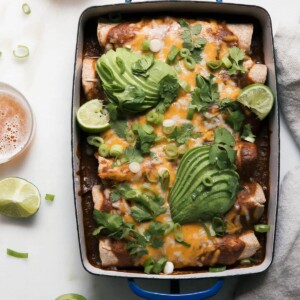 Vegetarian Sweet Potato, Poblano + Black Bean Enchiladas
Ingredients
Roasted Veggies:
1

large sweet potato

,

peeled and cut into 1/2-inch cubes

2

poblano peppers or red peppers

,

cut into 1-inch squares

1

tablespoon

extra-virgin olive oil

,

or more if needed

Fine sea salt and freshly ground pepper
Homemade Red Enchilada Sauce:
3

tablespoons

whole wheat flour or all-purpose flour

1

tablespoon

chili powder or Ancho chile powder

1

teaspoon

smoked paprika

1

teaspoon

ground cumin

1/2

teaspoon

garlic powder

1/4

teaspoon

fine sea salt

Pinch

of ground cinnamon

2

tablespoon

tomato paste

2

cups

vegetable broth or water

3

tablespoons

extra-virgin olive oil

1

teaspoon

apple cider vinegar or distilled white vinegar

Freshly ground pepper
Enchiladas:
1

15-ounce can black beans, drained and rinsed

1/3

cup

sour cream

,

plus more for serving

1/2

teaspoon

fine sea salt

Freshly ground pepper

6 to 8

whole grain tortillas

,

8-inch

1

cup

shredded Monterrey Jack cheese

,

4 ounces OR a blend of cheeses

1/4

cup

raw pepitas

,

optional (I forgot these at the store SMH)

1

avocado

,

sliced into thin strips

Handful of chopped fresh cilantro

,

for garnish
Directions
Preheat the oven to 400F with racks in the middle and upper third of the oven. Line a large rimmed baking sheet with parchment for easy cleanup. Lightly grease a 9x13-inch baking dish.
To Roast the Veggies:
On the prepared baking sheet, combine the sweet potato and poblanos. Drizzle the olive oil over them and toss until all sides are lightly and evenly coated, adding more oil if necessary. Lightly sprinkle with salt and pepper and arrange the ingredients in a single layer. Bake on the middle rack until the sweet potato and poblanos are tender and caramelized on the edges, 40 to 45 minutes, tossing halfway. Leave the oven on for the enchiladas.
To Make the Enchilada Sauce:
This sauce comes together quickly once you get started, so measure the dry ingredients (the flour, chili powder, paprika, cumin, garlic powder, salt, and cinnamon) in a small bowl and place it near the stove. Place the tomato paste and broth near the stove as well.

In a medium saucepan, warm the oil over medium heat until it's so hot that a sprinkle of the flour and spice mixture sizzle on contact (this will take a few minutes, so be patient). Pour in the flour and spice mixture. While stirring constantly with a whisk, cook until fragrant and slightly deepened in color, about 1 minute. Whisk the tomato paste into the mixture, then slowly pour in the broth while whisking constantly to remove any lumps.

Increase the heat to medium high and bring the mixture to a simmer, then reduce the heat as necessary to maintain a gentle simmer. Cook, whisking often, until the sauce has thickened a bit and a spoon encounters some resistance as you stir, 5 to 7 minutes. (The sauce will further thicken as it cools.)

Remove from the heat, then whisk in the vinegar. Season to taste with a generous amount of black pepper and extra salt, if necessary. Set aside.
To prepare the enchiladas:
In a medium bowl, combine the black beans, sour cream and roasted vegetables. Season the filling with the salt and black pepper to taste.

Pour 1/4 cup enchilada sauce into the prepared baking dish and tilt it from side to side until the bottom of the pan is evenly coated. To assemble the first enchilada, spread 1/2 cup vegetable filling mixture down the middle of the tortilla, then snugly wrap the left side over and then the right, to make a wrap. Place it seam side down against the edge of your pan. Repeat with the remaining tortillas and filling.

Drizzle the remaining sauce evenly over the enchiladas leaving the tips of the enchiladas bare. Sprinkle the cheese evenly over the enchiladas, followed by the pepitas, if using.

Bake, uncovered, on the middle rack for 20 minutes. If the cheese on top isn't golden enough for your liking, carefully transfer the enchiladas to the upper rack of the oven and bake for an additional 3 to 6 minutes, until sufficiently golden and bubbling.

Remove from the oven and let the enchiladas cool for 10 minutes (they're super hot). Before serving, arrange thin slices of avocado down the center of the enchiladas and sprinkle with chopped cilantro. Serve with sour cream on the side, if you'd like. Leftovers store well, chilled, for up to 4 days. Gently reheat in the microwave or oven before serving.
Nutrition Facts
Vegetarian Sweet Potato, Poblano + Black Bean Enchiladas
Amount Per Serving (4 g)
Calories 0
* Percent Daily Values are based on a 2000 calorie diet.