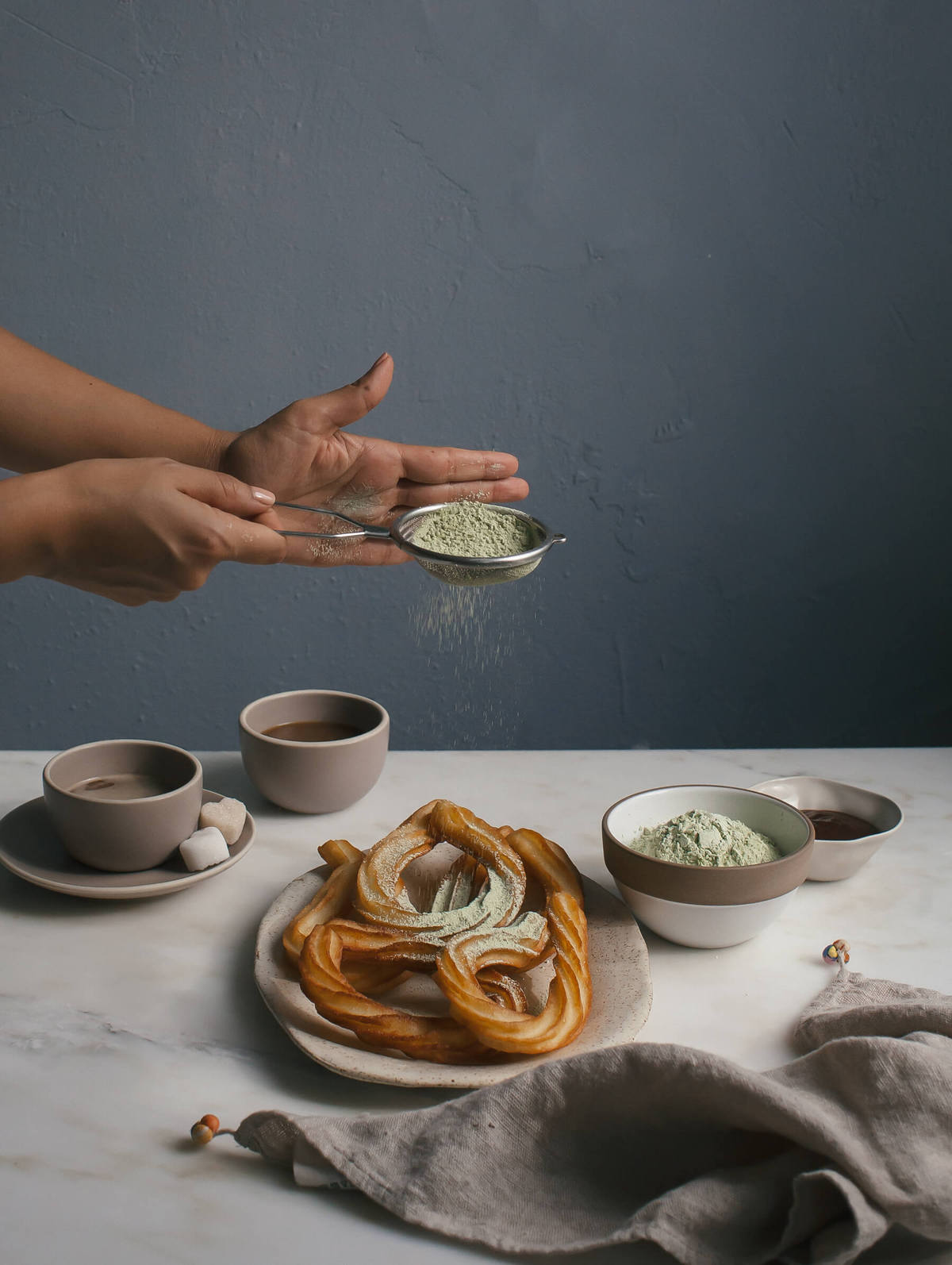 I'm currently planning a lil' trip to Mexico this summer (mainly for my best friend's wedding) and am super amped about spending a night or two in Mexico City. Josh is excited about fancy, five-star Michelin restaurants, while I'm mostly excited about churros on the street.
I want a piping hot churro, as big as my face! served in a paper sleeve. I know I live in Los Angeles and have experienced a good churro but I'm hoping there even better there.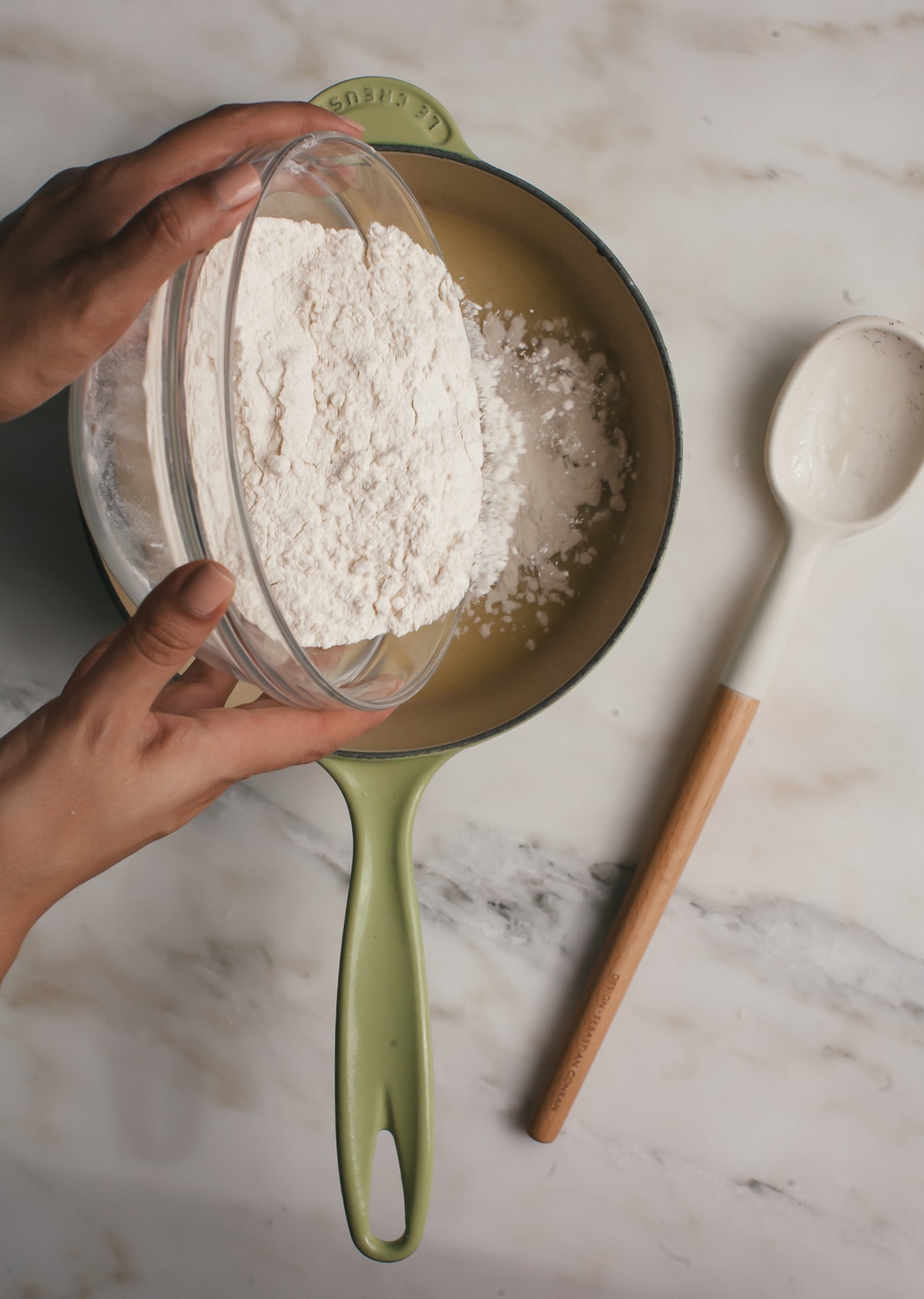 Churro-making is reserved for those special occasions because they require a bit of hot oil. And no, no one should be baking churros. NO ONE.
I usually reserve churro-making for that time when I want to see grown adults get all starry-eyed and excited about something fried and sweet. The matcha sugar that's dusted all over is the thing that will seal the deal.
It tastes like magic.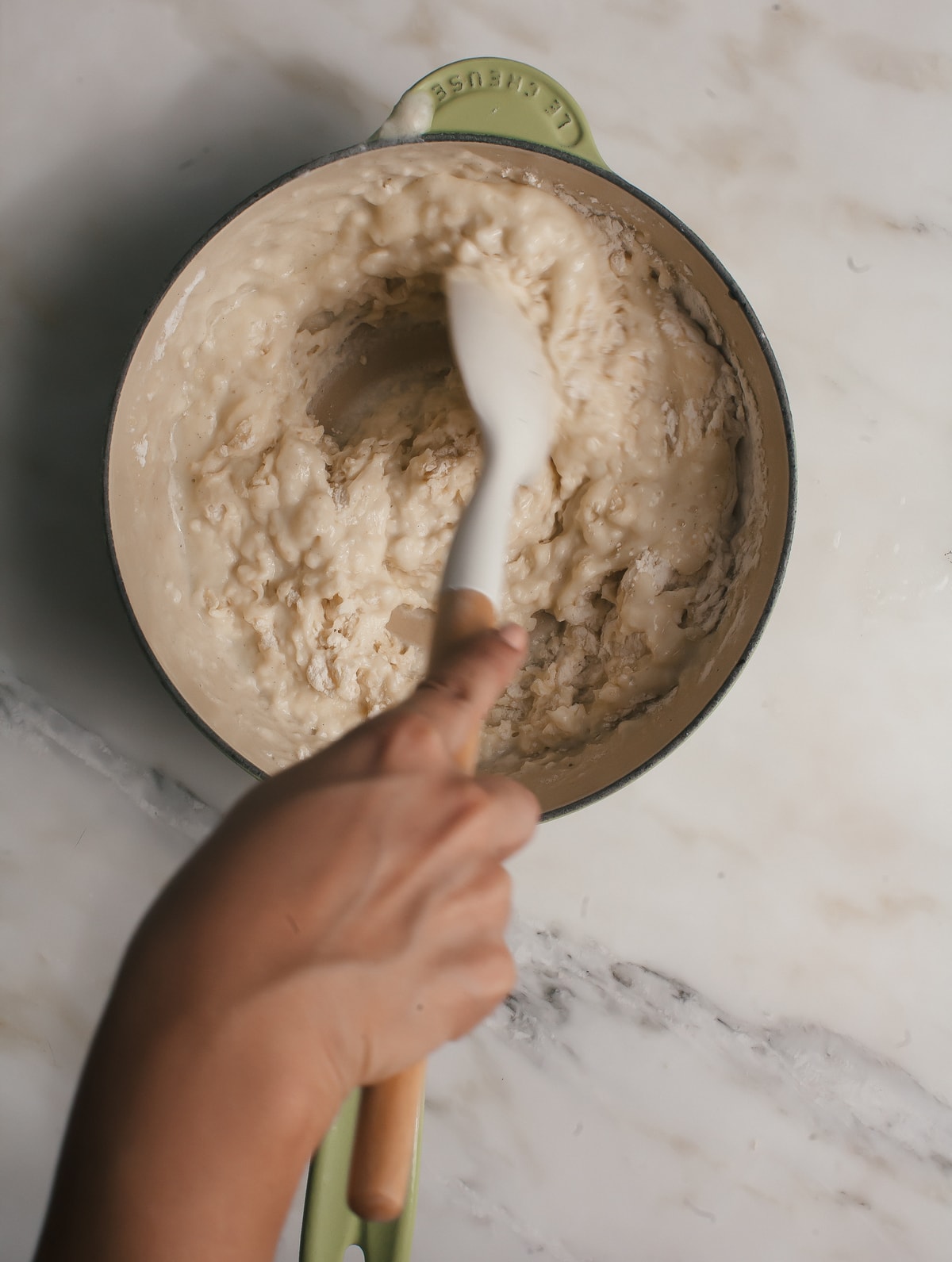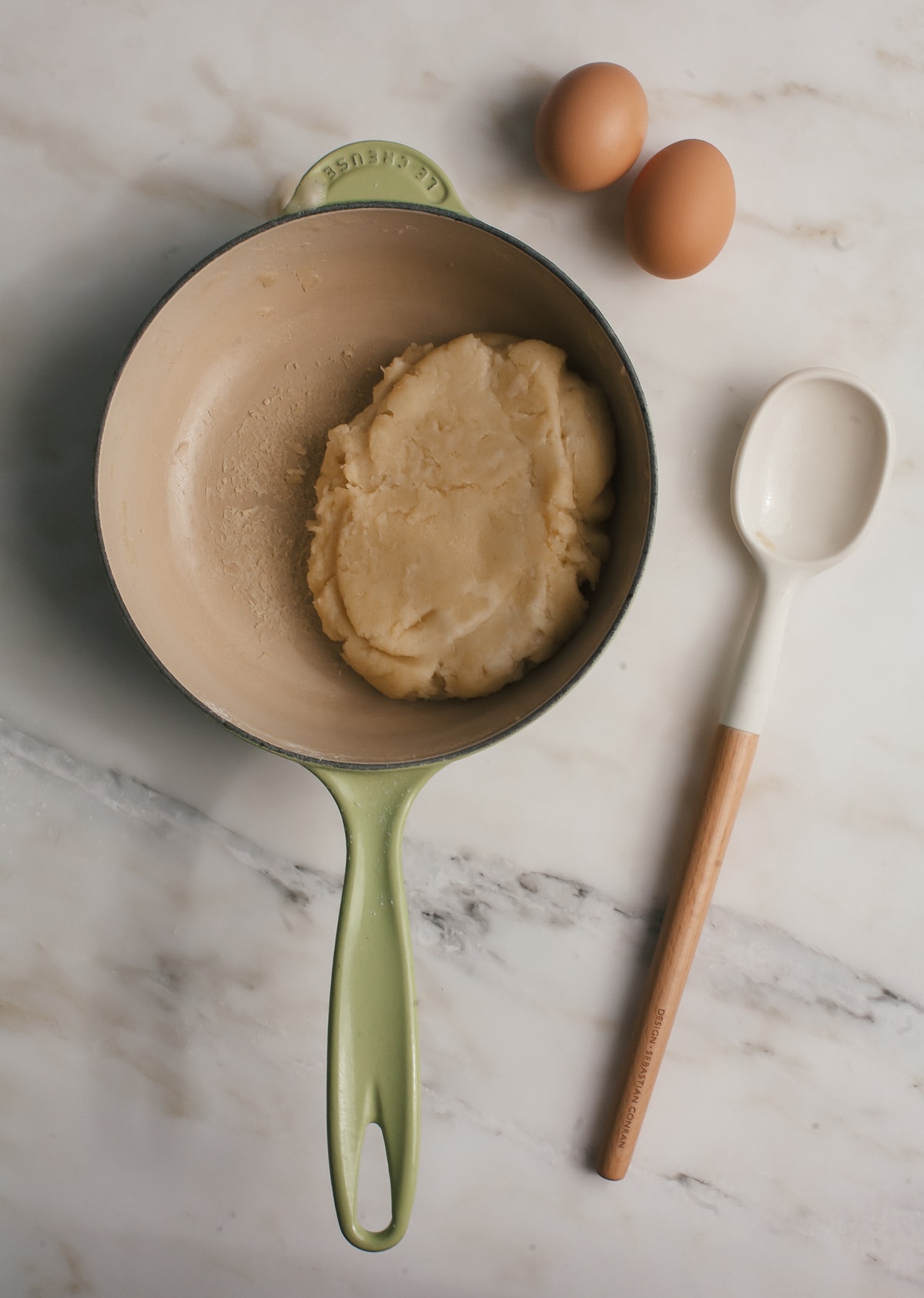 The matcha sugar was inspired by Dominique Ansels' matcha beignets that he served at his pop-up in Japan.
Man, I when I saw a photo of these, I wanted to stop everything that I was doing and face dive RIGHT INTO THEM.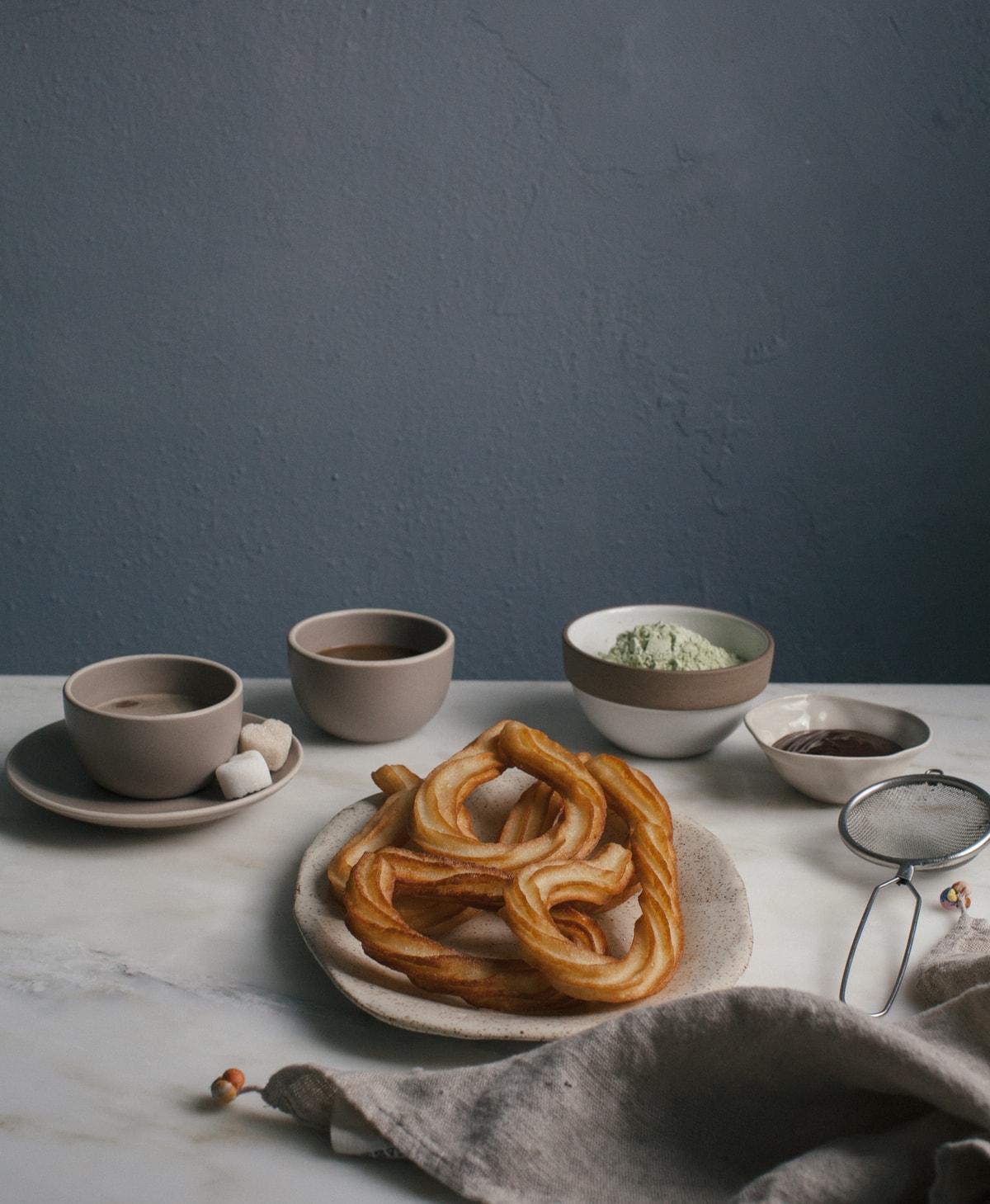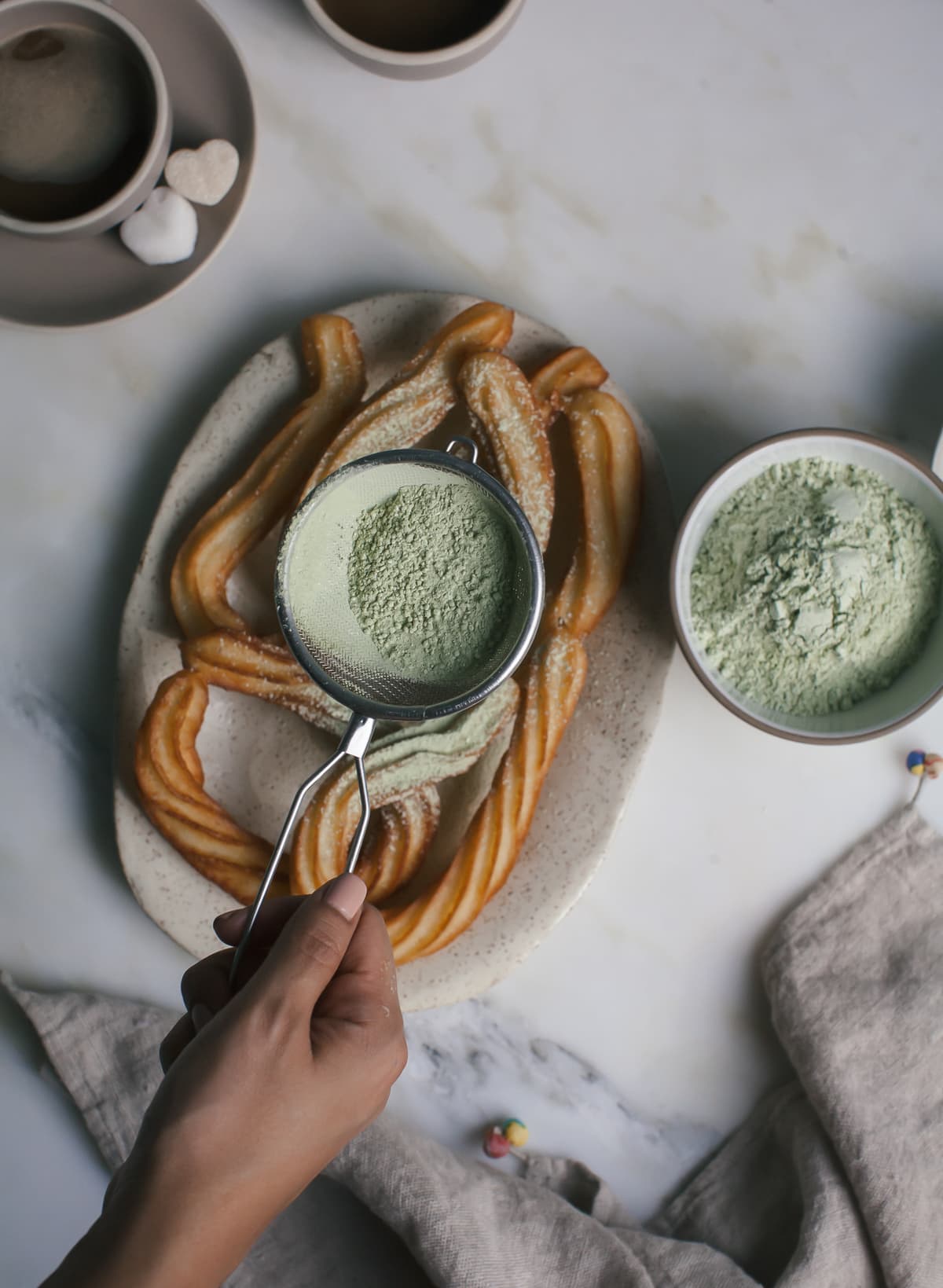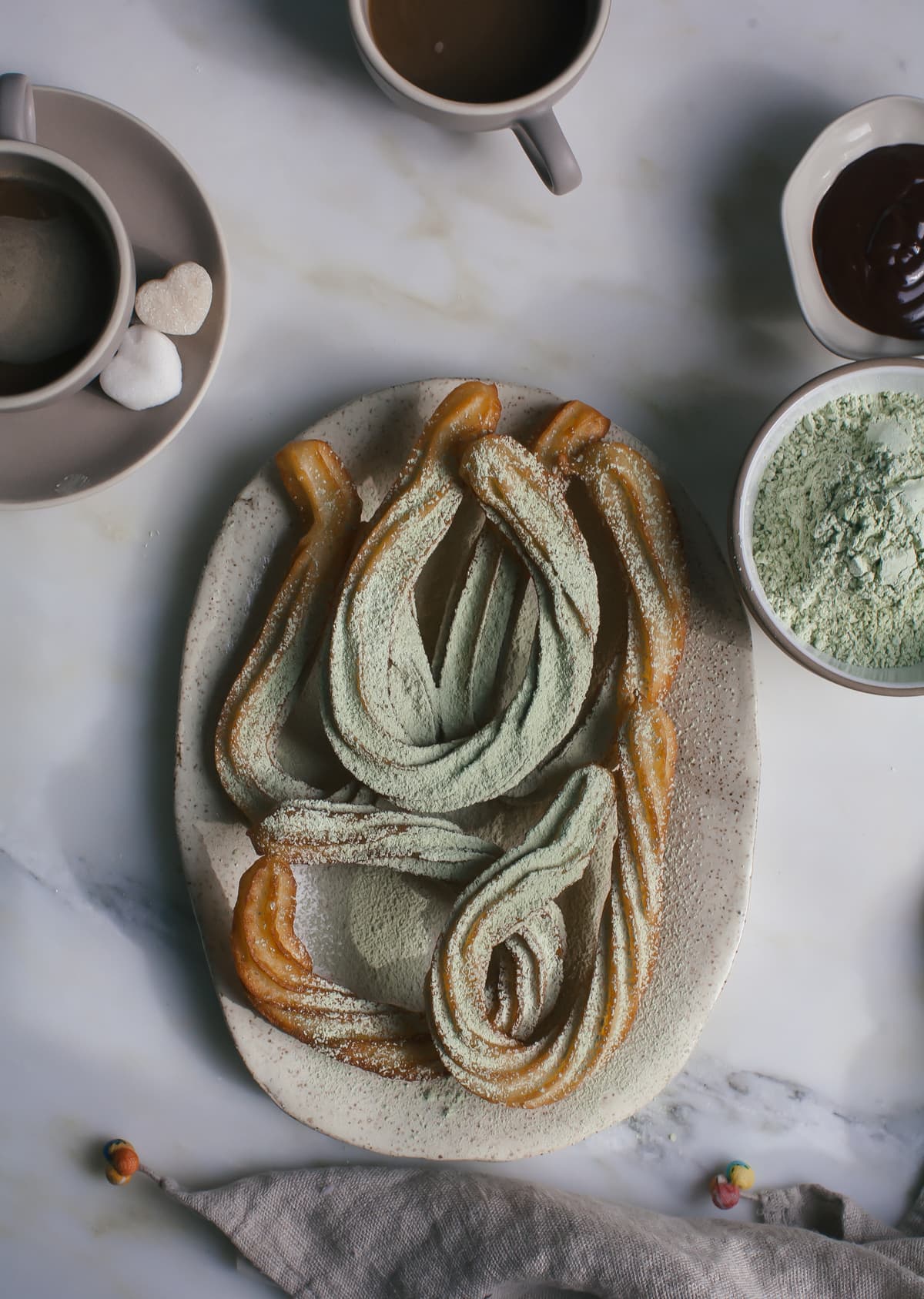 I like to make my churros from a choux type dough. The same you'd use to make eclairs or cream puffs. It's the simplest dough and comes together in less than 15 minutes.
These make a good amount of churros but what's good about this recipe is that you could use some of the dough for churros, save it and use the rest for eclairs. You'll be up to your eyeballs in sweet things but is that the worst thing in life?! Nah…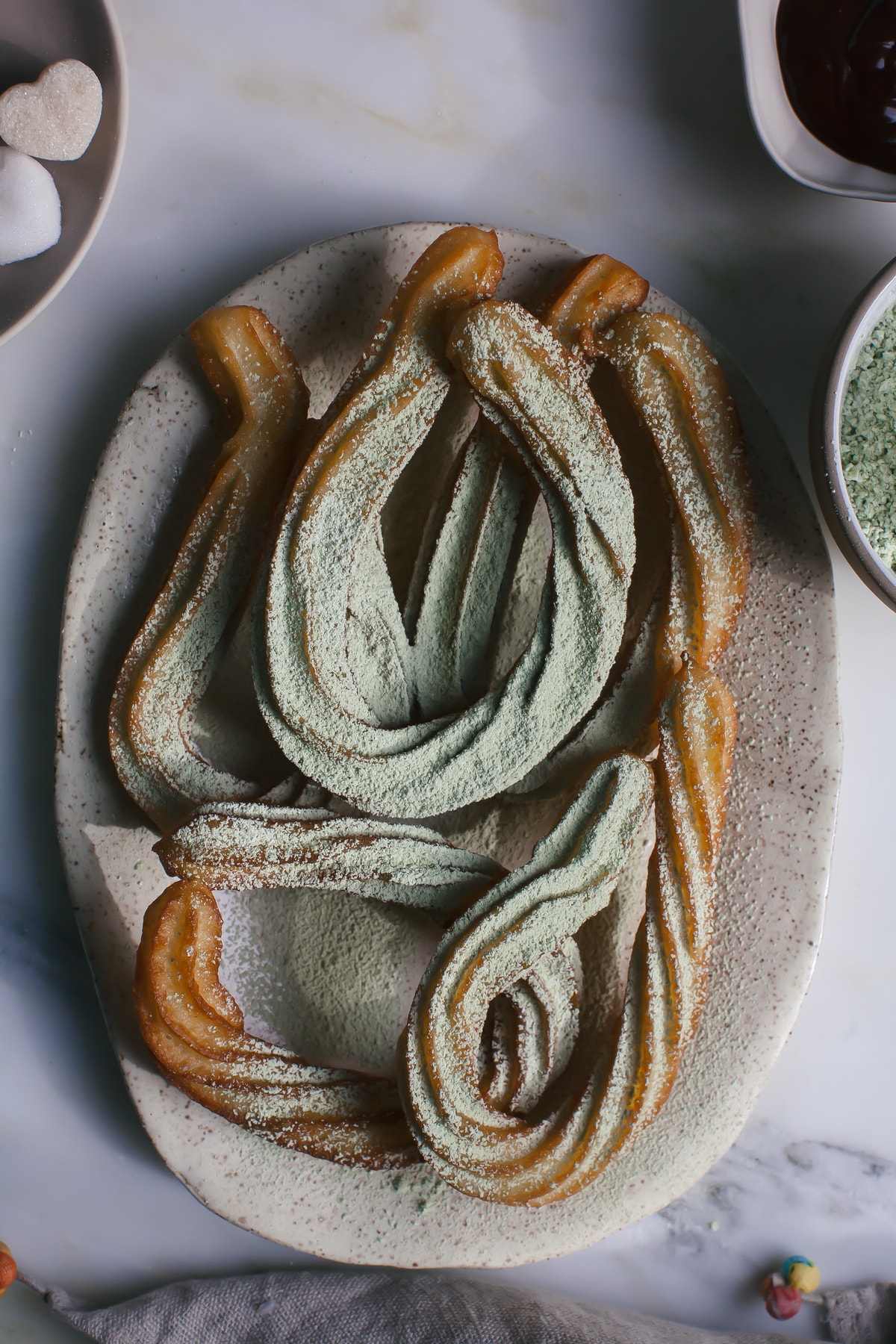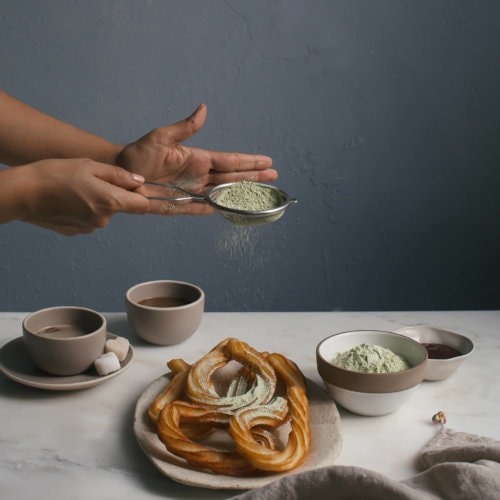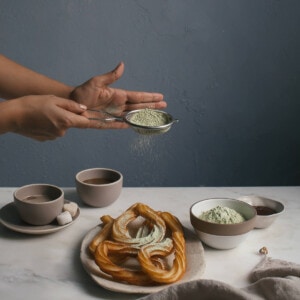 Churros with Matcha Sugar
Ingredients
Matcha Sugar :
1/2

cup

powdered sugar

1

tablespoons

green tea matcha powder
Chocolate Ganache:
4

ounces

semi-sweet or bittersweet chocolate chips

1

tablespoon

heavy cream
Churros:
1

cup

water

1/2

cup

4 ounces unsalted butter

1/2

vanilla bean

,

(seeds scraped)

1/4

teaspoon

salt

1 1/2

cups

all-purpose flour

,

(sifted)

4

large eggs
For Frying:
1

quart

vegetable oil

,

(or other frying oil of choice)
Directions
To make the matcha sugar: sift the powdered sugar and matcha powder together. Stir and set aside.

To make the chocolate ganache: combine the chocolate chips and heavy cream in a small bowl. Microwave for 30 seconds to a minute and stir until melted. If you don't own a microwave (I just got one), you can heat the two together in a double-boiler (or a bowl nestled in a saucepan filled with a few inches of water) and stir until melted. Set aside.

In a medium saucepan, bring the water, butter, vanilla bean seeds and salt to a roiling boil. Stir in the flour all at once. Reduce the heat to low and stir, using a wooden spoon, vigorously until the mixture forms a ball and begins to pull away from the pan, about 1 minute. Remove the pan from the heat.

Let the batter sit for 5 minutes to cool.

When it's warm (not hot) to the touch, add one egg at a time. Keep stirring until the mixture comes together and is smooth. It might seem squishy for a while, keep going! Note: You can also do this in an electric stand-up mixer with a paddle attachment–it'll go faster.

In a cast iron skillet, add 3 inches of oil and place over medium-high heat. When the oil reaches 325 degrees F, it's ready. You may need to bring the heat down to medium-low to keep it around 325 degrees F to 335 degree range.

Spoon the churro dough into a piping bag fitted with a large star-tip. Have sterilized scissors on hand. Hold the bag over the hot oil, squeeze a strip of dough that's about 4 inches long or you can do like I did which was more of a horse shoe shape (see tip below on keeping its shape) and then snip it with the scissors and let it drop into the oil. (This works great with two people.) Repeat with the second churro. I fit around 2 to 3 churros in the pan. Fry on each side for about 1 minute and then flip and fry on the opposite side for an additional minute. Drain on paper towels and repeat until you've worked your way through the dough. Dust with the combination of matcha and powdered sugar and serve with a little bowl of chocolate ganache.
Notes
To make the horseshoe shaped churros, squeeze the churro dough into the hot oil, twisting it around to make a horseshoe type shape. Snip the dough with the scissors. You'll notice that the dough will want to stray away from the other, using your tongs hold the dough in place for about 30 seconds and then release—it'll hold its shape!