Homemade Choco Tacos: it consists of a waffle cone "taco shell" stuffed with vanilla ice cream, fudge, peanuts, dipped in milk chocolate.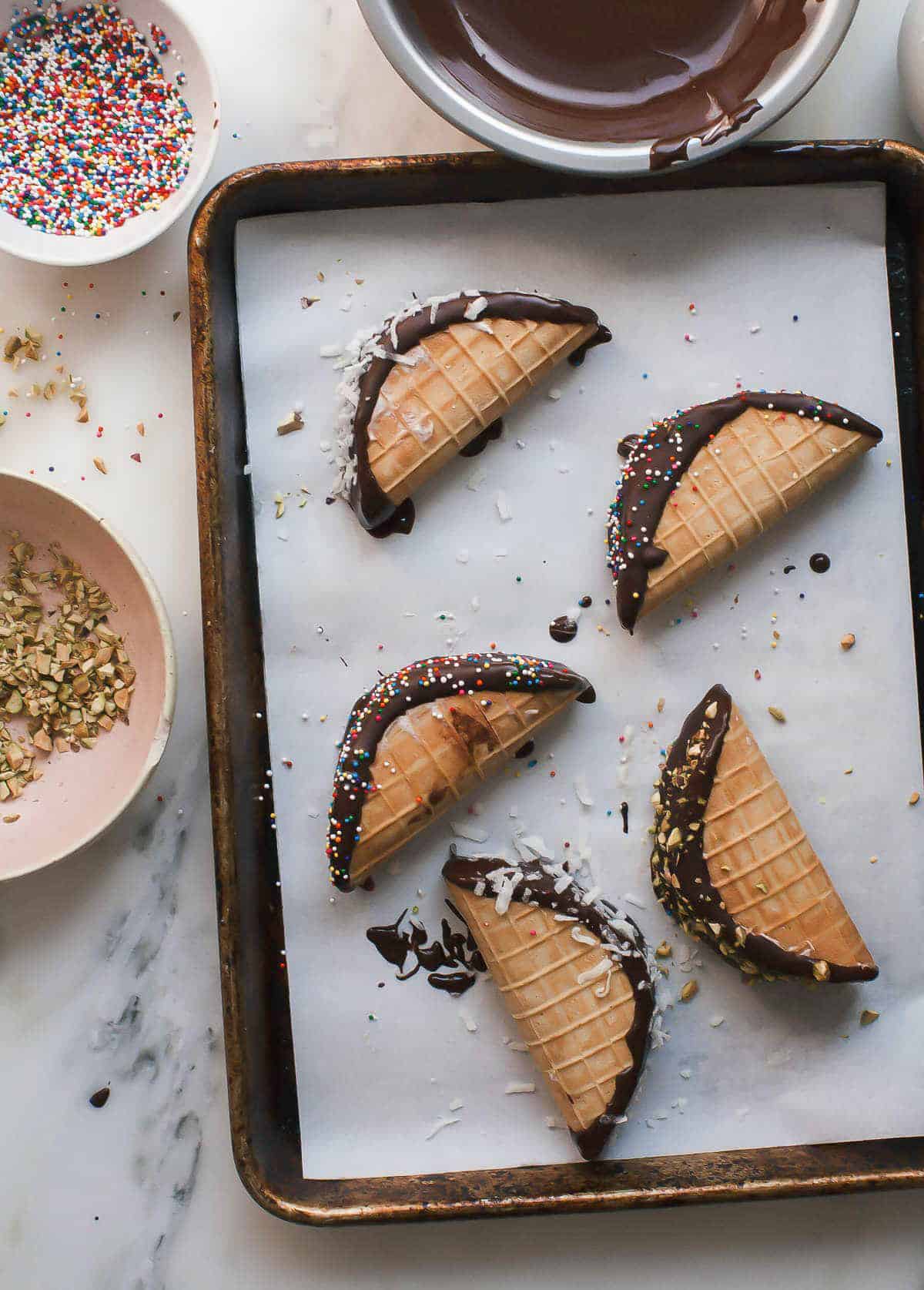 Summer as a kid meant tennis camp in Big Bear, shorts and tank-tops every single day, Wimbledon, and long, slow days spent mostly outside, playing hide and go seek until the street lights flickered on.
There were also lots of sleepovers where ten girls would pile in someone's basement or room and we'd watch Sandlot, The Shining and Pet Cemetery, until a parent would force us to go to sleep already! And sometimes, in the middle of the night, we'd sneak into the kitchen and open up the freezer hoping for something awesome. My friends could always count on my freezer being full of lots of ice cream (dad's favorite) and if we were really lucky, there'd be a few Choco Tacos; I always bought extra from the ice cream truck.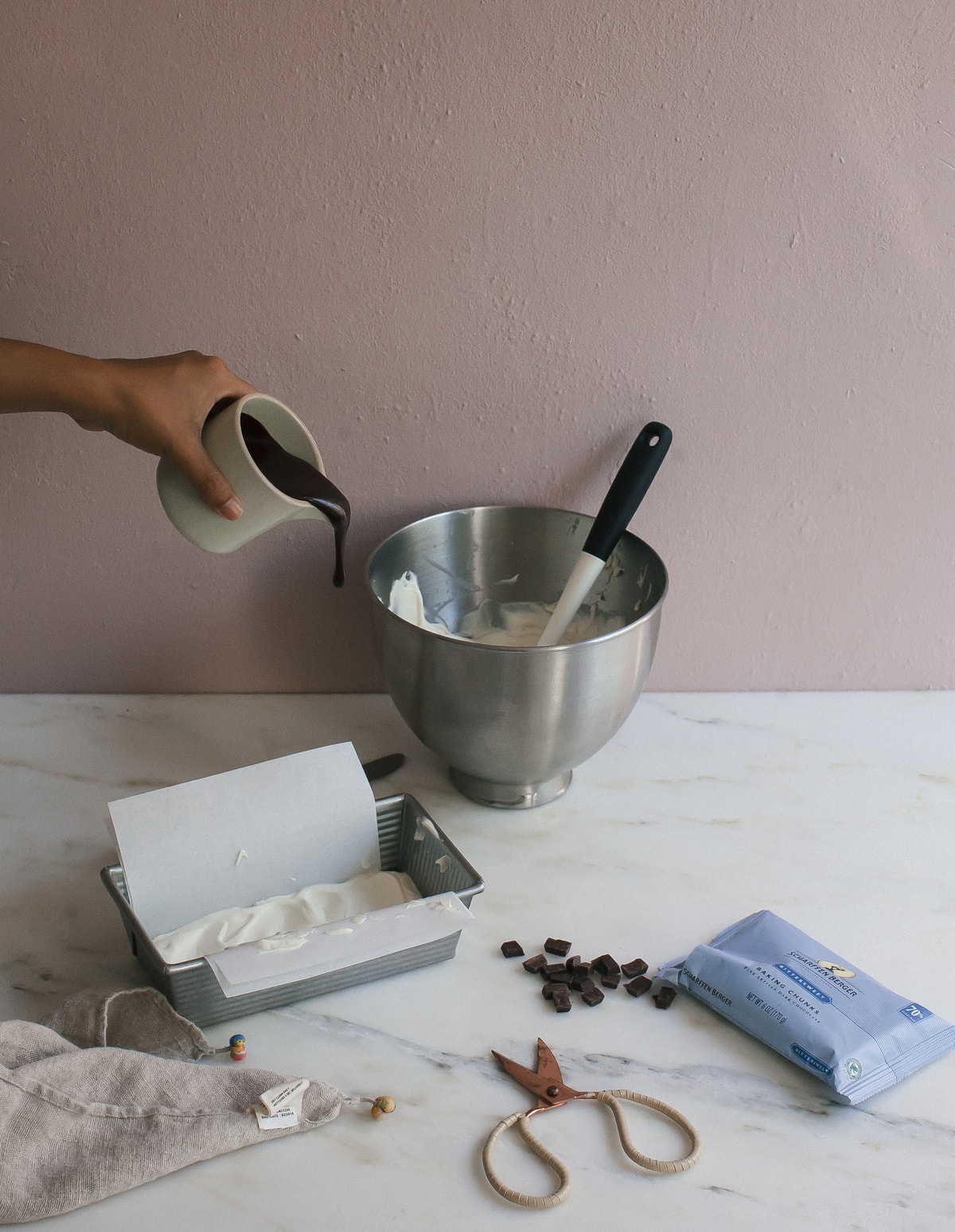 My internal 12-year-old self has always wanted to make Choco Tacos at home and it always seemed somewhat complicated. UNTIL NOW!! Let's start with the basics.
What is a Choco Taco
If you're sadly unfamiliar with a Choco Taco, here is the breakdown:
Waffle Cone. Flat circle of waffle cone that is gently folded over to make a "taco shell"
Vanilla Ice Cream. It's filled with vanilla ice cream.
Dipped in melted milk chocolate.
Topped with crushed peanuts.
We're making some adjustments. And instead of going super traditional, I decided to make a no-churn ripple fudge ice cream. And instead of peanuts, I went with shredded coconut, sprinkles and crushed pistachios.
But truly the sky is the limit, and go with what you like!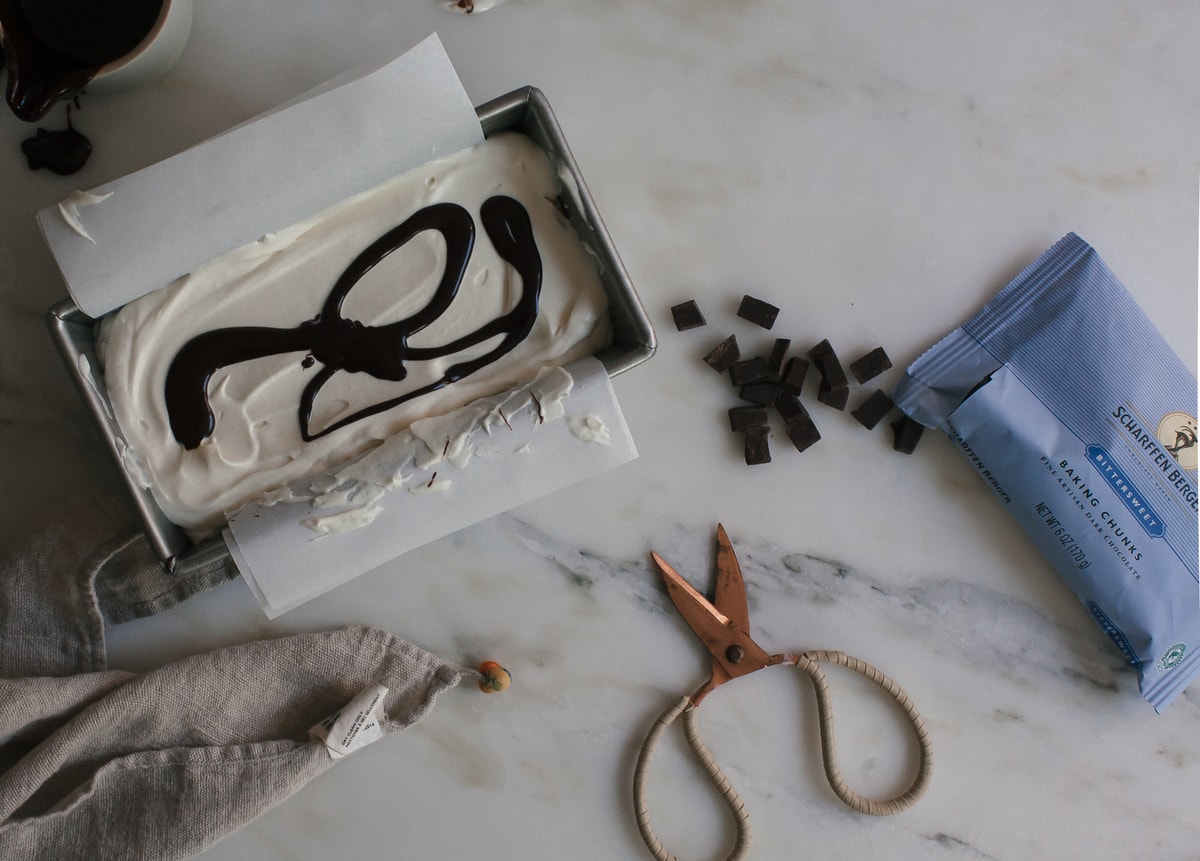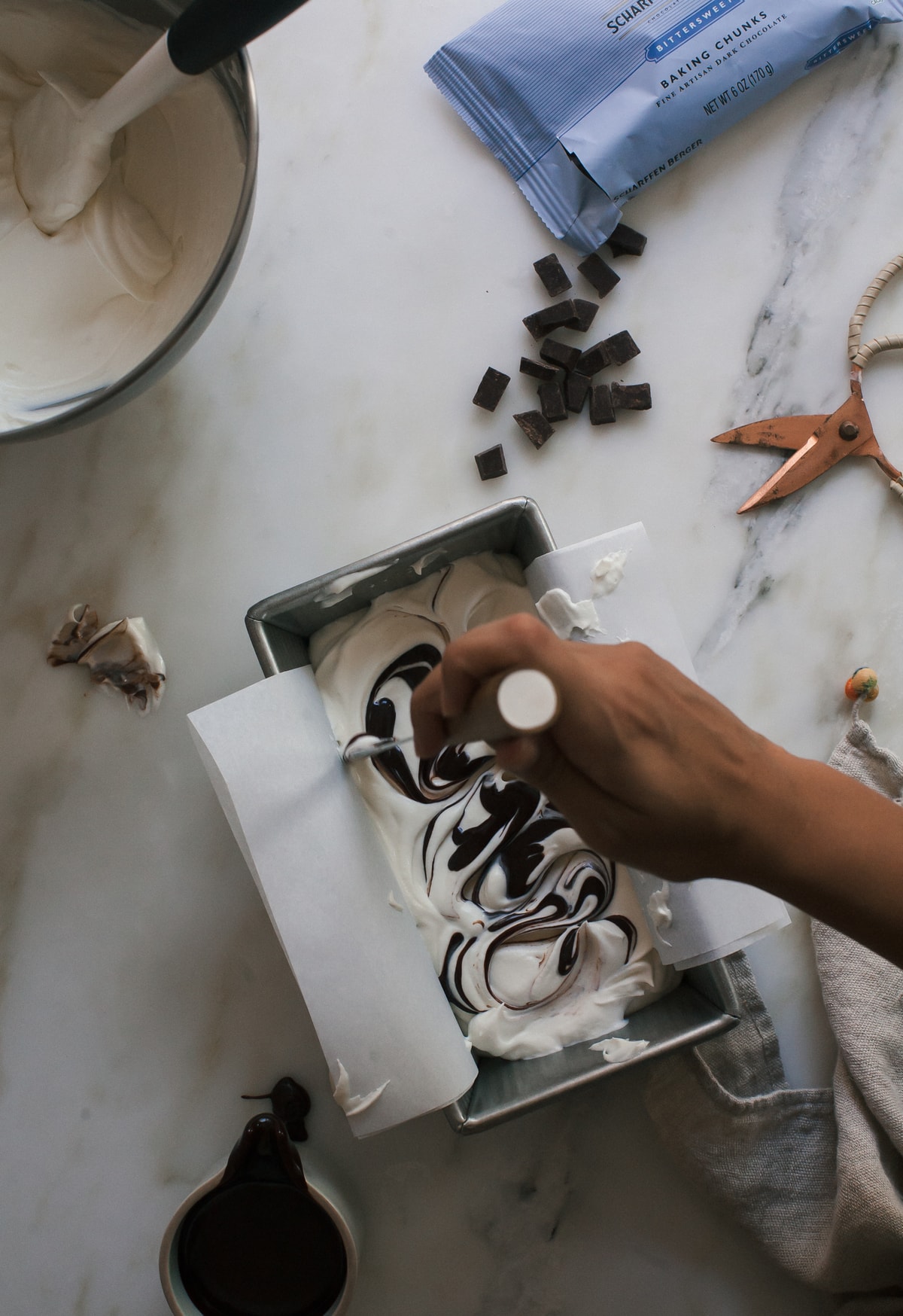 Tips and Tricks to Make Homemade Choco Tacos
I wanted bittersweet chocolate because the ice cream is on the sweeter side.
The waffle cone is made with a little brown sugar to make the taco a bit chewier. This works in both flavor department and functionality.
If the taco shell is too crispy, it makes it a little too messy to eat. The bit of chew helps with being able to take a proper bite out of the taco.
You can make the waffle cones with a crepe pan, if you don't happen to own a waffle cone maker.
Brown rice syrup is found at a lot of health food stores.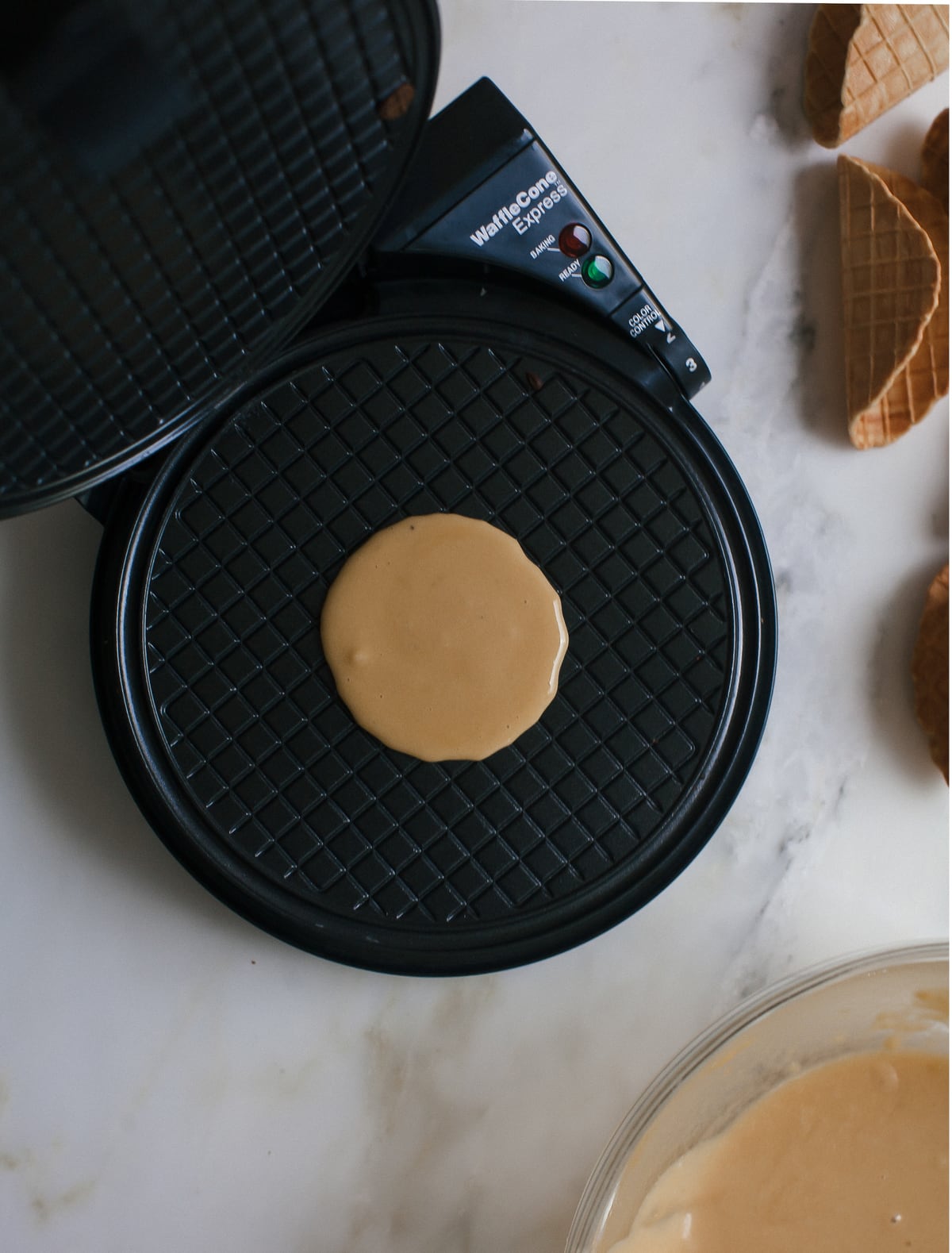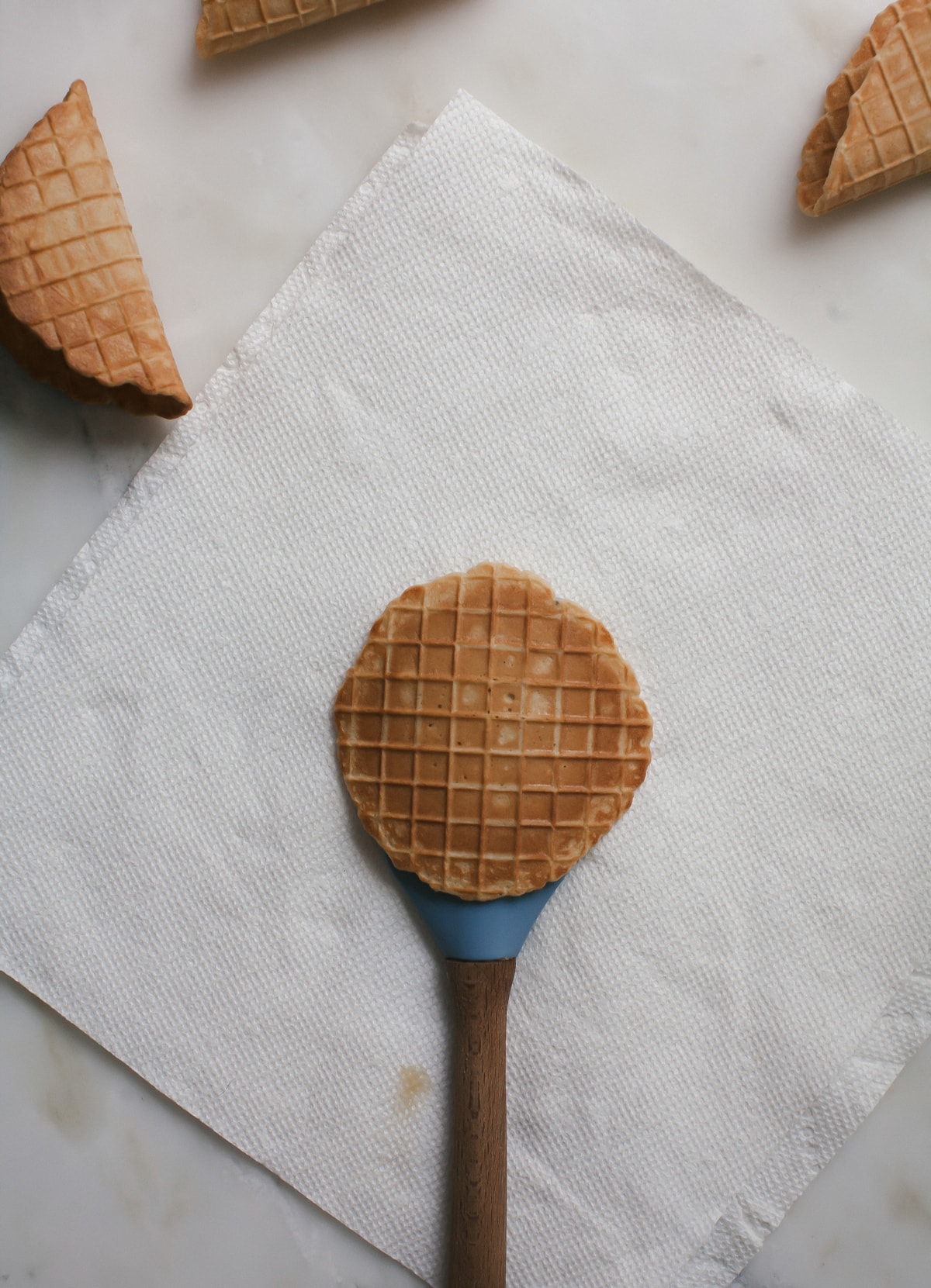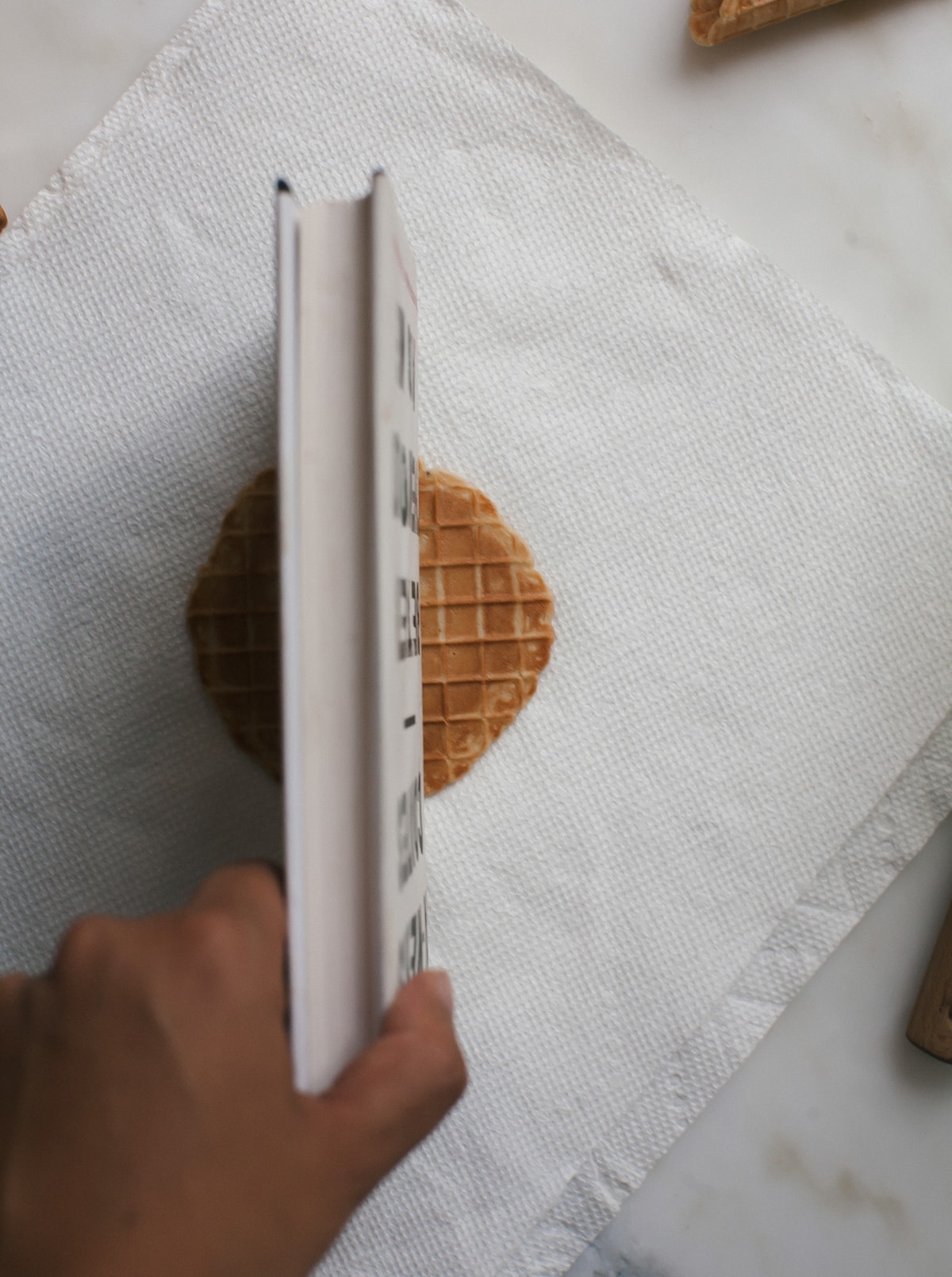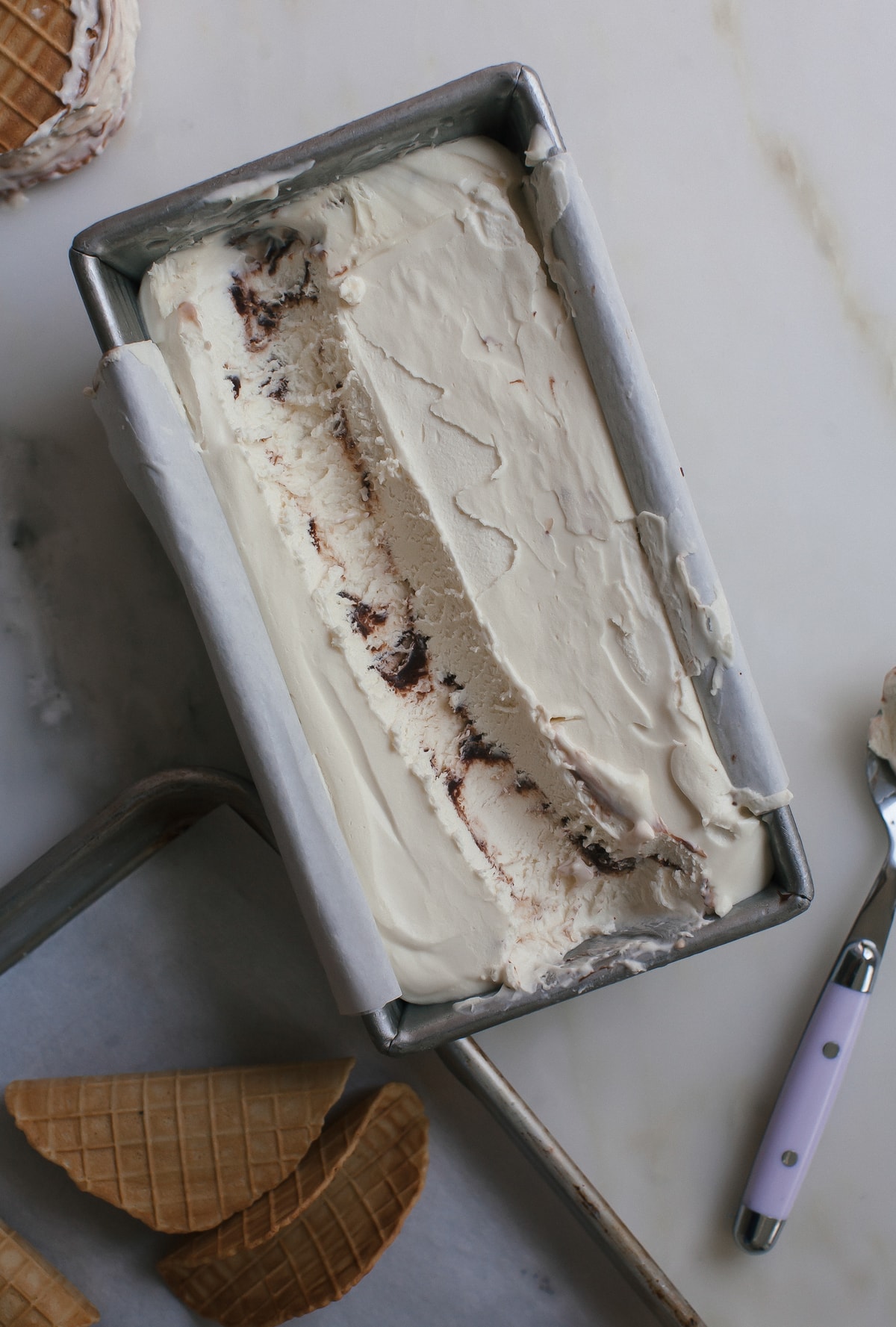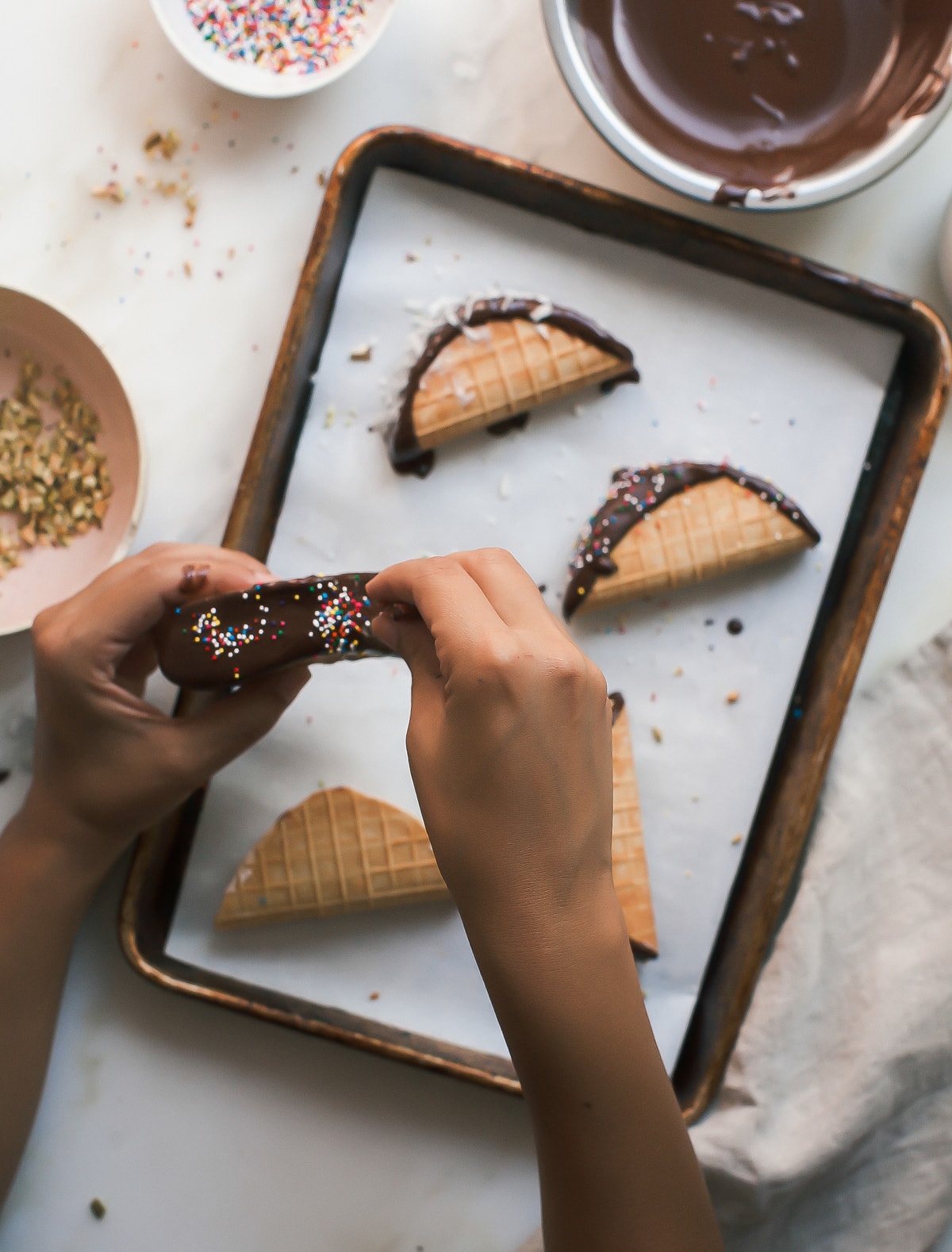 The entire top of the taco is dipped in melted chocolate and then decorated with all the fun things! Sprinkles. Pistachios. And coconut flakes. As a result, they will LOOK FUN!!!
If you like, flex your creative muscles and put whatever you have in your pantry on top. Go crazy.
This recipe makes a good amount because in my mind these are party tacos. Ones you make the day before, store in your fridge and then blow people's minds because they truly are so fun!
OH! And best part is you don't absolutely need a waffle cone maker. You can make this taco shell recipe in a non-stick pan.
If you make this Choco Taco, let me know on Instagram!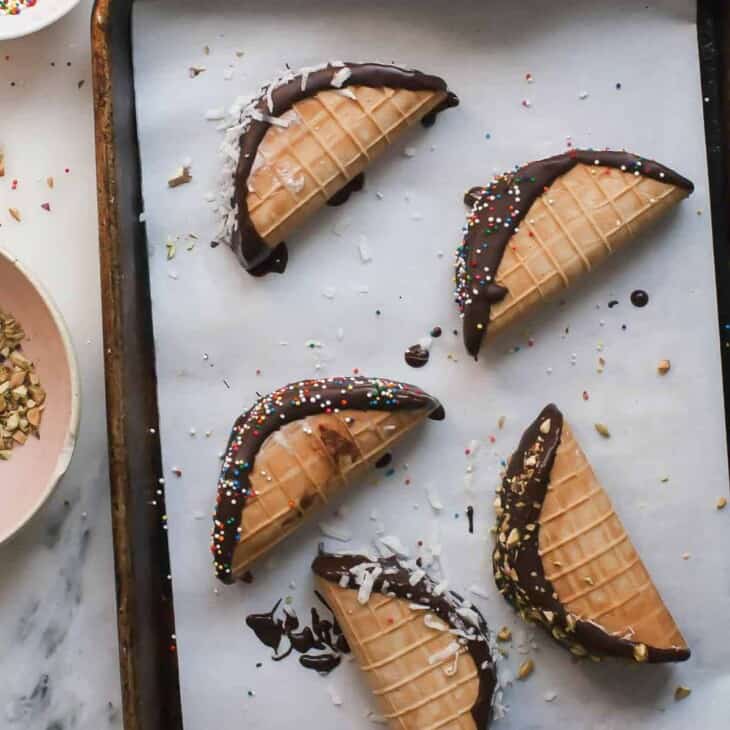 Print Recipe
Homemade Choco Tacos
Homemade Choco Tacos: it consists of a waffle cone "taco shell" stuffed with vanilla ice cream, fudge, peanuts, dipped in milk chocolate.
Serving Size:
to 18 choco tacos
Ingredients
Ripple Fudge No-Churn Ice Cream:
Fudge:

1/3

cup

heavy cream

2

tablespoons

brown rice syrup

(you could also use corn syrup)

1/3

cup

light brown sugar 

2

tablespoons

unsweetened cocoa powder

1/4

teaspoon

kosher salt

3.5

ounces

bittersweet chocolate

(chopped or chips)

1

tablespoon

unsalted butter

1/2

teaspoon

pure vanilla extract 

Ice Cream Base: 

2

cups

heavy cream

1

14-ounce can sweetened condensed milk
Choco Taco Shells:
2

whole eggs

2

large egg whites

1

teaspoon

salt

1

teaspoon

vanilla extract

1/4

cup

+ 1 tablespoon light brown sugar 

1

cup

all-purpose flour

4

tablespoons

unsalted butter

melted and warm

2

tablespoons

milk 
Assembly: 
6

ounces

bittersweet chocolate or semi-sweet chocolate

Sprinkles

for topping

Chopped pistachios

for topping

Coconut flakes

for topping
Instructions
To Make the Fudge:
In a medium saucepan, combine everything except the butter and vanilla. Bring to a simmer. Cook for 3 minutes, stirring occasionally, until melted and smooth. Remove from the heat and stir in the butter and vanilla. Cool for about 10 minutes. Meanwhile, let's make the ice cream base. 
To Make the Ice Cream:
Add the heavy cream and sweetened condensed milk to the bowl of a stand-up mixer. Using the whisk attachment, beat until soft peaks form, about 5 minutes. Line a loaf pan or other freezer-safe container with parchment. Add about 1/3 of the ice cream base to the container. Smooth out the top and add a few tablespoons of fudge sauce. Using a knife, swirl the fudge sauce into the ice cream. Repeat the layers until you've worked your way through all of the ice cream. You should end up with about 1/2 cup of fudge sauce. Place it in the a fridge-safe container (lasts up to 1 week). Transfer the ice cream to the freezer until firm, about 4 hours, ideally overnight. 

In a medium bowl, whisk together the eggs, egg whites, salt, vanilla extract and sugar. Mix in the flour until no specks of white appear. Pour in the butter and salt and mix once more until very smooth. 
To Make the Choco Taco Shells:
If you're using a waffle cone maker, take the time to pre-heat it. Drop a tablespoon of batter onto the center of the maker. Close and cook for 1 to 2 minutes. Remove immediately and transfer to the center of two layered paper towels. Immediately place the edge of a smallish book in the center and wrap the paper towels/waffle cone around the book, shaping it into a taco. Press on it for 1 minute, then remove and allow to cool completely. Repeat until you've worked your way through all of the batter. You should end up with about 20 choco taco shells. 
To Assemble the Choco Tacos:
Line a baking sheet with parchment. Remove the ice cream from the fridge and allow to come to room temperature for about 10 minutes. Using a teaspoon, spoon it into the choco taco shells and transfer to the baking sheet. Transfer the tacos to the freezer for about 1 hour. (This particular ice cream is sort of soft so it needs this long; if you're using store-bought ice cream, then it will take less time to refreeze!)

Meanwhile, add melt the 6 ounces of Scharffen Berger bittersweet chocolate chunks over a double-boiler or in the microwave (for about 1 minute, stirring at the 30 second mark). Dip the tops of the choco tacos in the chocolate; immediately top the chocolate with sprinkles, pistachios or coconut flakes. Transfer back to the freezer to refreeze for about 15 minutes or until you're ready to serve. 
Notes
Good news! You can make this batter in a crepe pan. Add 1 tablespoon extra of water to the batter so it thins it out a bit more. Then add a tablespoon to the center of a crepe pan, spread it out into a very thinly using the back of a spoon or offset spatula. Cook on the first side for 1 minutes, and then flip; cook on the opposite side and then proceed with shaping it.
Nutrition
Calories:
234
kcal
(12%)
|
Carbohydrates:
13
g
(4%)
|
Protein:
3
g
(6%)
|
Fat:
20
g
(31%)
|
Saturated Fat:
12
g
(75%)
|
Cholesterol:
78
mg
(26%)
|
Sodium:
207
mg
(9%)
|
Potassium:
89
mg
(3%)
|
Fiber:
1
g
(4%)
|
Sugar:
4
g
(4%)
|
Vitamin A:
649
IU
(13%)
|
Vitamin C:
1
mg
(1%)
|
Calcium:
36
mg
(4%)
|
Iron:
1
mg
(6%)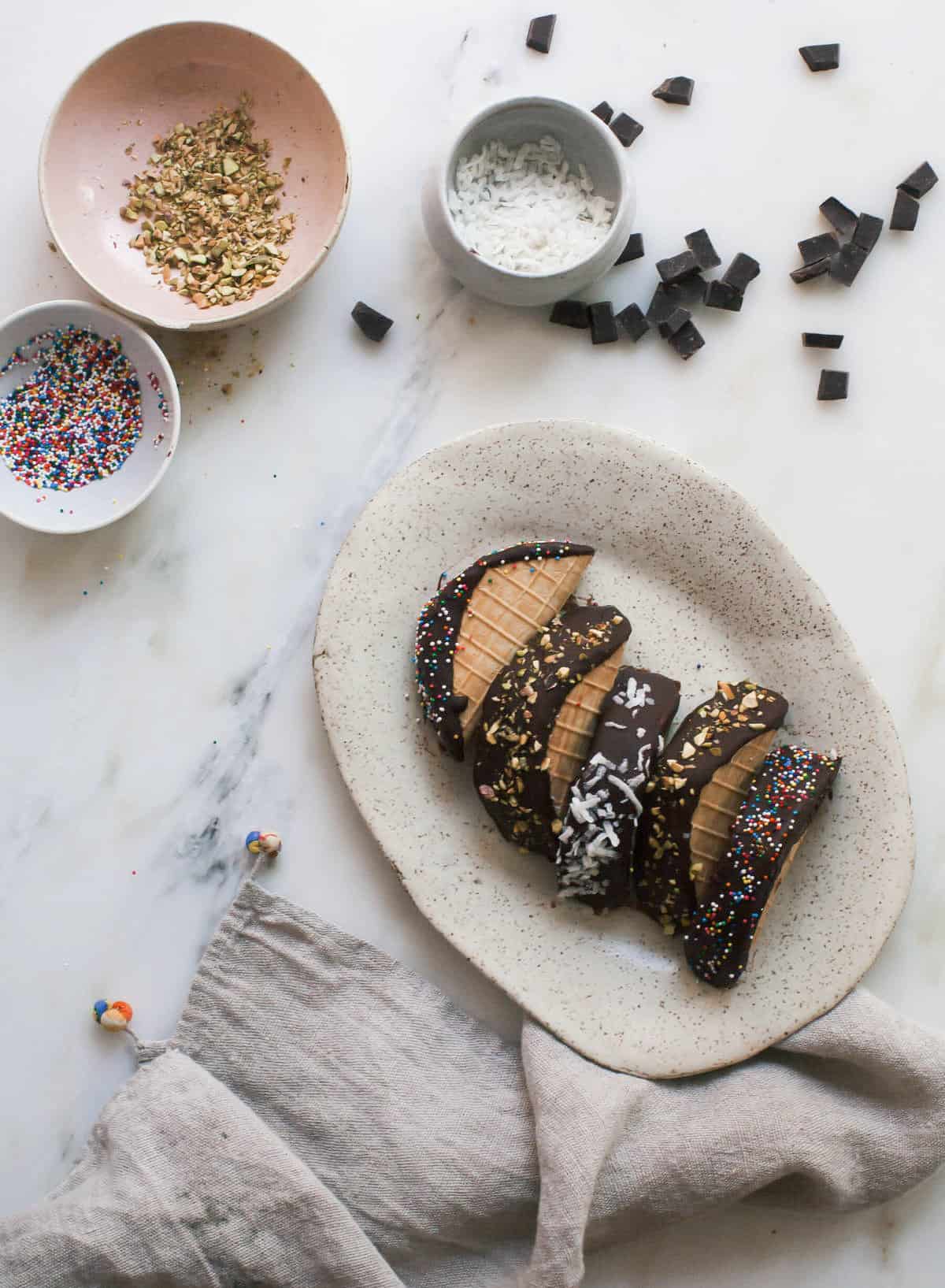 Looking for more chocolate-forward recipes? Here are some of my favorites: