These Double Decker Tacos are a copycat from the well known taco chain. Crunchy tacos are wrapped in a soft flour tortilla with refried beans for the best of both worlds in the form of tacos.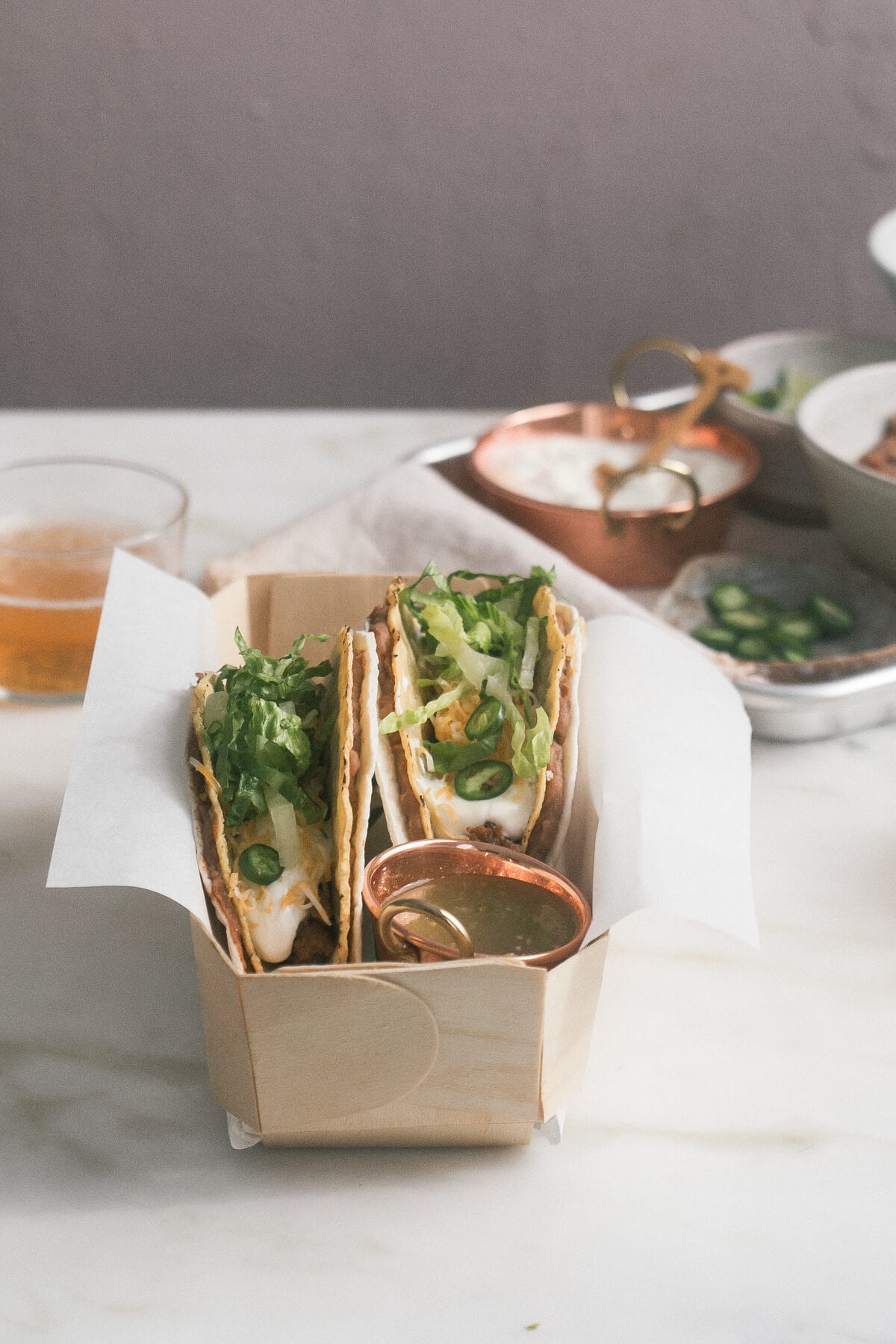 I went to college in sort of a small town in North Carolina so at night, when we were all super bored, my friends and I would go to the 24-hour Wal-Mart. We would oddly have so much fun at Wal-Mart. We also went to all the chain restaurants, everything from Olive Garden to Macaroni Grill to TGIFriday's. I hold all of them very close to my heart because of this time. Another 2am stop was Taco Bell. This was usually post Wal-Mart trip and we were usually in not the most soberest of states.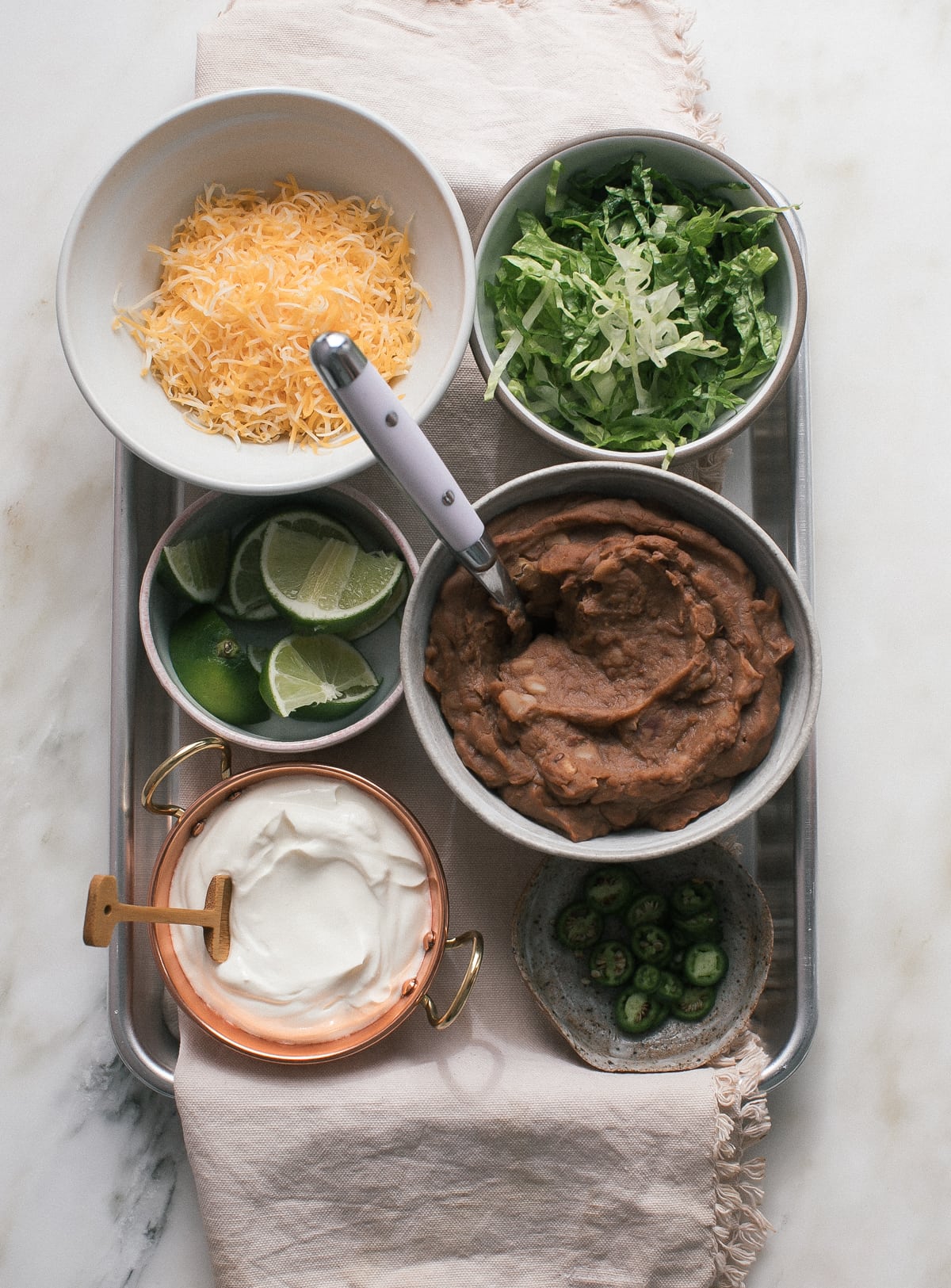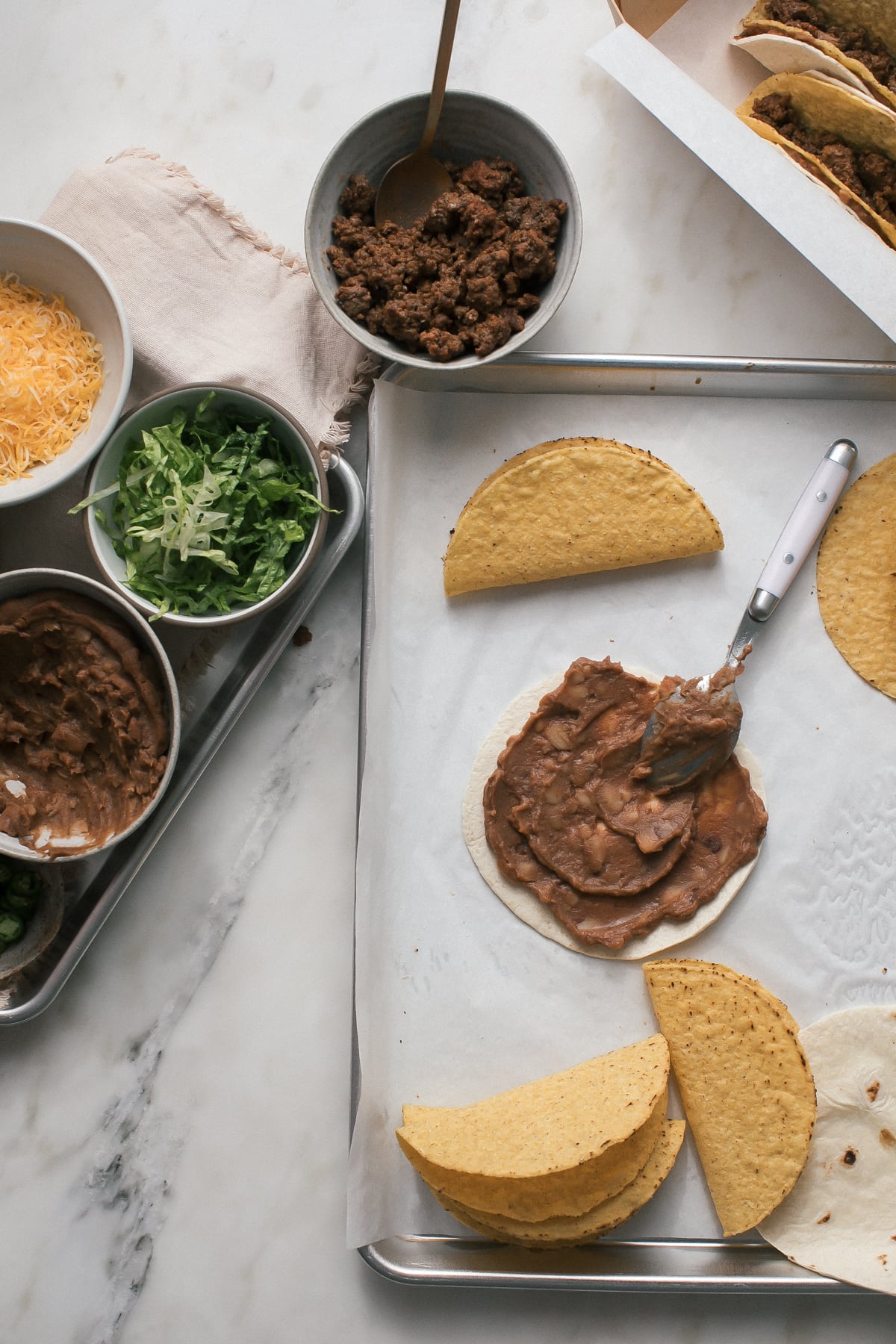 The double decker tacos from Taco Bell were always my favorite and I've been wanting to make them because WHY NOT! Let's relive college just a lil' bit. The Super Bowl is the perfect time to eat food like this.
I will say that this is a classed up. I used good ingredients and I made my own taco seasoning (mainly because I wanted to eat the meat part because of whole 30 and most of those packets contain sugar).
I'm going to be writing more about my experience on Whole 30 but today I wanted to share you this.
Oh and I didn't actually eat this. Josh was here so he vouched for them! But I did make myself a taco salad with the ingredients and it was SO GOOD. I was like dang why didn't I make taco salads throughout whole 30?!?!
How to make Double Decker Tacos:
Make the filling. Heat up some olive oil in a large sauté pan then add the meat along with all the spices. Cook until the meat has cooked through and browned. Add the tomato paste and flour and cook for another few minutes, until the flour is cooked.
Assemble. Spread a little bit of refried beans on a flour tortilla then wrap that around the corn tortilla. Fill the corn tortilla with the ground beef and top with the cheese and lettuce.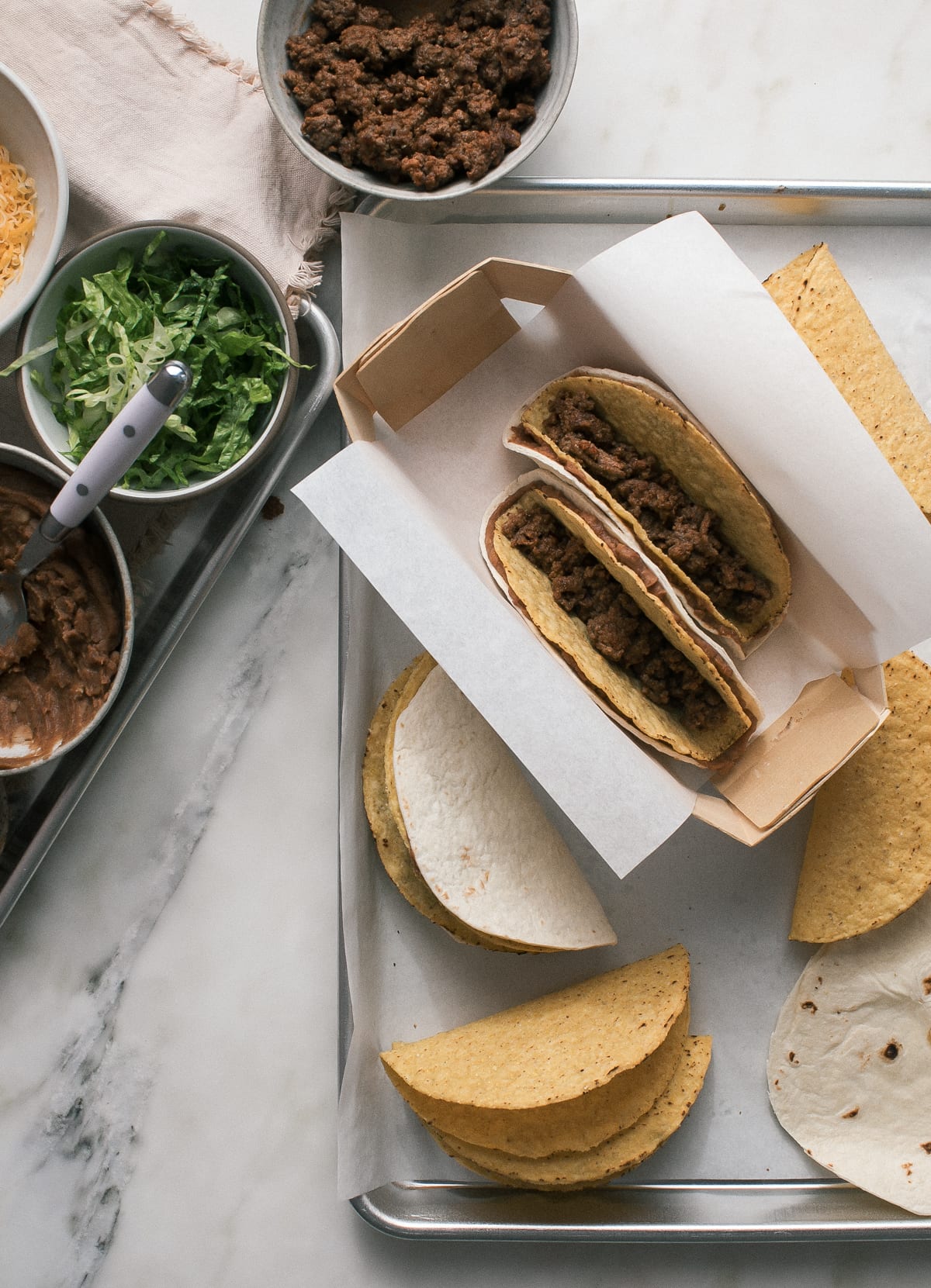 Ingredients you'll need for double decker tacos:
Ground Meat. I used ground beef to match the classic but you can definitely use ground chicken or turkey.
Spices. I basically make my own taco seasoning using cumin, salt, cayenne, paprika, garlic powder, onion powder, and oregano.
Tomato Paste and Flour round out the richness in the seasoning and give a saucier consistency.
Crunchy taco shells, this is an obvious one.
Refried beans. This is the glue that holds the tacos together.
Flour tortillas, these should be about the same size as the crunchy taco shells.
All the toppings. I like the classic shredded lettuce with shredded cheese but you can obviously add whatever you want.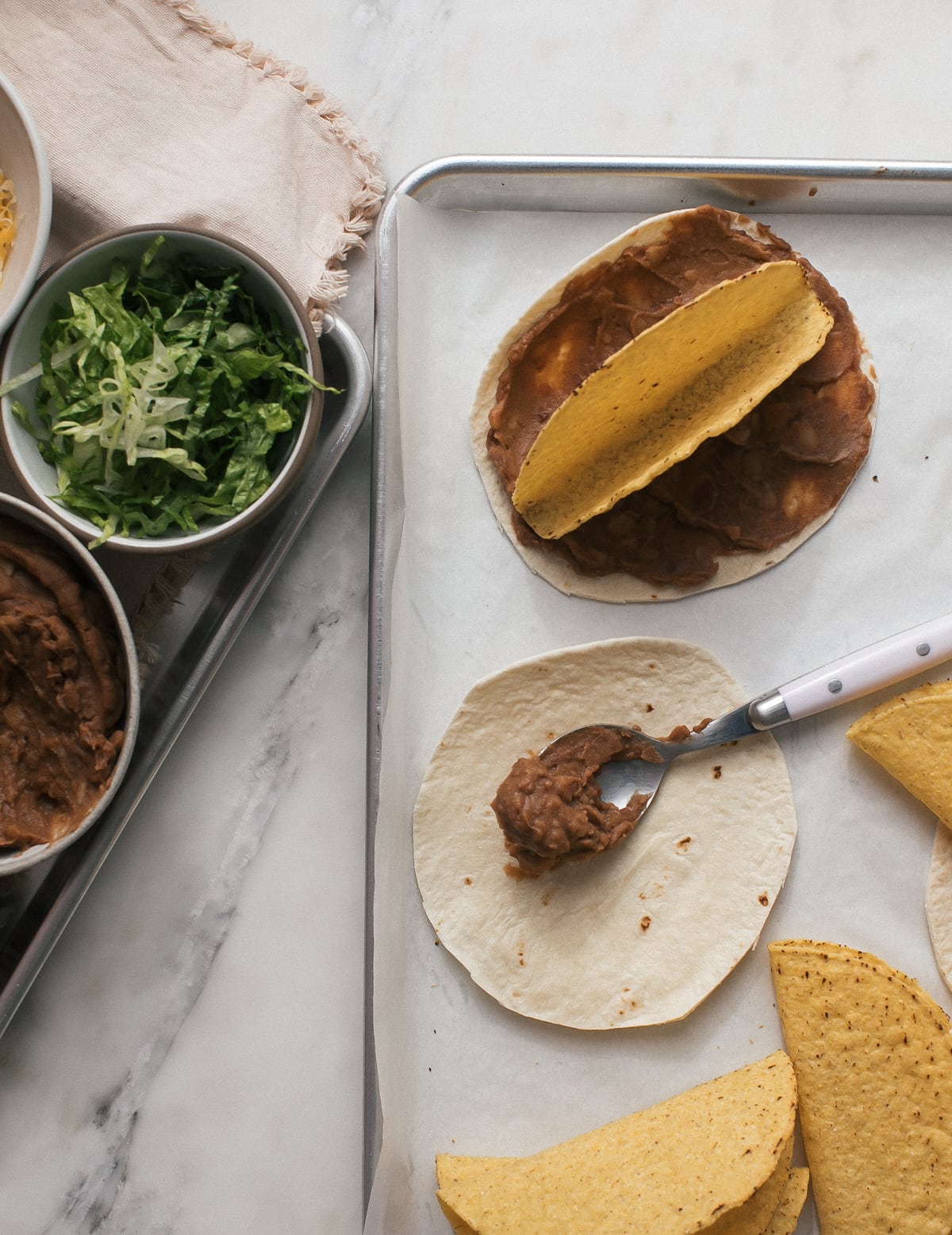 Additions and Toppings:
To top the tacos you can use whatever you want. The classic option would be:
shredded lettuce
shredded cheese
tomatoes.
I also like:
thinly sliced jalapenos
sour cream
lime wedges
and salsa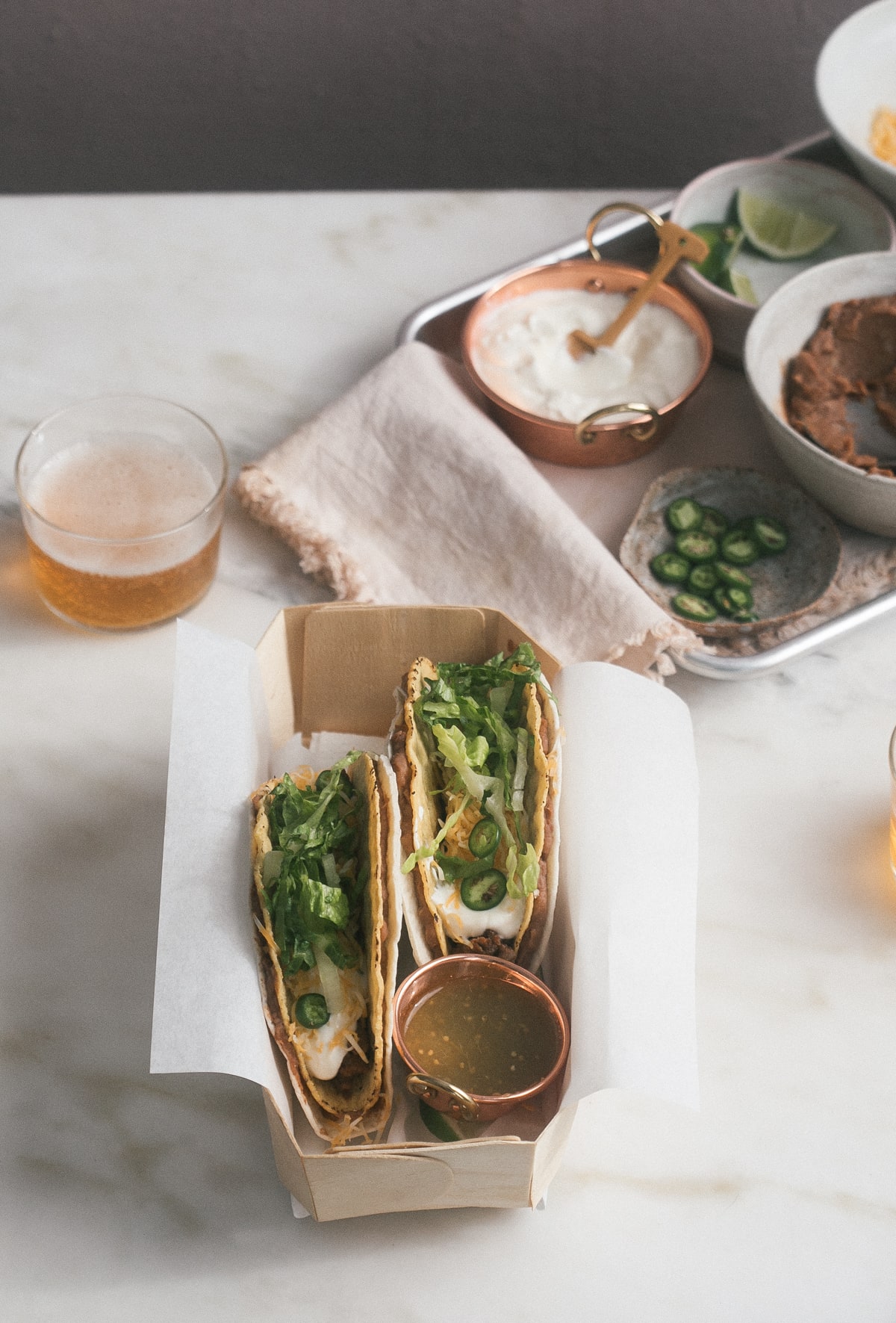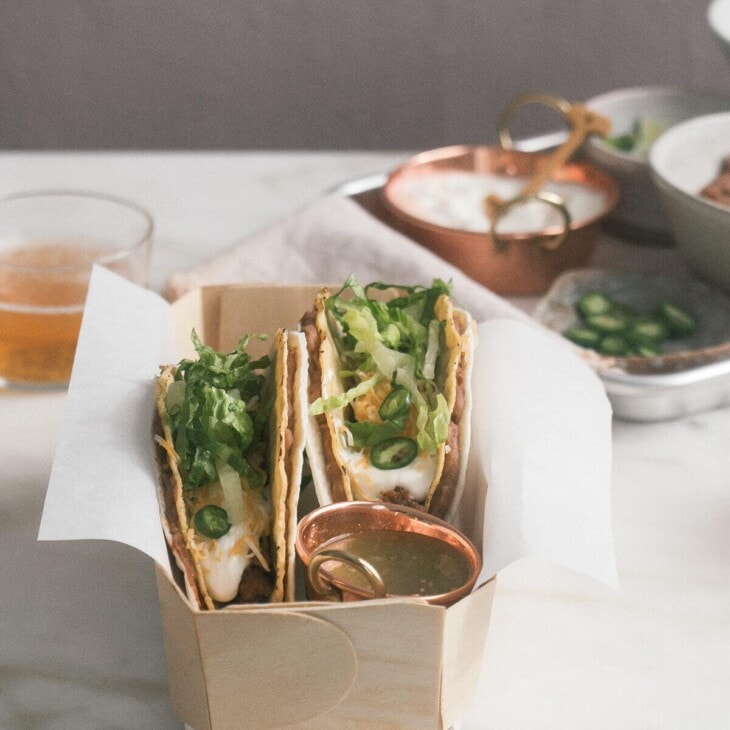 Print Recipe
Double-Decker Tacos Recipe
Serving Size:
Double-Decker Tacos
Ingredients
Filling (with taco seasoning);
1

pound

of ground beef or ground turkey or ground chicken

1

teaspoon

ground cumin

1/2

teaspoon

salt

1/2

teaspoon

ground cayenne pepper

1/2

teaspoon

ground paprika

1/4

teaspoon

onion powder

1/4

teaspoon

garlic powder

Pinch

of dried oregano

1

tablespoon

all-purpose flour

2

tablespoons

tomato paste
For serving and assembling Double-Decker Tacos:
1

can of refried beans

warmed

12

hard-shell tacos

baked in the oven for 7 minutes (or per the package's instructions)

12

flour tortillas

slightly warmed

1

cup

of sour cream

1

jalapeño or serrano pepper

sliced

Salsa

of choice

3

leaves

of lettuce of choice

thinly sliced (we want the shave effect)

1

cup

shredded Mexican cheese or Colby Jack or Pepper Jack

Lime

wedges
Instructions
To make the filling: In a medium saucepan or skillet, set over medium heat, add a teaspoon of olive oil. When warm, add the meat, along with all of the spices: cumin, cayenne pepper, paprika, onion powder, garlic powder, dried oregano and salt. Break the meat up with a spatula and mix until the spices are evenly distributed throughout. When the meat begins to brown, depending on the type of meat, you may need to remove any fatty liquid with a spoon (I did this because I used ground beef). Next, add the all-purpose flour and tomato paste; mix and cook for about 5 additional minutes, until the flour is cooked and the meat is completely cooked. Set aside.

To assemble the Double-Decker Tacos: Place a tablespoon of refried beans on one side of a flour tortilla and smooth it around. Set a hard shell taco right in the center and wrap the flour tortilla around it. Fill the hard shell taco with a few tablespoons of meat, lettuce, a dollop of sour cream, jalapeños (optional), salsa, cheese and lettuce. Repeat until you've worked your way through all of the hard shell tacos and tortillas. Serve with lime wedges and cold beer.
Nutrition
Calories:
96
kcal
(5%)
|
Carbohydrates:
17
g
(6%)
|
Protein:
3
g
(6%)
|
Fat:
2
g
(3%)
|
Saturated Fat:
1
g
(6%)
|
Sodium:
324
mg
(14%)
|
Potassium:
76
mg
(2%)
|
Fiber:
1
g
(4%)
|
Sugar:
2
g
(2%)
|
Vitamin A:
116
IU
(2%)
|
Vitamin C:
1
mg
(1%)
|
Calcium:
34
mg
(3%)
|
Iron:
1
mg
(6%)
Did you make this recipe? Let me know on Instagram!
Looking for more dinner recipes? Here are some of my favorites: