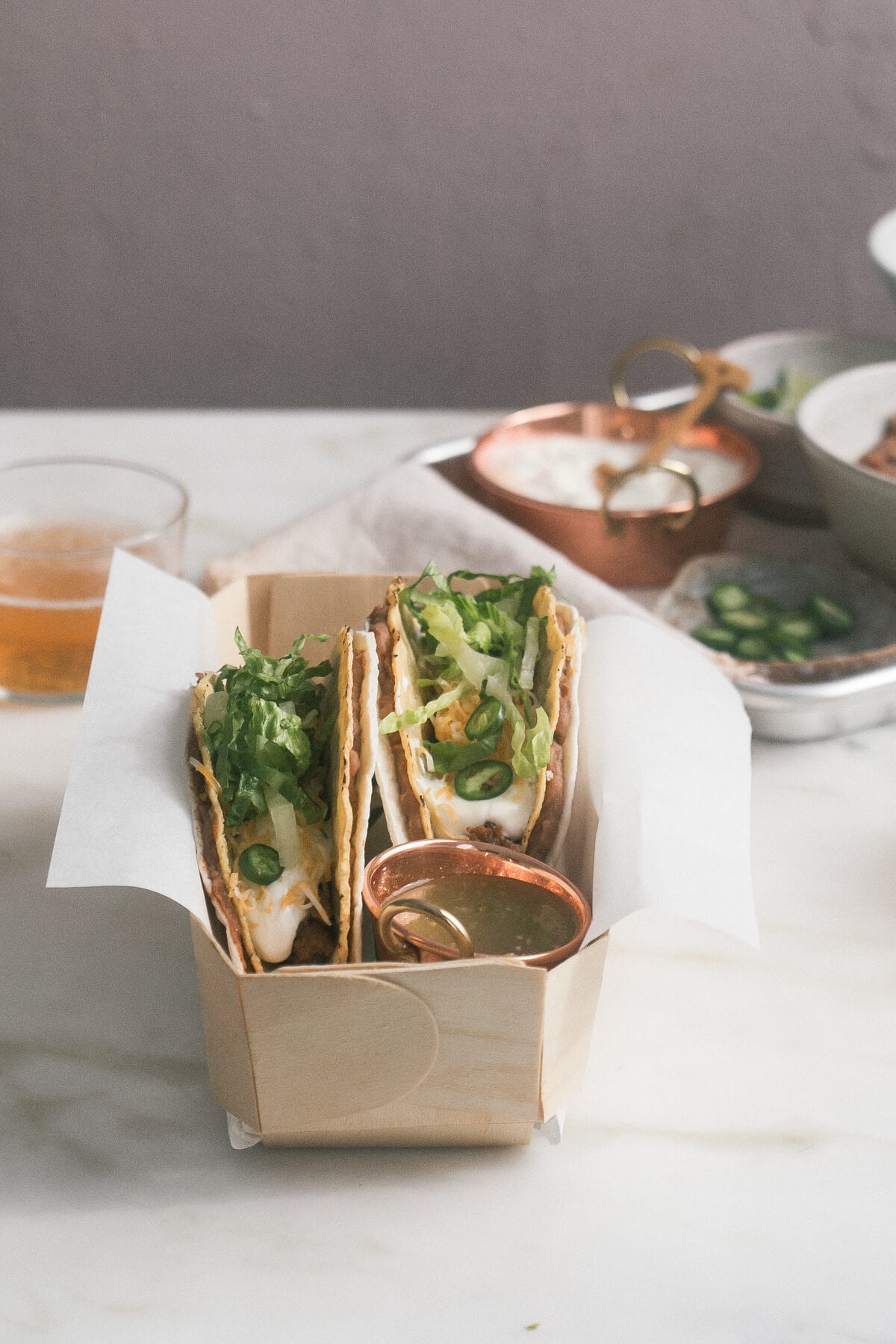 Hello! Hi!
I'm alive. I am. I have been working vigorously to get the new brand-spankin' new A Cozy Kitchen up and running. That monstrous recipe index undated and all tidy took WAY more work than we thought but it happened! Here we are! So fresh and clean. Today we'll be tweaking the site so there might be slight changes here and there but for the most part, welcome to the new A Cozy Kitchen!! YAY!
Now that we're up and going, I have SO many recipes I want to share with you all. I'm so glad to be back. If you're a sports/snack fan, you might know that the Super Bowl is this Sunday! On paper I'm rooting for the Falcons because Georgia is my homestate, my birth state, so go Falcons (sorta!). But I'm mainly team snacks. I'm guessing we're all on that team.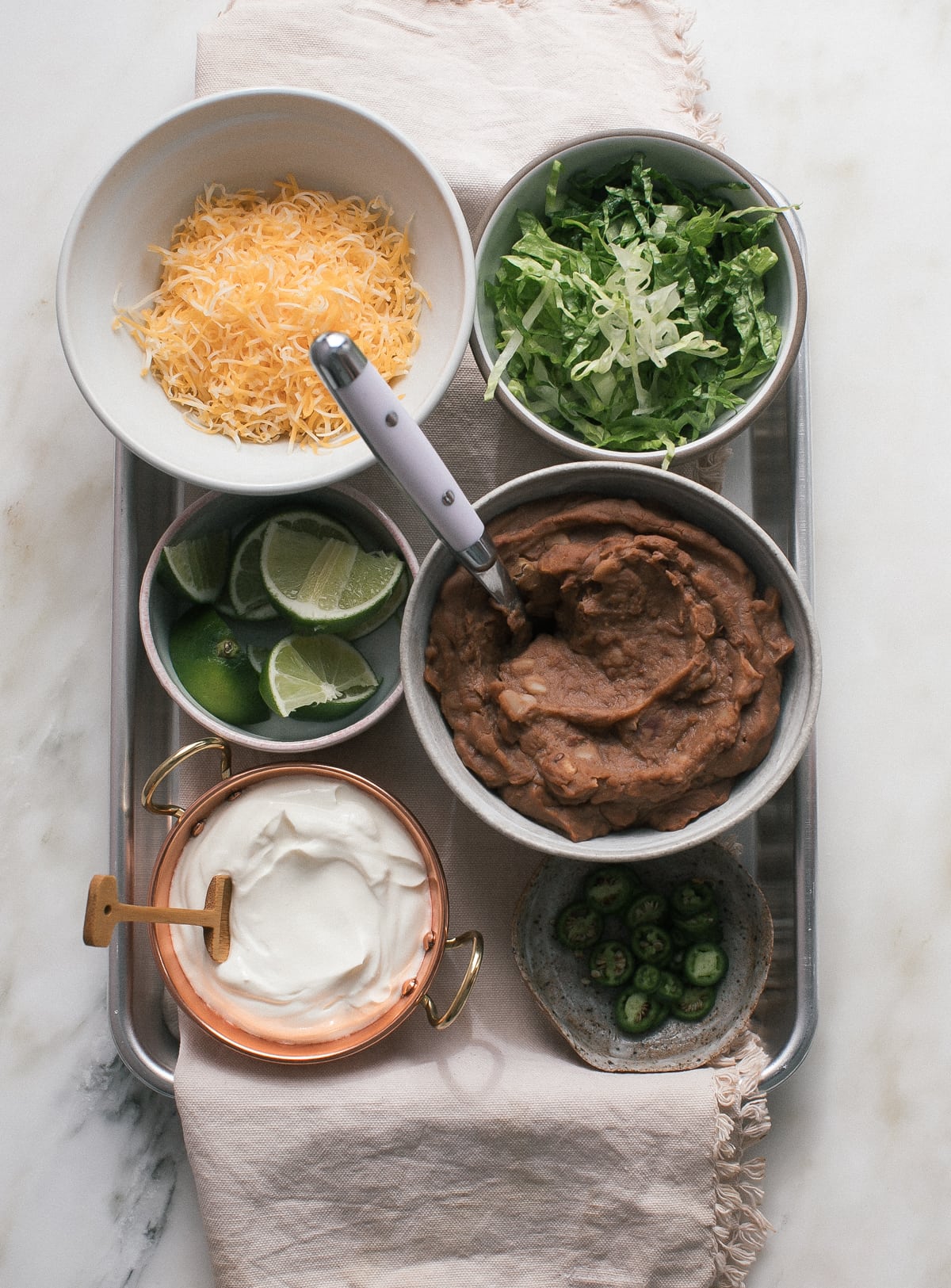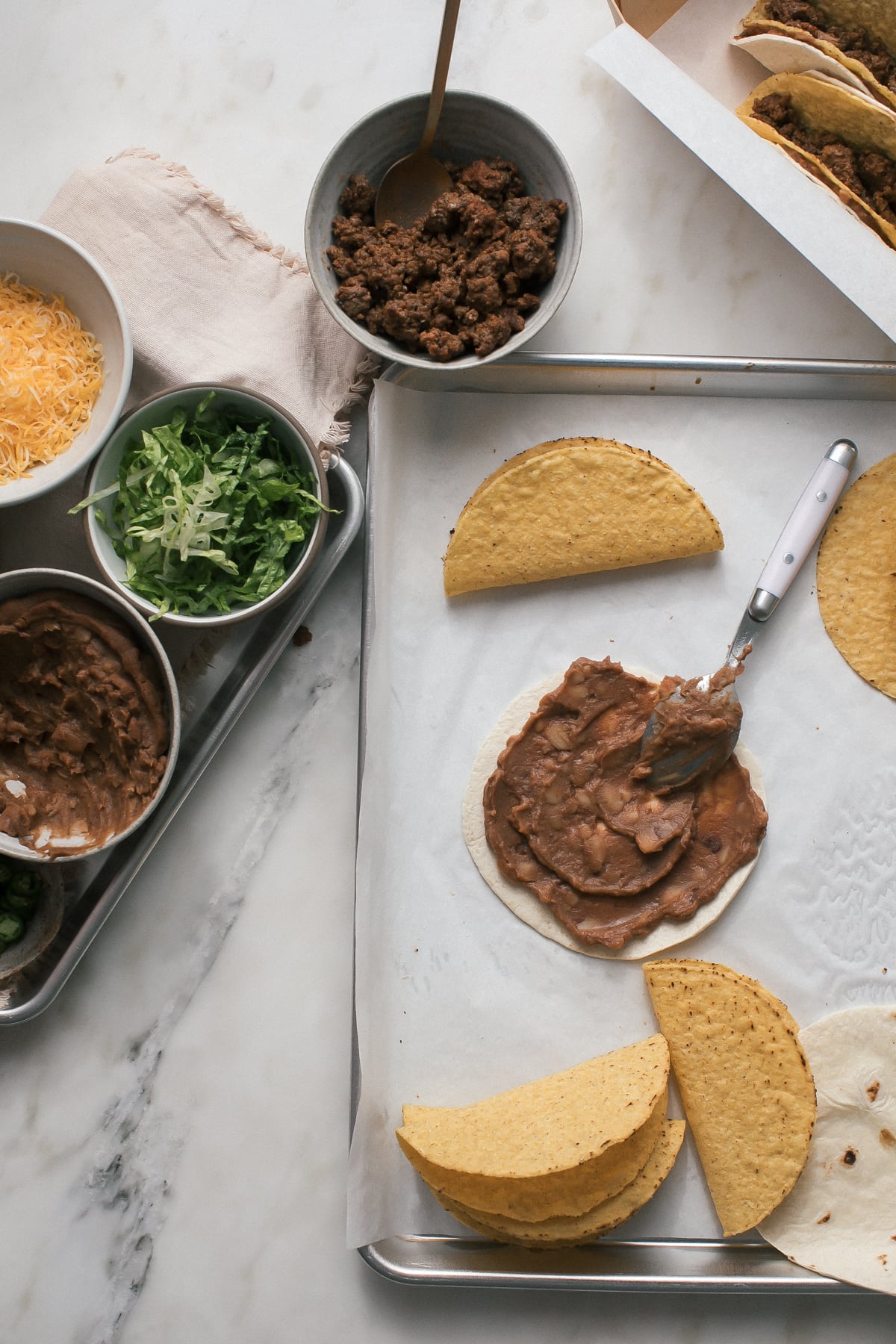 I went to college in sort of a small town in North Carolina so at night, when we were all super bored, my friends and I would go to the 24-hour Wal-Mart. We would oddly have so much fun at Wal-Mart. We also went to all the chain restaurants, everything from Olive Garden to Macaroni Grill to TGIFriday's. I hold all of them very close to my heart because of this time. Another 2am stop was Taco Bell. This was usually post Wal-Mart trip and we were usually in not the most soberest of states.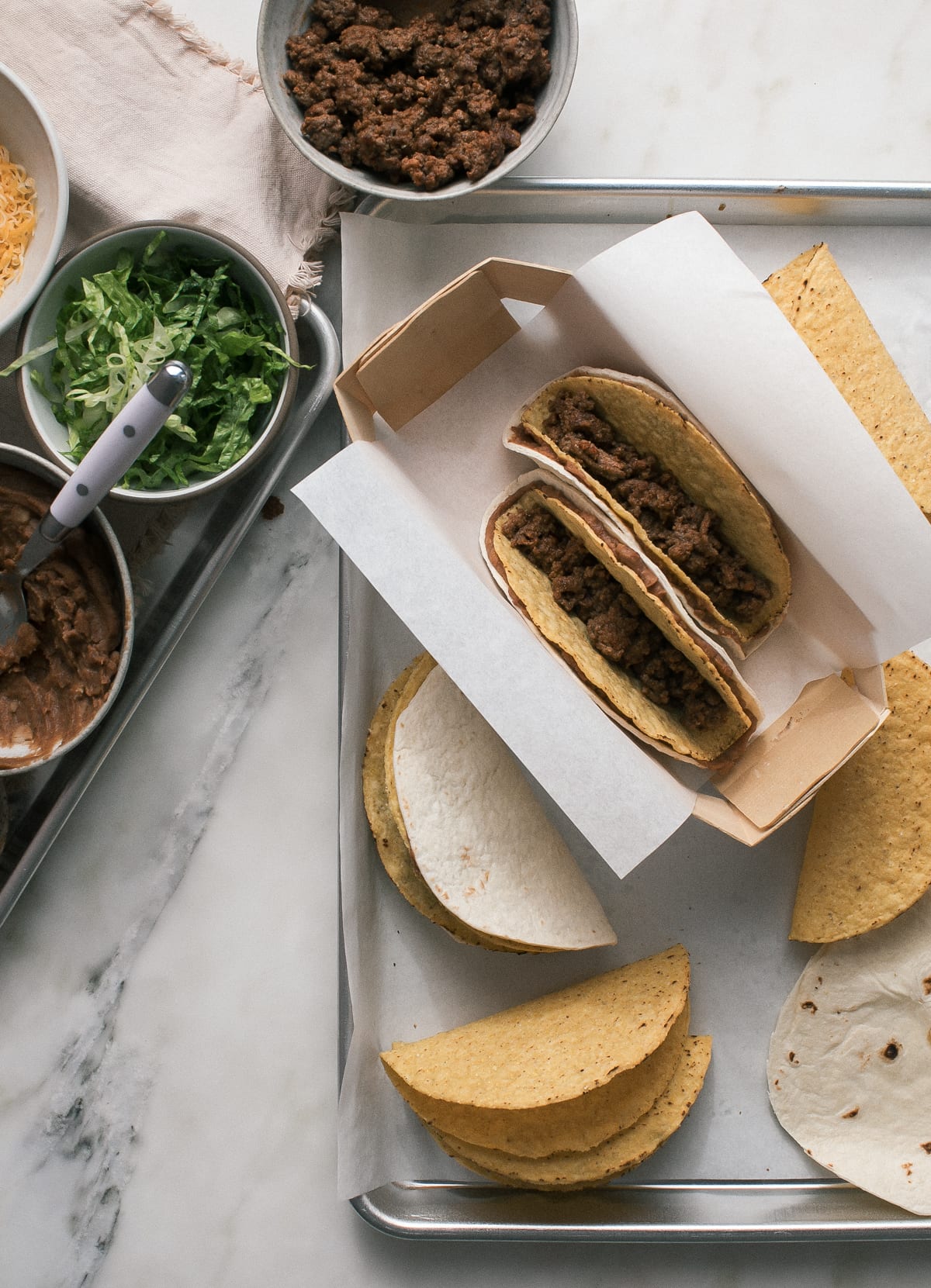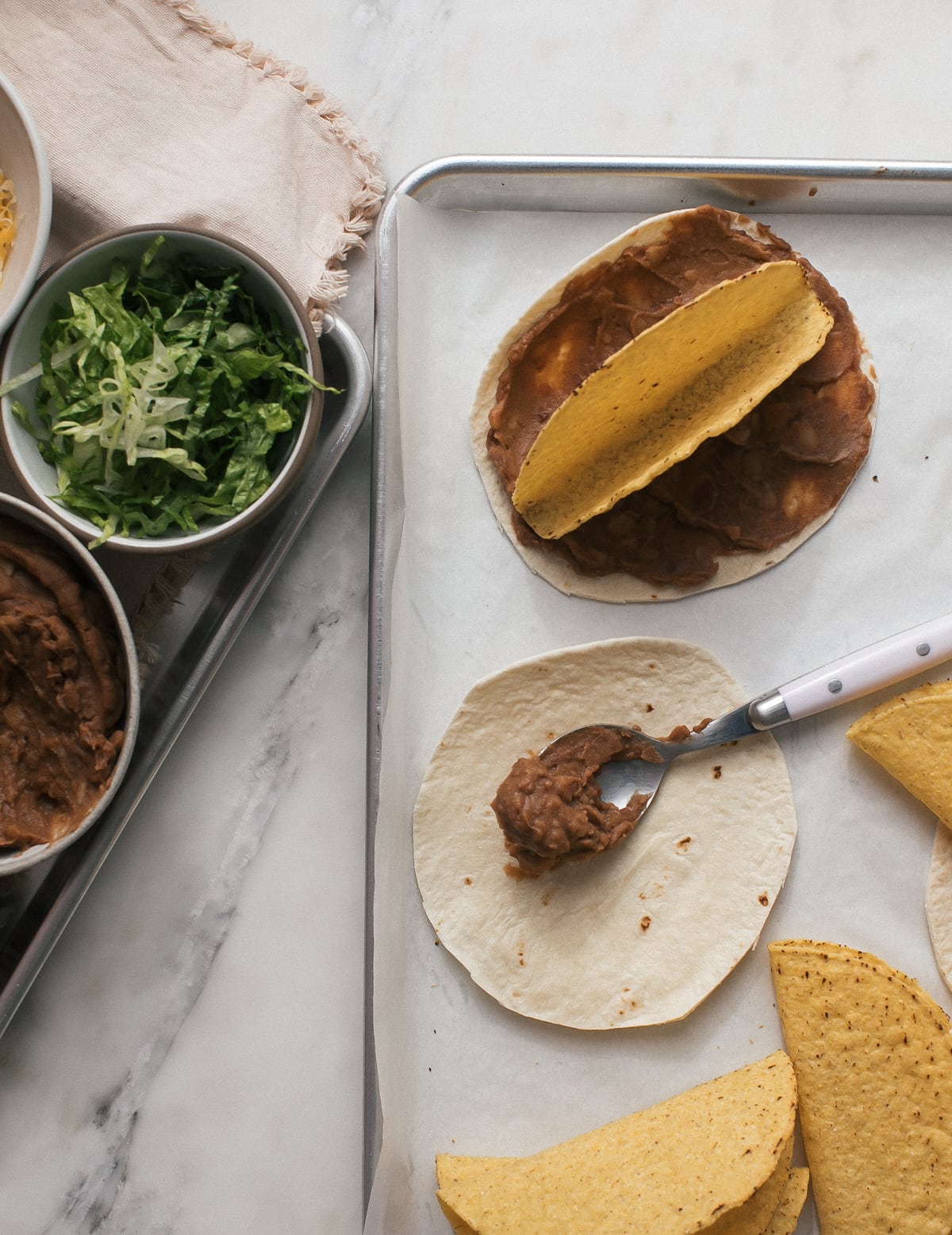 The double decker tacos from Taco Bell were always my favorite and I've been wanting to make them because WHY NOT! Let's relive college just a lil' bit. The Super Bowl is the perfect time to eat food like this.
I will say that this is a classed up. I used good ingredients and I made my own taco seasoning (mainly because I wanted to eat the meat part because of whole 30 and most of those packets contain sugar).
I'm going to be writing more about my experience on Whole 30 but today I wanted to share you this.
Oh and I didn't actually eat this. Josh was here so he vouched for them! But I did make myself a taco salad with the ingredients and it was SO GOOD. I was like dang why didn't I make taco salads throughout whole 30?!?!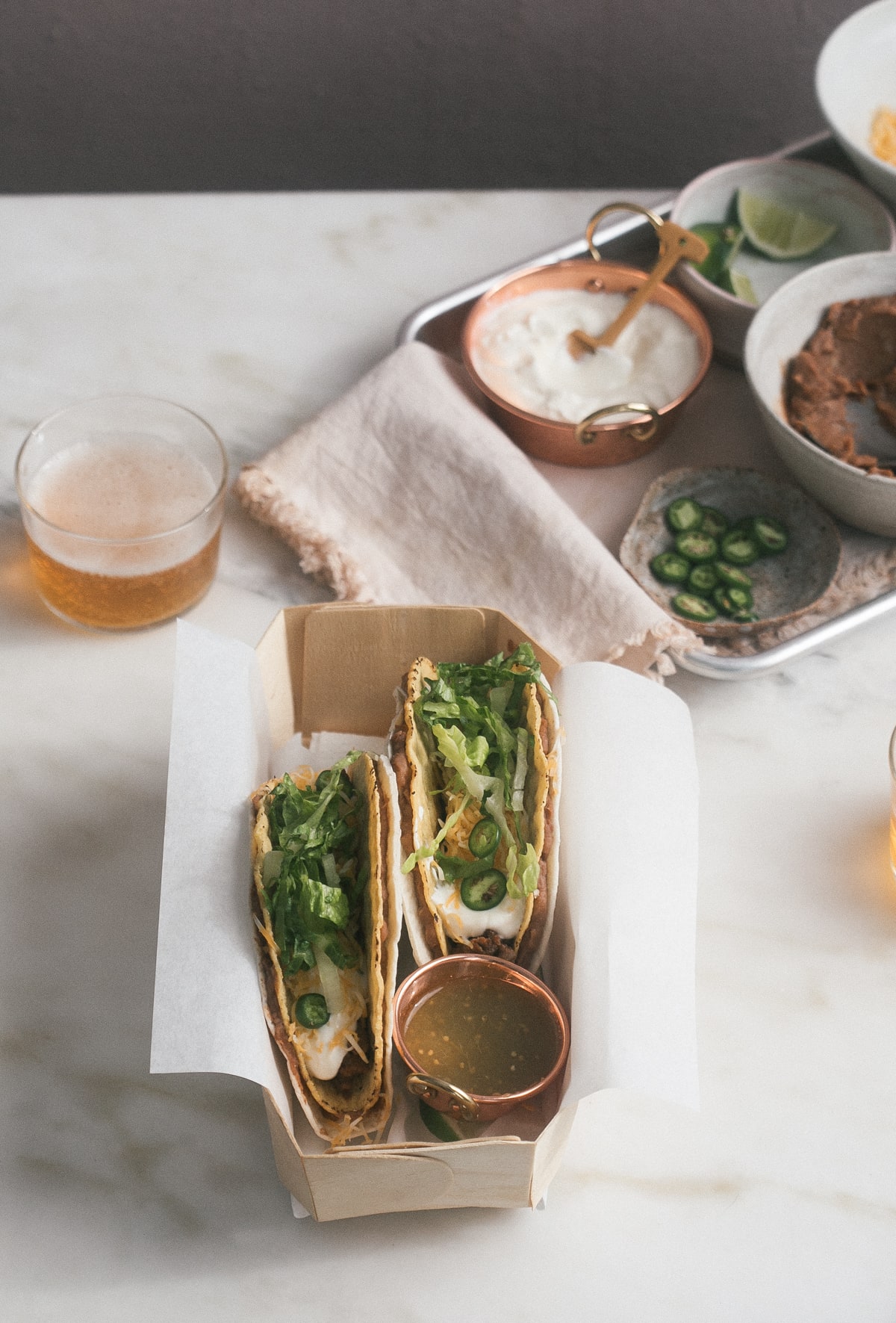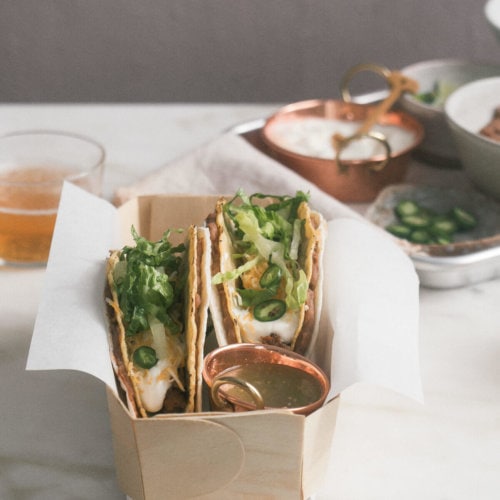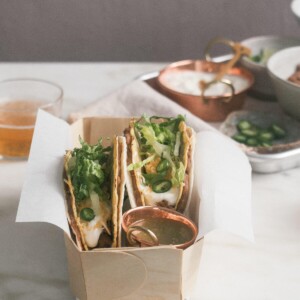 Ingredients
Filling (with taco seasoning);
1

pound

of ground beef or ground turkey or ground chicken

1

teaspoon

ground cumin

1/2

teaspoon

salt

1/2

teaspoon

ground cayenne pepper

1/2

teaspoon

ground paprika

1/4

teaspoon

onion powder

1/4

teaspoon

garlic powder

Pinch

of dried oregano

1

tablespoon

all-purpose flour

2

tablespoons

tomato paste
For serving and assembling Double-Decker Tacos:
1

can of refried beans

,

warmed

12

hard-shell tacos

,

baked in the oven for 7 minutes (or per the package's instructions)

12

flour tortillas

,

slightly warmed

1

cup

of sour cream

1

jalapeño or serrano pepper

,

sliced

Salsa

,

of choice

3

leaves

of lettuce of choice

,

thinly sliced (we want the shave effect)

1

cup

shredded Mexican cheese or Colby Jack or Pepper Jack

Lime

,

wedges
Directions
To make the filling: In a medium saucepan or skillet, set over medium heat, add a teaspoon of olive oil. When warm, add the meat, along with all of the spices: cumin, cayenne pepper, paprika, onion powder, garlic powder, dried oregano and salt. Break the meat up with a spatula and mix until the spices are evenly distributed throughout. When the meat begins to brown, depending on the type of meat, you may need to remove any fatty liquid with a spoon (I did this because I used ground beef). Next, add the all-purpose flour and tomato paste; mix and cook for about 5 additional minutes, until the flour is cooked and the meat is completely cooked. Set aside.

To assemble the Double-Decker Tacos: Place a tablespoon of refried beans on one side of a flour tortilla and smooth it around. Set a hard shell taco right in the center and wrap the flour tortilla around it. Fill the hard shell taco with a few tablespoons of meat, lettuce, a dollop of sour cream, jalapeños (optional), salsa, cheese and lettuce. Repeat until you've worked your way through all of the hard shell tacos and tortillas. Serve with lime wedges and cold beer.
Notes
Want to make this vegetarian?!? I bet diced squash or diced mushrooms in place of the meat would be AWESOME.